How to Launch a Product on Product Hunt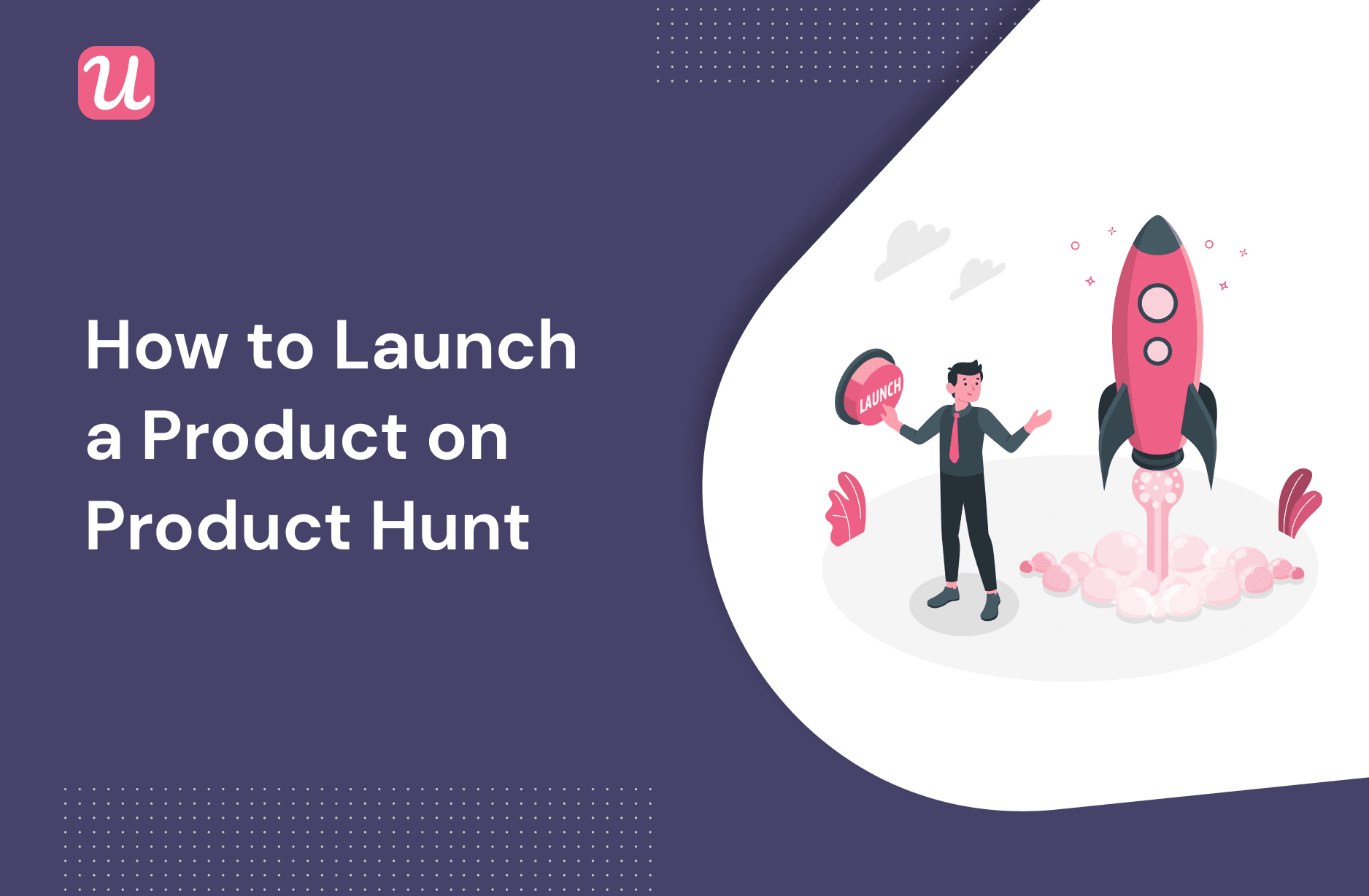 Launching a new product in the market can definitely be nerve-racking.
Getting the launching strategy right, creating a market buzz, getting people to notice and talk about your product, and giving value to the customers can all be overwhelming.
What if the product made with so much effort gets totally ignored? An absolute nightmare, isn't it?
As a product manager, you might often break your head, thinking of the most creative way to launch your product and attract your target audience.
But what if I told you that you no longer need to hunt for the solution?
What if I told you that there's a platform to simplify your launching endeavor and make you "market-ready"?
Yes, you heard it right. The platform is none other than Product Hunt.
In this article, you'll find a step-by-step guide on how to do it.
TL;DR
Launching on Product Hunt is a fantastic way to get the word about your new and revolutionary product to a larger community
Over many years, this platform has demonstrated that new product launches can accelerate and boost your growth like never before.
Even if it's completely free, Product Hunt does not let you relaunch the same product for six months and, even then, only for total redesigns.
Pre-launching on Product Hunt must-have checklist items: catchy title, an appealing thumbnail, engaging product description, maker comments, social links
During launch get people to talk about your product with these tips: join Facebook and Slack chats, find a hunter partner for your product, exclusive member benefits, prepare engaging newsletters and product messages, tweet back to your upvoters
Post-launch analyze your stats: upvote count, comments, mentions, reach, traffic, and conversions than get more subscribers by posting successful launch stories on your social media and ask for feedback
Avoid: spamming people, asking for upvotes, not linking directly to your product page, and failing to research competent products
A quick check on Product Hunt
With over 5 million visitors per month, Product Hunt is a haven for product managers.
A community of like-minded techies and a free platform to create a market buzz about your product, it is the most trusted source for reviews and recommendations.
Product Hunt can literally fetch you thousands of website visitors, app downloads, and loyal users with a strategic and well-executed product launch that stirs a buzz in the market and keeps people on their toes.
So why do you need a solid launch strategy for Product Hunt?
Well, because you have only one shot at it.
Product Hunt does not let you relaunch the same product for six months and, even then, only for total redesigns. So curating a launch-perfect product strategy is essential.
How Product Hunt works
Before delving into the perfect launch strategy, let's first understand how Product Hunt works.
Remember, Product Hunt is a community-driven platform where product creators and marketers can showcase their products to a tech-savvy audience.
The community engages with your product through votes and reviews, giving praise and feedback equally – essential ingredients in the early stages of product development. Overall, Product Hunt is the place to be if you're trying to market your product or increase traffic to your product website.
Sounds pretty simple, right? But, is it?
Let's zero in on the approach first to get a better understanding.
GTM strategy: make or break your product marketing
You must know that getting your Go-To-Market strategy right is essential to your product's success.
Not leveraging its full potential can fire back at you.
As a product manager, your first priority for a successful Product Hunt launch should be to draw up a well-thought GTM plan that suits your brand's voice and long-term objectives.
While a solid GTM can take your product's marketing to the next level, an improper one can lead you to a slew of launch challenges. This includes:
Lack of genuine customer insight into wants and needs
Poor positioning with no meaningful differentiation strategy
No real value proposition
Unrealistic volume forecasts or over-optimistic pricing
Lack of engagement and initial support
Now the question is, how do you overcome all these challenges? That's exactly when the need for Product Hunt becomes evident.
Product Hunt: simplifying your GTM journey
Makers and influencers are frequently willing to test your product, even if it is still in the MVP stage or contains flaws. These early adopters establish a user base and provide useful feedback on the functionality of your product.
Regular users can also learn about and try out new apps and technologies.
They can use ratings and comments to help shape the final version of their favorite apps and tools, interact with creators, and learn technical details.
Robinhood, a cost-free and commission-free brokerage app that facilitates investing without additional expenses for each finished deal, is one of the most successful Product Hunt launches.
Thanks to their campaign, they raised $176 million in total investment and spread the word about their software across multiple channels. They recently surpassed 2 million users and have been growing at 17% per month for several months.
Product hunt assists you in significantly increasing website traffic, generating valuable feedback, and, most importantly, identifying potential users.
Excited about your new product launch at Product Hunt?
Here's a handy checklist to shape your launch and create a lot of good noise in the market.
The Product Hunt checklist for a successful launch
Do you want your product to appear on the first page of the website? Do you want to be featured in the media? Do you want to entice investors to your business? Do you need to add 10,000 new users to your database?
Whatever your goal might be, crossing these things off the checklist can be your launchpad for success.
1. Give a catchy title and tagline
Grab users' attention with an appealing yet unique title and describe what value your product brings to the table in under 60 characters.
Pro Tip: Don't get too fancy, avoid slogans and omit anything even remotely related to "the world's best."
2. Create an appealing thumbnail
Nothing makes a regular internet user pause their scrolling better than an attractive and appealing picture.
Show your product visually as a static image or subtle GIF to help draw attention.
3. Write an engaging product description
Short, to the point, and creative product descriptions deliver your product's value and benefits to the users in a bite-sized and easy-to-read form.
Tell them why your product is the best and how it can change how they do certain things, be it socializing, designing, or managing their business.
Pro Tip: Use emojis and bullet points to bring out your product's benefits in a crisp and clear manner.
4. Give a personal angle with maker comments
Create a narrative that brings out your uniqueness as a maker or a marketer, connects with people, and makes them want to help you out.
Tell them why you built this product, what value it offers, who it is for, and why they should care.
Pro Tip: Tell your story; people love hearing about others and finding something that relates them to the product's vision.
5. Don't forget social links
Include your company's Twitter, Facebook, Instagram, Medium, and AngelList profiles in your post.
You can also add any open job listings on AngelList or directly take your audience to the product landing page.
Step-by-step guide to launching on Product Hunt
Now that you're all good to go to launch your product in the market, you no longer need to hustle to figure out the perfect launch plan.
Here's a step-by-step guide for all product managers looking to take their product to the launch pad on Product Hunt.
Step 1: Create a stellar build up
Getting to the top 5 of the Product Hunt homepage means lots of upvotes, a strong community of your believers, and solid supporters. So, how do you get people talking about your product?
Marketing. Marketing and lots of marketing.
As a product marketing manager, you have to prepare to penetrate the deepest corners of your target market and create a stellar market buzz for your product.
And here's how you can do it.
Join Facebook and Slack chats
Choose the communities and chats with similar interests and challenges you aim to resolve with your product.
Create and post relatable and valuable content to grab member attention. This helps build your rapport and credibility. Also, focus on building an emailing list as a launch strategy.
Email Tip: Buy social profile add-ons on your email list to direct them with customized messages.
Find a hunter partner for your product
Find a hunter with a high follower count and engage with them personally to give your product marketing a jump start.
Get your PR Kit ready
Set up your product guide, FAQs, social media campaigns, press releases, and video content for a perfect PR strategy.
Engage with the PH community and answer their queries to keep their interest alive.
Provide exclusive member benefits
The Product Hunt community members appreciate getting a discount or exclusive benefits for being an early adopter.
Here's an example of a 20% discount on the paid version of Type Studio.
Double-check your website & social profiles
Create specific social media accounts and profiles that can help your market research and spread the word about your product.
Ensure that all these social profiles and your product website are up and running smoothly for a top-notch experience when a Product Hunt member decides to check out your product details.
Step 2: Gather folks one week before the launch
Would you assemble troops and weapons on the day of battle if you knew there was a fight coming up?
Obviously not.
You would first recruit and train the army. You'd devise plans and practice drills so that when the battle day arrives, you're ready to go.
The same holds true for a Product Hunt launch.
Find the right people to upvote you
Create a dedicated excel spreadsheet of all the people on Product Hunt and other social community sites who face the same challenges that your product seeks to resolve.
Once done, you can reach out to them personally, and engage and encourage them to upvote for you on the launch day.
Prepare engaging email newsletters and launch messages
It's time you create a deafening market buzz with appealing content marketing and a catchy brand voice.
Create compelling email sequences, product marketing launch messages, and ad copies to target your audience.
Tweet back to your upvoters
Don't forget to thank your supporters with tweets tagging their personal accounts.
This fosters a personal connection, helps spread the buzz among their networks, and brings more traffic to your product page.
Step 3: The D-Day ventures
And finally, Launch Day is here.
Not gonna lie: it's going to be hectic.
Once you're up and running on the Product Hunt homepage, it's time for you to put your best foot forward and grab your audience's attention with strategic marketing and product promotion.
Connect
Reach out to your network, tell them about the Big Launch and ask them to visit, upvote, and share your product.
The BAMF Co-founder posted about their latest launch on his LinkedIn page to garner more attention in his network. He got the attention of thousands in a matter of a few hours.
Comment
Engage with your audience, comment on your Product Hunt page, reply to your audience's comments, and create a collaborative environment for all.
Confrere's Maker engaged in a fruitful conversation with her commenter to expand the business.
Message & Follow-Up
Ping your contacts and followers in your network to hop on to the Product Hunt page and upvote for you.
Send multiple messages and follow-up emails to your subscribers, early adopters, supporters, and believers. Ask them to engage, comment, and spread the word.
Landbot sent alluring emails to attract subscribers to their Product Hunt page with discounts and free trials on their latest launch.
Step 4: The post-launch essentials
Now that the hard part is almost over, it's time to put on your thinking caps and engage in the crucial post-launch activities.
As the product manager, you need to identify and bridge the gap between customer expectations and product positioning with your team.
Analyze your stats
Record and analyze your upvote count, comments, mentions, reach, traffic, and conversions to get a clearer picture of the launch.
Remember, one or two factors can't decide the success or failure of your product. Take all possible reasons into account, strategize and execute accordingly.
Get more subscribers
Roll out Happy Launch emails to your subscribers and post successful launch stories on your social media.
Create a stunning product image in the minds of your target audience and entice them to subscribe, try and adopt your product.
Letsdeel sent out crisp emails to their subscribers to create buzz about their new launch on Product Hunt. They encouraged readers to explore the features after summarizing them in one-liners.
Finally, they ended with an Upvote CTA button, enticing the readers to take action almost immediately.
Ask for feedback
Reach out to your upvoters, subscribers, and network to leave valuable feedback and reviews on your product. This can give you much-needed insight into your actual product performance and carve a path for further improvements.
Top 4 Product Hunt blunders to avoid
There are quite a few things that can go wrong when launching. But here, we'll discuss the big four that you need to avoid at all costs as they can lead to some big problems.
1. Spamming people
Mass tweeting and emailing people with copy-paste templates are a big no-no. Be authentic and connect on a personal level because nobody likes a bot talking to them anyway.
2. Asking for upvotes
Never beg or force someone to upvote. People will upvote if they like your product.
Don't give in to this easy temptation. You can send a reminder but don't push them over the edge to do it.
3. Not linking directly to your product page
Not linking your product page only makes it more difficult for people to find you and has no impact on the algorithm.
Make their outreach easier by cutting down on unnecessary detours.
4. Not researching other competent products
Insufficient and ineffective market research can flush all your launch efforts down the drain. Read, research, and prepare for your launch accordingly.
That will also give a viewpoint of your standing in the market.
Conclusion
Product Hunt can help you gain traction with your product launch, connect you with new customers, and get feedback from people interested in what you do.
But launching on Product Hunt is certainly not a cakewalk.
Every day, dozens of products are launched on Product Hunt, so you must highlight your uniqueness, your value, and user benefits with a solid Go-To-Market strategy and launch plan.
Use the techniques we mentioned, and we are sure you'll nail your launch perfectly.