Launch Messages: How To Announce What's New In Your Product Using In-app Notifications And Email [+26 Examples ]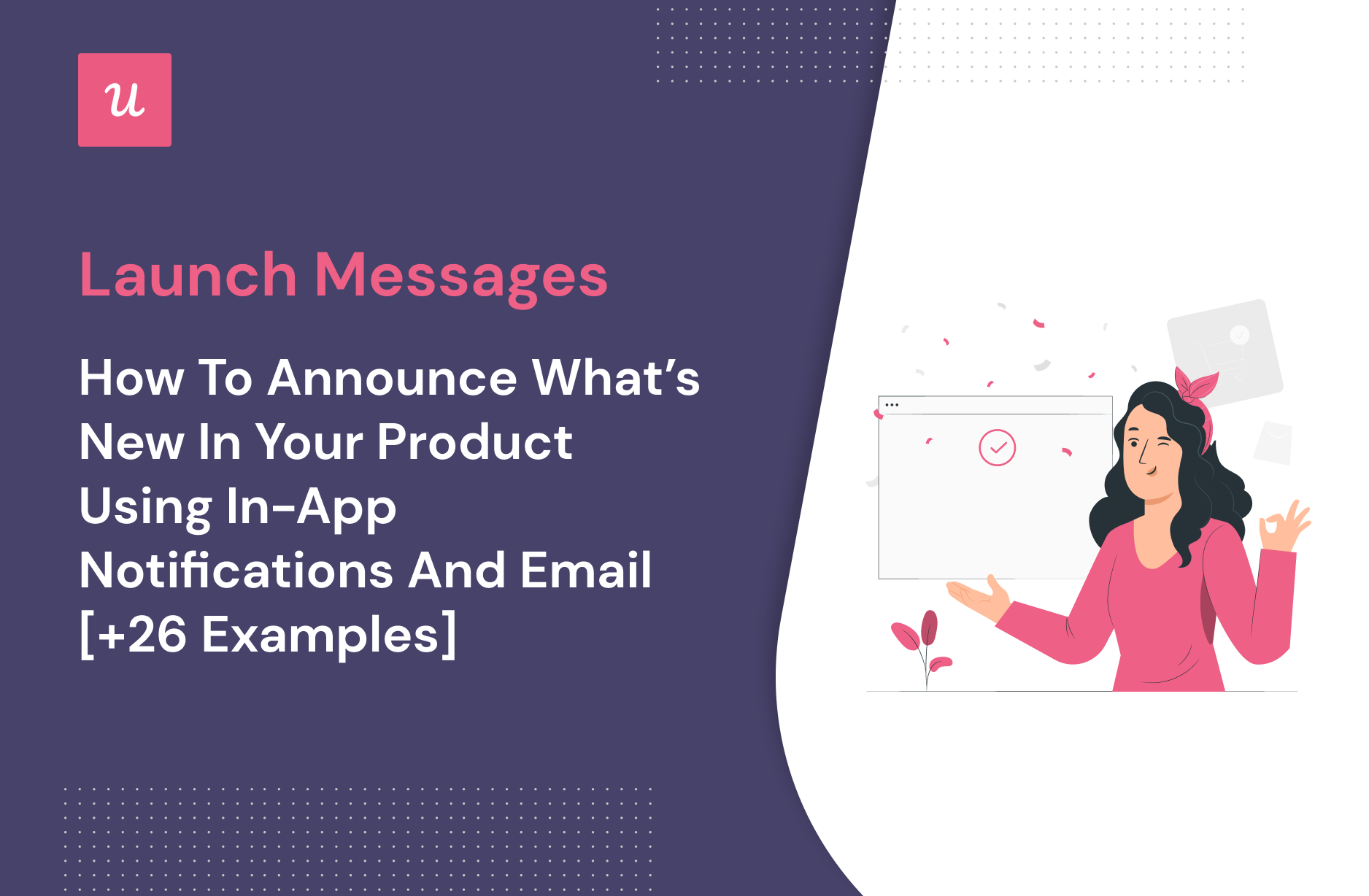 What type of launch messages do you use when announcing new features or product enhancements?
Should you go with in-app notifications or a product launch email sequence?
The short answer is: Both!
The best way to announce a product launch and contribute to a successful onboarding experience is to communicate in a contextual way, with the right message, at the right time, and on the right platform.
Not sure how? We've got you covered.
The list we're curated here has great examples of how to effectively announce what's new in your product using in-app notifications and email.
Let's check them out…
TL; DR
Launch messages are a means of communicating and keeping your target audience – your existing customers – up to date and driving engagement and adoption.
There are five types: new product release, new feature, pre-order, future sales campaign, and events announcement messages.
Launch message best practices: always building a sequence of messages-one is not enough, grab attention with your copy, optimize messages for one goal only, and always be contextual.
Benefits of in-app messages: highly targeted, contextual, and timely. You can personalize them to each user persona segment and stage in the journey, leading to higher visibility and engagement.
Benefits of email launch messages: support in-app communication, drive action, and keep users up-to-date without cluttering up your UI. should be mainly used to drive users back inside the app to try new features.
You can build multiple types of in-app announcement messages and drive adoption with Userpilot.

Looking for the best tool to send in-app launch messages? Search no more!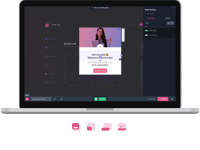 What are launch messages?
Product launch in-app messages are a means of communicating and keeping your target audience – your existing customers – up to date with what's happening in your product, through short messages inside the UI of your product.
These messages can inform users about the launch of a new product or about the direction your product is going and how it helps them – what's new, what has been updated and what changed, and the impact this has on their work.
Launch messages should communicate the value of your product and get customers excited to try it – it's all about building anticipation.
What are the main types of launch messages?
Your product is never 'finished, it's continuously changing and developing.
To keep customers coming back again and again, you need to be in constant communication with them so they're aware of these changes.
You want them to get the most out of your product, right?
There are five main types of messages.
1. New product release messages
A product launch campaign will raise awareness and inform customers of a new version of the product that's been made available or supports the launch of an upcoming product.
They can address your existing customer base or potential new market and should encourage customers to take advantage of what they're being offered.
2. New feature launch messages
New feature announcements are messages sent to introduce what's new and are usually directed toward your current user base.
Keeping your customers informed builds trust and loyalty, and it shows that you're incorporating their valuable feedback into the product's development.
3. Pre-order messages
Pre-order messages are sent before a product or a feature/set of features is made available. This is a great way to build hype and anticipation!
4. Future sales campaign messages
A future sales campaign message can be a powerful way to boost sales of an upcoming or existing product.
By offering special promotions for a limited time and announcing the launch date in advance, you can create a sense of urgency and drive more purchases.
Seasonal offers, for example, are very popular in future sales campaigns – a seasonal sale announcement email during the end of Summer or the start of Christmas is very popular.
5. Event announcement messages
Event announcement messages are for announcing the launch date for upcoming events related to product launches or for upcoming educational events such as webinars, podcasts, workshops, etc.
These build hype for your product and make the offers feel exclusive to your customers.
Keep them in the loop by telling them who will be there, what time the event starts, and where it's being held.
How do you announce a new launch?
Now that you know the five message types, before you start planning your product launch campaign, let's look at some best practices to announce a new launch.
It's always more than one message: build a product launch email sequence
A launch is not a single message that you broadcast, and then you're done – you should be in continuous communication with your customers and use a mixture of message types to drive engagement.
Similar to onboarding users and driving adoption, your launch messages should address users in different stages:
before launch: to build anticipation
at launch: to announce what is available
follow-up: to remind users that haven't engaged or collect feedback from adopters
Grab attention with your subject line and launch message copy
Whether it's a subject line, email copy, or in-app messaging, the way you phrase your launch message will impact the way customers perceive it and take action.
Here are a few tips:
be contextual and don't disrupt users
use a teaser email to entice them
give them a reason to read your message (your title needs to quickly tell them why the message is relevant for them – reducing their chance to ignore it)
use a conversational tone and simple words
tell the user how this new launch will help them: what's in it for them?
always test different message copies and types of messages (micro videos vs text, for example) – different customers respond to different types of messages
Optimize launch messages for one specific goal
Asking someone to do multiple things at the same time will confuse them. The result? No action.
Instead, focus your messages on one simple action required from the user:
want them to subscribe to a webinar? Ask them to do that and only that
want them to sign up for your beta list? Don't include other actions in your message
want them to try the new feature now? That should be your only CTA
I think you get the point. Now let's look at the best channels to send your message for your launch day.
In-app vs email launch messages: When should you use each?
In SaaS, in-app and mail are the two main channels for communicating with customers and potential customers. Let's look at the differences…
In-app launch message benefits
In-app launch messages are highly targeted announcements that are sent to users while they're using your product.
They are contextual and timely as they can be triggered to appear when they make sense for where the user is in their journey – whether that be primary onboarding, sharing news and updates, or promoting support and/or offers.
Through segmentation, you can adjust your message to focus on specific benefits for each audience and personalize it to their specific needs.
The whole message shows in front of the users most of the time (we'll look at examples in a bit) so it's easier to catch the user's eye with emoticons, gifs, or videos compared to email, where your title needs to do the heavy lifting!
The above leads to higher visibility and engagement. It's a no-brainer.
Email launch message benefits
Compared to in-app messages, a product launch email sequence might be missed, get lost in the user's inbox completely, or get ignored altogether.
People skip reading it if the email subject line doesn't grab their attention, which is why it's so important to attract them instantly!
Email marketing, specifically a product launch email sequence, can be really effective if you do it properly.
Unlike in-app launch messages, launch emails are not contextual or timely. You can set them to be sent at a specific time and based on the user's actions inside the product but you can't control when they actually open their inbox AND your email.
Despite the above, a product launch announcement email is a great method of sending your new release messages.
It supports in-app communication and drives users to take action (sometimes this means engaging with your product).
It can also be the best way of constantly keeping users up to speed with what's new without over cluttering the UI with too many messages.
A great email subject line works wonders.
We'll look at some examples of this in a bit.
Product launch message examples
So let's check out some great product launch examples.
Remember to keep the best practices in mind:
it's always more than one message: build a sequence of launch messages
grab attention with your launch message copy
optimize launch messages for one specific goal
In-app launch message examples
As we said in our blog post, in-app marketing is the antidote to the poison that is churn. To show you how effective it can be, we have curated a list of some of the best examples of in-app launch messaging.
#1 – Slack new feature announcement
Slack announced its new feature with a small but eye-catching slideout to grab the user's attention about the official launch of a new product feature. It's fast and simple – it tells the user what they can achieve and how.
Clicking 'learn more' opens a modal on top of where the thread space is to explain the feature in more detail, including who can use it and what to expect, and directing users towards additional resources if needed. Everything is clearly laid out so it's easy to read.
This is a great example of how combining different message types supports the launch of a feature.
One message simply isn't enough.
#2 – Slack feature update in-app message
Sometimes a short embedded video is all you need to showcase the benefits of a feature enhancement.
To introduce their users to a new way of formatting their messages, Slack announced it through a tooltip to show users how to use it.
Since some users prefer visuals to text, videos are a great way of visually demonstrating how easy it is to use the updated features.
#3 – Asana in-app new feature modal announcement
One way to announce a new feature is to trigger a modal when a user signs in – this will get their attention and set the right expectations from the get-go.
To announce their new feature, Asana uses short messages to quickly highlight benefits to each user. It uses language that appeals directly to the user – "get real-time, actionable insight into work" – and prompts them to get started. Quick and easy!
#4 – Miro and their What's new in-app pop-up
I've already mentioned the What's new type of launch messages and Miro is a great example!
They have a feed with this in-app pop-up available inside the product so even when you decide to close the modal that displays during login, you can still have access to the latest updates once click away.
This is a common practice in SaaS as you are rolling out feature enhancements and new features continuously and you want to avoid UI cluttering.
Plus, it's colorful and eye-catching, which is always nice!
#5 – Invision new product banner
Similar to how Slack used a slideout to capture attention, Invision uses a banner to promote their new product Freehand.
Invision's banner
They promote their new product with a banner that takes you to the dedicated website. It's attention-grabbing and appeals directly to the user by emphasizing what's important to them – working together.
#6 – Invision feature improvement in-app message
Starting to see a pattern by now? I hope so.
Product enhancements can be communicated in-app with short messages.
Here's another great example from Invision. They use a short and colorful in-app pop-up message to inform the user of the feature improvements in an existing product.
Their use of the stars emoji makes it feel informal as if the user is on the ground floor with them, and it conjures images of magic and transformation.
It's a really simple but effective way of establishing your visual identity and reinforcing your product positioning.
#7 – Mural educational resources and templates product launch
Using the same technique as Invision, Mural used a banner to drive traffic to their new educational resource. It's designed to attract new users to try the product using their new templates (which is a product enhancement).
Mural educational resources and templates launch
The banner above takes you to the website where, based on the data they collect via a micro-survey, they personalize the content to be as relevant as possible for each use case.
It's cute, fun, and very on-brand.
#8 – Airbnb using tooltips and modals in-app
I've said it multiple times, but here it is again: when in-app, you can use different message formats.
Here's a collection of great ones from Airbnb.
You can see their simple and effective tooltip for new feature enhancements (inbox expansion) – it communicates the what and how quickly.
Here, Airbnb uses a small modal to highlight a new feature – again, notice how a mix of messages is used.
Then they offer a more in-depth description, which the user can interact with if they're interested.
You can occupy a small space on the UI but to make sure you don't disrupt the user experience, let the user show intent before displaying a large message – in this case, clicking on the modal.
It gives the user freedom of choice so you're not shoving new updates down their throats – they're more likely to ignore you if you do that!
#9 – Revolut launching new features and products in-app
Similar to the 'what's new' type of launches, Revolut uses monthly updates – this is a series of short announcements that introduce new features and feature enhancements using in-app modals.
When the user engages with either message, they are taken to the relevant section of the app offering more information and invites users to take action.
Here's how they announced their introduction of a new card design…
Or the expansion of an existing feature.
Short and on-point text plus large visuals help deliver the message fast and make it easier for the user to get up to speed – it's also attention-grabbing because the empty space in the middle throws the user off, they want to search for an accompanying image. Voila! You've got their attention.
#10 – Intercom uses in-app chat for their community launch campaign
Surprised? I'm not.
Intercom's chatbot is probably what Intercom is best known for. And they know how to use it properly – when they have something new to announce, they use the chat.
Of course, combined with other messages like a launch email for example, but pretty much shows that a chat box is not just for support chat purposes.
#11 – Figma product enhancements in-app modal notification
Nothing new here.
By now you should be familiar with the best ways to launch something new using in-app messaging.
What's great about Figma's modal is:
the combination of image and text to showcase the new enhancement being added to the product
the CTA: yes, I mentioned there should be just one but giving the 'show me how' is the desired action here, offering an alternative for users not quite ready to take action can work too (learn more can tell you which users are interested in the new feature, and you can use different engagement methods to get back to them later)
guess what the 'show me how' button does – that's right, launches an interactive walkthrough and guides the users on how to use the new enhancement

Looking for the best tool to send in-app launch messages? Search no more!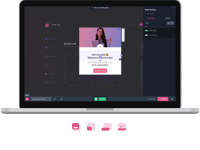 Product launch announcement email examples
If in-app launch messages aren't for you, a product launch email campaign may be the answer.
You've probably used email marketing software or heard of the Reallygoodemails website – it's a great resource of inspiration when you are looking to write a great email.
But it can sometimes get cluttered and hard to find examples you can relate to, especially for SaaS product launch email templates.
You may not have time to go searching for a great product launch announcement email example so we've curated a list of the best ones here!
#1 – Userpilot uses its email newsletter to promote educational resources
Called Product Rantz, Userpilot's weekly newsletter is how we keep our audience engaged and inspired with product launch messages, product tips, exciting news, and industry-related content.
Check out how we use the email subject line to not only set the expectation of what's inside the email but also to build excitement.
You can subscribe to our newsletter here and get the State of SaaS Onboarding report here.
Get the State of SaaS Onboarding report here
#2 – Miro and Zoom integration email announcement
I've already talked about Miro's 'what's new' in-app announcement section but here's how they use product launch announcement email too.
The following example is a new feature announcement email that shows that one short message is not enough – you always need a strategy and a sequence of messages on different channels.
Their email subject line is short and sweet showcasing the benefit of the new feature (the integration with Zoom).
#2.5 – Miro product updates email
Similar to their in-app 'what's new', they have the email version of it where they pack new product enhancements and updates into a singular email – you'll notice they are not the only ones doing this either!
The email subject line? Yes, you've guessed it: What's new in Miro. One of the most used new features include the launch email example and subject line.
#3 – ActiveCampaign Marketplace email campaign
I had to include some examples from ActiveCampaign – in the end, their product is all about sending email campaigns. Be that a product announcement email campaign, launch email, early access, or beta announcement email, ActiveCampaign is your go-to tool.
So where else should you look for inspiration?
What's different about their launch email campaign is that they focus on text-only compared to other examples we've seen so far. Which is best, text-only or text and images? the answer is simple: you need to test it. What's worked for ActiveCampaign might not be your audience's preference but it's definitely worth a try.
So if you're looking for inspiration for a text-only email launch campaign, check this out.
It's also worth testing the email subject line structure they use where they place a hint on the email type to entice the user to open the email.
#4 – ActiveCampaign conference promotion using email
Here's another example that showcases their email design style, proving that text-heavy messages can work sometimes.
This email promotes their conference and is part of a series.
#5 – Figma's new product FigJam launch email
We've seen product updates, new features, and event announcement email examples, but it doesn't stop there.
Here's how Figma announced their new Beta product FigJam to their audience using email. Beta's are an essential and complicated part of SaaS so they have to be done well.
What I like: the graphics actually showcase the product, literally.
Sticky notes, diagrams, and emoticons are all features included in the new product.
And what better way to show your audience what your product does than actually building your email design using the product being featured (FigJam is a whiteboard tool)?
Another great thing is that they give the user lots of options – start jamming, watch the keynote, or read the recap.
#6 – Framer 'What's new' email newsletter
Framer is a fantastic example of text-only emails. Their email newsletter is where they make announcements and provide a sneak peek at their community. A company that builds trust and loyalty within a community can be a deal-maker for users.
Their emails are shorter compared ActiveCampaign and are packed full of info – but in the end, the focus is to get the user to check their new community on Discord (remember the one CTA?)
#7 – Doit uses email to invite users to try their product improvements
Doit is a great example of a follow-up launch message, which is just as important as the initial launch message.
It tells the user the progress since launch and reminds them to check it out.
It's also a great way to ask for feedback, especially when you're launching a Beta product like Doit – a beta announcement email can really help companies with their products.
#8 – Mural promoting their educational events using email
It's not all product, product, product.
Mural uses education as a growth strategy and email is their main channel for promoting their new events – by using an attention-grabbing email subject line, they reach their existing user base and prospects interested in the topics.
#9 – Loom product updates announcement email
Starting to notice the pattern?
'New in' [insert brand name] is a type of product launch email campaign that SaaS businesses use to keep their users up to speed with what's new.
Loom does it too with their monthly newsletter announcing all the new launches in the past month.
#10 – SparkToro Beta launch email invitation
Even though this is an automated email launch message campaign, I like how personal it feels – it's an invitation to join SparkToro Beta, so the fact that the message looks like written by Rand just for me makes it more special and harder to ignore.
#11 – ProductLed Summit promotion email campaign
ProductLed used an event announcement email to promote an event to past attendees.
What's great is that they optimized the content based on who was receiving it: attended a ProductLed Summit? You get an early access email reminder about the upcoming event with incentives involved to share the news. Quick and personal – perfect.
#12 – ProductLed Summit launch discount email campaign
Now, look at a completely different email promoting the same thing.
That's right, promotion is key here – this focuses on announcing a limited discount availability, giving the users a sense of exclusivity.
#13 – Asana new product enhancement email message
Compared to the all-in-one 'what's new' emails, here's something new from Asana.
One product enhancement, one email with the sole purpose of getting the message out there. Notice the brief mention of a previous announcement? They use this to emphasize the impact this product enhancement has.
Three more languages don't sound that much, but three more on top of the four launched earlier makes a difference. It also tells the user that Asana is continuously expanding its reach, which appeals to users from all over the world.
#14 – Squarespace add-on promotion email campaign
Squarespace's add-on promotion email campaign is a great example of launching a limited-time offer for add-ons. Additionally, existing customers will usually get an early access announcement email which will help foster brand loyalty.
Squarespace is looking to drive account expansion, so they've offered users 15% off their scheduling subscription for a limited time – giving users their own unique code creates that sense of exclusivity I've mentioned before.
Key Takeaways
Launch messages are a great marketing strategy for re-engaging current customers and reminding them of the value of your product. They are a brilliant way of announcing a product launch and creating a great onboarding experience for the user.
Want to get started with in-app messaging and product launches? Get a Userpilot demo and get started right away without needing to code here.

Looking for the best tool to send in-app launch messages? Search no more!