15 Best New Product Release Email Examples + Best Practices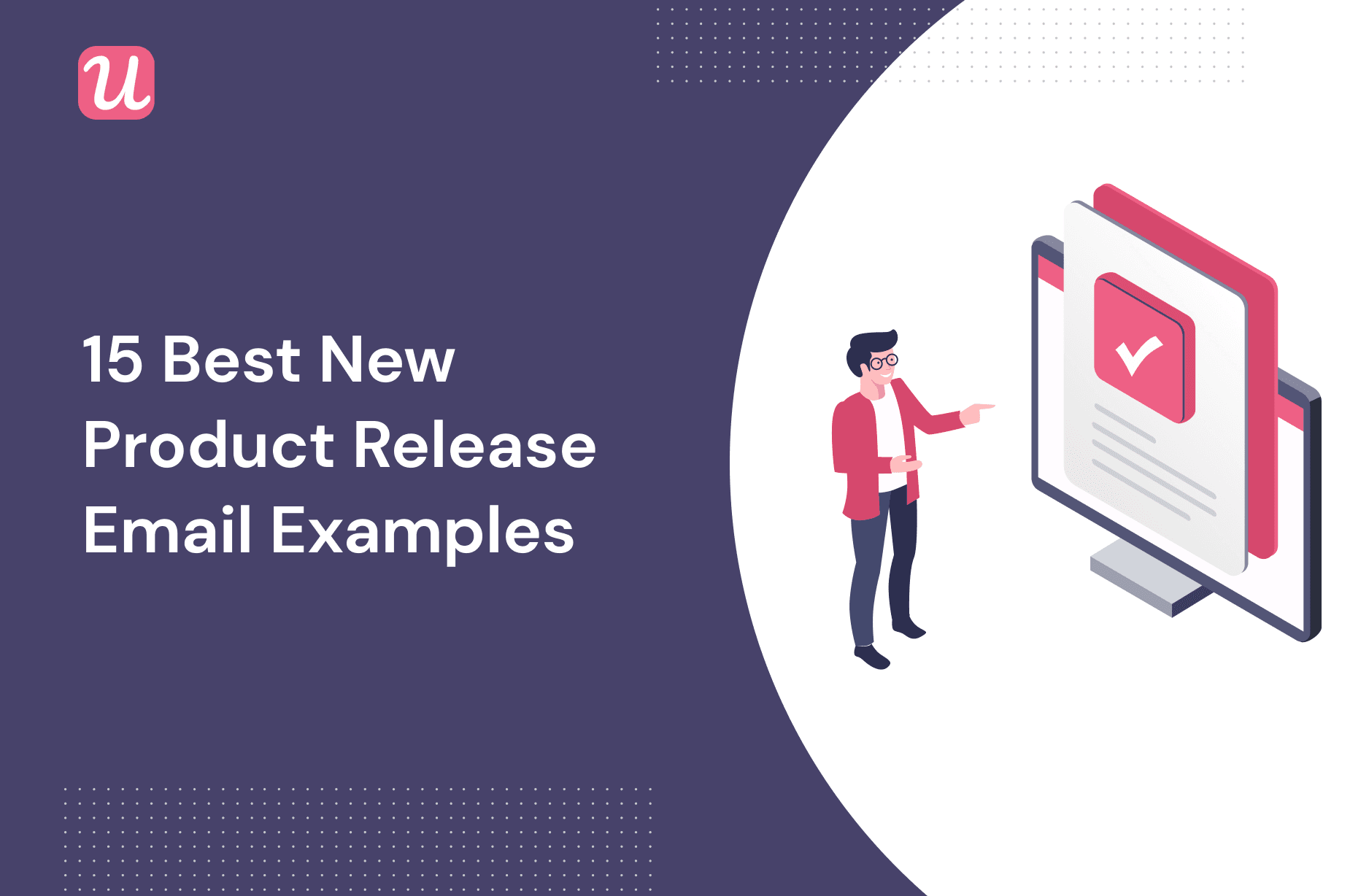 Can a new product release email influence your product adoption rates? Why are product release emails important for a successful product launch strategy?
If you're looking for answers to the above questions, we've got you covered.
This article covers the why and how behind using emails during new product launch campaigns along with a curated list of new product release emails.
Disclaimer: Check out our product launch announcements in-app article for more on how to announce new product updates and features with in-app guidance, not only by email.
TL;DR
A product launch release email is an essential part of a product launch marketing strategy and it's meant to inform users, either current or potential ones, of a new product or feature release as well as offer more details on the changes that occurred.
Product release emails can help improve adoption rates by driving inactive users back inside the product.
Apart from brand new product launches, emails can be used to announce new features, updates, special offers, or invite to events or beta launches.
Best practices when writing product release emails: use attention-grabbing subject lines, plan a sequence of emails, segment your target audience, use images and product screenshots and add a relevant call to action (CTA)
While a product launch email brings users inside the app, pairing it with in-app guidance inside the app can boost your adoption rates. Use a product adoption tool for that (Check out Userpilot)
What is a new product release announcement email?
A product launch release email is an essential part of a product launch marketing strategy and it's meant to inform users, either current or potential ones, of a new product or feature release as well as offer more details on the changes that occurred.
Product launch emails inform the users when the product is going to be available, what problems it is going to solve, how they can get access to it or find more information.
Why are new product release emails important?
If used right, product release emails will help you improve your product adoption rates.
There's a big chance that you are using in-app announcements to keep your users engaged and up to date with details on new releases and product updates. This is the most direct way of reaching users.
But when trying to engage with a user that is inactive, your in-app messages have no chance of being seen. This is where emails come in.
Not to mention, using emails can re-engage churned users when the updates you've done to the product are what the user was expecting from the product and the lack of it made them churn.
What are the types of new product release emails?
Product release email can be considered an umbrella term for a few types of different emails. The overall purpose of each of them is similar but you can use them in different situations.
Product release emails
As the name suggests, product release emails are the ones that usually include the product release notes on top of announcing. These are part of bigger product launch campaigns and include more details than a simple feature release launch email.
Feature announcement emails
Since improving your product and adding new features is a continuous process, feature announcement emails are similar to a product launch email, only that they announce the availability of a new feature.
Check out the example below from Slideshare where they introduce its new clipping functionality.
Pre-order release emails
An effective product launch has more than just one email. Here is where the pre-order release emails come in.
These emails are usually a part of a sequence. While the product is not available yet, they offer them a chance to secure access as soon as it's launched, possibly before other 'ordinary' users.
Such emails help you build the hype around your product and even may help you get early commitment from the users.
Future sales emails
Your sales team might want to aim at re-engaging churned users or incentivizing the active ones who are still using the free trial or freemium plan to upgrade. Using future sales product release type of emails you can offer a one-time discount to users who want to benefit from a new feature or product enhancement that will only be available on premium subscriptions.
An example of that would be Squarespace's email with a limited-time offer for an additional feature.
What are the best practices for writing new product release emails?
It's not enough to send an email to announce your product launch, you need to make sure you send it to the right target audience and optimize the copy for engagement.
Create an attention-grabbing email subject line
There are a few things to pay attention to when it comes to subject lines:
-Research your target audience's voice, for example through interviews or questionnaires, and use the language that is likely to resonate with your audience.
– focus on the clarity of the message rather than trying to be witty or intriguing, to properly convey the message and build anticipation of the content of the email.
– keep it 25-30 characters long as this is what most users can see on their mobile devices, and perhaps use the preview line as an extension of the subject line to communicate that extra bit.
Plan a sequence of release emails
Don't rely on a single email to deliver the message as it can easily be missed. Instead, design a sequence of emails to be sent at different stages of the product launch campaign, each having a different goal.
Here are some of the emails you may want to consider:
– Beta launch invite- Invite a select group of users to take part in testing the product before the launch
– Teaser email- send this a couple of weeks before the release and let the users know that a new feature is coming soon to build anticipation
– Product launch announcement email- send it with your product release notes and invite users to check it out
– 'In case you missed it' email- sending a reminder can help in case the user missed the first one (avoid spam and don't send this to users who open the launch email)
Use segmentation to email the right users
Use the information about your users to segment your users and deliver focused and relevant messages to the right target audience.
By now, you would have identified the groups of users who are going to benefit from the new feature.
Make the release emails visually pleasing
Produce content that is going to be pleasing to the readers. Use high-quality photos, graphics, or screenshots.
A release email is not a place for detailed technical specifications, so keep the text to a minimum. Use bullet points and succinct language to introduce the main features and benefits, and include a link to a site, demo, or presentation with the details.
Include relevant CTAs in your release emails
You not only want to inform users about the new product or feature, but you also want them to take action.
You can include a link to your official release note page or invite the user to try the new feature or product. Your CTA will depend on the type of email and what your goal is.
The best examples of new product release emails
While there are a lot of product launch email templates available on the internet, using them is not the most creative approach and it doesn't offer the right level of personalization. Instead, the 15 examples below can inspire you and help you develop your own product launch emails.
#1 – WeTransfer's Collect
This product launch email announces WeTransfer's new product, Collect.
It features a picture that alludes to the main feature of the app, i.e. the ability to gather digital content easily. It shows how the new product solves their problem and follows it with a CTA which directs the users to a page with more details.
#2 – Miro and Zoom integration
Here's an example of a follow-up email sent out by Miro reminding their users about the new feature.
It's got a great short subject line that gives the reader the main benefit of the new feature and it includes a screenshot of what the integration with Zoom looks like in practice and a CTA line that invites the user to read more about it.
#3 – Mailchimp
In this beta launch announcement email, Mailchimp offers its users early access to the new website builder. After the summary of the main features of the product, there is a CTA encouraging the reader to try it out and get back with their feedback.
#4 – Hootsuite's new Facebook features
In this product update announcement email, Hootsuite unveils a set of new features for Facebook users.
They make a point that the features are being introduced in response to users' needs.
The features are summarised only briefly but the readers are given a chance to attend an event where the new features are going to be demonstrated.
#5 – Figma's FigJam
Figma announced their online whiteboard tool, FigJam, in a release email that consists of one image that was created with the tool itself.
What better way to showcase the new product in action?
The copy includes a brief description of the purpose of FigJam, followed by a breakdown of what users can achieve using it.
#6 – Grammarly
The new feature release email announcing support for different text styles is divided into two parts: the graphic showcasing the new toolbar features, and a text outlining what the new features are and how to use them.
This is followed by a button that takes them to a page with more information.
The subject line and heading, Write Your Text in Style, are also a nice touch and a very witty way of introducing the new feature.
#7 – Doit
Here's a good example of a beta launch email from Doit, which advises the readers of the improvements that have been introduced since the product launch.
It is laid out as a personal email, addressing the reader directly, it includes a screenshot followed by the CTA -a request for customer feedback after creating a free account.
#8 – Designmodo
Designmodo is another company that decided to use the product they're announcing to produce the release email because that's exactly what Postcards is for.
The email looks stunning, relies on high-quality visuals and a short description of the product, as well as a link to a presentation where more details can be found.
#9 – Loom
Loom uses its monthly newsletter to announce all the new features they've added to their product.
Apart from keeping the users up-to-date, they use the email to educate them about their existing product features with the Tip of the Month.
Finally, there are CTAs, including an invite to a beta launch.
#10 – Farewill
Farewill's new product launch email is a good example of how to make a complex subject a bit easier to discuss.
It introduces a telephone will writing service to supplement its offer. The email addresses those users who can't use the online service and offers them an alternative. There is a CTA, which gives the users an option to book a callback.
#11 – Havenly
The email by Havenly is a classic example of a teaser email.
It starts with a CTA (Keep your eyes open, and your inbox refreshed).
It carries on to mention the new product but without giving any information on what it is. This is how they build up the hype around the launch of their new product.
#12 – InVision's Craft Freehand
InVision's new product launch announcement email consists of two distinct sections.
The first introduces the new product, Craft Freehand, and users screenshots showing how designers can use it to work collaboratively on their new creations.
The second part summarises the features.
In both parts, there are buttons taking to users to the product, which they can start using for free.
#13 – ProductLed Summit
The ProductLed event invitation email offers a discount for a limited period of time.
On one hand, it gives the users a sense of exclusivity, but more importantly, it encourages them to make an early commitment.
#14 – Blissfully
The product update announcement email from Blissfully has 4 sections.
The first part introduces the context and shows how the new version of their product fits in that context. This is followed by a graphic and a comprehensive breakdown of the features they offer, and close it with an embedded video showcasing the product.
The email is formatted as a personal email and the final CTA comes in the closing line (Any questions and feedback, we'd love to hear from you).
#15 – Trello Inspiration
We're finishing with Trello's new feature launch email – Trello Inspiration.
It starts with a question to draw the users in, gives them the way to find the answers, and follows with another CTA to incentivize them to submit their own examples, and thus contribute to the feature growth.
Key takeaways
New product release emails are an efficient way of reaching your users. They can be particularly useful in re-engaging the users who have stopped using the product, not just keeping existing users up to date.
Ultimately the goal of product release emails is to inform and drive users to engage with the product.
Emails bring users inside the product but to drive adoption of the new feature it's best to use them in conjunction with in-app guidance messages.
Get a Userpilot demo and start communicating with users inside the product using tooltips, modal, checklists, and other UI patterns.