Product Updates: How to Announce What's New in Your SaaS Product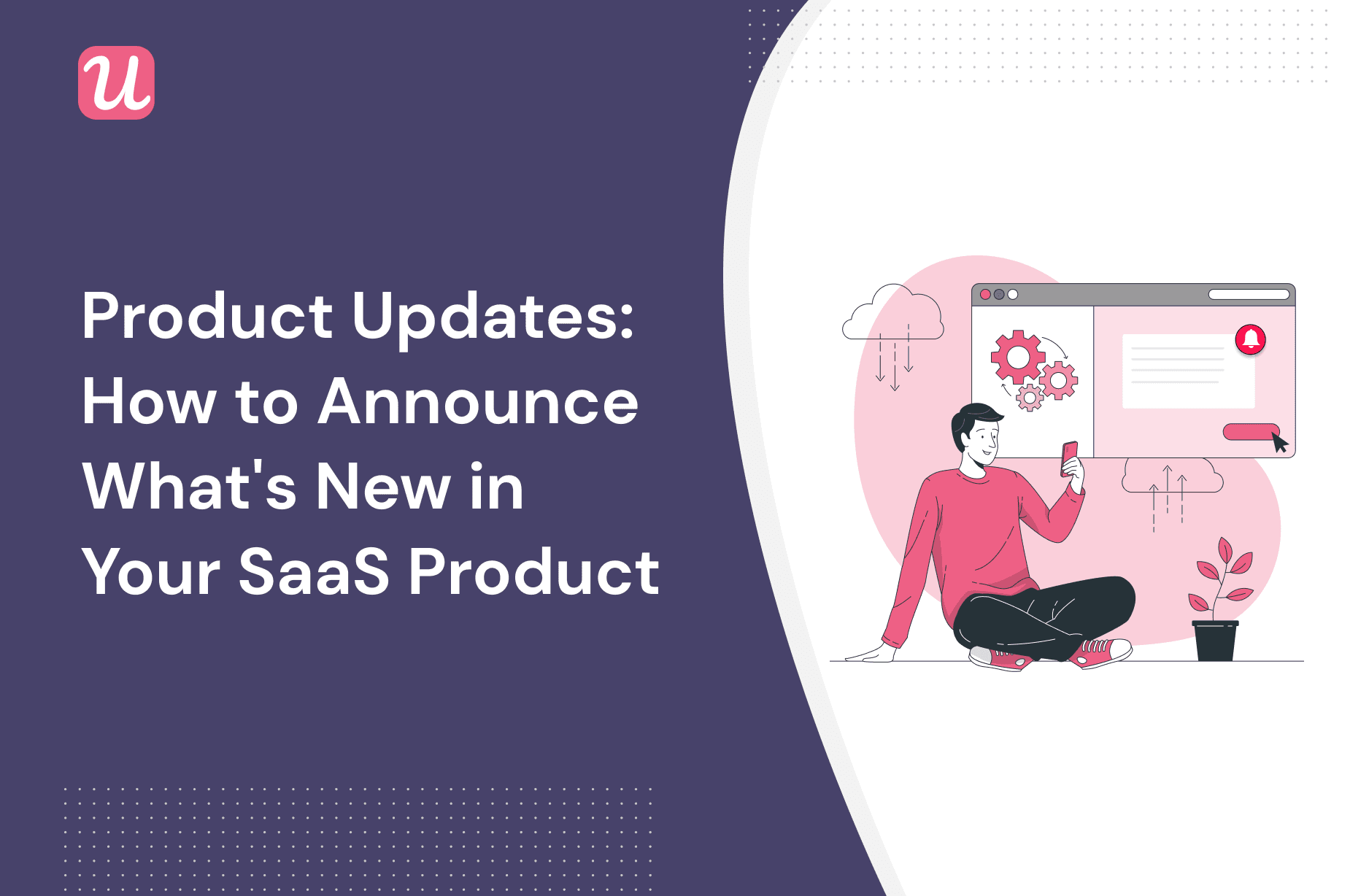 Shipping regular product updates as you iterate and improve your SaaS is part and parcel of the industry.
With customer needs constantly evolving – and in a busy, noisy world – it's all too easy for your product update to slip through the cracks.
Getting it right is a balancing act: you need to make sure your users know what's changed, without bombarding or overwhelming them with in-app communication.
In this article, we're going to explain some of the common mistakes to avoid when announcing your updates – and the tactics for doing it right.
Let's dive in!
TL;DR
A product update is a change of any type in your application, from small bug fixes to releasing new features.
The method you choose for your product updates should always depend on the context – but it's never wise to clog up your user's screen with unnecessary messages.
Another common mistake is bothering customers with irrelevant updates. Instead, target distinct user categories with updates on just what matters to them.
Ensure your updates land effectively by choosing the right kind of in-app messaging.
For a larger product release, hosting a free webinar can be an effective marketing tool.
A good way to answer questions your users have about updates? Introducing interactive product tours that showcase key features.
You shouldn't rely on text alone to explain the benefits of a new feature. Create a sense of engagement with images, GIFs, and videos.
Make your 'What's New' page accessible and visually appealing to easily share relevant information and resources with your users.
If you've got big news to share, you always have the option of emailing a good old-fashioned release note straight into your user's inbox.
Promoting your update on Product Hunt alongside other SaaS businesses is a great option if you want broader exposure to an engaged community of potential users.
Finally, remember it's always possible to win back the business of churned customers (with the power of a well-timed email).
Announce product updates with in-app messages- Get a Userpilot demo and see how.
What are product updates?
A product update is any kind of change to your product. These changes can be made to:
Address a new user need.
Enhance an existing feature.
Fix bugs or areas of frustration.
Mistakes to avoid
Writer and academic Matthew Crawford says that:
"Attention is a resource—a person has only so much of it."
Some of the most common pitfalls around product updates stem from missing this key point: the attention of your audience is incredibly valuable, and not to be squandered.
That idea should underpin how you announce product updates. You need to think from the user's perspective, treat them with respect, and work out what's important for them to hear about.
How can you maximize the amount of useful information you convey, without boring, bombarding, or overwhelming them?
Avoid cluttering the user's UI with in-app messages
Your customers are using your app for a specific reason. Any friction that stops them from achieving their goals runs the risk of disrupting their workflow and impacting their experience.
Clogging up your user's screen with irrelevant in-app messages is a prime example.
Let's take a look at the example below from StoryChief.
Trying to edit an article is made nearly impossible by a screen overwhelmed with an unnecessary educational video. The survey banner at the bottom of the site just adds insult to injury.
The prime use case of the app has been completely disrupted.
It's easy to see how this would make it harder for your users to interact and engage with your product – and ultimately, it's a huge missed opportunity. Why?
While users are in the process of using your application, for a brief period of time you've got their undivided attention. In-app messages can be a powerful tool provided they're used in a focused, nuanced way.
One way to do that is by setting notification-specific priority levels when setting up your in-app messages. Some product growth software (Userpilot included) will allow you to do this directly when setting up your in-app flows.
Don't spam your users with updates that are not relevant to them
Your SaaS is likely to meet the needs of a range of users. A common mistake is failing to understand that people fit into distinct categories, each with a different set of motivations, ambitions, and objectives.
So rather than adopting a blanket approach, you should try to tailor messaging about each product update to distinct audience segments.
How to announce product updates the right way
Your developers have been working hard to design, build and launch a product update. What are the most effective ways of telling your customers about them?
This section of the article looks at how best to answer that question.
Use in-app messaging the right way: modals vs tooltips
We know that attention is a precious commodity. It's easy to waste that opportunity with irrelevant, disengaging in-app messages.
But when you have the right tools and resources, you can take advantage and ensure your audience takes notice of your new product update.
Let's take a look at some of the in-app messaging options available in product adoption tools and when it's best to use each.
A modal is a global announcement that sits in the center of the screen.
Modals are bold and attention-grabbing UI patterns. Precisely because they can disrupt the customer journey, they should be used sparingly.
They're typically used for an expansive product update that applies to multiple customer segments.
A tooltip is a more subtle option. They are contextual pop-ups that easily slot into a workflow and help users figure out the next step.
You might use them for explaining a smaller change on a specific feature – like this example from Asana, for a product update on mobile boards.
Host a product updates webinar for big product releases
Humans are creatures of habit. Change is scary, and large enough product updates can cause friction and uncertainty if they aren't framed in the right way.
In those scenarios, your existing customers need more than a static pop-up.
They need human interaction and engagement, a chance to see an update working in more detail, and ask follow-up questions.
One effective way of tackling those concerns is to schedule a free webinar focused on a specific product update (or a bundle of smaller product updates).
A combination of targeted in-app messaging about the product update and relevant information about the webinar can help your customers discover, adopt, and make the most of new features.
Remember the example above on how we used a modal to announce a feature update (the new Resource Center)? We also paired it with in-app slideout inviting users to attend a webinar and learn more about the new update.
Pair in-app messaging with a short interactive product tour of what's new
A golden rule of communication is 'show, don't tell' – and that can be an incredibly effective way to physically show off new features to your customers.
How does that work in practice?
At a certain point in the user workflow, a tooltip or a modal could launch a contextually relevant walk-through showing them exactly how to get the most of a new feature.
Here's a great walkthrough example from Kommunicate, showing their users how to engage with a feature.
We can see how the tooltips deploy sequentially, working in tandem with the actions your customers take.
It's an interactive learning experience that helps build your user's knowledge (without taking too much time).
Keep it short. You don't need an in-depth tour walking through the minutiae of every tiny product update.
Use images and micro-videos to drive more engagement with your product updates
Another powerful marketing tool is visual communication. It's a proven method of boosting engagement.
Research from Buzzsumo found that articles with an image once every 75-100 words received double the social media shares as articles with fewer images.
We all know large blocks of text can be off-putting and disengaging. Often, users will just ignore it (meaning they could be missing out on valuable information).
Adding a GIF to your tooltip is an accessible and engaging way of demonstrating how different elements of the Slack user interface have changed.
Of course, there's still a role to play for text.
It just needs to be short, direct and clearly explain your new feature. If your customers are interested in understanding the juicy details, you can point them to more detailed release notes.
Have an easily accessible 'What's New' button
Every time you announce product updates, you should think about adding them to an information repository.
Rather than hiding details of updates on a dusty corner of your website, you should make them obvious and appealing to your customers. That means you are ensuring the benefit of each new feature is clearly articulated.
So, how exactly do you funnel people towards your updates page?
Here's a neat example from Surfer. They use a gift box and notification to prompt curiosity and open a section on release notes.
They've taken it a step further by adding a method of capturing user feedback – a clever addition.
Another tactic is slotting product update information into the context of user flows, as Miro has here.
This modal highlights the update with an engaging visual. The link to the changelog means customers have the chance to explore in more detail and potentially discover new features.
Send release notes emails to existing customers
Email is one of the oldest and most reliable tools in the world of digital marketing.
Sending a release note email that lands directly in a customer's inbox is one of the most straightforward ways of explaining changes.
But when should you prioritize an email over an alternative, like in-app messaging?
It comes down to the size and scope of an update (you should avoid email as a way to inform customers of small releases).
The product update email below showcases a big new feature of core relevance to all the primary customers of the product. The messaging is brief and punchy.
It's combined with a smart and engaging visual that demonstrates the functionality, and there's a clear call to action.
So, consider sending a product update email when you are:
Releasing a bundle of features together.
Introducing a product update that means significant change.
Handling an area with a lot of audience feedback.
Promote a big product update with a Product Hunt launch
With a community of over 5 million engaged users, posting on Product Hunt is a fantastic way of marketing your services and promoting important updates to a broader audience.
Take some time to write an engaging pitch that clearly articulates the benefit of a new feature (the platform works by enabling users to up-vote products and create a buzz).
It can pay off by generating huge amounts of free publicity. In the example below, Delibr (a SaaS for building product roadmaps) hit #5 on Product Hunt with their 2.0 release.
Pro tip: Bring back churned users with the right product update email
Churn is the rate that users cancel their recurring subscriptions, and it's a figure SaaS owners fear. Although it can be painful to dig into, understanding why your churned customers choose to leave can be a valuable source of data.
Let's take a look at how Asana handles the process.
The churn survey helps them track, log, and understand the data behind why someone would pause or cancel their account. That helps the team hone in on pain points, and deliver the right product updates at the right time.
It's then relatively simple to target churned customers with a product update email setting out exactly what's changed and making users reconsider trying out the product again.
That's what ActiveCampaing does, reengaging churned customers by showcasing the value of product updates.
Conclusion
Ultimately, the key to marketing a product update effectively is taking the time to understand what's important to your customers.
Once you think about it from the user's perspective, it's then a case of choosing the right tool – whether that's in-app messaging, an email, a webinar, or a combination of the above.
By treating your users with respect and empathy, you give your product the best chance of success.
Want to build product experiences code-free? Book a demo call with our team and get started! Check out the banner below for details.