17 Best In-App Messaging Examples to Improve Customer Engagement in SaaS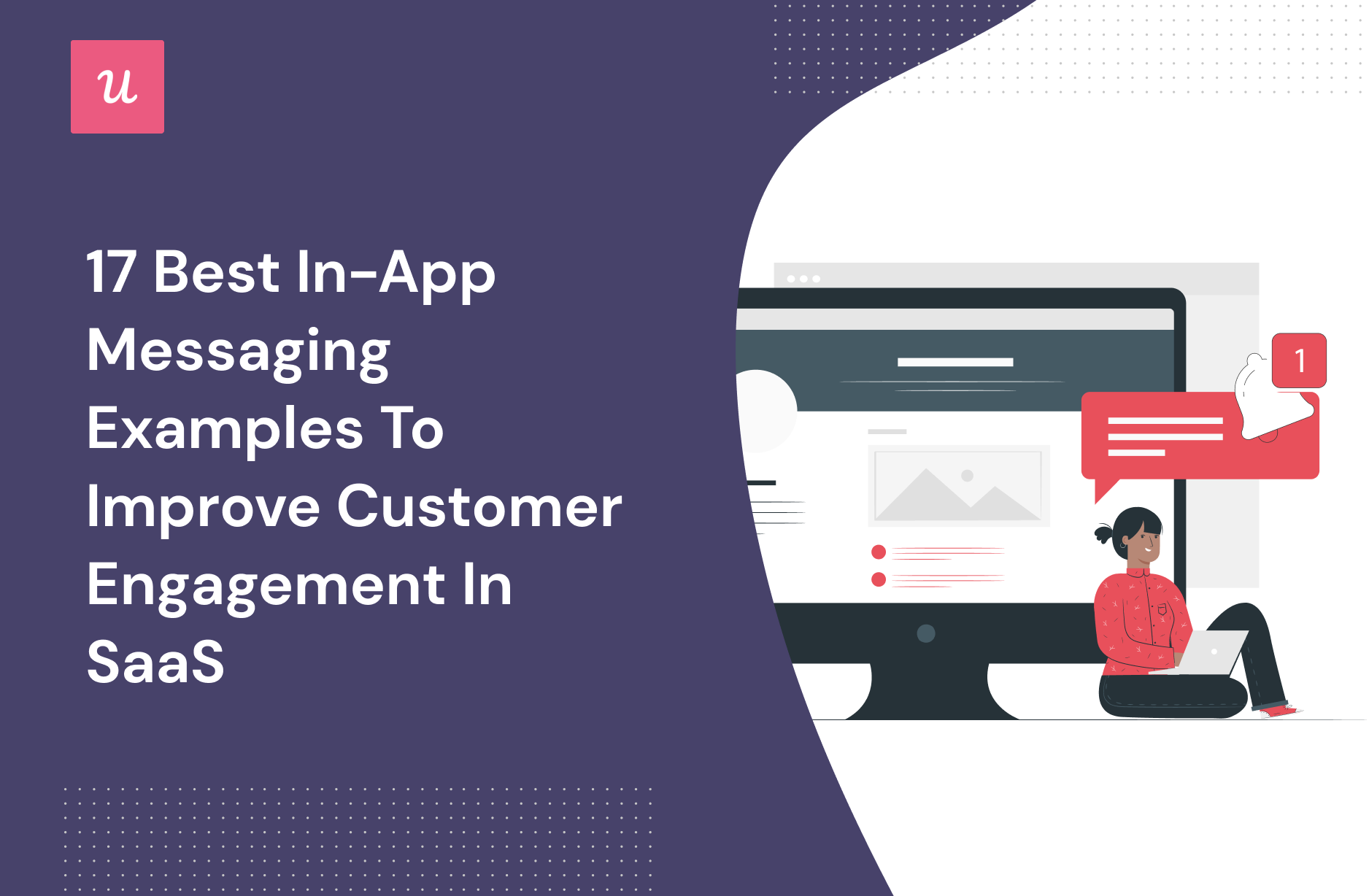 In-app messaging is essential to product communication as it can have a big impact on user behavior or promote a specific feature that has just been released. The in-app messaging examples we're going to go over will show you how to make the most of personalized messages and help users feel like you truly care about their jobs-to-be-done or JTBD.
TL;DR
What is in-app messaging?
In-app messages are targeted messages that can be used to onboard users, engage them throughout their customer journey, and drive engagement by highlighting new features.
They can also be used for feature announcements, promoting limited-time offers, or guiding users with new functionality that they aren't familiar with.
What is the difference between in-app messages and push notifications?
People often use in-app messages and push notifications interchangeably since they both involve sending messages to users. However, they differ when it comes to intent and location. Push notifications pop up while users are outside the app while in-app messages appear, well, in the apps themselves.
They also serve different purposes since push notifications are generally sent to engage users who aren't actively using the app while in-app messaging helps guide users whenever they run into complex features during the onboarding process (or even in other stages of their customer journey).
In short, the in-app messaging strategy helps users learn while push notifications are used to encourage users to get back in the app by telling them about their account activity.
Why is in-app messaging important?
In-app messages increase engagement and help users move through the onboarding flow a lot smoother, but that's not all these messages are good for. Here are a few benefits that in-app messages can bring whenever they notify users:
It's also worth noting that an in-app message can be triggered based on any trigger, behavior, or segmentation rules which makes them ideal for contextual onboarding. This makes in-app messages a powerful tool when targeting a specific user segment or promoting a premium feature.
17 best in-app messaging examples to improve customer engagement
Looking at how other companies use their in-app messages to delight users and make the in-app experience more visually appealing can offer a good example of how to utilize these strategies for your own app.
Let's take a look at the types of in-app messages you can use at different stages in the user journey. All the in-app messaging campaigns discussed will fall under each type.
Onboarding: where your customers learn about your product and you learn about your customers.
Adoption: encouraging users to try your stickiest features.
Retention: ensuring that users continue to engage with your product long-term.
Account expansion: increasing the value you deliver to customers so they generate more revenue as a result.
In-app messaging examples – user onboarding stage
The onboarding stage of the user journey is all about learning more about your user and helping the user learn more about your product.
You should make this stage as contextual as possible and drive them toward key activation points from the get-go. This will boost user engagement in the onboarding stage which is vital to keep them retained.
#1 Postfity uses welcome screens to personalize the onboarding process
Welcome screens are an effective form of in-app messaging since they can personalize the user onboarding process. In fact, Postfity has seen great results when using Userpilot (a powerful messaging platform) to create welcome screens for their personalized onboarding flows.
In one fell swoop, they're able to identify who the technically savvy user might be.
#2 Konetentino sets the right expectations for users with welcome screens
On the other hand, Kontentino uses its welcome screen pop-up to help app users get set up while encouraging questions and feedback.
#3 Canva uses a welcome message to segment its users
We then have Canva which uses in-app welcome surveys to start the customer segmentation process early in just a few clicks and ensure that all their onboarding messages are relevant to the specific customer.
Regardless of what you're using them for, welcome screens can make subscription-based apps (both web and mobile) a lot less intimidating for new users.
In-app messaging examples – user adoption stage
The user adoption rate is one of the most important metrics for SaaS companies since the entire business model is centered around generating recurring revenue over the long term. In-app messaging can highlight the stickiest features of your product to ensure you get an ROI on all your acquisition efforts.
#4 Userpilot uses multiple in-app message types to drive new feature adoption
When trying to drive user engagement and feature adoption, you should create in-app messages that educate users about the features they're missing out on and give them a reason to opt-in to using them. Userpilot uses a full-screen modal to promote its in-app resource center that shows users how to use all the features the app has to offer.
To go the extra mile for Userpilot users, a slideout also promotes our webinar that teaches users how to best use the resource center. In-app notifications like slideouts work so well because they use motion to catch the eye of users.
#5 Loom uses checklists to drive users to the AHA moment
In-app onboarding messages can make a huge difference when it comes to product adoption. Perhaps the most prominent example of in-app messaging in the context of product adoption would be onboarding checklists.
That said, you should only include steps that push users towards that AHA moment and fast-track user activation. Loom's onboarding checklist focuses solely on the core offering of its product which is creating and sharing videos.
#6 Respond.io uses checklists and interactive walkthroughs to shorten the time to value
Obviously, your checklist should shift depending on the type of solution you're providing. Rocketbots, the business messaging platform now known as Respond.io, knows that their product is stickiest when multiple people use it together so their checklist reflects that.
#7 Get a Newsletter uses an interactive walkthrough to help users understand its product
Interactive walkthroughs are a powerful way to show off both the core product as well as secondary features. After all, customers who try out features earlier on in their journey are more likely to adopt them — therefore increasing engagement and retention rates.
Get a Newsletter's two-step walkthrough also proves that your flows don't have to be very long to help users out.
By driving feature adoption through in-app messaging, checklists, and walkthroughs can also reduce the number of laggards you have in your product adoption curve — which is essential for SaaS companies that offer innovative and/or disruptive software.
In-app messaging examples – user retention stage
Now that you've gotten users to adopt your product, the next step is to ensure they continue using it long-term. While retention may center around push notifications for mobile apps, a web or desktop app should rely on in-app messaging elements to create a strong customer engagement strategy.
#8 BacklinkManager uses secondary onboarding checklists for advanced feature discovery
In-app checklists can be very effective for secondary onboarding flows. You could use them to promote obscure features or teach customers how to use the product better. For instance, Backlink Manager uses its checklist to help users automate their link-building workflow.
#9 Moz uses modals to announce new features
A good in-app message is one with a specific purpose and relevance to the user. That's why using in-app messages to announce a new feature is the ideal use case. New feature announcements are something that both you and every customer cares about.
One example of how to announce a new feature using in-app messaging is how Moz announces every new feature with a modal. This gives users a clear idea of what the new feature will look like in the app itself and gets them excited to try it out.
#10 Kommunicate uses tooltips to launch new features in-app
If you don't want to use modals for new feature announcements then you could follow in the footsteps of Kommunicate. They built a tooltip with Userpilot to highlight their WhatsApp integration when it first launched.
#11 Miro's 'what's new' oversized modal keeps users up to date every time they log in
Miro is another testament to how effective in-app messaging can be when it comes to promoting opt-in courses and new features in apps.
Their "what's new" modal is the perfect spot to advertise feature updates since the user will see it as a full-screen popup.
#12 Jira collects in-app feedback on new features
In the same way that in-app messages transmit information, you can also use in-app surveys to collect information from your users.
Having microsurveys in your SaaS product is a key part of the customer experience optimization (CXO) process so you can identify the root of any issues.
Jira adds user feedback surveys in apps they provide to try to get as much information as possible from their customers, especially when it comes to newly released changes.
They took the same approach when they released the new issue view to get immediate user feedback.
#13 Dribble collects customer satisfaction surveys after the user's interaction with customer support
You should also try to personalize your in-app survey designs based on your ideal customer profile. Dribble, the social network for digital designers, runs feedback microsurveys with a stylistic twist that's relevant to their user base.
#14 Asana uses exit surveys to offer users alternatives and reduce churn
In-app churn surveys can provide insights into the reason why your users are leaving or even give them a chance to reconsider their decision. You could also offer to pause their subscription instead of canceling it which increases the odds they'll return, just like what Asana has done in the below example.
In-app messaging examples – account expansion stage
Account expansion is all about providing more value for users so they generate more revenue for your company. Upselling is the primary source of expansion revenue but other methods like cross-selling other products or offering add-ons can also be highly effective.
#15 Intercom prompts users to upgrade with contextual tooltips
You'd be surprised how much expansion revenue an in-app message can generate with a simple upsell.
It makes sense though since it's more likely that a user clicks on an in-app upsell versus opening an email with promotional messages (that may or may not end up in the spam folder).
When it comes to customer expansion strategies, you need to be smart about what you promote and where you promote it.
Intercom uses an upgrade tooltip to advertise their product tours add-on — something that could more than double their ACV for that user in some cases.
#16 Zapier triggers an 'upgrade now' modal when users reach their account limits
Rather than offering additional features, Zapier takes the account expansion approach of limiting the number of tasks users can have without upgrading their subscription. They then use an in-app message to remind the user that they can lift the restriction by upgrading or upselling at the right moment.
#17 FigJam uses different banner types and placements to drive users to upgrade
While modals and tooltips may be more popular, in-app banners can be just as effective when it comes to generating upgrades from your users. FigJam uses a banner to prompt an upgrade from their beta users which increases their trial to paid conversion rate.
Conclusion
Whether you're trying to onboard new users, increase feature adoption, or make your voice heard with a feature announcement, it's clear that an in-app message can be extremely effective.
After all, in-app messages are a great example of how you can improve the customer experience when you take a conversational approach and dive deeper into offering the right help at the right time.
If you want to start reaping the benefits of in-app messages, collect user feedback, and upsell them to generate expansion revenue then it's time to get a Userpilot demo today!