[CASE STUDY] Going Product-Led Growth: How Kommunicate.io drives product adoption without a sales team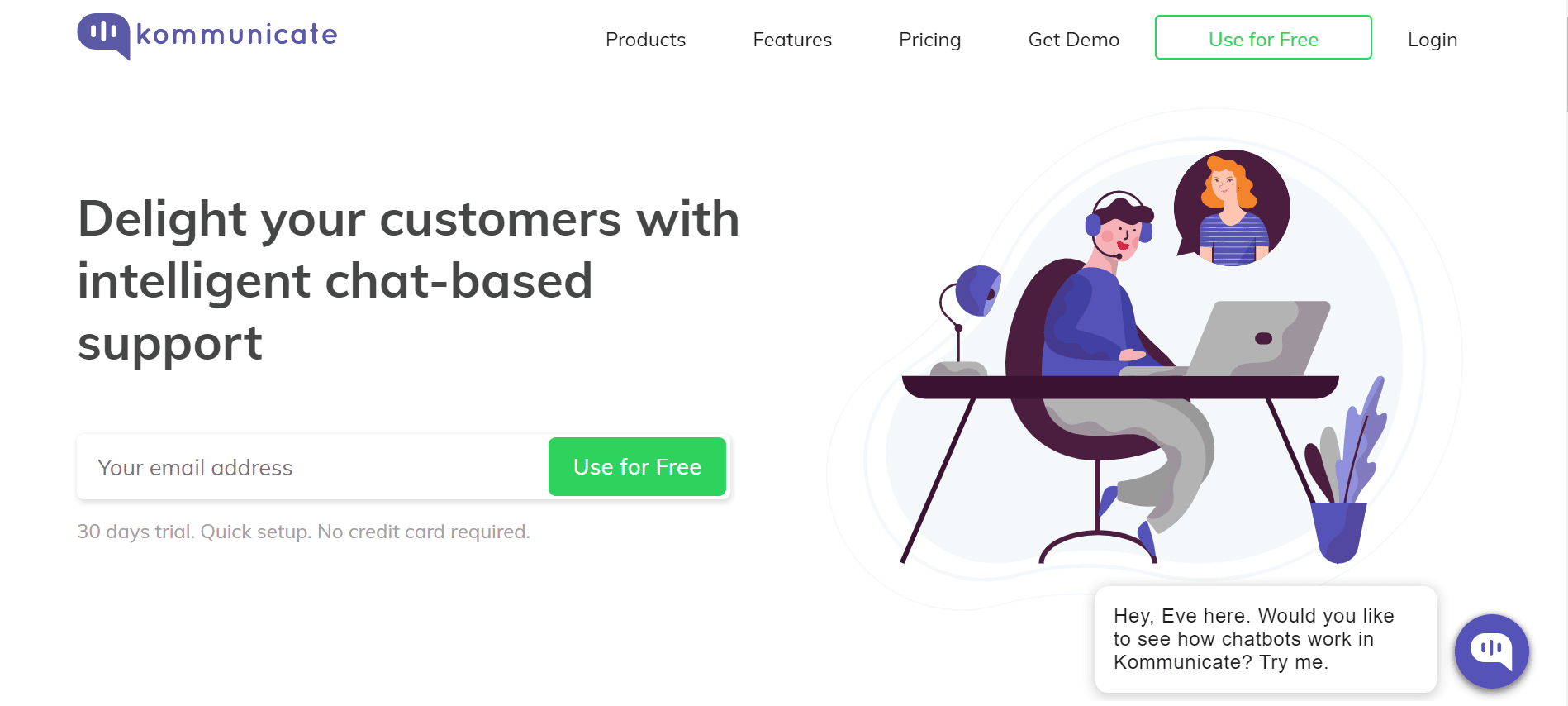 Kommunicate.io is a Chat-based Customer Support tool suite helping companies combine chatbots with human customer support to deliver the perfect customer service 24/7. But while helping others nail customer support, Kommunicate's customer success team noticed a disturbing trend: their customers kept asking for features that were already there in the product. 60-70% of users were using only 3-4 major aspects of the product – only a couple of major features, they weren't exploring and playing around with it. And because people were not realising a certain feature they needed was already there, they didn't realise the value of the product.
The customer success team was getting back to the marketing team saying 'We need to present this better – we need to somehow guide users to certain things'
That's when Parth Shrivastava, Senior Product Marketing Manager at Kommunicate.io realised that as a data-driven sales-less team, Kommunicate.io had to resolve this problem right within their product – by improving their user onboarding. They decided to do it using Userpilot – a tool that allows product teams to build product experiences without a line of code.
Fixing Feature Adoption with Onboarding
"As in any SaaS, there are multiple things that people can do, but few that they actually do" – said Parth. But how did Kommunicate decide which features they should guide their users to first?
True to form – based on data:
'If you don't have a sales team, everything comes down to the product and product-marketing to scale. So we are a very, very data-driven team – we take decisions based primarily on data'
After analysing session recordings from Hotjar and user behaviour data from Heap – Parth decided to focus on two consecutive goals:
1) First, get the users to their initial 'aha moment' – boosting the chatbot integration by drawing the new user's attention to a single activation point – the integration button.
2) Then, get the users to adopt certain key features that correlate with conversion, by adding a lot of really small cues in the product.
How did Kommunicate do it?
First of all – to increase chatbot integration – Kommunicate focused on that key step through a simple notification bar with just two buttons: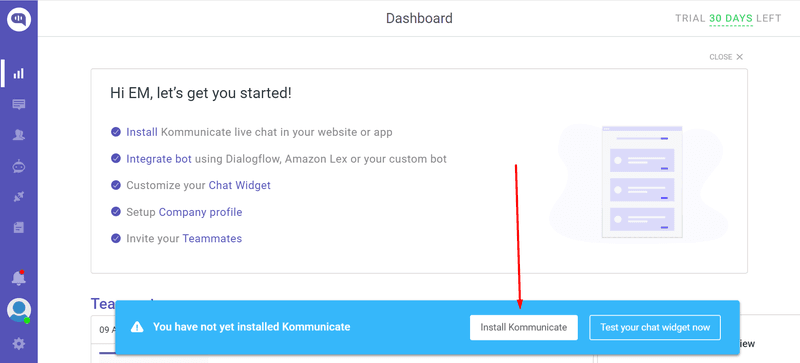 "When we first launched our onboarding experiments in Userpilot – the percentage of signup-to-chatbot-integration was lingering on 40-45%; after about 7 months it's at 55-60% now. That can be attributed to both Userpilot and our customer support team's contribution. An increase of over 15 percentage points is very substantial for us, since chatbot integration is a highly scored metric as a strong conversion cue."
Since the introduction of the checklist, the adoption rate improved by a further 4%.
Next, after the user has performed the essential chatbot integration, Kommunicate noticed that there are 5-7 features that all the paying customers are using. Hence, they released the small adoption cues in Userpilot – the 5 'AHA' moments:
"We realised there are 5-7 things that all the paying customers do – 5-7 key features they adopt – so all of them we plugged into your product adoption feature."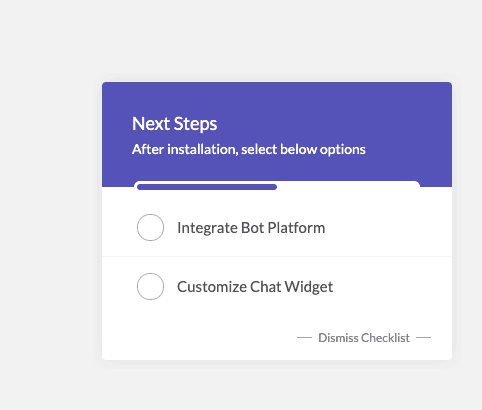 After reaching each goal (the 'AHA' moment) and landing on a specific page, there's a next step to it – which basically guides the user through the 5 most important features that correlate with conversion.
"When we released the small product adoption cues about 5 or 7 months ago – only 28% of people have been reaching them. Now it's 41%." – said Parth.
Another of the 'AHA moment' is chat widget customization – which is another very important cue for turning into a paid customer.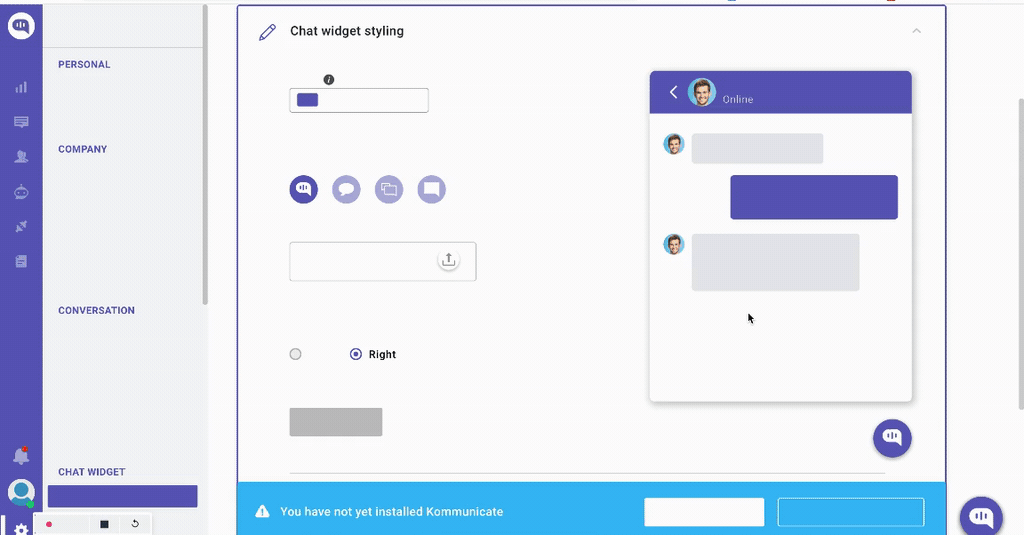 Since the introduction of the cue 86% of people have completed the chat widget customization goal. This translated into a 3% increase in the feature's usage.
'It's a substantial increase for us as well – even if it's just 5% increase – it then translates into a 2-3% increase in revenue, which has a substantial impact on our MRR'
Wanna start creating similar experiences without a line of code – and boost your feature adoption? Sign up for Userpilot for FREE now and start increasing your product usage today!