5 Inspiring Interactive Walkthroughs To Improve Your Onboarding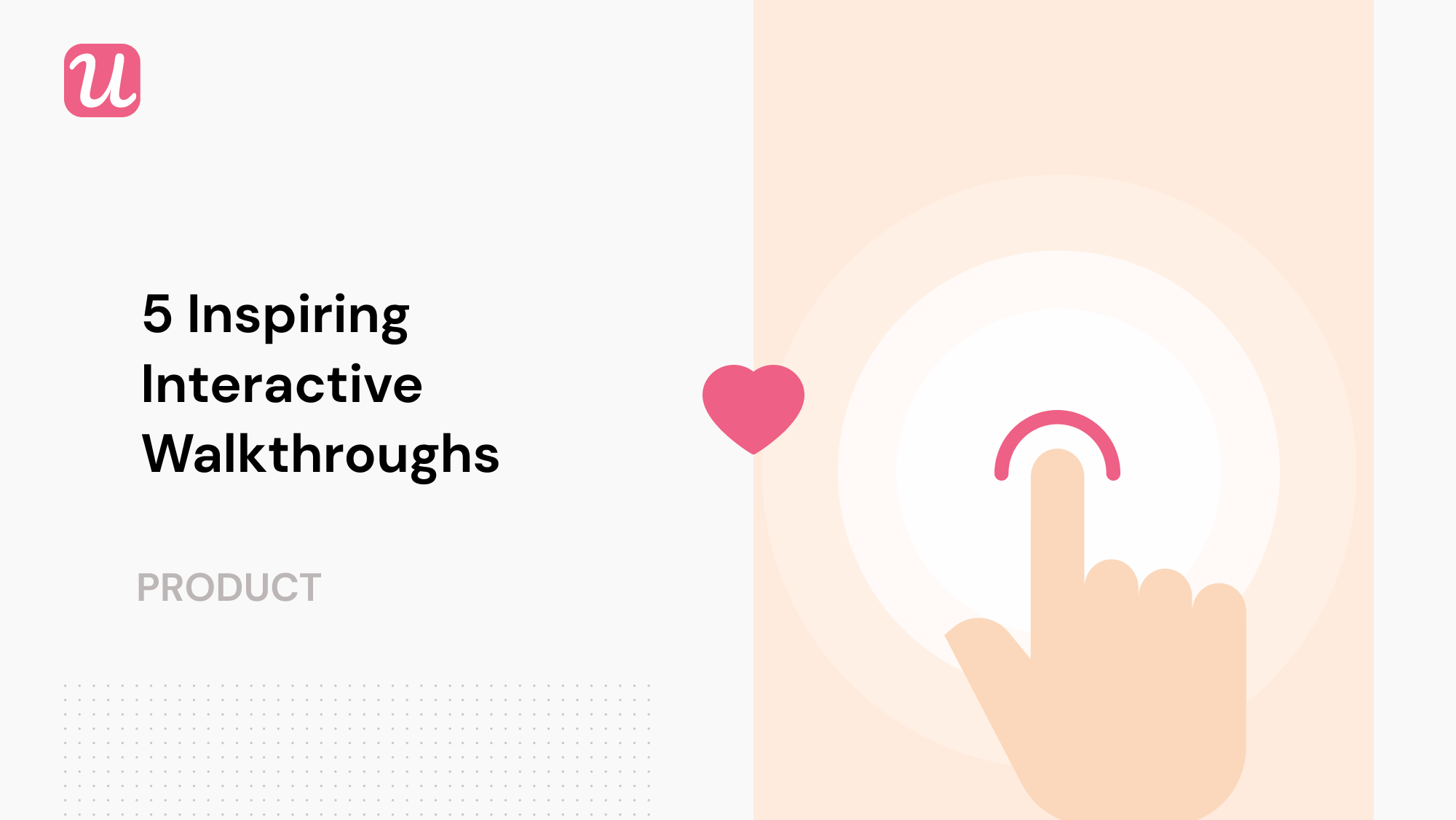 Successfully onboarding your users is a fine art. As we're about to see from these 5 examples of interactive walkthroughs, engaging your users from the start is essential.
Each of these products uses interactive walkthroughs to guide their users all the way to product activation.
You'll be able to take some of the techniques used in these interactive guides and walkthroughs, and use them in your own onboarding.
Before that, I want to briefly explain why interactive walkthroughs beat product tours every time…
Why use an interactive walkthrough?
One of the most common forms of user onboarding you'll come across is the product tour.
A product tour is essentially a series of modals or tooltips that show you the different aspects of the web app.
Despite their popularity, product tours don't work very well when it comes to activating your new users.
This is because they effectively dump a lot of information in one go. Most users won't have the attention span or memory to retain it and will end up becoming even more confused.
Not only that, but simply showing us around a SaaS product that we can clearly see for ourselves is a little pointless.
It would be like going to a car showroom, choosing a car you liked, and then having the salesman point out where the steering wheel is.
Sure, that's kind of useful, but most of us could probably have figured that out for ourselves.
Interactive walkthroughs encourage the user to interact (clue's in the name!) with the web app. They learn by doing.
This would be like going to the showroom, choosing a car, and then taking it for a test drive.
Clearly, when it comes to buying a car, taking it for a test drive would definitely be more likely to seal the deal.
The same can be said for your SaaS product. The more your new user engages with it as part of their onboarding, the more likely they are to reach activation.
To summarize, product tours aren't very effective at onboarding your new users. Instead, you need to create interactive walkthroughs!
Here's a little more about it on our YouTube channel if you're not convinced:

How do you create an interactive walkthrough?
A lot of SaaS companies opt for product tours simply because they're easier. All you have to do is add a few tooltips that point out some features.
Interactive walkthroughs require a bit more forethought. You need to think about how you can encourage your new users to act, rather than only observe.
The key is to stick to two to three central events – the so-called key activation events. These will lead your users towards activation – the moment when they actually derive value from your product. 
In other words, you don't want to spread their attention around your product. You want them to focus on one key event, that will guide them towards activation.
That key event is often referred to as the Aha! Moment. This is the moment where a user understands the value that your product can provide. How do you know your user has actually completed the action required? Through custom events or feature tags.  
When a user reaches that Aha! Moment, they're far more likely to stick around and use your product.
EDITOR'S NOTE: If you want to know how to find your activation point, and use it to drive activation, check out this great guide: The Aha! Moment Guide for Product Onboarding.
Not only that, but the best option is generally to include your product's functionality in the interactive walkthroughs.
Have new users actually use your product to learn how it works. Learning by doing is far more effective than simply reading or watching how to do it.
So, when you build your interactive walkthroughs, have that Aha! Moment in mind. Then use your product to funnel your users towards it, making sure they take the steps required to experience it.
The best way to learn how to create contextual user guidance is by looking at some of the best examples.
Let's take a look at some amazing interactive guides and walkthroughs…
Examples of the best interactive walkthroughs and contextual guidance
Example 1: Rocketbots
Rocketbots is a messaging platform that enables you to connect all of your inboxes in one app.
When you first sign up to Rocketbots, you're greeted with this screen:
This welcome screen prompts you to take your first action. In this case, the first action is setting up a "space". This is crucial to the running of the app, so Rocketbots makes sure you do this.
You're then taken to the dashboard. There's quite a lot going on here, but fortunately Rocketbots provides a handy onboarding checklist.
This checklist contains a couple of key events that Rocketbots wants you to complete.
First of all, you're shown a quick tutorial so that you know your way around messages. (I thought it was a nice touch that it uses sample data using characters from The Office!)
The Aha! Moment for Rocketbots, however, is realizing you can add practically any messaging service.
The interactive walkthrough takes you to the relevant page, and then points you to the button you need to press to add a service.
Rather than simply showing you the product, Rocketbots' interactive walkthrough leads you to the Aha! Moment.
Adding this interactive walkthrough to the product doubled Rocketbots' activation rate from 15% to 30%!
Example 2: Salesflare
Salesflare is a CRM that automates most of the work involved with keeping your contacts up to date.
CRMs can be complicated, but the strength in Salesflare is its simplicity. That's the Aha! Moment it tries to funnel you towards with its interactive walkthrough.
It starts by asking you to take the tour.
Giving users the choice works well, as it means those who prefer to find their own way round won't have to sit through a tour and risk switching off.
Once you start the tour, you're introduced to some of the key components of Salesflare.
Each step of the interactive walkthrough explains the benefits of Salesflare. But it also shows you how easy it is to use by having you do it yourself.
Once you finish the interactive guide, you're prompted to connect to different services.
This is a good way of ending the walkthrough as it comes right as you experience the Aha! Moment.
Connecting these services is a good activation metric for Salesflare.
Example 3: Demio
Demio is a webinar hosting service, designed to make it even easier to share your webinars with the world.
When you first sign in to Demio, you actually receive a product tour. This isn't interactive, and doesn't actually onboard you all that much.
As I mentioned earlier in the article, product tours aren't very effective when it comes to onboarding, and it's a shame that Demio doesn't start with its interactive walkthrough.
Because the interactive walkthrough is brilliant.
There's a webinar set up for you to join.
When you join the room, a Demio employee explains via video that this is an example of the kind of webinar you can host.
After a brief introduction, she hands the reins over to you. You are now in charge of this fake webinar.
You can share your webcam, or even use the slides that Demio has added for you.
There are also fake attendees who chat in the box at the side.
This is a great way of trying out the different features that Demio offers, and getting to grips with hosting your own webinar.
Demio's Aha! Moment is realizing just how simple it is to host a webinar with them. By letting you experience and try the product with an interactive walkthrough, Demio makes sure you're ready to activate.
Demio is a great example, actually, in that it uses both a product tour and an interactive walkthrough.
When you experience both of these one after the other, it soon becomes apparent that interactive guides and walkthroughs are far more effective when it comes to activation.
Example 4: Tallyfy's Interactive Walkthrough
Tallyfy is designed to streamline and automate your business workflows.
The Aha! Moment for Tallyfy is realizing how simple and efficient it is to create and organize various tasks for your teams to complete.
Tallyfy, therefore, attempt to lead you to that conclusion almost instantly, literally minutes within signing up.
After a modal presents you with the option to watch a brief introductory video, you land on this screen.
There are two tasks already set up for you, as part of the onboarding workflow.
Tallyfy essentially creates tasks inside the product that show you how it works.
Clicking on the first task as instructed opens it up and explains briefly what Tallyfy can help you to do.
You can watch the video, and then you can click "Complete". Just like that, you've completed your first task on Tallyfy, and it couldn't have been easier.
Completing this first task hints at the Aha! Moment. Tallyfy then drives the Aha! Moment further with the second task.
This one is even more interactive. It explains even more benefits of Tallyfy before encouraging you to select an option from the drop-down menu.
While the choice is fairly meaningless, it's the fact you're already engaging with the product that's important.
Finally, once both onboarding tasks are complete, you're left with this CTA for you to create your own task.
Tallyfy uses the product itself to engage new users with an interactive walkthrough.
Example 5: Trello's Interactive Walkthrough
Trello is a task management app that lets you organize your tasks and collaborate with other team members.
The difficulty that Trello has when it comes to onboarding is that there are so many different use cases. It can be used by large teams wanting to separate out work, or by freelancers to organize their current projects, or even by couples planning their wedding.
Trello's Aha! Moment is both the ease-of-use, and the aforementioned versatility. By using an interactive walkthrough, Trello is able to show both of those qualities off.
When you first sign up, Trello asks you to name your first board. Right away it emphasizes the fact that you can create a board for literally anything.
Next, it explains about how Trello boards are structured in Lists. But of course it doesn't simply tell you, it makes you create some of your own.
It then explains the concept of Cards, and how they form the Lists. It encourages you to create some.
At this point, you understand the hierarchy of a Trello board. You now know how it works. But not only that, you also have been working to create your first board.
The interactive walkthrough ends with a final tip. This drag-and-drop interface is one of Trello's key selling points when it comes to ease-of-use.
That CTA then takes you to the Trello board that you just created.
Trello uses an interactive walkthrough to guide you through setting up your first board so you can get started right away.
It also explains how the product works, so you have everything you need to get to work.
What you need to know about interactive walkthroughs
Hopefully, by now you understand how powerful interactive guides and walkthroughs can be when it comes to onboarding and activating your users.
Here are the key things you need to remember:
Product tours are not very effective. This is because they simply dump a load of information at you, but don't engage you in any way.
Your interactive walkthrough should focus on a few major activation events. It should lead up to the Aha! Moment.
The best interactive guides and walkthroughs teach users about the product by having them use the product itself. Learning by doing is the best approach. Start building your interactive walkthrough from a Welcome screen segmenting the users by role and Job-To-Be-Done, followed by a series of tooltips triggered by custom events. 
The Leading Interactive Walkthrough Tool: Book A Demo Today
If you're looking for an interactive walkthrough tool – book a demo with Userpilot today!
Userpilot is a Product Growth Platform that allows to build fully interactive walkthroughs and onboarding checklists, without coding skills.
It also has user analytics and a user feedback features – with in-app surveys to collect feedback, and NPS surveys to measure user satisfaction.
All this helps you to improve user experience and engagement, lead more users to activation, help them adopt secondary features, and even push for upgrades and get more expansion revenue.
Userpilot is excellent for:
✅ SaaS new user onboarding
✅ SContinuous onboarding
✅ Onboarding checklists
✅ Microsurveys
✅ NPS
✅ User analytics
✅ User segmentation
Try it today to build your interactive walkthroughs no-code!
About the Author
Joe is a UX and content writer, with several years of experience working with SaaS startups. He's been working with SaaS startups that are focused towards product management, product marketing and customer success for the past couple of years