Are you searching for WalkMe alternatives? We're here to save you some time!
If you want some more affordable and easier-to-use solutions for your business, you've come to the right place!
We've tried 5 of the biggest WalkMe alternatives over the last couple of weeks, and we wanted to share our in-depth feedback.
Important Note: WalkMe, Userlane, and Whatfix are suitable for employee onboarding use case when you're onboarding on a third-party tool like Salesforce and Workday.
The 5 WalkMe alternatives we looked at were:
Although there are many other great digital adoption tools (like Appcues or Chameleon), we think that these 5 are the biggest WalkMe alternatives for several reasons that we will cover throughout the article.
Our team have used WalkMe in our previous projects, and we realized that it's not always the best tool for the job. Without a doubt, it's a great product with a lot of features, but it didn't satisfy our needs. 
Because of our several years expertise in user onboarding, product adoption, and UI/UX design, we have used all the tools from this list. So when we say that we've tried all the WalkMe alternatives, we really mean it.
Since we know the real struggle and how exhausting it can be to find the best user onboarding and product adoption tool for your business, we've decided to craft this amazing and in-depth guide on the best WalkMe alternatives for you.
At the end of this article, you will be able to find the best WalkMe alternative that will suit your needs and help you to drive amazing product adoption.
Before we dive into our research of the five platforms, let's see the biggest pros and cons of the most famous digital adoption tool ever – WalkMe.
About WalkMe – The Pioneers of Digital Adoption
WalkMe is a cloud-based platform that helps product managers and customer success managers to manage in-app experiences and create product tours. Without a doubt, Walkme is one of the pioneers in the user onboarding market. Because of its huge and recognisable brand, it is probably the first choice for many companies.
But, is it suitable for everyone?
Of course not. Let us briefly explain WalkMe's biggest advantages and strengths over the other alternatives.
Like its name suggests, WalkMe is mostly focused on building walkthroughs in your application.
What are WalkMe's biggest strengths?
Great product tours and walkthrough processes – As we mentioned, WalkMe is one of the pioneers in the user onboarding market. Because the first-known user onboarding flows were mainly based on product tours and walkthroughs, WalkMe is specialized in this field.
Powerful data and analytics – Using WalkMe's dashboard, you can easily see all your user onboarding data and analytics.
Great for large enterprises – If you take a look at WalkMe's reviews online, you will see a pattern – almost all the reviewers are working in companies with hundreds, even thousands, of employees. Because of its strengths and powers, WalkMe is a great tool for big enterprises. But because of its pricing and complexity, it isn't the best option for startups or small and medium businesses.
WalkMe can certainly help you to create great walkthroughs and user onboarding flows, but its implementation is very hard.
WalkMe is an on-premise solution, so you have to install it before using it. This can become a little bit messy, since installing WalkMe inside your system requires a lot of technical knowledge. You need to put a lot of effort just to get started with WalkMe.
What would happen if you didn't like its functionalities? You would need to change your code again.
This can be a big struggle for small and medium businesses with limited human resources and money, especially since the pricing packages for WalkMe range from $9000 to over $50,000 per year.
Walkme is a great tool, but it's not suitable for everyone.
We will describe each of the above-mentioned tools, and compare it with WalkMe. If you don't want to read detailed comparisons of each WalkMe alternative, you can jump to the bottom of the article to see an in-depth comparisons table, where we compare all the alternatives in one place.


WalkMe Alternative #1: Userpilot – Product Growth Software for Product Teams
Userpilot is a great WalkMe alternative for product managers and customer success managers who want to build 100% customizable onboarding flows without code.
Userpilot is designed as a SaaS product engagement solution, so it is not suitable for third-party app employee onboarding (e.g. Salesforce employee training), unlike Walkme. It also doesn't run on native iOS/Android mobile apps. 
Now we have that out of the way – the best thing about Userpilot is that it enables you to build triggered, personalized, context-driven, and behavioural-based user onboarding processes.
It helps you to vastly improve your activation rate and product adoption.
In other words, Userpilot helps you show the right messages at the right time to the right users.
Unlike WalkMe, Userpilot offers you a bigger variety of UI elements you can use to build perfect in-app experiences. You can create checklists, different in-app notifications, progress bars, or product tours and walkthroughs.
When it comes to installation, Userpilot is very easy to use. Unlike WalkMe, you don't need any technical background or development team.
Everything is done by installing our chrome extension and putting one snippet of JavaScript code inside your application.
Simple as that.
Creating user onboarding processes is even easier. With a simple drag and drop feature, you are able to create amazing in-app experiences.
You will see the value of our simple and intuitive product as soon as you create your account. There are no frustrations or frictions. You are able to create your first experiences without any unnecessary steps or data to fill-in.
By using our simple chrome extension, you will be able to create and preview all in-app experiences you create.
In the image above, you can see how easy it is to create amazing product adoption experiences. On the right side of the screenshot, you can see that you can do full customization inside the application – without changing your CSS code.
The good thing about Userpilot is that if you have any struggles, our team will be there. Whether you have trouble using the product or you need help creating converting in-app experiences, we will be happy to help you. Our mission is to help our customers improve their product adoption, just like we did with Albacross when they significantly improved their activation rate. 
We saw that WalkMe is very unclear about their pricing. They offer you two plans – free and a custom one. Fortunately, that's not the case for Userpilot.
You'll also get native tooltips and on-demand widget that can power your reactive onboarding(a less intrusive way to point your user to a specific functionality than modals.) .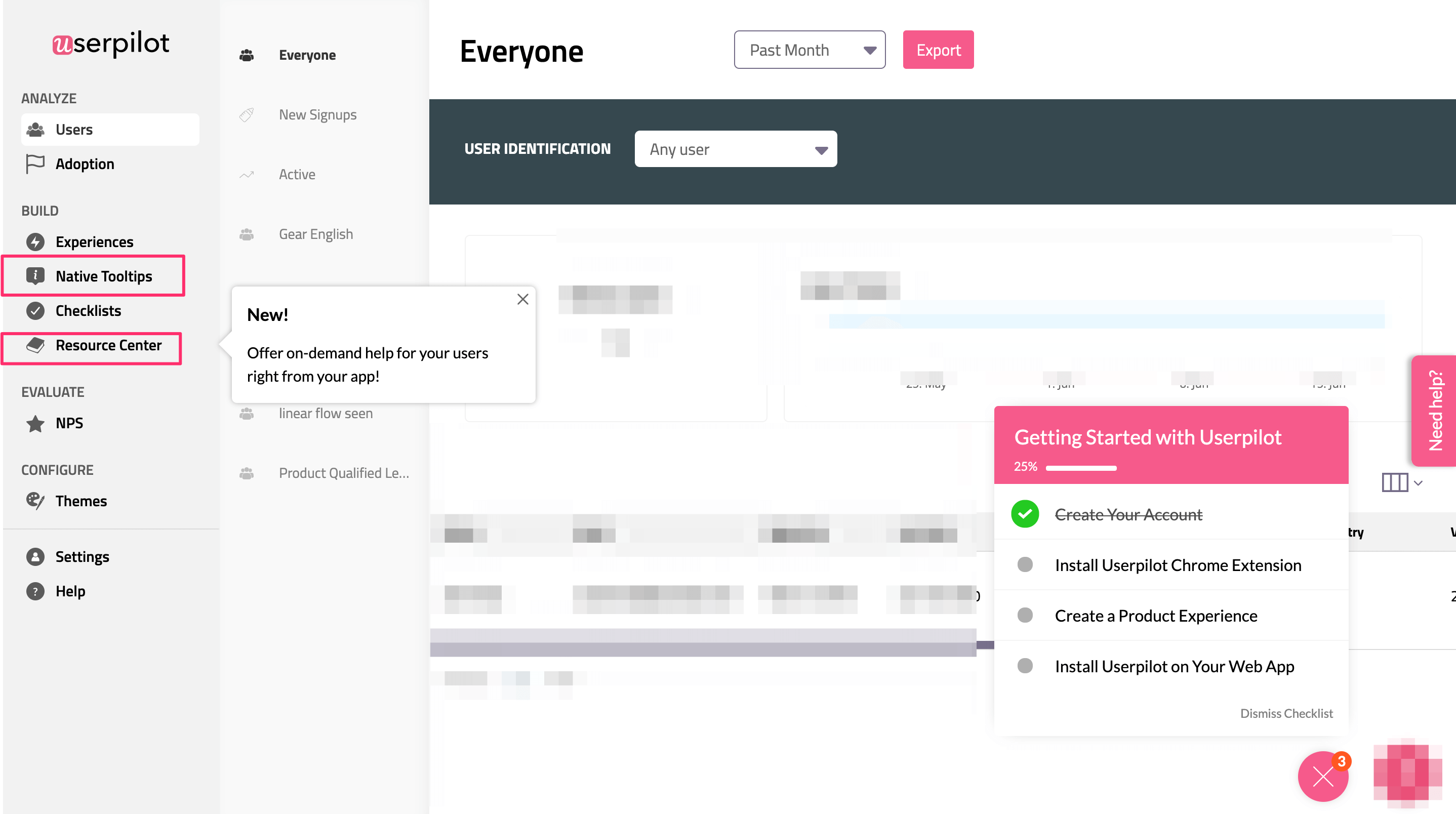 Userpilot's pricing is based on the number of monthly active users you have. If you're still indifferent about Userpilot, you can get a 14-day free trial. If you're a startup with less than a 2500 monthly active users, Userpilot only charges you $249 per month.
You can find out more details on our official pricing page.
Userpilot summary
As far as we can see, Userpilot is a great fit for startups and small/medium businesses who are in the growth phase. You can easily install Userpilot in your application without any development efforts or technical assistance. With our unique features, you can build a variety of UI elements and trigger them based on your user's behaviours.
Userpilot is very affordable compared to WalkMe. Instead of wasting thousands of dollars per month, you can pay a few hundred dollars (if you have a large amount of monthly active users), or even as little as $249 if you have less than 2500 monthly active users.
If you think that Userpilot is a great fit for you and your company, contact us and get a demo.
We would be more than happy to meet you and help you with your user onboarding and product adoption.
WalkMe Alternative #2:
Pendo
Although it's very similar to WalkMe or Userpilot, Pendo also offers you an opportunity to collect highly valuable user feedback and NPS scores.
It's one of the rare platforms that enables you to create both user onboarding processes and in-app feedback collection flows.
With Pendo, you can segment your users by different user personas and show them different and personalized in-app guides.
Unfortunately, you're slightly limited with UI elements. You can only create walkthroughs, in-app messages, and user guides. Pendo doesn't provide checklists, hotspots, progress bars, and many other elements.
The good thing about Pendo is that you can have a look at in-depth analytics, reports and data.
The installation of Pendo isn't as complicated as WalkMe, but it still requires some advanced technical knowledge.
To install Pendo in your application, you will need 10-30 minutes. Firstly, you will need to identify visitors and account metadata, then install Pendo, and finally verify your installation.
Much like Walkme, Pendo is also pretty unclear about their pricing. There are no fixed prices per month. The only thing we know is that Pendo offers you a free plan for up to 100 monthly active users.
Pendo Summary
Pendo provides a mix of product analytics, customer feedback, and user onboarding software. With Pendo, you can create product walkthroughs, collect feedback, and monitor user's behaviors and analytics.
If you are looking for software that will help you to understand your customers better, you should choose Pendo. But if you want to create amazing user onboarding and in-app experiences, then perhaps Pendo isn't the best tool for that.
Without a doubt, it can help you with your user onboarding, but its limited capabilities make it hard to create extraordinary experiences.


WalkMe Alternative #3:
Whatfix
Whatfix is another good WalkMe alternative.
Its functionalities are almost the same as for the previous two WalkMe competitors.
Starting your subscription on Whatfix is a little bit confusing since they don't provide you with clear information. It's hard to tell what their pricing is, or even if they offer a free trial.
Some resources are suggesting that Whatfix's pricing starts at $1200/year.
Installation isn't very complex. You will need to install their Chrome or Firefox extensions in order to create guides, but you also need to install their JavaScript snippets if you want to preview them.
With Whatfix, you can create different guides and UI elements, but you still have some limitations.
Customizing your in-app experiences requires a little bit of technical knowledge since it needs to be done in CSS.
Whatfix doesn't support A/B testing like Userpilot, but you can track your analytics. The only advantage of Pendo over Whatfix, is that in Whatfix you need to integrate your Google Analytics account if you want to track data, while Pendo doesn't requires that.
Despite Whatfix's advantages, one of the biggest cons is their customer support. We've heard that people often complain about the lack of customer support. The only "self-serve" customer support channel we found is their online forum. Even there, however, you will very often find other Whatfix customers answering your questions, instead of their support representatives.
Whatfix summary
Adopting Whatfix can take days, maybe even weeks. On the other hand, they have a really good product enabling you to easily create in-app experiences without any coding. It's a little bit harder to customize your UI elements compared to other WalkMe alternatives, but at the end of the day, Whatfix is suitable for both enterprises and small and medium businesses.


WalkMe Alternative #4:
Gainsight
Gainsight offers a suite of products for customer success and product experience.
With their customer success platform, you can easily measure your customers' health scores and track all the other analytics you need to improve your user onboarding.
Using Gainsight PX, you can create various UI and in-app experiences to deliver the first Aha moments.
Gainsight is integrated with Salesforce, so the installation of your Gainsight account is done through Salesforce.
It's very easy to install Gainsight for non-technical people, but if you don't have a Salesforce account, then things can become a little bit messier.
Inside Gainsight, you will have access to different features like task management, email management, triggered emails, analytics, and many more.
Because of its robust platform, Gainsight is probably the most ideal solution for measuring and tracking customer success, but not for creating extraordinary user onboarding flows and in-app experiences.
When it comes to pricing, Gainsight has no clear pricing at all. The only thing you know for sure as a potential customer is that they're offering a lifetime free plan for up to 100 monthly active users.
Gainsight summary
Because Gainsight is integrated into Salesforce, you will first need to create a Salesforce account in order to install the Gainsight into your product. Gainsight offers you great customer success metrics and analytics, but not exceptional UI and in-app experiences.
If you're looking for a WalkMe alternative that will offer you better customer success data, then Gainsight can be your go-to tool for that. But if you're looking for a WalkMe competitor who will help you to create amazing user onboarding flows, perhaps some other tool will suit your needs.


WalkMe Alternative #5:
Userlane
Userlane supports both employee and customer onboarding. In this article, we will cover just the customer onboarding part since that's what WalkMe focuses on.
Essentially, Userlane is the simplified WalkMe alternative. Userlane has the same core features that WalkMe has.
The difference between WalkMe and Userlane is that it's relatively easy to implement Userlane inside your application. You just need to copy/paste one snippet of Javascript code, without changing your application system.
When it comes to UI elements and in-app experiences, Userlane only supports walkthroughs. You can build customized and personalized product tours and walkthroughs.
With Userlane's analytics and data, you will have a clear insight into everything that's going on with your walkthroughs.
Userlane provides you with a guided trial version of the application. After you finish your trial, the pricing depends on the number of users you have and the features you want to use.
Userlane Summary
If you're looking for a simplified and less-confusing WalkMe alternative, Userlane might be a great tool for you. Although you can create only walkthroughs, it will work very well with less-complicated applications.
Which Walkme Alternative is the best for you?
Now that we've carefully analyzed all the WalkMe alternatives, it's time to see which one is best for you and your business.
Here is our in-depth WalkMe alternatives comparison table:
FEATURES

INDICATIVE PRICING

$$$$$

$$

$$$$

$$$$

$$$$

$$$

PRICE

By enquriry

Starting $199/month

By enquriry

By enquriry

By enquriry

By enquriry

INSTALLATION

Requires a lot of technical knowledge

No technical knowledge

Chrome Extension &

Copy Paste 1 Javascript Snippet

Requires low technical knowledge

Chrome/Firefox extension and copy paste one JavaScript Snippet

Through Salesforce

Chrome/Firefox extension and copy paste one JavaScript Snippet

GUDE STYLING

Limited options inside walkme and full cusotmisation through CSS

Full customisation available inside Userpiot

Full customisation available through CSS

Limited options inside WhatFix and full cusotmisation through CSS

Full customisation available through CSS

Full customisation available through CSS

UI ELEMENTS

Product Walkthrough

Triggered and personalised walkgroughs, hotspots, Checklists, Driven Actions Modals and many more

Product walkthroughts, hotspots, driven actions

Product walkthroughts,

Product walkthroughts,

Product walkthroughts,

A/B TESTING

ANALYTICS

SUPPORT & SUCCESS

Basic Online Support

Online Support, Live chat & Customer Success

Enterprise Only

Enterprise Only

Enterprise Only

Enterprise Only

RESOURCE CENTER

NATIVE TOOLTIPS
If you are looking for a simplified WalkMe alternative with the same functions for third party employee onboarding solution, than Userlane should be your go-to tool.
If you are looking for a tool that will supercharge your analytics and provide you with effective data, perhaps Pendo is the best choice.
If you are looking for a less affordable solution, all 5 alternatives will do the job. If you're looking for software that's similar to WalkMe but cheaper, Whatfix or Gainsight are both a good choice.
Finally, if you're looking for a WalkMe alternative that will help you to create better user onboarding and in-app experiences, than Userpilot is the best choice for you.
If you're looking to create amazing in-app experiences for your SaaS company,
book a demo of Userpilot.
Let us know in the comments what your go-to tool for product adoption and customer onboarding is. Please share if you found this helpful.
Please note feature information is correct as of March 2021. Userpilot has made every attempt to ensure the accuracy and reliability of the information provided on this website. However, the information is provided "as is" without warranty of any kind. Userpilot does not accept any responsibility or liability for the accuracy, content, completeness, legality, or reliability of the information contained on this website.