[Case Study] How Touchright Software saved hours of dev time after switching from Walkme to Userpilot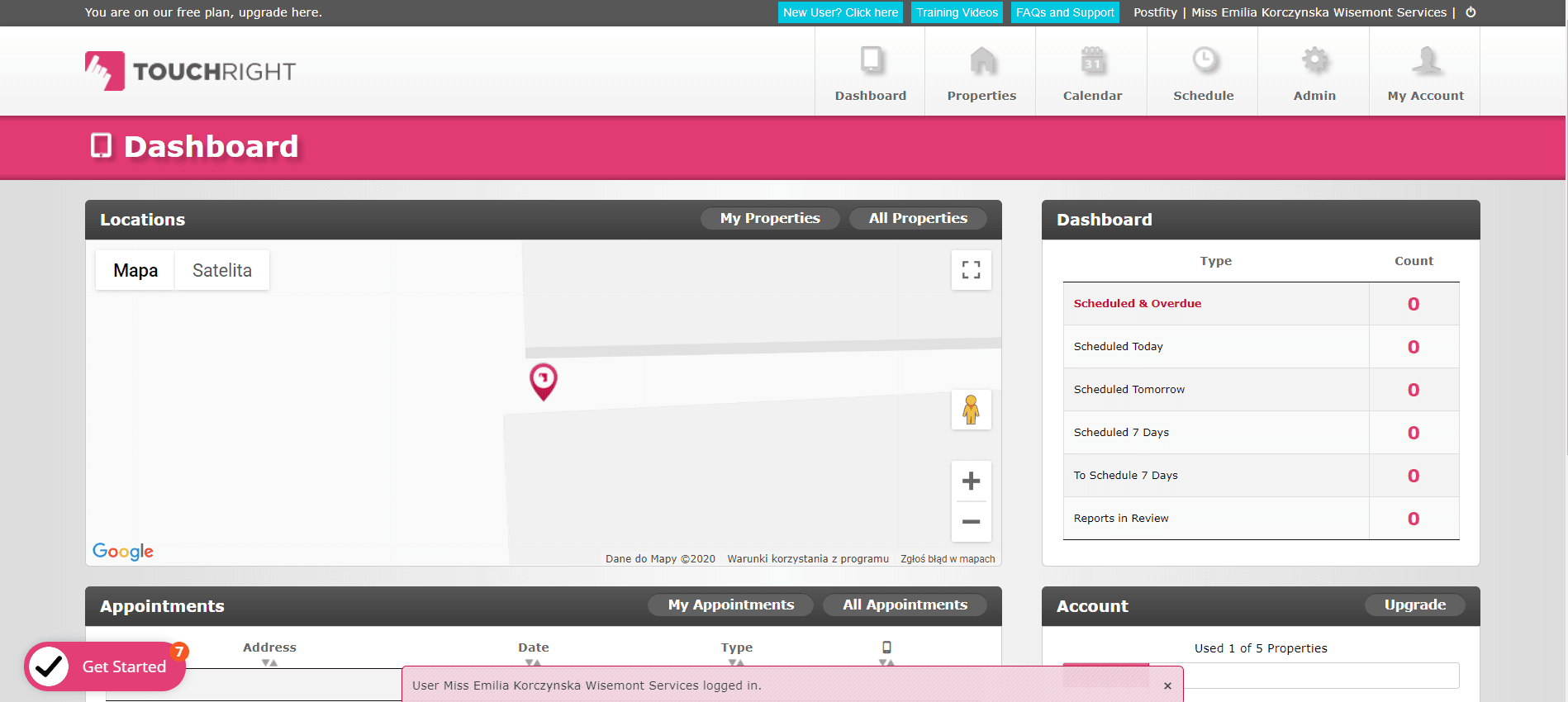 With a complex product consisting of both a desktop dashboard and a mobile app for Real Estate agents, Rachel Lightfoot, a co-founder and product manager at Touchright – struggled with user onboarding and activation.
Touchright helps letting agents, property managers, inventory clerks and contractors produce property reports with ease, and in less time. But the tool requires the user to go through several activation points both in the web app and the mobile app.
Since the team didn't want to redesign the web app dashboard, but at the same time wanted to make the app's onboarding more self-serve, they started to look for a tool that would allow them to build interactive onboarding experiences. After doing some research, and getting a demo – Team Touchright opted for Walkme.
Overpromised, Underdelivered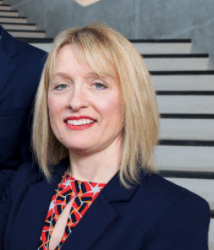 'Walkme wowed us during the demo and hand-held us through the onboarding process. But after our trial ended and we were left to our own devices to build the walkthroughs, we felt like it wasn't actually exactly what they had led us to believe it would be. It was a bit of the case of "overpromise and underdeliver"'. – said Rachel Lightfoot, Co-Founder, TouchRight Software
WalkMe is a robust platform that allows to build complex walkthroughs and user onboarding flows, but Rachel felt it was built for corporations with large resources rather than small teams.
'It was nowhere near as intuitive as Userpilot'
The implementation of Walkme is very hard – as an on-premise solution, it has to be installed before it can be used. This requires a lot of technical knowledge to just get started.
As a tech-savvy person, however, without a background in software development – Rachel was looking for a low-tech solution. Walkme didn't turn out to be quite that – and required quite a lot of involvement from the development team even after the implementation.
[RELATED: To read more about Walke and how it compares to its alternatives – check our earlier post here]
Walkme has a dashboard for building complex user walkthroughs and in-app experiences, where you can set various conditions: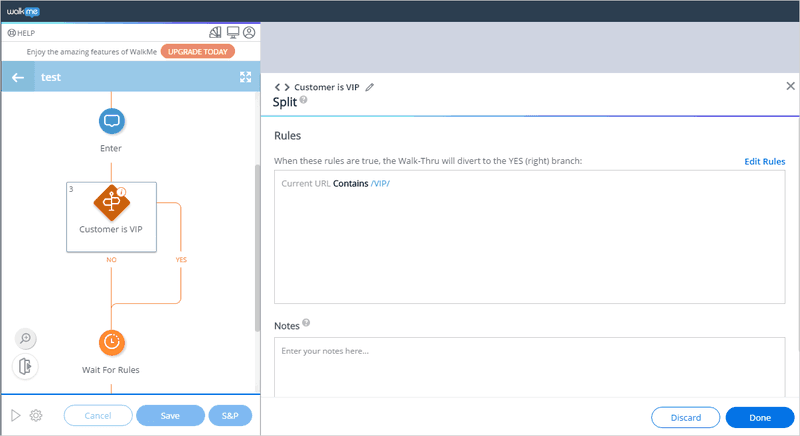 But for Rachel, the experiences didn't always work as expected – and fixing them required development time. All while paying a significant sum of money – since the pricing packages for WalkMe start from $9000 per year.
Walkme is a large company, so Touchright's support questions would be often addressed by different agents – who weren't exactly on the same page. Sometimes different customer support agents would give different answers to the same questions. Moreover, due to the 8-hour time difference [walkme is based in the US, while Touchright – in the UK] meant that urgent support requests were left without an answer until the following day – which caused Touchright significant disruption to their workflow.
It got to the point where the return on investment simply didn't justify the required dev time – and when the renewal time rolled around, Touchright decided not to renew – and to find something else instead.
This is when they found Userpilot.
Intuitive and cost-effective
Userpilot allowed Rachel to build experiences smoothly in the visual editor and navigate between elements without interrupting the flow.
Thanks to the interactive walkthrough – even a novice can easily add a new property, and schedule the first report.
Rachel started the onboarding from a welcome screen with a clear CTA that encourages the user to list their first property – aka hit the first Key Activation Point: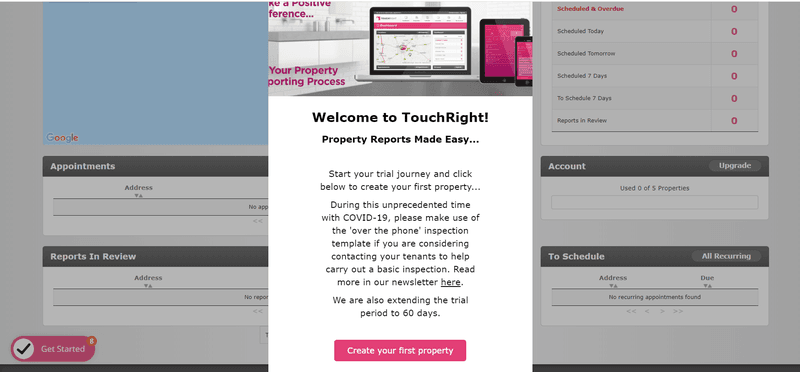 Then, she guided the user through the process with tooltips and driven actions: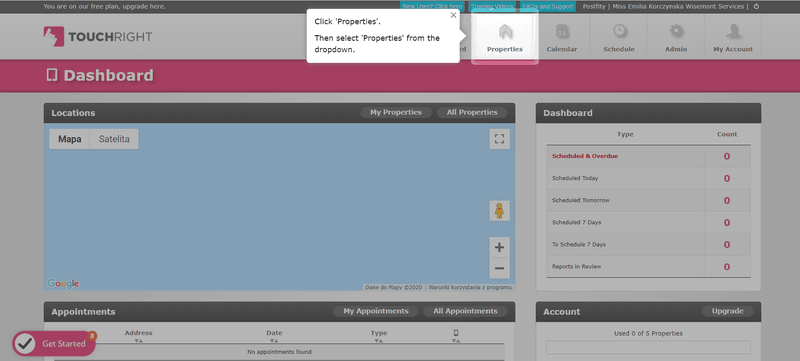 The whole process of building the tour took hours, not days – and saved a massive amount of developer's time – and spared the team a lot of frustration.
In fact – the only time the developers are needed in Userpilot is at the very beginning – when you need to install a line of javascript, and set the custom events you want to send to Userpilot to identify your audience (e.g. signup date, last time seen, number of web sessions, pricing plan etc.) and in-app events that will be triggering certain experiences in-app (e.g. adding a new property, creating a new report etc.) However, even this is not required if your app uses Segment – a customer data platform – which integrates directly with Userpilot (see our earlier case study to learn more).
All the design elements are 100% customizable from the visual editor – without a line of code. This means you can customize the look of all experiences to match your brand identity. All this for a lower price than Walkme.
"The Userpilot Customer Success team has been brilliant – they helped us a lot with the personalized webinars, and been really helpful on the calls. It's also great that your team replies to our queries so quickly".
Results
Finally, Rachel shared some results she and her team managed to achieve with Walkme and after switching to Userpilot:
Before Walkme – Touch right was not tracking activation points before Walkme; conversion rate from trial to paying customer varied between 25-40%.
After using Walkme – on average, 50% of users reached the key activation points; the conversion rate from trial to paying averaged 35%;
After switching to Userpilot -on average, 50% of users were reaching the key activation points (although Rachel recognises there is still room for improvement – as they need to test different options to improve some of the completion rates which will bring up the average); and yet – the conversion rate from trial to paying went up by over 40% (11 percentage points) – now averaging 40%.
Would you like to start building similar experiences without any code? Sign up for Userpilot demo today!
Conclusion
If you're looking for a low-tech solution that will let you build product experiences without engaging your development team, Userpilot is a better alternative than Walkme.