Building Your Customer Engagement Framework: All You Need to Know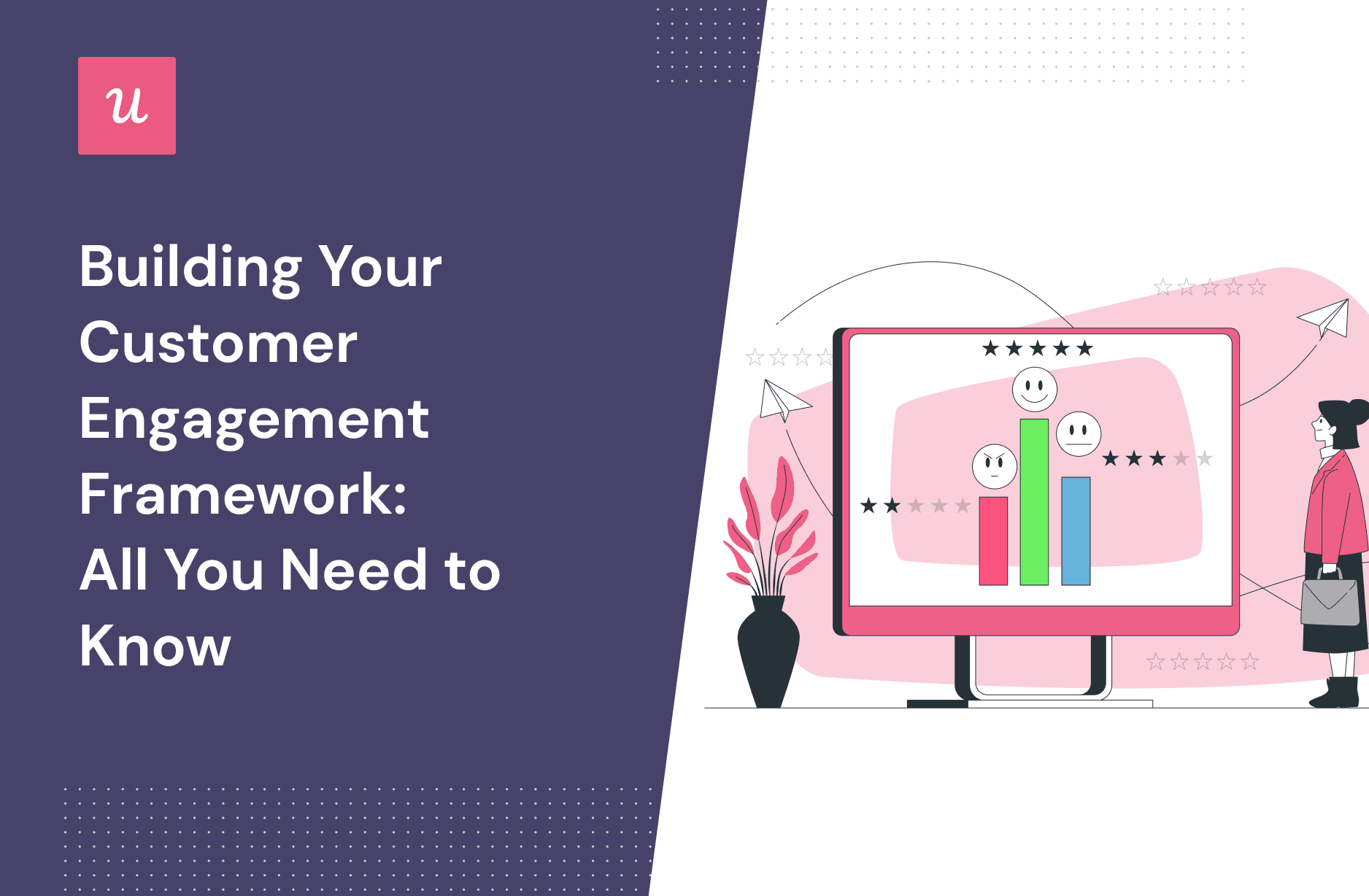 Customer engagement and customer retention go hand in hand. Having a customer engagement framework in place will make it easier to organize your customer engagement efforts and track their results.
In this article, we'll show you what a customer engagement framework looks like, go over the five stages of customer engagement, and look at a few customer engagement strategies that you should use for your own SaaS products!
TL;DR
Customer engagement strategies can help build stronger relationships with your users and turn them into brand advocates down the line.
A customer engagement model or framework makes organizing and deploying various customer engagement strategies easier along the customer journey.
There are five customer engagement stages: acquisition, activation, adoption, retention, and revenue/advocacy.
A customer's relationship with a SaaS business can shift from purely transactional to loyalty/advocacy over time.
Personalizing your in-app onboarding flows to focus on the features that are most relevant to a user's job-to-be-done will make the earliest stages of the journey/lifecycle feel more contextual and boost customer engagement down the line.
Finding the right tools for your customer engagement campaign will help you execute the various strategies you intend to employ. Solutions like Userpilot, Hotjar, and Drip are all highly beneficial when building out a customer engagement strategy.
What is a customer engagement framework?
A customer engagement framework is an approach that SaaS businesses use to engage customers and build stronger relationships with them. Effective customer engagement frameworks can increase trial-to-paid conversion rates, improve customer satisfaction, raise revenue per customer, and yield higher retention rates.
Customer engagement frameworks map out the user engagement strategies that you'll use across the entire customer journey (and all respective funnel stages). These frameworks can either be created digitally or offline, with some companies even combining both mediums.
What are the 5 stages of customer engagement?
Understanding the needs of your users and analyzing the customer journey are both key parts of nurturing brand loyalty — which will keep churn rates low in the long run. Everything from behavioral analytics to microsurveys can be used to measure customer experience.
That said, engaging customers is a multi-stage process that can't be accomplished with analytics alone. Let's take a closer look at the five key stages of customer engagement so you can achieve better business outcomes with your engagement efforts.
Acquisition stage
The first stage of the customer experience is the acquisition phase. As such, this is where you should start when trying to improve customer engagement. A customer's first interactions with a company, like signing up and creating their account, will have a lasting impact on how they perceive the product.
To ensure that the early customer experience is both seamless and contextual, you should track your acquisitions by channel. This will let you know where each user comes from and why they showed interest in your product in the first place.
As a result, you'll be able to select the engagement tactics that are the best fit for the specific acquisition channel or job-to-be-done (JTBD). A few engagement strategies you could use for users in the acquisition stage include:
AI chatbots
Frictionless signup flows
Real-time assistance
Activation stage
The activation stage starts right after a user has their first "Aha moment" and realizes the value that your product provides. They're not quite at the point of habitual use yet, but the core value of your product has been uncovered and utilized at least once.
When you engage customers in this stage, the core goal is always increasing feature engagement. The more features they interact with (and get value out of), the easier it will be to move them to the next stage: adoption.
A few engagement strategies that you can employ for users who are currently in the activation stage include:
UI patterns like tooltips/highlights (to drive feature discovery)
Adoption stage
Once customers go from realizing the value of your product to habitually using it for their needs, you know they've entered the adoption stage. Some SaaS companies start to reduce expenditure on their marketing strategy at this stage, but that's a big mistake.
Both new and existing customers have the ability to generate fresh revenue for your business. By promoting secondary features, increasing the time spent on your product, and giving your customers more value out of the product, you'll create new upsell opportunities.
Remember, the stickiest features on your product aren't always the most visible. To keep the adoption flywheel turning, you should help your users overcome feature blindness with UX flows that help them find new ways to use your software.
There are a few ways you could drive account expansion from users in the adoption stage:
Retention stage
The customer experience doesn't end at the point of adoption. In fact, it's only the beginning in the grand scheme of things, as customer retention will be the focus throughout the majority of the customer journey.
In fact, high churn rates resulting from poor service cost companies over $1.5 trillion annually in the US alone. Increasing your retention rate by just a few percent can have a huge impact on your revenue and growth rate, which is why patching any funnel leaks is crucial.
Here are a few engagement tactics that you can use as customer retention strategies:
Revenue (advocacy) stage
Once users have adopted your product and you've resolved most of the issues driving user churn, all that's left is to nurture brand loyalty. The more loyal customers you have, the higher the likelihood of word-of-mouth marketing due to customer advocacy.
In essence, the advocacy stage is where you get the chance to grow customer relationships beyond the transactional nature and transition towards creating brand advocates that will vouch for your product long-term.
A few engagement strategies you could deploy in this final stage include:
Customer loyalty programs
Business case studies
Building relationships through customer communication
Bear in mind that a customer loyalty program will only work if the rewards offer enough incentive to refer other customers to your business. Most companies offer either cash or subscription discounts to those who refer new customers.
Key strategies to build your customer engagement framework
Building out a framework for your customer engagement strategies is an absolute must. Customer engagement marketing strategies take a lot of time (not to mention money) to execute, so organizing your efforts to get the highest ROI is more than worthwhile.
Let's take a closer look at the seven strategies in the sections below.
1. Acquisition: Create engagement opportunities to drive toward the Aha moment
Figuring out which channels customers initially engaged with your brand through (such as social media, email newsletters, website traffic, or online forums) is the best place to start.
Once you've identified these channels, you can integrate micro-interactions into the channel — which is just a fancy term for things like social media polls, email surveys, or gated content on your website.
Your goal should be to reduce the time-to-value for new users and get them to their "Aha moment" as soon as possible.
2. Acquisition: Display social proof
Users that have been acquired but are still on the fence as to whether or not your product is valuable enough to continue using are more common than you might think. As such, using social proof can help tip the scales of skeptics toward adopting your product permanently.
Showcasing behavior from your power users, highlighting use cases, publishing case studies, sharing testimonials/reviews, and other forms of social proof will speed up the value realization process — taking users to their activation point in a fraction of the time.
Take a look at Kontentino's case study that's neatly integrated into the Userpilot website:
3. Activation: Onboard users in-app
In-app onboarding comes down to one thing: teaching users how to interact with your product. In-app flows are the most common (and effective) method for doing this. These could include:
Primary onboarding flows
Interactive walkthroughs
Step-by-step product guides
You can use in-app messages or UI/UX patterns like tooltips to help build these flows in a user-friendly format. Following other best practices, like adding an onboarding checklist, can make customer engagement marketing easier by getting off on the right foot with new users.
Kommunicate has mastered the art of segmentation, which helps them manage customer communication and engagement efforts more efficiently with their in-app flows:
4. Activation: Personalize interactions
Creating a personalized experience is one of the easiest ways to get ahead of the competition, fulfill product goals, and capitalize on customer engagement patterns. Of course, personalization is only possible if you have the right user segmentation systems in place.
You should be segmenting users both at an in-app level as well as on external channels like email to ensure a consistent experience for each segment across all platforms. Personalized interactions lead to more positive customer experiences and a more memorable (sticky) product overall.
Monday is a perfect example of how personalization can be implemented, leading to increased user engagement down the line:
5. Adoption: Nurture with contextual flows
Once customers get to the adoption stage, they should be able to expand their scope of usage beyond the product's basic features/tools. Continuous onboarding is a boon when it comes to feature discovery and product adoption.
A secondary (or even tertiary) onboarding flow gives you the chance to cover more advanced (but equally sticky) features that you didn't have time to bring up during the initial product walkthrough.
You could use in-app feature callouts, feature announcements, launch messages, interactive walkthroughs, and email sequences to further your feature discovery goals. If you really want to maximize product usage, limit your flows to features that are relevant to the user.
You could determine which features they're most likely to connect with through welcome surveys or look at their behavioral analytics to see which features they've been getting the most value out of thus far.
For example, Userpilot uses checklists to help customers discover and adopt new features after they've reached their activation point:
6. Retention: Ask for feedback
There's nothing wrong with collecting customer feedback at earlier stages of the user journey (as long as it doesn't add too much friction to your primary onboarding flow), but these insights are especially important during the retention stage.
Customers at the retention stage have enough experience with your product to offer truly actionable feedback. Implement in-app, email, or web-based surveys to collect feedback from users.
Generally, in-app surveys tend to be the most reliable way to reach users since they're already actively using the product. You can also look at online reviews for your product, check to see what users mention on online forums, and even review support tickets.
This will give you a holistic and omnichannel sense of both positive and negative feedback from your entire user base. Here's an example of the types of questions you can set up with Userpilot's survey dashboard:
7. Revenue (advocacy): Introduce loyalty and referral programs
In a perfect world, customer loyalty would stem solely from having an excellent product. However, with so many platforms, tools, and solutions vying for consumer attention, it's not realistic to expect users to become brand advocates without a gentle nudge on your part.
Incentivizing customer loyalty with points, discounts, gifts, extra resources, acknowledgment emails, and gamified leaderboards are all viable ways to encourage advocacy among your users. You should also consider setting up referral programs.
Referral programs are a win-win scenario since they reward existing users while simultaneously helping you acquire new customers. Evernote has been known to incentivize users when asking them to invite friends to the popular note-taking platform:
Best tools for your customer engagement framework
To get the most out of your customer engagement strategy, you'll need the right tools to execute it. The sections below will give you a brief overview of three tools — Userpilot, Hotjar, and Drip — that can help you launch a successful customer engagement campaign.
1. Userpilot
Userpilot helps you define audience segments and create more personalized flows as a result. You'll be able to choose from a wide array of customizable UI patterns when creating your own in-app flows for each user segment.
You'll also be able to gauge the efficacy of your customer engagement marketing by looking at product usage and engagement data from the Userpilot dashboard. Combine that with Userpilot's feedback collection and analysis features to get a full-suite analytics solution.
The best part is that Userpilot is 100% code-free meaning you won't have to write a single line of code or have any programming experience to use its features. If you're ready to start tracking user sentiment and product growth insights, then give Userpilot a try!
2. Hotjar
Hotjar lets SaaS companies closely monitor user behavior and log specific actions using heatmaps. The platform also makes it possible to review actual user session recordings to get a detailed look at which elements get the most attention.
Feedback collection methods on Hotjar can range from widgets to surveys depending on the nature of your web app as well as the target audience that you're gathering insights from. The example below shows how Hotjar can be used to analyze pricing pages:
3. Drip
Drip is an email marketing automation tool that lets SaaS businesses automate email flows and target them toward individual customer segments. You'll also get the ability to split-test each email to fine-tune your messaging until it resonates with that specific segment.
Companies using Drip will also be able to view analytics on sent emails to gauge the performance of each message. Lastly, Drip can be used to create timed forms, pop-ups, and slide-ins for your SaaS website.
Summing up
As you can see, deploying customer engagement strategies is a lot easier when you're able to isolate user segments, identify specific goals, and split-test various elements to maximize customer satisfaction.
If you're ready to personalize customer experiences and collect insightful customer data, then it's time to get your free Userpilot demo today!