Email Onboarding for SaaS: How To Set Users up for Success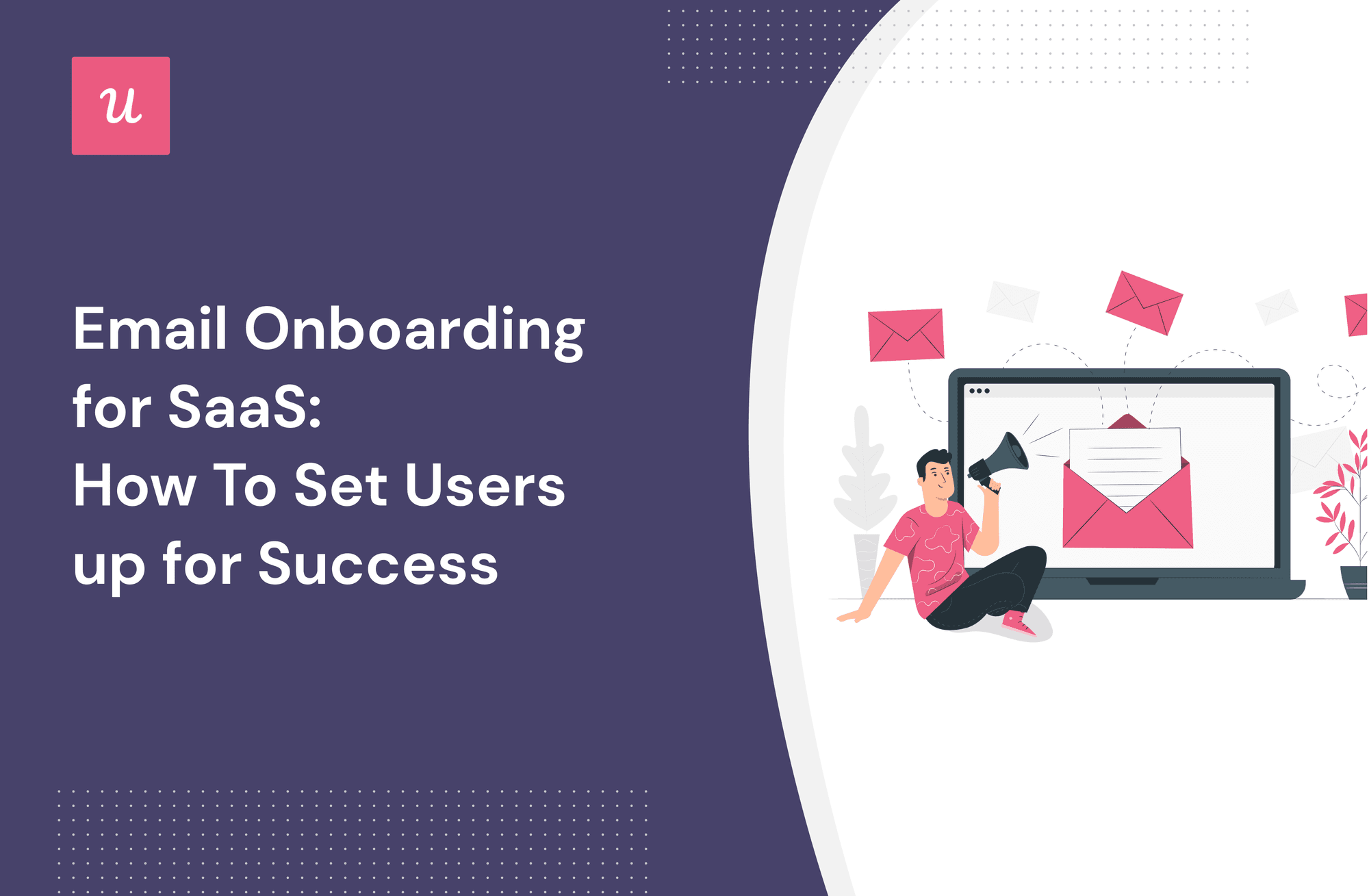 The trickiest but most rewarding stage of the customer journey is user onboarding. If you make a good first impression with new users, you'll make the rest of the process easier for your customer success team and reduce churn in the process.
Email onboarding is an effective way to streamline the process for new customers, so let's take a closer look at a few onboarding email examples and five best practices to follow!
TL;DR
Onboarding emails can be used to welcome users, provide tips/tutorials, promote specific features, provide social proof, remind customers about expiries, and re-engage inactive accounts.
Writing a good onboarding email mostly comes down to having a clear subject line, concise copy, and compelling call-to-action (CTA) that drives users toward the next step in their product adoption journey.
Creating multiple user personas will make it easier to split-test your onboarding emails and see what resonates with your core audience.
What is a user onboarding email?
A user onboarding email is an email sent to new customers after they purchase a product or service. Onboarding emails are used to educate new customers on how to use the product and encourage them to revisit the product until they reach their Aha! moment.
Onboarding emails are also used to welcome new users, share product tutorials, encourage feature discovery, and generate expansion revenue through upselling or cross-selling.
What is an onboarding email sequence?
An onboarding email sequence is a set of emails used to onboard new users and help them get the most out of the product or service that they purchased. Sequences are more effective than sending a single welcome email because users will likely need different forms of guidance throughout the onboarding process and greater customer lifecycle.
These progressive onboarding sequences could be used to help different types of customers, such as driving engaged customers to reach their Aha! moment or bringing disengaged users back to the product.
6 main types of onboarding emails
The six types of onboarding emails below will help you build the ideal sequence for your customer base. There's nothing wrong with using onboarding email templates, but we encourage you to adapt sequences based on your product and audience rather than going for a boilerplate approach.
1. Welcome email
A welcome email is the first email that a user receives after they create their account or sign up for a free trial of your product. In general, you should take a lighter tone in your welcome email since you want to build rapport with new users rather than providing cold instructions.
That said, you can still include resources that the user might find helpful as they make their way through the customer onboarding process. Here's an example of a warm welcome email that Miro sends to their users:
2. Tips and tutorials
All things considered, most onboarding emails have a shared goal: educating the user and reducing their time to value (TTV). As such, user onboarding emails should come with a handy set of self-service resources, tutorial microvideos, or a benefits overview of the product.
A single onboarding email with useful resources could mark the difference between successful customer enablement or free user who ends up churning at the end of their trial period. Airtable leverages onboarding emails to help users learn the basics of their product:
3. Feature callout
When sending onboarding emails with the goal of driving feature adoption across your user base, you need to be strategic about which key features you decide to mention. You should limit your focus to a few main features that provide the most value to users.
As a rule of thumb, you should focus on primary features in your earliest onboarding emails and then mention more complicated ones during secondary or tertiary onboarding sequences.
You can also segment customers based on their stage in the user journey to make it easier to promote the right features to the cohorts.
Of course, their location on the user journey map isn't all that matters. You should also consider the goals of different user groups and factor in their JTBD when you're choosing which features to promote.
By analyzing customer needs and tailoring your onboarding emails to each step of the user journey, you'll be able to send emails that are more contextually relevant to recipients. Here's how BrowserStack uses concise onboarding emails to promote specific features:
4. Social proof email
Onboarding emails can be just as effective at motivation and retention as they are at educating customers. Sharing testimonials, case studies, online reviews for your product, and/or any awards increases the credibility of the software.
Furthermore, keeping users filled in on the product journey will make them feel like they're part of a bigger community. Sharing these big moments with customers and giving users a voice increases the likeliness of word-of-mouth marketing for your product.
Trello uses its user onboarding emails to highlight key achievements and bring users along for the ride. Here's the onboarding email that they sent to users when Trello hit 10 million users:
5. Expiry email
An onboarding email is usually sent at the start of the user journey but scheduling an expiry email for the later stages of the onboarding voyage is equally important.
Even a simple email telling users that their free trial ends in a week could encourage them to try out any features they haven't tested yet and provide higher retention rates as a result. Timing is of the essence since sending an expiry email too early or late will reduce its efficacy.
If you send an email two weeks or more before the trial ends, it'll just be a bothersome notification that users won't pay attention to since there's no sense of urgency. On the other hand, sending an expiry email the night before a trial ends is too late to be helpful.
When sending these expiry emails, you should have a clear CTA and give users a compelling reason to continue using the product (or even upgrade their subscription). These incentives could take the form of annual plan discounts, access to beta features, or an extra seat.
Here's Slack's concise expiry email that they send a week before the trial period ends. It's short, sweet, and suggests an upgrade to users without being too pushy. You don't have to use the same formula, but having expiry emails, in general, is a free trial best practice.
6. Re-engagement email
Re-engagement emails are a unique but essential type of onboarding email. These emails are targeted toward churned users or inactive users who are at risk of churning. Unlike an onboarding email, re-engagement emails should focus on making the product stickier.
A few things you could highlight in a re-engagement email include a user's achievements, past projects, or unfinished tasks to encourage them to pick up where they left off. Another approach would be to offer discounts to win back churned customers.
Typeform offers discounts for all its plans on re-engagement emails. These win-back email campaigns are extra effective since Typeform provides bigger discounts for higher subscription tiers which increases the LTV of customers after getting them back.
Best practices for successful email onboarding
If you're already running an onboarding email campaign (or plan to start one soon) but aren't getting the results you hoped for, following the five best practices below could make all the difference.
1. Map out your onboarding lifecycle
Much like getting more customers, onboarding users is an ongoing process. From the first touchpoint to the end of your customer story, there are countless opportunities to help user traverse their product journey.
Creating an onboarding lifecycle map makes sure that every marketing automation, communication channel, and in-app guidance effort flows properly. These maps also ensure that your onboarding campaign doesn't have any gaps where users may drop off.
Lastly, a well-defined customer onboarding map will help you identify the needs at each stage of the funnel, from providing personal support during the free trial signup process to sending survey emails to collect feedback from a happy customer.
Here's an example of what your customer onboarding process roadmap could look like:
2. Adopt an event-based mindset
The timing of when a customer receives onboarding emails will often determine how effective your email marketing efforts are. To make sure your users get contextual information at the perfect time, set up event-based triggers.
By analyzing user behavior and then having emails triggered based on the patterns and habits that you find, you'll be able to guide customers through using important features, finding advanced features, and overcoming every pain points over the next few weeks of the onboarding process.
The easiest way to set up these event-based triggers is with a SaaS tool like Userpilot. Userpilot lets you create webhooks that trigger specific email engagement sequences whenever a user completes a pre-defined event.
These events could include:
Filling out a sign-up form
Clicking a specific button
Trying a feature out for the first time
By timing helpful content based on behavioral triggers, you'll be able to adapt to the customer experience and get a much higher click-through rate on your emails. After all, what SaaS company wouldn't want perfectly-timed onboarding content sent to their users?
3. Align your emails with in-app messaging
Even if you have a solid email template and send a personalized follow-up email to every user, the efficacy of such efforts will be hampered if you don't align it with your product's in-app messaging.
Both communication touchpoints are essential to the onboarding experience which is why they should complement one another while maintaining a singular brand voice. If a plain text email manages to get users to the app, it's in-app messaging that needs to carry them forward.
These omnichannel experiences make your messaging feel cohesive across every touchpoint. Whether users are navigating through landing pages, reading a blog post, or opening an onboarding email with their login details, they should always see consistent messaging.
Remember, consistency is the key to nurturing customer trust and satisfaction.
4. Learn how to write a good onboarding email
Being able to create a good onboarding email with a clear call-to-action could determine whether or not most customers become paying customers. First and foremost, you'll need a clear and catchy subject line.
Using a lazy subject line means most users won't even open the onboarding email, to begin with (wasting all the effort you put into writing it). Instead, use subject lines to highlight the specific reason you're emailing the user and hook them in from the get-go.
Your copy needs to be equally concise and intentional. If users don't see a clear value proposition within the first few seconds of opening an email, they're liking going to close or even delete it.
Tip: If you're not sure which resources to share on your automated onboarding emails, you could ask your support team which features new users have the most trouble with. You'll be able to use this customer data to reverse engineer what to include in email sequences.
Make sure your email contains the necessary context and resources for users to act on (and understand) the information you're providing. Last but certainly not least, make sure you have a single, compelling call-to-action (CTA).
The CTA should be targeted to recipients and clearly tell users what the next step is. If you want to personalize and split-test your call-to-actions, you should create multiple user personas to see which CTAs resonate with each segment.
Here's a user persona template you can use:
5. Test your onboarding emails
Much like email marketing sequences, you should always split-test your onboarding emails. The initial onboarding email probably deserves the most A/B testing since a bad first impression could seriously impact your customer retention rates.
That said, try to go through your entire onboarding email schedule and test the subject lines and call to action for each one. You can also split-test other factors like what time of day to send emails, which UI elements to use, and what the ideal length is.
Software like Userpilot helps you set up A/B tests with clear objectives, easily trackable results, and actionable insights. Here's a look at Userpilot's goal-setting dashboard that will help you create split tests:
Best onboarding email example in SaaS
It's never a good idea to copy an onboarding email example from other brands. Creating effective onboarding emails requires originality and unique messaging that's tailored to your target audience.
That said, you can draw inspiration from the elements other brands got right with their onboarding strategy and email templates. Here are three examples that should spark some ideas!
1. 1Password
1Password uses its welcome message to give users a three-step process to getting started with their password management software. The email sports a clean design, and minimal text, and includes links to handy guides.
The team at 1Password also embedded an animated tutorial video to give users additional guidance. Before ending the email, 1Password encourages users to reach out if they need help and even adds a visible CTA link.
2. Headspace
Headspace takes a more colorful approach to its onboarding emails since they're trying to get users excited about using the app. The email has large text and eye-catching graphics that highlight the scientific benefits of meditation.
After providing value and data, only then does the email make a gentle upsell for users who may be interested in signing up for Headspace Plus. This email is a prime example of how subscription marketing emails can increase customer lifetime value without being pushy.
3. Mailchimp
What better brand to get an onboarding email example than the popular email marketing platform Mailchimp? In contrast to Headspace's email, Mailchimp uses a muted color scheme and leaves more space between text.
The entire email focuses on a single goal: motivating the new user to start their first campaign.
By keeping the text to a minimum, stating the amount of time (five minutes) it would take to create a campaign, and using a calm palette, Mailchimp makes the email far less intimidating to new users. It also plugs Mailchimp's beginner's guide, knowledge base, and support details.
Summing up
As you can see, email onboarding can be a highly effective means of guiding new customers and retaining existing users. If you get your email copy, timing, and messaging right then you're bound to see massive benefits by creating an email onboarding sequence.
If you're ready to get started with guiding users and promoting product growth, it's time to get your free Userpilot demo today!