8 Amazing SaaS Onboarding Emails (With Examples)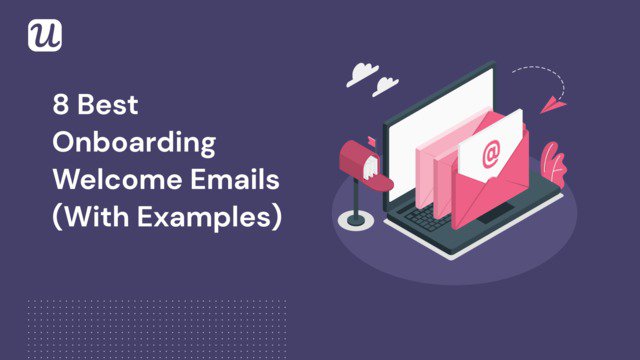 Sometimes, first impressions can mean a make or break for your product. This is where your onboarding welcome email makes you shine.
But before we get to some of my favorite (and not-so-favorite) onboarding welcome email examples, I wanted to touch on some of the important aspects to consider when creating welcome emails.
TL;DR
If you're short on time and can't read the entire blog post, here are some key takeaways for you!
Regardless of whether or not you have a self-sufficient UI/UX, don't discard how helpful onboarding welcome emails can be.
A solid sequence of onboarding emails can assist with the continuation of the adoption phase, and constantly remind the user that they've started a relationship with you and your team.
Consider how your brand speaks. Develop your own unique style of writing and tone of voice. This is your chance to shine.
Remind the user you are there! This is your opportunity to get them to log back in and not let them drop down the funnel.
Be human, and be ready to help. Nobody likes to get an email if they can't reply to it.
Don't forget to consider: what happens once the user clicks on any of your CTAs? How will you guide your users in-app? This is where Userpilot comes in. Complete building your SaaS onboarding experience with us. Book a demo and we'll show you how! 
The Anatomy of a SaaS Onboarding Welcome Email
Creating a solid onboarding welcome email requires a bit of thought. It's not just about saying "Hey, welcome, thanks for starting an account!" – there are also some technical aspects to consider.
Copywriting and Tone of Voice
Is your brand witty or playful? Is it quirky, informative, or are you portraying a more serious style? Your tone of voice will define not just how others perceive you, but even how they interact with you.
Lucky for you, we've already written an entire blog post on user onboarding email copywriting and how to best express yourself in a way that grabs your customers' attention.
💡Top Tip: Everything down to the subject line may define whether someone even opens your email!
HTML vs Plain-Text Onboarding Welcome Emails
There's been a lot of debate around this, but I'll try and give you the TLDR.
While people say they prefer HTML emails (because they're prettier) – in the long run, plain-text emails result in more clicks and interactions.
While I will agree I prefer HTML emails as well (they're sometimes easier to digest) – the reality is you do run the risk of over-designing an email sometimes. Not only can this mean users can lose track of important CTAs, but it can result in your email landing in Gmail's 'Promotions' tab.
Even worse, if it has too much HTML, some email service providers may think it's spam, giving you the risk of the reader skipping it entirely.
Reply vs NoReply Onboarding Welcome Emails
Thankfully in all the great examples, I gathered for you below, I didn't run into any noreply@ emails, but this can certainly be a cause of friction.
If you're making your emails personable and want to set up your user for success, make sure someone can actually reply!
Otherwise, you're forcing the user to try and find out some other form of communication. For some, this may be too much of a hassle and they'll just entirely give up.
🤔 Fun Fact: The harder you make it for someone to contact you, the more likely they are to churn. In my own studies, 65% of people who had contact with someone were more likely to activate their accounts.
Human vs Automated Onboarding Emails
Ok so, let's be clear about something.
We *know* that all welcome emails are automated. There clearly isn't someone looking at every sign-up, writing up a quick email, and sending it our way.
However, you can make your emails more human.
This is part of our copywriting guide, as having an email from someone real at your company sets the tone that you're there to support your customer's journey from the very beginning and are willing and ready to help.
The Best Onboarding Welcome Emails
And now for the moment, you've been waiting for – the teardown.
I picked 8 really solid onboarding welcome emails I really liked, and a few others that didn't make the cut at all.
Drum roll please! 🥁
Miro
Miro has taken the SaaS world by storm with their easy-to-use and interactive whiteboards.
Source: Miro Welcome Email
The team at Miro chose to go down the route of HTML and automated sender.
Overall I'd give them a score of 6/10.
It's pretty solid overall but has quite a few improvements they can work on.
What I like
It has one clear CTA. No wondering what to do there!
It's got a fun gif that gives me an insight into how diverse Miro is. I want to do all those things.
It set the benefit of using Miro from the very start.
Despite it being very HTML-heavy, it actually went directly to my inbox. I'm not sure what kind of black magic this is. 🔮
What I didn't like
It came from notification@ – does this mean I can reply? I hope so! While this is clearly automated, the sender email and the reply to the email both seem to go to notification@ so it's not quite clear what to expect.
Welcome FULL NAME is a bit much. I signed in with SSO, and for some reason, they decided to use both first and last names. Not sure we need that level of formality, Miro.
While I loved that they had a clear CTA at the top, I didn't realize there was more underneath. This is where they took a hit for me and lost points.
This felt a bit like – but wait, there's more!
While I really liked the top half of the email, the second half falls short. Combined with the quasi-bullet points and the busy gif from the top of the email (which was a delighter at first) and the CTA added on, it feels like there's too much going on.
However, it's not all bad news. The CTAs clearly tell me where to find help and get inspiration. They're actually great guidance, and for a self-starter like myself, I know exactly where to go and how to get help if I were to need it. The overall design needs to be reviewed though.
Hugo
Hugo is a meeting note-taking app that allows you to follow up with actionable steps, so you don't wonder why you were in that meeting in the first place. It's a great way of making sure that you can get the most out of your time with your team.
The Hugo Team gets a 7/10 on this.
It's solid, friendly, and from a real human person (yes!) There are a few too many CTAs scattered all over the place for my liking though, and it's causing me to want to focus on the CTAs rather than the content (perhaps not a particularly bad idea, though.)
What I like
It's super easy to read.
It went straight into my inbox as it's plain text.
It came from a real person who I can get back to if I have any questions.
It included a helpful video.
It gave me a helpful CTA to let me know there's a mobile app.
What I didn't like
This might just be me, but I did feel like the video placeholder could've included a more helpful image. At first, I didn't realize why I was looking at a screenshot of two red circles in the middle of the app.
Perhaps just listing the CTAs in bullet points might've made things easier. It's almost causing me to scan the page for the CTAs rather than have them listed together.
This one is a pet peeve more than anything: please add full stops to your sentences.
Descript
Descript is a video editing app that has quickly become part of my personal tool stack. Not only is it a delight to use through and through, but it's genuinely made my life easier.
Talk about beautiful.
The Descript Team gets an 8/10 on this one. It straight away lists top tips and reminds me of why I signed up for Descript in the first place.
What I like
It's beautiful. Look at it. Such a delight to read through.
Gave me top tips right away.
Gave me a CTA to watch a helpful assistance video.
While it's not coming from a person, it's still clear I can reply and get help.
What I didn't like
It doesn't tell me if they have a help center. That said, I looked back at an earlier email that asked me to verify my email. I wouldn't count this as an 'onboarding welcome email' – rather a transactional security email, so I completely missed that on that email they point me towards the help center.
It went to the Promotions tab, but I expected that to happen anyway.
Shopify
Shopify is the leading e-commerce service available, allowing millions of people to take their business online quickly.
No surprise here at all, of course, they get a 10/10 for their welcome onboarding email.
Everything Shopify does is through and through catered to providing the best experience for their users.
What I like
It immediately reminds me I'm on a trial period.
It reminds me of what my login details are (thank you for this, Shopify!)
It provides me with two very clear CTAs that will set me up for success: a checklist and setting up my own domain.
It has secondary CTAs focused on allowing me to get help.
Another case of black magic, this went straight to my inbox and not the promotions tab, despite it not being plain text.
What I didn't like
Nothing. Everything about this is on point. 👏
Airfocus
Airfocus is a product management tool geared towards helping teams make sure they're building the right thing and collaborating on strategy.
Source: Airfocus Welcome Email
This email was delightful. Another 10/10 for the Airfocus team!
What I like
It's easy to read.
It gives me three clear action points to get started for success.
Much like Shopify, it also reminded me of my login details.
It came from a real person, and I know that if I were to reply I'd be able to get help.
What I didn't like
This isn't so much about not liking, but the email went to the Promotions tab. Just something to be aware of.
Calendly
I don't think Calendly needs an introduction, but if you are still struggling to book meetings, this is the app you've been looking for.
Another 10/10 here for the Calendly team!
What I like
Very quickly established why they're the right choice. Ain't nobody got time for… well, wasting time!
It immediately gave me the option to install Zoom, which means booking calls just got that much easier.
I don't have to wonder what my calendar URL is.
It gave me some super helpful tips.
What I didn't like
There's very little I don't like here, but I am wondering what happens if I reply to their welcome@ email. Hopefully, I'll get a person on the other end!
Storychief
I was introduced to Storychief upon starting at Userpilot. Storychief allows teams to create content easily and push to their various platforms as needed.
I chose to include this onboarding welcome email on this list as it is a wonderful example of catering for different user journeys. In this case, I am not the account creator or admin, but I was invited in as a team member. The team at Storychief gets a 10/10 on this.
What I like
It's very easy to read. Not cluttered by images or lots of links, just a really solid email from one person to another.
I can very clearly reply to Carmen if I need help.
It has one clear CTA to get help if I need it.
Bonus: Once I was in, Carmen also messaged me via Intercom to make sure I was getting along with the app. Consistency!
What I didn't like
Everything about this email is perfect. It's a great example of how plain text emails go a long way.
Browserstack
Whenever I start a new role, I always install Browserstack as one of my first tools of choice. This app allows for quick and rapid testing so you can make sure that your designs are looking as expected on a variety of browsers, both web, and mobile.
While Browserstack is directed towards a dev audience, the onboarding welcome email does not fall short. Well done, team! You get a 10/10 on this one.
What I like
CTA at the top!
Establishes their benefits and why they're number 1.
Quick CTAs for testing both web and mobile.
Provided secondary CTAs for help.
It came from a real team member at Browserstack.
What I didn't like
Nothing to see here. Solid email, helpful, and I don't have to guess how to log back in. CTA at the top was just what I needed.
The Onboarding Welcome Emails That Didn't Make the Cut
I tested a few apps when running research for this, and unfortunately, some of my favorite apps didn't even make the cut.
Why?
Because there were no onboarding welcome emails at all.
Pipedrive, Notion, Marvel, and Buffer didn't send me a single email.
Notion and Marvel are pretty easy to figure out, but does that mean I don't deserve an email? Probably not. I was actually really disappointed. I tried to give them the benefit of the doubt and gave it 24 hrs to see if anything would come through.
Surprisingly, Marvel did come through – but with a webinar invite. This still isn't an onboarding email though, and it feels like all they're really doing is spamming me.
I have absolutely no idea why Pipedrive and Buffer wouldn't send one either. Missed the opportunity there, guys.
And the worst of them all? Invision.
Remember when I said don't use noreply@. Well, guess what happened…
Source: Invision Onboarding Welcome Email
First, this isn't even a welcome email. It's a transactional email reminding me of how to log in. It couldn't even get right that I am Andrea, not Andrea's Team.
Invision has chosen to rely on their UI being excellent enough to not need any email help. While I'll give them the benefit of the doubt they do in fact have a pretty easy-to-use UI, unfortunately, they've already established they don't really want to hear from me.
How Userpilot Helps
Once you have established the first key steps to get your users to find value in your product, you need to consider what happens once the user clicks on any of those CTAs.
What will your app show?
How will you guide them?
What's the correlation between what they've just read and what they will experience?
This is where Userpilot jumps in to save the day.
Once you have established those valuable key actions for your users, Userpilot can support the experience by guiding them once you get to your app.
Source: Userpilot. Get a free demo now!
Whether you are looking to extend the experience from your onboarding welcome email using checklists or creating delightful product experiences, Userpilot can help ensure you set up your customers for success.
Want to learn more? See a walkthrough from an expert today.