12 Best Customer Experience Videos to Learn From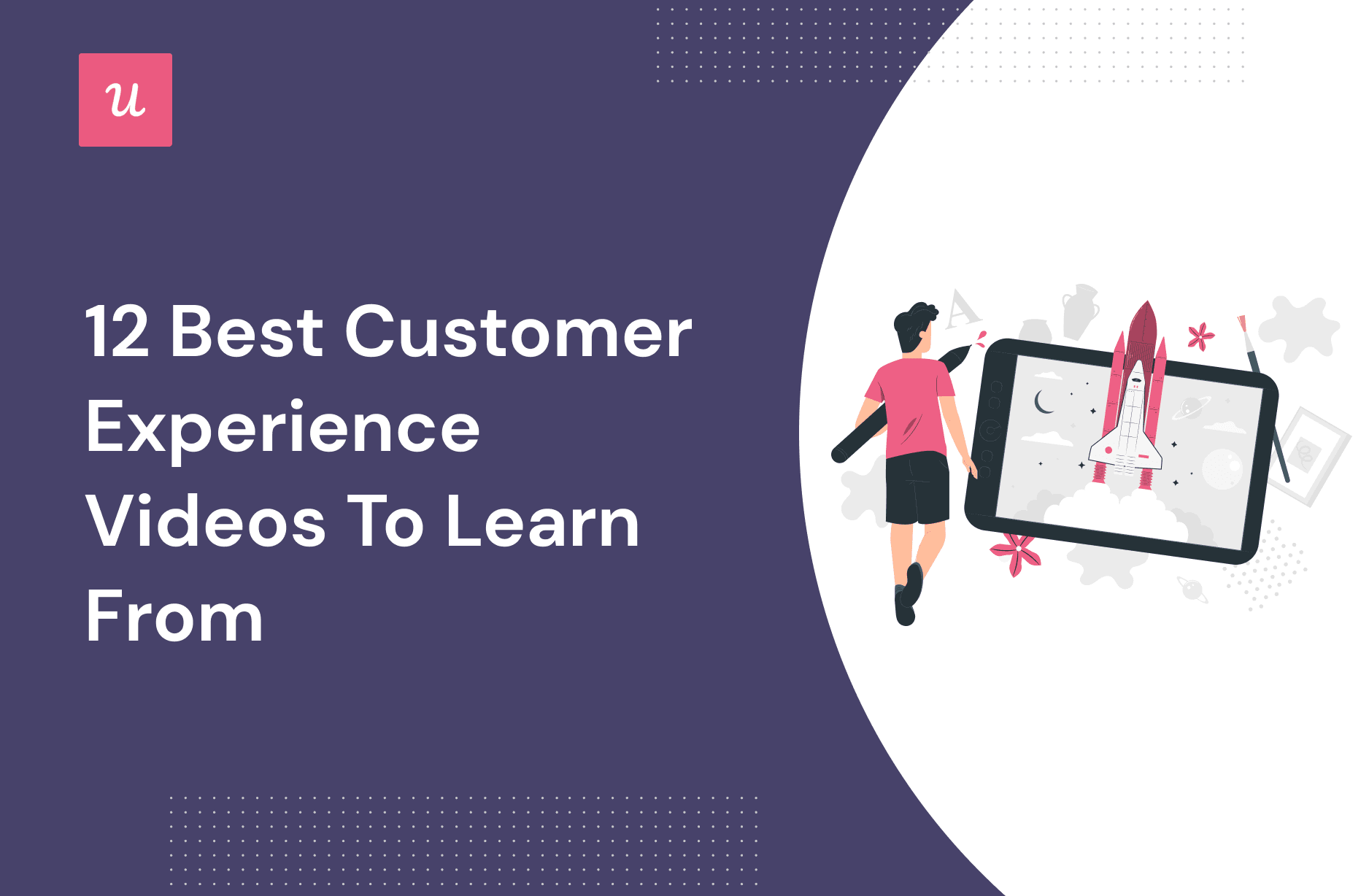 The internet is flooded with customer experience videos you can watch and, maybe, learn something new or useful for your job.
The problem is, the average video content tends to be mediocre and lacking in insightful information. You'd need to spend a lot of time finding good content creators if you just decided to learn about CX and customer engagement.
That's why we're not only going to recommend high-quality creators you can follow. We'll also share and summarize 12 videos so you can get into user onboarding, customer service, and retention—right now.
TL;DR
The best customer experience videos about user onboarding include:
A Userpilot video about SaaS onboarding (with an AI-generated avatar).
Malewicz's take on mobile onboarding screens.
Ramli John's best practices on user onboarding.
Krystal Higgins's speech on how to do onboarding for the long run.
The best videos about customer service include:
Valuetainment stories about great customer service.
Simon Sinek's take on the "service" part of customer service.
Bernard Marr's customer experience trends.
Sandra Thompson's speech on why remote workers have better emotional intelligence.
Darren Ross's speech about how he offers memorable customer service.
The best videos on customer retention include:
Shopify's guide about customer retention.
Yves Van Vaerenbergh's speech about terrible customer service.
Jonathan McKay's talk on how big tech brands offer amazing customer service.
If you run a SaaS, feel free to book a Userpilot demo to see how you can offer outstanding customer service.
Best customer experience videos in user onboarding
If you work in customer success and product marketing, learning about user onboarding is an essential part of your job.
Let's take a look at some valuable videos:
Userpilot – How to Create the Best SaaS User Onboarding Experience
At Userpilot, we've been spending years building a product that helps customer success managers and product marketers improve their product growth.
Our Youtube channel is full of webinars, expert interviews, SaaS reports, as well as guides presented by AI-generated avatars! One of which is about creating the best SaaS onboarding experience.
In summary, this video explains that:
The "Aha! moment" varies from user to user. It's essential to segment users by their jobs-to-be-done (JTBDs) and defines what the moment of value looks like for each of them.
Once you've segmented your user base, you can craft a smooth onboarding process by:
Removing unnecessary friction across the journey based on customer feedback.
Minimizing the time it takes to reach the activation stage with in-app guidance.
Offering self-service support.
Improving interactivity with the product.
Offer guidance within context.
Personalizing the onboarding experience to each segment.
Malewicz – STOP designing onboarding screens!
As of today, Malewicz's Youtube channel about app design and business has a total of 110,000 subscribers.
This video about onboarding screens on mobile apps is a great representation of Malewicz's professional videos. It covers:
Why modern onboarding screens are boring and skippable when they feature generic images.
Since people downloading your app are probably very knowledgeable about what it does, removing onboarding screens completely might represent an improvement.
The best way to onboard mobile users is through a short vertical video that's optional and targeted to new users.
Highly recommended to check that channel if you're into mobile apps.
ProductLed – 5 Best Practices for Better SaaS User Onboarding
ProductLed is another great Youtube channel that's all about driving product-led growth through education.
In this video, Ramli John goes over 5 examples of how you can apply his "BJ Fogg" framework to improve user onboarding, including:
Speaking to your user's desires instead of showing plain features.
Show users how they're progressing through the app.
Welcome new users with short, personal videos.
Guide users to their next onboarding step using visual guidance.
Showing a more helpful empty state that encourages users to take their next step.
Krystal Higgins – User onboarding for the long run
This video is a speech presented by Krystal Higgins—author of the book Better Onboarding—where she talks about the importance of designing your onboarding process for the long run (instead of just focusing on the short term).
In this talk, Krystal asks "Where does onboarding end?". And her take is that real onboarding is more than the initial setup, and it involves:
Running multiple events that help users familiarize themselves with the product, learn it, and get proper guidance during the customer journey.
Offering diverse onboarding methods that are adjusted for each user's needs and goals. Which involves a guiding experience that's default and structured, inline within context, reactive to user behavior, proactive, and on-demand—making your product more accessible.
Best customer experience videos for exceptional customer service
For those who are more into customer-facing roles. Let's watch some customer service videos.
Valuetainment – 10 Best Customer Service Experiences
"No one remembers average and ordinary," says Patrick Bet-David in this video where he tells 10 real-life examples of outstanding customer service.
These inspiring stories come from very known companies like Disney, Amazon, Lego, etc. And he goes through all of this to give a lesson on why:
Business owners should set budgets and care more about providing excellent customer experiences.
Employees should increase their value by going above and beyond.
Simon Sinek – The SERVICE in Customer Service
Simon Sinek starts this video by arguing that "one of the challenges of good times is that it brings laziness."
When it comes to customer service, established businesses and monopolies tend to overlook the customer experience and take the business for granted. So, Simon elevates this video with an inspirational speech on why we should go back to business basics and treat our customers with actual care and empathy—as if our business depended on it.
If you're aiming to increase customer loyalty, this video will be very inspiring.
Bernard Marr – The Top 4 Customer Experience Trends In 2023
If you want to get up-to-date with what's happening in the customer experience world, this will help you.
In this video about customer experience trends in 2023, Bernard Marr goes over four ways to expand and improve customer experience, including:
Leveraging the metaverse to connect with customers in an immersive environment.
Personalizing not only the marketing (like promotional videos) but the whole customer's experience using new technology like AR.
Achieving a balance between offering better prices/convenience, and being sustainable. As customers start becoming more conscious.
Keeping it real. Providing an authentic human connection instead of telling your customer service team to read a script.
Sandra Thompson – The Customer Experience Remotevolution
In this inspiring Ted talk, Sandra Thompson explains the relationship between remote work and emotional intelligence. Her thesis is that people who work remotely (and follow the best practices) tend to have better emotional intelligence due to all their correlated traits.
Sandra claims that 93% of customer initiatives fail, but she also believes that we can turn that statistic around as more people adopt remote work, and thus, improve their emotional intelligence.
Darren Ross – Popsicle Moments: Finding A New Flavor of Customer Service
In this other Ted talk, Darren Ross gives a very inspirational speech where he shares two personal stories where he experienced memorable customer service. One as a kid receiving a bag of free Hershey kisses, and another as an adult getting a seat at a fully-booked restaurant.
He argues that those experiences were memorable because he felt like he "got away with something".
Darren complains about why we rarely receive such experiences from businesses (like retail stores). And he puts his own company as an example—which is an old hotel that has nothing fancy but top-notch customer service.
Best customer experience videos for customer retention
Now, if you're into improving customer retention and increasing lifetime value, these explainer videos are for you.
Shopify – How To Increase The Lifetime Value Of A Customer
In this video by Shopify, Michelle Bali gives a thorough intro to customer retention, stating that it's all about building relationships with existing customers.
From a business point of view, she argues that customer retention is important for four reasons: affordability, ROI, loyalty, and referrals (especially if your business sells high-ticket software).
She then gives multiple strategies to boost retention, which include offering great support, sending handwritten notes, following up through email, and more.
We recommend checking this video out to get into the basics of customer satisfaction.
Yves Van Vaerenbergh – Why Companies Fail at Customer Experience
Yves Van Vaerenbergh starts his Ted talk with a personal story about a terrible customer he had when his 2.5-year-old daughter needed to go to the bathroom.
He blames it on the fact that organizations are not made to provide a great customer experience—thus their initiatives end up being too superficial.
Obsession with efficiency, control, and lack of structure are the main reasons customers perceive bad services. We recommend watching it if you want to learn how your customer service shouldn't be.
Jonathon McKay – The Experience Economy: Rethinking Business
In this video, Jonathon McKay argues why customers and employees are the most important part of any business. He shares how he used to think selfishly, how businesses these days only focus on their own needs, and cites Jeff Bezos saying "Your margins are my competitive advantage".
Jonathan brings more examples from Uber and Airbnb, explaining what he calls "the experience economy" and how businesses can succeed in it by surpassing customer expectations.
His Ted talk is full of insightful points, so we recommend watching it if you're figuring out how to offer an outstanding customer experience.
Conclusion
With these customer experience videos, you can hopefully learn one or two valuable things you can apply at your job right now.
If you run a SaaS, one great step you can do is to use a customer success tool to elevate your in-app experience. So feel free to book a Userpilot demo to see how you can offer good customer service.