How To Run a Successful SaaS Onboarding Process and Retain Most Customers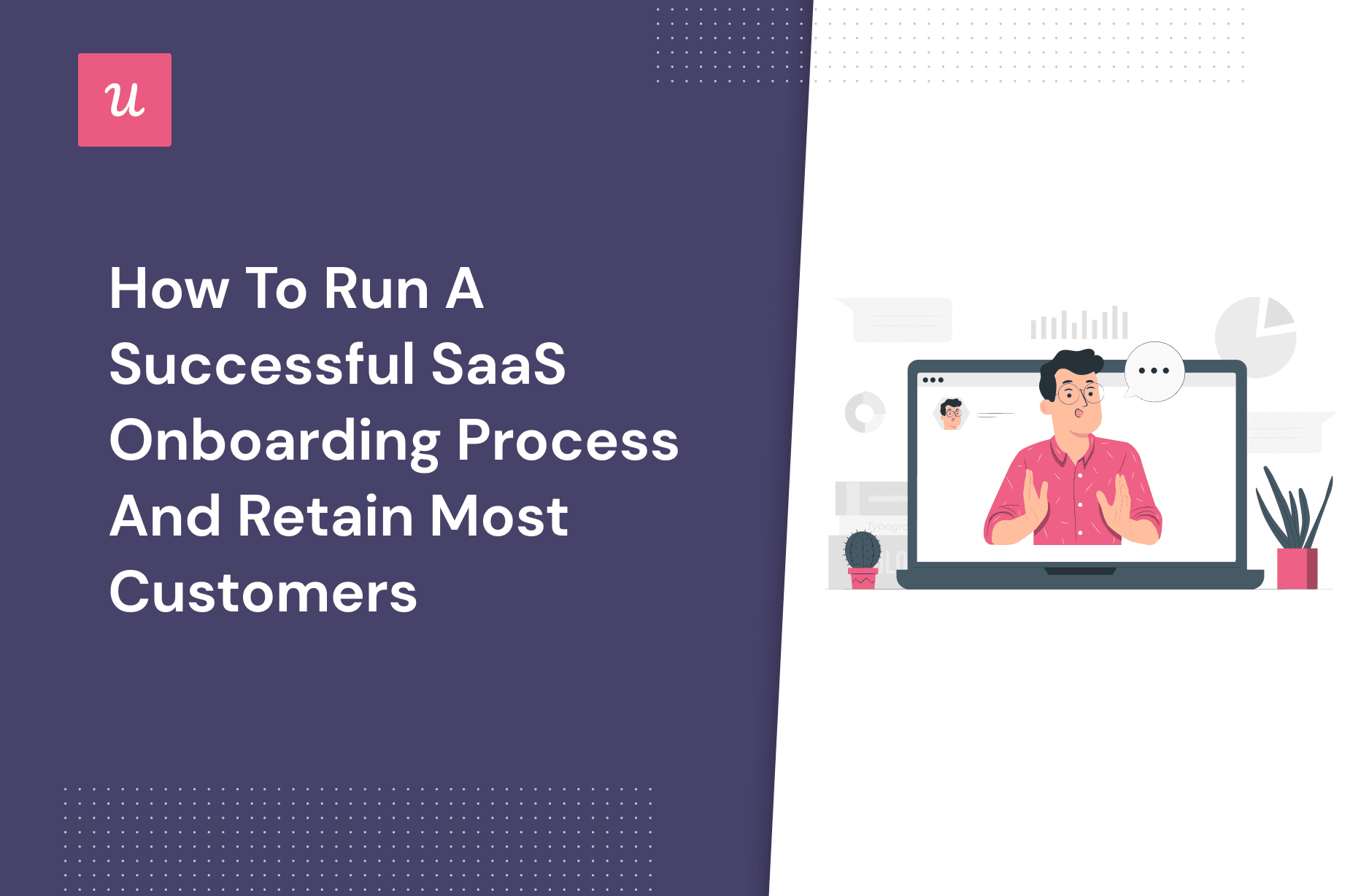 Wondering how to run a successful SaaS onboarding process to make sure you are setting users up for success from the start?
It's a no-brainer that a solid onboarding workflow is crucial to the success of any product-led company.
During onboarding, you have the opportunity to make a lasting impression on your customers. Here's your best chance to explain how your product meets your customers' needs and solves their problems.
In this article, we cover:
What SaaS customer onboarding is and why it's important.
Onboarding best practices for SaaS companies.
Real-life examples of successful onboarding experiences by SaaS businesses.
TLDR;
SaaS customer onboarding is the product guidance and education new customers receive when they first sign up for your product.
Customer onboarding matters because it builds user confidence, improves customer retention, and decreases the demand for customer support.
To run a successful SaaS onboarding process, first choose the right onboarding model (low-touch, white-glove, or self-service).
The next step is to define what success means to your customers – what are their Aha moments.
Use a tool to automate the onboarding experience and ensure a consistent customer experience.
Collect qualitative data with product usage analytics and user feedback surveys and use it to continuously improve your onboarding flow.
As a user onboarding best practice, make the sign-up process seamless with fewer fields to fill out. Just a name and email address are enough to get started.
Show helpful empty states by filling them with product guidance or dummy data. Otherwise, it feels overwhelming and demotivating for users.
Greet new customers with welcome messages – it humanizes the onboarding process.
Personalize the onboarding process for every user – first, create user segments, then trigger relevant onboarding flows for each segment.
Drive more engagement with gamification, like a progress bar on a checklist.
Replace generic product tours with interactive walkthroughs – they're more engaging and helpful.
Provide quick wins to keep motivation high – like celebrating a user's first action (for example, scheduling their first event).
Use various UX patterns to guide users, like modals, tooltips, hotspots, and checklists.
Provide self-service options, such as a knowledge base, to meet customer expectations and take the load off your support team.
Create contextual and personalized onboarding flows with Userpilot.
What is SaaS customer onboarding?
SaaS customer onboarding is the ongoing process of educating customers on your product and supporting them achieve their goals with it.
During this time, you should show users how to use the most important features of your product and emphasize the benefits of using it regularly.
Why does customer onboarding matter?
There are three major reasons why SaaS user onboarding matters:
Build user confidence
New customers trying out your product for the first time have no idea if it's going to help them. You have to build their confidence in your product through experience – and the first place you do that is during the onboarding process.
Once you start building their trust in your brand, customer experience and satisfaction naturally improve.
Improve customer retention
As trust in your product increases, customer churn decreases. They see the value in your product, so they're less likely to cancel. If you have a free trial, they'll be more likely to upgrade at the end of their free trial and become paying customers.
Decrease the demand for customer support
A good user onboarding strategy will set customers up for success. They'll understand the product, its key features, and how to use them. This contributes to less need for support, so your customer service team will have fewer minor issues coming in.
Not only does it save on resources for your support team, but they can also spend more quality team answering the complex issues that do come in.
How to run a successful SaaS onboarding process?
Follow this easy four-step process to implement an effective onboarding process:
Choose the right onboarding model
There are a few SaaS onboarding models to choose from:
Low-touch onboarding: This type of customer onboarding experience blends both self-service and 1-on-1 support. With low-touch onboarding, a percentage of the experience can be completed alone by the customer. For the rest of the more complex tasks, they're connected with customer success managers to get set up.
White glove onboarding: This type of client onboarding includes complete 1-on-1 support from customer success managers. This is usually the right option for an enterprise product, where custom setups and customer needs have to be considered.
Self-service onboarding: The majority of SaaS companies can use a self-service user onboarding flow to guide first-time users around the product. This self-service method often includes in-app product guidance, including checklists, walkthroughs, tooltips, and hotspots.
Define what success means to your customers
You need to identify your customers' "Aha" moments – the emotional reactions they experience when they realize your product's value and believe it is right for their goals. An Aha moment is crucial because it sets the hook – it motivates the customer to keep using your product and sets the tone for the rest of the customer journey.
Use a tool to automate the in-app onboarding experience
Automating customer onboarding can help boost growth. By doing this, you will be able to provide a more consistent experience for your customers and improve their satisfaction.
Start by mapping the happy path flow for the onboarding process. Then use the right tool to automate small customer interactions at each point in the journey.
You can automate your welcome page, send automated surveys based on users' actions, or automate the path to specific onboarding milestones, for instance.
Measure, iterate, and improve
SaaS onboarding isn't a set-it-and-forget-it project. You need to constantly track and improve your onboarding experience to keep new users engaged.
Keep an eye on your product analytics to see if your churn rate is increasing or decreasing. Set onboarding goals and track how users are completing them to identify the stage where friction occurs.
Send surveys and speak with users on a regular basis. You need to create continuous customer feedback and ideation loops in your company and set hard dates to reflect on the quantitative and qualitative data, then use those findings to improve your onboarding processes.
Customer onboarding best practices for SaaS
Follow these nine SaaS onboarding best practices to get more active users:
Make signup as frictionless as possible
The signup process should be fast and easy to avoid losing potential customers early. When a customer signs up for your product, they don't have the patience to fill out a mountain of information. Instead, grab the most important information needed to get started, like their name and email address.
You can collect more data from new users later on after they've achieved value and are more invested in the experience.
In this example from Miro, their signup form includes two easy options – you can either sign in with another existing account or just fill in your name and password.
Show helpful empty states
Don't leave the empty state empty – that is demotivating for new users.
Instead, replace it with templates, video tutorials, and dummy data to give users a real feel of your product and help them get started.
In this example from Mixpanel, the dashboard is filled with dummy data to show the new customer how it will look when they've finished the onboarding process. This is way more motivating to customers since customers realize the value of setting everything up.
Greet new customers with welcome messages
The onboarding process starts from the minute a user lands on your product for the first time. Greet them with a welcome message for a more positive onboarding experience.
The welcome message can be simple – like a simple in-app message that addresses the user by name. Bonus points for showing a friendly face to your team member to humanize your brand.
You can also take this chance to collect information on their jobs to be done (JBTD) to segment them in later stages.
In this example created with Userpilot, Acme Software greets new customers and asks what they hope to achieve with the product.
Personalize the onboarding process for each user persona
One of the benefits of surveying customers early is that you can then create user segments. Segmentation involves grouping customers based on shared characteristics (such as their jobs to be done).
Segmenting customers allows you to push out personalized onboarding elements. Depending on a user's goals or use case, they'll require different training to achieve. You can trigger onboarding flows that are the most relevant for each segment.
Drive more engagement with gamification
Gamification is a powerful tool for boosting motivation and making product experiences more joyful. It includes adding fun elements to your UI, like badges, certificates, and more.
Basically, giving people the feeling they are 'winning' increases the likelihood they will keep interacting with the product.
Onboarding tasks can be gamified to make completion rates higher. For example, you can add progress bars to an onboarding checklist to encourage users to go all the way.
Replace generic product tours with interactive walkthroughs
Product tours are out – interactive walkthroughs are in. They're more engaging and memorable for new users.
Here's the difference between them:
Product tours show users around features using a series of tooltips. Most customers quickly click through all the tooltips, instantly forgetting what they said.
On the other hand, interactive walkthroughs encourage the user to engage with the product by completing an action before moving forward. Users learn by doing, rather than just reading.
It makes the entire customer onboarding journey more engaging. Customers learn how to do essential actions by actually trying them out for themselves at the moment. Tips are given contextually, only when the user is engaging with that element.
Provide a compelling quick win
You should add in quick wins to keep the experience motivating while users are on their way to the "Aha" moment. Quick wins can be small moments of celebration that reward a customer for achieving a product milestone (such as inviting a new user).
In this example, when a user schedules their first event, Calendly celebrates with a pop-up modal that congratulates them and gives them ideas for the next steps.
Recognizing customer success creates good feelings associated with the product and gives them more reasons to come back and use your product again.
Use various UX patterns to guide users
Great user onboarding involves making it as easy as possible for them to navigate your UI and find whatever they're looking for. Users should never have to guess what to do or click next.
That means providing various UX patterns that are designed to guide users through the onboarding process.
You should provide helpful hints, tips, and guidance, using a variety of UX patterns to convey your message. Picking the right pattern depends enormously on the context: choose a pattern based on the use case. To cover a few examples:
Modals: These are the most invasive – they pop up on the user's screen to display an in-app message, image, and/or video. It usually includes a call-to-action with a button. They are great for welcome screens or announcing new features.
Tooltips: These are contextual in-app messages that relay more information about a UI element. They must be skipped or exited by the user.
Hotspots: These are the least invasive – they show up as highlights over an element. When a user clicks or hovers over the highlight, they can read more information about the UI element.
Checklists: A SaaS customer onboarding checklist includes a series of tasks that the user should complete – when you click on a task, it either brings you to a new page or triggers in-app guidance.
Provide customers with self-help resources
Most customers prefer self-service support. It's an essential part of a good SaaS customer onboarding strategy.
Customers don't want to wait hours, or even days, for your customer support team to respond to their requests. With self-service resources, like a knowledge base, customers don't have to. They can find the answers to their questions themselves.
A self-service resource center lives in your product or on your website so it's easily accessible whenever someone needs it. You should include a variety of resources that cater to different learning styles – like articles, case studies, and video tutorials.
As a bonus, this puts less pressure on your customer support team. They can spend more time responding to complex questions that need more focus.
4 examples of successful SaaS onboarding experiences
For more inspiration, check out these four examples of successful SaaS onboarding experiences:
Notion
Notion kicks off its user onboarding flow on a good note – they ask customers for their job roles and how they plan to use Notion (with a team or alone).
From this point on, Notion's user onboarding experience is personalized for the user's job function and whether or not they're collaborating with a team.
After that, Notion fills the space with relevant templates and encourages users to check them out via friendly in-app messaging.
Tolstoy
Tolstoy has a slightly different approach to onboarding than most other tools.
Their video onboarding flow is like a "choose your adventure" type of process.
Throughout the app, you'll see short and sweet messages from real people. Users are shown one video, ending with a question. Depending on their response, they're shown another mini-video that's relevant to their choice.
StoryChief
Another SaaS business that's nailed the customer onboarding process is StoryChief. What do they do well? They collect data on users' goals with the sign-up flow.
In this example, a modal window is displayed on the screen.
A customer success manager from Storychief's team greets the user with a personalized, simple message conveying their core value.
Then, she encourages the user to watch an interactive walkthrough to get started.
Once you finish the walkthrough, another modal window is triggered, with a video tutorial embedded in it.
Trello
Trello has an extremely simple sign-up screen. First, they confirm that it's free to start using Trello, which is an excellent way of encouraging first-time users to try it out.
They also make the sign-up flow simple and easy – the only information a user needs to share is their email.
Once they're done signing up, a celebratory modal pops up confirming they have signed up successfully.
The final part of the onboarding flow is this detailed checklist, helping users navigate the app for the first time. This checklist is intended to lead new users to value faster.
Conclusion
A successful SaaS customer onboarding process will reduce the customer churn rate, engage with first-time customers, and boost overall customer success. That's why it's essential to make it a priority for your product and marketing teams.
Want to get started with creating onboarding experiences? Get a Userpilot Demo and see how you can build onboarding flows, code-free.