10 Onboarding Flow Best Practices to Drive Product Adoption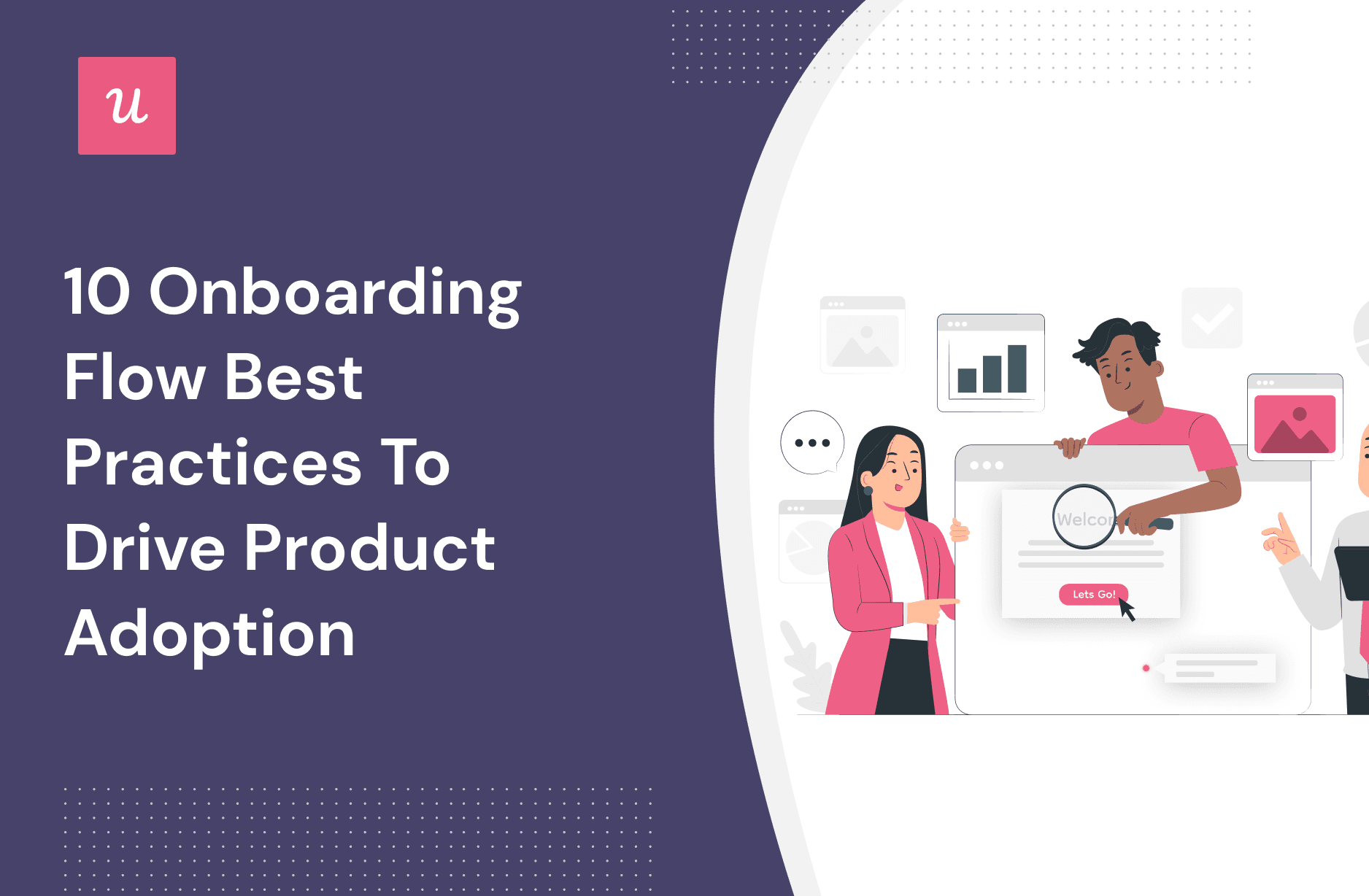 Optimizing the user onboarding flow is always a key SaaS business goal. That being said, it can be difficult to improve the user's experience if you don't follow the onboarding flow best practices that this guide will go over!
TL;DR
Segmenting your audience or customer base into smaller chunks — each with its own user persona — will make it easier to focus on their specific needs and provide a more personalized onboarding experience.
Reducing friction, speeding up the time to value, and getting customers to their Aha! moment sooner are all great ways to optimize your onboarding process while boosting retention rates in the process.
Cluttering your product's interface with too many UI patterns, pop-ups, and push notifications (or browser notifications on the desktop version) could overwhelm or distract users during the onboarding process.
Self-service resources help users learn more without going through long product tours. You could also create templates, video tutorials, sample projects, or written guides to streamline the learning process.
Onboarding processes (especially particularly long or complex ones) can benefit from gamification elements like leaderboards, a progress bar, or achievement badges to keep users engaged throughout the entire flow.
Using external channels like email to supplement the information you provide to users during in-app onboarding can make the product adoption process more seamless on both ends.
Measuring key metrics like engagement, churn rate, conversion rates, and customer satisfaction score will help you optimize the performance of your onboarding infrastructure as a whole.
What is the onboarding flow process?
The onboarding process flow encompasses steps and tasks (both in-app and external) that help familiarize users with your product and ensure the user understands the core value proposition. Onboarding is a continual cycle that can be applied to new users and existing customers who may need help discovering new features or use cases.
What makes a good onboarding flow?
An effective user onboarding process needs to introduce new users to the product, highlight key features/benefits, and clarify product value. These will naturally lead to promoting product adoption, improving user retention, and driving product-led growth.
User retention and activation are particularly important goals since they will help you keep your existing users from switching to competitors while simultaneously guiding a new user toward their Aha! moment.
10 onboarding flow best practices
If you want to make the most of your onboarding flows and come out with more loyal users on the other side, you'll need to optimize your strategy.
These 10 user onboarding best practices outlined below will help you understand customer needs, personalize the customer onboarding process, reduce friction, and more! Let's dive deeper into each of these best practices.
1. Understand user needs
First and foremost, you need to start with finding the "why." If you can figure out the reason why users need the onboarding flow or product tour, it will be significantly easier to meet their expectations throughout the process.
Start by pinning down the specific reason that new users come to your product, then create a personalized flow that helps them achieve that very goal or solve the problem they're currently having.
Furthermore, user onboarding experiences should be different for onboarding first-time users versus helping already activated users learn more about the product. In both cases, customer needs must be at the core of every good user onboarding flow.
2. Segment and personalize
After creating a list of target users that would benefit from your product, it's time to break your audience down into smaller segments. Once you've narrowed down these segments, you can create user personas with essential information about your customers.
These user personas could then be used as your foundation for creating personalized onboarding flows. Boilerplate product tours aren't enough for onboarding users anymore. The SaaS world has pivoted to contextual flows as the alternative is the risk of high churn rates.
Onboarding software like Userpilot makes it a lot easier to create user segments and A/B test your user onboarding flow to see which tweaks improve the user onboarding experience. Here's a sneak peek at our segmentation dashboard:
Heap is a great example of how you can use customer segmentation to provide a more personalized and contextual onboarding experience. Since the company has already identified its main customer types, it lets new users select the most applicable one using a welcome screen:
3. Focus on one task at a time
User onboarding is all about choosing your battles. If you try to explain everything all at once, then you'll end up overwhelming the users. These information dumps also make it harder for users to remember what they've learned.
Focus on the "why" of your onboarding process and help users complete tasks related to that specific goal. If a user's primary task or job-to-be-done is to create their first project, guide them through the features that are necessary to make that happen.
Slack has one of the simplest user onboarding processes (at least for its first flow), as it exclusively focuses on helping new users create their first workspace. Other flows are reserved for engaged users (or power users) rather than new customers who just finished their account creation phase.
4. Plan a faster Aha! moment
If you want more users to go through the onboarding process and turn into fully-engaged customers, you'll need to give them a quick win or Aha! moment so the tool immediately justifies its value.
It's best to have that first Aha! moment early in the user's journey so new customers don't get bored during the ongoing process of learning about the product's interface, features, and various settings.
Remember, an Aha! moment shouldn't be a one-time occurrence that only happens when you first onboard users. Continual value realization is essential to keep users engaged along their journey with your product.
This is especially important when creating a customer onboarding flow for complex products. It might take a while before they're able to create their own projects so it's essential that you provide users with smaller wins whenever they complete a step or achieve the desired outcome (otherwise, they might get bored before they realize the product's value).
A prime example of leveraging user momentum would be how Zapier congratulates users after every Aha! moment (such as using core features for the first time) and then uses in-app guides to nudge them toward the next step in the product tour:
5. Eradicate friction points
One of the most crucial user onboarding best practices to bear in mind when you're creating flows is conciseness. User engagement thrives when you keep your flows as short and simple as possible.
Don't ask for too much information from potential customers when they're first signing up. Making them verify their email or share their credit card information on the signup page adds a lot more friction — which could drive potential users away before they even get started.
In the same vein, you should only explain the essentials they need to know to get from point A to point B on their user journey. Delving too deep into the fine details could leave a negative first impression for many users and make the product seem more complicated than it is.
Mapping out the full journey can help create a smooth flow between each logical step of the onboarding process. Having a visual roadmap will also make it possible to naturally build each step on top of the previous one and bring users to a natural conclusion.
Relying on focus groups and user feedback, you'll also be able to identify obstacles and friction points in the user onboarding experience so you can eradicate them by simplifying:
Flow between steps
Length/complexity of your web copy
Layout of your user interface
Here's how Asana makes it as easy as possible for a new user to sign up on their platform:
6. Limit UI patterns on the screen
It can be easy to get carried away with user onboarding flows and throw in too many fancy UI patterns. In reality, maintaining a clean aesthetic won't just make your user onboarding flows prettier but also improve the efficiency of the overall onboarding experience.
Simple, minimal interfaces are a lot easier for users coming into your app to navigate. Cleaning up screen clutter, choosing the right UI/UX patterns for the job, and reducing the number of modals can all contribute to a lower-friction onboarding experience.
If a user signs up and you need to move them through a multi-step process to do so, you should stick to one pattern: checklists. These will be the best option for helping them gauge their progress as they complete their signup journey.
On the other hand, tooltips would be the more appropriate UI pattern if you're trying to explain how certain tools or features work. At the end of the day, onboarding UX is heavily influenced by the UI.
You should carefully plan when to trigger each in-app message as well to ensure that they come up at the most contextual moment. Leaving enough time between each pattern also ensures that users will be able to assimilate the information before being interrupted by the next tooltip.
7. Provide self-service resources
Since user onboarding flows need to be selective about what they focus on, you can supplement this information with self-service resources that help users learn more about specific features if they so choose.
Using a proactive self-service support model can also reduce the number of tickets that your representatives have to handle since customers will be able to resolve their own issues before reaching out.
Chatbots, in-app help centers, detailed guides, and tutorial videos can all be useful ways to alleviate user anxiety while lowering support costs for your company in the process. Here's a look at how Userpilot's in-app resource center helps users learn more about the product:
8. Gamify the experience
Gamifying the customer onboarding process can make it feel like less of a chore for your new users. In fact, SaaS companies often borrow multiple elements from video games to make their onboarding flows more fun.
Common gamification elements include progress bars, points/XP, badges, leaderboards, and daily quests. These gamification elements, like the other onboarding best practices on this list, encourage users to engage with your product longer and improves the overall experience.
LinkedIn is well-known for gamifying the process of improving user profiles:
9. Integrate an email flow
While most of the onboarding best practices thus far have focused on the in-app flows that users go through, it's important to remember that external communications can be just as important.
Creating an email onboarding flow will provide additional support, context, and information to users, which can help them get value out of your product a lot sooner. This not only reduces the time to value but also provides a better customer experience in the long run.
There's no one-size-fits-all email flow since there are a lot of factors in play. The complexity of your product, length of the user onboarding process, and target audience will all play a role in finding the "ideal" email flow.
In general, starting with a welcome email that greets the user and introduces the basics of the product is always a good idea. Airtable also includes additional links, guides, and even a video tutorial in the welcome email example below:
If you want to apply the same contextual user onboarding mantra to your email flows, you should set up event-based email triggers. These will ensure specific user actions (e.g., completing a step or trying a feature) trigger the corresponding email automatically.
Userpilot's custom webhooks can help you do that (and much more) without having to write a single line of code.
10. Measure, test, and improve
User onboarding performance monitoring is paramount. If you're not using analytics tools to gauge the efficacy of your user onboarding flows, it'll be impossible to determine whether or not you're giving the users what they need.
A few metrics that could help you discern whether or not they're smoothly being guided toward product adoption include:
Once you have these metrics readily available, you can use iterative usability testing to split-test different tweaks and see which ones are giving users a better experience. These could be minor changes like changing CTA colors or a large revamp like restructuring the entire flow.
To conclude
As you can see, small changes like adding a progress bar or reducing UI clutter can make a big difference when it comes to the user onboarding experience.
How many users stick around is ultimately dependent on how well you're able to educate them on what the product does and why it's valuable. The onboarding flow best practices are meant to help you do so in the best possible way.
If you manage to nail this from the get-go — perhaps with the help of user onboarding software and gamification elements — then you'll reap the benefits of lower churn rates and LTV:CAC ratios.
Ready to start implementing these user onboarding best practices? Get your free Userpilot demo today!