Guide to Scaling Customer Support as Your Startup Grows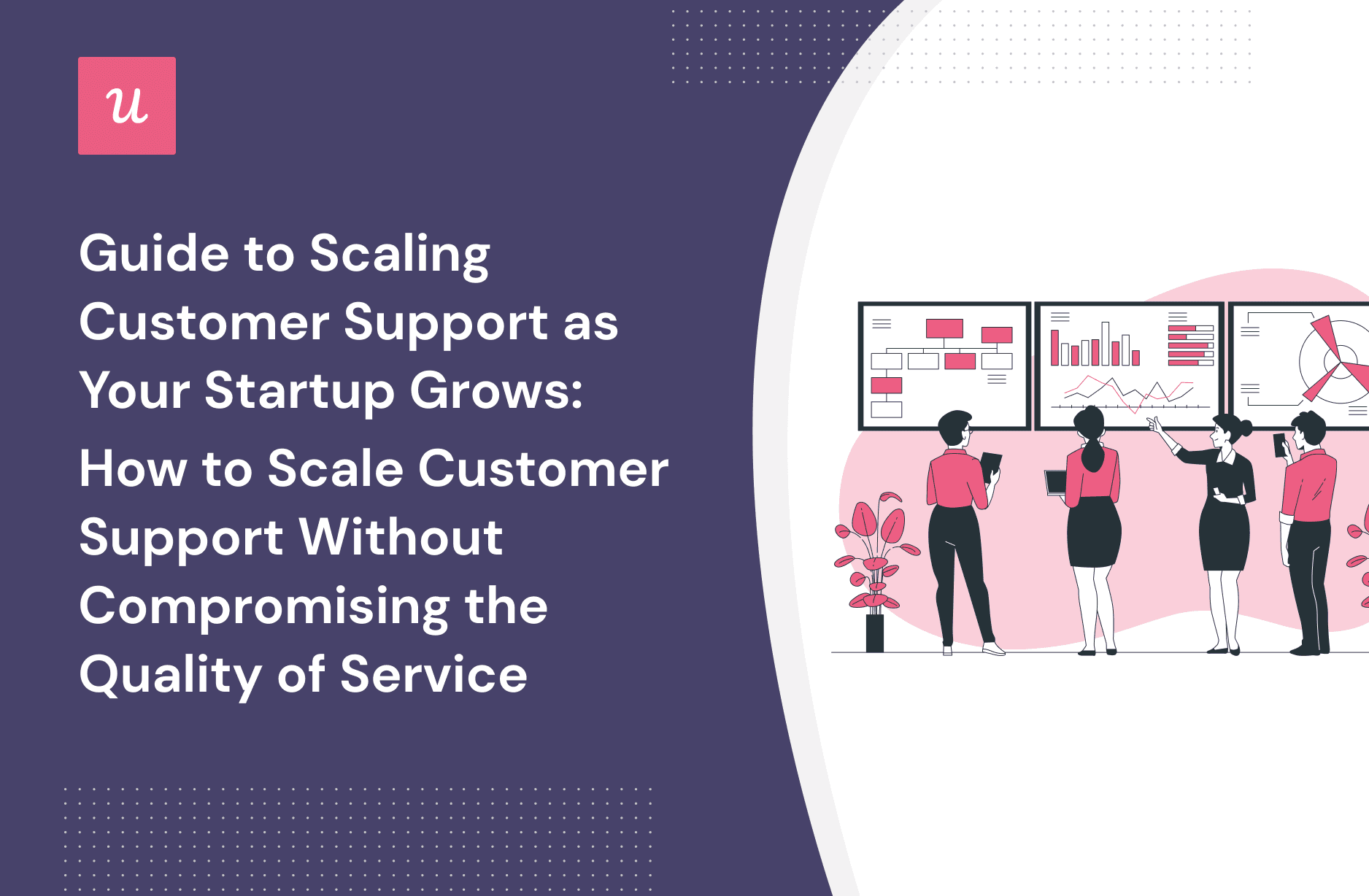 Have you ever calculated the cost of scaling customer support and wondered if it was even worth it? Well, there are actually a few key reasons why you should invest generously in your support team — not the least of which is the risk of user churn.
In this guide, we're going to go over the signs that it's time to start scaling and the tangible steps you need to deliver a great customer service experience that retains users.
TL;DR
Scaling your support can boost customer satisfaction, help your team deal with support requests faster, and reduce the churn rate as you grow your company.
You should consider upsizing your support infrastructure when taking investments from venture capitalists, entering new markets, or introducing new feature sets to your product.
Setting standards and KPIs that measure support quality will ensure that your team members maintain a consistent standard of service as you scale up.
Investing in a better onboarding process will reduce the friction for your users and eliminate customer service requests before they even occur.
Send personalized greeting messages to users and collect data on their JBTD with welcome screens.
Guide users to activation with interactive product walkthroughs that shorten the learning path and teach users by showing.
Don't stop after initial onboarding. Employ checklists that introduce users to advanced features as part of your secondary onboarding strategy.
Scale customer support by enabling users to help themselves. All it takes is to create a comprehensive knowledge base with different formats of self-help resources.
Show and hide help center content based on user segments to make sure every user gets personalized customer service.
Scale customer support by automating recurring processes. You can automate your retention flows, cancellation flows, etc. Thanks to Userpilot's event-triggering feature, you can define a custom event and once it occurs, an in-app experience is triggered.
Regularly review KPIs and customer feedback. Measure user sentiment with quantitive and qualitative NPS surveys and identify issues.
What is customer support?
Customer support is an umbrella term for all interactions that improve customer experience and nurture a relationship between the customer and the company.
This could include setup, onboarding, training, troubleshooting, upgrading, and other key stages in the customer lifecycle.
What does scaling customer support mean?
Scaling a customer support team includes efforts like proactively anticipating the most common problems that your customer service reps may need to assist with and finding ways to prevent these recurring problems.
What are the benefits of scaling customer support?
There are countless direct and indirect benefits of investing in your customer service team. You'll ensure that great customer service standards are maintained even when the volume of user tickets increases.
You'll increase the consistency on all support channels and see your customer relationship management (CRM) metrics get a nice boost!
When should you consider scaling customer support?
There are a few prompts that could signal when it's time to scale your customer support team.
If you're getting an investment from venture capitalists or angel investors then putting some of that fresh capital towards improving the customer experience can be a great way to ensure that you meet future growth projections.
Another scenario where you should begin scaling customer service would be whenever your SaaS company is expanding into new markets. Your existing support team may not be large enough to handle the new customers.
Last but not least, you should always try to scale customer service when you're about to add tons of new features to your product. Fresh features on your software mean existing users will need additional assistance from your customer support organization while they get the hang of the added functionality.
How do you scale customer support?
Scaling your support team without decreasing the quality of customer service interactions isn't something that can be done haphazardly. You need a clear plan and deliberate execution to ensure you don't end up doing more harm than good.
In the sections below, we're going to go over everything you need to do when trying to provide stellar customer support to more customers than you've ever handled.
Define a quality standard for your customer service
Before exploring more complex tactics, it's important that you start with the most basic step: setting a clear standard that your customer support staff needs to maintain when answering customer questions or dealing with customer requests.
The best way to set (and monitor) these standards internally is by defining a handful of KPIs (key performance indicators) that will gauge the efficacy of your support department. These could include the NPS, CSAT, First Contact Resolution, and average response time metrics.
If you're not sure which metrics to include, start by thinking about the things that are most important to your existing customers. You could also look at the issues that an angry customer has brought to your attention in the past.
Scale customer support by ramping up your customer onboarding
One of the quickest ways to empower customers is to streamline the customer onboarding process. An efficient SaaS onboarding process will reduce the friction that your customer base experiences and shorten the time-to-value (TTV) for new subscribers.
Adding in-app guidance to your onboarding flows could eliminate customer service requests before they even occur which reduces the workload of your existing team while nurturing a community of loyal customers.
This gives every team member more time to deliver support to angry customers or users with complex issues that in-app guidance can't solve.
Greet users with welcome messages and understand their expectations
Having a friendly welcome page can also promote customer loyalty since it makes the user feel like they matter from even the earliest stages of their user journey.
If you want to personalize the user experience, you could add modals that gather data so you can start the customer segmentation journey early on.
Basic information like their role in the company, what their primary goal with the product is, and the main problems that they're trying to solve can go a long way when trying to provide quality support.
Guide users to activation with interactive product walkthroughs
Interactive walkthroughs are step-by-step guides that teach users how to use your product from inside the app itself. These flows help users learn by doing and thus ensure that they'll adopt the feature faster.
Interactive walkthroughs are far better than linear tutorials since they allow new users to learn about the product at their own pace and don't drop an overwhelming amount of information on the customer in a single serving.
Don't forget about secondary onboarding
It's important to remember that the customer journey doesn't end after the initial onboarding process. It continues throughout every stage of the full customer lifecycle since there are many advanced features that users may not discover until months into their subscription.
This is where secondary onboarding comes in.
While the goal of your first onboarding flow should always be to help users understand the basics, a secondary onboarding flow can teach them about the more advanced features that your product offers.
These could include how to automate recurring tasks, utilize the customer self-service resources, or add new integrations to their workspace.
Whatever the goal may be, having a user onboarding checklist can highlight new use cases and ensure that your customers will stay on the right track even without intervention from your support or sales team.
Create a comprehensive self-serve knowledge base
Improving the self-support experience for your users is another way to scale your overall support system without needing to hire dozens of new employees. Creating self-service portals for your users essentially reduces the response time to zero.
Providing a variety of self-service options is also a cost-effective way to manage higher ticket volume as your company grows (without having to scale other departments such as sales and instant access success representatives).
Here are a few best practices for your SaaS knowledge base:
Make your knowledge base easy to find and navigate
First and foremost, you need to ensure that your knowledge base is easy to find and navigate even as your company scales the number of resources in it.
Adding a search bar and breaking down resources into categorized modules can help users find the information they need so they don't get frustrated, give up, and end up resorting to support phone calls anyway.
Personalize the knowledge base content based on customer needs
Product personalization is just as important in your help center as it is for your main SaaS product. Displaying different content depending on the user segment and localizing guides to multiple languages are both great ways to make your knowledge base feel relevant.
For instance, your freemium users shouldn't have to browse through dozens of guides for premium features that they aren't able to access anyway.
Include multiple formats of resources
Not all customers learn in the same ways. Having different types of resources such as documentation articles, case studies, and video tutorials is crucial to ensure that no user feels alienated.
Scale customer support by automating recurring processes
Maintaining quality with manual support gets harder and harder as you scale your company. Furthermore, you could also see the average response time gradually increase if you fail to automate certain aspects of customer engagement.
There are many types of automated flows but they all share the same end goal: reducing the manual work needed to assist customers.
For example, onboarding automation can streamline the early stages of the customer journey while reducing the amount of work your employees need to put in. Customer service automation can also be used to handle other processes like upselling, user retention, and offboarding.
You can automate support with success platforms like Userpilot, which let you set custom events that trigger in-app experiences.
Trigger automated flows for in-app support
In-app support can come in many forms like tooltips, modals, or even full-blown interactive walkthroughs that are triggered when users interact with a new feature for the first time.
You can also use these UX patterns to highlight features that users haven't been engaging with.
Use email marketing automation to reactivate disengaged users
Emailing users takes a lot of time so automating sequences — whether during onboarding or check-in emails — is an excellent way to keep users engaged without sidetracking your support staff.
You can also automate win-back emails to your inactive users to prevent them from churning at the next renewal date.
Automate the customer offboarding flow
Most SaaS companies focus all their resources and attention on their onboarding flows. That said, offboarding flows are the last chance to keep a user from churning so it deserves to be optimized, too.
Whenever a user clicks on the cancel subscription button or tries to downgrade their plan, trigger a short microsurvey that will capture their issue and offer them alternatives (such as freezing their subscription instead of canceling it).
Other personalized alternatives you could offer include discounts, limited-time deals, and premium feature trials to retain the user.
Use AI-powered video creation tools for creating video guides at scale
Tools like Synthesia help you generate multiple support videos in a short amount of time by typing in the instructions as text. Since it has a Userpilot integration, you can also directly embed the video guides you generate into your UI patterns and flows.
Create a customer community for peer-to-peer support
An active community is one of the most useful support assets you can have. In fact, peer-to-peer queries often have a faster resolution time than opening a ticket with a support team (at least, for companies with a large user base).
The chances are that other users have likely already solved the problems that your new users are facing which makes them the perfect people to assist with these issues.
Create a forum, group chat, or Slack channel where your community can engage with one another and provide assistance to those in need.
Leverage chatbots
Chatbots have been gaining popularity in the SaaS world since they're better able to engage with users compared to static knowledge bases. While AI may not be smart enough to replace support agents yet, they're still the best first line of response when customers run into an issue.
If you're worried that your customers will react negatively to being met with a chatbot, all you have to do is add a button that connects them to a live representative. This will ensure that they're still able to access your human representatives if the chatbot isn't able to solve their problem.
Regularly review KPIs and customer feedback
Tracking metrics on a regular basis and looking at customer feedback periodically are both paramount to successfully scaling customer support. Make sure you have customer feedback collection surveys that gather both quantitative and qualitative data.
Post-interaction NPS surveys are another way to get insights into what's impacting the user experience in negative or positive ways.
By monitoring KPIs and looking for patterns in customer feedback, you'll be able to identify the areas where improvement is needed. This, in turn, ensures that you can optimize while you scale instead of having to deal with larger issues down the line.
Conclusion
As you can see, the art of dealing with customer inquiries is always worth investing in. Whether it's adding chatbots, building knowledge bases, or hiring new staff to handle the rising demand, strategically scaling your support infrastructure will pay dividends for years to come.
If you're ready to take your in-app support to the next level, it's time to get your free Userpilot demo today!