Customer Onboarding Process: How to Get New Customers to Adopt Your SaaS Product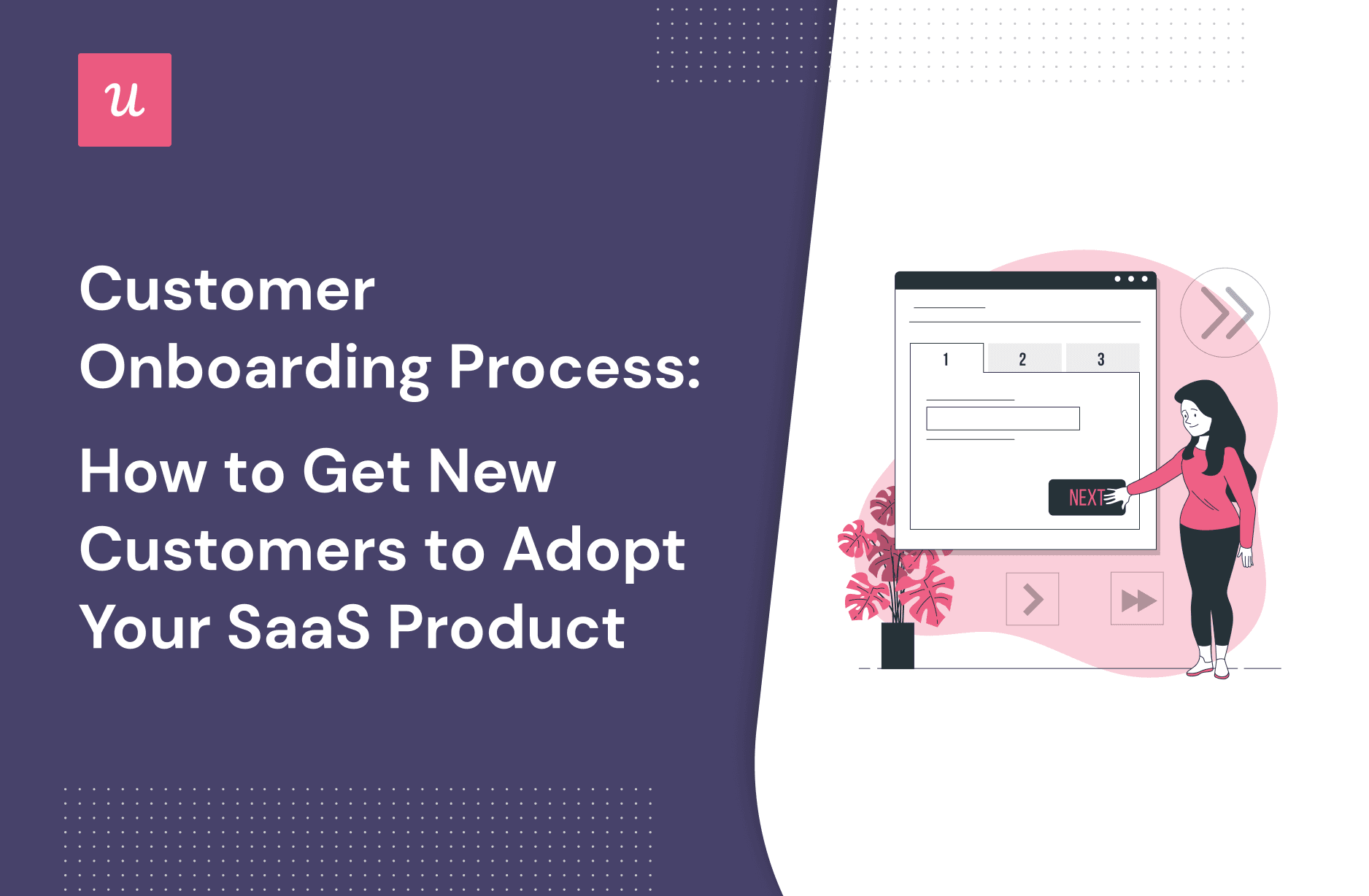 Nailing the customer onboarding process is one of the most important tasks for any savvy PM or SaaS owner.
In this article, we're going to break down exactly what it takes for your customers to start getting value from your product – and therefore boost adoption.
Ready to get started? Let's get into it!
TL;DR
A customer onboarding process describes all the activities required for a user to experience value from your product (whether they're new customers or experienced users trying out a new feature).
Despite the differences in individual onboarding requirements, it's essential for every product to have some type of customer onboarding process in place.
Customer onboarding is important because it helps to drive engagement, by giving customers a chance to experience repeated value. Ultimately, that helps reduce churn rate and improve customer retention.
Customer onboarding playbooks are typically succinct documents mapping out the core elements of your approach to customer onboarding. Think of them as your strategy, compared to the actual tactics of implementing the process itself.
Who's responsible for customer onboarding success? It's a joint responsibility between the customer success team and product marketing. They should both collaborate to ensure onboarding is as effective as possible.
When it comes to measuring success, you have many KPIs to consider – but you should focus on those that tell you about adoption and retention (i.e. feature adoption rate, net revenue retention).
There are several key steps you should consider including in every onboarding experience: a frictionless sign-up process, personalized empty state welcome screens, interactive guides, video tutorials, self-service support, and a mechanism for customers to provide feedback. You could also consider a minimum viable onboarding approach (focusing on the most direct route to value).
However you structure your onboarding, remember: personalize the experience wherever possible for maximum engagement, don't overwhelm your users with too much irrelevant information, and ensure it's contextually driven (i.e. don't bore users with a pointless, lengthy tour).
What is a customer onboarding process?
Many people mistakenly think customer onboarding is just about getting new users signed up for the first time.
It's an ongoing relationship based on one core concept: helping your customers achieve real value from your product.
Signup is of course a part of it, but it begins with the very first interaction a user has with your product or service and continues until they're no longer a paying customer (sometimes referred to as 'churn').
Do you need a customer onboarding process?
In a word: absolutely.
That doesn't mean everybody's customer onboarding process should (or even could) look the same, though. Customer onboarding is deeply linked to what sort of product or service we're talking about: an enterprise data analytics tool will have a vastly different onboarding experience from a consumer application.
Despite the differences in individual onboarding requirements, it's essential for every product to have some type of customer onboarding process in place.
Why is customer onboarding important?
We've established what customer onboarding is and its necessity for SaaS companies of all shapes and sizes.
But why is it such an important factor? Let's break it down.
A good onboarding experience drives customer engagement
Successfully engaging customers put SaaS owners on the path to success.
Engagement means users are successfully using and getting value out of your product: do that repeatedly, without friction, and customer onboarding can play a massive part in product adoption.
Successful customer onboarding improves customer retention
As a product manager, you'll want to minimize churn wherever possible.
Effective onboarding helps to do exactly that by helping users experience value faster. If users understand how to make the best use of different parts of your product repeatedly, they'll have a positive onboarding experience.
And over time, that means you'll start to see a greater number of loyal customers.
What is a customer onboarding playbook?
Playbooks have become ubiquitous in the SaaS world – but what exactly is a customer onboarding playbook?
In a nutshell, it's a succinct document mapping out the core elements of your customer onboarding strategy.
They'll typically include underlying goals and desired outcomes, key tasks and actions for the user, routes in, important milestones, exit points, and implementation tactics.
Customer onboarding process vs customer onboarding strategy
What's the difference between the customer onboarding process itself and your overall customer onboarding strategy, then?
Well, your customer onboarding playbook is essentially the underlying strategy: it will help inform every part of the customer onboarding experience.
"Tactics without strategy is the noise before defeat."Sun Tzu
The process itself is all about the implementation of specific tactics to help bring that vision to life and meet the outcomes set out in the playbook.
Who is responsible for the success of the customer onboarding process?
Customer onboarding is a complex and multi-faceted area.
With that in mind, it requires the involvement of many teams and roles and shared responsibility.
Product marketing is an important part of formulating and driving out key messaging, but the customer success team and customer success manager have a huge part to play in recognizing and responding to customer needs.
As the product-led onboarding process becomes more prevalent, in some organizations a new, hybrid role is starting to emerge with ultimate responsibility: the customer onboarding specialist.
How do you measure the success of your customer onboarding process?
There are a multitude of ways to try and understand if your onboarding process has led to customer success.
However, it's important not to overwhelm yourself with reams of irrelevant data and focus on what's really important.
For customer onboarding, you should primarily focus on metrics that help you understand more about adoption and retention.
Here are a few more to consider tracking.
Trial to paid conversion rate. What proportion of customers is converting from free trials to paid?
Feature adoption rate. Is your onboarding process boosting adoption of key features?
Net revenue retention. How much net revenue are you retaining?
Revenue churn. How stable is your revenue?
Expansion MRR. Understand whether your SaaS is growing.
Elements of a successful customer onboarding process
It's important to mention that there's no silver bullet, here.
Just as every SaaS has different functionality, the customer onboarding process should also vary. However, there are some fundamental steps that nearly every effective onboarding experience will contain.
Sign-up process
What is it? This is usually a simple form where users sign up to use your product for the first time.
How does it help? By introducing new customers with as little friction as possible. The latest research shows that's the most effective form of sign-up. You can read more about it in our 'State of Onboarding' report here.
Top tip! You should always provide an SSO option for your key customers' most used channels, not just the standard options of Google, Facebook, and Apple.
Empty screen
What is it? Pre-populating certain screens in your UI with pieces of information ahead of use.
How does it help? A user's first interaction is critically important: an empty screen can cause them to pause, uncertain how to proceed. They could even think it's a bug. Populating your screen with key data helps users take the first action and boosts engagement.
Top tip! Take it a step further by personalizing the experience with customer details: that helps showcase the functionality in a huge amount of detail.
The minimum viable onboarding process
What is it? Minimum viable onboarding is about stripping back customer onboarding to the essential elements with the primary goal of driving user activation.
How does it help? Simplicity, saving time and effort on complex customer onboarding processes that might be unnecessary, and ultimately increasing activation, conversion, and retention.
Here are the main parts of an MVO experience.
Welcome Users
Minimum viable onboarding typically starts with a simple welcome email.
The key aim of this email is to quickly introduce users to your product, and guide them toward taking action.
This is typically followed up by an engaging welcome screen. The 'front door' of your product can also be used to learn more about your user's goals, and personalize the experience for them.
Guide users with a customer onboarding checklist
Checklists are the most effective way of helping new customers take action and get value fast.
They drive users toward the next viable step and physically show them how to engage with core features. That enables customers to start seeing how your product works in reality.
In-app guidance
Another element of MVO is a plentiful array of in-app guidance.
You can use functionality like tooltips, slideouts, modals, or hint text to help users discover new features and functionality.
That should help them experience repeated value out of your product as they progress through their onboarding journey.
Interactive walkthroughs
What is it? Interactive walkthroughs are step-by-step guides that take new customers through the necessary actions the first time they engage with a new feature.
How does it help? Interactive walkthroughs are highly engaging. A user can't proceed until they've physically taken the next action – which means they're much more effective than subjecting someone to a lengthy, boring product tour.
Top tip! Make sure to keep your walkthroughs targeted and to the point. They should be laser-focused on showing a new customer exactly how to get value from a distinct feature.
Video tutorials
What is it? Video content is produced to demonstrate how a piece of functionality works in your SaaS.
How does it help? Video tutorials are far more engaging than forcing customers to read text-dense blogs or help articles. Rather than referring back to photos, users can mirror behavior, pause, rewind, and re-watch as often as they like (which means they get repeated value).
Top tip! Make sure all your video tutorials are easy to navigate and accessible.
Self-service in-app help
What is it? In-app help (sometimes called a 'Resource Center') is a way of providing users with a range of support options in a centralized place (whether that's videos, guides, articles, product documentation, or more) so they can easily solve their own problems.
How does it help? Users typically want answers fast. If they're waiting for a support agent, not only will they face delays but it can easily become a huge strain on your support team. In-app help means they have 24/7 access to exactly the help they need, whenever they need it.
Top tip! Include any onboarding content, guides, or information in your Resource Center so users can refer back to it whenever they'd like.
Customer feedback surveys
What is it? These surveys are designed to gather qualitative and quantitative customer feedback.
How does it help? Surveys typically help build an understanding of the 'why' behind user behavior. That, in turn, enables savvy product managers to iterate their onboarding experience – and ensure both existing and new customers get value as quickly as possible.
Top tip! Mix and match the surveys you offer. They can offer very different insights. Here are a few to think about:
CSAT. How satisfied are your customers?
CES. Are your customers engaging with your product?
Feature surveys. How well is a new (or existing) feature performing?
NPS. What does your overall customer loyalty look like?
Best practices for a successful onboarding process
While there are many mistakes and pitfalls to avoid when crafting a customer onboarding experience, there is also a range of best practices you can follow to give you and your product the best chance of success.
Here are some of the most impactful.
Personalize the customer onboarding process
You shouldn't force all your customers down one route.
It would make no sense to bombard new customers with information on advanced functionality when they haven't even engaged with your core features, would it?
User segmentation helps you get the right messaging to the right users at the right time.
Don't overwhelm users during onboarding
User sentiment is clear: long, boring product tours are not the way to go when it comes to customer onboarding.
They are typically not enormously relevant, there's way too much information at once, and new customers resent not having a choice about how to navigate your product.
Instead, you should help users to discover and use features gradually. That way, they can discover and start to experience value in a way that makes sense to them.
Trigger in-app experiences contextually
A busy UI is a mistake. If you try to prioritize everything, you'll end up creating an ineffectual onboarding experience.
Instead, prioritize ruthlessly and focus on triggering one experience at a time.
That's the way to help users get value out of your product, rather than frustrate them with irrelevant pop-ups.
Automate the customer onboarding process
No matter how effective your customer support team is, it's simply impossible for them to be there for every customer query across the globe, 24 hours a day.
1:1 support can't scale.
It's far more efficient (not to mention cost-effective) to use automation as a way to leverage support – and other aspects of onboarding.
That means a user can follow a trail of introductory emails, work through contextually-driven in-app experiences, and access relevant support whenever they need it.
Best customer onboarding tool to build a customer onboarding process
Of course, the tactics are only one part of the overall picture here: you'll need a tool to implement your ideas.
There is a huge range of tools available, but we're going to break down three of the most popular and help you make an informed decision about which might work for you.
Userpilot – Best value for money for advanced in-app customer onboarding
Userpilot is a powerful product adoption platform that enables you to quickly build personalized, contextually relevant in-app experiences targeted to different user segments – all without writing a line of code.
Features
Userpilot comes out of the box with an easy-to-use Chrome Extension builder.
You have a range of UI options available to build customized flows including modals, slideouts, banners, tooltips, hotspots, and checklists. On top of that, UI patterns are not limited by plan: you get access to all of them on every single plan, meaning you get value even with a more basic package.
Userpilot makes it simple to build interactive walkthroughs targeted to distinct user segments.
Offer self-service support to your users with a help centre, letting them select from a range of help options to boost user satisfaction (i.e. videos, in-app flows, chat, and more).
Built-in A/B testing for flows lets you explore and quickly iterate based on direct user behavior.
Integrated NPS surveys with analytics and response tagging unlock insight into how your users feel.
Advanced analytics and user segmentation capabilities alongside in-depth feature tagging to understand the performance of specific areas of your app.
Pricing
Userpilot offers a range of pricing options.
Traction. For up to 2500 users, this plan is $249/ mo.
Growth. For up to 10,000 users, this plan is $499/ mo.
Enterprise. For large-scale businesses, these plans begin from $1000/ mo.
Verdict? Overall, Userpilot is a versatile, highly effective tool that's accessible at a range of price points.
Pendo – Best for mobile app onboarding and enhanced analytics
Pendo is a comprehensive digital adoption platform with impressive analytics, in-app feedback, and product adoption tools. It caters primarily to enterprise users and probably has the most advanced analytics of all tools we've covered in this article.
Features
Mobile functionality – it's impressive such a powerful tool works on mobile.
Pendo has recently released a free version for a small number of users and limited features.
Extensive analytics options are available.
You can easily build product tours, capture NPS ratings, and gather user feedback (feature requests and votes).
Pricing
Pendo doesn't offer monthly plans but has four price brackets, each of which offers more features at a steeper cost: Free, Team, Pro, and Enterprise.
Verdict? If you're after enhanced analytics capabilities – and willing to pay for them – then Pendo is a good option.
Userguiding – Best value for startups that need limited functionality
UserGuiding is a lower-cost, entry-level product adoption tool offering a range of features to help companies onboard new customers and boost product adoption.
Features
UserGuiding offers a good range of UI patterns to choose from.
Unlike some of the more expensive options, you can choose to add a Resource Center (a bonus for offering self-service support).
You have a range of analytics capabilities to help understand user behavior.
For a budget tool, UserGuiding still offers multiple integrations with other applications.
Pricing
UserGuiding offer three main plans:
Basic. Starting at $99/mo, this budget option has a few limitations to consider (i.e. just 1 Team Member, a limit of 20 guides and 2 checklists, UserGuiding branding on all UI patterns).
Professional. Starting at $399/mo.
Corporate. Starting at $699/mo (akin to most 'enterprise' plans).
Verdict? For an entry-level option with less advanced features, Pendo could be a good option to choose from.
Conclusion
Wow, we've covered a lot! Hopefully, you should now have a firm grasp of:
What customer onboarding is all about
How to distinguish between a strategy and a playbook
Crafting customer onboarding experiences to maximize adoption
Tools and tactics for the job
So what are you waiting for? Get out there and create a fantastic customer onboarding experience today.
Want to build product experiences code-free? Book a demo call with our team and get started! Check out the banner below for more information.