Using the RACE Framework to Drive Conversion for Your SaaS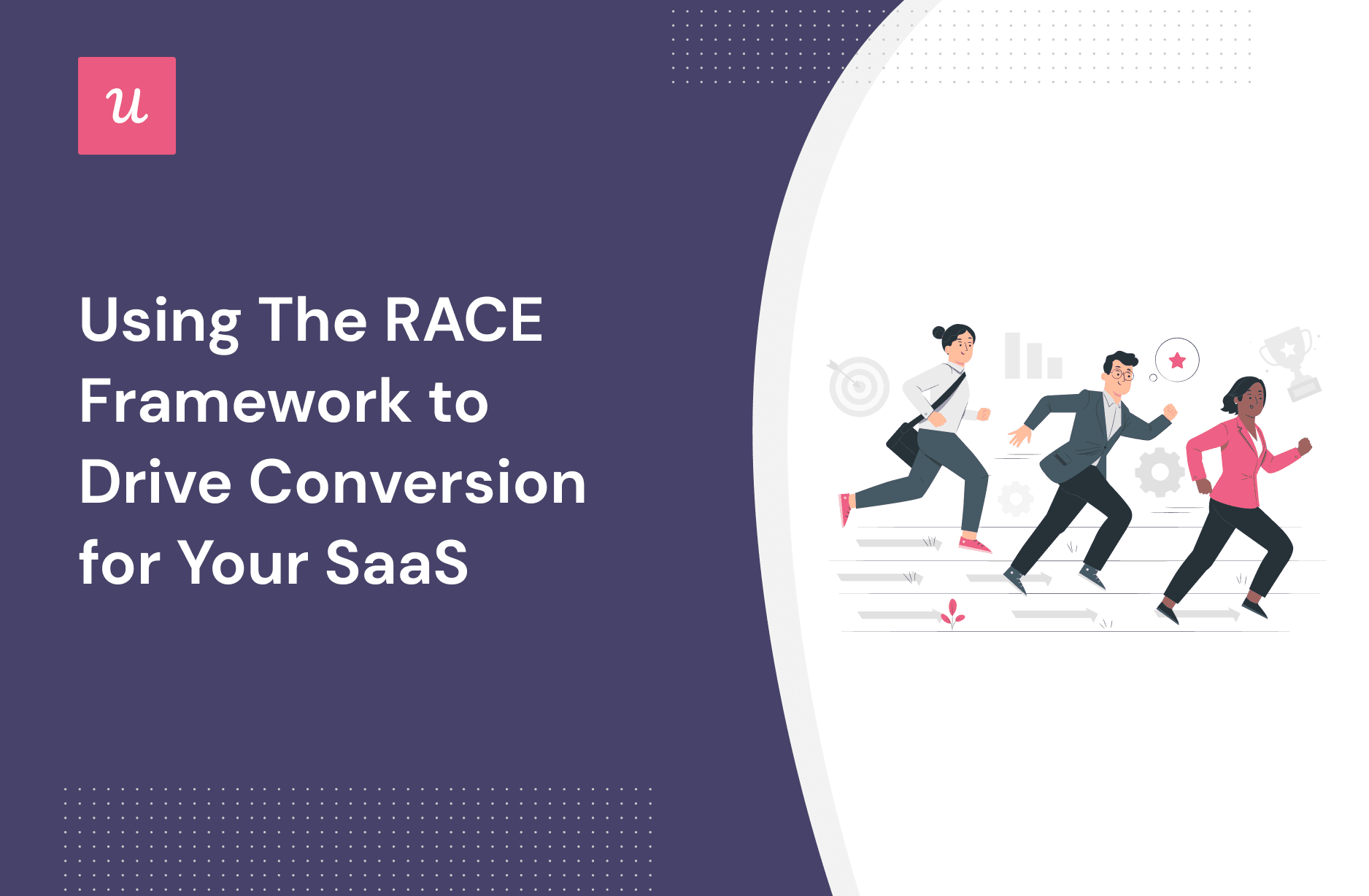 Can the RACE framework refine your strategic thinking ability and thus provide you with a simple but effective marketing strategy?
The goal of any traditional or digital marketing strategy is product growth. Although there are multiple models for defining marketing strategies and tracking marketing success, the RACE framework provides a solid, practical, and simple direction to market strategy development.
This article examines the RACE framework: what it is, why you should use it, and how to implement it in your SaaS.
TL;DR
The RACE framework is a four-step marketing framework. It stands for Reach, Act, Convert, Engage, and is tied to different marketing funnel stages.
The framework helps businesses implement a more strategic, planned approach to digital marketing and its related activities like social media marketing and content marketing.
The RACE marketing model was designed by Dr. Dave Chaffey, co-founder and content director of Smart Insights.
The four stages of the RACE framework implement marketing strategies to Reach new customers, encourage them to Act or interact with your website or social media pages, drive Conversion, and boost long-term Engagement.
The RACE framework is action-driven and goal-oriented. It helps you implement a customer-centric approach that encourages a long-term customer relationship.
Increase your brand awareness in the Reach stage using growth loops that turn customers into business advocates.
Use live demos and free trials in the "Act" stage to help visitors find your product value. Then, use carefully curated strategies like "limited trials" to convert users from freemium to premium plans.
Segment users and personalize their onboarding experience according to their JTBD.
To understand how Userpilot helps you better understand your users, their primary challenges, and the features that drive engagement, book a Userpilot demo today!
What is a RACE marketing model?
RACE stands for Reach, Act, Convert, Engage. It is a digital marketing planning framework for implementing strategic digital marketing activities like content marketing or search engine optimization and integrating these with other offline media activities.
Who invented the RACE framework?
The RACE framework was designed by Dr. Dave Chaffey, co-founder and content director of online marketing advice publisher Smart Insights, to provide structure to digital marketing and help marketers plan and execute better.
The four stages in the RACE framework: Reach-Act-Convert-Engage
Each of the four stages of the RACE framework represents a marketing tactic for a specific stage of the customer journey and lifecycle. It begins with a silent planning stage where you define your goals and strategy.
Reach stage
The "Reach" stage is the brand awareness stage with a focus on activities that build the awareness and visibility of your brand, products, and services. The goal is to drive the attention of your target audience to your website, social media pages, and microsites.
The key here is "reach" maximization using paid, owned, and earned media touchpoints. It involves using digital marketing techniques like social media marketing, search engine optimization, and digital marketing strategy.
Act stage
Marketing activities at this stage should encourage direct interactions on your website or social media page.
Your goal is to move social media and website visitors further along the marketing funnel by encouraging interactions with you. These interactions may be as simple as interacting with a blog post or more goal-oriented, like subscribing to a newsletter or requesting a quote.
Activities within this stage should take site visitors closer to conversion. For instance, you could add a demo link to your blog post or service page to encourage them to take the next step. Or, you could offer a free trial plan so visitors can experience the product.
Define your chosen actions as top-level goals of your funnel. Goals in your analytics could include "Booked a demo" or "Signed up for the newsletter."
Convert stage
Perhaps the most important part of any marketing strategy is conversion. This stage focuses on converting visitors to sales on your online and/or offline channels and is the driver of your business model and revenue structure.
Your goal is to get your visitors to take the final next step and become paying customers. For instance, you may aim to convert freemium users into first-time buyers or turn free trial users into paid trial users.
Engage stage
The final stage of the RACE model involves developing a long-term relationship with first-time buyers to build customer loyalty. This stage aims to nurture advocacy and ultimately increase the number of repeat customers and boost customer engagement.
You measure success in this stage using customer loyalty, customer satisfaction, and the number of active customers. Such success is achieved using a range of communication channels, from your site to your social media pages, email, and direct interactions, to boost customer lifetime value.
Why use the RACE framework?
The RACE framework was created as a simple approach for small and large businesses to use when designing a complete digital marketing plan. Amongst its many advantages are:
The RACE framework represents tactics that are practical and actionable
The RACE framework presents action-oriented tactics for every stage of the funnel. Its focus is on tactics you can implement everywhere, from your website to your digital marketing communication channels.
The practical nature of the RACE marketing framework helps you stay focused on what you need to do to achieve specific goals.
RACE uses a customer-centered marketing strategy
Every stage of the RACE marketing model corresponds to a stage of the customer lifecycle/marketing funnel, from awareness creation to lead generation, conversion, and actions that boost customer lifetime value.
By focusing on long-term customer satisfaction and success, RACE encourages a customer-centric marketing strategy that considers the needs and circumstances of different customer segments.
It promotes actions that benefit the customer first, in order to acquire repeat customers and build customer loyalty.
RACE encourages a data-driven marketing approach
RACE is KPI-powered and based on a performance improvement process. To succeed, digital marketers must define and track KPIs and goals for each stage. Use these KPIs to measure the success of each step and refine your tactics.
For instance, you could track product usage metrics to learn how users interact and engage with your product, where they get stuck, and what features make them stick around for longer.
Using the RACE framework for your SaaS to build customer loyalty
The RACE framework is designed to be action-driven, boosting the performance of your digital strategy. But how can you ensure you're making the most of each stage of the framework?
How to increase brand awareness in the "Reach" stage
Create growth loops to drive automated growth fueled by the actions of your customers. Growth loops ensure that growth is continuous, taking advantage of your provided value to fuel new customer acquisition.
One way to power your growth loop is by using referral or word-of-mouth marketing. Ask loyal customers to leave positive reviews on your digital channels and other third-party review websites.
You also need a solid digital marketing plan to reach new customers. For instance, you may choose to host webinars that address the primary pain points of your SaaS users. This is a great opportunity to address your target audience and discuss how your SaaS helps their cause.
How to encourage interactions in the "Act" stage
Your goal in this stage is to get users to better understand your value proposition and how it'll help get their job done. Help them reach the "AHA!" moment using live demos and free trials that demonstrate your product value.
You can create multiple interactions via digital marketing activities like email newsletters, demo sign-ups, webinar sign-ups, etc.
Set goals for each interaction point and measure how many customers interact (sign up) with them. This offers smart insights into who your potential customers are, paving the way for potential conversion.
How to convert users into paying customers in the "Convert" stage
Digital marketing activities in this stage are an extension of the activities in the "Act" stage. Your goal here will be converting users and visitors who interacted positively with you in the previous stage.
For instance, free trials and product demos should give users a chance to experience what they get with a paid subscription.
Use clear CTAs to encourage users to become paying customers. For instance, you could set up in-app "end of trial" messages to encourage users to purchase your product. A countdown timer creates the urgency to sign up and retain (or extend) current benefits.
How to develop a long-term relationship with your customers in the "Engage" stage
The final stage of the RACE marketing model is all about driving repeat purchases and, potentially, advocacy. Personalize the customer's onboarding and journey, offering them the needed help to get the most value from your product.
Regularly collect feedback from the customer to ensure the customer journey is as friction-free as possible. Encourage users to go into more detail about friction points, then work to fix common friction points immediately.
Use NPS surveys to track customer confidence and measure customer loyalty. Engage with promoters and nurture them into avid brand advocates.
How to implement the RACE planning framework with Userpilot
The RACE framework lays the groundwork for a successful (and measurable) digital marketing plan. Consider some action plans your marketing team can implement as part of the RACE model.
Use segmentation to create personalized onboarding
Thanks to varying demographics and job descriptions, users have different jobs to be done (JTBD) with your SaaS product. Build user persona surveys into your welcome screen to learn more about each user and their JTBD.
Use these details to segment users and personalize their onboarding. For instance, users with similar JTBD share the same goals with your product and will benefit from an onboarding experience that emphasizes how your product helps them achieve those goals.
Create interactive walkthroughs to guide users to the activation point
One way to ensure users get the most out of your onboarding process is to replace product tours with interactive walkthroughs. Interactive walkthroughs help users learn to use your product without dumping too much information on them in one go.
Most importantly, though, they encourage users to interact during the onboarding session, pushing them to try out features for themselves. Higher engagement during onboarding makes users more likely to reach activation.
Walkthroughs can also be built into a continuous onboarding experience. This means leaving out certain features from the primary onboarding and onboarding users only when they interact with those features.
Use in-app surveys to collect feedback during different stages of the customer journey
Collecting user feedback with in-app surveys is an important, but often overlooked, part of product marketing. These surveys help you feel the pulse of your customers, measure their satisfaction, and identify friction points.
Build in-app surveys to measure satisfaction at different parts of the customer journey. When requesting feedback on a new feature, include a text box so users can freely share their thoughts about what they like and what can be improved.
You can also use specialized surveys like the NPS survey to measure customer loyalty and identify loyal customers.
You can create any type of in-app survey with Userpilot, without writing a single line of code.
Set milestones you want your customers to reach
Track user engagement by setting milestones and goals for your users. For instance, new user goals may include connecting their accounts, finishing their onboarding checklist, etc. Reach out to those who are yet to complete those goals to encourage engagement.
Userpilot lets you tag UI elements on your web app to better understand your users. Which features do they interact with the most? Which do they least interact with? Are certain features hidden from view? What features often lead to churn?
Note that your users' interactions with UI elements go beyond just clicks. Unlike most tools, Userpilot lets you track every form of interaction with the UI, including form fills and even hovers (which identify features that capture users' attention).
Conclusion
Traditional marketing activities may still have their place today, but there's no denying the power of robust and targeted digital marketing campaigns.
The RACE framework provides all the tools you need to implement a successful digital marketing strategy. You stay on track for sustained business growth by setting clear objectives and matching your marketing actions to each stage of the customer lifecycle.
At the end of the day, what users do within your app will set the tone for your growth. If you want to better observe your users' in-app interactions, improve your onboarding, and collect in-app feedback without writing a line of code, get a Userpilot demo today!