What is a SaaS Marketing Plan and How to Create One For Your Business?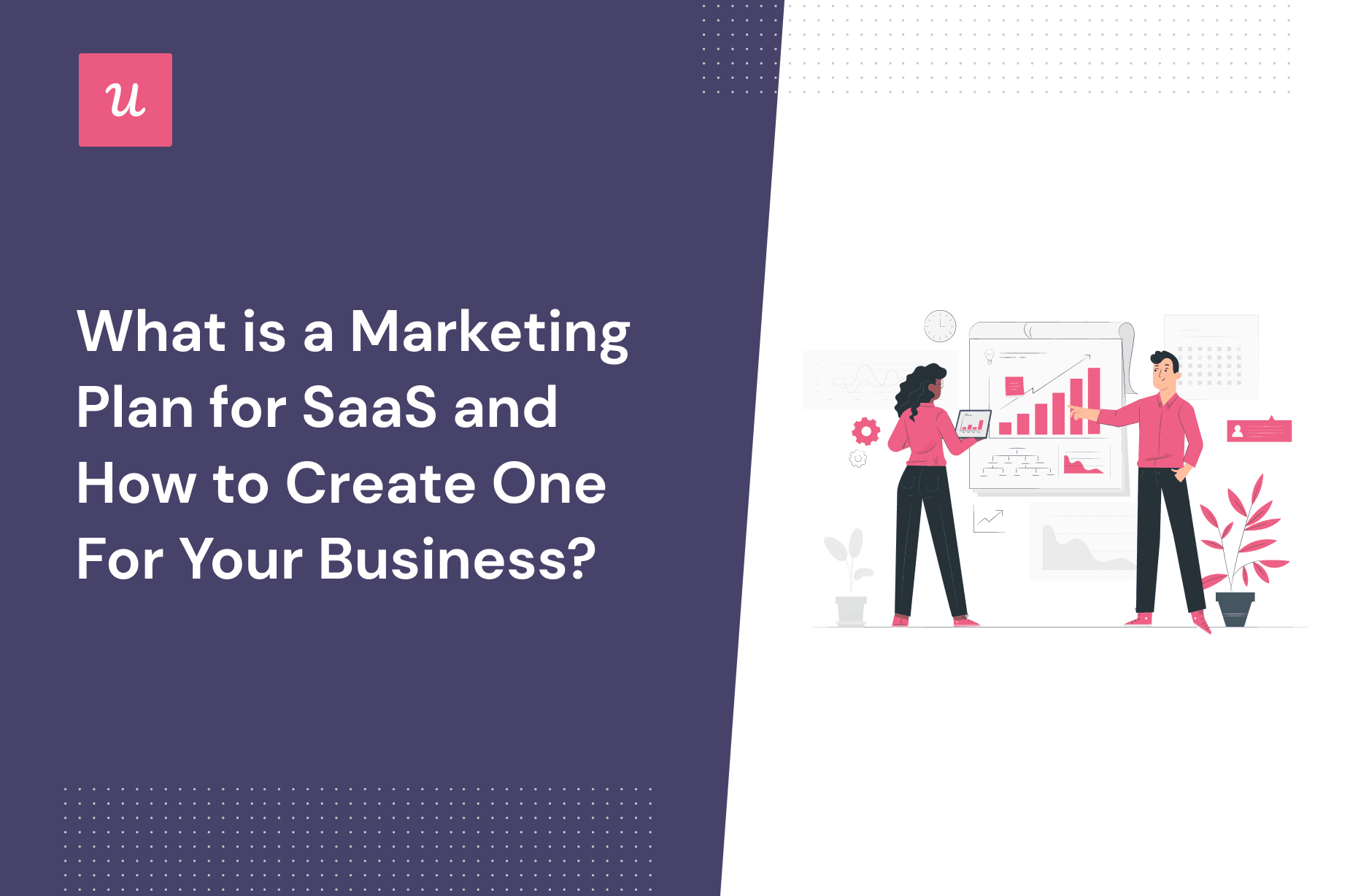 Selling software isn't the same as selling any other product/service, that's why a SaaS marketing plan can be a valuable asset.
Unlike the traditional marketing plans that focus on only attracting prospects, SaaS product marketing helps you stand out in the market and looks at every stage of the customer funnel. This helps you drive retention which is the lifeline of every saas business.
So how do you get started? This blog post will give you insights into:
What a SaaS marketing plan is
Exactly how it differs from a traditional marketing strategy
How to create one for your SaaS product.
Let's get started!
TL;DR
A SaaS marketing plan covers all the strategies and tactics, from lead generation to converting potential customers to paying customers, to ensuring they stick with your product for a long time.
A marketing plan is a key requirement for your product because it gives you a deeper understanding of your target buyer and how to communicate with users.
With this knowledge, you can identify the best strategies to use in engaging customers and converting them.
So why not use regular marketing for your SaaS product? Traditional marketing and saas marketing are two different concepts.
The goal of traditional marketing is to get customers to make an immediate purchase. Whereas, a SaaS marketing strategy looks to nurture a long-term relationship with SaaS customers and looks at touchpoints beyond the paid conversion.
Using in-app marketing you can increase the customer lifetime value and drive expansion.
Creating an effective SaaS marketing strategy involves several steps: performing competitor analysis, setting SMART goals, choosing the best channels, and fixing a marketing budget.
To ensure your marketing is adequately working you should look out for important product metrics like unique visitors, activation rates, trial to paid conversions, and others.
You can also automate some parts of your inbound marketing strategy like email marketing using a tool like ActiveCampaign, support, or in-app guidance and communication using Userpilot.
With Userpilot, you can automate your onboarding process and build engaging and personalized in-app experiences.
What is a SaaS marketing plan?
A SaaS marketing plan details the strategies your saas company will use to get your product to stand out from other existing products and into the hands of your target user.
It covers everything from who your target audience is to the best strategies to employ in converting them to paying users.
And it doesn't end at this initial conversion stage, a saas marketing plan also looks at how you'll keep users engaged throughout their journey.
How do SaaS companies do marketing?
SaaS pricing strategy unlike regular products/services is subscription-based.
This means it requires regular payments from customers to keep running. Because of this, your marketing approach here isn't just to acquire one-time customers for your business.
Saas marketing involves using inbound marketing strategies to build connections with your target market by showing an understanding of their pain points, highlighting the benefits of them adopting your product into their daily life, and maintaining your position as the right solution, even after they've become users of your product.
Why is a marketing plan important for SaaS companies?
A marketing plan is an important asset for SaaS marketers because:
It gives you a clearer picture of your target market: your marketing success lies in your targeting and how well it's able to relate with the audience. A marketing plan helps you understand who you're selling to. It's easy to build a project management tool for construction workers because they have a problem you want to solve, but a marketing plan is what helps you identify who the ideal construction worker is and how to get them to buy. What are their major struggles? What could make their jobs easier right now? Where do they go looking for help/information? How can your product help them?
It helps you maximize resources on the best strategies: instead of spending your marketing budget investing in a marketing campaign you think may work or that you've seen the competition use, a marketing plan helps you identify the best channels so you can make good use of your resources. Since your marketing plan involves identifying your target customers, you'll also be able to find the best and even new mediums to reach them, build relationships, and convert them.
You can create better products and messages with the knowledge gotten from it: now that you know who your ideal user persona is, you can also tell what they truly need to succeed. This helps you tweak your product to fit that so you can reach product-market fit.
It also helps you identify ways to maintain relationships across the customer lifetime: customer retention is how SaaS businesses remain in business, so it's an important part of any marketing strategy. Your SaaS marketing plan gives you insights into the best marketing efforts to employ to keep existing customers engaged.
What's the difference between SaaS marketing and traditional marketing?
To clearly explain the difference between both types of marketing we'll use an example of a person who sells dresses and a SaaS business that sells content management software.
When the dress seller puts out a marketing campaign, their goal is to get people to come into their shop or site to buy. The main goal isn't necessarily to make this buyer a repeat buyer, their goal is to get that initial purchase made.
In the case of the company that provides a content management system, the goal is to reach the target audience, show them why they need you/why you're the best option, get them to convert, then get them to continue their purchase over and over again.
The differences can be seen below:
The product type and customer base: while traditional marketing is used to sell physical products and services to mostly individual buyers, SaaS marketing is used to sell digital solutions to businesses and the decision-makers at these businesses.
The goal timeline: the traditional marketing funnel focuses on customer acquisition and getting them to buy now (purchase). A SaaS marketing strategy, on the other hand, looks at building a longer-term relationship with prospects because the purchase here is more intentional and needs to happen continuously for saas companies to succeed. The saas marketing funnel is more concerned with everything from driving product awareness to getting users to test the product and stick with it.
Bottom line is that Saas marketing is more strategic and complex than traditional marketing.
How to create a SaaS marketing plan?
There's a lot that goes into creating a plan to market your software as a service. Whether you're a B2B SaaS company or an enterprise software company, these are the steps to take when creating an effective marketing plan.
Step 1: Create your buyer personas
The first step your marketing team will take is to identify and create your ideal buyer personas. The user persona is a hypothetical representation of your customer, their characteristics, and how they behave.
This helps you understand the audience your marketing will target and it gives you forward-looking insights into what they need and what will work best in attracting and converting them.
This way you can write copy that resonates with their pain points and benefits they seek and pick sure channels that will guarantee you an increase in your conversion rate.
Step 2: Do competitor research
Competitor research allows you to see what has worked and is currently working for your competition.
It gives you insight into what strategies work in your market. What keywords do they currently rank for and how effective are they in generating demand and driving traffic? How have your competitors positioned themselves? What channels bring the most effective leads?
This knowledge can help you decide on possible channels as well as sharpen your value proposition and messaging to highlight how you're different from existing solutions and a better choice for your potential customers.
Competitor analysis helps you stand out in an already crowded market.
Step 3: Define your marketing goals and OKRs
You can't have a plan without measurable goals to determine how effective or not your plan is.
Marketing teams set SMART KPIs (specific, measurable, achievable, realistic, and time-bound) marketing goals to help keep track of their progress over time.
An example of a SMART goal will be to increase unique website visits in the second quarter of 2022 from an average of 100 a month to 2,000 each month using an SEO strategy and a customer-focused content marketing strategy. These types of goals are easy to follow and measure.
OKRs (objectives and key results) are another methodology your SaaS company can use to set and define goals. Here, you'll focus on improving one metric or objective which you'll measure using three to five different parameters.
Step 4: Choose distribution channels
This answers the question of how your target audience will find your marketing efforts. After investing in new marketing strategies, how will you ensure it reaches the right customer and doesn't get lost amongst the many other campaigns.
There are several marketing tactics used in the saas industry to generate demand and keep current customers fully engaged. The most popular of which are email marketing, content marketing, and SEO.
Step 5: Choose your marketing budget
Your marketing budget will depend on what marketing channels you choose to use as well as the timeframe of your goal.
Each channel has a cost associated with running it.
For example, if your goal is to increase free trial sign-ups in the next two months using several forms of display advertising, your budget will be larger than if you decided to invest in using organic traffic from content marketing.
Step 6: Choose the best marketing tactics
Marketing tactics refer to the strategies employed to create leads and move customers along in the sales cycle. You'll have to choose the best ones for your SaaS company to focus on and prioritize those.
The knowledge you get from creating your buyer persona and competitive analysis will help you decide on what tactics will work best for your ideal customers.
Step 7: Track progress and analyze your results
Using the goals you set, you should track your progress at each stage to make sure your marketing strategies are working.
From the information gathered you can then determine what's working, what isn't, and why.
This will help you tweak your strategy so you get better returns on your investment.
When communicating with users in-app and trying different engagement flows, you should use a tool like Userpilot that lets you also track performance.
Step 8: Do A/B testing
Collect data on how each user segment responds to your digital marketing strategy to test what strategies work best for each group. This will help you create more targeted and effective campaigns.
You can easily do this with Userpilot, and for unlimited users, when you are looking to test how different in-app experiences influence goal completion. For example, will adding a welcome screen to your onboarding flow improve user activation?
You should run an A/B test and see.
What metrics should product marketing managers focus on in their marketing plan?
To adequately measure the success of your marketing plan, your marketing team will need key performance indicators or product metrics to look out for.
Some of the key indicators for measuring marketing success are:
Unique visitors: this measures how many visits you get to your website or landing pages from a channel like Google ads or organic traffic from Google Search.
Lead generation: this metric tracks how your marketing efforts are generating marketing qualified leads (MQLs) and sales qualified leads (SQLs)
Conversion rate: one of the most important saas marketing goals is increasing customer conversions over time. So this is a key metric to track in your marketing plan. How many website visitors are becoming leads? How many leads have turned to paying customers? And what percentage of your MQLs become SQLs?
Activation: calculates the percentage of website visitors who sign up for a free trial or freemium version of your product and then reach the activation point in the journey (engaging with core features of the product). These are the product-qualified leads.
Signup to paid conversion: it's not enough that leads are signing up for your product's free trial, are they upgrading to a paid plan? This metric is important because paid plans are how you make money. Measuring this can help you smooth out the upsell conversion process.
Churn rates: this measures how many customers drop out of your product within a specific time. If users are getting value from your SaaS business, they stand a lesser chance of churning out. This metric helps you figure out what to improve so users get more value.
CLV: CAC ratio: this looks at the customer lifetime value in comparison to how much you spend to acquire them. Your customer acquisition cost should always be lesser than the customer's lifetime value so you're not running a loss.
Monthly recurring revenue (MRR): your marketing is an investment that should help you reach your revenue growth goals each month. Measuring your MRR helps you keep track of your revenue growth.
What are the different types of SaaS marketing automation tools?
There are several stages of your saas marketing funnel. Each stage requires activities to keep users engaged so their customer journey along the funnel is smooth and continuous.
Several marketing automation tools help you automate activities like:
Product adoption and in-app user communication: you can easily automate all product experiences from onboarding to activation to adoption, using a tool like Userpilot.
Email marketing: with tools like Active Campaign and Customer.io, you can provide contextual onboarding, drive activation, and re-engage inactive users.
Social media marketing: Buffer is an example of a tool for automating social media posts and analyzing their performances.
Chatbots: Hubspot and Intercom are tools you can use to build interactive chatbots into your site.
Self-serve support: the faster users can solve problems encountered, the quicker they can continue on their journey with your product. Build resource centers using tools like Userpilot.
How Userpilot can help
Userpilot is a product adoption tool that helps you build useful and personalized product experiences that keep customers engaged throughout their lifecycle.
Since you know now that SaaS marketing doesn't end after that first purchase, but continues in-product, a tool that helps you deliver constant value to users is a necessary part of a successful SaaS marketing strategy.
With Userpilot you can segment users depending on their jobs-to-be-done or behavioral patterns and show them relevant content and experiences for their use case.
You can also build interactive walkthroughs to show users new features and how to use them to increase the value derived and adoption rates. Userpilot can be used to build other experiences like in-app announcements, surveys that help you collect direct insight from users, and many more.
All these help you drive product engagement and adoption.
The more users adopt your product and its features to their everyday work processes, the higher their chances of sticking with you and even upgrading to higher plans.
Conclusion
A saas marketing plan is an important part of your saas strategy because it gives you a clear vision of steps to take to attract users to your brand, convert them, and then keep them progressing with you.
You could build the best product and have the best sales teams but if your marketing plan for every stage of the customer journey is non-existent or poorly done, your product won't succeed.
Want to build product experiences code-free? Book a demo call with our team and get started!