17 Onboarding UX Examples to Improve User Onboarding Experience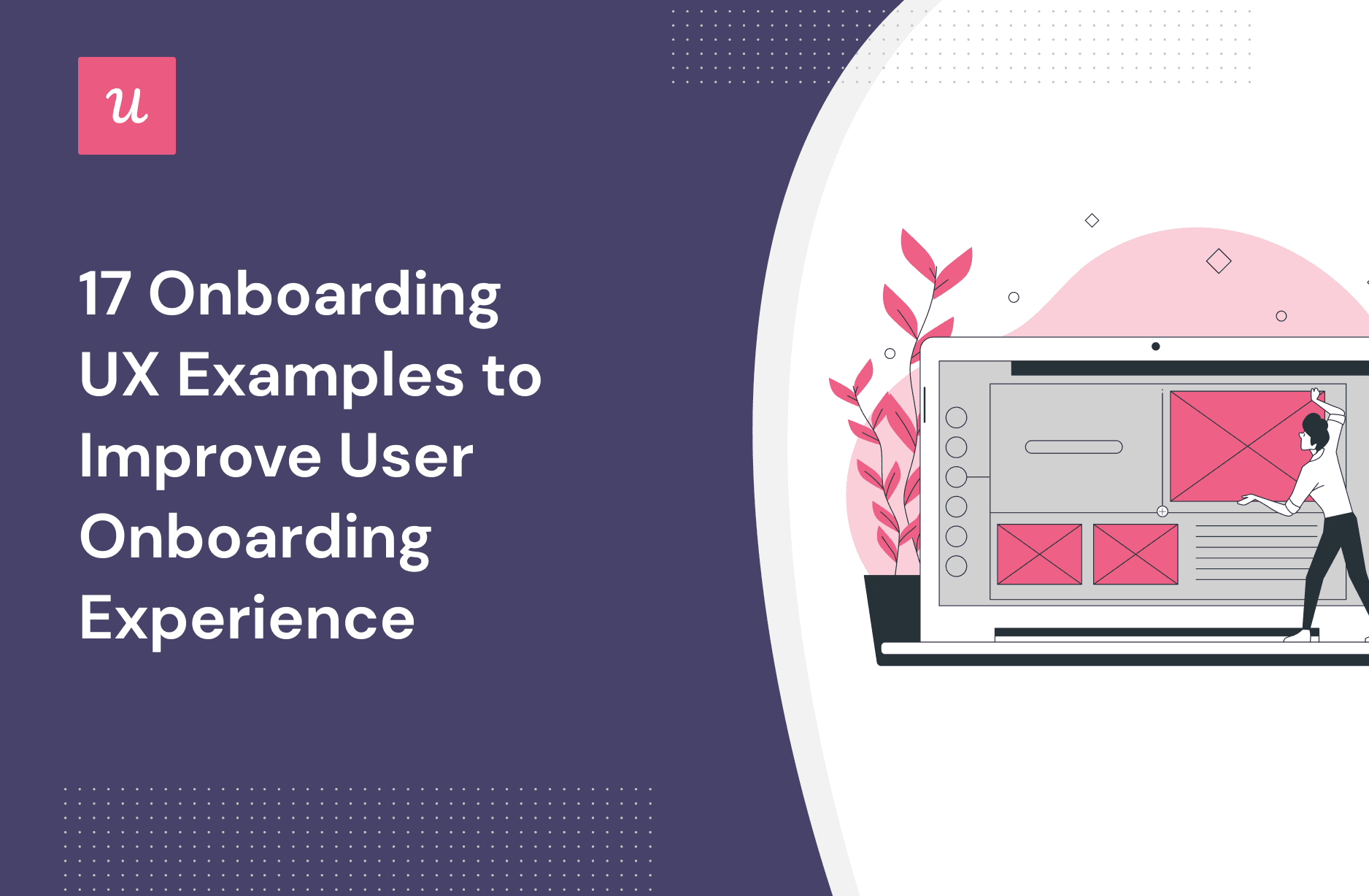 Building awesome user onboarding experiences requires a great deal of effort when starting from scratch. So we've collected onboarding UX examples from other companies to inspire you!
Here are 17 user onboarding examples to help you create great user onboarding flows.
TL;DR
Onboarding UX is the design choices and the layout of the onboarding experience to help produce an excellent onboarding experience.
Onboarding UX is important as it can help increase user activation, user retention, and increase customer lifetime value.
A good user onboarding experience is interactive, intuitive, action-oriented, and educational.
Checklists, progress bars, help centers, tooltips, and welcome screens are onboarding UX patterns that help create an engaging user onboarding experience.
Userpilot helps create the best user onboarding experiences by customizable UI/UX patterns, triggering personalized user onboarding experiences, and segmenting users based on their jobs to be done.
Learn how Userpilot can improve your user onboarding experience by booking a free demo.
What is onboarding UX?
Onboarding UX is the design of the flow or multiple flows that introduce a user to your product, collect information from the users for some initial product preferences, or highlight crucial UI elements in an interface.
Onboarding UX uses a range of different UI patterns, such as interactive walkthroughs, tooltips, pop-ups, and slides outs. All of this helps to familiarize users with your tool.
Why is onboarding UX important?
Some of the most impactful reasons why you should prioritize UX in your onboarding are:
What makes a good user onboarding experience?
To make a good user onboarding experience, you need to create one that exceeds user expectations. To do this, you need to focus on the most important thing about your product: your user.
You can achieve this by crafting a user onboarding that is contextual to your users. Focus on being user-centric, doing everything possible to help your users succeed.
Moreover, you need to create an onboarding flow that prompts users to take action (like using an interactive walkthrough that educates users). And your onboarding experience must educate and inform your user on how to gain value from your product.
Onboarding UX patterns to create an engaging onboarding process
Thankfully, you can utilize a series of UX patterns in your product to create an engaging user onboarding. Some of the most useful ones are:
User onboarding checklists and progress bars: You can use onboarding checklists to guide users through your product. They usually contain around 3 to 5 core actions that users need to perform to achieve the Aha moment demonstrating your product's value.
Resource Centers: These are a great way to drive self-service and help users resolve any issues by learning more about your product by themselves.
Tooltips and hotspots: Both are good for drawing attention to what a user needs to do next. They help to create a contextual onboarding experience as the user moves through your product.
Pop-ups and slide-outs: If you need to make an announcement or want to collect user feedback, pop-ups, and slide-outs can help you as they are great for grabbing a user's attention in-app.
Welcome screens: You can use welcome screens to gather information to later segment your customers and let them know what to expect next in your product.
Best user onboarding experiences from SaaS companies
Here are 17 onboarding UX examples to inspire you.
1. Userpilot uses product storytelling to attract customers
Userpilot is a user onboarding software that helps you deliver a personalized in-app experience by giving you the tools to collect first-party data and customize your product without needing any technical knowledge.
As part of the signup flow, Userpilot weaves in storytelling by utilizing client testimonials to add credibility to new users. Userpilot also uses UI feedback to help guide users through the product.
2. Miro creates a seamless signup form
Miro is a tool to help you create an online workspace to let you innovate ideas with your team. You can create concepts, customer journeys, and map user stories.
Miro has a great user onboarding by offering a frictionless sign-up, allowing users to sign up via different methods, including single sign-on.
3. ClearCalcs uses a welcome screen to segment user personas
ClearCalcs is a product that helps engineers and designers create a structural design by assisting them with design calculations.
It uses a welcome survey to collect information from new users, such as their roles, goals, and company size.
With that information from the user, ClearCalcs can customize the user onboarding process with an onboarding flow that is personalized to them.
4. Osano uses a resource center to drive product-led growth
Osano helps you to manage your privacy program. It enables you to tick all the boxes for data compliance and avoid any potential fines or penalties that could result in the misuse of first-party data.
Osano implementes a Resource Center to help people use more of our features 'and ultimately, to drive PLG.'
After the implementation, they saw reduced tickets and chat requests. These benefits helped lower support costs and provided a better customer experience as they could self-serve the answers to their questions.
5. Sked Social implements a user onboarding checklist to introduce users to the key features
Sked Social is a social media management platform that focuses on Instagram and lets you post to other social media platforms. It allows you to plan your content with its useful scheduling feature.
After a customer has gone through the initial onboarding flow, Sked Social uses an onboarding checklist to introduce them to key features.
The checklist only contains four tasks not to overwhelm users.
They also show a progress bar that fills up as tasks are completed and displays their progress. Seeing the progress bar filling up helps motivate users to complete all the important tasks to drive people to user activation.
6. Grammarly invites new users to a quick tour with a welcome screen
Grammarly is a useful tool to help you improve your writing. It can highlight incorrect spelling, punctuation, or grammar and offer better suggestions.
When new users of Grammarly sign up, they are greeted with a welcome screen that invites them to a demo environment. In this, Grammarly shows them a product tour of how users can use it.
7. Slack uses tooltips for onboarding users
Slack is a messaging tool that unites people within a company and offers a platform for collaboration.
The user onboarding in Slack is well known for being excellent. It demonstrates how to use the product by using tooltips to simply guide users to product features they need to learn about.
8. Kommunicate encourages users to engage with the product with an interactive walkthrough
Kommunicate is an AI chatbot to help with customer service automation. It helps reduce your customer service requests by resolving issues with AI-powered chatbots.
Kommunicate uses interactive walkthroughs to help improve its user onboarding. Using a combination of tooltips, Kommunicate can showcase certain features to users and prompt users to take action to teach them by doing.
9. Notion uses an empty state to showcase the product
Notion is a note-taking and productive web app to help people capture their thoughts, manage projects and collaborate with others all in one tool. It allows you to create databases, to-do lists, calendars, and store documents, elevating it beyond a note-taking app.
To help Notion showcase its product, they show users an empty state that lets users get hands-on with the features of Notion and uses checklists to show the most important aspects of the product.
They even include micro-videos to help visual learners and provide more extensive learning resources.
10. Tolstoy creates branched user onboarding flows to reduce time to value
Tolstoy is a platform to help you create and host videos that don't impact your site speed. It helps to engage customers with interactive and shoppable videos.
They use interactive videos as part of their user onboarding process and video tutorials based on a user's learning path, so they can explore parts of the product that are relevant to them.
11. Asana celebrates user success to motivate new and advanced users
Asana is a project management tool that lets you manage your projects so you keep on track with them. It gives you a single place to organize your projects and ensure you hit deadlines.
They use gamification to help celebrate user success by introducing simple gamification elements (like the colorful unicorn that glides across your screen when you complete a task). Little details like this add to customer satisfaction and can help keep users engaged.
12. Canva offers a contextual onboarding experience with specific features
Canva is a simple-to-use online design tool that can help you create various image assets, such as social media graphics, presentations, and posters.
As a way of making their user onboarding better, Canva follows one of the best practices for onboarding UX by utilizing tooltips. These tooltips help to guide users on how to use their product.
Canva also contextually triggers them inside different features so users get the right help when needed.
13. Duolingo uses a progress bar to set user's expectations and decrease the drop-off rate for new users
Duolingo is one of the world's leading apps to help you learn a language. They offer short, bite-sized lessons and add gamification elements to help you succeed in learning a new language.
Duolingo has new users complete a survey to capture customer data as part of their user onboarding. To prevent users from dropping off, Duolingo uses a progress bar so they know how far they are progressing through the survey. The progress bar also lets users visualize how long the onboarding may take.
14. Loom uses video tutorials to provide great user onboarding experiences
Loom is a video messaging tool that lets you share personalized videos through a link. It allows you to record your face and screen to make videos that have a more personalized touch.
Loom's user onboarding includes quick, simple video tutorials created with Loom that teach users how to use their product.
The different videos answer some of the frequently asked questions and help users learn how to use Loom quicker. It also helps to reduce customer questions going into the customer success team.
15. Airtable implements a skippable welcome screen with a personalized touch
Airtable is an online platform that enables users to create a database without learning a single line of code. It also has features such as calendar, kanban, and Gantt views to help you view important information for your team.
They use a slideout to greet new users during their user onboarding flow. A slideout is a great way to draw a user's attention to something important. In the Airtable example, it asks them if they would like a tour.
Airtable adds a nice little flair of personalization by using the person's name in the slideout to make the greeting more heartfelt.
16. Lemlist's fun and engaging onboarding example
Lemlist is an email automation and cold email outreach software. It lets you find leads from places like LinkedIn, helps you personalize your emails based on the lead's information, and can help you improve email deliverability.
Lemlist has a quirky and playful brand voice, so they can have a little fun with their user onboarding. They add engaging content to their UX to make learning about their product more enchanting.
17. Demio uses an onboarding webinar to remove friction from the onboarding process
Demio is a webinar platform that helps create an exciting experience for webinar visitors. It allows you to engage attendees with polls, features actions, and handouts. It also provides detailed analytics on how engaging your webinars are.
Demio's user onboarding helps to deliver value by letting users jump right into the action.
Demio does this by using its own product as part of its onboarding. They let users experience Demio in real-time and show a webinar demo, including live chats and recordings, making it a memorable interactive experience.
Create the best user onboarding experiences with Userpilot
If you want to create a great user onboarding experience for your customers easily, then Userpilot can help.
Recreate some of the user onboarding examples above without writing a single line of code.
Userpilot helps you do this by using different UI/UX patterns that are fully customizable. It also lets you personalize the user's journey by triggering events at the right time and enables you to segment your users so you can only show what matters to them.
Customize different UI/UX patterns
Userpilot has a range of different UI/UX patterns to customize your onboarding process. Some of these patterns are:
Tooltips and hotspots: These let you present information to users based on a specific feature.
Driven action: These are similar to tooltips but require a user to take action.
Checklist and resource centers: Help to guide users through key activation points.
Modals and slideouts: You can use modals and slideouts for your product welcome screens, as surveys to collect customer data, and for announcing new features.
Banners: Banners are useful if you have any announcements you want your users to know about.
Personalize the user journey by triggering the right experiences at the right time
Userpilot can help you to personalize the user's journey through the use of custom events. You can create custom events based on when certain conditions.
When a user meets these conditions, it triggers the event, which can be a personalized onboarding flow.
Make the onboarding process seamless by showing only what matters to different user segments
An important step in user onboarding is the gathering of data. Through the use of in-app surveys, you can gather data from your users.
You can then use this information to segment your user base.
This filtering and segmenting can ensure you show users content that matters to them. The more relevant you can make, the better the user engagement will be.
Conclusion
If you were stuck on what to do for your entire onboarding process, these user onboarding examples should help get you inspired and on your way to creating a great onboarding experience. The key to success is to collect the right data and personalize the experience based on the findings.
Want to build a great code-free onboarding experience? Book a demo call with our team and get started! Click on the banner below to book a free demo.