The Best User Journey Tools for SaaS Companies
A focus on the user journey helps teams create more dedicated and personalized onboarding, increase product adoption, and drive product-led growth.
Not sure how to do that? That's what user journey tools are for!
As your product grows and matures, so will the need to provide more customized experiences for your users and each of their different use cases. This includes looking at everything from goals and outcomes, to even associated emotions that come from trying to achieve those outcomes. This allows your team to look at possible pain points and switch those to smoother transitions and increase overall conversion.
In this blog, we give you a quick look at 6 great tools you can start using today and outline the perfect user journey map.
About The User Journey and User Journey Tools
What is a User Journey?
A user journey defines all the interactions a particular user has with your product through the various product adoption phases in your funnel. Generally mapped out in a visual map, it helps teams identify the steps a user takes to reach a particular goal.
We've covered this topic in an in-depth post before on How to Retain Users Better With User Experience Journey Mapping, read it here.
A user journey generally looks at the following aspects:
Who is performing the task and what outcome they are trying to achieve
The various steps involved in the user's journey, including positive and negative drivers (for example, no one really likes to spend money, so that would be considered a possible point of friction)
The actionable insights and possible ways to reduce that friction throughout the journey
Once created, you can start identifying how those negative drivers can be avoided, and identify ways to instead make them as frictionless and delightful as possible.
Taking the example of payment above – how might you create less hesitation when a user is submitting payment, and create a more positive experience once the payment goes through? 🤔
A good user journey tool will help you identify that answer.
User Journey Tools You Can Use Today
If you want to get going with your very own user journey map, I've compiled a list of my favorite tools that allow you to get going in no time.
Criteria
When looking at various user journey tools, the following criteria was important in the consideration process:
Provided pre-defined templates to get going quickly
UI and ease of use is important, particularly when working with a remote team
Had guidance or educational resources to help me understand what to do
Pricing and free trials: could I actually try the tool before I commit?
Here we go!
User Journey Tool #1: Miro
Miro has quickly become the SaaS industry's sweetheart. It offers plenty of templates you can use, from user journey maps to kanban boards. It is clearly designed to get customers up and running as quickly as possible, which I love (lots of points here for focusing on product education!)
What I like
Clean UI, very easy to get going.
Preloaded templates you can use, both pre-filled and empty.
They have a dedicated page that explains why and how to use a journey map, cutting down the learning curve.
Free account offers you up to 3 shared boards, great for a startup or someone working solo. Paid plan starts at $8/team member/month.
When working with others, you have video, audio, and on-screen visibility of where your team is navigating.
User Journey Tool #2: LucidChart
If you're looking for a tool that integrates nicely with your Google Suite, LucidChart is the way to go. It's always been one of my go-to tools as it's really simple to get started and create diagrams.
While it's not a dedicated user journey mapping tool, it's flexibility is boundless and allows anyone to start creating any diagram needed.
What I like
They offer a variety of templates you can use right from the start.
Plenty of assets available to create and expand on your template.
Starts off free, $8/team member/month after.
You can see other team members on screen working with you.
User Journey Tool #3: Conceptboard
Conceptboard defines itself as a collaborative online whiteboard. With clear dedication to remote teams, Conceptboard allows for teamwork on diagrams no matter where your team is at.
What I like
It's a pretty simple and straightforward UI.
Pre-defined template for various use cases, including user journey mapping.
Much like Miro, they too have put emphasis on education and have a dedicated resource about journey mapping, with the focus on improving customer experience.
You can start for free – but with a limitation on file size and number of assets allowed on a page.
Paid accounts start with a dedicated trial (nice!) and the base account kicks off at $6/team member/month.
User Journey Tool #4: UXPressia
UXPressia is a dedicated user journey tool, with heavy focus on improving the customer experience. With a variety of templates including journey maps for customers and even onboarding new team members, they clearly have this nailed down to a tee.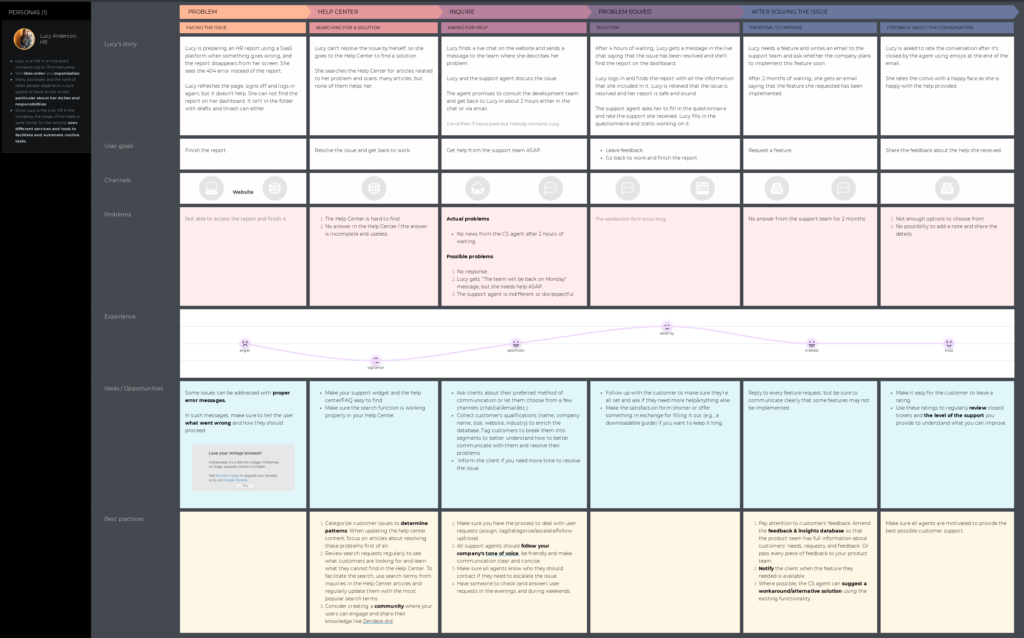 What I like
It offers basic templates to get you going quickly.
It has sections you can add and remove as needed to fit your needs.
UXPressia also has a dedicated education aspect via their Academy, offering team members upgrade their customer experience skillset.
It has multiple private and shared workspaces.
Offers a variety of integrations including Slack, Mixpanel, and design tools such as Marvel.
You can work with a free trial, and paid accounts start at $24/team member/month.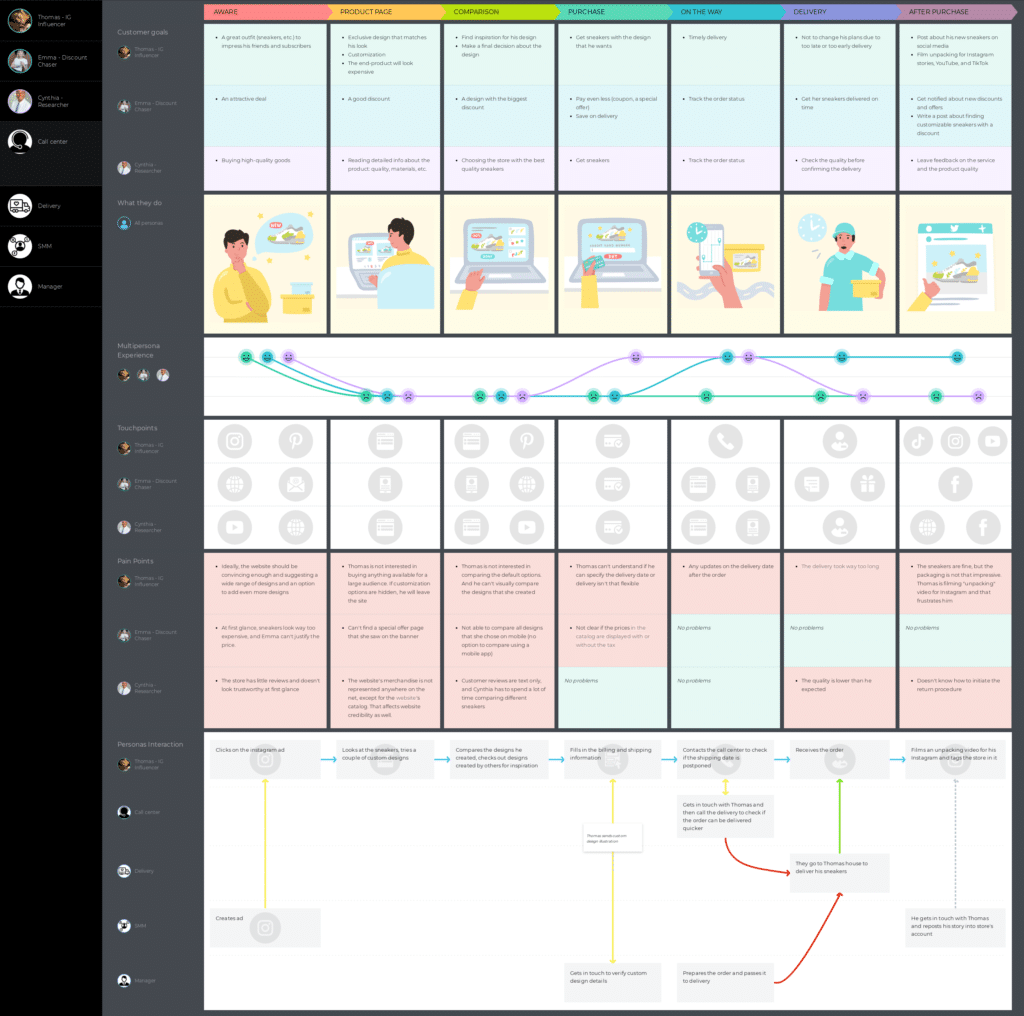 User Journey Tool #5: Smaply
Smaply is another dedicated user journey tool to help you identify possible pain points and moments of truth in the journey flow. Not only do they offer journey mapping for your user base, but also helps you identify personas and team influencers at every step of the journey itself.
What I like
Smaply really took it to the next level by not just providing journey mapping, but also journey mapping across multiple roles and personas so you can compare and contrast.
As all other tools, pre-defined templates are available.
They offer a great drag/drop editor that's super easy to use.
They offer a free 14-day trial, with paid accounts kicking off at 25 euros (they have team-based pricing instead of per-user pricing.)
User Journey Tool #6: FlowMapp
FlowMapp describes itself primarily as a UX tool that helps teams visualize various types of flow maps, including site maps and customer journey maps.
What I like
They offer a variety of templates for user journey mapping, including those focused on outcomes, empathy, experience and channel conversion.
You have access to previously archived products, so you are not forced to delete anything.
You can import existing projects (they offer XML support)
First project is entirely free without a time limit, but a file space limit instead. After that pricing begins at $8.25 per month for unlimited collaborators and increased space.
Which User Journey Tool Is Right For Your Team?
As always, when looking for the right tool I always recommend your team sits down and addresses the following points:
What is your available budget?
What problems are you hoping to solve by introducing a tool?
What outcomes do you hope to achieve by introducing this new tool?
Are there any particular requirements you need?
Are there things that are nice-to-have and others you're willing to let go of?
And of course, when looking at dedicated tools vs more broader tools, would the tool then be shared or used with other teams? It's never as simple as comparing features side by side, always focus on the impact proposing a new tool will have on your entire team.