The Ultimate Guide to Customer Education in SaaS: Best Practices, Examples, and Tools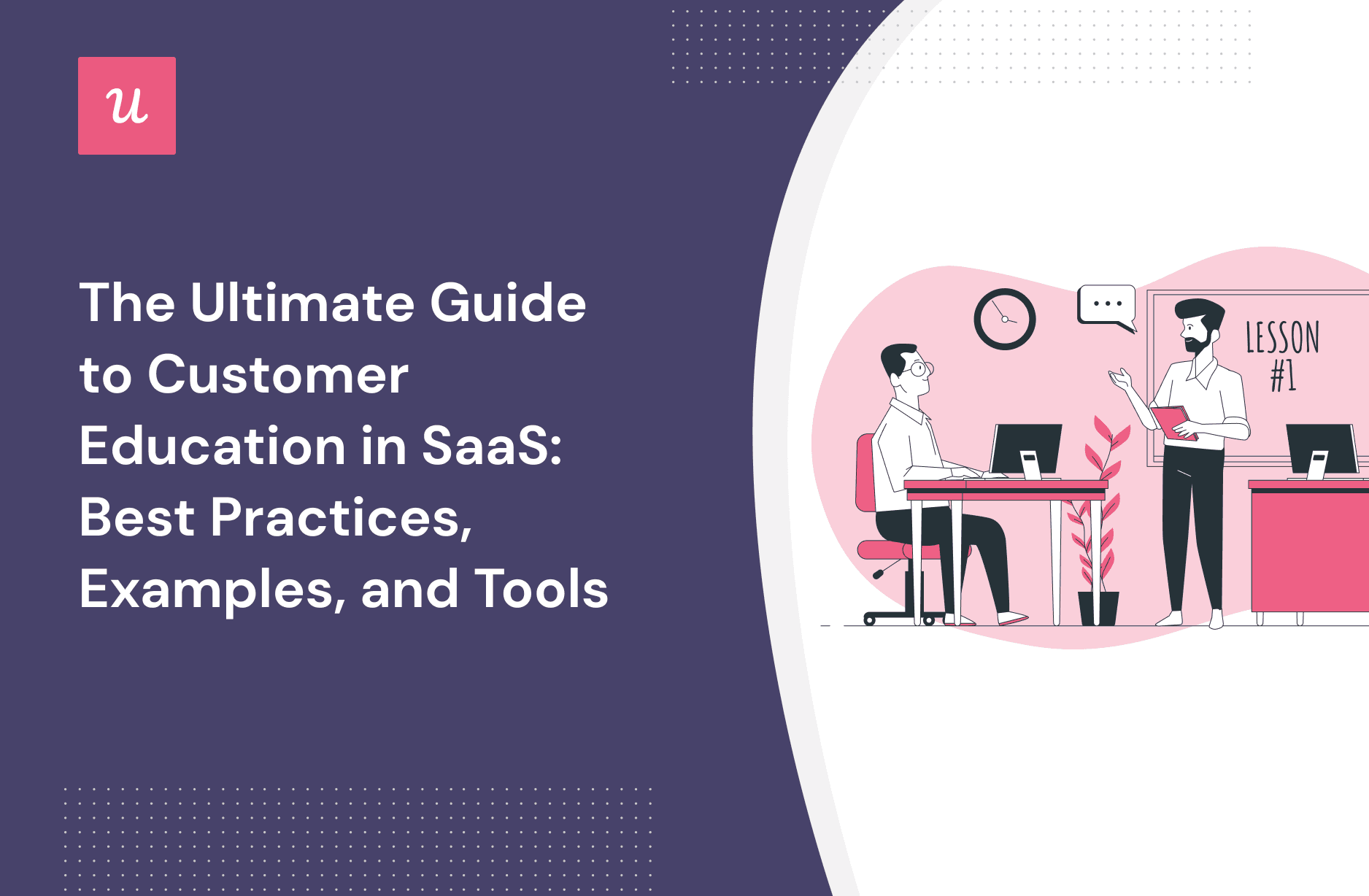 Have you ever wondered why SaaS companies are spending so much on self-service solutions and customer education programs? Well, enabling customer success is just about one of the highest ROI activities you can do.
Launching a customer education program can streamline the customer journey, increase customer retention, and reduce the support costs for your product or service. In this article, we're going to go over the benefits of customer education programs and the five steps you need to follow to launch one.
TL;DR
Collaborate with your customer-facing teams to get a better understanding of customer pain points and motivations
Define your main user personas and their jobs to be done
Perform an audit of existing content and identify opportunities for new educational resources
Segment users with similar characteristics into groups to offer personalized educational programs
Set measurable business goals and observe whether your customer education program contributes to achieving them
Gather feedback from customers regarding your educational resources and improve the materials upon feedback
Here are some best practices for creating a successful customer education program:
Use checklists to help users discover core features and activate them.
Drive new feature discovery and get users to adopt features with onboarding tooltips.
Shorten the learning curve with interactive product walkthroughs that guide users step by step when engaging with a feature for the first time.
Offer continuous customer education with an in-app resource center
Educate users with short in-app video tutorials. In-app video tutorials reduce friction and make it easier for users to replicate.
Localize the training materials and adapt them to the language of your target customers for a better user experience.
Apply gamification to your customer dedication program to encourage users. Award them course completion certificates to boost their self-esteem, and reward them with gift cards and discounts to nurture better relationships.
What is customer education?
Customer education refers to the process of providing your customers with the tools and resources they need to be successful with your product or service.
From initial contact to continued usage, it is meant to guide your customers through your product in a way that increases adoption, reduces friction, and strengthens retention.
Benefits of having a customer education program
An effective customer education strategy can speed up the customer onboarding process, increase product adoption for your software, reduce the number of tickets your support team needs to deal with, and drive long-term account expansion.
Let's dive deeper into each of these four key benefits!
Onboard customers more quickly and reduce time to value
Creating content that teaches your users about the product or service they're paying for reduces the time to value or "user activation." Furthermore, establishing a self-serve onboarding environment can also help users learn about the product at their own pace.
In fact, the Harvard Business Review found that 81% of customers try to solve problems themselves before reaching out to a representative.
Improved customer engagement and product adoption
Incorporating product education into your overarching customer education strategy will make it easier for your users to find the features that will benefit them the most. This, in turn, increases the feature engagement for your product.
Reduce support tickets and customer support costs
With SaaS tools getting increasingly complex, a one-page FAQs list on your website won't cut it anymore. A full-blown SaaS knowledge base is the best way to reduce support ticket volume since it makes information readily available to all users.
Drive long-term retention and account expansion
Since investing in customer education initiatives will increase customer satisfaction, it should come as no surprise that it'll have a direct impact on your bottom line.
The higher customer retention rates mean you won't have to worry about user churn and the fact that they're getting more value out of your product or service also makes them more likely to upgrade their subscription — increasing expansion revenue in the process.
5 steps to launch a successful customer education program
Now that you're familiar with all the benefits that make customer education important, let's go over the five actionable steps that you can use to create your own customer education program:
Step 1: Promote cross-team collaboration
The success of your customer education initiatives lives and dies with the team members who execute the strategy. As such, it's essential to have cross-team collaboration whenever you're pursuing a goal as important as customer success.
Collecting feedback from different teams in your company will help you identify customer pain points throughout every stage of the SaaS sales process. The main teams you'll need to incorporate into your customer success initiative include:
Customer success team
Sales team
Customer support team
UX design team
Once you've gathered feedback from all these teams, you can identify which areas of the customer journey need the most improvement (e.g. the onboarding process). Addressing the issues across all departments ensures that your customer education program will improve both customer success and customer support.
Step 2: Define your main user personas and their jobs to be done
There are many types of user personas and which ones you end up targeting will depend on what your product does as well as what your customer education goals are. Regardless of which personas you're aiming for, creating a user persona survey is the best way to start.
Only after stringently narrowing down your primary user personas can you start to create customer education content that's actually in line with the problems your customers are facing.
For example, knowing that a specific persona is struggling to export data could prompt you to create a microvideo tutorial for that use case.
Step 3: Perform an audit and identify opportunities
Performing an audit to identify customer education opportunities before you launch these initiatives can help in two ways:
You'll be able to identify existing content that can be repurposed to educate customers
You'll get a better idea of how your customers feel about the software after their purchase
The best way to get a grasp of this post-purchase reception is by looking at recurring themes in support tickets as well as customer reviews (both negative and positive). If possible, try to speak with customers directly as well.
Step 4: Segment users and engage them with relevant educational content
Now that you've created user personas, spoken to customers, and coordinated with multiple internal teams it's time to segment your users into different categories.
This will make customer education easier since you don't have to address all personas simultaneously whenever you release new customer education content.
Behavioral segmentation is one of the most popular approaches for B2B use cases. For example, there may be a group of users that tried a key feature once but never used it again in the future.
You could put all these users into a single behavioral segment and try to retarget them in the future with the hope that they begin using the previously-ignored feature.
Creating an interactive walkthrough or tutorial video on how to use the feature they struggled with may be exactly what they need to start using that function of your product regularly.
Step 5: Measure the results and improve
With the customer education program up and running, it's essential that you periodically check in on how it's performing. Checking in on how the program is impacting the KPIs you've set on a quarterly or annual basis will tell you if customer education is making a difference.
These KPIs may be retention metrics like churn rate or more growth-oriented data like the increase in revenue through upsells. Don't forget to look at broad customer satisfaction metrics as well like NPS scores and CSAT survey results.
Beyond checking raw metrics, you can also take a goal-tracking approach to see how effective your customer education efforts are. Check what portion of users hit a certain milestone before you launched the customer education program versus after you launched it.
You should also strive to collect feedback on the customer education resources you publish through in-app surveys. These insights will help you improve on existing resources and identify gaps that need to be filled with new educational content.
Customer education best practices for driving loyalty and retention
If you want to increase loyalty and retention amongst both new and existing customers, here are seven best practices that can make your customer education program more effective:
Guide users to the activation point with a checklist
Having an onboarding checklist in your app will push users towards the most important features early on to make your product more sticky. It also shortens the time-to-value (TTV) since onboarding checklists reduce the lag between signing up and discovering core features.
Last but certainly not least, checklists also give users a visual way to track their progress and stay motivated throughout the onboarding process. Without a checklist or progress bar, users will have no way of knowing how far along the onboarding process they currently are.
Educate users on specific features with tooltips
Whenever a user interacts with a feature for the first time (e.g. by hovering over it with their mouse or clicking on the element) you can use tooltips to teach them how to get value out of it.
A simple text snippet explaining how to use the feature and what benefit it brings can be extremely effective at promoting repeated usage. Here's how we use tooltips in our own onboarding flow at Userpilot.
Use an interactive walkthrough to shorten the learning curve
You can use interactive walkthroughs so users are able to learn by doing and familiarize themselves with the product at their own pace. Interactive walkthroughs can also reduce friction and serve as a passive customer education initiative.
Here's an example of an interactive walkthrough from Rocketbots.
Offer continuous customer education with an in-app resource center
There are many benefits to having a knowledge base but one of the best force multipliers you can use is having your customer training resources inside the app itself.
In-app resource centers are more effective than external knowledge bases since the resources will be more accessible to your users.
Make sure to structure your knowledge base properly as well to help users navigate around it and find the resources they're looking for. Grouping resources into modules will make the customer training process and other self-support objectives a lot easier on both ends.
A few examples of resources that can be used for your customer education initiative include:
Tutorial articles
Instructional videos
Case studies
Webinar recordings
FAQ answers
Use in-app video tutorials for better engagement
An effective customer education program never relies on text alone. Video is often a faster and more engaging way to deliver information to your users. Video tutorials can also be more entertaining than written resources which makes the learning process feel more fun.
Learning how to use features through video also makes it easier for users to do the steps themselves without needing to hop between browser tabs. This makes it ideal for step-by-step tutorial formats.
Localize the training materials for a better user experience
If your customer education initiative isn't localized then you could be alienating large swathes of your user base with the resources you publish.
Employing product localization best practices in your customer training program will ensure that the cultural and linguistic differences amongst your users will be taken into account throughout the entire customer lifecycle.
Fortunately, there's plenty of specialized software like Userpilot out there that's capable of automatically translating resources into a user's local language. Here's an example of what product localization looks like in practice.
Gamify the learning experience to motivate users
If you're already utilizing gamification strategies for your marketing efforts, why not take it a step further and use the same methods to incentivize customer education?
Offering badges for completing tutorial modules, going through in-person training, or reaching product milestones will keep your users motivated throughout every step of the process.
You can also implement a point system that offers users monetary rewards like discounts on their next renewal, cashback on their previous billing cycle, or a one-month free trial for one of the more expensive plans on your SaaS pricing page.
Here's a great example of gamified incentives from ClickUp.
Great customer education program examples from SaaS companies
If your customer education team isn't quite sure where to start, looking at examples of successful programs that already exist could be a great way to draw inspiration. This section will look at examples from:
HubSpot
Kommunicate
Ahrefs
HubSpot's certification program
HubSpot's training platform, known as HubSpot Academy, has plenty of courses both on various marketing strategies and dedicated modules that help you master their software products.
Whenever users complete a course in HubSpot Academy, they're rewarded with a badge and digital certificate. This has the dual benefit of providing a sense of accomplishment while also increasing their career prospects in the future.
Kommunicate's in-app customer education program
Kommunicate uses an in-app user training approach to teach new customers the basics of using their software.
They have also implemented an onboarding checklist so users have a sense of direction in terms of what their next step is.
And, finally, you'll find plenty of contextual tooltips around the Kommunicate UI when you hover over specific elements. This provides helpful information at the moment when users need it most.
Ahrefs video academy
Ahrefs' Sam Oh has multiple courses in Ahrefs Academy that help customers learn about the various features the tool offers, dives deep into SEO, and covers specific strategies like link building.
Their latest course (Ahrefs' Certification Course) is currently in beta but already includes over seven hours' worth of training videos. The incentive of becoming an Ahrefs-certified SEO consultant draws in plenty of students that are likely to become paid users in the future.
How to pick the best customer education software for your product
With a multitude of customer education software already on the market, it can be tough to find the best solution for your product. To help you with that, we're going to go over three viable options so you can make an educated decision on which one is the best for your needs.
Userpilot – best in-app training and support software
Userpilot is a 100% no-code product growth platform built for SaaS companies from the ground up. It lets you create custom onboarding flows and add contextual UI elements like checklists, tooltips, or full-blown interactive walkthroughs.
Additionally, Userpilot also lets you segment your users so you can provide a more personalized experience to each one. You'll also be able to build a knowledge base within your app, track user engagement with your resource center and draw valuable insights.
Pendo – best customer education software for mobile onboarding
Pendo is a product adoption platform with a greater emphasis on analytics rather than in-app user engagement elements. In addition to having fewer in-app tools than Userpilot, it tends to have fewer features geared toward product education as well.
However, Pendo's software works for mobile apps so if you're planning to build your SaaS company on a mobile platform then it's the best tool for the job. The downside is that Pendo plans, despite having fewer features, tend to be more expensive than competitors.
TalentLMS – best external learning management system (LMS)
TalentLMS is a cloud-based learning management system (LMS, hence the name) that organizations use to deliver courses, seminars, and other mediums of training to their customers.
Its free plan lets you add up to 1o courses which should be enough for most small-to-midsize SaaS companies. TalentLMS also has four paid plans ranging from $69 to $459 per month.
Some of its paid features include:
Unlimited courses
SSO support
Custom domains
Mobile app
Custom reports
And more
Conclusion
As you can see, prioritizing user education throughout the entire customer lifecycle is undoubtedly worth it in the long run. The time and resources it'll cost to invest in customer education are far outweighed by the benefits an effective program can have on your revenue.
If you're ready to start prioritizing customer education and in-app guidance, it's time to get your free Userpilot demo today!