How to Create an Effective Onboarding Tour That Activates and Retains SaaS Users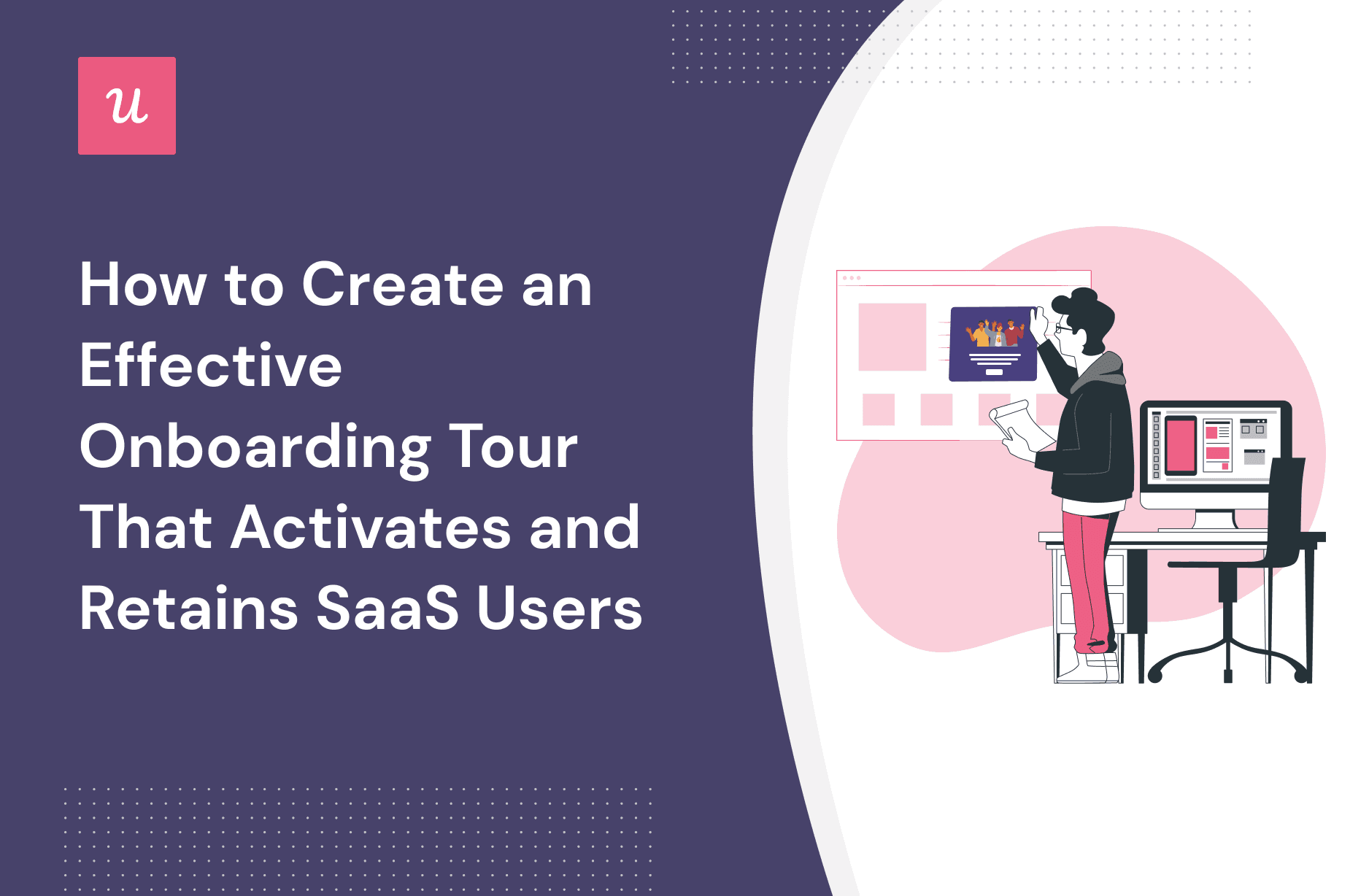 Let's face it: an onboarding tour is a key to unlocking your product's sustainable growth.
Not only can it make or mar the first impression users have about your product, but it's also the first channel for obtaining real-time product feedback for your product teams.
By the end of this post, you'll be armed with enough knowledge, the right tools, and be inspired by great user onboarding examples to build engaging onboarding tours.
TL;DR
Onboarding tours are the in-product guides that help users get started and discover the value of your product.
Effective product tours help to improve the activation and feature adoption rates and boost user retention.
UI elements are critical in designing a great user onboarding experience, and the most common types are modals, tooltips, hotspots, and banners.
Our step-by-step process for building an onboarding tour centers around personalized user onboarding experiences, user segmentation based on Jobs To Be Done, the use of checklists, and feedback collection.
The secret to good user onboarding is to create a contextual onboarding experience. You can do this by making the product tour interactive, adding a resource center, gamifying the process, and constant iterations through A/B tests.
There are standard onboarding metrics you should take note of which determine the success of a product tour such as activation rate, user engagement score, churn rate, etc.
Our customer success platform, Userpilot enables you to create product tours, build interactive walkthroughs, and measure the success of what you've built.
What is an onboarding tour?
An onboarding tour is an in-product guide for first-time users that allows them to become acquainted with and derive value from the product's features.
It's the first impression users will have with your tool, and it can be a deciding factor in whether they explore other parts of the customer cycle or move to a competitor.
What are the benefits of creating product tours?
The first step to building a great product tour is understanding what your users stand to gain from it. So, here are some of the biggest benefits of user onboarding:
Onboarding tours help new users reach activation faster
Product tours guide users to the activation point by prompting them to take key actions that bring them value.
In essence, an onboarding tour allows customers to experience value with minimal cognitive load before they lose interest.
Reduce friction in the user onboarding process and drive retention
One of our recommended user onboarding best practices is having users experience a frictionless signup process.
You can make this happen by teaching them how to get the most out of your product in an interactive way, as opposed to expecting users to understand your product by chance.
This will also maximize your chances of retaining those customers.
Improve new feature adoption rate during secondary onboarding
With a product tour, you can walk users through all the new rollouts or unused features so that they can begin using them immediately. Rather than leaving it to fate or hoping they stumble on it, and try it out at their own pace.
Types of UI patterns used in an onboarding tour
Before building a product tour, understanding the different elements at play in your product's interface is one step you shouldn't overlook.
Check out the most common UI onboarding elements.
Modals
A modal is a large rectangular UI element that appears on a window or display page and is meant to disrupt user activity.
You can use them to announce big updates, make welcome screens, or collect feedback. Their positioning makes them great for capturing user attention while delivering information.
Tooltips
As the name implies, a tooltip is used for delivering product insights and removing friction with small contextual hints.
Let's say users often get stuck at a step during onboarding. You can embed a tooltip that will temporarily appear when they hover over a tab or option.
Hotspots
Hotspots are attention-grabbing elements shaped like dots or beams. They flash or beam at intervals to subtly draw your users' attention to a feature.
Banners
A banner is an effective way to display information that your users need to see, without interrupting their work. Banners are frequently used for updates or notifications – i.e. upselling new features, and sharing information about upgrades.
A Step-by-step guide to building your product tour
Now that you're sold on the benefits of a product tour, let's walk you through the process of creating one.
Greet new users with welcome screens and collect important user data
Give new users a good impression by greeting them with a welcome page containing a nice, personalized message.
A common personalized messaging technique you can adopt here is addressing users by their first name; or based on the pricing plan they are on.
After which, you can start gathering basic data about them by asking a few targeted questions to understand their primary goals and pain points.
Segment users based on their jobs to be done
Based on the data collected with the welcome survey, break customers with similar jobs to be done into user segments.
Then, you will be able to trigger a personalized user onboarding process that is relevant to each user persona.
With the advanced segmentation tool in Userpilot, you can segment users into various categories based on their engagement, their feedback response, or company type.
Offer personalized onboarding tours for each user segment
Personalization is key; the result from this Salesforce research shows that fifty-two percent of consumers are likely to switch brands if a company doesn't make an effort to personalize communications to them.
With the user persona you've built from the above steps, it's easy to personalize the onboarding experience in a way that helps new users obtain value from your product based on their unique needs. It's also a good way of meeting user expectations for signing up for your tool.
For instance, if you use a project management tool, a product manager will have a different onboarding flow from a marketing manager.
Use checklists to engage each user persona with relevant key features
To optimize the onboarding flows you've created, use checklists with progress bars to make the process clear and detailed while keeping users engaged.
Onboarding checklists drive users to the activation point and highlight the useful features users need to solve their pain points. The most important thing is to keep them short and straight to the point.
Drive feature discovery and adoption with interactive walkthroughs
Use interactive walkthroughs to guide users step by step to engage with a feature for the first time. The checklist prompts them to take action and discover relevant product functionalities for them, while the walkthrough shortens the learning path by removing friction and increasing adoption.
The result?
Users get to the activation stage where they experience product value.
Set up measurable milestones and track goal completion
You should set goals for your customers and measure their completion. Goals in SaaS are conversion points along the customer journey that you want your users to reach.
They are tied to conversions and have an impact on the primary business objectives.
Based on the goal completion rate, you can determine if your user onboarding flow is successful or if you need to make changes to it.
Collect user feedback regarding their onboarding experience and improve
Follow up with customers after onboarding, and understand whether the tour helped them unlock the value they signed up for.
You can do this using a simple microsurvey with smiley faces as Hubspot does.
Ideally, ask qualitative questions too to get actionable insights and proactively improve your onboarding using these insights. Remember to keep this survey short and interesting to avoid boring users out.
Effective strategies for creating onboarding tours
To increase your chances of creating an effective onboarding experience, here are some strategies you should implement:
Replace linear onboarding tours with interactive walkthroughs
Say no to long and generalized product tours while onboarding users; users find them boring and abandon them in the middle.
Instead of an 11-step user onboarding process that confuses and overwhelms users with too much unnecessary info, create a product walkthrough that responds to the in-app behavior of the user in real-time.
Combine product walkthroughs in a resource center users can access on demand
Sometimes, users may accidentally exit the product tour or simply may not need to go through it at the moment. Or they simply may feel the need to come back to it and experience it later.
Whatever the case may be, create an easily accessible and searchable in-app resource center where users can access those tours when they want to.
Trigger in-app experiences contextually
Declutter your product's UI, one experience at a time for the right user. Prioritize and make sure you don't overwhelm users by including too much, too soon. Your onboarding tour should direct users to take one action at a time.
Here's a good example of a cluttered UI from Zoom. When just logged in to zoom, users want to join a call not engage with random tooltips at the same time.
Apply gamification to your product tours to improve user engagement
Keep users engaged by adding fun elements to your onboarding experience. Gamification can be in form of celebratory modals when they complete a key action, badges, certificates, and other fun in-app experiences.
This motivates users to further explore your product.
Include in-app video tutorials in your onboarding tours
Videos are great for explaining complex things in a simple way. They are also more engaging, make it easy to replicate things, and shorten the time to value. Therefore it would be beneficial to include them in your onboarding tour.
You can embed them into various UI patterns mentioned in this article like modals or tooltips. You can even use AI-powered video tools like Synthesia to automatically generate video guides by just typing in text.
A/B test different versions of your onboarding flow
To do this, first, create multiple tours with different UI patterns and content types.
Then offer those tours to different user segments. After which, you can compare how they achieve the goals you set and identify the tour which results in a higher completion rate.
How do you measure the success of your user onboarding process?
You've done the hard work, and put everything you need in place. But how do you know if it's been a success or not?
So, here are some of the SaaS onboarding KPIs to track:
Activation Rate: this highlights the percentage of users taking action to get value from your product.
Trial to paid conversation rate: you use this metric to show how many of your trial users are turning into paying customers. Knowing this helps you forecast your revenue.
Feature engagement: for evaluating how well users engage with your different product features.
Customer Onboarding Completion rate: this is one of the most important indicators of the success of your onboarding process. It gives you an estimate of how long it takes users to complete their onboarding.
Customer satisfaction score: this tells you how well users fared during product tours. You can make use of a customer satisfaction survey for getting the data about this.
Inspiring user onboarding examples from SaaS companies
To show you what user onboarding done right looks like, we've highlighted two of our favorite SaaS user onboarding examples. Check it out.
Kommunicate's interactive onboarding experience
As a chat-based customer support tool suite, Kommunicate prioritizes feature adoption during its onboarding process. Here's how they do it:
Early Wins: the core functionality of Kommunicate is its chatbot integration and they make this an important part of their product tours. By ensuring new users add the integration button to their site, they unlock activation and feel a sense of accomplishment early in their onboarding journey.
Gradual Engagement: they go on to slowly point users to explore the different product features, especially those paying customers to enjoy using. In 5-7 steps during onboarding, they deliver upfront value with core features loaded with benefits their customers enjoy the most. This in turn boosts both their feature adoption rate and conversion rate.
Engaging Interface: they make use of the right UI design elements to make onboarding seamless and engaging for their users.
Tolstoy's video onboarding experience
As a video creation tool, Tolstoy went all out in creating a user onboarding experience that is both interactive and relatable for their users. For each feature you choose to explore, there's an onboarding video with messages from actual humans welcoming you to the tool and guiding you on what you need to do to get started.
The two biggest takeaways here include:
Make Onboarding Super Interactive For Users: Tolstoy's onboarding videos are a brilliant example of onboarding done right. It's a mixture of the regular UI elements displayed in a non-distracting way. Plus an illustration of how well their video works when put to the test. And finally, an accompanying microcopy that anyone can easily understand.
Personalize the user onboarding experience: Tolstoy allows users to create their own user journey based on their unique needs. So they can either create from start or select from available templates.
Best tools for building an interactive onboarding tour
The right techniques and style are just one part of the mission, arming yourself with the right tool not only makes for an interactive product tour but also guarantees success.
With that said, here's our pick of the best tools for building a product tour.
Userpilot – best value for money for advanced in-app customer onboarding
Userpilot was built specifically for SaaS product teams aiming to improve their user onboarding experience. You can easily craft a broad range of user onboarding experiences and in-app flows without needing to write a single line of code. With this tool, you can create:
Massive range of UI patterns: Build in-app flows utilizing modals, tooltips, slideouts, banners, and more. You've also got access to more advanced interactive features like a knowledge base, customizable checklists, and bespoke surveys.
Advanced segmentation: build customer segments based on in-app behavior, survey response, user persona and trigger personalized and relevant onboarding experiences for each segment.
In-app monitoring: Create and track combinations of clicks, hovers, and form fill, then analyze all these behaviors with your own custom events.
You can also construct interactive flows that launch automatically when a specific event occurs.
Pendo – best for mobile app onboarding
Pendo is a comprehensive digital adoption platform with impressive analytics, in-app feedback, and product adoption features. This includes:
Mobile functionality: it's impressive such a powerful tool works on mobile.
Pendo has recently released a free version for a small number of users and limited features.
Extensive analytics options are available.
You can easily build product tours, capture NPS ratings, and gather user feedback (feature requests and votes).
Conclusion
At this point, you should be confident enough to revamp an existing onboarding process or create an entire onboarding process from scratch for your team.
So if you need help getting started? Sign up for a Userpilot demo to start creating interactive video walkthroughs and onboarding flows with no code today.