Onboarding KPIs for SaaS: How To Measure and Improve Customer Onboarding Effectiveness?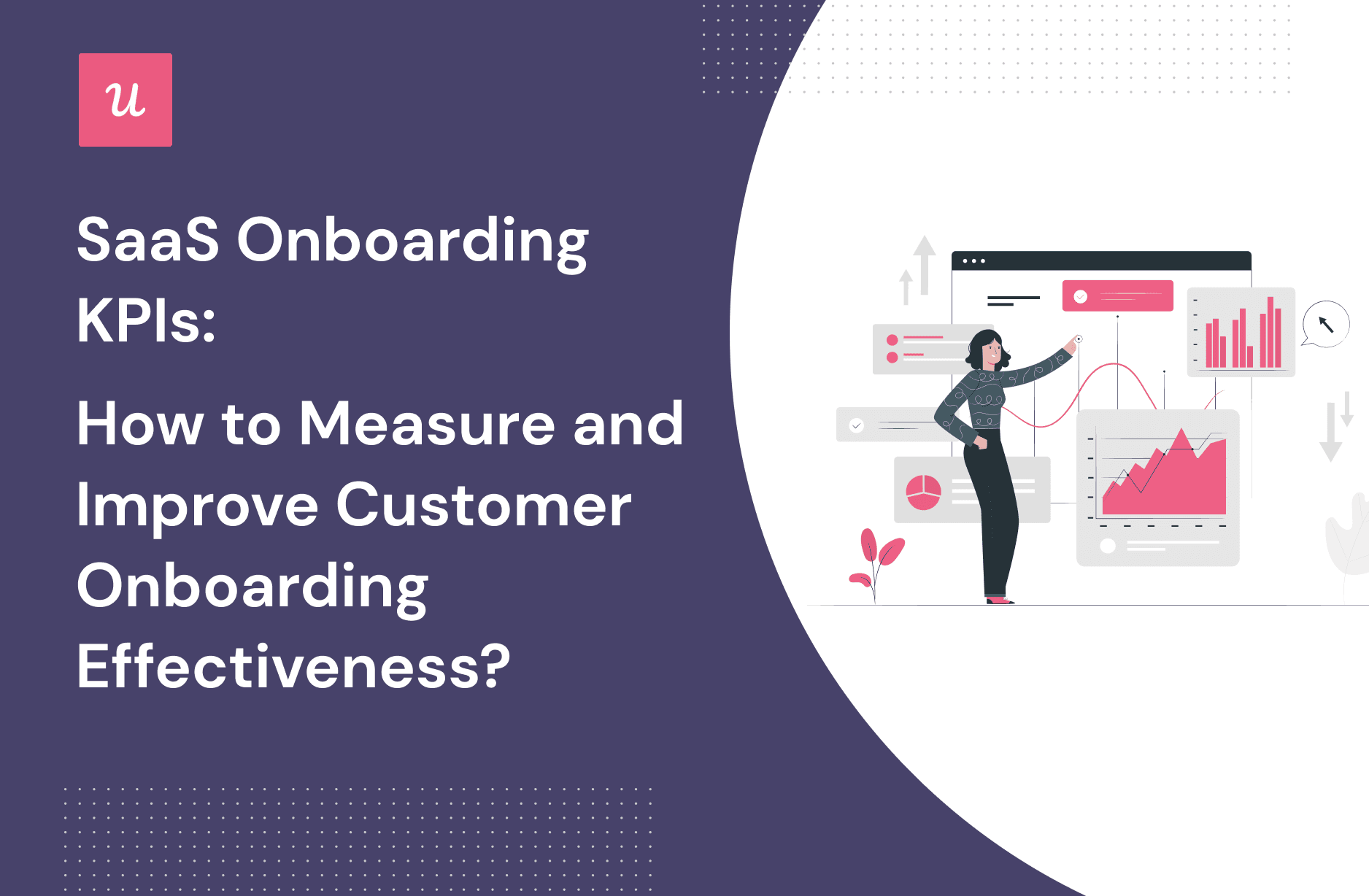 Which SaaS onboarding KPIs should you measure to gauge the effectiveness of your onboarding techniques?
User onboarding can be challenging. If you don't pay enough attention to it, your new customers will get stuck in learning your product which will ultimately lead to a bad user experience and churn. This makes it all the more important to focus on the right onboarding metrics.
Let's have a look at what these metrics are and why they're important.
TL;DR
Onboarding refers to the process of introducing a new customer to your product. The objective here is to help customers become familiar with the software as soon as possible and guide them to the activation point. If you'd like to learn more about SaaS onboarding, see our in-depth guide here!
Tracking onboarding metrics allows you to see the gaps in your product and have a big picture of how easy your new users are getting value from your product.
Onboarding KPIs include a variety of metrics, but the six most important ones are time to value, trial to paid conversion rate, customer onboarding completion rate, customer engagement score, customer satisfaction score, and feature adoption rate.
You can improve these metrics by creating a personalized onboarding process for your users. You can do it by using a variety of UI patterns like modals, checklists, tooltips, etc.
Userpilot is a product growth and adoption tool that allows you to create onboarding flows and product experiences code-free.
What is user onboarding?
User onboarding is essentially a process that helps new users and customers get familiar with your product. Commonly used for SaaS productsand by customer onboarding specialists, it includes tutorials, guides, product tours, and in-app guides to teach customers how to best utilize your product.
At every stage of the customer journey, you should ensure your customers receive the full value of your product. This is what user onboarding does – it gives you a stage to explain what makes you different from others on the market, and how users will benefit from it. For example, a well-designed interactive product tutorial can contribute to a good onboarding experience.
What are onboarding KPIs in SaaS?
Onboarding KPIs refer to metrics that help you monitor and measure customer onboarding effectiveness. There are several metrics you can measure, but we will cover those in-depth later on.
Why is tracking onboarding KPIs important in SaaS?
User onboarding is one of the most important phases of the entire user journey. As the first point of contact with customers, you should ensure a smooth onboarding process. During this time, your customers decide whether to continue using your product or not.
The right customer onboarding data can provide you with insightful information about your product. Further, you're more likely to develop a great onboarding strategy to retain users from day 1, improve product adoption rates, and deliver value to customers faster.
6 onboarding KPIs you need to track for SaaS businesses
There are a variety of SaaS onboarding metrics that can be used to identify areas for improvement and customer pain points. There are six key metrics to monitor when onboarding customers:
Time to value
In SaaS, time to value (TTV) refers to how long it takes for new customers to realize the expected value of your product. In other words, it is the time taken for a user to reach their AHA! moment and start experiencing your product's true value.
Shorter TTV means the customer started getting value from your product quickly. Additionally, this indicates little friction in the onboarding process.
How to improve time to value?
There are some actions you can take to reduce the time to value.
For instance, you can use welcome screens to not only greet users but also segment customers by role, but by use case, and goals. This helps you create a personalized onboarding for your users that better communicates your product's value to them.
Trial to paid conversion rate
SaaS companies usually offer a free trial period for their products. This allows the customer to test out the product without having to commit financially. Trial to paid conversion rate (CR) is the percentage of trial users who become paying customers after the trial period.
Divide the number of free trial users who started paying by the total number of free trial users within the same period and multiply by 100.
How to improve trial to paid conversion rate?
Sometimes, a simple reminder at the right time can increase conversion rates. This is where announcement UI modals come in. These are intrusive popups that you can use to draw users' attention. If timed correctly, you can use them to send the right upgrade message.
Customer onboarding completion rate
The customer onboarding completion rate indicates how long it takes users to fully understand and use your product without any assistance.
To determine this, find out how many days (or any other period suitable for your software) it takes users to get their product up and running without the need for tutorials.
You can design a quick onboarding process to estimate the time it will take for users to complete the process. It can serve as a benchmark for improving the onboarding process in the future.
How to improve the customer onboarding completion rate?
An effective way to increase customer onboarding completion is to use a customer onboarding checklist. Checklists encourage new users to explore key features and drive them to the activation point.
For example, Loom uses customer onboarding checklists to help new customers get started with their product. They can get to the activation point by creating an account, downloading Loom, recording a video, sharing it, and inviting a friend.
You don't need to have programming skills to provide checklists in your app. With Userpilot, you can create checklists code-free.
Customer engagement score
The customer engagement score measures all the interactions throughout the customer's lifecycle. It measures how engaged your users are. This is how you calculate the score.
Identify the most relevant events for customer success first by observing the in-app behavior of users. After that, you assign an engagement score to these events based on how important they are to your product on a scale from 1 to 10. Next, calculate the total event value by multiplying the score for the event by the number of times it occurred.
Then sum up all the event values to determine the customer engagement score for the specific period.
You can increase user interaction and boost customer engagement scores by personalizing customer experiences across all customer touchpoints.
How to improve the customer engagement score?
To improve your engagement score, you need to make sure that your users interact with your app. A good way to do this is by replacing long and boring product tours with interactive ones.
They make the initial customer onboarding process fun. Unlike traditional product tours, it captures the user's attention as their input is required at each stage.
Customer satisfaction score
The Customer Satisfaction Score measures customer satisfaction with a product, service, or feature. This metric is important because it tells you whether your customers are receiving any value from your product.
You can measure your customer satisfaction score by collecting feedback. Customer feedback can be both quantitative and qualitative. You can gather the relevant data by conducting surveys and identifying the reasons behind the answers.
Qualitative methods can include conducting surveys, analyzing reviews, and even emailing customers. Quantitative methods include the Customer Engagement Score (CES), Customer Satisfaction Score (CSAT), and the Net Promoter Score (NPS).
You can calculate the customer satisfaction score by dividing the number of satisfied or happy customers by the number of total customers you've surveyed.
How to improve the customer satisfaction score?
Customer satisfaction scores can be improved by directly asking users about their onboarding experience. After collecting their feedback with microsurveys, you can see how they feel about your product.
Micro surveys enable quick and easy user feedback and sentiment collection within the app.
For example, here's how Hubspot uses micro surveys to gauge the effectiveness of their onboarding.
Feature Adoption Rate
The feature adoption rate helps you identify the features that are most valued and useful among your customers.
The feature adoption rate can be calculated by dividing the number of a feature's monthly active users (MAU) by the number of users who logged in during a specific period and multiplying the result by 100.
The level of feature adoption indicates how much value users find in your offerings. If a certain feature is rarely used, it means that customers do not find it useful. If there are many features that customers don't use, they are more likely to churn.
How to improve the feature adoption rate?
Highlighting your product's main features will result in higher user interaction.
While primary onboarding focuses on guiding your users to the activation point, secondary onboarding helps users discover and engage with your key features that are more relevant to them. So, secondary onboarding is crucial when it comes to converting your users to brand advocates.
Here, Calendly uses a tooltip to remind users how they can utilize meeting polls to schedule meetings easily.
How to level up your in-app onboarding with Userpilot?
Userpilot is a product adoption and growth software platform providing solutions across all aspects of the customer onboarding process. This involves personalizing certain touchpoints to provide better value for users.
You can do this by creating personalized welcome screens, customer targeting, creating tooltips to highlight your core features, and conducting surveys to assess customer satisfaction.
Let's see how you can create better onboarding flows for your SaaS product code-free.
Create personalized welcome screens to greet users
A well-designed welcome screen can make a huge difference when it comes to reaching new user activation, improving customer satisfaction and retention rates, as well as reducing churn. As the first touchpoint on the customer journey, it sets the tone for the entire journey with your product.
Userpilot lets you create personalized welcome screens that facilitate a smooth onboarding process. The tool allows you to segment new users by role, goal, and use case.
This allows for further personalization. The more personalized your onboarding process is, the faster your customers will understand the true value of your product.
Use checklists to drive users to the activation point
Checklists involve small tasks that new users should complete to reach the activation point. With Userpilot, you can create fully customized checklists, and add as many tasks as you want.
No coding is needed. You can just go to the "Checklists" tab in Userpilot and click on the "Create New Checklist" button. Then you can add the mini-tasks, adjust settings, and change the design to align it with your brand style and then hit the "publish" button.
Use tooltips to highlight relevant features
Userpilot offers tooltips that can be used in product tours, secondary onboarding, and account expansion. Tooltips provide contextual help about certain features. The feature is especially useful when creating interactive tours.
You can use these to emphasize certain features of your product. You can also create tooltips as standalone UI elements or integrate them into a larger experience flow.
Use micro surveys to collect feedback and act on it
Additionally, Userpilot allows you to create microsurveys to collect customer feedback in the app. Surveys are customizable, featuring text inputs and radio buttons. Again, no coding is needed.
Additionally, its detailed product analytics allow you to target specific customer segments so that your surveys are shown to the right customers. You can then analyze the data to improve your product using the feedback you've received.
Conclusion
The metrics discussed in this article can help you identify which aspects of your product can be improved. There are a variety of customer onboarding metrics, but these are the most important ones common to most SaaS companies.
A general rule of thumb to grow your SaaS business is to create a seamless onboarding process that helps new users get engaged with your product as fast as possible.
Want to track your SaaS onboarding metrics and boost your product growth? Book a Userpilot demo and see how easily you can do it!