The Leading Onboarding Platforms for SaaS in 2023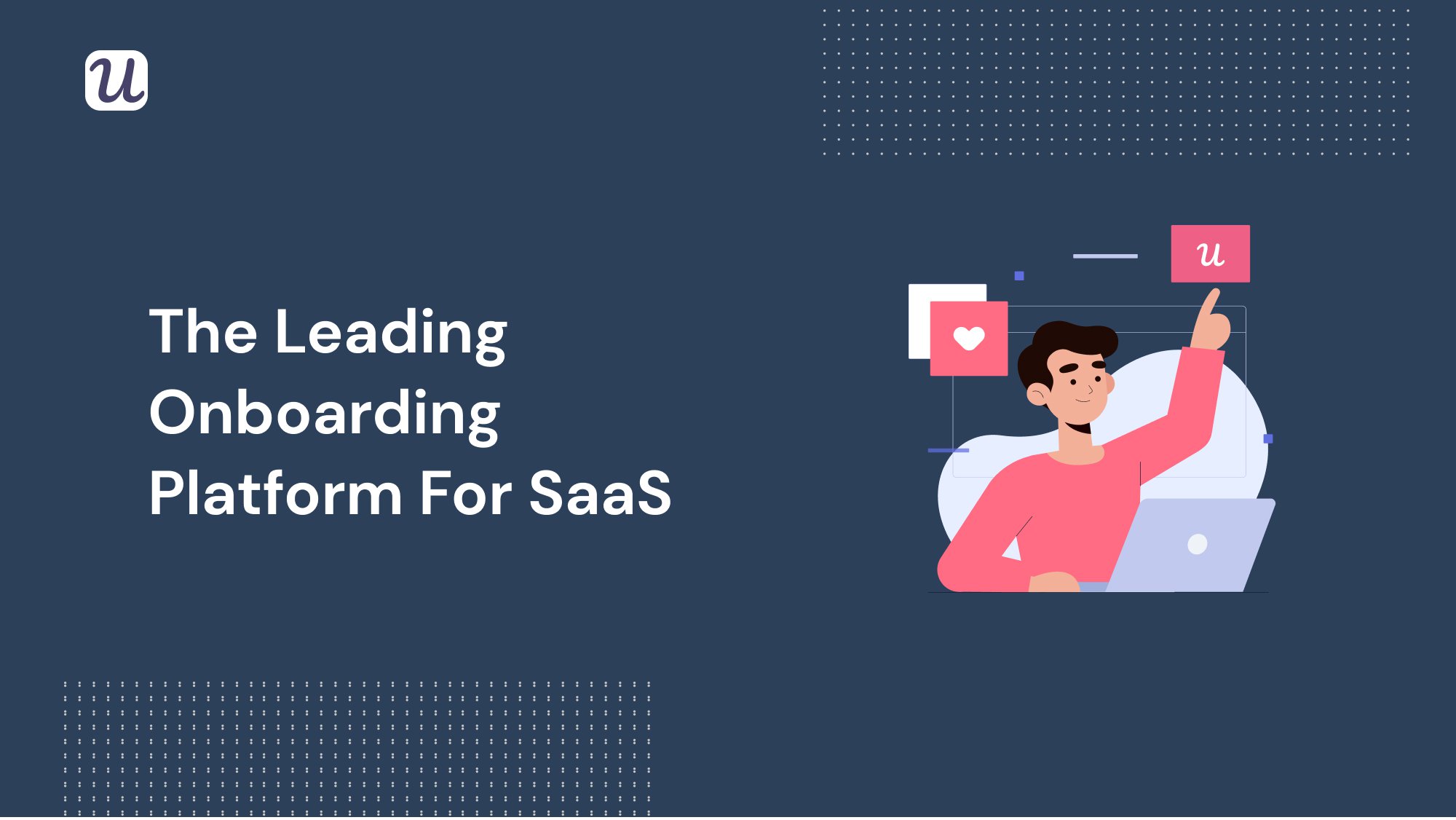 If your SaaS company is starting to see some traction, you've probably considered working with an onboarding platform in order to reduce Time To Value (TTV) for your users.
That's a good idea. The more you can educate your customers, and the sooner they reach the "AHA Moment," the higher your activation and retention rates will rise, and the more money you will make.
That's right: the key to recurring revenue in the SaaS world is intelligent onboarding.
But the million-dollar question is: which onboarding platform should you choose?
TL;DR
If your onboarding platform doesn't segment your users, their experience will be generic and boring.
A welcome screen is an opportunity to learn more about your users and serve them an interactive walkthrough that matches their use case.
Your walkthrough needs to be interactive. This means that you can't give the same generic, top-down product tour to all users.
Use analytics to improve your onboarding experience over time and optimize for activation.
Make sure your chosen onboarding platform is code-free.
The best onboarding platform on the market is Userpilot, which allows you to create beautiful onboarding experiences that are customized to each use case without code.
Other solid choices include Appcues, Pendo, Chameleon and Intercom.
What is an onboarding platform?
To make sure we're on the same page here, let's get some definitions out of the way.
We previously defined 'onboarding' as:
The ongoing process of educating users about a product.
Most commonly, the word 'onboarding' is used to describe primary onboarding, which is the customer education that takes place immediately after the user signs in to your product for the first time.
The goal of primary onboarding is to get the customer to activate by having them experience the value of your product as quickly as possible.
But onboarding work can also take place at a later date, such as when you release a new feature. This type of onboarding is often referred to as "secondary" or "evergreen" onboarding.
An onboarding platform takes all of your customer onboarding needs and manages them all in one place.
Common features include:
Product tours or interactive walkthroughs (more on the distinction between those two later)
Customer communication tools
In-app surveys
Such tools are invaluable for SaaS businesses because they dramatically raise the odds of a user reaching activation and being retained for a longer period of time.
Retention, in particular, is critical for SaaS, because most of the money in SaaS is made from repeat subscription payments, instead of one-off sales.
The remainder of this article will be split into two parts.
The first part will explore what an onboarding platform has to do in order to be deemed as "leading."
The second part will analyze the leading onboarding platforms on the market as of 2023.
Let's go!
Leading onboarding platform feature #1: Segmentation
A good onboarding platform needs to allow you to segment your users by as many user attributes, custom events, and event attributes as you need. It should also allow you to segment users by their NPS score and other survey answers.
Segmenting will allow you to:
Personalize a user's primary onboarding experience to their individual needs by user attributes.
Trigger the right experiences at the right time using custom events.
Launch new features during secondary onboarding only to those users who actually want them – based on their engagement and survey results.
Isolate power users as a distinct user cohort, and examine how such users behave in the onboarding phase so that you can identify new power users as quickly as possible.
Leading onboarding platform feature #2: Welcome Screen
One of the most practical ways to segment your users, and a feature that all onboarding platforms should have, is a welcome screen.
A welcome screen is the initial pop-up message that greets users when they first sign in to your app. Often it will:
Greet the user by their first name
Show a picture of one of your team saying hello
Ask the user about their role, goals, and use case in order to segment them by data that cannot be discovered through behavioral analytics alone
Communicate the user's next steps in the onboarding process
Leading onboarding platform feature #3: Interactive Walkthrough
Once you've segmented your customer in the welcome screen, the next phase of primary onboarding is to serve them with a product walkthrough that matches their specific use case.
An interactive walkthrough is therefore a feature to look out for in an onboarding tool.
A word of warning here. Your onboarding platform should distinguish between an interactive walkthrough and a product tour:
Product tours: generic, same tour given to all users, the same order of activities each time
Interactive walkthrough: tailored to individual users, a limited number of product features shown, the consecutive steps are only shown if the user has performed the desired action from the previous step.
The goal of an interactive walkthrough is customer activation, therefore, it's outcome-oriented, as opposed to an output-oriented product tour.
Leading onboarding platform feature #4: Customer Analytics
But it's not sufficient to have an onboarding tool that just builds neatly segmented walkthroughs.
Your onboarding tool needs to be able to collect user data (in-app behavior analytics – not just during onboarding!), so you can then use that data to refine your onboarding processes and other in-app experiences.
Over time, this will lead to faster activation, reduced churn, and increased customer lifetime value.
A good onboarding platform will allow you to collect user attributes and custom events.
Leading onboarding platform feature #5: No coding needed!
The whole point of using an onboarding platform is to avoid development bottlenecks! Instead of asking your developers to hard-code the flows and experiences you need as a Product Manager/ Product Marketing Manager, you should be able to handle it yourself.
That's why a leading onboarding platform needs to allow non-technical users to build professional-looking onboarding flows and UI elements without using any coding.
This will allow your product team to innovate, optimize and experiment with their onboarding flows without having to wait for the engineers to finish their sprint.
So what are these leading onboarding platforms, you ask? Here are our top 5 picks…
Onboarding platform example #1: Userpilot
Our own tool, Userpilot, provides all of the five features we've just identified at a competitive price point. It allows you to analyze use behaviour, build fully interactive walkthroughs, and all without having to code!
Firstly, Userpilot offers a large number of metrics by which you can segment your users and subsequently categorize analytics data.
Examples include segmentation by:
user attribute (such as plan, ID, email, signup date, web sessions )
custom events and event attributes
NPS score
signup date
individual vs company account
location and app language
whether or not a user has interacted with a UI element or experience flow, or a specific feature (using feature tags).
To read more about exactly how to segment in Userpilot, check out this post.
If you're looking to build a welcome screen to find out what segment your new users belong to, this is also super easy to do with Userpilot.
This is what the template looks like before customization:
If you want to follow your welcome screen with an interactive walkthrough, that's straightforward to do as well. See this post for details.
Moreover, Userpilot allows you to collect customer data during the onboarding process through microsurveys:
Building a micro survey is simple with Userpilot. Check out this post for step-by-step instructions.
Most importantly: Userpilot allows you to build fully interactive, branched, and personalized onboarding walkthroughs.
It offers 4 different UI patterns and 4 actions to give you an opportunity to build truly bespoke experiences:
With user activation in mind, you can set a goal for each onboarding experience you build in Userpilot, and then measure the goal completion per user segments with its super-intuitive analytics panel:
To allow you to organize your onboarding experiences in the right order, Userpilot provides you with onboarding checklists:
It also offers native tooltips for more subtle guidance at later stages of the user journey:
Here's the best part: all these features are available code-free once you've installed our small JS snippet on your website. Everything is done through our intuitive UI builder.
That means that you can create a great-looking customer experience that matches the look and feel of your brand, without bothering your dev team.
Userpilot starts at $249 per month for up to 2500 MAUs and increases with the number of users you have. Unlike with some tools on this list, you can use all Userpilot's features and segmentation without any limitation regardless of how much you are paying. Book a demo today!
Onboarding platform example #2: Appcues
When Appcues came out in 2013, it revolutionized the onboarding platform space.
Previously, onboarding had always involved either interactive walkthroughs or product tours. The range of UI elements available without excessive code knowledge was limited.
Appcues introduced the SaaS world to tooltips, checklists, slideouts, and other elements.
Given that Appcues has been around for a number of years, they've also had time to perfect their UX design.
The biggest downside of using Appcues?
UI patterns, actions, and styling options are limited compared to other platforms on this list.
The in-app styling is restricted to basic elements such as height, color, or position. If you want to do anything more sophisticated than that, you will need to use custom CSS.
This might leave you wondering why you bought a tool that was supposedly "code-free."
Oh, and the price.
Don't be fooled by the $249 in the initial plan. If you want to build more than 5 audience segments and a few flows, you will need to upgrade to the growth plan, starting at $879 per month.
Onboarding platform example #3: Pendo
We mentioned Pendo earlier in this article as an example of a business that successfully organizes product walkthroughs by user segment.
This is an onboarding platform used by big-name companies like Zendesk and Cisco, so we wanted to take a deeper look at it.
Pendo excels in the realm of product usage analytics, which is really valuable for driving insights to improve your onboarding processes and optimize for activation.
With Pendo, it's easy to segment users into groups, track one or more of those groups as they progress through your product, and assess their customer sentiment based on their in-app behavior.
Like Appcues, Pendo runs into issues when it comes to styling your UI elements. It's hard to take this tool to its maximum potential without at least some knowledge of CSS.
We suspect that Pendo might be trying to be all things to all people and that this decision is slightly hampering the quality of their UI. As well as a customer-facing onboarding suite, they also offer employee-facing digital adoption solutions.
That being said, if you're looking for an enterprise-level tool to fulfill a wide range of tasks, especially analytics, this could be a good fit for you.
The enterprise-level positioning is confirmed by Pendo's pricing, which is custom and not disclosed openly on their website.
If you're a smaller SaaS that's strictly looking for a customer onboarding tool, there are better platforms on this list for you.
Onboarding platform example #4: Chameleon
As its name suggests, Chameleon is a tool that prides itself on offering the most detailed level of customization on the market.
And in this sense, it really excels. It can cater to any UI element you can shake a stick at, whether that's a modal, a checklist, a tooltip, or anything else.
This means that it's an outstanding choice when it comes to building welcome screens and walkthroughs.
You could even ask Chameleon to custom-code unique onboarding elements for you, if you wanted to free up your developers' time. (Of course, that kind of bespoke coding doesn't come cheaply).
Given that other companies on this list allow you to build extremely versatile onboarding walkthroughs without any code at all, one wonders why you would spend a huge amount of money and time on a solution that is so custom.
Chameleon also lacks detailed segmentation options. This makes contextual onboarding much more challenging, and I fear that SaaS companies that engage Chameleon might end up with generic onboarding flows that don't adapt to customers' use cases.
Nevertheless, the sheer range of customization options available still means that this is a worthy solution.
Pricing starts from $279 per month for 2000 MAUs. As you would expect from a company called Chameleon, this price is flexible and will adapt to your organization's unique situation as you grow.
Onboarding platform example #5: Intercom
Intercom offers a comprehensive suite of customer engagement products covering three main areas:
Product tours
Engagement
Support
Intercom's onboarding software is known for its product tours, which are notoriously linear:
As you can see from the GIF above – Intercom's onboarding tours push the user to complete STEP 3 of the tour, before they have even completed STEP 1…
These work well for simple products with one (or maybe two) use cases but are wholly inadequate for more complex products with multiple use cases.
However, Intercom's product tours don't allow you to create checklists, modals, slideouts, or any other UI element that's required for non-linear onboarding.
Like some of the other platforms on this list, it also falls short when it comes to styling options. You'll need CSS knowledge to make anything look really custom.
Intercom's cheapest plan costs $87 per month for 200 MAUs, while the Product Tours add-on is a further $149 per month.
Conclusion
If you've made it this far, you should now know:
Which criteria to assess onboarding platforms by
What the top onboarding platforms on the market are today
We hope that you pick Userpilot! It's a really versatile onboarding tool that allows you to build beautiful onboarding flows without needing to code.
The best part: you can try it for free to see if you like it!
Book a demo today to get started.