Appcues Features: Everything You Need to Know About This Popular Product Adoption Tool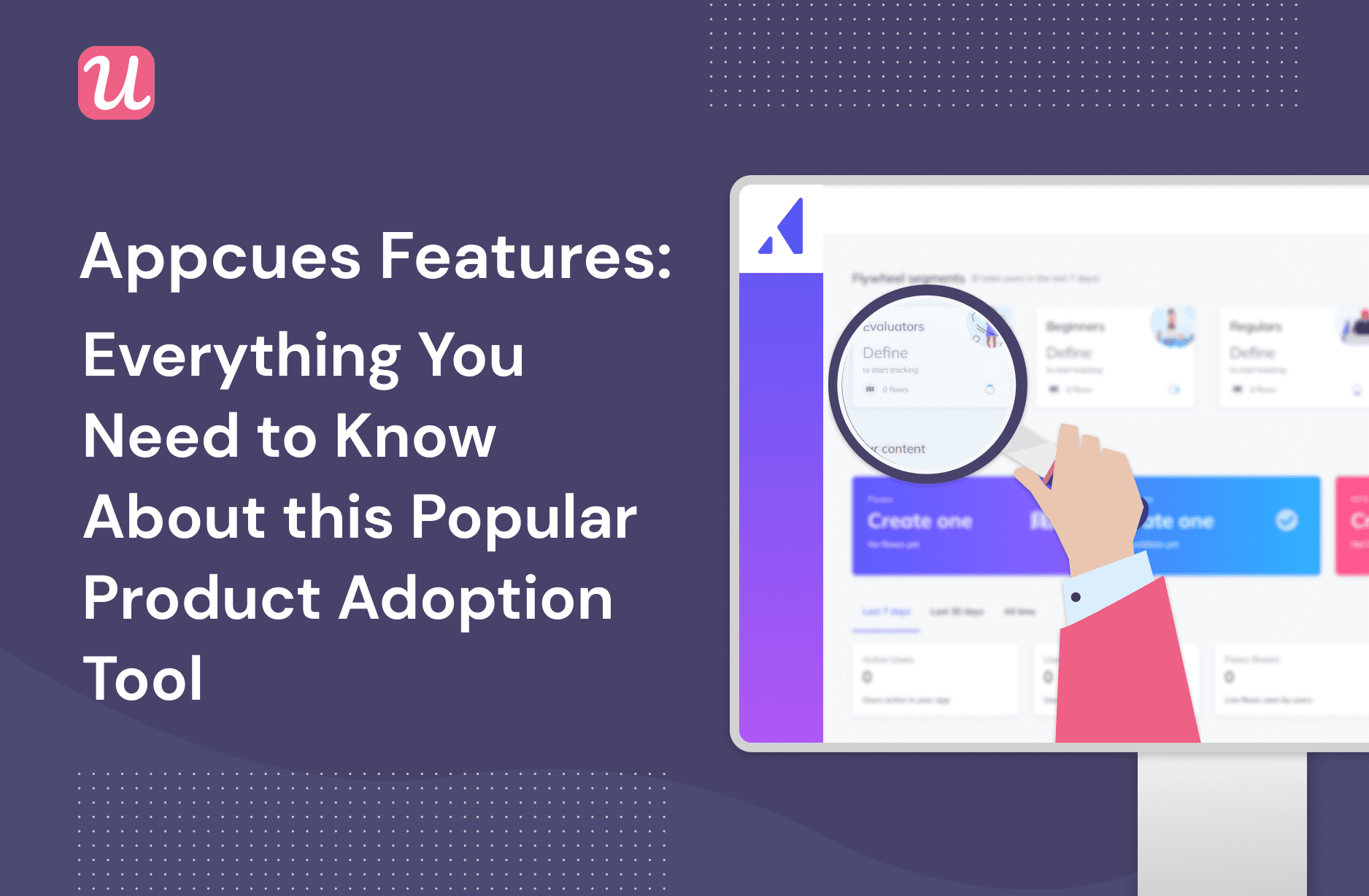 Appcues features include most used user onboarding UI patterns such as flows, NPS, and checklists that the best product adoption tools on the market provide.
But access to all Appcues features comes at a price. Is that worth paying for?
Today we'll ask important questions like this as we dive into all the Appcues key features, benefits, and price structures, and compare it to the closest alternative out there—Userpilot.
Keep reading if you want to have all the details and decide which is best for your business!
TL;DR
Appcues is an onboarding software that's been on the market for quite some time, mostly known for the ability to create product tours using an intuitive UI.
Appcues is best for small businesses or mid-market companies that only need user onboarding solutions.
Appcues main features: flows (limited based on the plan you are on), checklists (available on the enterprise plan), NPS surveys data collection (with limited analytics sections), and events explorer (for tracking feature engagements with no code)
Userpilot is a great alternative to Appcues that offers the same features as Appcues but for a much lighter price tag and with more customizations and functionalities
What is Appcues?
Appcues is a great user onboarding software solution used to educate new users, create product tours, or guide users to adopt new features.
Appcues makes it easy to use onboarding templates; however, it provides a predefined way of thinking about onboarding all while having a higher price tag than other onboarding software.
Appcues key features: Flows
Appcues allows you to design flows that make onboarding processes a breeze. These flows are what you use to create product tours and other in-app communication with users.
Overall, Appcues offers an easy-to-use UI that anyone on the team can handle-marketing team, product team, you name it.
However, when building flows you don't have access to many UI patterns or actions compared to other tools. And they are also restricted based on the subscription plan you are on (more on this later).
If you want to build more sophisticated flows in a code-free tool, you will miss a lot of critical features in Appcues that other onboarding tools like Userpilot have.
A better alternative: Userpilot flows
Our mission at Userpilot is to help companies show the right messages, at the right time, to the right people. We've made Userpilot easy to use, designed for teams that want access to simple and complex user onboarding with more freedom, control and customization.
Freedom: Drag and drop UI elements and customize them however you want, then create different UI elements like tooltips, hotspots, modals, slideouts, checklists, and many more.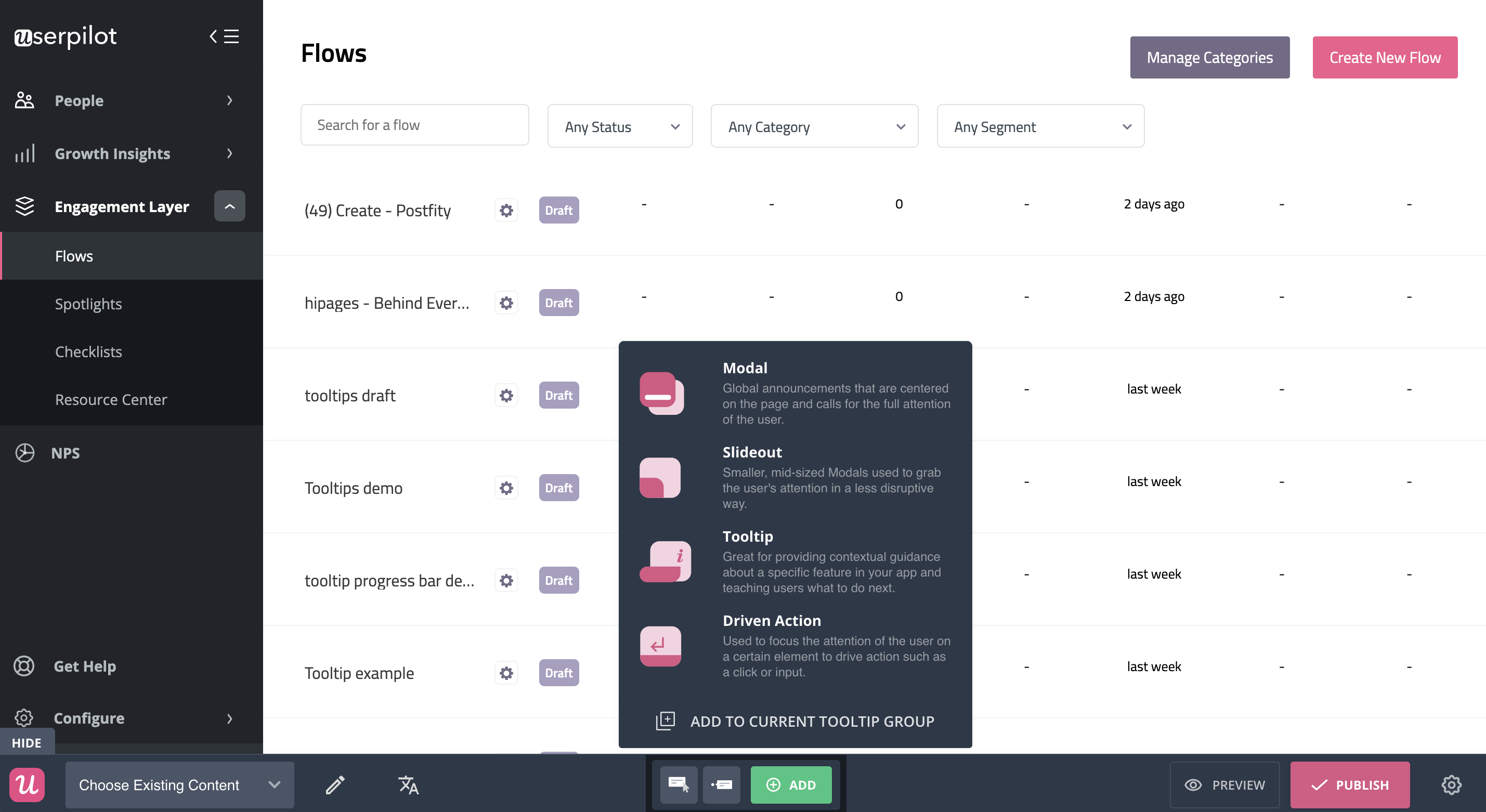 Control: Build behavior-based user onboarding to increase your conversion, user activation, and product adoption rates.
Customization: Segment your users by different groups or behaviors and offer them a personalized in-app experience with contextual in-app messages.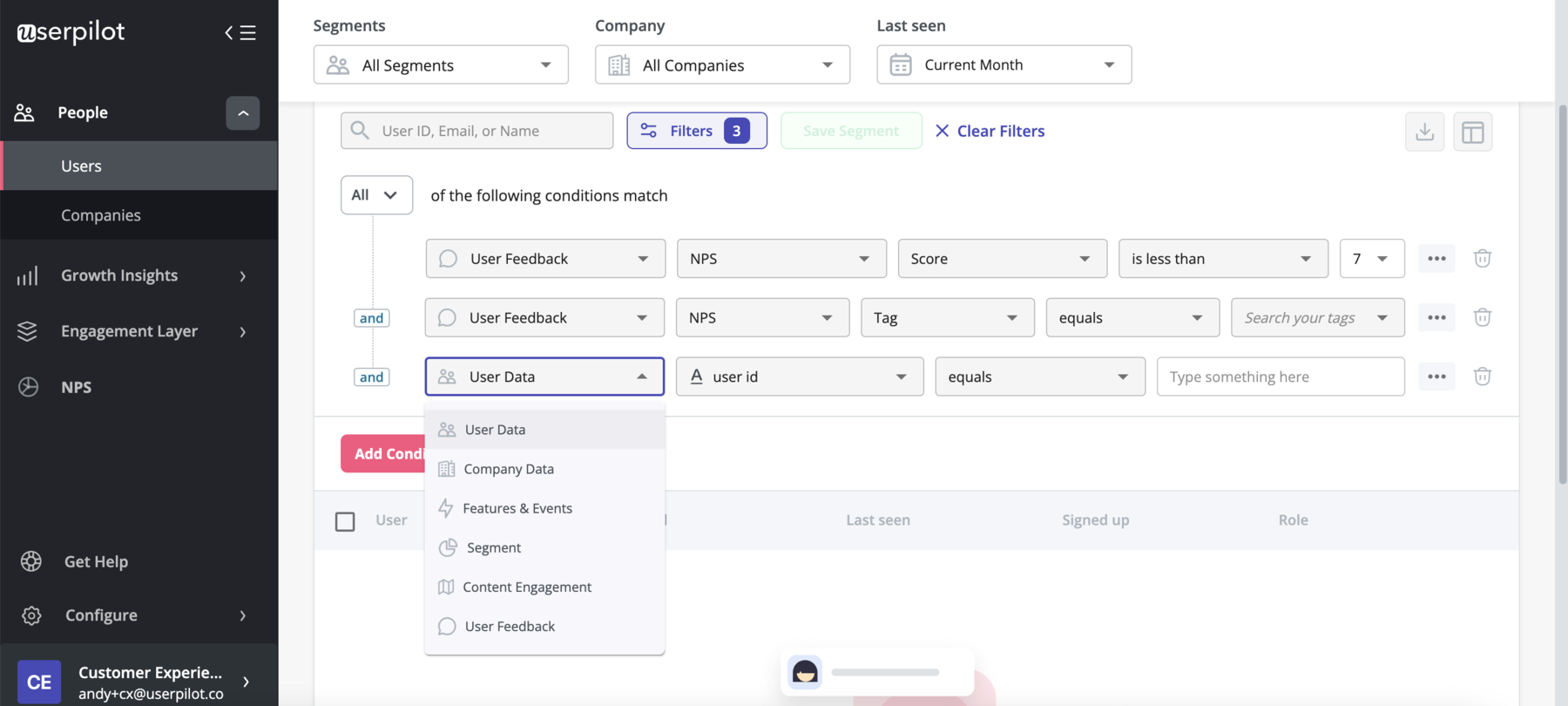 Userpilot vs Appcues flows: How is it different?
Building flows with Appcues is easy, but it can get pricey as you want to build more, and it also lacks some functionalities.
When it comes to building onboarding process flows Userpilot is also a great alternative to Appcues for a few reasons:
Changing design elements: With Appcues, you will need an engineering team to fully customize elements inside using CSS. In Userpilot, you only need one minute to customize the beacon type, colors of an element, position, margin, padding etc without CSS!
Driven actions: In Userpilot, you can build cross-URL user experiences (and show them different in-app experiences). Appcues (nor any other app!) does not include this.
UI patterns: Appuces restricts using checklists on their entry plans and also has limited UI patterns and driven action compared to Userpilot
Resource center: Appcues doesn't have this feature, while Userpilot includes it in all plans
Web solutions: It's important to note that Userpilot supports only web solutions whereas Appcues supports mobile as well.
Appcues key features: Checklists
We've covered Appcues Checklists more in-depth so let's focus on some of the most important aspects you should consider.
Firstly, the Appcues Essentials plan doesn't include checklists and localization. This means if you were planning on building checklists and your app is available in a language other than English, you'll need to upgrade to the $879 per month plan (paid annually).
If you're ready to invest that money, you should also know that the checklist tasks settings are limited:
You can only direct users to an URL or launch a flow that was already created.
No option to create a dummy task (a task that was already completed)
No option to trigger a custom JS function
limited personalization (fonts, icon style, task colors)
A better alternative: Userpilot checklists
The best value for money when it comes to Appcues onboarding checklists alternatives is Userpilot. You can create multiple checklists in Userpilot on all plans.
Useprilot offers unlimited checklists with a checklist setting screen that's easy to navigate. You can also take advantage of more task actions such as launch URL, trigger flows, and trigger custom JS functions.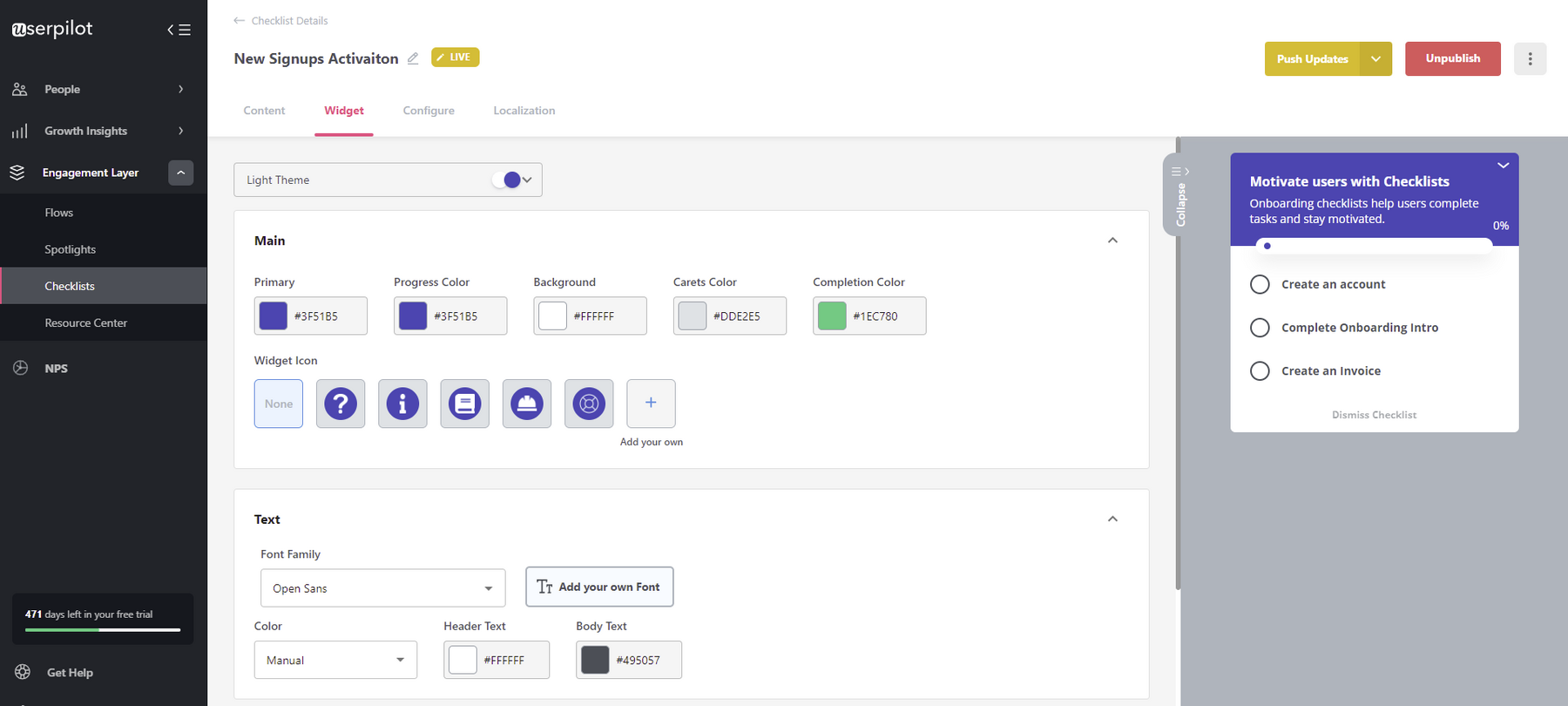 Compared to Appcues, Userpilot offers more customization that requires no coding skills, with customization options like task colors, icon style, and fonts.
And it gives you full analytics of all checklists so always know who is engaging with them and how including viewing the data based on user segments or time periods.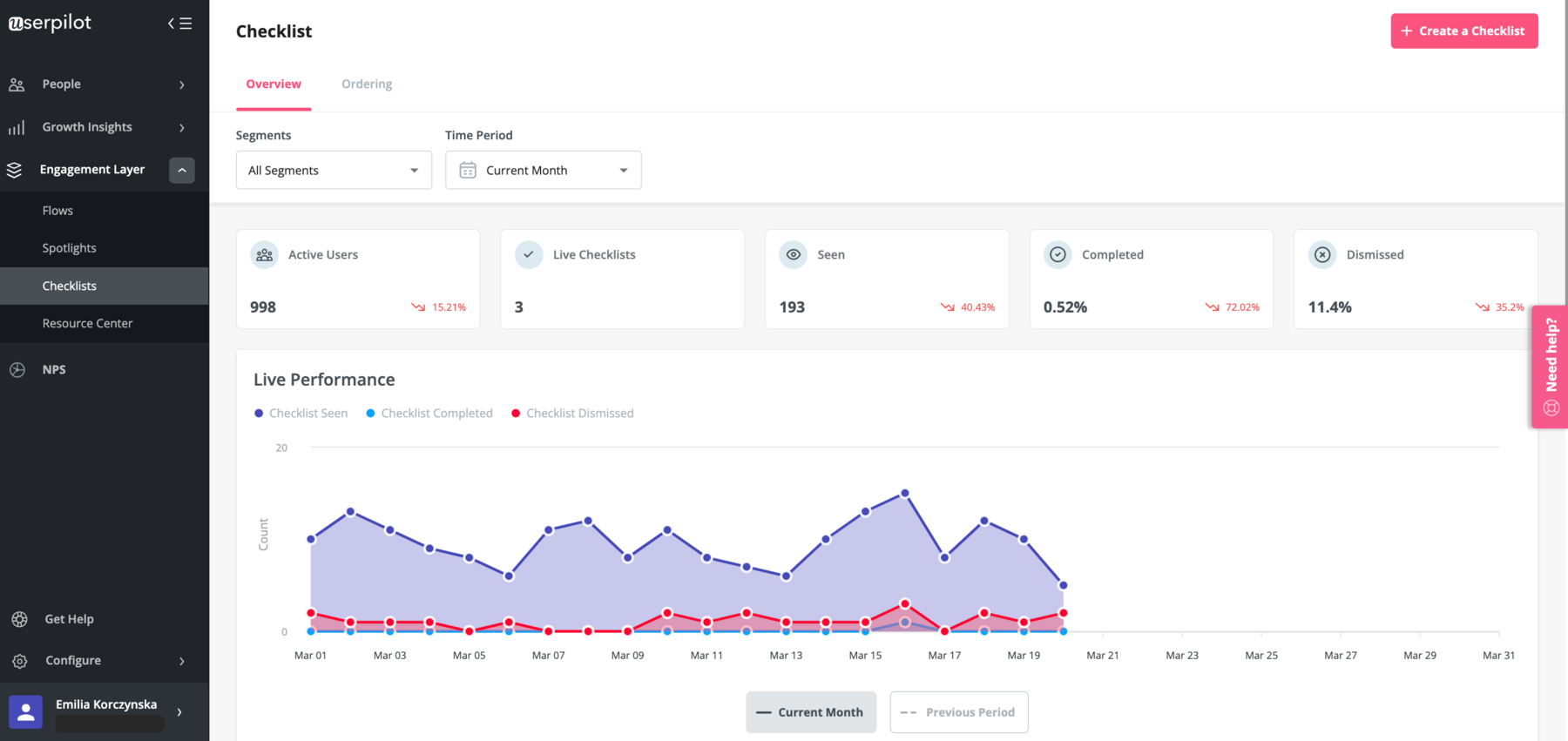 Appcues key features: NPS surveys
NPS (which stands for Net Promoter Score) is a survey based on a 0-10 scale to measure customer loyalty to products or services.
Appcues NPS survey questions can be edited and you can also segment the audience you want your survey to show and adjust the frequency.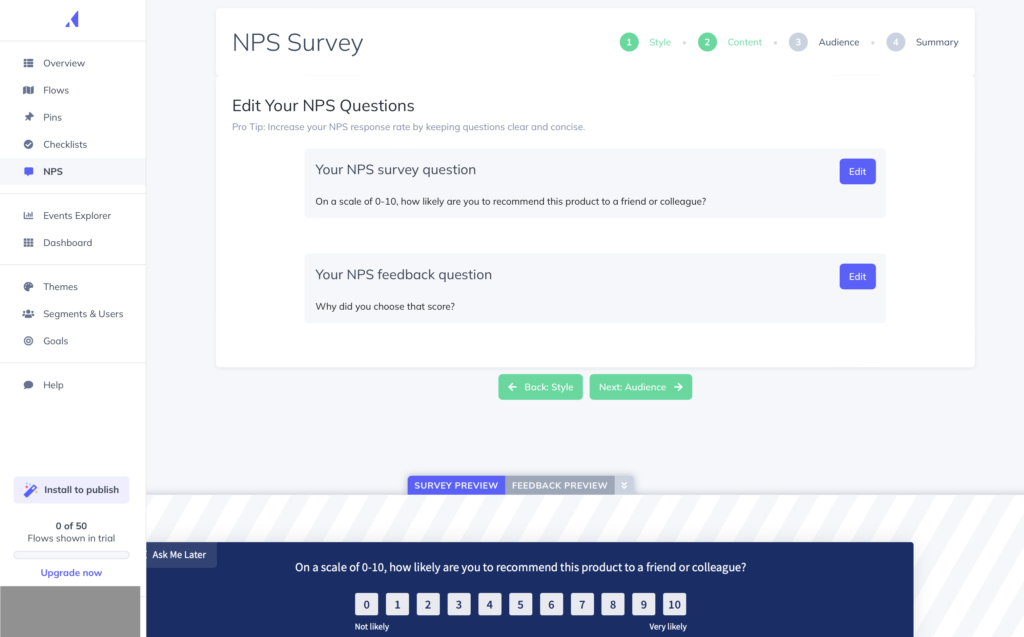 Collecting NPS data is easy with Appcues, analyzing the responses is where it gets tricky. You can't tag responses in-app, you can only download a CSV report and start analyzing – we all know how time-consuming that is.
For more advanced NPS analytics you'll need an Appcues alternative.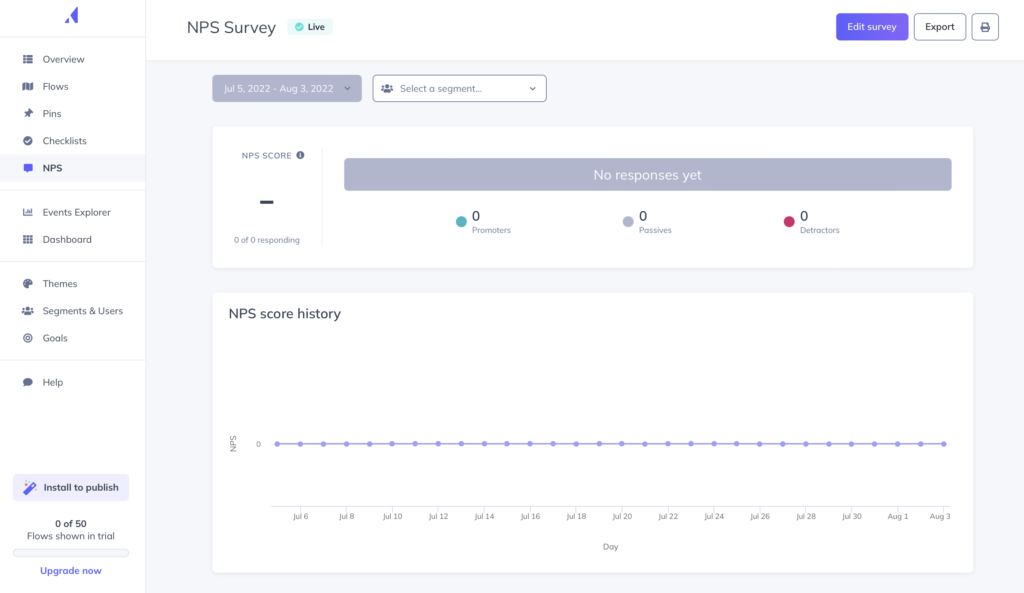 A better alternative: Userpilot NPS
Userpilot NPS surveys are easy to set and offer similar configuration options like Appucues. But there's more you can do with Userpilot NPS than you can with Appcues.
First, the basics:
Edit your survey questions and the Look& Feel of it so it matches your brand.
Userpilot allows you to immediately launch NPS surveys based on custom segments you create, compared to Appcues which lets you choose from one of their standard segments.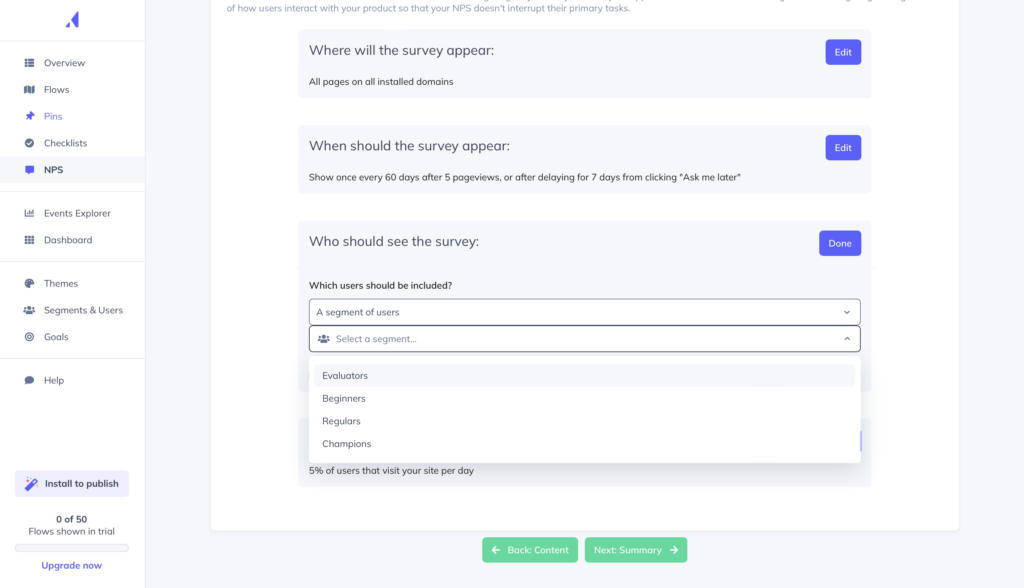 Imagine creating segments for your detractors (yes, you can do that with Userpilot) and triggering the surveys every month to keep a close eye on how their perception of your brand changes.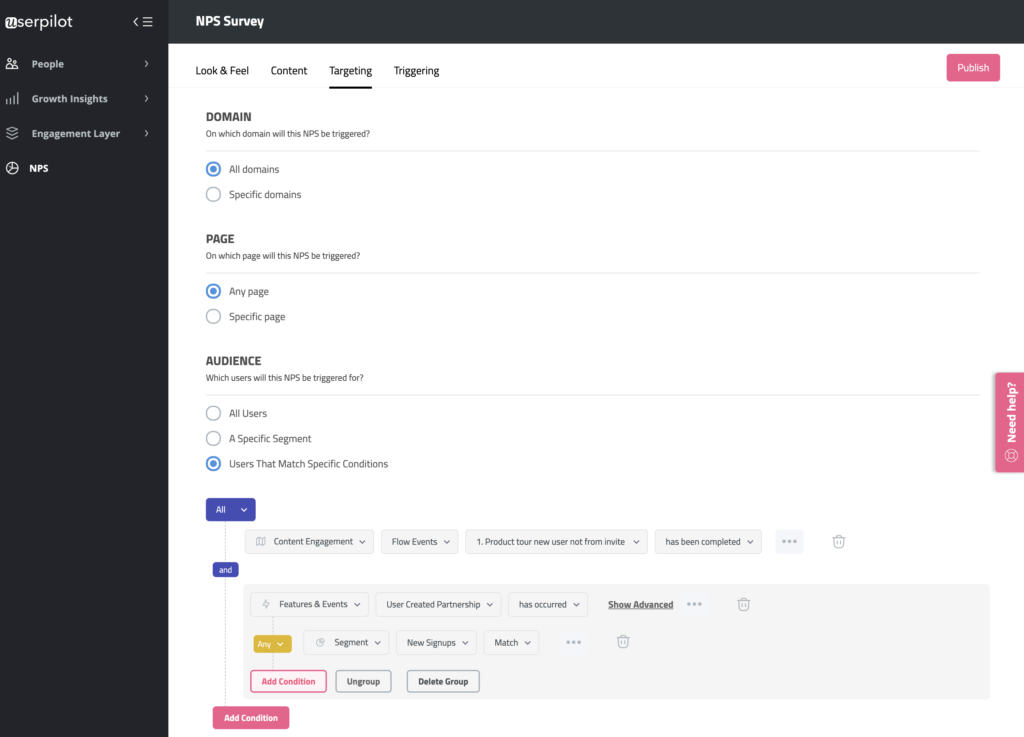 ..and on a specific page (maybe you want to show an NPS when the user logs in, not when they are trying to set up an important email automation campaign (if your product is an email automation tool).
You can tailor these surveys even further by launching them based on the frequency and adjusting the sampling size.
And everything is 100% customizable to match your UI and branding. Why not sign up for a demo to get a free walkthrough of the Userpilot platform?
Userpilot NPS response tagging
Here's where Userpilot shines: you can easily see the breakdown of different responses by score, and then dive even deeper into the qualitative answers.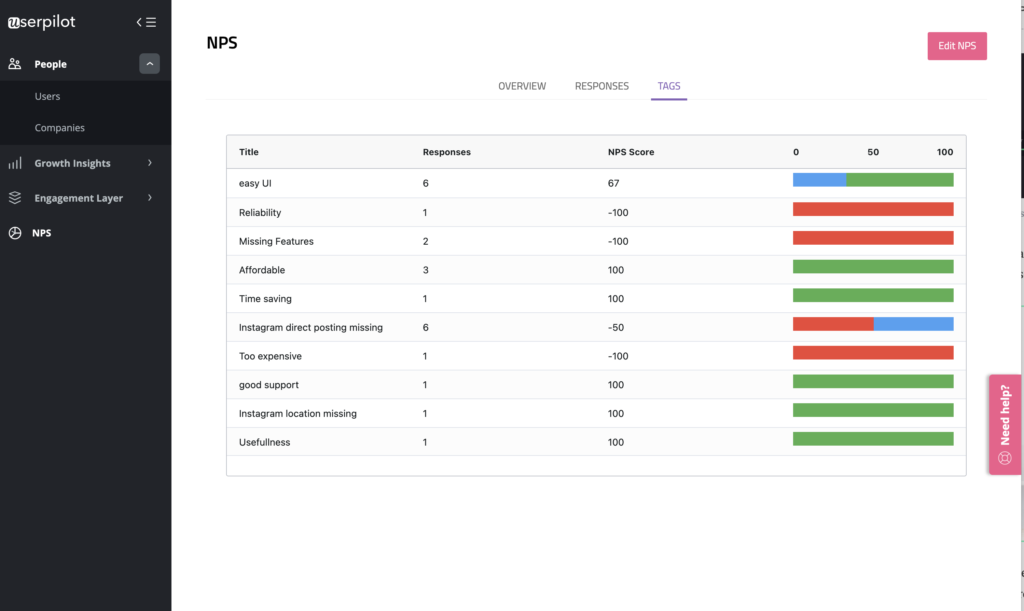 You can tag and organize the individual responses based on common themes, and sort them by relevant keywords in your tags.
You can also organize between your promotors, passives, and detractors and see what the common user behavior patterns and responses are between each group.
Then use the tagging option to tag responses of your detractors by keywords and use that to deliver a better experience.
By creating a segment out of a specific tag you applied to a response you can target all users that mentioned a "" for example, and reach out to offer help.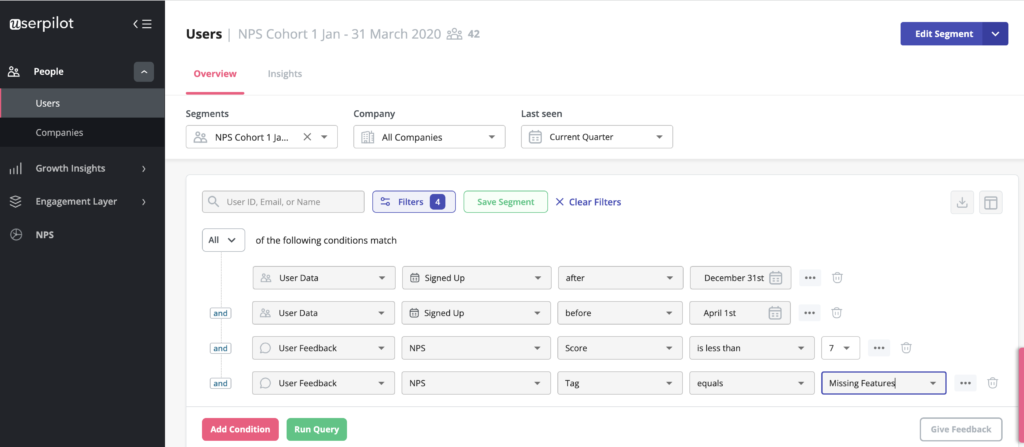 You can use a flow to communicate the features to them they may have missed or communicate to them that these fixes are already planned.
Send them a personalized email or target customers with the right message inside the platform.
Appcues key features: Appcues Events Explorer
One of Appcues' newest features, Events Explorer, makes it easy to view, validate, and visualize events in one place.
Appcues defines events as user interaction with your features or flows inside your product's UI and you can set these up with a few clicks.
This helps with understanding overall feature usage, without the need to set up custom events using code. The Essential plan included 10 events, if you need more you'll have to upgrade to the Growth plan ($879/mo annually).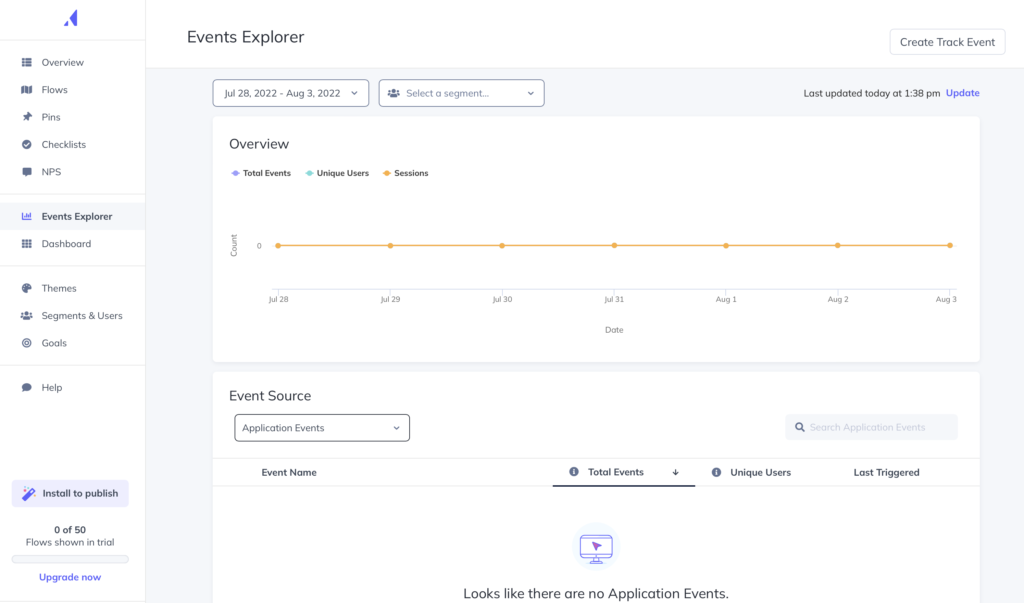 Better alternative: Userpilot Feature Tagging
A great alternative to Events Explorer is Userpilot's tried and trusted Feature Tagging. With it, you can tag any UI element and it'll track how users interact with it.
You get 20 feature tags on the Traction plan ( the lowest) and considering flows analytics like checklist or in-app engagements are included in the analytics already, this is more than enough to get started with and be able to track product usage without asking your developer to set up custom events.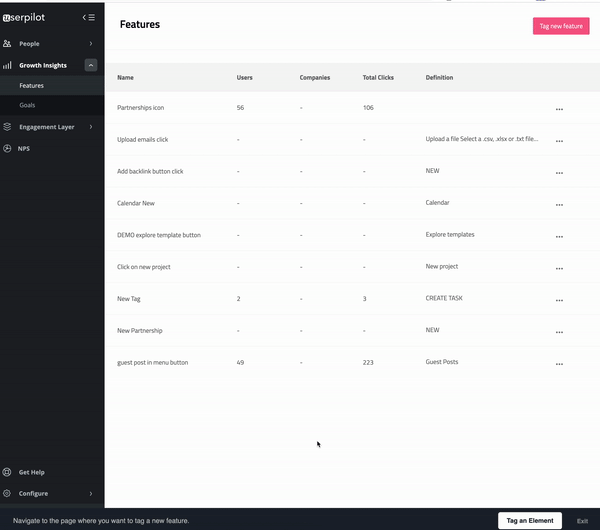 You can then use the tags to create segments of users who interacted with the elements you tagged.
Appcues key features: Appcues Segmentation
Customer segmentation means you divide your customer base into different cohorts and you manage each one according to its individual needs.
Appcues only gives you five user segments included in their Essentials plan, which isn't a lot. It won't be long before you need to upgrade the Appcues pricing for more user segments.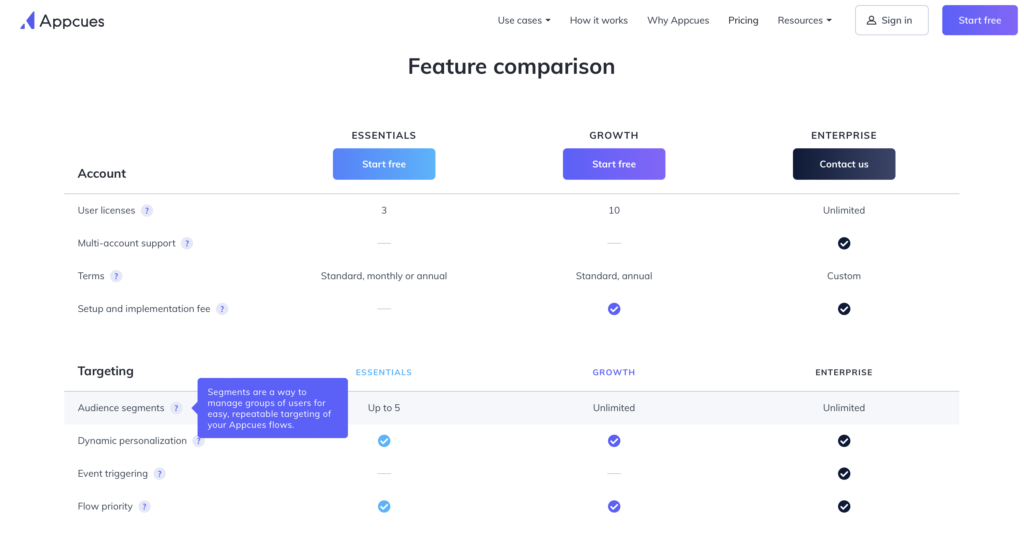 The pre-defined user segments in Appcues (Evaluators, Beginners, Regulars, Champions) are very limiting if you want to access proper user analytics.
Even building segments has its own limitations. You can create segments based on:
user properties: when a survey was completed or when they've seen an in-app flow
language
flow interaction: has been completed or not
checklist: in progress, skipped, completed, not seen
event ( based on the ones you set up using event explorer)
one of the predefined segments (Evaluators, Beginners, Regulars, Champions)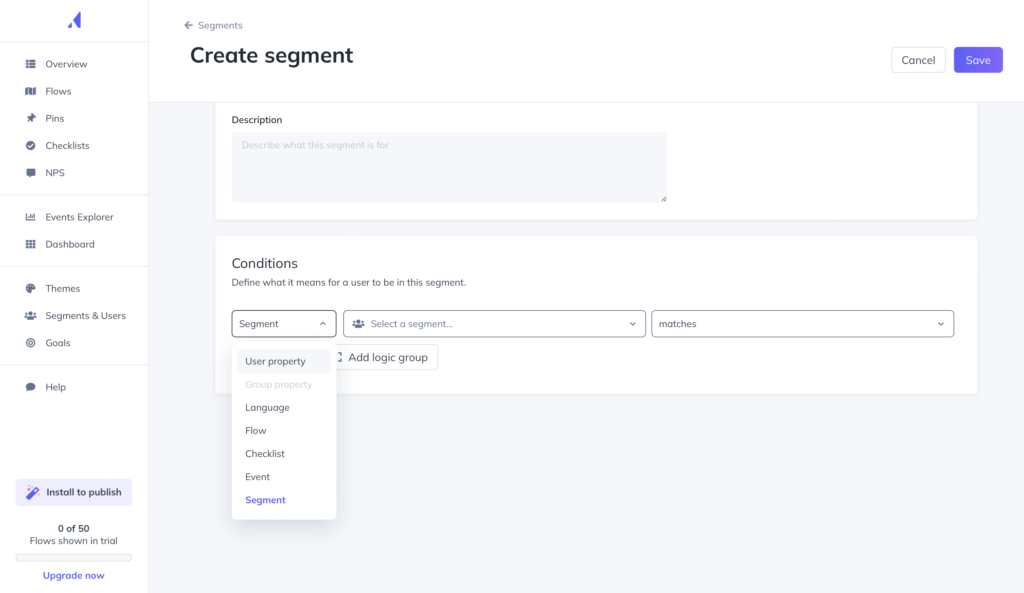 Better alternative: Userpilot Segmentation
Do you want to apply specific messaging to new customers of a particular geographic region? Are you trying to re-engage customers who have used all of your core features a specific number of times but haven't logged in recently?
Or maybe you want to reach users based on their answers to your surveys.
Userpilot offers customer segmentation, without limiting the number of segments you create at a more attractive price-starting at $249 per month.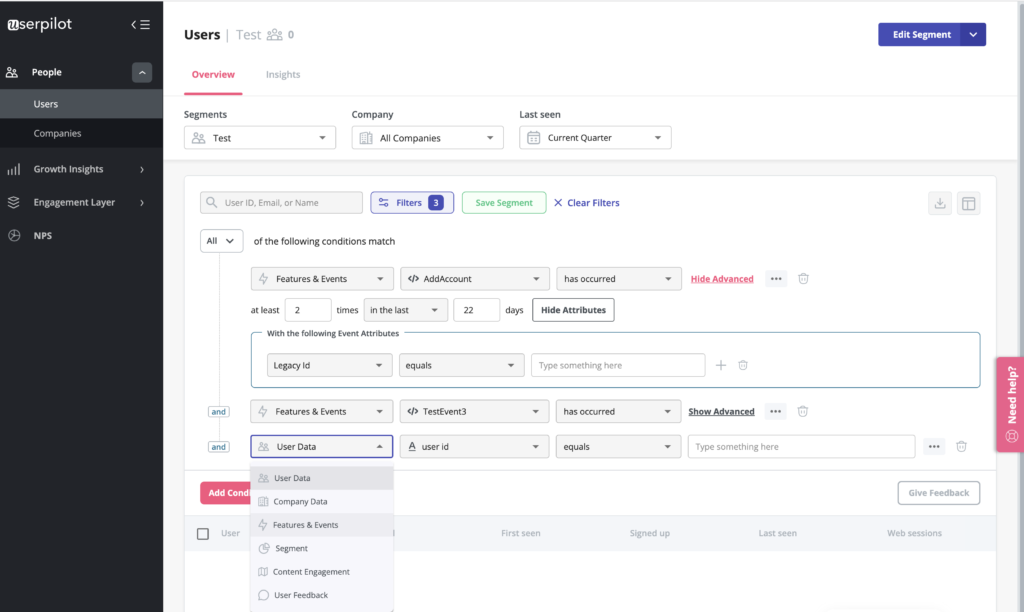 Source: Userpilot-Learn how to get more value from your customer segments with a free consultation call!
Finally, you can set up goals. You can use this to collect data on where your customer segments are, what stages they may be getting stuck, or where they find success.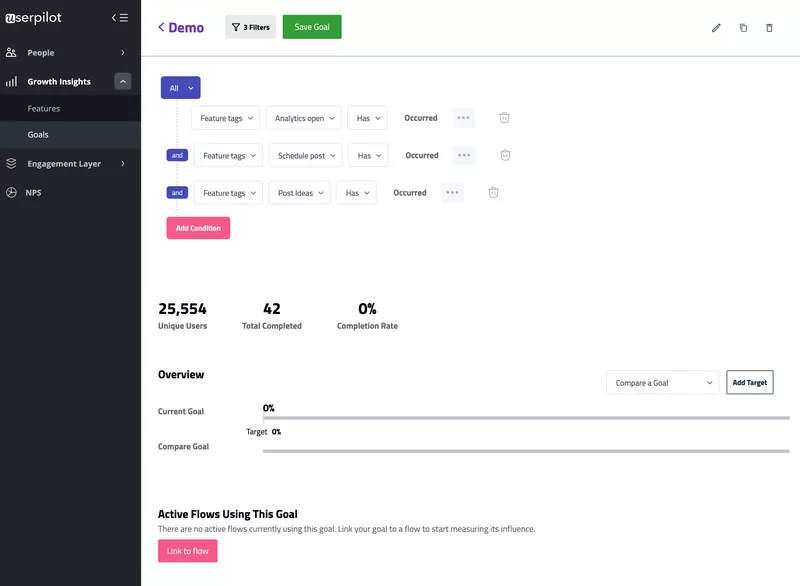 This is valuable knowledge because it adds a layer of insight into your customers' workflow with your product and sets the stage for improving their experience.
Conclusion
There are many tools with defining use cases, functionality, and benefits for you to choose from. Which is right for you will greatly depend on a) what your business needs to implement and b) price.
If you like all the features mentioned above but need an alternative to the rigid Appcues pricing then you will want to consider getting a Userpilot demo!