Appcues vs Userpilot: What's The Best Digital Adoption Platform for SaaS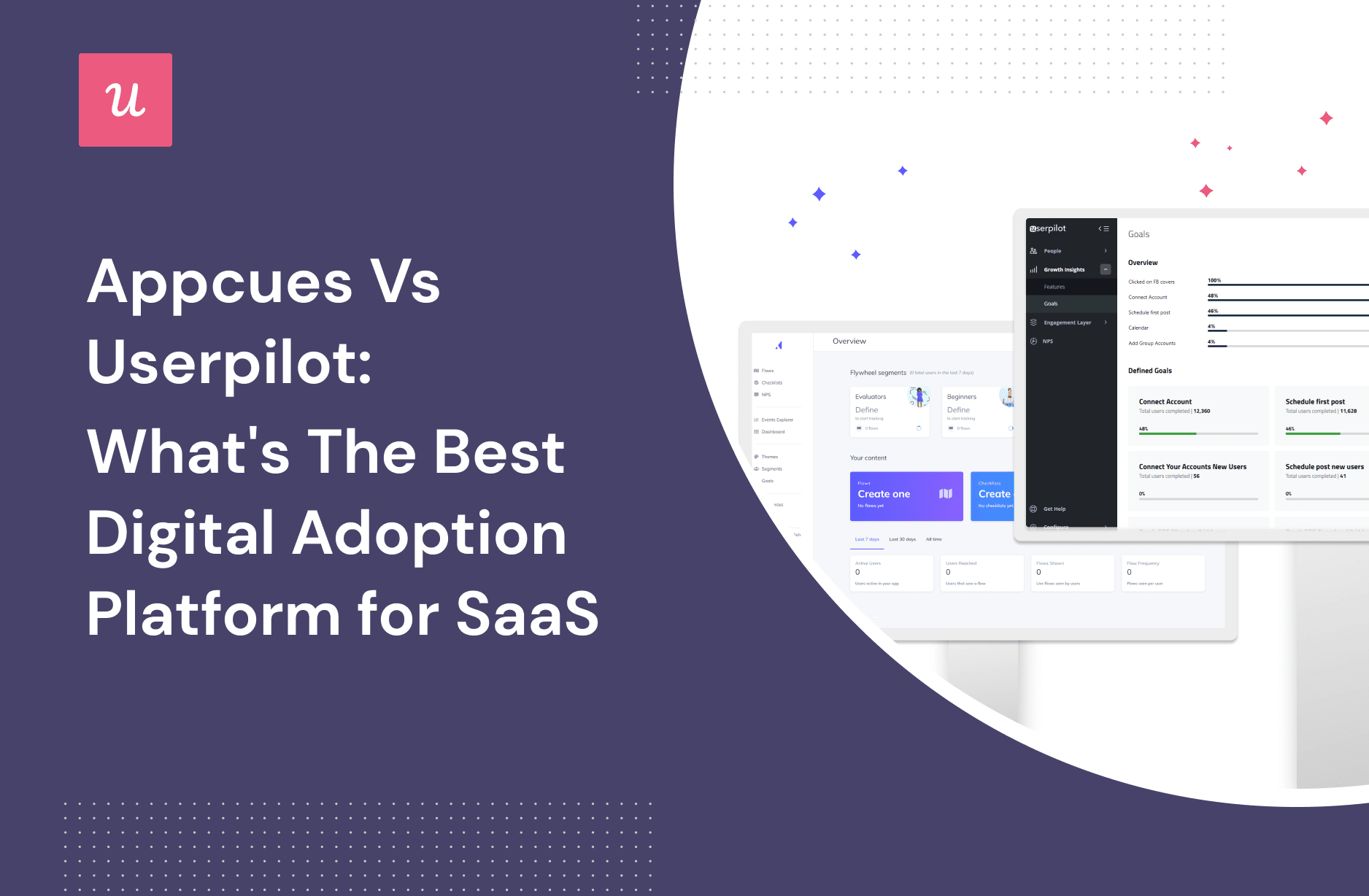 Userpilot vs Appcues as your new user onboarding tool? Which of them is more suitable for your SaaS and gives more bang for your buck?
Let's have a look at how the two products stack against each other.
TL;DR
Userpilot is a digital adoption platform that allows teams to build custom user onboarding experiences without any coding
Appcues is a great product experience tool that you can use to onboard users with product tours
Users highly rate Userpilot for the ease of use, quality of product support, feature updates, and roadmaps, and generally believe it meets the needs of the business better
Appcues get better reviews for the ease of administration
Userpilot offers more UI patterns and driven actions that can be used to build flows (6 UI patterns and 4 actions vs. 4 UI patterns and 1 action in Appcues)
Appcues doesn't support running multiple product tours or flows together. You can however link multiple flows, meaning flow B will be launched when flow A is completed. This gives you the ability to create shorter flows, but users won't see flow B if they don't complete flow A.
The checklist builder in Userpilot offers greater theme customization; you can also trigger more action tasks than in Appcues, and localize them
To create checklists in Appcues you need the Growth plan ($879). They offer basic customization and very limited analytics
Userpilot supports Resource Centre functionality for in-app self-service support whereas Appcues doesn't offer this feature
Both products allow you to edit the NPS questions, target different user segments and analyze the data; additionally, Userpilot allows response tagging for more detailed analytics and segmentation capabilities
Userpilot allows you to track user interactions with 25 feature tags (Feature tagging) in the starting Traction plan; Appcues limits the number of features you can track (via Events Explorer) to 5 under its cheapest plan
The lowest Appcues plan (Essentials) allows tracking of 10 goals, while in Userpilot this is unlimited
A/B testing is not available in Appcues but included in all Userpilot plans
Both products allow user segmentation; Userpilot allows you to target users with specific NPS scores and microsurvey responses, and by custom events; none of these are available in Appcues.
Userpilot customer support offers live chat, customer success calls, and an in-app resource center across all plans, while Appcues offers online email support only in the lowest plan
Appcues can be integrated with lots of great products but some of the integrations are available only in the more expensive plans; all Userpilot integrations are available in the lowest plan
Appcues and Userpilot charge $249 for their lowest plans but overall, you get more value for money with Userpilot as it includes a greater range of features for the same price.
Get a Userpilot demo and see why reviewers rank it higher compared to Appuces.
What is Userpilot used for?
Userpilot is a code-free product experience software. It gives non-tech teams the ability to create powerful contextual onboarding experiences for various user personas at the right stage of the user journey.
What does Appcues do?
Appcues is a great user onboarding tool, with functionality very similar to Userpilot. You can use it to educate new users, create product tours, or guide users to new feature adoption.
Appcues offers good onboarding templates. However, it has a predefined way of thinking about onboarding that makes it less flexible. It is also more expensive than other onboarding products and offers less value for money.
Userpilot vs Appcues: Trust the reviews
Thousands of users rely on G2, which is considered the best review and comparison platform, for their software recommendations.
Here's a condensed version from G2 of what users think about Userpilot vs Appcues:
Best at meeting the needs of SaaS businesses
According to the reviewers, Userpilot is better at satisfying the needs of SaaS businesses and lets you get the job done without unnecessary friction.
"Userpilot is an incredible, user-friendly software that allows us to create unforgettable experiences for our clients! From basic to complex experiences, we have been able to do them all with ease! I would highly recommend this software to anyone who wants to provide their clients or users with the best product tour experience. The possibilities of what you can create are endless!" – Tayla G.
Best ongoing product support
Another thing that users value about Userpilot is the quality of product support.
"For the things I didn't know how to do, I got thé best support. Their support is always available if you need it. A fast response time, and informative training webinar sessions. I'm a fan." – Jose I.
The best feature and product updates
Userpilot users are very satisfied with the range of features available even in the lowest plan.
"…it is very competitive and much cheaper than building ourselves." – Simon G.
"I like … having a great toolkit available to perform the job in hand of developing a seamless and enjoyable user experience. The range of features are great having switched over from Intercom product tours, I find there is more functionality, it is more stable and I can now utilise the UserPilot platform to help me run growth experiments to optimise the user experience"
Best ease of use
Both Appcues and Userpilot are very easy to use.
To set them up, you need to install a Chrome extension and copy a line of code into your product. Once you do that, you are ready to start creating in-product guiding experiences with a straightforward visual editor.
Here's what one of the reviewers thinks about Userpilot's ease of use:
"The greatest thing here is how easy it is to use. When taking over the processes related to Userpilot at my company, I could get into it in a few hours." – Konstantin L
Appcues vs Userpilot key features for user onboarding experiences
Let's have a look at the user onboarding features each of the products offers:
Appcues vs Userpilot Flows comparison
Flows consist of in-app UI patterns like tooltips, modals, hotspots, or slideouts that are linked together to guide the user and help them complete the tasks. They are essential for user activation and feature adoption.
UI patterns
If you compare Appcues to Userpilot, you will see it offers fewer UI patterns. In Userpilot, you can choose between 6 UI patterns, while Appcues has only 4 UI patterns available.
Let's see what those are.
Userpilot divides in-app guides that you can create with those UI patterns into Flows and Spotlights.
Spotlights are static experiences like native tooltips, hotspots, and banners.
Flows are interactive guides consisting of modals, slideouts, tooltips, and driven actions.
Driven actions are small tooltips that are driven by user actions like click, text input, hovering, and trigger hotspots.
The Appcues UI patterns are modals, slideouts, tooltips, and hotspots. The only user-driven action available in Appcues is Navigate (to a different page).
Userpilot vs Appcues interactive product tours comparison
The interactive product tours functionality is where the difference between the two tools shows.
It takes hardly any time to create your tours in Appcues thanks to the available templates. However, there are two main limitations.
First, in Appcues, customization of your elements, like modals or tooltips, is possible through CSS only. This means developer involvement if you want to seamlessly integrate them into your native UI.
More importantly, this functionality is only available in the Appcues Growth plan. In the Essentials plan, you are limited to the generic templates.
Userpilot is a truly code-free tool in this respect.
It allows full customization of the UI elements with a simple editor, so it can be used by marketing or customer success teams without technical skills. All of this is available in the lowest Traction plan.
Second, the Appcues templates force you to adopt a very linear step-by-step approach to user onboarding. Your user has to follow a fixed sequence of events and cannot access experiences and flows before they complete the previous ones.
Userpilot recognizes that all users go about exploring the product in their own way and at their own pace.
Instead of imposing a certain order, it allows you to build bespoke and fully interactive tours. The experiences can be triggered by users' actions no matter how they choose to navigate the product, or which flows they start and do not complete.
Such flexibility in building triggering flows is probably the greatest advantage of Userpilot over Appcues, which helps you build truly personalized and contextual onboarding experiences.
Appcues vs Userpilot Checklists comparison
Checklists help highlight the key functionalities of the product to your users. As a result, they reach their aha moment and achieve adopt features faster.
Both Userpilot and Appcues offer checklists. However, the Appcues checklists are only available in the $879/mo Growth plan (billed annually) while their full functionality is available in the Userpilot starting plan ($249/month).
Checklists functionality
Building checklists in both of the products is straightforward and intuitive.
However, the Appcues UI is a bit lacking. You set up all elements of the checklist on one long page and you need to scroll up and down to complete the job.
In Userpilot, the process is broken down into a few screens, making the UI more user-friendly.
When it comes to checklist design customization, Appcues allows you to change text colors and fonts.
In Userpilot, you can fully customize the widget and the checklist theme. Apart from the fonts and text color, you can customize the background, the progress bar, or add custom icons. If you want to make your checklists look like integral parts of your native UI, pick Userpilot.
There's also a big difference in the actions a user can trigger when clicking on a task in your checklist.
With Appcues you can launch a flow you've created before or direct users to a URL. While in Userpilot, you can launch URLs and trigger flows, but also set up an already completed task, and trigger custom JS functions.
Another Userpilot feature that is not supported by Appcues is automatic checklist localization.
Checklists analytics
Appcues only offers basic checklists analytics. You can track whether users have seen, started, and completed a checklist via the Events Explorer.
In comparison, Userpilot offers a much more comprehensive toolset for analyzing checklist performance.
You can see the live performance of all your checklists in one graph.
Analyze their performance in a more granular way by having a detailed look, not just at each individual checklist, but also at individual tasks.
Thanks to the Effectiveness Tables you can check how all your checklists are doing in an easy-to-read format.
With these insights, you can see where users get stuck,
Appcues vs Userpilot Resource Center comparison
There's not really a comparison to be done here since Appcues doesn't support building an in-app resource center for your users. But there is an important functionality a product adoption tool should have.
So let's look at how you can build one with Userpilot.
Resource Centre is an in-app repository of all the resources that your users may need to develop competence in using your product. These could be online webinars, documentation videos, or written guides.
The key feature of a resource center is that users can access all the content without leaving the product.
Building a resource center with Userpilot is dead easy. Without any coding, you can add, group, and move your modules. Userpilot supports batch operations, so all of this is effortless.
Thanks to Userpilot you can offer truly in-app support to your users. All the content is accessible without leaving the app and there's no need to send them to other media like YouTube.
Userpilot offers localization to its users and this also applies to the content of your resource center.
Finally, you can analyze how your users interact with the modules with the Userpilot analytics tools.
How does Appcues resource center compare to Userpilot? Well, Appcues doesn't support an in-app resource center at all.
Appcues vs Userpilot NPS surveys comparison
Both Appcues and Userpilot allow editing questions to customize the NPS surveys to the unique character of your SaaS product and your users.
You can also use each of them to target specific user segments.
Both products have analytics tools for analyzing the results. However, what makes Userpilot really stand out is the ability to tag responses.
This functionality makes it easier to turn the responses into actionable data. You can use tags to categorize similar responses or identify common behavior patterns of your promoters, passives, and detractors.
Once you segment your users using tags, you can design in-app experiences to solve their pain points, and ultimately design a better UX for your customers.
Appcues vs Userpilot Analytics comparison
Both Appcues and Userpilot have in-depth analytics tools to help you track user behavior.
Feature tagging in Userpilot vs Events explorer in Appcues
Feature tagging in Userpilot and Events explorer in Appcues serve the same purpose. They allow you to monitor how users interact with specific features.
The Appcues Essentials plan allows tracking of 5 features, while in Userpilot, the limit in the Traction plan is 25.
You simply need to define them by using the cursor to select the element you want to track.
Goal tracking
You can use goals to track when users reach specific milestones. It gives you an overview of how many users have reached each step in the journey.
Goal tracking is available in both products. In Appcues, it is limited to 10 in the lowest plan, whereas Userpilot allows unlimited goals in all its plans.
In Userpilot, you can set goals using multiple user actions or user identification.
Once you set the goals, the data is presented in a clear visual way.
A/B testing
A/B testing isn't available in Appcues.
If you're interested in enhancing your in-app guidance efforts, Userpilot has this functionality and it's available in all plans.
Appcues vs Userpilot User Segmentation comparison
Appcues allows you to segment your users using the usual properties like web session, language, location, or browser.
Userpilot offers the same segmentation options.
However, on top of those, you can target your users based on microsurvey responses, specific NPS scores, and server-level custom events (you will need a developer to set the latter ones up).
Userpilot vs Appcues pricing
Now that's we've looked at similarities and differences.
When you first look at the pricing plans, there are some similarities.
The cheapest plans are available for $249/mo. Both of them are based on the number of MAUs (Monthly Active Users).
The Appcues Essentials plan offers:
In practice, the usefulness of the cheapest Appcues plan is fairly limited, and to create customized onboarding experiences for various user segments, you need to fork out $879 for the Growth plan, and it's billed annually.
Userpilot's cheapest Traction plan offers more features. The $249 (or $299 if you prefer to pay monthly) spent on Userpilot, gives you
Userpilot vs Appcues customer support
Appcues offers email support under the Essentials plan, and email and phone assistance under the Growth plan, while the Customer Success and Technical Implementation help are available only under the Enterprise plan.
Userpilot offers live chat and 3 customer success calls to all their customers, also during the free trial.
Userpilot users can also access an in-app resource center with documentation videos and tutorials.
Userpilot vs Appcues integrations
Appcues has a lot of great integrations. These include Salesforce, Hubspot, and Slack.
However, you need a Growth plan to enjoy them.
Userpilot has integrations with a few useful products you may already be using.
These include Amplitude, Mixpanel, and Heap.
There are also new ones in the pipeline, including Hubspot, and they're all available in the lowest Traction plan!
Conclusion
Both Appcues and Userpilot are solid onboarding tools but it's Userpilot that gives you greater flexibility and a wider range of features, especially in the least expensive plan.
If you'd like to check out how Userpilot can help you design great user onboarding experiences, get a demo!