In-app Customer Support: Tools and Best Practices For a Great In-app Support Experience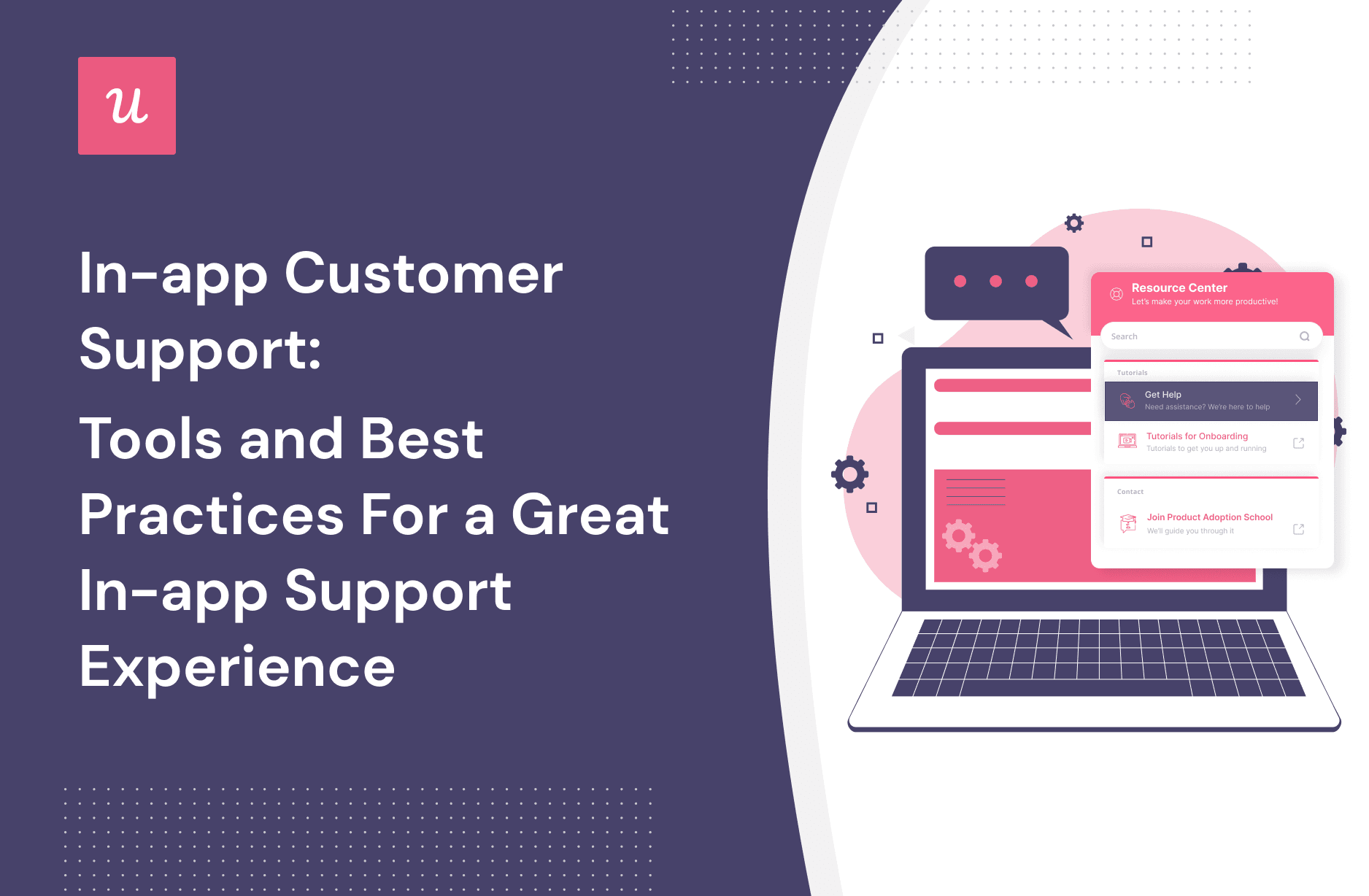 Are you using in-app customer support to resolve your users' issues faster and streamline the support process?
By integrating customer support directly into your software app or website, you can:
Boost user retention.
Improve customer satisfaction.
Reduce support costs by minimizing the need for human intervention.
Resolve issues quicker.
Free up support staff to focus on more complex issues by also adding self-service resources.
In this article, we'll break down what in-app customer support is, show you some of the best practices, and check out what you should look for in an in-app customer support automation tool.
TL;DR
In-app support in SaaS refers to the service features that customers can use to receive help directly within the product interface, besides connecting with your customer service team.
Web app customer support offers much more functionality and a better user experience compared to mobile app support due to the larger screen size and more feature space.
You should add different content types to your resource center so you can cater to each user's learning style and preference.
Categorize your resources so users can quickly and efficiently find the solution to their issues and get their questions answered.
User segmentation is one of the best tools for personalizing your in-app support and providing targeted support to different groups.
Use chatbots and ticketing software to share helpful resources with users quicker and reduce the need for human intervention.
Allow video tutorials to run in-app instead of sending users to third-party platforms. Not only does this improve engagement, but it also lets users seamlessly replicate the steps in the video.
Track engagement and analytics to see which areas of your in-app support need to be optimized and which content types you should prioritize in the future.
Work on providing proactive support by anticipating which questions users will have based on past experiences and data.
Build in-app support with customer service software to avoid spending countless hours on needless coding and design processes.
The main things you should look for in an in-app support automation tool are customization features, integrations, user-friendliness, live chat options, multi-language support, and analytics features.
Userpilot is the most powerful customer support software for SaaS companies that want to build personalized and robust in-app support systems without coding. Book a demo to learn more.
What is in-app support in SaaS?
In-app support in SaaS refers to the built-in service feature that allows users to receive assistance from customer support agents, chatbots, or support modules directly within the SaaS.
In-app support is typically provided through a resource center, allowing users to communicate their issues and resolve them without having to leave the application.
Why is in-app support important?
In-app support can help with a wide range of things, like troubleshooting technical issues, providing guidance for customer onboarding, answering specific feature questions, and more.
Mobile app customer support vs. web app customer support
Mobile app customer support refers to customer service that is designed specifically for mobile devices, whereas web app customer support is accessed through a web browser on a desktop or laptop computer.
There are some major differences between mobile app customer support and web app support, including:
Functionality: The smaller screen size on mobile devices can make it more difficult for users to access information and navigate through support resources.
User experience: On a web device, you can implement a full resource center, which simply isn't doable for mobile. On mobile apps, there's usually space only for a FAQ or chatbot.
User behavior: Mobile users typically have different usage patterns, so it's a good idea to be prepared to receive different types of issues.
Best practices for great customer service in-app
To create the best possible in-app customer service for your users, you need to be familiar with some of the industry's best practices.
Here's what you should implement:
Add different content types to your resource center
The resource center serves as the knowledge base and go-to place where users can find helpful information about potential issues and how to navigate your brand or product.
It's a great way to scale self-service support and educate users without the need for human involvement.
To make the most out of it, you should add different content types, including:
How-to articles
FAQs for different features
Also, brands take advantage of market segmentation to create different user categories and find out which content type they prefer.
Group resources under categories for a seamless customer experience
Categorizing your resources allows your customers to find what they're looking for faster, leading to an overall better customer experience.
Here are some common category examples found in resource centers:
Get started section.
Onboarding checklist.
"Chat with us" module that grants access to customer support.
The "What's new" module covers the latest product updates.
Knowledge base section that leads to further article categories.
Use segmentation to personalize in-app support
Another great way to improve customer experience is to personalize your in-app support for different user segments and provide tailored resources.
Depending on the specific segment, you can show and hide different resources and make sure they're only seeing modules relevant to their segment.
Additionally, personalization prevents users from overloading the knowledge base since you'll digitize customer experience for each specific segment journey.
Use an in-app widget to make your resource center easy to find
An in-app widget placed somewhere in the main interface allows users to get immediate help whenever they need it and find the resource center easier.
You can position the widget button in the corner of the menu, or have it show up as a dedicated tool in the corner.
Embed your chatbot and ticketing software in your in-app support center
Alongside the resource center and knowledge base, your in-app support center should also contain direct access to a chatbot and ticketing software.
If the user is having trouble navigating or accessing the help center or they're in a hurry, the chatbot can send them to the module they need quicker and avoid the need for human intervention.
You can easily add a chatbot trigger within the Userpilot resource center as well, with simple integration.
Embed video tutorials to keep users in-app
Video tutorials are another key part of in-app customer automation since many users find it easier to resolve their issues following step-by-step video instructions.
Instead of sending users to third-party platforms, video tutorials allow them to replicate the steps easily directly within the app, further boosting the digital customer experience.
What's more, your customer support team can reduce the dozens of tickets they'd have to deal with manually with a single video. This practice favors both customers and employees.
Track engagement with your resource center to improve
In order to improve your resource center and make it more helpful, you need to monitor its performance over time.
You need to stay on top of data and check what type of content gets the most engagement. Use that information to further optimize the in-app support experience.
Most SaaS companies focus on these two key metrics:
Temporal analytics: shows you how usage has changed and developed over a set time period.
Live changes: track how users interact with your resource center in real time.
Be proactive and offer contextual in-app guidance to reduce support needs
Proactive support is when you understand what your customers need and prepare related resources before they even have to ask you any questions.
To create this type of contextual in-app guidance, you need to keep an eye on your analytics and see what are the most frequent issues.
Once you have this data, you can design product walkthroughs, tooltips, interactive guides, and other different types of tutorials that will reduce the need for your support team to handle these problems manually.
Below is an example of an interactive walkthrough in Kommunicate.
Use customer service software to build and personalize in-app support without code
Instead of hard-coding your in-app support, it's a much better option to use customer service software tools. This way, you can easily create personalized in-app customer support without knowing a single line of code.
Also, customer service software typically has analytics dashboards built-in, which means you can track how users respond to your in-app support and optimize accordingly.
What to look for in a tool for automating in-app support
Choosing the right tool is crucial when automating your in-app support. To help you make an informed decision, here are some key factors you need to consider:
Customization: The tool should offer customization features so you can match the design and interface to your specific branding.
Integration: Make sure the tool integrates with your existing support systems, such as your CRM or ticketing system.
User-friendliness: How steep is the learning curve for the tool? Can you easily navigate through the features?
Live chat: It's always a good idea to also implement live chat alongside the resource center, so check whether the tool offers this feature.
Multi-language support: If your user base consists largely of those that don't speak English, you should make sure the tool has multi-language support and localization options.
Best customer service software for SaaS
Now that you're familiar with the best practices and know what to look for in a tool, let's check out the best customer service software you can use for your SaaS product to minimize support tickets.
Userpilot – No-code software for proactive support
Userpilot is the most powerful customer service software for building functional in-app support, without writing a single line of code.
We help SaaS companies provide comprehensive and contextual support for their users with robust features for creating extensive in-app resource centers and knowledge bases that effectively improve customer experience.
Here are some of the main features you can take advantage of:
In-app on-demand help: There's an in-app widget within Userpilot you can use to immediately get answers to any questions you might have during creation and customization.
Supports various resources: Userpilot includes various formats for your self-service support system and knowledge base, from video tutorials and FAQs to how-to articles.
Grouping options: You can create different themes for all your resource types, making them more accessible to users.
Segmentation: With our robust segmentation options, you can create personalized contextual in-app support and push notifications for each user segment.
Integrations: You can implement a chat widget and connect to support platforms such as Zendesk and LiveAgent.
Search functionality: Helps users navigate the resource center more efficiently and find relevant guides and walkthroughs much faster.
Localization: You can easily translate your modules to other languages if you run a SaaS product targeted to non-English speakers.
Analytics system: Track user interaction with advanced analytics dashboards that lets you see monitor metrics like unique opens, module clicks, total click rate, and more.
Building a resource center in Userpilot is as simple as it gets – while you're customizing the in-app support and making edits on the left side of the screen, you'll immediately see the changes on the right interface side.
LiveAgent – Efficient for live chat
LiveAgent is a popular live chat software solution that helps companies personalize their customer conversations and interactions.
It includes a ticketing system that allows businesses to manage customer inquiries from multiple support channels, including email, live chat, social media, and phone.
Other features include real-time chat translation, call center integration, and automation tools.
Zendesk – Help desk software with an advanced ticketing system
Zendesk is a cloud-based customer service software that provides businesses with a range of tools to help them manage and improve their customer support operations. Its primary use case is as a support ticketing system.
The software also provides omnichannel support, which means that businesses can manage customer interactions across multiple communication channels, including voice, email, chat, social media, and more.
Conclusion
In-app customer support is one of the best ways SaaS companies can improve user retention, boost customer satisfaction, and reduce manual input from their support teams.
Want to create robust in-app customer support? Get a Userpilot Demo and see how you can do it simply and quickly, no coding knowledge is needed.