5 Best Product Walkthrough Tools For SaaS [Updated 2023]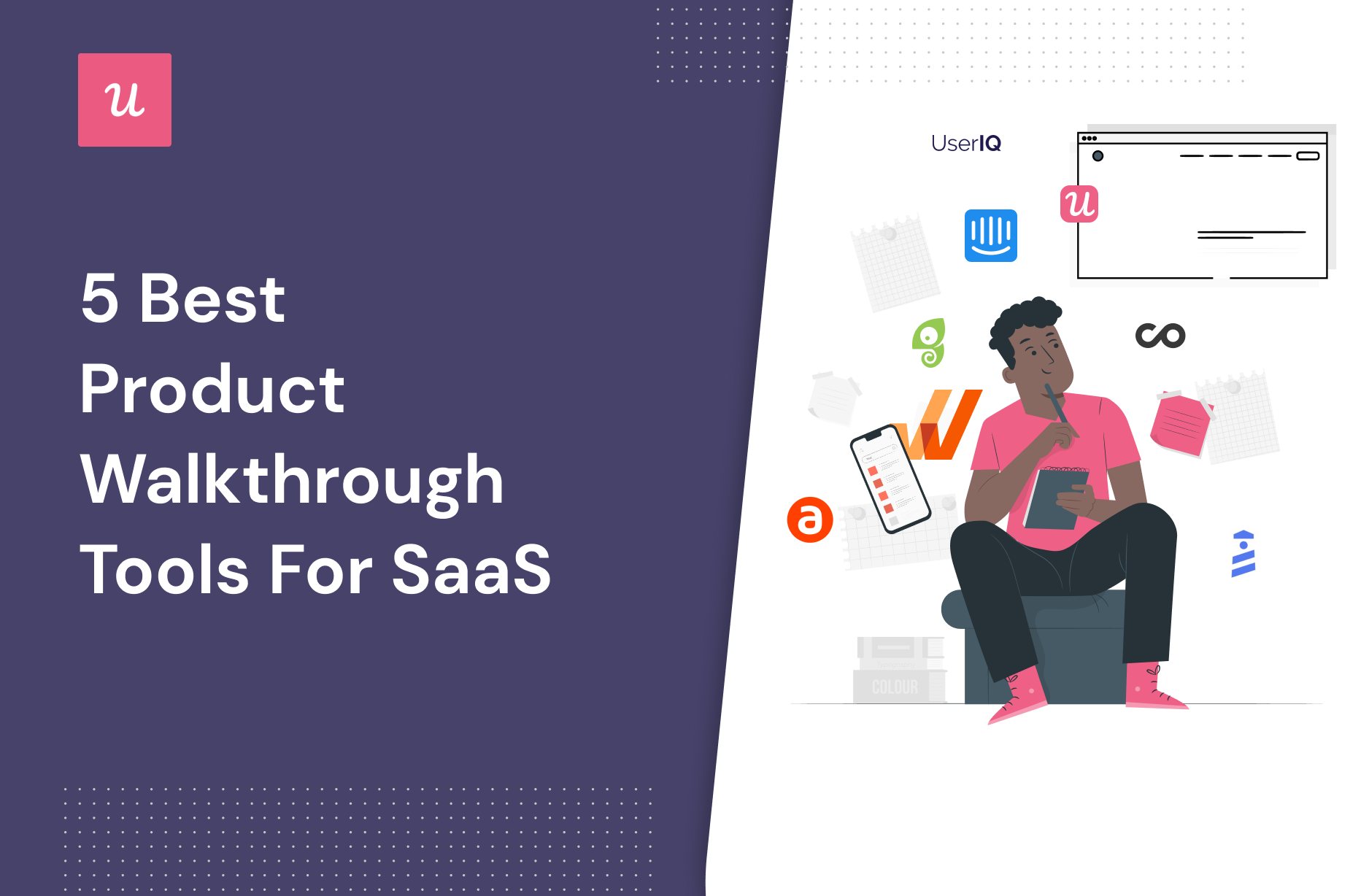 Product walkthroughs are a bit of a specialty for us here at Userpilot, so we've collected together our five favorite tools and put them to the test. *Note: this list is specific to web only, not mobile apps.
To get onto this list, a tool has to offer interactive walkthroughs, but we'll also be looking at other factors as well – like price, usability, customizability etc.
Let's dive into the findings!
TL;DR
With a razor-sharp focus on user activation, Userpilot gives you all the tools you need to build every type of interactive product walkthrough imaginable. Easy to use (really, no coding skills required), moderately priced based on MAUs only (with all features available in all pricing plans, even in trial!), and with great supporting features ranging from A/B testing, through NPS to Resource Centers, Userpilot is the best user onboarding tool out there (don't just take our word for it either, we've won the Summer 2022 Leader plaque on G2).
Appcues lets you build interactive walkthroughs and is one of the original DAPs out there. However, despite the improvements, Appcues has fewer functionalities compared to Userpilot (but this is good for beginners) and it's more expensive if you want more than just the basic features (the base price is the same as Userpilot but limited features only).
Lots of UI options and a revamped interface, but not enough interactive options for user inputs to build out every kind of walkthrough you may need.
Preferred Use Case: Employee Onboarding for Third Party Apps
Whatfix has all the functionality you likely need (except analytics). But an Enterprise focus makes it unsuitable for smaller/medium-sized teams.
A full Digital Adoption platform with some standout features, but is very pricey and takes longer to get set up and requires advanced technical skills (on-site implementation + CSS coding each time you need to really customize something). It's famed to be an upmarket solution for a reason and seems to lean more towards the employee onboarding use case.
How to choose the best product walkthrough tool?
Let's get one thing straight:
To qualify as one of our picks for the best product walkthrough tools, it has to offer interactive walkthroughs. Why interactive walkthroughs over traditional, linear product tours, you ask? Watch our video below!
Why product walkthroughs must be interactive
In a nutshell, the case for interactive walkthroughs is this:
New users learn best by doing things – not reading, watching or listening
When new users complete tasks as part of the onboarding process, their Time To First Value is reduced. They feel the benefit of your SaaS and become Activated users faster, reducing the chance of early churn. Here's how Salesflare does it, for example
Source: salesflare.com
Interactive walkthroughs are tailored to the context and use case – rather than the convenience of the product manager just dumping all their information on new users at once
Interactive walkthroughs support fast product growth, by enabling you to offer self-serve onboarding to a wide variety of user segments at once
So, interactivity is table stakes for the best product walkthrough tools in 2023.
What else are we looking for in the best product walkthrough tools?
Besides offering interactive walkthroughs, these are the main factors we're looking at:
Is it easy to use?
After installation, do you need to do any coding to make the most of it?
How much does it cost?
What kind of UI options does it support?
How sophisticated and customized can the tours get?
What other functionality do you get besides the tours?
Now, let's dig a little deeper into the leading contenders:
Best Product Walkthrough Tool #1 – Userpilot
Userpilot allows you to build a massive range of in-app experiences that can be fully interactive. It is also the ONLY onboarding tool with a reactive onboarding functionality – so apart from proactive walkthroughs, you can also 'react' to your user behaviors with the right contextual tooltips, native tooltips and a resource center.
Apart from your regular product walkthrough, you can also create reactive experiences and flows based on what your user does inside your app.
While all of the tools we look at include some of these options, none is as robust and comprehensive as Userpilot. Userpilot supports the widest range of "driven actions" of all the tools listed here:
Source: userpilot.com
For example, none of the other tools discussed have the drag-and-drop interactive element.
Userpilot also has a comprehensive range of UI elements that can be used in building user onboarding experiences. Apart from your usual modals, tooltips, slideouts, hotspots – Userpilot has three crucial additions:
You can display progress through a flow during a user onboarding, with pop-up checklists (and then see checklist-specific analytics after)!
Source: userpilot.com
You can build in-app self-serve support with a robust Resource Centre
You can collect micro survey or NPS survey feedback even during user onboarding
The best part? All the features of Userpilot are also not limited by your plan option, so you'll be able to experiment and create to your heart's content even during the trial!
Userpilot is for you if
You'd like to access the most extensive range of driven actions for building genuinely interactive walkthroughs available for your web app
You're looking for a platform that also offers analytics, A/B testing capabilities and advanced segmentation (for building even more effective and personalized walkthroughs)
Your priority is getting new users to realize value, fast and to convert from free trial to paid.
You'd like to get existing users to continue to adopt new features and to boost engagement
You want to reduce support ticket volume and explore self-serve support options
Coding isn't your forte and you need something quick, simple to deploy and use,
You want a tool that will be able to scale as you grow. With an entry price of $249 per month, Userpilot is a very robust tool with a ton of value since the pricing is only based on MAUs.
Who Userpilot isn't for
Userpilot does not work on native iOS and Android apps – only on Progressive Web Apps (PWAs).
Userpilot does not work on third-party applications, therefore is not suitable for employee onboarding to 3rd party apps like e.g. Salesforce.
Product Walkthrough Tool #2 – Appcues
Source: appcues.com
Appcues has been around for a long time in the product onboarding space. And as you might expect, they regularly update the service to add new features.
Our last review complained that Appcues tours – which they call "Flows" – were passive and linear.
Well, that's not a problem anymore.
Appcues' Flow Builder extension allows you to add interactive elements to modals and other UI elements, in various different formats:
Source: appcues.com
And you can build branching tours using multiple CTAs on individual UI elements:
Source: appcues.com
So, Appcues allows new users to build genuinely interactive walkthroughs.
One area where we praised Appcues previously was in the range of UI elements it supports, but they seem to have fallen behind the rest of the field in this area now:
Source: appcues.com
Nevertheless, the GUI that the Flow Builder extension provides is slick-looking, quick and fairly easy to use.
But I found the need to switch from the extension to a web browser page for sorting out the targeting and trigger factors for the flow to be confusing.
Source: appcues.com
That becomes doubly confusing when you're building branching flows or when you're building a flow that traverses multiple pages.
Maybe it's because Appcues has been around for such a long time that they've built up this slightly disorienting workflow. It feels as though elements have been added layer upon layer, rather than being designed with an holistic vision in mind.
Also – Appcues claims to be able to inherit your application's style, but this does not seem to work that smoothly.
What's good about Appcues?
The extension is free to download and experiment with, enabling you to design flows and test out the UI capabilities for yourself.
Appcues supports linear and branching walkthroughs, which allow real user interaction.
Established player with a good reputation, who are continually improving their service.
What's not so good about Appcues?
While it's very easy to build and deploy simple flows, once you start making them more complex, the need to flip between the extension and a separate browser page multiples the difficulty level.
Styling is also handled in the browser, unless you're sticking to pre-set Appcues themes. The full range of styling options also requires new users to have CSS expertise – although including code for CSS selectors is a nice touch.
Source: appcues.com
A lot of attractive features are missing from the entry-level $249 per month Essentials package (e.g. integrations with tools other than analytics, access to "advanced" targeting and segmentation, full control over theme customization). To get the best out of Appcues, you'll need to pay for the $879 per month Growth package – and that price goes up with monthly user (MAUs) numbers.
Product Walkthrough Tool #3 – Chameleon
Source: trychameleon.com
When we've looked at Chameleon in previous years, we've had a few gripes.
But Chameleon has done a lot of late to improve their offering. It has one of the widest range of UI options:
Source: trychameleon.com
It also has good segmentation, flow design and targeting capabilities, and is definitely one of the easier tour builders on this list to use.
Source: trychameleon.com
Plus, it now lets you manage and edit themes within the app. You don't have to have the styling done bespoke, which makes fast deployment of new flows far easier.
Chameleon's Launcher feature has been talked about quite a lot over the years, but in 2023 it's not quite the USP it once was.
Source: trychameleon.com
With a Launcher you can "progressively disclose features" – which means, you can set event triggers to activate a pop-up contextual window offering helpful information, including the option to launch walkthroughs.
Strangely, unless you're willing to pay $10,000 a year for the Enterprise package, Chameleon limits subscribers to one Launcher only.
But in spite of the improvements, the main problem with Chameleon is the same as it was last year: the interactivity is not as powerful as it needs to be.
These are your options for transitioning from one step to the next:
Source: trychameleon.com
A click or a hover are the only options for user input. You can't require a text field to be completed, for example.
That restricts the kinds of interactive walkthrough you can build.
Without user data entry you can't complete records, connect accounts, add contact details or many other types of task that new users need to learn to see value from SaaS products.
What's good about Chameleon?
Nice looking, easy-to-use tour builder app -which you can download and play with for free. That is great preboarding in itself!
Supports lots of different UI elements and comes with in-app instructions on how to get the best out of them.
Launchers are still cool, even if other tools offer similar features now
If the in-built styling options aren't to your taste, they'll code it for you.
What's not so good about Chameleon?
It's quite expensive for smaller businesses, with price based on MTUs (Monthly Tracked User), and access to features restricted.
Source: trychameleon.com
Although Chameleon does now offer real interactivity in its tours, with only click and hover user actions available, the scope of tours you can build is limited.
Product Walkthrough Tool #4 – Whatfix
Source: whatfix.com
Whatfix's product walkthrough functionality is part of a wider "Digital Adoption Platform" offering.
This means that your walkthroughs can straightforwardly be integrated into training programs and rolled out through learning management systems (LMSs).
So, Whatfix is not interested in walkthroughs purely for the sake of new user onboarding. They present them in the wider context of "performance support".
In recent years, it seems that Whatfix has been gravitating more to employee onboarding use case.
The service allows you to build product tours that are genuinely interactive and which can head in multiple different directions. Here's an example of some interactive elements built using Whatfix:
Source: whatfix.com
The UI options are extensive, and when you add an element that requires user input (such as a text field or a phone number) it's possible to build out data validation rules to ensure that this is done correctly.
I felt that the options for in-app styling let down the service slightly, which is otherwise extremely comprehensive.
But this is almost made up for by the "community" of Whatfix users. When you sign up, you get access to libraries of ideas and designs from other users:
Source: whatfix.com
These "shared flows" can help provide inspiration and direction on how to emulate them on your own app. For example, this is a screenshot of one of the flows shared in January 2022:
Source: appcues.com
What's good about Whatfix?
A very powerful service that integrates directly into wider environments and applications than simply product onboarding. If walkthroughs are something you need for purposes beyond just onboarding users (for example, staff training) this may be a better bet than the other products.
Loads of helpful training materials in their "Academy" section and inspiration for your own designs via the Whatfix community.
Whatfix has been designed with both mobile and desktop users in mind – it offers comparable functionality for both mobile sites and regular websites.
What's not so good about Whatfix?
Whatfix is firmly aimed at an Enterprise market, which is reflected in the scope and complexity of the service. It's the sort of tool that would need one or more dedicated team member working with to get the best from. For that reason, it may include features that you – as a SaaS product manager or growth manager – would never use alongside those you would.
For all that complexity, Whatfix lacks analytics that would help you to personalize onboarding guidance and measure the impact of your flows.
Nor does it include A/B testing capabilities to enable you to compare the performance of different flows
Pricing is by quote only. Given the product's "Enterprise" focus, it's highly likely that pricing will be "enterprise-level" as well.
Source: whatfix.com
Product Walkthrough Tool #5 – WalkMe
Source: walkme.com
WalkMe is another big name in the space with a long pedigree.
Having started out as on-premises software, WalkMe today is fully cloud-based like the other services on our list.
But if you find Whatfix complicated, well…WalkMe is going to overwhelm you.
Let's begin with the positives.
WalkMe includes everything you could possibly want in a tool like this:
A comprehensive range of UI elements for building tours
Linear and branching capabilities
Possibilities for flows to be interactive, by requiring user inputs
Analytics, A/B testing and a range of automation tools
Flow building and trigger/targeting definition in the same place (take note Appcues!)
Source: walkme.com
Like Whatfix, WalkMe presents itself as a wider "Digital Adoption Platform" rather than a product walkthrough tool. Indeed, from their home page, it's not exactly easy to determine that walkthroughs are one of the things WalkMe does!
Again: WalkMe seems to be going in the direction of employee onboarding on third party tools like e.g. Salesforce for big enterprises, rather than new user onboarding for SaaS.
If you have the budget and the development resources though, there are a few really spectacular features of Walkme that we have to mention:
You can add goals in the back end that will allow you to keep tracking the behavior of a user who begins an onboarding flow even if they dismiss it before the end.
"Smart Walkthurs" can be linked together under the management of a rules engine.
You can even define multi-step triggers for actions and flows.
Once flows and rules have been defined, the platform gives you the ability to export them as a PDF – which is great for presenting to third parties.
What's good about WalkMe?
Really comprehensive range of options for building complex, interactive walkthroughs – including some really valuable add-ons I haven't seen elsewhere.
WalkMe also makes use of a context-detecting algorithm, which allows it to offer help that goes beyond the strictly-defined trigger and targeting rules you set.
Pre-integrated with analytics, A/B testing and automation tools.
What's not so good about WalkMe?
The user interface is pretty ugly and old fashioned looking. It won't be to everyone's taste. WalkMe also uses a large amount of their own jargon…
Source: walkme.com
A tool with this many features necessarily takes time to learn how to use. To make full use of everything WalkMe has to offer, you're going to need an expert on board – as well as development resources to integrate it for maximum effect.
Styling will require a good degree of coding.
Like Whatfix, WalkMe is aimed at the Enterprise market and comes with a price tag to match. Although pricing is bespoke, reports put it at anywhere between $9,000 and $50,000 per year!
Read a case study from an ex-Walkme user.
---
So that's our pick of the best product walkthrough tools for 2023: Userpilot, Appcues, Chameleon, Whatfix and WalkMe.
We hope this helps you to pick one that fits your needs.
If you'd like to consider Userpilot, let us show you around! Click on the banner below to book a free demo with one of our product specialists.