WalkMe Competitors: Top 5 of All Time [In-Depth Comparison]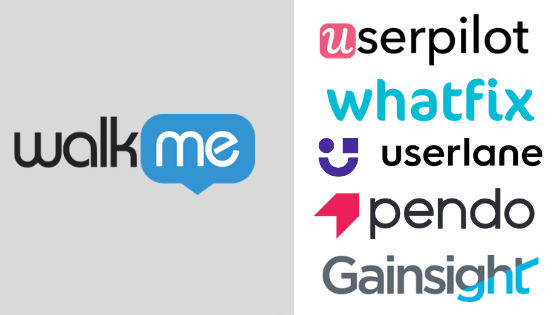 WalkMe is a popular tool for driving user adoption, but as an on-premise solution tailored for the employee onboarding use case, it may not be the best option for SaaS user onboarding. So today, we're exploring the top 5 WalkMe competitors that are more suitable for SaaS product teams – so you can make a more informed decision.
(If you want to skip to the good part, Userpilot is the best choice if you're looking for a user onboarding solution, click the banner below to chat with us!)
Here at Userpilot, we're obsessed with adoption. We've tried a lot of tools over the years and have a lot of experience when it comes to user onboarding, product adoption, and UX design, so it's safe to say we have pretty high standards when it comes to software.
TL;DR
The Walkme platform is a cloud-based digital adoption platform aimed at enterprises. Typically, it is used as an employee training tool – for onboarding employees on third-party applications such as Salesforce, Hubspot, Xero, etc. Additionally, it can be used for onboarding new SaaS users.
Depending on your use case, you may want to consider the following  Walkme competitors: 1) Userpilot 2) Appcues 3) Whatfix. 4) Userlane 5) Pendo 6) Gainsight.
When it comes to SaaS new user onboarding, WalkMe's users often complain that it's hard to use and too complex. So you may consider some better alternatives such as Userpilot, Appcues or Userlane for your new user onboarding.
If you are looking for a Walkme alternative that's less expensive and easier to set up for employee onboarding, Whatfix may be a good choice.
For Customer Success needs, Gainsight may be the best Walkme competitor.
Walkme analytics consist of user dashboards, paths and funnels. It's similar to Pendo, which is less expensive and complicated to set up though – so it may be a good alternative for this use case.
Before we get into each competitor, however, let's talk about WalkMe.
About WalkMe
WalkMe was one of the early pioneers when it came to digital adoption. It's a cloud-based digital adoption platform that provides Product and Customer Success Managers with the tools they need to drive product adoption through their app or product.
WalkMe was one of the first to the party, but that doesn't necessarily mean that they're the life of it.
In other words, WalkMe's digital adoption platform:
focuses primarily on employee onboarding and digital adoption of third-party tools such as Salesforce, Hubspot etc.
it's an on-prem solution that requires a lot of development time to set up and maintain
it's very expensive – $ 9,000 – $50,000 per year on an annual contract, compared to e.g. only $249 per month with Userpilot.
That's probably why you're here looking at WalkMe competitors, right?
That being said, WalkMe does have its strengths. In the interest of fairness and impartiality we figured we should take a look at them…
+ Walkthroughs
One of the first-used methods of product onboarding was the user walkthrough. This is where a user is guided through a product step-by-step to ensure they understand how key aspects work. WalkMe has good capabilities for this.
+ Analytics
WalkMe's powerful reporting capabilities enable you to easily see all of your data and analytics, and dive deep into your user onboarding. This is a crucial aspect of any product adoption software.
+ Enterprise
The vast majority of WalkMe's customers are large, enterprise organizations, with hundreds, even thousands, of employees. If you're a large company, then you know you're in safe hands.
As you can see, WalkMe definitely has its good points. However, here's some of its drawbacks:
– Implementation
Since WalkMe is on-premise software, it requires a lot of work to implement it in your organization. This can take a lot of time, and a lot of technical know-how. If you're a fast-moving SaaS company, this might not be ideal.
– WalkMe Pricing
As we mentioned above, WalkMe is designed for enterprise organizations, and their pricing reflects that. You could end up spending anything from $9000 to $50000 a year on WalkMe. That's a lot of money for startups and SMEs.
– Walkthroughs
Yes, we know that this was also a positive, but bear with us! Sure WalkMe is great when it comes to user walkthroughs, but sometimes user walkthroughs aren't the best approach when it comes to onboarding and adoption. If you need more features, like contextual triggers, then WalkMe might not be the best tool for the job.
So, with all that mentioned, let's get into your other options!
The Best WalkMe Competitors For User Onboarding: Userpilot
Surprise! We made it onto our own list of WalkMe competitors!
Our mission at Userpilot is to help PMs and CSMs at SaaS companies improve user adoption with personalized onboarding flows.
While WalkMe focuses more on one-size-fits-all walkthroughs, Userpilot enables you to create onboarding flows that adapt to each user and use case of your SaaS product.
For a quick WalkMe vs Userpilot breakdown, see this page.
Userpilot features
Userpilot allows you to build fully interactive walkthroughs in minutes, without any coding: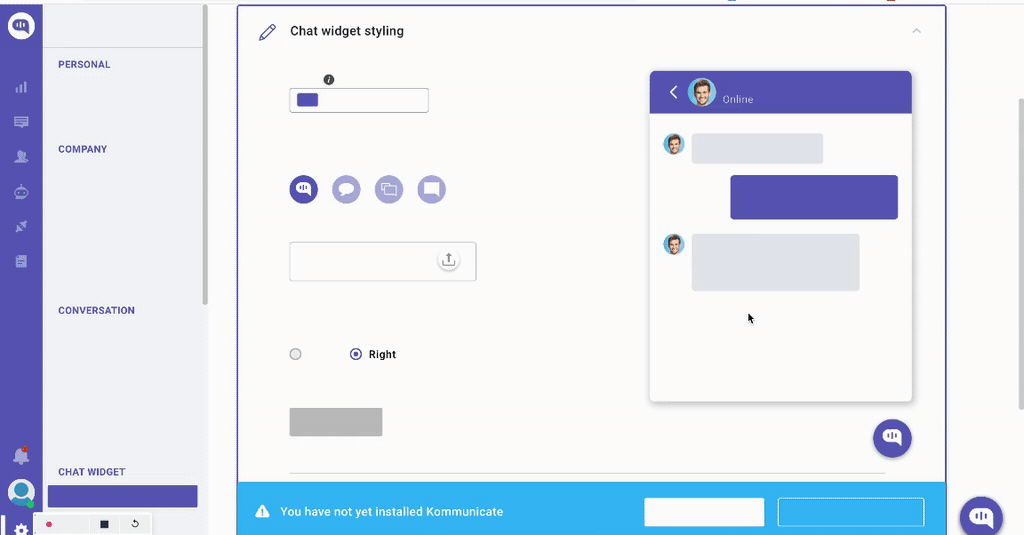 To make your walkthroughs contextual and personalized, you can trigger each step in the experience based on user actions – based on custom events, attributes or feature tags.
In other words, Userpilot helps you to show the right message, to the right user at the right time.
This makes Userpilot walkthroughs more effective than traditional, boring, linear product tours.
It enables you to tailor the onboarding process to each and every user, giving them a nudge in the right direction at the exact time they need it.
All this is possible thanks to Userpilot's in-built user analytics and segmentation: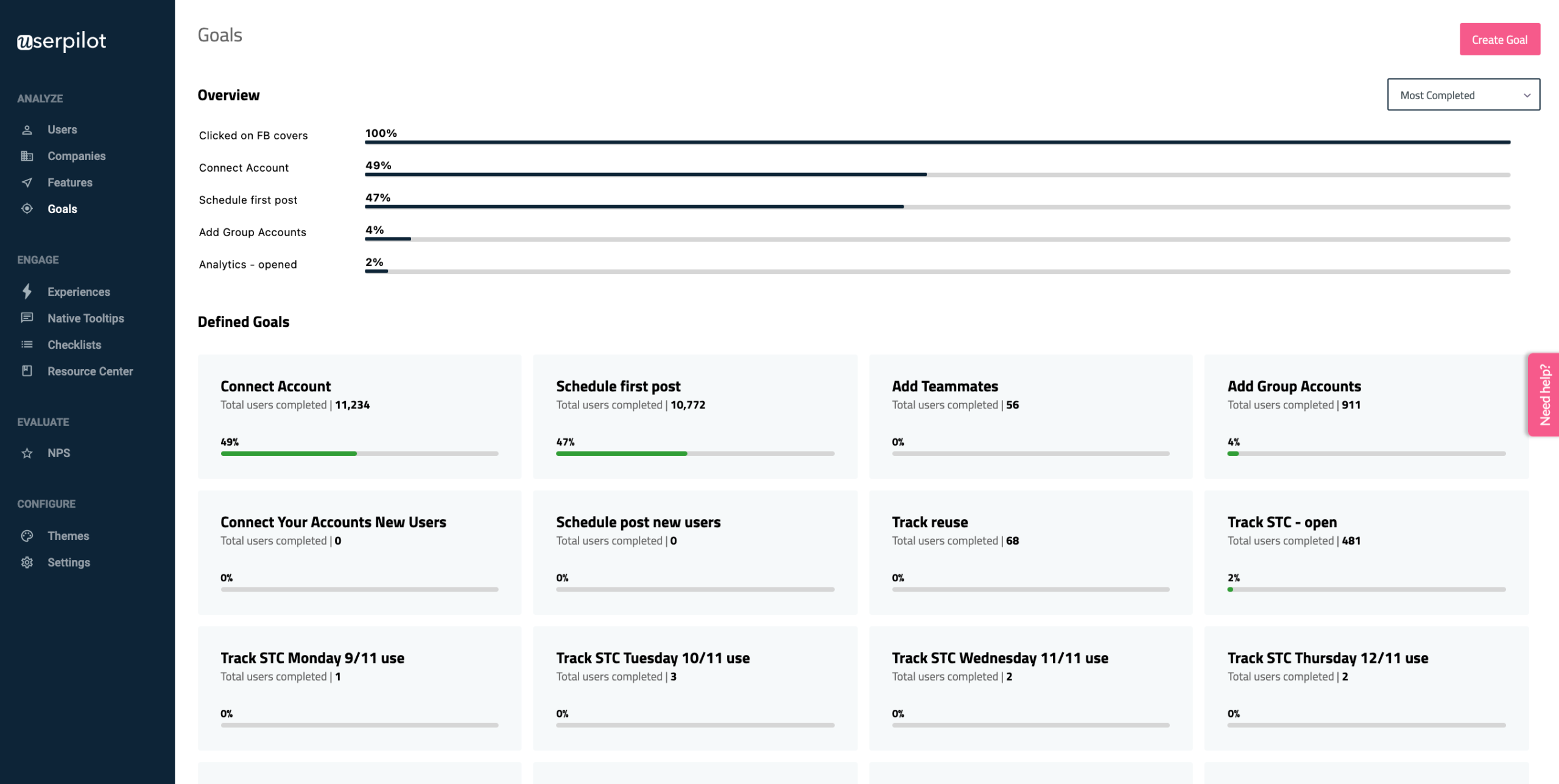 Thanks to Userpilot's goal-oriented analytics, you can see how many users adopt particular features of your product in a given timeframe.
Userpilot offers you the widest range of UI patterns from all product adoption tools. And the best part? You can use our code-free builder to create the perfect onboarding flows for your users.
For example, Modal UI patterns can be used to build welcome screens (with customizable microsurveys):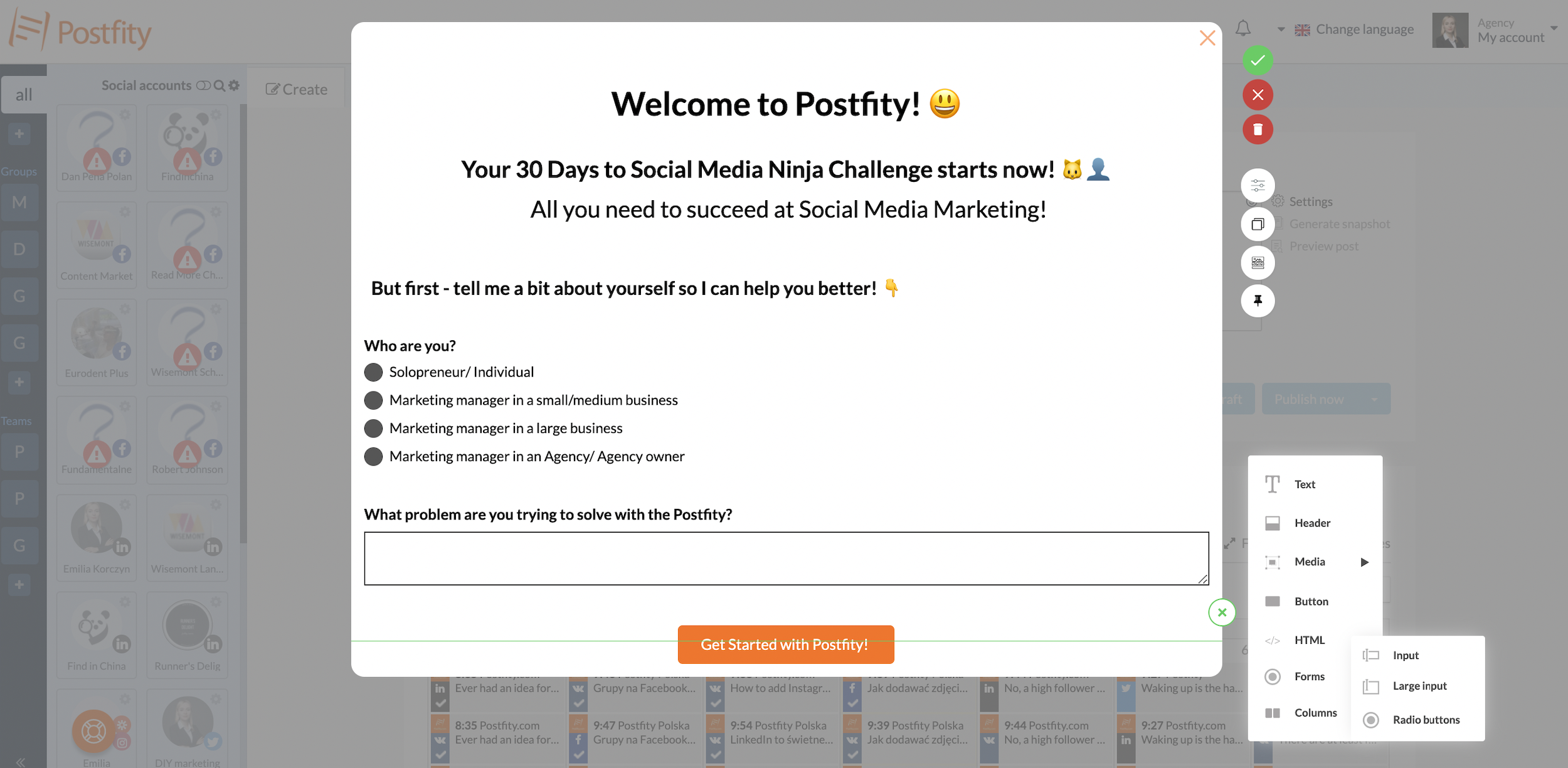 Native tooltips can be used for more subtle, secondary onboarding (helping activated users adopt more advanced features of your product):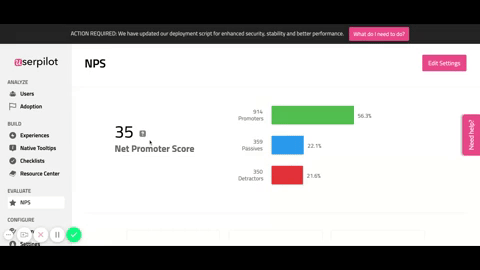 You can also use Userpilot to create a help widget within your app, thus reducing the support ticket volume. Userpilot's Resource Center lets you pull all your in-app experiences, checklists, as well as other resources such as video tutorials or help docs into one place. The Resource Center is accessible on-demand inside your app and searchable by keyword.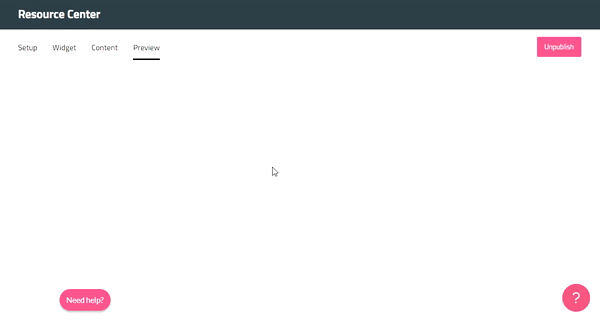 Apart from helping with onboarding and self-serve support, Userpilot also offers user sentiment tools: NPS and microsurveys. We've basically got something for helping you grow through every stage of the user journey.
We make it as easy as possible for SaaS companies to create amazing product experiences. Don't believe us? Why not ask Albacross, who significantly improved their adoption rate with Userpilot.
Also, see other case studies:
Userpilot Pricing
Compared to Walkme's hefty price-tag, Userpilot's pricing is really light.  Userpilot is only $249 per month for up to 2,500 MAUs (Monthly Active Users) and the price doesn't go up automatically even if you go over the limit.
The great thing about Userpilot is that its pricing includes:
all of features without any limitations (even during our 14 day free trial)!
livechat support
3 free onboarding calls with CS
Free Live Webinars for beginner & advance users
WalkMe vs Userpilot Summary
Userpilot is the best WalkMe competitor for SaaS Product Teams that want to grow their product adoption metrics. You get up and running in a matter of minutes, with no technical know-how required. You can then use a wide range of UI elements to build highly personalized onboarding flows for your users.
Unlike WalkMe's insistence on custom pricing plans, we operate on a set pricing model, charging by amount of active users, ultimately costing you significantly less than WalkMe's enterprise pricing. On the flipside: Userpilot does not run on third-party apps or native iOS/Android mobile apps.
WalkMe

Competitors #2: Pendo
The next WalkMe competitor is Pendo. They offer some of the same onboarding features as WalkMe (e.g. guides and checklists), but they also offer some great extras that Userpilot also has, like user feedback forms and NPS scores.
Again, you'll be able to combine customer feedback insights with your user onboarding, creating a product that you know your users want, and that they'll enjoy using.
But perhaps the biggest strength is that Pendo enables you to delve deep into the data you collect with a range of reports and analytic tools.
PMs can see where your users are getting stuck or confused, and discover which areas of your product receive the most engagement. These insights are crucial when it comes to understanding your users better and making product improvements.
However, when it comes to user onboarding, Pendo falls a little short. It lacks the variety UI elements and customizability options that WalkMe or Userpilot might have for building great product experiences. Read our full Pendo vs. Walkme comparison here btw.
WalkMe Competitors #3: Whatfix – For WalkMe's Similar Functionality
Whatfix is very similar to WalkMe in terms of the functionality it offers. The product is targeted at Enterprise companies and offers a range of different tools to help you create a better in-app experience.
You can create targeted in-app walkthroughs and training content and provide self-serve help 24/7.
Perhaps where Whatfix improves on WalkMe is in the ease of use. WalkMe is on-premise. That means it requires a great deal of technical know-how and time in order to get it up and running. Whatfix, however, is a SaaS product, and implementation is quicker and easier.
This makes it more suited for fast-moving SaaS companies who need the products they use to move equally as fast as they do.
Summary
Whatfix offers all of the functionality that WalkMe provides, but it has the edge when it comes to ease of use and implementation. It offers analytical functionality as well. We think it definitely deserves a place on our list of WalkMe competitors.
WalkMe Competitors #4: Gainsight – For Customer Success Managers
Gainsight is widely regarded as a big player in the Customer Success industry. Their primary offering is a CS platform that enables you to measure your customer's health score and track product usage.
They also have another product called Gainsight PX. This is more focused on adoption and onboarding. This product offers a lot of the functionality that WalkMe provides, as well as extra features, such as the ability to create automated email workflows.
Where Gainsight really shines, however, is on the Customer Success side of the product. It gives you insights into how your users engage with your product, and measures customer health scores.
WalkMe is focused exclusively on user onboarding, whereas Gainsight merges product experience insights with customer success software, making it a great tool for CSMs.
WalkMe vs Gainsight
WalkMe focuses on user onboarding, and that isn't a bad thing it itself. Gainsight, however, offers a broader functionality due to all of the customer success capabilities it offers. It may be a better WalkMe alternative for your CS team.
Gainsight will enable CS managers to see where users are failing to engage with your product, and then providing the onboarding tools to help you solve the problem.
WalkMe Competitors #5: Userlane – For Employee Onboarding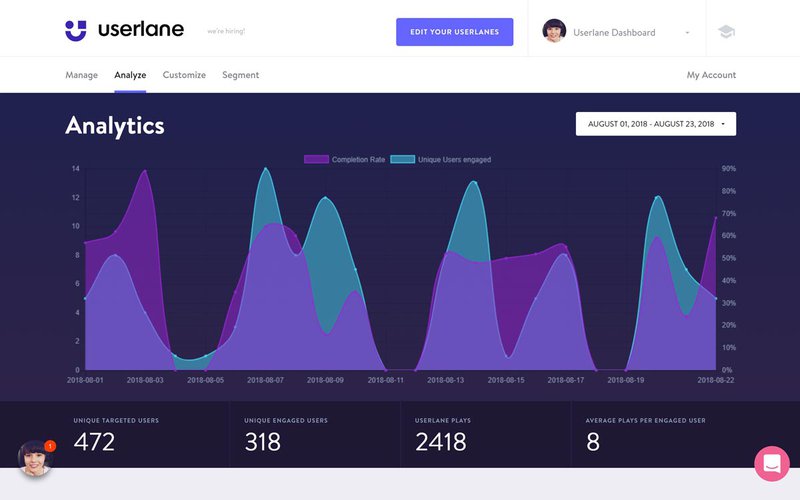 Onboarding isn't just for your customers. Your employees need to know their way around your product as well. This is especially important when it comes to teaching your CSMs or Sales staff how to use your product. After all they are the ones who will ultimately be showing it to your customers.
This is where Userlane comes in. They offer both employee and customer onboarding with their product. While their onboarding offerings are fairly streamlined, the fact that you can use it to onboard your employees makes it one of the great WalkMe alternatives.
The streamlined nature of Userlane also means it's a great fit for startups with its fairly low cost and fairly simple implementation.
P.S. – Read our full Userlane vs Walkme comparison here. 
Summary
Userlane is the most basic in terms of functionality from all WalkMe competitors. However, its ease of use and low cost make this a tempting prospect for startups. Where Userlane really stands apart, however, is with its employee onboarding functionality.
If you're wanting to onboard your own employees instead of just your users, then perhaps Userlane is the right choice for you. They claim that you can cut employee training costs by 90% if you use their platform. That could be invaluable for certain companies.
Which of These WalkMe Competitors is Best for You?
Every business has different requirements when it comes to user onboarding. Rather than asking which of these WalkMe competitors is the best, a better question might be:
"Which of these WalkMe alternatives is best for me?"
Here are our final thoughts:
Userpilot:
Userpilot stands out for its large variety of UI patterns and contextual onboarding options for SaaS companies. This means you can adapt and personalize your onboarding flows to different users and use cases.  Helping them at exactly the right moments and ultimately providing a far better product experience than a simple one-size-fits-all product walkthrough.
Pendo:
Pendo's main strength lies in its analytics, which far surpasses those of WalkMe and some of the other WalkMe competitors. They enable you to delve into your data and pick out key insights about how your users are engaging with your product. That's invaluable data for analytical product managers.
Whatfix:
Whatfix provides essentially the same functionality as WalkMe. Where it differs, however, is with the ease of use, both in terms of originally implementing the product, and then also using it on a daily basis. Unlike the on-premise WalkMe, Whatfix is a SaaS product, and so it'll be much easier to implement.
Gainsight:
Gainsight are more concerned with customer success than product experience. If you're a customer success manager who needs to improve the product experience while also measuring customer health scores and product engagement, then Gainsight is a great choice for you.
Userlane:
Userlane offers added functionality in the form of employee onboarding. If this is an important feature for you, then Userlane will be a good choice, especially considering a lower price point than some of the other products and their easy implementation.
We hope that this guide has helped you understand the different WalkMe alternatives and that you now have some idea of which is the best fit for you.
If you've decided that Userpilot is the best choice for your SaaS, then why not chat with us and start improving your product experience immediately?
Userpliot has made every attempt to ensure the accuracy and reliability of the information provided on this website. However, the information is provided "as is" without a warranty of any kind. Userpilot does not accept any responsibility or liability for the accuracy, content, completeness, legality, or reliability of the information contained on this website.