Amplitude Analytics – Features and Alternatives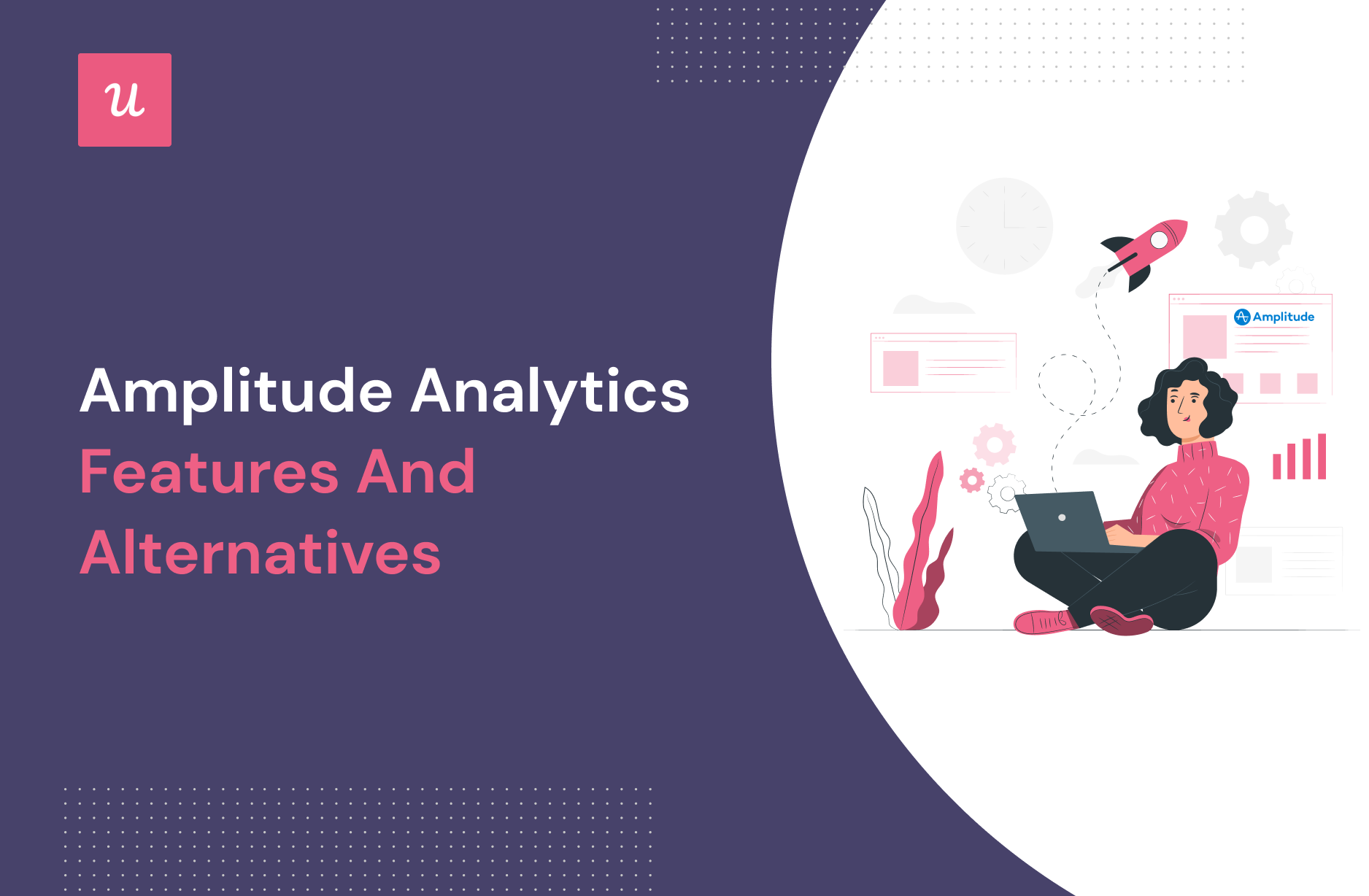 Amplitude Analytics is one of the most popular digital analytics tools for SaaS businesses. It offers valuable insights into user behavior to drive growth and enhance your user experience.
But is Amplitude the right tool for your company? How does it compare to other analytics tools out there, like Userpilot, Heap, or Mixpanel?
This article will help you understand whether Amplitude Analytics is the right fit for you. In case it isn't, you can check out our other in-depth comparisons to determine the best solution for your use case and business!
TL;DR
With cross-platform tracking, real-time analytics, powerful behavioral analytics, enterprise-level security measures, and solid customer support, Amplitude Analytics is a powerful analytics solution designed to meet the requirements of modern-day product and growth teams.
Amplitude's Event Segmentation function shows you what your users are doing within your product.
Using Amplitude's dashboards, you can get a bird's eye view of all your relevant charts.
Amplitude's Funnel Analysis chart offers valuable insights into how efficiently your users are navigating a particular event path within your product.
If data integration is one of your top priorities, you should choose Mixpanel over Amplitude.
Heap tells you all about what a customer is doing within your product. It automatically tracks every user action without you having to decide which events to track.
Userpilot offers goal-based analytics to improve feature adoption, activation, user engagement, and retention.
Unlike Amplitude or Mixpanel, you don't need technical knowledge to obtain results on Userpilot. Book a demo to see how!

Try Userpilot and Gain Growth Insights without Coding!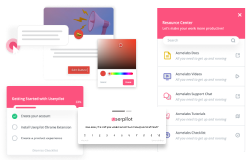 What is Amplitude Analytics?
Amplitude is a Digital Optimization System used by the most highly valued brands and disruptive teams to better understand and personalize their digital products in order to maximize the business value of their product innovation.
Amplitude enables you to answer critical questions related to your digital product strategy, including:
How do users navigate through your application?
Which features are they engaging with the most?
How can you improve long-term user retention?
With cross-platform tracking, real-time analytics, powerful behavioral analytics, enterprise-level security measures, and solid customer support, Amplitude Analytics is a powerful analytics solution designed to meet the requirements of modern-day product and growth teams.
Amplitude Analytics' client base consists of practically all the digital disruptors of today's world, i.e., companies that have designed the most valuable digital products, including Dropbox, PayPal, Atlassian, DOORDASH, Under Armour, etc.
As if that weren't enough, this product analytics platform also serves brands who have successfully shifted their business to digital, including Ford, Disney, Burger King, Walmart, and IBM.
With 4.5 stars on G2, Amplitude is undoubtedly a customer favorite.
Amplitude Analytics – Functionality overview
Amplitude allows companies to break down and analyze user actions into meaningful events, enabling them to make data-driven decisions. Let's go through its main features.
Amplitude Analytics event segmentation
For most users out there, events are the core of Amplitude analysis. Any action users take within your product is called an 'event'. This could be something as simple as pressing a button or making a payment.
If you want a holistic understanding of how users engage with your product, you should track at least 15-200 events. In addition to the 5 default events Amplitude offers, you can add 10 product-specific events to an analysis.
Event segmentation forms the foundation of Amplitude charts, enabling analyses of top events, unique user firing events, event frequency, and user preferences. Its charts merge events and properties with user segments, facilitating simple to complex analyses, including setting formulas for specific events.
Amplitude Analytics charts
Using Amplitude's dashboards, you can get a bird's eye view of all your relevant charts. Rather than viewing each report separately, you can save multiple charts and view them on a single page. Moreover, you can also save cross-project charts in the same dashboard and draw a side-by-side comparison.
While dashboards are available for all Amplitude users, only Scholarship, Growth, and Enterprise users can access certain dashboard features, including:
Setting a user segment (bulk filter)
Setting data range
Email reports
Adding behavioral cohorts
Comment
Generating public links
Amplitude Cohorts & Audiences
Cohorts in Amplitude are groups of users who share specific traits or behaviors. There are two types of cohorts in Amplitude: predictive cohorts and behavioral cohorts.
Behavioral cohorts are defined based on user actions within a specific time period, allowing users to group together based on triggered events. Behavioral cohort data provides valuable insights into how user engagement with a product impacts retention, conversion, revenue, and other key business outcomes.
To build a predictive cohort, you need to determine the question the prediction should answer, typically tied to your company's key objectives and user journey milestones. It uses past behavior to predict future behavior by creating a mathematical model based on hundreds of behavioral signals, including events, event properties, and user properties.
The Cohort feature in Amplitude is available to customers on Enterprise, Growth, and Scholarship plans.
Amplitude Experiment
Amplitude offers A/B testing and progressive feature delivery capabilities through flags, which modify product experiences without code changes.
The workflow for creating an experiment in Amplitude Experiment involves the following steps:
Create a strong mission statement for the experiment, clearly defining the problem it aims to solve.
Configure the experiment by creating a deployment and installing the SDK.
Develop a hypothesis based on the mission statement, including a proposed solution and predicted results.
Choose a metric to measure the experiment's success.
Create variants that represent different user experiences to test.
Decide who will see each variant by defining the bucketing unit (e.g., user or organization).
Allocate users to the variants, determining the user segments and experiences for individual users or device IDs.
Activate the experiment to make it live for users.
Analyze the results using Experiment's data and insights to inform future product decisions.
For phased feature rollouts, the workflow is simplified, focusing on creating feature flags to control which users get access to new features first.
Amplitude Analytics vs. Userpilot
Userpilot is a code-free product analytics platform that helps you better understand everything related to your product and customers. It is a better alternative to Amplitude because you don't need the technical know-how to get the desired results.
Userpilot's analytics is based on what users do inside your app. Let's go over some core features Userpilot offers:
Userpilot Analytics platform features
One key benefit of Userpilot is how better it is for tracking custom in-app events, advanced segmentation, and measuring feature usage.
Userpilot monitors customer behavior depending on the predefined goals you set. It helps you focus on any specific aspect of your product and tailor your analytics to your specific goals. You can also use it to interpret the results from customer events and discover the bottlenecks easily.
The tool provides you with:
Feature tagging: Easily tag any UI element and monitor how different customer segments engage with different parts of your product. You can also use conditional logic with feature tags to trigger in-app experiences and increase engagement.
Custom events: Develop and track custom events to check if customers perform the desired in-app actions and gain insights into their behavior.
User sentiment analysis: Collect feedback to gauge the impact of your marketing and product teams' efforts. You can build various customizable in-app microsurveys to get customer feedback. Consequently, you can better understand user sentiment by integrating NPS surveys with analytics and the response tagging feature.
Trends overview: Filter feature tags and events by specific periods, segments, and companies to identify usage patterns and trends. It also helps you manage data and get more in-depth analytics across all your tools with integrations with data platforms like Mixpanel, Amplitude, HubSpot, etc.
With a tool like Userpilot, you can increase adoption, activation, and retention through:
Segmenting and personalizing onboarding for each user
Seamlessly creating in-app experiences without coding
Building linear and branched experiences using modal, tooltips, and driven actions
Userpilot pricing
The pricing differentiation is based on the number of Monthly Active Users (MAUs) your company has. Here's the detailed Userpilot pricing:
Traction: $249/ mo for up to 2,500 MAUs and includes all the fundamental features related to surveys.
Growth: Custom pricing and usage limits. As well as localization, in-app resource center, advanced event-based content triggering, and more.
Enterprise: Custom pricing and usage limits. As well as unlimited team members, multiple apps, dedicated enterprise infrastructure, and so on.

Try Userpilot and Gain Growth Insights without Coding!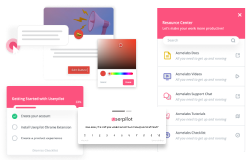 Amplitude Analytics vs. Mixpanel
Mixpanel and Amplitude are two popular product analytics tools used by technical product managers to understand customers.
That said, they do have their fair share of differences:
For reporting and workflow, Amplitude needs you to set up and customize its platform according to your requirements first. Conversely, Mixpanel initially offers basic dashboards, saving you time and hassle. Of course, you have the option to customize later – if you want to.
Mixpanel offers a more flexible schema, allowing you to define custom events and properties, while Amplitude has a more rigid schema with specific naming conventions and data formats. Mixpanel also has a higher data ingestion limit, allowing more events to be sent per month without additional cost.
In terms of pricing and support, Mixpanel has a more affordable and transparent model, billing based on the number of monthly tracked users. On the other hand, Amplitude has a more complex pricing model based on the number of monthly events and features.
Amplitude Analytics vs. Heap
Heap tells you all about what a customer is doing within your product. It automatically tracks every user action – clicks, swipes, taps, page views, and more – without you having to decide which events to track.
On the flip side, Amplitude offers scalable mobile analytics to help companies leverage data to generate massive user growth. While Amplitude is classified under 'Mobile Analytics', Heap primarily belongs to 'Funnel Analysis Analytics'.
Using Amplitude Analytics, product marketers can:
Track real-time user analytics, including retention, funnels, revenue analysis, and flexible user segmentation.
Assess customer behavior behind a certain data point.
Distinguish between churned vs. engaged user behavior.
Pinpoint user behaviors predictive of conversion or retention to drive user growth.
Using Heap, product marketers can:
Define analytics events through a simple, point 'n' click interface. You don't need any coding knowledge to start track events and generate crucial metrics.
Rest assured that each report includes everything from day 1. All analysis on Heap is automatically retroactive. Hence, you don't need to wait for data accumulation.
Amplitude Analytics pricing
Amplitude offers three packages, including a free plan.
Starter – Free Plan.
Growth – This paid plan can cost you $995+/monthly, depending on your demands. You can request a demo to get the exact amount and see how it works.
Enterprise – It starts at $2000+ per month, and you can contact sales to decide on the scale and price.
Is Amplitude Analytics best for me?
In case you're having trouble choosing between Amplitude Analytics and Google Analytics, here's a quick rundown:
Amplitude allows you to decide which information is crucial, while Google decides that for you.
Amplitude was designed for product teams. Google Analytics was designed for websites.
Amplitude features built-in guidance so that anyone can understand how to view data. On the flip side, Google Analytics needs separate documentation.
While Amplitude emphasizes collaboration, Google Analytics makes it difficult to share views with teammates.
Conclusion
To sum up, it is quite evident that there are several tools for different use cases, each with its own set of benefits.
If you want detailed reports with highly customizable options, Amplitude Analytics will definitely be your best bet. However, if you're looking for a tool that offers a blend of analytics and CRM, Mixpanel is it.
Lastly, if you want to focus on goal-based analytics while avoiding intricate coding knowledge, you should definitely give Userpilot a try.
Looking to increase product adoption with in-app onboarding? Get a Userpilot demo to receive actionable insights and improve in-app onboarding experiences for your customers!

Try Userpilot and Gain Growth Insights without Coding!