12 Best Digital Adoption Platforms for SaaS Companies in 2023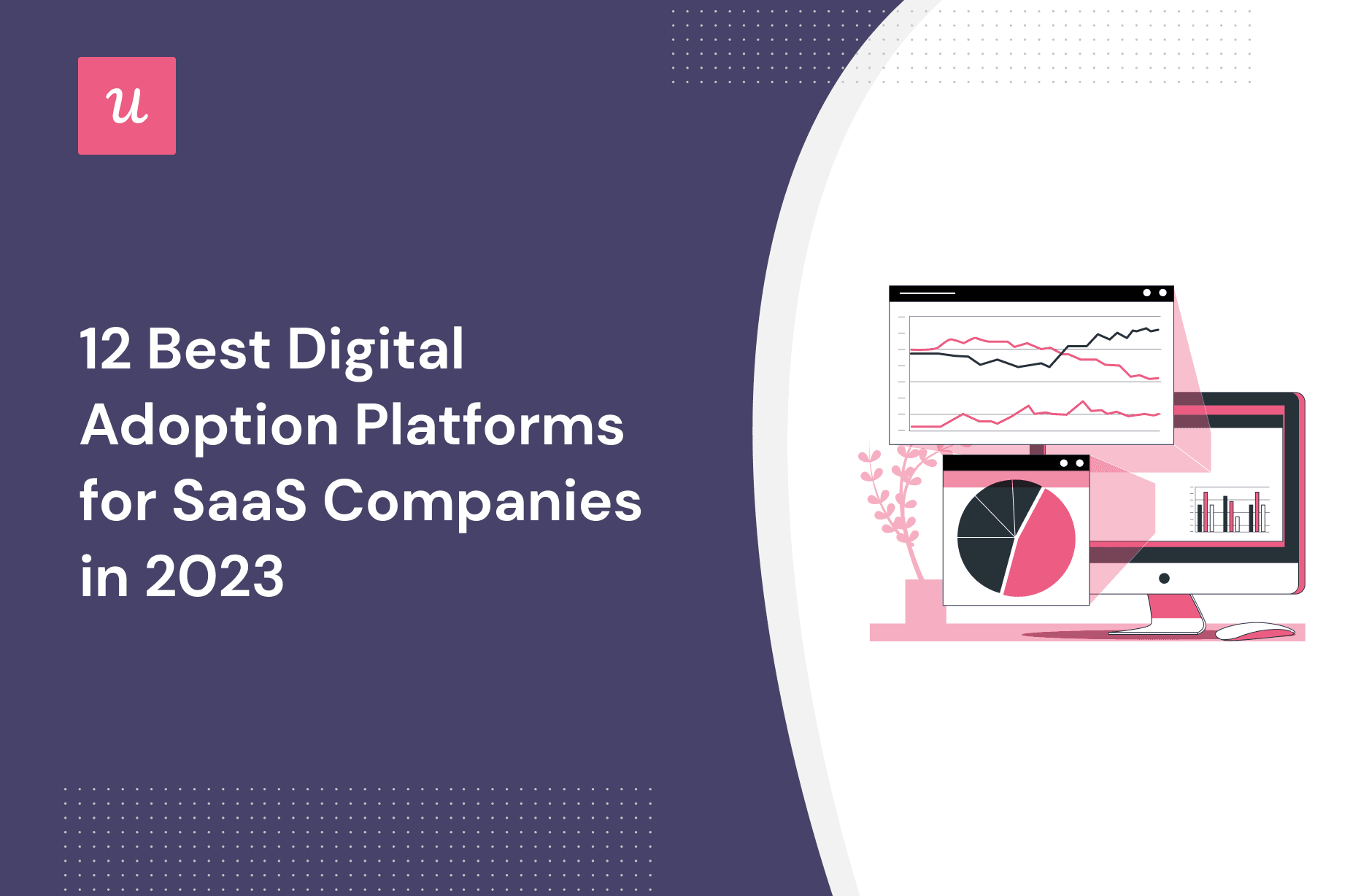 Which of the currently available digital adoption platforms is the best choice for product, marketing, and customer success teams in 2023? Userpilot? Pendo? Appcues? Chameleon? Maybe something completely else?
If you're looking for a new adoption tool or thinking of switching, there are plenty of great choices out there. However, figuring out which of them satisfies your needs and offers the best value for money is no easy feat.
To make the job a little bit easier, we've compiled a list of the 12 best adoption platforms, along with their use cases, features, and pricing.
Let's get right into it.
TL;DR
What is a digital adoption platform?
A digital adoption platform (DAP) is software that helps users get familiar with a digital product like a website or app so that they can use it competently to achieve their goals.
A little bit like a navigation device, it guides users through the relevant features of the product to help them reach their destination as quickly and as efficiently as possible. When the user diverges from the original course, the tool analyzes their behavior and adjusts the route.
What are the different types of digital adoption platforms?
There are two types of DAPs, depending on their purpose:
User adoption: used by digital products to create onboarding experiences and provide in-app guidance and support for new users to help them reach the Aha! moment and adopt the product.
Employee adoption: used within organizations to help onboard and train employees to use new software and support their digital transformation efforts.
What are the key features of a digital adoption platform?
To provide users with relevant and timely advice on how to best use the product, digital adoption platforms require a number of features.
In-app guidance
In-app guidance shows the user where to go and what to do. The most common types are:
Segmentation
Segmentation allows you to group users with similar needs or preferences together so that you can personalize their product experiences to make them more relevant.
For example, if you have a fitness app, your users may have different reasons to use it, like weight loss or muscle gain. What's more, each of them may prefer different kinds of physical activity to achieve their goals.
By segmenting them, you'd be able to customize their dashboards and give them workout recommendations matching their preferences.
Product analytics
Product analytics are necessary to analyze product usage and user behavior to evaluate the effectiveness of your adoption strategy.
Features to look out for include:
Feature usage tracking
Event tracking (including custom events)
Goal tracking
Funnel analysis
Path/Flow analysis
Ability to act on data in real-time, for example, trigger in-app guidance in response to an event
In-app surveys
In-app surveys are necessary to collect user feedback.
Thanks to them, you can track user satisfaction levels over time and identify ways to improve the onboarding process or the product itself.
It's great if your adoption platform allows you to create both quantitative and qualitative surveys, trigger them contextually and collect feedback passively.
Self-help support
The majority of users expect on-demand access to support and guidance so resource center functionality is a must.
Your software adoption platform should give you the option to create and customize self-help modules that users can access in-app whenever they need.
Ideally, you want your tool to also support resource center analytics.
Integrations with your stack
Integrations with other products in your stack enables you to streamline your workflows and improve efficiency. They're also essential to make sure you don't miss any crucial data.
What integrations are particularly important?
Analytics products to supplement the analytics functionality of the platform (e.g., Amplitude)
Communication tools (e.g., Slack)
Customer Relationship Management (CRM) systems (e.g., Hubspot)
12 Best digital adoption tools to explore in 2023
Now that we know what to look for in digital adoption platforms, let's look at our top 12 picks.
Userpilot
Userpilot is a versatile user onboarding and digital adoption platform with well-developed analytics features, feedback collection functionality, and an engagement layer.
G2 rating: 4.6
Best for: medium-size product-led companies aiming to quickly and easily boost user adoption in their web-based products.
Userpilot features:
Advanced user segmentation for detailed analytics and personalized in-app messaging
Feature usage analytics
(Custom) event and goal tracking
Funnel analysis and paths (coming soon)
Real-time product usage data
In-app surveys, including NPS tools and qualitative response analytics
UX patterns for in-app communication (tooltips, banners, modals, slideouts, driven actions, and hotspots)
Onboarding checklists
Self-help resource center
A/B testing for in-app guidance
Integrations (Amplitude, Mixpanel, Heap, Intercom, Kissmetrics, Segment, Google Analytics, and Tag Manager) and webhooks
Userpilot pricing:
There are 3 pricing plans starting from $249/month for up to 2,500 MAUs. There are also custom plans and MAU limits depending on a company's needs.
Pendo
Pendo is one of the most established product adoption platforms, which works on both web and mobile apps. Organizations can use it for both user and employee onboarding. It's best known for its state-of-the-art analytics.
G2 rating: 4.4
Best for: enterprise-level clients that require advanced analytics functionality to inform their digital adoption process.
Pendo features:
Segmentation
Event and feature usage tracking
Funnel analysis to see how users progress toward activation
Paths to map out all the routes users take
UX patterns (lightbox, banner, tooltip, walkthroughs)
In-app guides for web and mobile apps
Guide experimentation
Pendo Polls for feedback collection
Pendo Feedback (a separate subscription)
NPS analytics
Pendo pricing:
Pendo offers 4 pricing plans, including a free plan. The paid Pendo plans are:
Starter – from $7,000/year for up to 2,000 MAUs
Growth – custom pricing and MAU limit
Enterprise – custom pricing and MAU limit
Appcues
Appcues is a mid-range adoption platform that allows product teams to design onboarding experiences and track their performance. It also offers basic analytics and feedback features.
G2 rating: 4.7
Best for: mid-size and large companies who want to improve user onboarding for their multiple products, including mobile apps.
Appcues features:
UX patterns (tooltips, modals, slideouts, hotspots, pins)
Onboarding flows
Checklists
Launchpads for on-demand access to flows
A/B testing for flows
Segmentation
Click-to-track events (code-free event tagging and tracking)
Goal tracking
Flow analytics
A wide range of integrations with analytics tools, including Amplitude, Mixpanel, Heap, Kissmetrics, and Fullstory
Surveys, including NPS surveys and analytics
Appcues pricing:
Appcues offers 3 plans:
Essentials – from $249/month for up to 2,500 MAUs
Growth – from $879/month for up to 2,500 MAUs
Enterprise – custom pricing and MAU limit
WalkMe
WalkMe is a cloud-based digital adoption platform, aimed at enterprise companies, who can use it for both customer and employee onboarding.
G2 rating: 4.5
Best for: employee training and new digital tools adoption.
WalkMe features:
Segmentation
Engagement analytics
Digital experience analytics
Event tracking
User recordings
NPS surveys and analytics
TeachMe – a learning platform, mostly for employee onboarding
In-app guidance and product tours
WalkMe pricing:
WalkMe offers only custom pricing. However, reportedly, its prices range from $9,000 to $50,000 a year, which is not affordable for small or even mid-size SaaS businesses.
Chameleon
Chameleon is another robust digital adoption platform. Just like the others, it offers analytics features, feedback functionality, and an engagement layer. It's the last two that are its greatest strengths thanks to the high levels of customization offered.
G2 rating: 4.4
Best for: product teams that prioritize good UX design and high levels of customization to give content a native-like look.
Chameleon features:
Tooltips (info, help, hotspots, labels, beacon)
Onboarding flows, product tours, and guides
Launchers – in-app widgets for checklists, self-help widgets, and notification centers
Experience analytics
A/B testing
User segmentation and environments
Real-time data event triggering
NPS surveys and analytics
Webhooks and integrations (including Segment, Amplitude, Intercom, Slack, HubSpot, and Salesforce)
Conversion/Goal tracking
Chameleon pricing:
Chameleon offers 3 plans:
Startup – from $279/month for up to 2,000 MAUs
Growth – from $999/month for up to 2,000 MAUs
Enterprise – custom pricing and MAU limit
It's worth noting that the price of each plan will go up if you exceed the MAU number, which could make Chameleon pretty expensive.
UserGuiding
UserGuiding is a code-free digital growth platform. It enables product teams to design and deliver user onboarding experiences to drive product adoption and user retention.
G2 rating: 4.7
Best for: small and mid-size companies that need an affordable digital adoption tool.
UserGuiding features:
UX patterns (tooltips, modals, slideouts, and hotspots)
Personalized onboarding flows and interactive product tours
Onboarding checklists
Self-support resource center
User segmentation and user-specific analytics
Custom events
Integrations with analytics and collaboration tools
UserGuiding offers limited analytics features so users have to rely on its third-party integrations with analytics tools like Amplitude.
UserGuiding pricing:
UserGuiding offers the most competitive pricing plans of all the tools listed here. It has three plans, which are:
Basic – from $69/month for up to 2,500 MAUs
Professional – from $299/month for up to 20,000 MAUs
Corporate – from $499/month with custom usage limits
Userflow
Userflow is a digital adoption platform that allows product and customer success teams to design onboarding flows and launch in-app surveys to collect user feedback. It's aimed at small and medium-sized SaaS companies.
G2 rating: 4.8
Best for: teams that aspire to build frictionless and user-focused experiences.
Userflow features:
Contextually-triggered onboarding flows and UX patterns (hotspots, tooltips, modals)
Checklists
In-app experience analytics
Surveys, including NPS surveys and analytics
Self-help resource center
Event tracking
Custom events
User segmentation and environments
Real-time data recording
Webhooks and integrations (Zapier, Mixpanel, Amplitude, Segment, HubSpot, and Salesforce)
Userflow pricing:
Userflow's pricing strategy is based on 3 plans. These are:
Startup – from $200/month for up to 3,000 MAUs
Pro – from $600/month for up to 10,000 MAUs
Enterprise – custom pricing and MAU limits
Whatfix
Whatfix is a digital adoption platform for enterprise clients. It's used for both employee onboarding as well as new user onboarding for SaaS products.
G2 rating: 4.6
Best for: enterprise companies looking for an efficient method to communicate with and train employees and external stakeholders.
Whatfix features:
UX patterns (tooltips, beacons, modals)
Onboarding flows
Checklists
Resource center
Guidance analytics
In-app surveys and analytics, including NPS and CSAT analytics
Event and user property segmentation and event triggering
User action tagging
Whatfix pricing:
The pricing structure is fairly complex. Whatfix offers separate plans for web, desktop, mobile, and enterprise applications. They don't reveal how much their plans cost but users report prices start at $2,000 a month.
Apty
Apty is a digital adoption platform aimed at enterprise clients. It can be used for user and employee onboarding and it's the latter that is its main use case.
G2 rating: 4.7
Best for: enterprise clients looking for an employee adoption tool.
Apty features:
In-app guidance and messaging
Interactive walkthroughs and guides
Onboarding checklists
Self-support resources
In-app flow analytics
User segmentation for targeting with personalized content
In-app user behavior tracking
Event tracking
In-app surveys (and analytics)
Apty's pricing plans:
Free evaluation: Up to 45 days, includes 2-3 flows
Custom pricing: intelligent analytics, complex flow creation, etc.
Spekit
Spekit is a 'just-in-time' learning platform that focuses on employee training rather than user onboarding.
G2 rating: 4.6
Best for: small and medium-sized companies looking for a training and change management solution.
Spekit features:
Free training content on key tools
Centralized knowledge base for easy sharing of up-to-date practices
In-app spotlights
Onboarding flows/walkthroughs
Knowledge checks
Content usage and analytics
Spotlight, flow, and knowledge check analytics and engagement
Spekit pricing:
Spekit has changed its per-user/per-month pricing (used to be $20) to custom pricing. The company doesn't offer a free trial or a freemium plan.
Userlane
Userlane is a DAP that you can use to drive product adoption with interactive in-app guidance and onboarding flows.
G2 rating: 4.7
Best for: SaaS businesses that want to onboard new users, offer personalized in-app guidance and drive new feature discovery.
Userlane features:
Fully customizable tooltips, modals, and checklists
Interactive in-app guides and flows
Guidance analytics
Resource center (enterprise search)
Support channel integration
User segmentation for targeted delivery of in-app guidance and surveys
HEART analytics (Happiness, Engagement and Productivity, Adoption measurement, Retention, Task success)
NPS surveys and analytics
Userlane pricing:
Userlane offers only custom pricing plans based on usage and use cases. To get a quote, you need to contact their sales team.
HelpHero
HelpHero is the final digital adoption platform in our line-up and the second most affordable after UserGuiding.
G2 Rating: 4.9!
Best for: organizations with small products with up to 20,000 MAUs looking for an affordable onboarding solution.
HelpHero features:
Hotspots
Customizable product tours
Product tour analytics
Onboarding checklists
User segmentation for personalization and targeted messaging
A/B testing (requires coding)
Helphero pricing:
HelpHero pricing is based on the number of MAUs. You will pay $55 for up to 1,000 MAUs and $299 for up to 20,000 MAUs.
How to choose a digital adoption solution for your SaaS?
Which of the above digital adoption solutions is best for your SaaS depends on a number of factors. Here are a few questions that can help you choose one.
Is your product web or mobile based?
Do you need a user or employee onboarding tool?
What is your budget?
What other tools do you have in your tool stack?
Do you use a dedicated analytics tool or do you need a DAP with robust analytics?
What is your digital adoption strategy?
There's a big chance that most of the tools we've introduced tick a lot of your boxes. As always, the devil is in the details – usually, the details in the pricing plans. So, study these carefully before you make the call.
Conclusion
A solid digital adoption platform will help your business drive user engagement, increase activation rates, reduce churn, and turn new users into loyal customers.
If you want to see how Userpilot can help you achieve your product adoption goals, book the demo!