Pendo Resource Center Feature-Limitations and Better Alternatives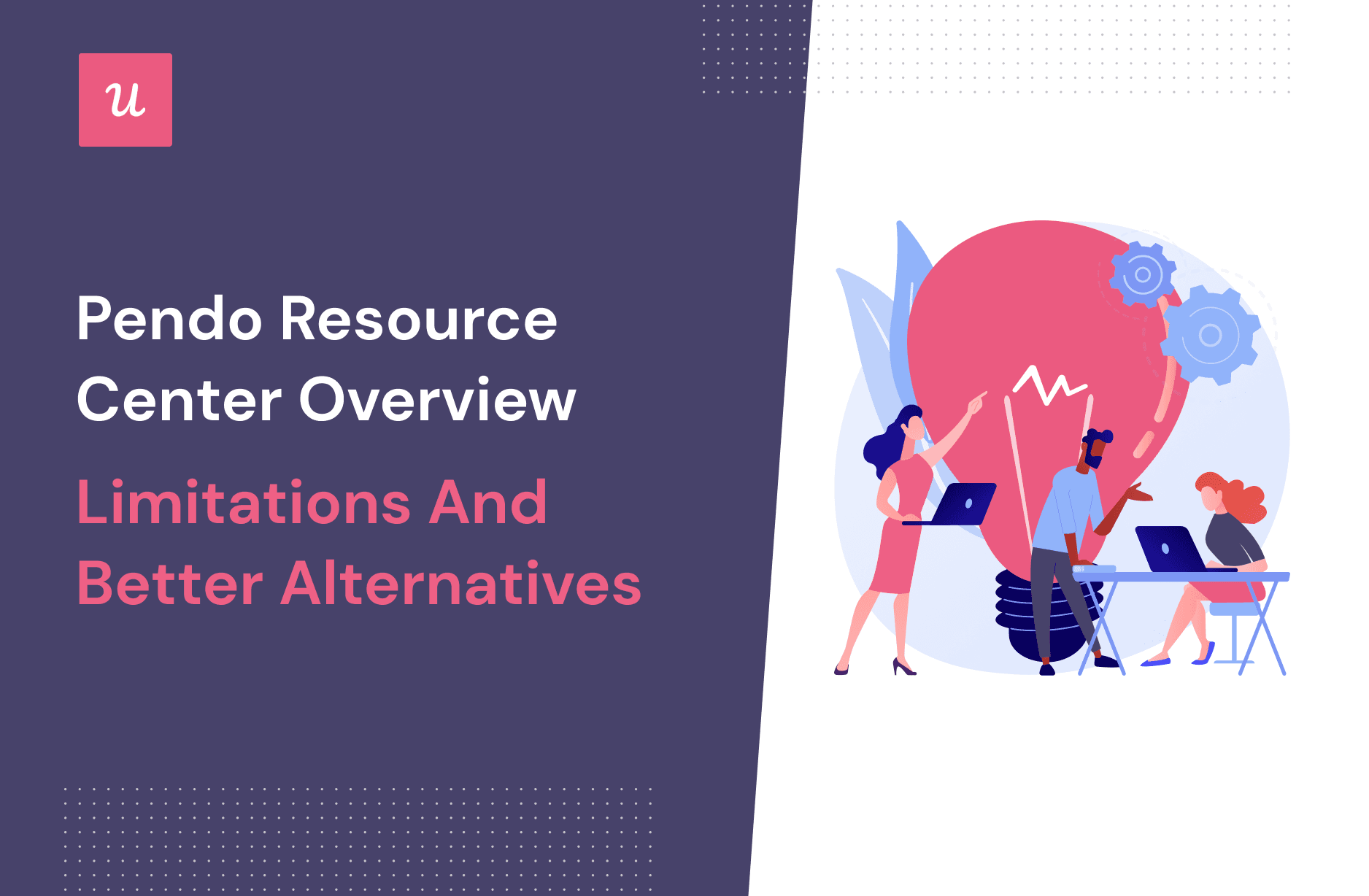 Curious about the Pendo Resource Center? This article breaks it down, showing its features, limitations, and available alternatives.
Resource Centers are great for providing self-service support. If built well, a good Resource Center will reduce the load on your support and digital product teams. It will even enhance product engagement because the customer will encounter less friction with your product.
Let's examine Pendo to see if its solution can serve the purpose of a modern Resource Center.
TL;DR
Pendo aims to help its customers create product experiences, among other things.
The Pendo Resource Center is used to provide on-demand support to your users, just as every other resource center that you would implement in-app.
The Resource Center is not available on Pendo's free plan. Only Pro and Enterprise subscribers have access to it.
Pendo's Resource Center has modules for announcements, onboarding, and user guidance (help articles, FAQs, checklists, etc.).
Pendo doesn't come with Live Chat and Knowledge Base options. You will need third-party integrations if you want these. And it will attract extra costs.
The Resource Center on Pendo has several limitations, including the lack of video modules, limited segmentation options, lack of localization, etc.
Userpilot is a good Pendo alternative for integrating an in-app Resource Center inside your product. It comes with in-depth analytics, video modules, segmentation, and automated translation. In addition, Userpilot lets you add as many modules as you wish.
Unlike Pendo, Userpilot's Resource Center can be accessed on all plans, starting at $249 per month.
Get a Userpilot demo and start offering self-service support in-app without having to code a Resource Center.
What is Pendo product for?
Pendo is a digital adoption software that enables its customers to create product experiences for the end-users.
Some things you can use Pendo to accomplish include user onboarding, product engagement analytics, and in-app support, among others. Resource Centers are part of the in-app support solution, and that's what we'll be examining in this article.
What is Pendo Resource Center?
A Resource Center is an in-app feature that enables users to access on-demand help without contacting human support.
Resource Centers typically include help docs, articles, tutorials videos, and any content format that provides the customer with the help they need.
The Resource Center functionality on Pendo (formerly the guide center) helps customers build Resource Centers on their own apps without coding.
Here's what it looks like:
Pendo Resource Center
Is the Pendo Resource Center feature available on the free plan?
The short answer is no.
Pendo Resource Center is considered part of the Guides feature, which is only available to Pro or Enterprise customers. This design is probably why you can only add Guides to the Resource Centers (more on that in the next section).
Pendo's Pro and Enterprise plans are pretty expensive and probably not suitable for small to mid-sized companies, considering they can go up to $15000/year (based on online reviews).
Pendo Resource Center overview
The Pendo Resource Center is built with modules for different content types that customers would like to make available to their users. Let's go over these modules and what each represents.
Guides List. This module contains the different types of Guides you'll want to create for end users. Help articles and FAQs fall under this category.
Onboarding module. This is much like the Pendo Guides above. The only difference is that this module is specifically designed for onboarding new users.
Announcements. Want to send short notifications to users? This feature helps you do just that. The messages are delivered through the Resource Center, and users will get notification indicators for messages they haven't opened. However, this feature might not be best for the notifications you want users to see immediately since they'll have to go to your Resource Center to access the message.
Feedback. As the name suggests, this module enables users to send and prioritize feedback.
Code Sandbox. Don't see the module that fits into what you're looking to create? This feature is for you. The code sandbox allows users to custom code desired modules using HTML, CSS, or JavaScript.
Integrations modules. This section shows supported third-party apps you can attach to your Pendo account and create desired experiences.
To summarize, you have four different modules for grouping content: Guides List, Onboarding, Announcements, and the Code Sandbox. The Announcement feature won't be used often, so it's more or less three functional categories left.
Alternative to Pendo's Resource Center
As you've seen from the previous sections, Pendo's Resource Center is quite limited. The first problem is that you'll have to upgrade your plan to access the feature—there is no way to test it on a free plan to see if it's good enough for you.
Let's say you agree to pay for the Pro or Enterprise plan.
You'll next have to deal with limited access to integrations. The Pro plan, for example, only affords you one integration. You'll need the Enterprise plan to get more.
In addition to that, if you can't find the desired module you will have to create it (or customize an existing one) through coding.
These beg the question of whether there are any alternatives with better features.
Not to brag, but Userpilot offers more robust and flexible Resource Center options.
With Userpilot, you can design your Resource Center in a way that actually helps your end-users. You could add multiple content types and group them however you like:
Integrate your knowledge base
Add guides and flows
Launch in-app video tutorials (embed directly from Loom, Youtube, Synthezia)
Add a chatbot, etc.
The image below shows what a rich Resource Center looks like.
Pendo new Resource Center modules limitations
The previous section covered some limitations to Pendo's Resource Center modules. Let's examine them in more detail.
Modules configuration
As mentioned earlier, Pendo comes with predefined modules where you can group your content. These include Guides, Onboarding, and the option to custom code a module.
Guides and onboarding modules are pretty much the same things, and you can only add preset Guides. If you want something different, you'll have to code it yourself.
You can rename each module into a more user-friendly title, but it doesn't change the fact that you have only three separate modules to group your content. This is quite limited for the price you have to pay.
If you have an average amount of Resource Center content grouped under just three categories, it will mean the customer has to scroll endlessly to find what they want.
This is where Userpilot is different. With Userpilot, you can group content under as many categories as you wish, granting users a more frictionless experience.
Adding more modules
The Pendo Resource Center doesn't have an option for Knowledge Base or Live Chat, but these options can be enabled, depending on the integrations you add.
If the options don't come with your integrations, you may need to custom code them. Keep in mind that integrations will attract extra costs, as stated earlier.
One advantage Userpilot has over Pendo is the ability to add everything you need without paying extra fees.
Targeting and segmentation
Targeting and segmentation are powerful tools for personalizing the user experience, and you want to make use of them at every chance you get.
Pendo allows its users to set the desired target audience for each module, but the segmentation options are quite limited:
Userpilot also lets you set target audience groups, but the app has more in-depth segmentation options.
For instance, you can set modules to be triggered on specific user paths. You can also add specific conditions based on user attributes, app engagement, custom events, etc.
Brand personalization
For brand personalization, Pendo offers the following:
Badge icon: This is set to a circle, but you can add your custom image.
Badge color: The default color is Pendo's pink. However, users can change the colors to fit their brand image.
Alert badge: Appears when the end-user has an unread notification. It's a nice UI move to ensure users don't miss announcements.
The bottom right corner is the default badge location, but this can be adjusted as desired.
How does Userpilot compare?
Userpilot's Resource Center lets you do all of the above with a few extras:
You can add different badge icons if you so desire (Pendo lets you stick to just one).
You can add icons to every module, creating more engaging and personalized experiences that match your brand's personality.
Resource Center localization
There are typically two types of businesses: the ones with localization teams and those without localization teams – which are the majority.
Pendo only supports manual translation where you need to have translators in the team.
But Userpilot supports both manual and automated translation.
Userpilot's automated translation service gives teams without translators the full ability to translate their Resource center content back and forth between 32 different languages with a click of a button.
How to add an Announcements module to Pendo Resource Center?
Like other modules on Pendo, the Announcements module can be renamed something else if you wish, without disrupting the internal naming convention.
To create and manage Announcements modules, you'll head over to the Resource Center page on Pendo and click the button that says "+ create Resource Center."
This will lead you to a new page where you can choose to create Announcements, select the preferred layout and edit your announcement in Pendo's Visual Designer. You could contact a Pendo agent if you encounter a challenge setting this up.
The image below is what your Announcement will look like when rolled out. It's nice that the unread icon is included to let users know when they have new messages.
A small box is not exactly the best way to launch something that helps users in-app. There's so much whitespace, and it doesn't sit well with the UI.
Modals or banners work better for these kinds of things. Check out the banner example below, created without coding using Userpilot.
What's missing from Pendo's Resource Center?
Resource Centers exist to provide true self-service support that makes life easier for you and your customers, but Pendo lacks key vital features. Let's go over them.
It's not really a Resource Center, but an expensive guides hub
The fact that Pendo makes you pay for the functionality of a basic Resource Center—chat and knowledge base integrations—makes us think they don't consider these important or are overpricing it.
Like, what's a Resource Center without these two integrations?
The limited content types and modules are also making Pendo's Resource Center, not a true Resource Center.
No search functionality
A Resource Center allows teams to empower end-users with answers and contextual guidance on-demand.
To enable this you need a search functionality that allows the customer to find answers right within it to increase stickiness and usage. But Pendo's Resource Center doesn't serve this purpose.
Yes, it does have a search option, but it only allows you to search the content inside the Resource Center itself. This is limiting.
Userpilot's Resource Center is different. It's built with a search functionally that includes searching both the Resource Center content and other external knowledge bases.
The search functionality is available with the following search engine providers too:
This Userpilot's Resource Center functionality will no doubt provide a richer user experience for your customers.
No Video modules
Have you struggled to understand a particular feature despite reading help articles on it, then watched a video, and everything became clear?
It's a common experience as videos tend to explain stuff better. That's not mentioning the fact that most people naturally prefer videos to reading content.
Sadly, Pendo doesn't provide this functionality.
Again, Userpilot is different here. You can embed videos from various streaming providers such as Witsia, Vimeo, Youtube, SendSpark, Vidyard, etc., and have them played directly in-app, without making the users switch between tabs when trying to watch and implement a tutorial at the same time.
Lack of Analytics
Understanding the performance of the Resource Center over time is crucial for teams to do enhancements and reorganize in a way that better serves their end-users. Pendo doesn't have an option for this.
Userpilot, on the other hand, provides a time-series graph that tracks the Resource Center performance over time with period filtration that can go deep into the hourly interactions with the Resource Center.
You also get key stats for each module to better understand its usage.
Better Pendo alternative for building an in-app Resource Center: Userpilot
To recap, Pendo is a great product, but its Resource Center is limited in the following areas:
There are only three modules you can nest content under. This means your end users have to spend extra time scrolling to find the information they seek.
The Pendo Resource Center only allows you to search content in the Resource Center itself. Users will have to search elsewhere to find extra information when they need it.
Pendo doesn't provide automated translations, so you'll need to hire a localization team.
The feature doesn't include video modules or analytics.
To add to these limitations, Pendo customers will have to be on the Pro or Enterprise plans to access the Resource Center feature. While the pricing for these plans is not clearly stated on their website, online reviews show that they're quite expensive.
If you want a Resource Center that doesn't have these limitations, then Userpilot is your plug. All pricing plans come with the Resource Center feature included, and you can get started with as little as $249 per month.
Conclusion: Which should you choose?
Now you've known what to expect from Pendo Resource Center without filling out a demo request form or signing up for any of the plans.
We've also gone over its limitations, so you'll see what you're getting into. In addition to that, this article has shown you a viable alternative to Pendo.
So which of the SaaS tools will you choose? We can't select for you, but based on the price and functionalities we've compared, Userpilot seems like the software that will provide a better bang for your buck.
Get a Userpilot demo to get started building a Resource Center for your tool.