End-User Training SaaS: How To Train New Users And Drive Product Adoption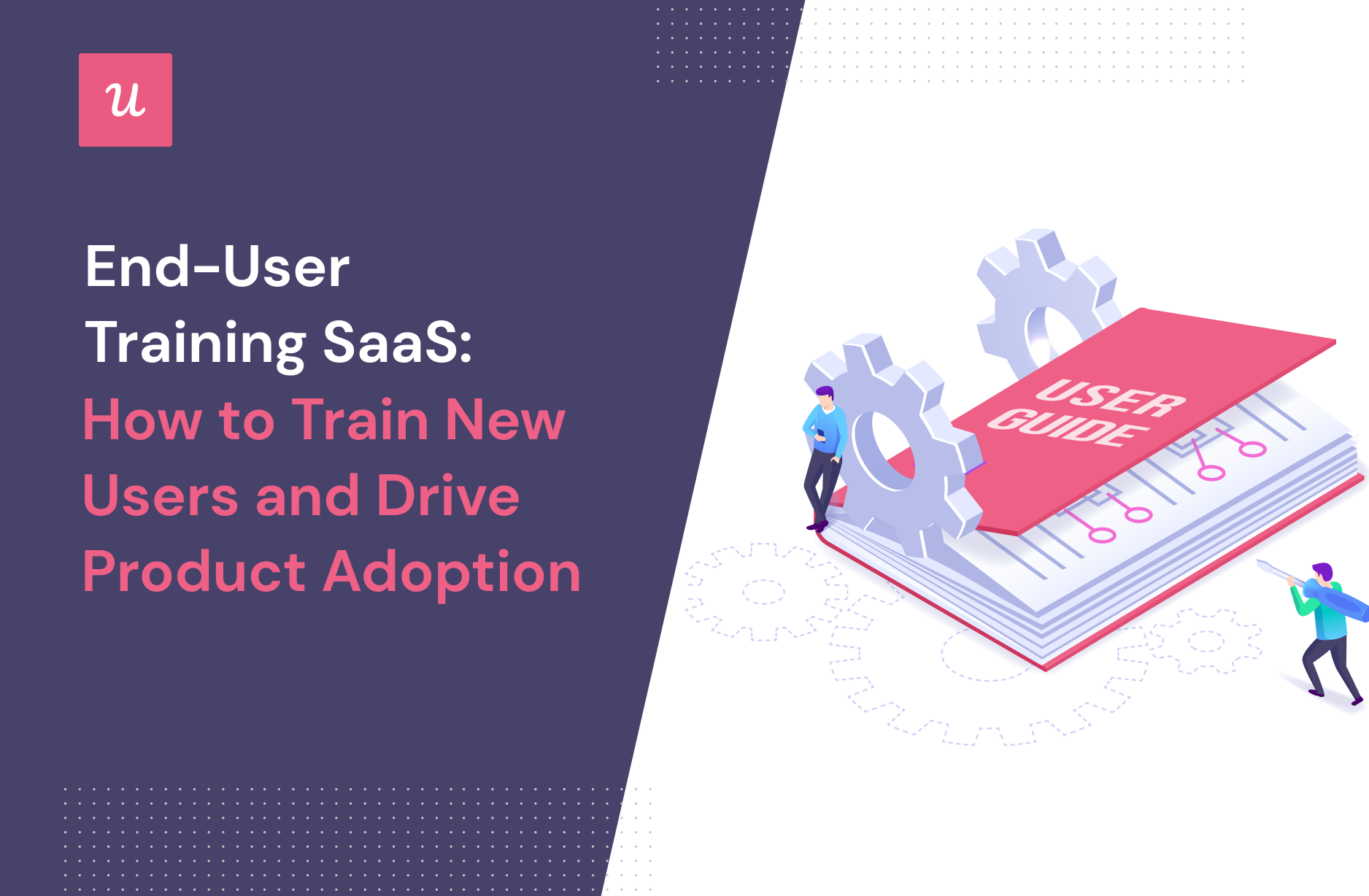 End-user training bridges the gap between mere signups and actual usage of SaaS products.
People are not likely to find value in a software product if they are left alone to figure everything out. Many of them will leave the moment they encounter friction or perceive the SaaS product as too complex for them. But proper user onboarding helps you avoid all that, and that's exactly what we'll be discussing in this article.
Let's get started!
TL;DR
End-user training is all about educating customers on what software offers and how they can maximize their usage.
End-user training helps people instantly see the benefits of a product, reduces churn, and improves customer loyalty, among other things.
In-app guidance is one of the best ways to train customers, but you should have a strategy before you start. Otherwise, you risk confusing the user with cluttered UI and too much information.
An online training session is another powerful way to onboard new platform users. This can be done through live webinars or 1-on-1 calls.
In-app resource centers also work well because it means making on-demand help available to existing users at all times.
To make the most of end-user training, try to deliver personalized experiences. Also, test different methods to see which works best for your target audience. and don't forget to collect feedback and improve!
Face-to-face training is a good add-on for onboarding employees in a physical office.
Best SaaS tools for user onboarding: Userpilot, WalkMe, Pendo, Appcues.
What is end-user training?
End-user or product training is the process of getting users up to speed with tools and processes so they can function better and faster.
It seems more common in SaaS products, but companies also use it as part of their onboarding process for new hires. The former involves training employees to understand what the company does and the software it uses to accomplish tasks.
But for SaaS, this training process is simply about getting users familiar with the product. The end goal in this case is to drive product and feature engagement.
Why is end-user training important?
Product training can be quite tasking, so you might feel tempted to avoid it if you don't understand its importance. Below are some reasons SaaS companies should consider training their end-users:
It drives product engagement and reduces time to value. By training your customers, you make it easy for them to see the real value in your product. This in turn makes them want to invest time and money into using your software to meet their needs. Time to value is reduced here because customers no longer have to waste time trying to figure your SaaS product out.
It reduces customer churn. Friction and perceived complexity are major reasons that users in the early journey stage churn. If you onboard these types of customers properly, and train them, you won't lose them.
It helps users get support faster which in turn, improves customer satisfaction.
Types of end-user training for a SaaS product?
There are so many ways to train end-users and you'll probably come up with a plethora when you engage your creativity. But we've summed these methods into three categories:
An in-app product training program
This refers to in-app guidance from the moment a user signs up for your SaaS product. The sessions can be delivered through a mix of tooltips, modals, interactive walkthroughs, and checklists set to be triggered based on how the user interacts with the product.
You might be wondering how to go about delivering in-app training for your SaaS. Here are some guidelines:
Start with a strategy. Don't be intimidated by the "strategy" word. It just means you should have a clear goal and a roadmap for your training.
Answer questions like "What do I aim to show the end-users?" "Which in-app tool will work best for what I'm trying to accomplish?" "What user segments will fit all the end-users?" "What user stage should I place XYZ?"
Pick the right onboarding tool to implement your strategy.
Measure your success. Direct feedback is great for knowing how the training experience was. But you won't always have access to this, so track product usage analytics and use that to gauge your success. An increase in product usage shows end-users are finding your product easy to use.
Online training sessions with the customer success team
In-app training is usually paired with customer success onboarding sessions for better results. This can be webinars, 1-on-1 calls, or other types of resources with the sole focus of giving end-users a deeper understanding of the product.
Virtual training with someone from the CS team tends to clarify things better for people, so it's something you might want to consider. This online training by Userpilot makes a good example.
Self-service user learning experience using simple tutorials
This is the best way to offer help on-demand inside the app. The fact that it's always available to users whenever they need it makes it a good investment.
A resource center works well in this situation because it can include:
in-app video tutorials,
access to written learning resources (guides, documentations, business systems, etc.),
triggers for in-app guides, and
an option to contact support.
Here's an example for you: Postify's resource center built with Userpilot.
End-user training best practices for driving customer success in SaaS
Here are four best practices to do onboarding right and boost your customer success rate.
Let's get into it.
Personalize the user learning experience for each customer need
Understand that your users are different and have different needs, so bland product tours will not cut it. Instead, segment users and send personalized training according to their job to be done.
In other words, build the learning experience and only show users what is relevant to them.
Mix different types of end-user training based on end-user needs and use A/B testing
You won't know the best type of training to use unless you test. Some users may prefer short video tutorials, while others find it easier to learn from interactive walkthroughs.
So, try different training types and use A/B testing to see which resonates best and drives better results adoption-wise. You can easily A/B test in-app experience flows with Userpilot.
Offer in-app help for user support on request
We've mentioned earlier that self-service learning experiences are a type of product training.
Understandably, some SaaS companies won't offer this. But you should still consider making helpful resources available to end-users even if that isn't your primary training channel. This will reduce the load on your support team and increase user satisfaction.
It also helps to declutter your UI as you go about this. Too much clutter can be confusing and sometimes even annoy customers.
Collect feedback and improve based on it
Your goal with the feedback is to identify friction points and where users still need extra help.
The best way to collect feedback?
Do it in-app. Sending feedback forms immediately after someone completes their training increases your response rates, and you will receive accurate feedback because the experience is still fresh in their mind.
Here's an example from Slack:
End-user training examples for SaaS products
We'll go over a few examples for two reasons:
to show you that customer training works
to give you inspiration for your future training.
How Platformly onboard end-users with their complex product
Platformly is a marketing automation platform that enables you to engage and nurture leads, understand customer journey stages, and build relationships with customers, among other things.
The SaaS product is quite complex due to the nature of the solutions it provides. They needed a way to help users get the hang of their product right from the onboarding stage, and they turned to Userpilot.
They used checklists, modals, interactive walkthroughs, and catchy CTAs to simplify onboarding and drive completion rates of 40%.
First, they use an onboarding checklist that allows you to actually try the product and realize its value. Then you get a short in-app video that briefly shows you the product in action.
In the next step, you are guided by an interactive walkthrough that encourages you to take action; create a dashboard in this case.
By completing the steps in the checklist, you're training and getting acquainted with the product by actually using the product.
How Kontentino increased new end-user activation by 10% with in-app training
Kontentino is a social media platform for collaboration and scheduling. They came to Userpilot with a few goals: create a user training flow for the first time ever, increase product usage, and drive new feature adoption.
The onboarding flow they built included an interactive walkthrough and a checklist. This resulted in a nearly 10% increase in new end-user activation within just the first month.
Then you have an interactive walkthrough that suggests you connect your social media platforms.
After you complete an action, there is a nice gesture from Kontentino. A modal opens up with words of praise.
How Kommunicate drives adoption by training end-users
Kommunicate had one purpose: increase feature engagement for their SaaS product. The platform helps other companies boost support with intelligent chatbots, but it was weird that their own customers weren't maximizing all available features.
The company used checklists and interactive walkthroughs to boost its onboarding workflow and realized a radical increase in feature usage.
After you integrate the bot platform, then you have the opportunity to customize the chat widget.
Best end-user training software for SaaS user onboarding and adoption
Now you know what end-user training is and the different ways to go about it. This section shows you the best user onboarding tools to get started.
We'll go over the following software and show you what they are all about.
Userpilot
WalkMe
Pendo
Appcues
Userpilot – All-in-one solution for end-user training with in-app customer onboarding
Userpilot is a no-code platform created specifically for SaaS product teams.
It has extensive features for creating a variety of user onboarding experiences. But that's not all. The software is also equipped with features for user analytics and in-app microsurveys to enable you to support users at every growth stage.
Userpilot Features
Userpilot allows you to create contextual onboarding experiences, and you have multiple UI patterns to choose from.
To make the most of product training, Userpilot's analytics enables you to set feature adoption goals and track the number of users that adopt the features you want. You can then use this data to modify your onboarding experiences, as the case may be.
With Userpilot, you can build a resource center to provide on-demand support for customers that still need additional help. You don't need a line of code to build this self-serve center that grants users access to resources like onboarding videos, knowledge-base articles, help docs, and so on.
Userpilot's base plan goes for $249 per month. With it, you can track up to 2500 monthly active users and upgrade if you need to track more. All Userpilot's plans (free trial included) grant you access to live support and live educational webinars, among others.
WalkMe – Best SaaS solution for training new employees
WalkMe is best suited for Product and Customer Success Managers. It's one of the earliest tools to be developed in this field, and it's focused on employee onboarding and digital adoption.
WalkMe is expensive because it's more targeted at large enterprises. The tool is priced at $9,000 – $50,000 per annum and runs on an annual contract basis.
Pendo – Best for mobile apps end-user training and enterprise SaaS
Pendo is one of those few user onboarding software that runs on mobile. Another added advantage is that it offers the most detailed analytics of all the software on this list.
As you would expect, the app has options for building resource centers and generating in-app feedback.
How is Userpilot different from Pendo?
Pendo doesn't offer checklists.
The user interface makes it quite difficult to build product tours.
Like WalkMe, Pendo has no monthly plans. The least you can pay for is an annual contract.
Appcues – Best for ease of use but limited functionality on starter plans
Appcues is a customer experience management software that allows you to create, track and easily manage onboarding experiences.
Although an older platform, Appcues has so many similarities with Userpilot. For instance, some of its features similar to Userpilot include interactive walkthroughs, onboarding checklists, and user analytics. It also has the same base plan as Userpilot—$249 per month for 2500 active users.
The software has more templates and integrations compared to Userpilot. Its UX is also more intuitive than Userpilot's.
Some ways Userpilot is different:
Userpilot customers have access to more UI patterns than those using Appcues.
Appcues doesn't support native tooltips and has no feature for creating resource centers.
Appcues has its price limited by feature usage, so it can get expensive for entry-level companies.
Conclusion
End-user training helps employees and customers get familiar with the different aspects of the software so they can maximize it. This training is a no-brainer for SaaS products because that's the quickest way to show value and drive product adoption.
The different types of end-user training include:
In-app product training program.
Online training sessions delivered live.
Self-service customer learning experience using simple tips and tutorials.
For employee onboarding, physical companies could also include face-to-face training as part of their strategy, rather than do everything online. This can provide a richer experience and enhance bondings with fellow employees.
Ready to build code-free onboarding experiences and make your customers more successful? Book a demo call with our team and get started!