10 SaaS Knowledge Base Examples and Best Tools to Build Yours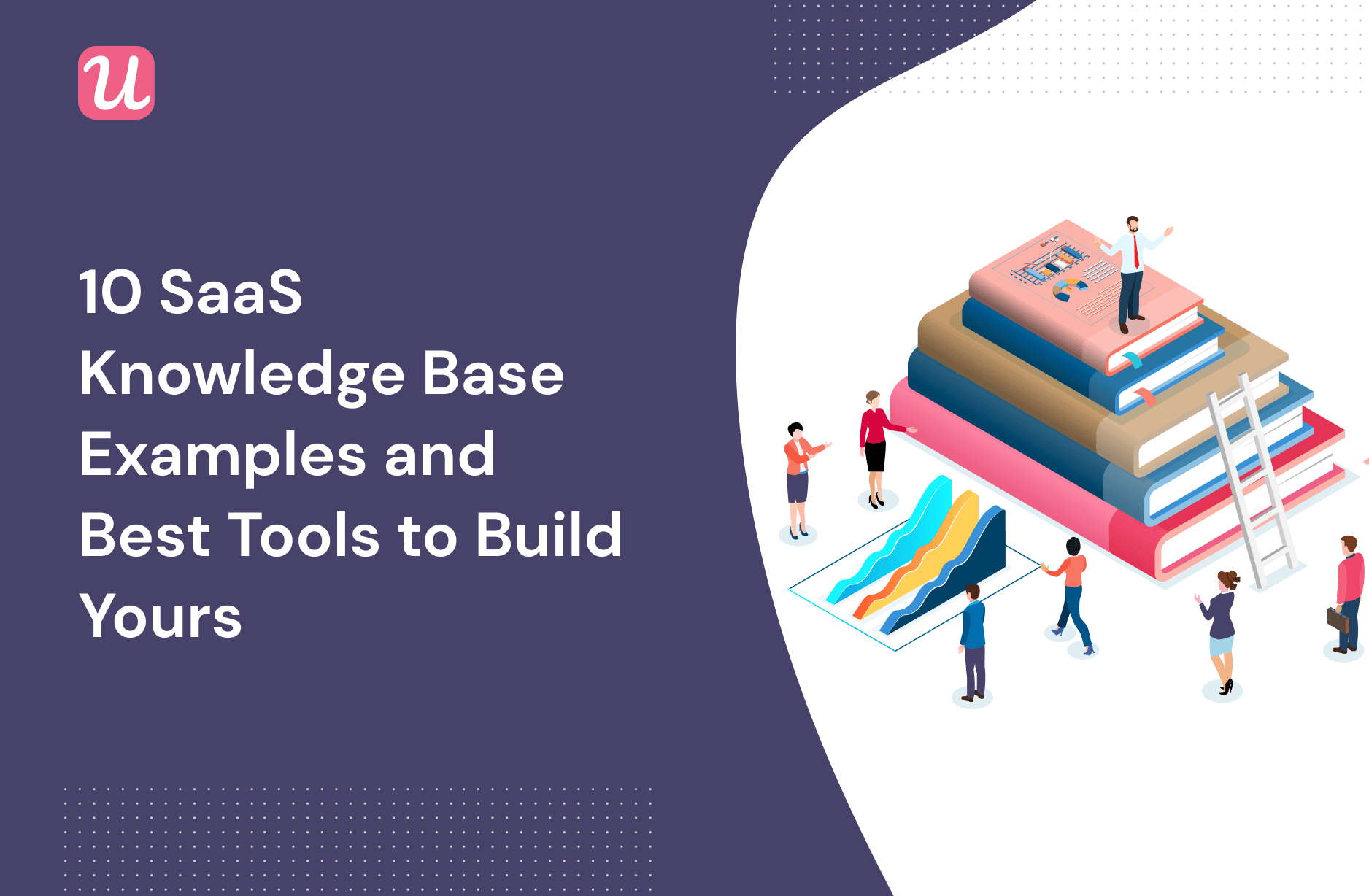 Looking for SaaS knowledge base examples?
Helping your users get the most out of your product is an important (and tricky) job.
In this article, we're going to look at ten excellent SaaS knowledge base examples and look to reverse-engineer some valuable tactics you can use when creating your knowledge base for self-service support.
Knowledge bases can become one of your most effective tools for answering your users' questions, reducing pressure on your support team – and ultimately enhancing the customer experience.
Ready to get started?
Read on!
TL;DR
A knowledge base, also known as help centers, describes a collection of resources that helps answer your customers' questions.
They're a valuable resource for SaaS companies, and help customers tackle many challenges: the better a user understands your product, the more likely they are to be able to achieve their goals – and knowledge bases help users shorten the learning path.
Knowledge bases help tackle customer churn by reducing 'friction' (the cost of learning how to use your product).
The better your knowledge base, the lower your support costs (as more queries can be answered independently).
Good knowledge bases share common attributes: they help users find their own answers, they have strong search functionality, they are user-friendly, and offer multiple types of resources.
Knowledge bases typically contain a range of resources: detailed product documentation, interactive guides, and product update notes.
In the article, we explore 10 SaaS knowledge base examples – and look into the tactics each use to make the most of their private knowledge bases.
There are many knowledge base software solutions out there: Userpilot offers a range of impressive features which drive customer value (compared to examples like Groove or Zendesk).
What is a SaaS knowledge base?
The term 'knowledge base' is typically used to describe a collection of resources aimed at helping answer your customers' questions about your products.
A customer might use a knowledge base to learn more about navigating a user interface, look into technical specifications or get help with a specific feature.
The main goal of any knowledge base is to enable customers to access the help they need without having to contact your support team.
Why do SaaS companies need a knowledge base?
If you invest the time and effort to create a knowledge base, it can become an incredibly helpful resource that enables your users to easily resolve their issues.
In a crowded marketplace, that is a useful competitive advantage.
The simpler it is for a user to navigate your service, the fewer issues they'll face, and the shorter their 'time to value'.
Let's look at some of the key reasons SaaS companies use knowledge bases.
Shorten the learning path and boost customer success
The better a user understands your product, the more likely they are to be able to achieve their goals. Knowledge bases are a valuable tool in building that understanding.
Providing a knowledge base helps customers solve their own problems as they emerge.
That type of contextual learning experience gives them a much better understanding of how to use your product – a huge advantage during customer onboarding.
Reduce customer churn due to friction
A key driver behind customer churn is friction – anything that causes your users to grow frustrated with your product.
Most of the time, that friction is caused by a 'knowledge gap' – a lack of understanding about how to get the most out of your product.
By providing targeted knowledge base articles, you can help directly address their challenges, ensure a smooth customer experience, reduce friction and improve churn.
Self-service reduces cost with your support
SaaS users will always need extra support: from questions about functionality to payment.
That means as your SaaS business grows, your support costs could begin to skyrocket.
Building an online knowledge base takes the pressure off your support team.
By placing a greater focus on self-service, you reduce the number of people who need to contact support or call your help center.
So as well as improving customer satisfaction, you'll need fewer support agents on hand. Many SaaS companies rely on a large percentage of user queries being answered within their knowledge base.
What makes a knowledge base great?
You can't simply throw random articles together and expect that to increase customer success – a knowledge base tool is a complex thing to get right.
Self-service where the user is
First things first: your knowledge base has to be easy to find.
If your customers don't know where it is, how can they use it?
So, you should signpost where your knowledge base is located – whether that's hosted on your SaaS company website, in-app or somewhere else.
Increasingly, the best practice for SaaS apps is to have a dedicated in-app resource center.
That means your users can directly access relevant articles, alongside any other helpful resources (whether that's a self-service knowledge base, an internal help desk, contact information for your help center, or anything else).
Search functionality
Don't underestimate the importance of ensuring your knowledge base has search functionality.
Search is a simple, accessible mechanism for your users to find the support they need in your knowledge base – make sure you have a prominent search bar. Search engines drive the capability to help customers find what they need and self-serve support.
That helps you lower customer dependency on engaging directly with support staff in your help center.
As well as letting users enter information directly into a search bar, you could also explore a broader range of detailed filters (a more advanced search feature) to help tailor results.
Good UX and navigability
Your SaaS knowledge base is only a success if your users can consistently find the answers they're looking for – and a common problem facing users is not knowing what to type into the search bar in the first place.
With that in mind, you should focus relentlessly on providing a good user experience and making your knowledge base navigable.
Think about your underlying information architecture: make sure you name any articles, documents, and guides in an intuitive way that helps customers find what they're looking for.
You should also organize all your resources into top-level categories and subcategories: many users find navigating by topic a much simpler interaction than using a search bar.
Don't forget the basics: your knowledge base should have a clean, visually appealing, and easy-to-use interface.
Multiple types of resources
How-to articles are very useful.
But they aren't always the answer: sometimes, you need to consider a range of other knowledge base tools. For your SaaS knowledge base to be truly helpful, it has to be user-friendly and cater to a range of needs.
For example, video tutorials are a powerful tool that can sometimes be simpler to follow and build greater understanding than articles.
If you have an in-app resource center, you should take advantage: it's simple to trigger in-app guides that walk users step by step through using your product and help build a deep understanding.
What should be included in a knowledge base?
We've covered the reasons so many SaaS businesses use knowledge bases to help their customers, and what elements go into an excellent knowledge base.
But what types of resources should you make sure to include in your knowledge base?
Product documentation
Up-to-date product documentation forms the foundation of many good knowledge bases.
That might include technical specifications or in-depth articles explaining how your SaaS works (including key features and less-used capabilities). The better your product documentation, the more informational authority you build – and the more your users will trust what they are reading.
Guides and tutorials
Guides are another important type of resource typically stored in a knowledge base.
These step-by-step guides (known as interactive walkthroughs) are particularly useful for walking users through a specific bit of functionality and can take many different forms: articles, videos, interactive tutorials, and more.
If you use a resource center as part of your knowledge base solution, you can launch videos in-app and play them directly inside the dashboard (a visually appealing way to impart knowledge without disrupting the workflow).
Updates and release notes
Another useful type of knowledge base content to consider including are product updates.
Many SaaS knowledge bases include a record of all their product updates and release notes for easy access.
Collectively, they can become a valuable tool to help new customers understand what's changed, discover new features, and ultimately reduce their time to value.
10 best knowledge base examples for SaaS
The industry is incredibly competitive and fast-paced, and there is always plenty to learn by exploring how a particular SaaS platform operates.
So in this section of the article, we're going to explore knowledge base examples from 10 different SaaS businesses.
1. Userpilot – best in-app knowledge base
Userpilot provides impressive knowledge base software with a range of features.
Firstly, the knowledge base is easily available at all times through an in-app widget, enabling users to get help whenever they need it.
By grouping resources according to clear 'themes' in their knowledge base, Userpilot makes it simple for customers to navigate to the type of support they need, including:
Access to help and customer support (chat, submit an idea or feedback, link to documentation, FAQ, link to status page)
Viewing tutorial and videos (covering end to end product functionality)
2. Asana
Asana's knowledge base includes many of the important features we discussed earlier in the article: a prominent search bar, video tutorials, and links to relevant documentation.
A nice feature here is the interactive 'Asana Academy', encouraging customers to educate and upskill themselves in a user-friendly interface.
3. Slack
Slack call their knowledge base a 'Resource Library', and it's certainly extensive – with options to visit the Help Center, read a range of relevant articles or sign up for a webinar.
4. Miro
Miro uses an in-app knowledge base which they've helpfully named the 'Learning Center' (shifting the focus away from customer support and towards self-service).
The Miro knowledge base includes several interactive tutorials, helping users shorten the learning curve and start getting value from the product sooner.
5. Surfer
With snappily named titles posed as questions, Surfer's knowledge base is a great example of putting the onus on the customer's needs.
A particularly nice touch is including an 'Ask the community' option, effectively crowdsourcing customer support amongst your users.
6. FigJam
By using distinctive, visually appealing blocks to organize content – with simple, yet descriptive icons.
FigJam's knowledge base is a fantastic example of a resource that helps users navigate resources while reinforcing their product positioning.
7. Jira
Jira's in-app knowledge base is clean, subtle, and relatively simple. It includes a handy search bar that helps users find relevant articles.
They've also included a handy 'find out what's changed' link, enabling users to quickly understand new features and updates.
8. Loom
Loom has adopted a similar streamlined approach for its knowledge base.
Including a chatbot is a sensible option – it gives users another way of solving their problem before reaching out to support.
9. Zoom
This knowledge base is extremely well organized into clear categories of support. There are many different types of resources available, enabling the user to pick the one that best suits their needs.
Highlighting 'common troubleshooting topics' underneath the search bar is a clever way of tackling common challenges.
10. Fullstory
Fullstory adopt a slightly different approach with their knowledge base, keeping it simple with three main options: browsing the knowledge base, accessing training, or emailing support directly.
Best knowledge base software for SaaS
There are many knowledge base solutions out there. But which is the best choice for your SaaS?
Let's explore.
Userpilot- best software for building an in-app knowledge base
Userpilot provides some seriously powerful knowledge base software with a unique combination of functionality.
Custom icons
Icons give powerful visual clues that help users navigate your knowledge base. Userpilot has a custom icon feature that lets you pick iconography that fits your brand.
In-app videos
Videos are an extremely effective tool for helping build customer knowledge. But you shouldn't need to take your users to YouTube – with Userpilot, you can play videos in-app.
Content grouping
Sometimes, you want to create "modules" dedicated to a specific type of use case in your product.
We've introduced content groups – so rather than just having individual items, you can pull all your resources related to the same functionality into one easy-to-access place inside the Resource Center.
Audience targeting
Do you want to show specific knowledge base content to a select audience (and only on certain pages)? Userpilot lets you personalize and target your Resource Center content by selecting a distinct audience segment and page targeting for each module (rather than the whole widget).
Content localization
With Userpilot's AI language localizer, users will be able to access the help they need regardless of the language they're using.
You can even tweak the suggested translation text, or upload your own manual translations. In a global marketplace, this is an increasingly important feature.
Enhanced knowledge base platform analytics
Userpilot offer a range of in-depth analytics to help you understand how your users are interacting with your knowledge base, including:
Temporal analytics to view and compare usage over time periods.
Live changes to see how your users are interacting with your product in real-time.
Module level stats to dive into the detail.
Status tracker to check if your knowledge base is live.
Build an in-app knowledge base for self-service support and more with Userpilot. Get a demo to see how.
Zendesk
Zendesk's version of their knowledge base offering is called the "Web Widget".
You've got a decent set of customization options (although only on the Enterprise Plan), and while the drag and drop interface takes some getting used to it is fairly intuitive.
They do offer an excellent level of contextual help, showing 3 relevant articles to the user depending on their in-app navigation.
Groove
Groove is a customer service suite best-known for its focus on email support.
They provide a range of knowledge base software capabilities, including a help center widget, predictive form filling in technology, and a customer support contact form. You also have some ability to customize the look and feel of your help center.
Conclusion
Helping your customers get the most out of your product is your most important job.
And as we've explored in this article, building an effective knowledge base is one of the best ways of doing it.
We've covered key things to include when building your knowledge base, looked at examples from across the industry, and explored the best tools for the job.
The key takeaway?
The more time you invest in getting your knowledge base right – and the more you empower your customers to solve their own problems – the better for you, for your customers, and for your SaaS.
Want to build an in-app resource center code-free? Book a demo call with our team and get started! Check out the banner below for more details.