Pendo Analytics: In-Depth Review (+Better Alternative)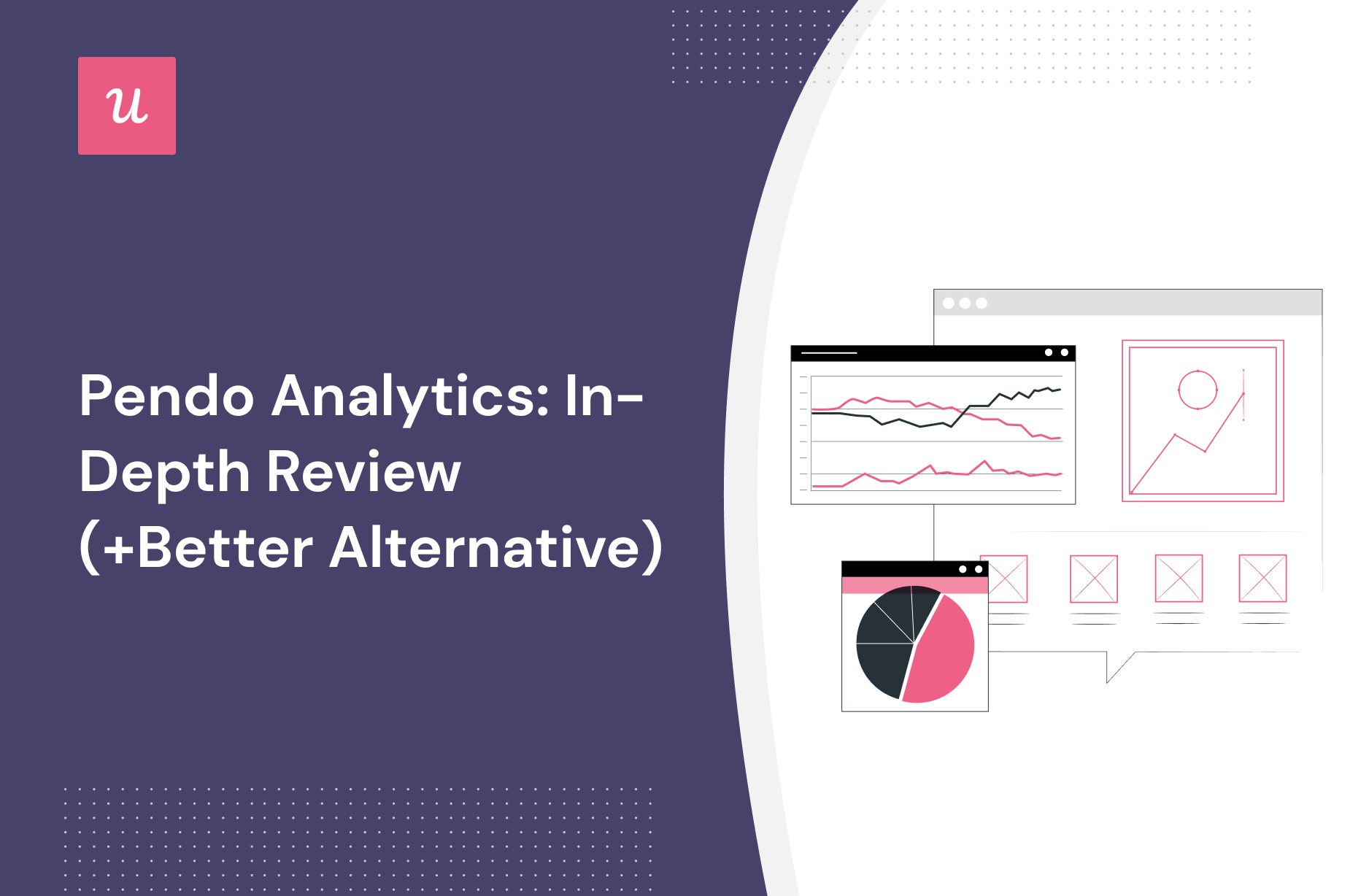 In today's fast-paced digital landscape and digital products, making informed decisions based on data and analytics is essential for product teams. Pendo Analytics has risen to prominence as a significant player in the realm of analytics and user engagement, drawing considerable attention.
In this comprehensive review, we'll dig into the details of Pendo Analytics, examining its features, assessing its strengths and weaknesses, and introducing a compelling alternative that could potentially offer a more comprehensive solution for your analytical needs.
TL;DR
You can review Pendo's analytics in their free trial, which displays various different graphs on the basis of dummy data.
To replace the dummy data with real numbers from your SaaS company, you'll need to install a JS snippet inside your application.
Pendo's analytics center around three main features: Paths, Funnels, and Cohorts.
Paths show you all the actions taken by users before or after a specific event. You can only compare 2 paths at a time in Pendo. Userpilot's new user analytics will give you 5 paths at the same time.
Funnels show you how many users completed each stage of a specific funnel that you pre-determined. Userpilot's Goals feature is comparable but shows a higher number of goals at once and requires fewer clicks to do so.
Reports allow you to track page views, clicks, events, or guide views related to whichever feature you want. Compared to Pendo's other analytics features, this feels like vanity data.
Retention shows you the percentage of customers who stick around relative to the first time they used your product. The graph is visually impressive but lacks a qualitative explanation about why users are retained.
NPS is not available on Pendo's free trial; it requires you to pay. Userpilot includes NPS for free.
In general, Userpilot is much more concerned that you interact with your customers directly via NPS and qualitative micro surveys than Pendo is.
Pendo is extremely expensive for the value it offers – with most mid-sized companies paying $25,000-55,000 per year for it.
Userpilot offers a more affordable alternative to Pendo and has a lot more user-friendly user onboarding features. Userpilot will also soon be offering more sophisticated paths, funnels, and cohorts than Pendo. The starting price for this is just $3,200 per year.
Pendo's analytics are not actionable – the in-app experience builder doesn't allow you to use in-app events as triggers for in-app experiences.
There is 1 one-hour delay in the Pendo user analytics display on their dashboard. This makes Pendo's user analytics less actionable than those of tools that offer real-time user analytics (e.g. Userpilot).

Considering Pendo? Try a Better Alternative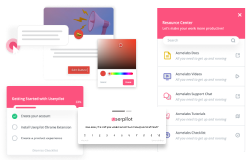 What is Pendo?
Pendo is a product adoption platform that lets teams monitor product usage, analyze user behavior, and publish in-app guides. The no-code solution focuses on increasing user engagement and driving feature adoption.
Additionally, Pendo also lets you survey users, segment customers, and see how many site visitors or MAUs your web app is getting. Certain features like product areas, data explorer, product engagement score, and resource centers are locked to the Starter plan or higher.
Pendo for product analytics
Pendo has no shortage of product analytics capabilities as both native features and third-party integrations. You'll even be able to access the most important metrics like MAUs and feature use from the home dashboard itself.
Here's a closer look at Pendo's analytics features:
Native Analytics: Because Pendo is a product adoption platform, most of its adoption and engagement analytics are native to the solution. This means you'll be able to track the number of views, clicks, and interactions that specific in-app guides or product areas get.
Paths: The Paths section of your Pendo account shows you which paths users take when coming from a specific page or which path they took to get to a particular page. You'll also be able to sort this data by segment, and date, or see the paths taken by individual visitor IDs.
Retention: Pendo's retention analytics dashboard lets you see cohort retention data from month to month. You'll also be able to toggle between visitors versus accounts, switch between weekly or monthly views, and measure retention for specific segments.
Funnels: Pendo's funnel analytics can tell you how many unique visitors have seen your funnels, how many attempts have been made to get through the funnel, and the average time it takes to complete the funnel. You'll also be able to see completion rates and sort by date or segments.
Analytics Widgets: Pendo's home dashboard lets you choose which widgets you'd like to add or remove. You'll be able to select from various analytics widgets that track product goals, feature adoption, guide views, time-on-app, and other core metrics.
Third-Party Integrations: Pendo has integrations with tools like Salesforce, Intercom, Segment, Slack, and more. Linking your Pendo account with these third-party solutions will make syncing and sharing data seamless (but do note that Pendo doesn't update analytics in real-time).
Note: Pendo's HubSpot integration is a one-way integration, which means you won't be able to sync data both ways between the two tools. You'll need to upgrade to the Growth plan or higher to use Pendo integrations.
Pendo for funnel analysis
User funnels help you track the customer journey from the awareness stage to conversion or even advocacy. Pendo helps you track user funnels through a combination of funnel charts, path reports, and data export capabilities.
Here are the Pendo features you can use for funnel analysis and tracking:
Funnel Charts: Pendo lets you generate funnel charts that help you visualize multi-step funnels, see which stages most users get stuck on, and view the average completion time for each funnel within your product. You'll also be able to track the overall completion rate of funnels.
Paths Reports: Pendo's Paths reports help you view the paths that users take when coming from a specific page. You can also duplicate these reports, share them with other team members, or download the report as a CSV file with up to 10,000 rows.
Step Breakdown: If the visual charts on Pendo aren't the right fit for your use case then you could export your funnel data as a step breakdown CSV file. This will give you data on the total number of unique visitors a funnel got, the conversion rate on each step, and step duration.
Pendo for path analysis
Understanding the in-app paths your users take is just as important as being familiar with the conversion path they're on before subscribing. Pendo lets you conduct thorough path analysis through its no-code path builder and visual charts but does have a few noteworthy limitations.
Here's an overview of how you can use Pendo to conduct user path analysis:
Path Builder: Pendo's no-code path builder lets you create a new path by selecting the starting page, selecting a date range, and then choosing the segment you'd like to target. You can also enable cross-app path analysis if you're on the Pendo Portfolio plan.
Visual Reports: Pendo's path reports are generated in a chart format to help you visualize the paths that users take from a starting page. You'll also be able to zoom in on each step of the path to get more detailed insights, share reports with teammates, and export it as a CSV file.
Pendo Limitations: Like all other analytics dashboards on Pendo, data on paths only refreshes once per hour. Furthermore, user paths time out after 60 minutes of inactivity. If there are no events tracked for a specific user ID over a 60-minute span, their current path will time out.
Pendo for product growth analysis
Monitoring growth analytics and extracting insights from product KPIs are crucial for any SaaS business. Pendo lets you monitor core metrics through your home dashboard, track adoption rates on an individual feature level, and divide data by different product areas if you upgrade your plan.
Here are some Pendo features you can use to analyze product growth:
Analytics Dashboard: Pendo's analytics dashboard is quite customizable as there are 26 different widgets for you to choose from. These can track growth metrics like product stickiness, feature adoption, time-on-app, net promoter scores, and the number of unique visitors.
Feature Adoption: Pendo lets you track feature adoption to see the top features that drive 80% (percentage benchmark can be adjusted) of all click volume within your product. This helps you identify the few features that account for most of the product growth so you can double down.
Product Areas: Product areas let you sort analytics, monitor adoption, track events, and keep tabs on overall growth across each section. Do note that you'll need to upgrade to the Starter plan (which starts at $7,000/year) in order to use the product areas feature.
Pendo for retention analytics
Retention analysis is a crucial part of understanding the reasons why customers abandon your product so you can prevent further losses. Pendo has cohort dashboards, cross-app analytics, and retention reports that can help you get ahead of churn before it happens.
Here are the Pendo features you can use to conduct retention analysis:
Cohort Analysis: Pendo's analytics dashboard can be used to conduct cohort retention analysis by seeing what percentage of each cohort is retained on a month-to-month basis. You can also sort this retention data by segment, cohort size, segment, or date range to filter results.
Cross-App Analytics: If you get Pendo's Portfolio plan then you'll be able to see retention analytics for all your products. Bear in mind that, like all of Pendo's analytics dashboards, cross-app data is only refreshed once per hour so you can't track these metrics in real-time.
At-Risk Reports: Pendo's analytics and reporting capabilities let you generate weekly reports for users, segments, or cohorts that are at risk of churning. These at-risk reports help summarize insights, track usage trends, and offer opportunities to launch proactive retention efforts.
Pendo for churn analysis
Churn analytics help you uncover the reasons behind customers abandoning your product so you can increase retention rates moving forward. Pendo lets you identify the root issues driving churn through cohort data, cross-app analytics, and in-app polls.
Here are the Pendo features you can use to conduct churn analysis:
Cross-App Reporting: Pendo has cross-app analytics that you can use to monitor churn on multiple products (or one product with multiple versions on different platforms). Do note that you'll need to upgrade to the Portfolio plan to be able to use Pendo with more than one app.
In-App Polling: Pendo's in-app polls let you collect both qualitative and quantitative feedback from your users. You can also target specific segments or cohorts to gather actionable insights from the users who are at the highest risk of churning.
Pendo for predictive analytics
Predictive analytics use behavioral data, user feedback, and satisfaction metrics to predict future customer actions using past events. Pendo has three main mechanisms for collecting data that can help you predict customer needs which are the retention dashboard, NPS surveys, and in-app polls.
Here's an overview of how you can use Pendo to predict customer needs:
Retention Analysis: Pendo's Retention dashboard shows you the percentage of each cohort that your product retains from one month to the next. These retention analytics could be used to predict the cohorts or months with the highest churn rates so you can plan accordingly.
NPS Surveys: Pendo has built-in NPS surveys that you can use to track user sentiment. Wavering sentiment in the form of declining NPS scores is often an early warning sign that can predict user churn or sluggish product growth.
Feedback Polling: Collecting customer feedback through Pendo's in-app polls can help you pick up on software bugs, friction points, or other product issues that may negatively impact growth down the line. Qualitative feedback from polls can be just as predictive as quantitative metrics.
Pendo for user segmentation analysis
Pendo has native segmentation capabilities that help you analyze insights and sort data by different user groups. You can analyze all your segments from a single dashboard, segment users based on their responses to surveys, or sort feedback by segment if you get the Pendo Feedback tool.
Here are some of the Pendo features you can use for user segmentation analysis:
Segments Dashboard: The Segments dashboard lets you view all segments and filter by the teammate who created the segment. You'll also be able to see when the segment was last updated, which user created it, and the rules associated with it.
Survey Segmentation: Pendo's segmentation features let you segment certain users based on their responses to a specific poll. You can then re-target users in these segments using in-app flows that are personalized to their responses (e.g. upselling users with positive responses).
Segmented Feedback: Those who get the Pendo Feedback solution (which is charged on a per-seat basis) then you can filter all user feedback by the segment that each respondent is in, the amount they spend on your product, or any other user tags attached to their account.
Pendo for A/B testing
A/B testing gives you the opportunity to send multiple variations of a message, element, or feature and see which version your users react most positively to. Pendo doesn't have a dedicated A/B testing feature, but you can use its segmentation capabilities to run product experiments.
Here's how to set up an A/B test with Pendo using a workaround. Keep in mind that this works but it will be hard to track results, and you might be better off using a tool like Userpilot or Appcues that offers more advanced in-app testing.
Step 1: Click on the "People" button on your Pendo sidebar, then select the "Visitors" tab.
Step 2: Create two segments, one named "Control" and the other named "Test" so you can compare results after the experiment.
Step 3: Publish a guide targeting your test segment and see what impact that has compared to the control segment that didn't see the guide. The difference between the two segments will measure the impact that the guide had on a goal like product adoption or feature engagement.
Pendo for user feedback analytics
Pendo's survey analytics may not be as comprehensive as its product analytics but if basic feedback collection is all you need then it should be sufficient. Pendo lets you add poll widgets to your home dashboard, track poll response rates, and collect qualitative and quantitative feedback.
Here's an overview of Pendo's survey data analysis capabilities:
Poll Widget: Pendo's poll widget can be added to the home dashboard to track responses and metrics. Sadly, each widget can only track one poll and it only shows summarized data rather than showing you the full responses.
Combined Insights: Pendo's in-app polls let you collect a combination of qualitative and quantitative feedback. Combining these two types of survey data from Pendo polls can help you extract insights and dispel any interpretation bias. Every poll displays the overall response rate so you don't have the manually calculate this metric. While Pendo doesn't have any built-in A/B testing for polls, you can use the response rate metric to compare polls and see which ones get the most engagement.
Pros and cons of Pendo's product analytics
Pendo's product analytics offers many benefits in terms of ease of use, comprehensive tracking, and user engagement features. However, its pricing and customization complexity may be drawbacks for some organizations, and it might not be the ideal choice for those seeking advanced statistical analysis capabilities. Carefully consider your specific business requirements and budget when evaluating Pendo's product analytics.
Pros of Pendo analytics
Ease of Use: Pendo is known for its user-friendly interface and ease of setup. Many users find it intuitive, which can save time and resources when implementing analytics solutions.
Out-of-the-Box Functionality: Pendo offers "out-of-the-box" analytics, requiring minimal setup and configuration. This means you can start gaining insights into your product usage quickly.
Comprehensive Tracking: Pendo provides a wide range of tracking capabilities, including user behavior, feature usage, and engagement metrics. This comprehensive tracking can offer valuable insights into how users interact with your product.
Segmentation and Targeting: Pendo allows you to segment your user base and target specific user groups with customized messaging and experiences. This can be a powerful tool for improving user engagement and conversion rates.
In-App Guides and Surveys: Pendo offers the ability to create in-app guides and surveys, which can help onboard new users, gather feedback, and drive specific actions within your product.
Cons of Pendo analytics
Cost: Pendo's pricing can be relatively high, especially for smaller businesses or startups. The $50,000 annual subscription cost may be prohibitive for some companies.
Limited Data Integration: While Pendo offers robust tracking capabilities, its data integration options may not be as extensive as some other analytics platforms. This could limit your ability to combine data from various sources for a more holistic view.
Learning Curve: Despite its user-friendly interface, Pendo may still have a learning curve, especially for users who are new to analytics platforms.
Customization Complexity: While Pendo is easy to set up initially, customizing it to suit unique business needs can be more complex. Advanced configurations may require technical expertise.
Limited Advanced Analytics: Pendo's strength lies in tracking and user engagement rather than in-depth statistical analysis. If your organization requires advanced statistical modeling, you might need to complement Pendo with other analytics tools.

Try a Better Pendo Alternative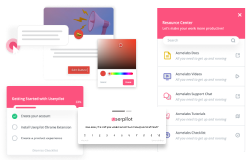 Why you might need a Pendo alternative
There are a few obvious instances where you'll likely need an alternative solution to Pendo — such as these use cases:
Over 500 MAUs: If your product has more than 500 MAUs then you'll need to subscribe to a premium Pendo plan (which tends to be significantly more expensive than other competitors on the market).
Real-Time Analytics Needs: Companies that operate in fast-paced work sprints will likely opt for product adoption solutions with real-time analytics since Pendo's one-hour data lag can data-driven decision-making difficult.
Expensive Pricing Model: Pendo is more expensive than most solutions on the market and the subscription cost rises rapidly as your MAUs grow. Even if you're on the Starter plan, you could be paying $35,000 annually once you reach 10,000 MAUs — which makes it harder to scale.
What do users say about Pendo analytics?
Most Pendo users seem to be quite happy with the solution despite a few personalization roadblocks and usability challenges:
I love the ability to see where our users are spending the bulk of their time. I love the ability to measure metrics quantitatively.
Other users were less satisfied with Pendo as a product adoption solution due to the amount of effort it takes to actually use the tool on a regular basis:
I'm giving a 1 so unfortunately I can't give much love. It's already my second job using Pendo and I'm not impressed. A/B testing numbers are different between the API export and CSV export in the UI, no 50/50 split between test and control, support is slow, event tracking doesn't handle aliasing, only 7 days of historical data can be sent with Segment which make backfills impossible, NPS forms are shown in multiple tabs and doesn't close once it's been submitted in one of the tab.

Access Advanced Product Analytics with Userpilot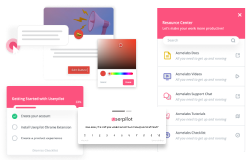 Pendo pricing
Pricing for most paid Pendo plans (except Starter) is only provided on a quote basis and there are no listed price ranges on the solution's website. That said, certain reviews have stated that prices start at upwards of $20,000 per year for a single product and more than twice that for higher plans.
Pendo has three paid plans and one free version that is limited to 500 MAUs which makes it accessible to startups but difficult to scale in the long run.
Here are the differences between each Pendo plan:
Pendo Free: The free version of Pendo can accommodate 500 MAUs and has features like native analytics dashboards, feature tagging, event tracking, segmentation, NPS surveys (with Pendo branding), analytics reports, and in-app guides.
Growth: Pendo's Growth plan is designed to be used for a single web or mobile app but can accommodate a custom number of MAUs. It includes features like native analytics dashboards., in-app guides, NPS surveys and response tracking, and customer support.
Starter: The Starter plan starts at $7,000 per year (or $2,000 per quarter) for 2,000 MAUs and is the cheapest upgrade option available for freemium users. Starter includes features like Product Areas, NPS surveys without Pendo branding, and (limited) NPS analytics. Note: You'll need to upgrade to the Growth or Portfolio plan to get full NPS analytics.
Portfolio: Pendo's Portfolio plan is targeted towards customers who want to use the tool for multiple web and/or mobile apps. Features include guide experiment capabilities, cross-app executive dashboards, cross-app journey reporting, and access to product engagement scores.
Userpilot: A better alternative to Pendo analytics
Why would you consider Userpilot as an alternative to Pendo?
As a product growth platform, Userpilot offers not only robust analytics features but also allows you to collect and analyze user feedback and act on the insights by triggering personalized in-app experiences.
And it's so much easier to learn than Pendo.

Try Userpilot and Take Your Product Analytics to the Next Level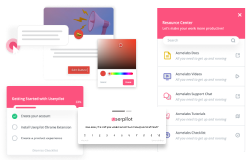 Overview of Userpilot's analytics functionality
Product analytics lets you collect and analyze data about how users interact with your product so you can extract actionable insights. Userpilot lets you look at granular product analytics such as which features have the highest adoption rates and big-picture insights like trend reports.
Here are Userpilot's top product analytics features:
Uncover usage trends with powerful data analysis trends
Trend analysis allows you to visualize event data at the user and company levels.
For example, you could visualize the total number of users who completed a particular event (including custom events), unique users, active users (DAUs, WAUs, and MAUs), as well as the count per user.
This is not limited to a single event either. You can use the feature to visualize multiple trends in one graph. For example, you could use it to track main activation events like 'created a flow' and feature usage.
Of course, the feature enables product managers to filter the event analytics data for more granular analysis. For example, you could filter data by company name or device type. You can also add custom formulas, and export the data into a CSV file.
The visualizations are easy to customize, and you can choose different graph and chart styles to display your product usage data:
Time Series – Line, Stacked Line, Stacked Bar
Total Value – Pie, Bar, Metric
Unveil conversions across key stages with funnel analysis
Funnel analysis is a tool that allows you to track conversion rates at key stages of the user journey. The feature also allows you to view the average conversion time.
Thanks to that, you will be able to easily identify friction points and drop-offs. If lots of users fail to progress from one stage to another, that's the spot that needs optimizing.
Of course, identifying the exact source of friction will require further investigation. You could target the users who have dropped off with surveys or watch their session recordings.
Funnels in Userpilot will allow you to break down the data for detailed analysis of the conversion rates. For example, you could display conversion data across different price plans or user segments next to each other in one funnel chart.
Enhance app experiences through intuitive flow analytics
Flow analytics enables product teams to extract granular insights about user interactions with in-app experiences at the step level.
For example, if your onboarding flow consists of a number of in-app messages, you will be able to analyze in detail which users interacted with them and completed the step, and which of them dropped off.
Powerful A/B testing at your fingertips with different tests available
We're expanding the A/B testing feature to allow you to conduct different experiments on your in-app flows. These are:
Controlled A/B Test – to assess the effectiveness of a single flow by comparing its performance against a control group that doesn't see the flow.
Head-to-Head A/B Test – to compare the effectiveness of two different flows.
Controlled Multivariate Test – to compare the performance of various flows against a control group.
Coming soon: Userpilot analytics features to watch out for
In addition to the above features to launch in September, there are more features coming by the end of this year.
Retention analysis – to effortlessly track and analyze user retention trends over time. You will be able to view the retention rate for the last 7 days, 30 days, and 180 days, as well as custom data ranges via cohort analysis.
Customizable dashboards – to easily spot user insights by tracking chosen metrics added to the dashboard as individual widgets.
User profile analytics – for granular user behavior analysis of individual customers. Clicking on a specific user will display their profile with all the events and actions performed by them in a specific timeframe.
Userpilot pricing
Userpilot's transparent pricing ranges from $249/month on the entry-level end to an Enterprise tier for larger companies.
Furthermore, Userpilot's entry-level plan includes access to all UI patterns and should include everything that most mid-market SaaS businesses need to get started.
Userpilot has three paid plans to choose from:
Starter: The entry-level Starter plan starts at $249/month and includes features like segmentation, product analytics, reporting, user engagement, user feedback, and customization.
Growth: The Growth plan starts at $499/month and includes features like resource centers, advanced event-based triggers, unlimited feature tagging, AI-powered content localization, EU hosting options, and a dedicated customer success manager.
Enterprise: The Enterprise plan uses custom pricing and includes all the features from Starter + Growth plus custom roles/permissions, access to premium integrations, priority support, custom contract, SLA, SAML SSO, activity logs, security audit, and compliance (SOC 2/GDPR).
 Conclusion
Having read this article, you should now have a good understanding of the range of different analytics options that Pendo offers.
And what it offers is certainly respectable. I especially like the way that Paths shows you where users go after viewing a certain feature, and the retention rate graph is visually impressive. Top marks to the designers in both cases.
Nevertheless, one feels like Pendo is a bit more concerned with pretty graphs for their own sake, rather than providing data that is directly tied to the goals of product marketing teams.
Compared to other onboarding software such as Userpilot, Pendo lacks qualitative analytics and ways to speak to customers directly. Where such options do exist, they require you to pay, whereas Userpilot offers them as part of a free trial.
So on the basis of this evidence, it seems like Userpilot's analytics might be the better choice here.
Do you agree? If so, you can test out Userpilot's analytics by booking a demo today.

Drive Powerful Insights from Analytics with Userpilot