Pendo Guides: How to Create Guides in Pendo and at What Cost [Alternatives Included]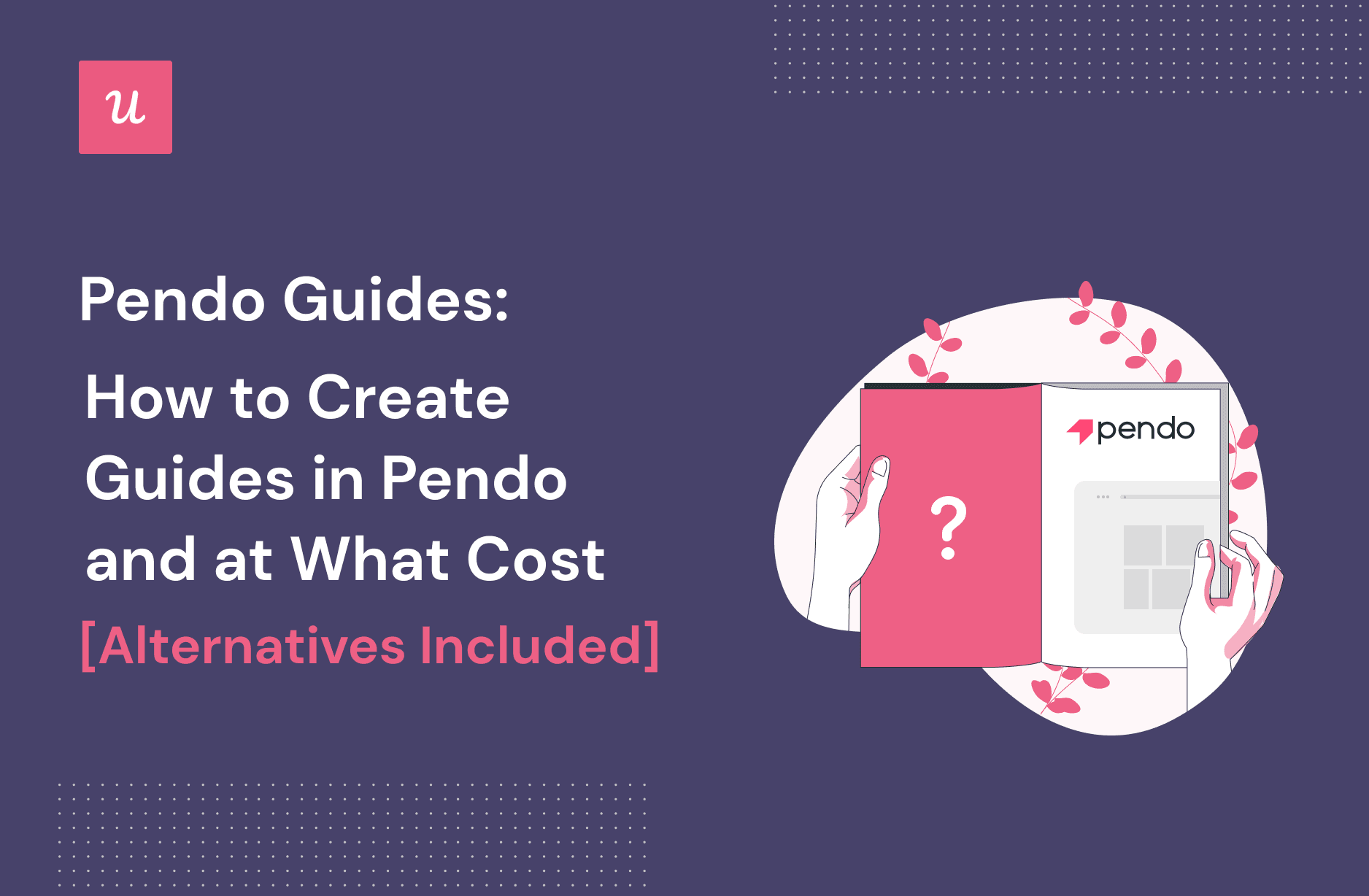 Pendo Guides are excellent for onboarding new users and creating other in-app experiences for your SaaS. But how much do they cost, and are there better alternatives on the market?
Join us as we explore this topic and provide the answers you might need before deciding if Pendo is worth the investment.
TL;DR
Pendo Guides are used to provide in-app guidance to web and mobile app users and help improve user onboarding, adoption, and retention.
You can build them using templates, and there's also a WYSIWYG (what-you-see-is-what-you-get) visual design studio editor for creating new designs from scratch.
Pendo's Visual Design Studio helps users design Guides without learning to code. This was an update they made in 2019; otherwise, you needed some coding knowledge to create product tours using the platform.
You can use Pendo's free version to create user onboarding Guides, but you'll only get access to limited features and basic analytics.
Types of Guides you can create using Pendo include Lightbox, Banner, Tooltips, Polls, and Walkthroughs. The drawback with them is that they are quite basic and don't allow much customization without coding.
Pendo product guidance for mobile works across Android and iOS mobile apps, so if you're looking to support your mobile customers through their onboarding, Pendo might be for you (be aware that Pendo for mobile guides is not included with the free plan).
Pendo product insights and analytics is one of the best in the market, but available only on paid plans. Compared to the value you're getting, the pricing is relatively high.
Their website does not publicly state how much the paid plans go for, but online reviews show $2000-$5000 for a single product and around $15,000 for the enterprise plan.
You also have access to more in-depth analytics and Pendo product feedback on the paid plans.
Userpilot is one of Pendo's alternatives that offer better value for money. You get more functionality and customization available on all plans, starting at $249 per month.
What is a Pendo Guide?
Pendo Guides are used to provide in-app guidance and support. They're especially effective for user onboarding but are also used to provide personalized support to existing users.
Pendo provides flexible options for customizing the Guides to your SaaS. You could either use pre-made templates or their WYSIWYG visual design studio editor.
You could alternatively design through HTML/CSS.
To design something custom you will need to do some coding.
Do you need Pendo guides?
Before we answer that, you should know that guides or product tours are essential tools for user onboarding, and it will be difficult for new users to find their way around your app without them. The absence of these UX designs will lead to friction, naturally resulting in increased churn.
But do you need Pendo for this?
The answer is you don't have to use Pendo in particular. There are other product adoption tools that give you more value for your money, so it's always good to check the available options before settling for one.
Let us show you why.
Pendo product guidance that you can build using the free plan consists of a series of static tooltips, but you'll need to upgrade your plan to create more interactive experiences.
Even Pendo's own onboarding guide is a series of purple tooltips.
To build anything more personalized and engaging, you will need to upgrade to a paid plan and use coding.
Is Pendo expensive?
Pendo is the most expensive product adoption tool on the market. As stated in the previous section, there's a free plan, but you won't enjoy it much because of its many limitations.
You'll need to upgrade to the Pro or Enterprise plan to enjoy better features. These subscriptions are renewed annually, but the price is not stated on their website. Online reviews suggest annual contracts starting at $2,000-$5,000 per year for a single product and around $15,000 per year for the lower-tier package.
What are the free Pendo plan limitations on building product guides?
Pendo product guidance provides several UX patterns for creating product tours. Users have access to tooltips, lightboxes, polls, and banners that they can customize as needed.
But the problem with the free plan is that you don't have access to some features like analytics like product engagement scores or NPS and can't experiment to know what works for your audience. Another downside is that you can't create mobile guides or build in-app help centers.
The free plan on Pendo allows the user to create short product tours built with sequential tooltips and similar UI patterns, but these won't be interactive and, therefore, skipped by most users.
Is there a better option to create in-app guides?
Pendo shines in its analytics and the ability to build guides on mobile. But aside from these features, there are many tools in the market that outshine it. So if you don't need mobile guides, you can go for a tool that offers more value for money.
Userpilot is a good example.
Starting at just $249 per month, you get more UI patterns (modals, hotspots, tooltips, slideouts, banners, driven action, checklists, etc.) and the ability to build interactive guides for your users, not just linear product tours.
Get a demo today to see how Userpilot can help your company create personalized onboarding guides.
How to create a new guide in Pendo?
The interface on Pendo is quite intuitive, so we're not going to get into the step-by-step process of building guides for your app onboarding using the visual design studio.
But here are some essential things you should know about Pendo Guides and Product tours.
How is the Pendo Visual Design Studio different?
Pendo introduced the Visual Design Studio in 2019, a switch from their Classic Designer, which required some coding knowledge.
Unlike the previous tool, this new design studio is a no-code drag and drop tool that anyone can use.
In addition, the new design interface is quite intuitive, making it extra easy to use.
Available UI patterns to include in your guides
You generally have five options for creating Guides in Pendo for your users:
Lightbox: Similar to Userpilot's modal, a lightbox is a customizable box you can place on your web app. It can contain any content type ranging from text to video.
Banner: This is like the lightbox, but much bigger and Pendo only provides prebuilt banners for maintenance notifications.
Tooltip: As the name probably suggests, tooltips are used to provide short contextual in-app messages.
Polls: Known as microsurveys on Userpilot, polls are part of guides.
Walkthroughs: These are a series of tooltips that guide the user through the product and are quite limited.
The above are pretty standard on most digital adoption tools, but how you can use these combined is what makes a good onboarding experience.
It's quite hard to use these to create anything remotely interactive.
A tool like Userpilot allows you to combine driven actions and multiple UI patterns to build tours that users can interact with more than just clicking "next."
For example, they won't be shown step 3 of a tour until they perform step 2, making them more engaged.
You can create tours like the one below using Userpilot's tooltips and driven actions.
But that's not all.
Userpilot also lets you add welcome modals and celebration modals as part of the tour, and you can even link and trigger these from a checklist.
Pendo only has checklists on their paid plans and they can only be built inside the resource center, meaning the user will need to know of their existence and search for them.
That's not contextual at all.
All these make the user onboarding experience you can build with Userpilot far more interactive and personalized for the user.
What is a Pendo banner?
The banner is, in many ways, like the lightbox. The difference here is that banners span across the entire page and are only placed at the very top or bottom of a page.
The system outage banner is Pendo's only default banner that you can use.
Having just one default banner is another limitation of Pendo compared to its competitors.
Userpilot, in comparison, offers a predefined system maintenance banner that you can quickly add to your app to let users know about upcoming scheduled maintenance.
But you can also design custom banners and add images, emojis, buttons, etc., to them.
Create your first banner with Userpilot. Get a demo and see how
Pendo product insights and analytics for guides
The premium version of Pendo provides extensive user analytics.
The report feature on the app is divided into four categories: Page Views, Feature Clicks, Track Events, and Guide Views.
You can find your Pendo product insights and analytics in the Guide overview section. It also has filtering options to help you narrow down the data you want to track.
But it's advisable to use a different tool if you need A/B testing data since the huge subscription price might not be justified.
The best alternative to Pendo guides: Userpilot
We've already covered some of the reasons why Userpilot offers more value for money, so here is a short recap:
Userpilot provides more UI patterns, driven actions, and design flexibility to build interactive product guides and walkthroughs.
You can add checklists and resource centers, which Pendo doesn't provide as a feature on their free plan.
As we already mentioned, checklists are not available as a standalone tool at all. Users can only launch this form inside the resource center (if they know they exist).
In comparison, Userpilot doesn't limit the number of checklists you can build, even on the starting plan that starts at $249/mo.
Userpilot also provides you with the needed analytics so you can see how users interact with your in-app support center.
You can also run A/B testing campaigns with Userpilot to determine the approach(es) that work best for your audience.
Get a Userpilot demo and start running A/B testing to understand which in-app guide or experience brings more results
Conclusion
Pendo is a nice tool for creating in-app experiences.
You can use Pendo guides to build user onboarding flows and educate existing customers on using new features.
Having a Visual Design Studio and an extensive list of Pendo product integrations makes life easy for its users (Pendo product integrations are add-ons, you only get 1 for free in the paid Pro plan and 2 on the Enterprise plan).
But the tool has its downsides.
One of them is pricing. The free plan is not enough for creating workflows your users will love, and upgrading to high tiers is expensive for most small to mid-sized businesses.
Try Userpilot if you want better value for your money. Userpilot offers everything Pendo Guides offer and more, starting at just $249/mo. You'll get access to all you need to create personalized onboarding flows. Book a demo now.