50+ Best User Onboarding Tools for SaaS [Updated for 2023 & Categorized]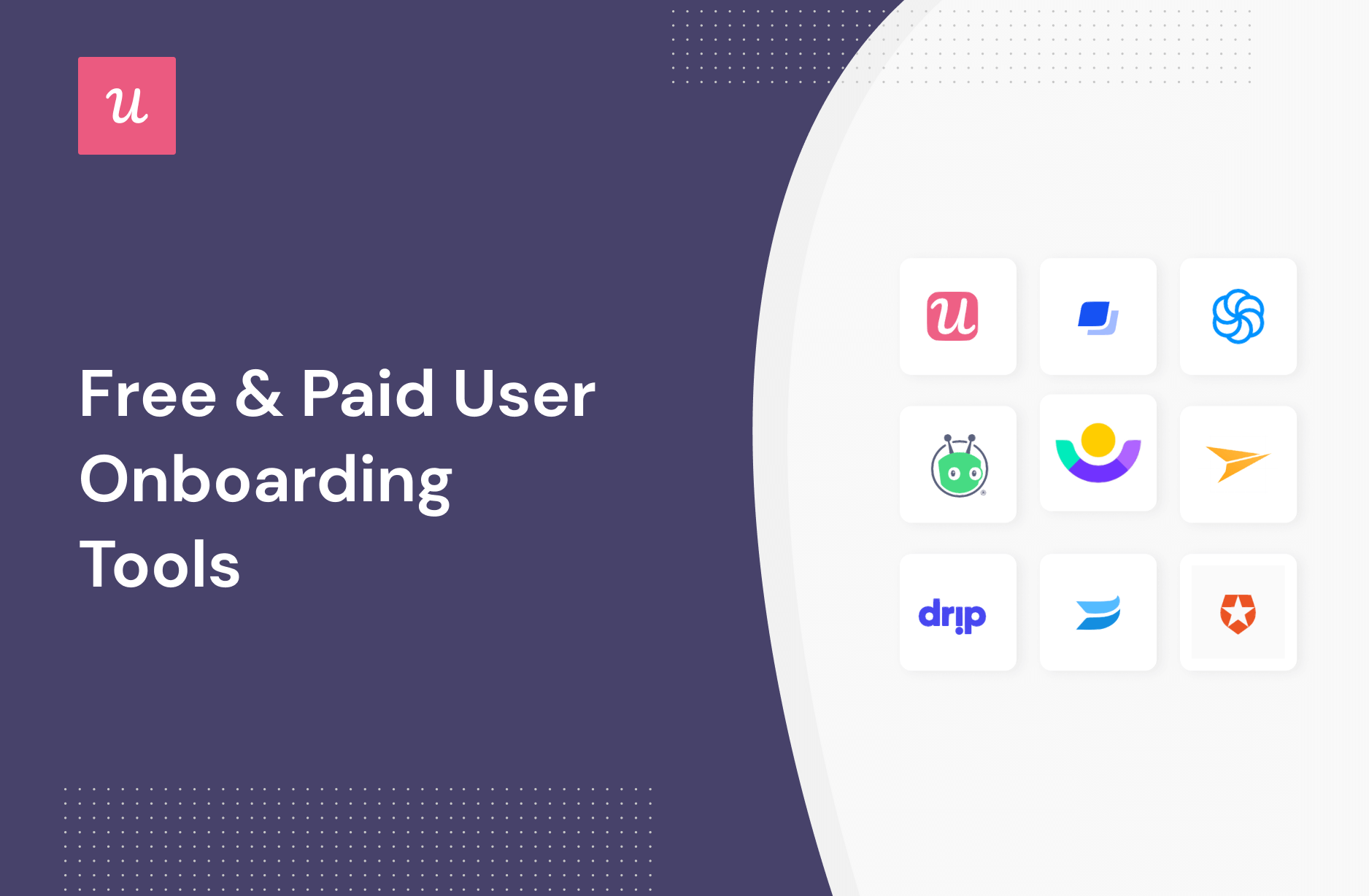 Let's face it: without the right user onboarding tools, you can't deliver a great onboarding experience for your new users. And without a great onboarding experience, your users don't activate and churn. According to TechCrunch, if your users don't understand your software during the onboarding process, 77% of them won't come back. That's why we've compiled a list of the 50 best free and paid user onboarding tools to help you smash your user activation, product growth, and revenue goals.
And not just that: for your convenience, we grouped the tools into 9 categories by the different goals you can achieve with them – signup flow tools, in-app onboarding software, email onboarding tools, user analytics, user feedback tools, customer support and success tools etc. – and then proposed a sample tool stack.
So if you're interested in any particular category, simply jump to the relevant sections on the left of this page!
TL;DR
There are several different categories of user onboarding tools:
The best user onboarding tools in each category:1. In-app onboarding tools: Userpilot, Appcues, Intercom.
2. Singup flow tools: Auth0;
3. Email-onboarding tools: Customer.io, User.com
4. In-app chat tools: Livechat, Drift.
5. Video onboarding tools: Loom; Webinar tools: Sequel.io;
6. Analytics tools: Hotjar, Mixpanel, Heap, Userpilot.
7. Knowledge base tools: Zendesk;
8. Feedback tools: Typeform, Userpilot (for NPS).
9. Customer support tools: Freshdesk
To streamline your user onboarding processes and save costs, look for tools that integrate natively with each other. Also, consider tools that cover several use cases – e.e. onboarding users in-app and via emails, analyzing customer data, and customer engagement via live chat.
Here are a few user onboarding tools that integrate natively with each other:
Userpilot (for in-app user onboarding), Intercom (for email onboarding and in-app chat) and Amplitude, Mixpanel or Heap (for in-depth product analytics) – all have native integration with each other to make your email-in-app user onboarding seamless and more data-driven.
Hotjar and Zendesk – have a native integration that will allow you to cut your response time to customer feedback.
Userpilot, Loom and Typeform – so you can easily embed your Loom video tutorials and Typeform surveys into your onboarding flow.
4. Examples of the complete SaaS user onboarding tool stack:
The "complete" user onboarding tool stack for growth SaaS companies: OAuth (signup) + Userpilot (in-app onboarding, NPS) + Intercom (email onboarding, in-app chat) + Wistia (video onboarding) + Sequel (webinars) + Typeform (feedback) + Mixpanel/Amplitude/Heap (user behavior analytics) + Zendesk (Knowledge base) + Fullstory (session recording).
The "MVP" user onboarding tool stack for startups on a budget: Auth0 (signup – freemium) + Intro.js (in-app, free) + MailChimp (email, freemium) + Loom (video, freemium) + Ewebinar (webinars) + Typeform (surveys, freemium) + Mixpanel (analytics, freemium) + Helpdesk (Knowledge Base) + LogRocket (session recording).

Choosing your user onboarding tool stack?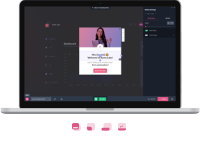 In-app user onboarding tools
Probably the first tool you should think of when building your onboarding tools tech stack is your in-app onboarding tool. Such tools allow you to build in-app product tours to guide your new users through your product, thus significantly improving the chances they will actually activate (and reducing day-1 and week-1 churn.) In this section, we'll cover both no-code user onboarding tools, and DIY "budget" solutions that require coding.
No-code in-app user onboarding software + A/B testing tools

Userpilot – the "all in one" user onboarding tool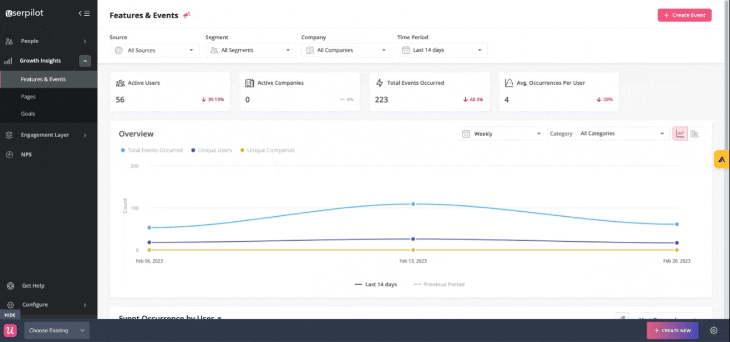 Userpilot is a powerful user onboarding tool that helps you improve new user activation and boost user adoption. It enables you to quickly build personalized, flexible, contextually relevant in-app user onboarding experiences and product tours targeted to different user segments – all without writing a line of code.
You can also easily build and launch different in-app onboarding experiences from a variety of "building blocks" (UI patterns) such as flows, tooltips, checklists, resource centers, in-app surveys etc. for every stage of the customer journey with it.
Userpilot allows you to build interactive walkthroughs that are better than your traditional linear product tours, and significantly improve your onboarding process.
Here are the key benefits of Userpilot compared to other in-app user onboarding tools:
You build your onboarding experiences directly on top of your product – with a visual WYSIWYG (via a Chrome Extension). This is the easiest way of building interactive user onboarding on the market.
Forget about coding in-app experiences: Userpilot is a no-code solution and only requires your dev to install a line of javascript inside your app and for you to download a chrome extension that opens up the visual builder. You don't even need to ask your devs to pass your in-app events via a script – you can simply tag them on the frontend yourself.
The largest range of UI patterns (modals, slideouts, tooltips, hotspots, banners) and in-app onboarding experiences (checklists, microsurveys, NPS surveys, in-app resource center) from user onboarding tools on the market.
Built-in NPS tool and in-app surveys for collecting and analyzing user sentiment so you can improve your onboarding process based on real data. You can add surveys directly to your user onboarding flow.
Userpilot allows you to track combinations of in-app events like clicks, hovers, and form fills, and then analyze all these interactions under your own custom events, which can be built without code or API calls.
Advanced product analytics and in-app flow analytics to identify where users need help (trends + funnels, paths and cohorts coming soon). This can help you understand your users better and improve your user onboarding experience.
Sophisticated segmentation features allowing you to trigger in-app experiences contextually (you can segment your users based on user identification data, in-app engagement, custom events, clicks, hovers, form fills, user feedback responses, NPS scores and more)
Userpilot allows you to enhance your onboarding with an in-app support widget (Resource Center) you can add directly inside your app. Add in-app guides, and video tutorials, and give users access to search the knowledge base or reach out to support. Self-service has never been easier.
The best user onboarding is contextual and it happens right where the users need it, inside your app.
Also – Userpilot is one of the best user onboarding tools out there in terms of value for the money [see the pricing here].
Schedule a demo with our team and get ready to build the best onboarding experiences your users have seen.
Userpilot Pricing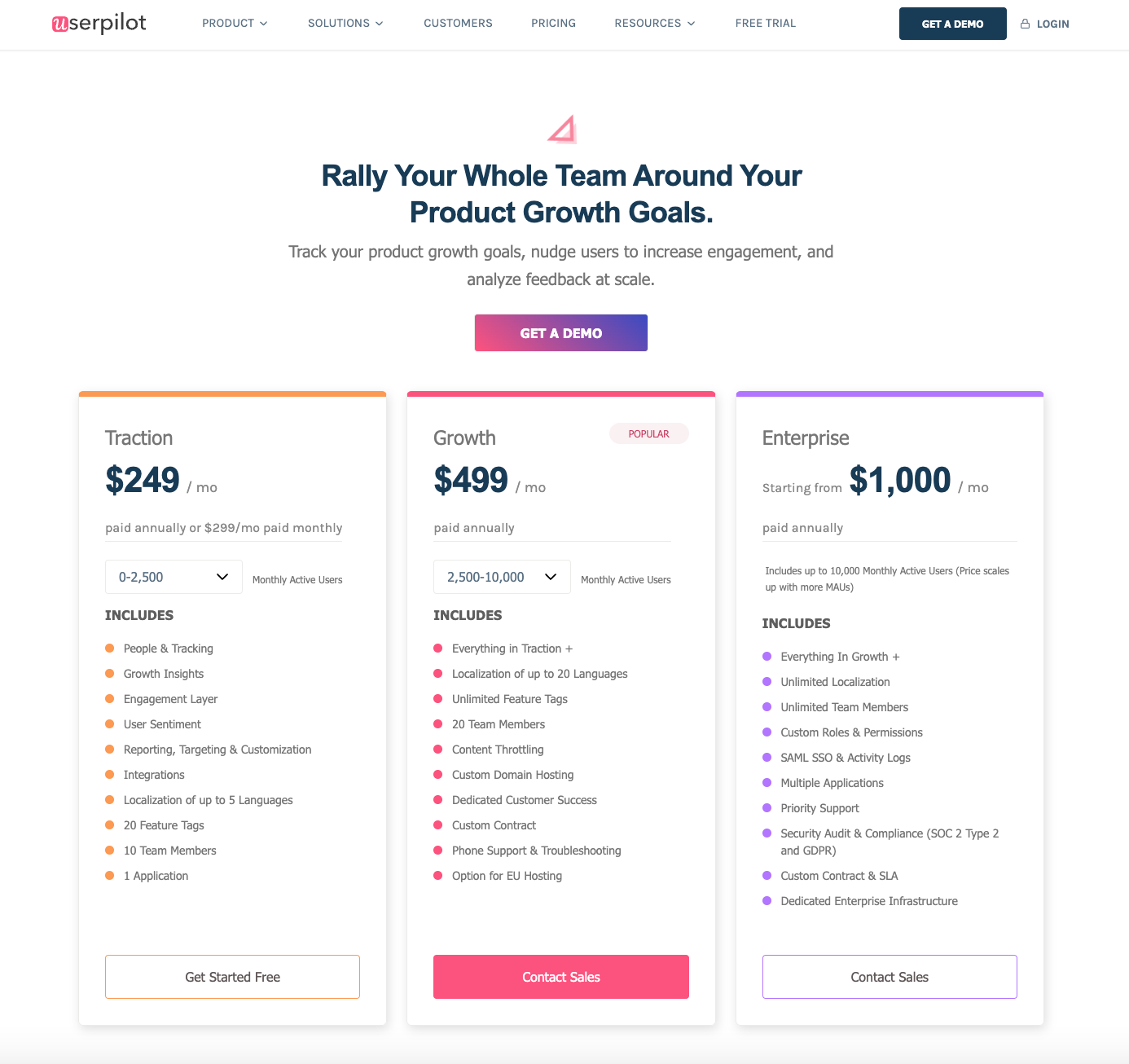 Userpilot pricing has three main plans:
Traction- starting at $299/mo paid annually for 2500 MAU
Growth- starting at $499/mo paid annually for 10000 MAU
Enterprise – starting at $1000/mo paid annually for 10000 MAU ( dedicated infrastructure, SLAs, priority support and more enterprise needs)

Get the best in-app onboarding tool!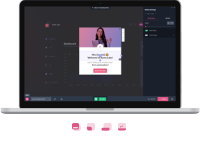 Appcues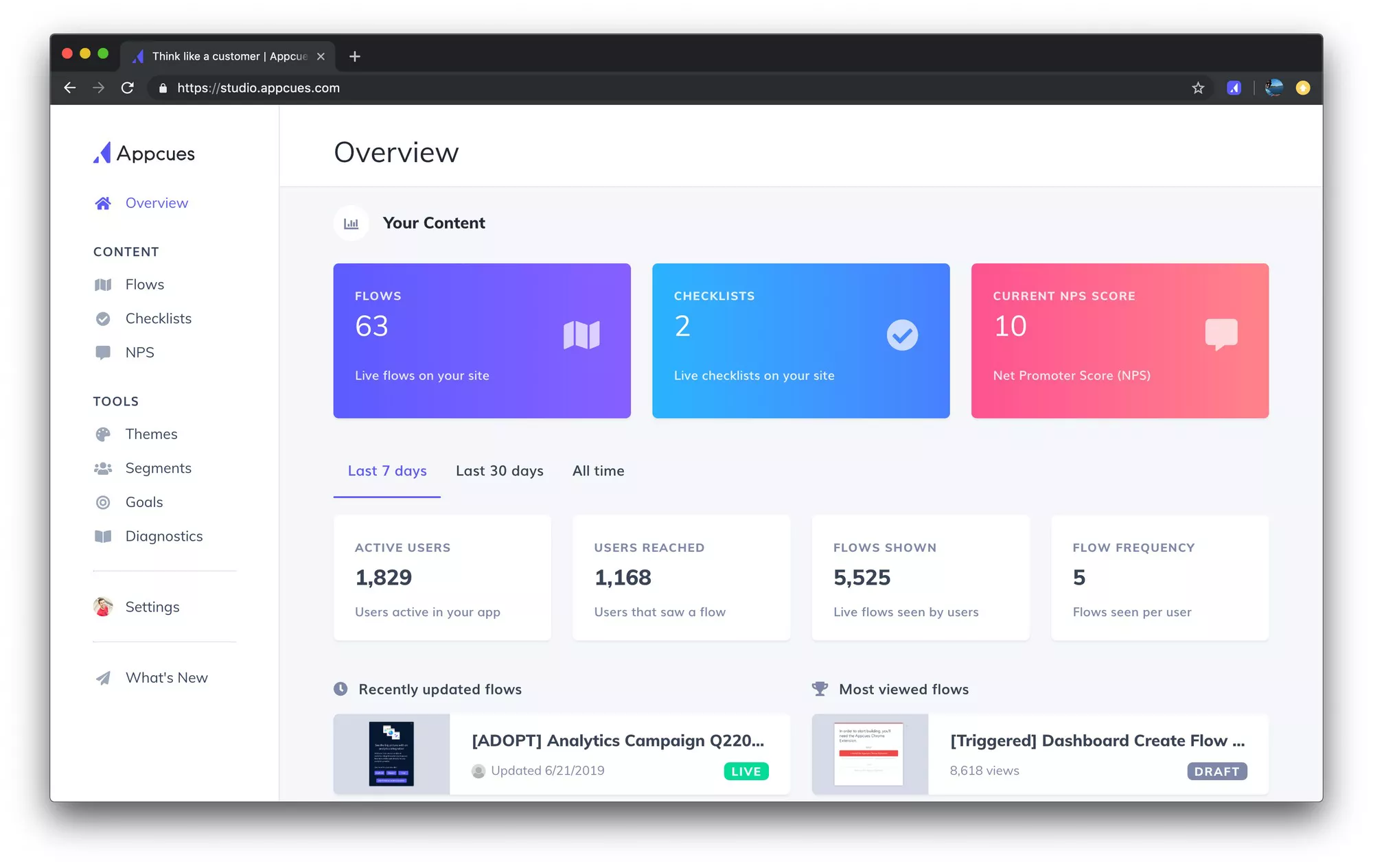 Appcues is another no-code user onboarding tool that helps non-technical teams track and analyze product usage. You can publish in-app onboarding tours, announcements, and launch surveys. Unlike Userpilot, the functionality is very limited if you are using the basic plans (in the "Essentials" plan, starting from $299 per month, you don't have onboarding checklists or launchers, and you can create only 5 user segments
Appcues used to provide onboarding templates, which made it easy to use the tool. However, it provided a predefined way of thinking about onboarding all while having a higher price tag than other onboarding software. As of the time of writing (early 2023), Appcues has removed its onboarding templates – without really replacing them with another solution.
Appcues allows you to design your onboarding flows easily. The way of building product tours and other in-app communication with users in Appcues is the same as in Userpilot – via a Chrome Extension, allowing you to build directly on top of your product (this is not the case for every tool – see a more detailed breakdown in-app user onboarding tools here.)
Here are some benefits of using Appcues:
Access to an easy-to-use UI that anyone on the team can handle for building in-app flows without coding.
Building a product tour in Appcues is relatively easy. You just need to open their chrome extension on top of your application and start building your in-app experiences with a WYSIWYG editor. You simply select a UI pattern and customize it 'live', or point to the elements you want to e.g. append your tooltips to.
Previously it was even easier – you chose one of its templates, they would basically create the product tour for you, and you just needed to customize each step. This limited the options for customizing but it was useful for beginners. We don't know if Appcues plans to bring their templates back.
You can also create checklists with Appcues (NOT available on the Essentials plan) and prompt users to take action. These are ok but have limited functionality (can't trigger JS functions, or add gamification elements) compared to alternatives, such as Userpilot.
Track UI engagement with Events explorer which allows you to tag elements without coding.
Build custom user segments (up to 5 on the Essentials plan) based on user properties, flows, interactions, or events you set up in the events explorer.
Pendo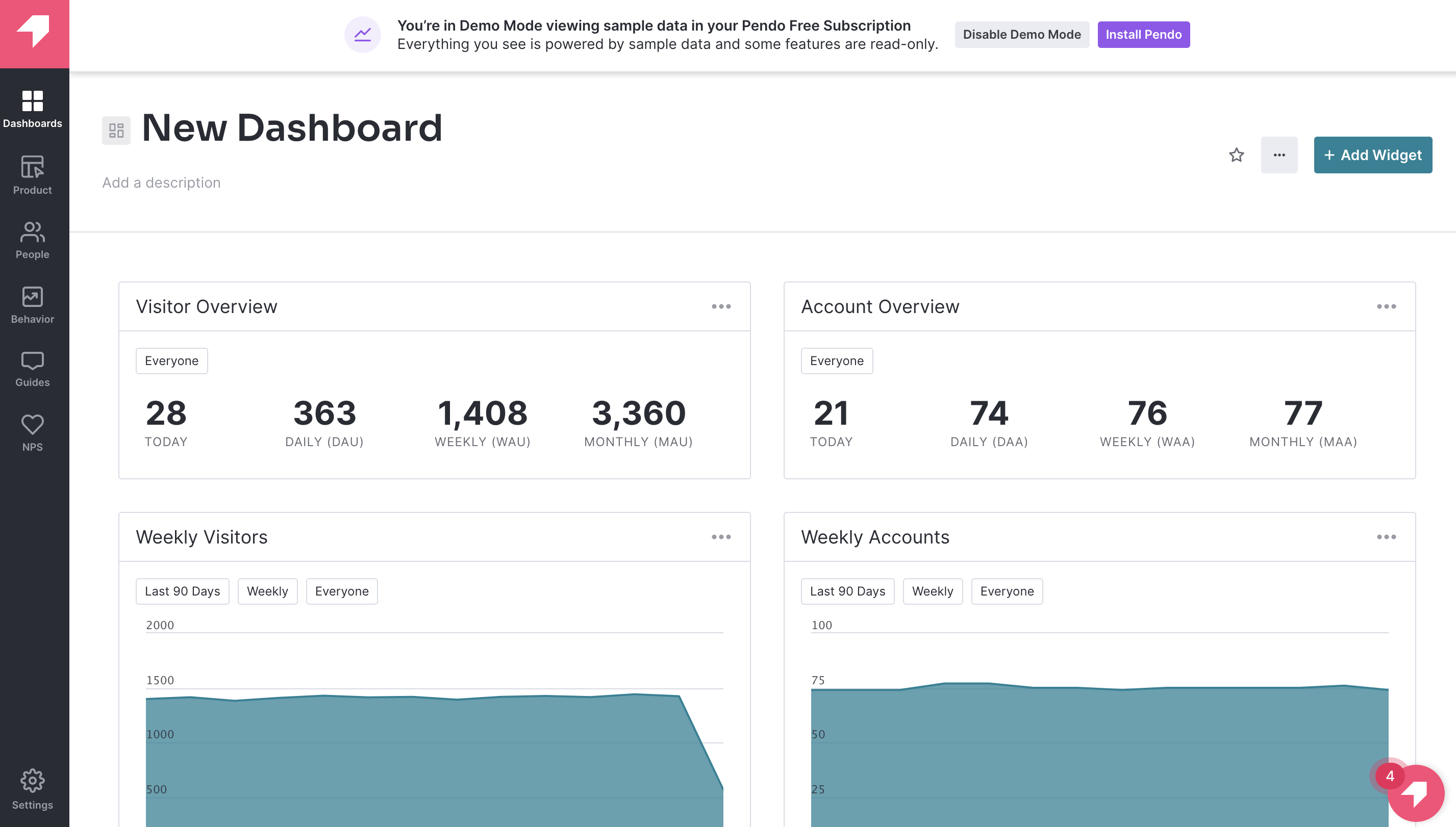 Pendo is a comprehensive digital adoption platform that is most well known for combining user onboarding features with a product analytics tool, in-app feedback, and product adoption features.
It caters primarily to enterprise users and probably has the most advanced analytics of all tools we're covering in this article. But it all comes at a price.
Despite the price and its steep learning curve, Pendo does have a few pros compared to its competitors:
Pendo is known for its good and easy-to-use analytics tools like Paths, Retention, and Funnels. (As of Q1 2023, Userpilot will have the same analytics features, with more robust functionality). These may not be necessary though if you're looking just for tour software.
Pendo has a shareable product-planning tool to organize customer feedback and prioritize high-value features. It helps keep teams aligned with the shared feature-planning guide.
It works on web apps and mobile apps so if you need both, this might be a good choice for you.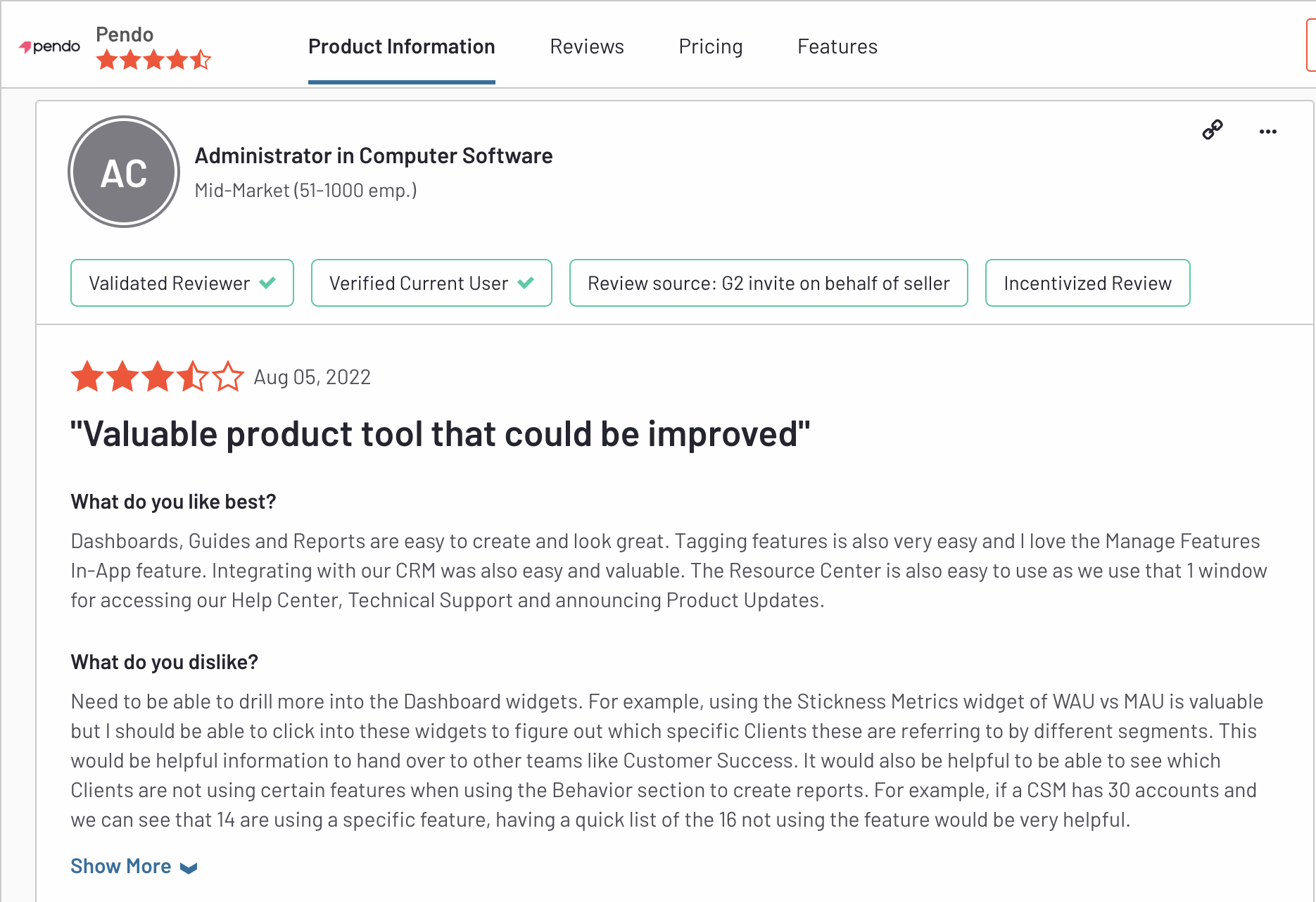 It also has many downsides:
Surprisingly for a product guidance and engagement tool that claims to be "all in one" you can't act directly on the user analytics from Pendo in Pendo.That's because Pendo doesn't allow you to target users segmented by in-app events with the in-app guides you've built with it.Here's a short list of Pendo's cons:

It doesn't allow you to trigger experiences based on in-app events either. This is probably because of tech debt – but makes Pendo's analytics pretty much NOT actionable.
Pendo offers limited onboarding elements, which means you can't always create the best experience for your users. If you want checklists these can only be accessed from the Resource Center which defeats the purpose of having them in the first place.
Pendo's pricing is only available to you if you ask for a quote. The company doesn't list pricing on its site for the higher tiers. However, some reviews say they have prices starting at $20,000-$25,000 per year for a single product, and around $50,000 per year for the mid-tier package. This might be Pendo's biggest downside.

If you're looking for a tool that shows you user analytics in real-time and allows you to trigger in-app experiences based on in-app events and user behavior in real-time – Userpilot offers these features (and at a lower price tag too).

Pendo Pricing

Pendo has 4 pricing plans divided into 2 tiers ("plans to get started" and "plans to grow"), and 2 products ("engage" and "adopt"). The basic "plans to get started" start at $7000 per year, paid annually only. This plan doesn't make a lot of sense as it has extremely limited features (compared to Userpilot's "Traction" plan, which gives you all the features and integrations + up to 2,500 MAUs for $2988!):

no NPS
no Resource Center
no integrations (!)
only basic analytics

The "growth" plans to only available to you if you ask for a quote. The company doesn't list pricing on its site for the higher tiers. However, some reviews say they have prices starting at $20,000-$25,000 per year for a single product, and around $50,000 per year for the mid-tier package.
Userguiding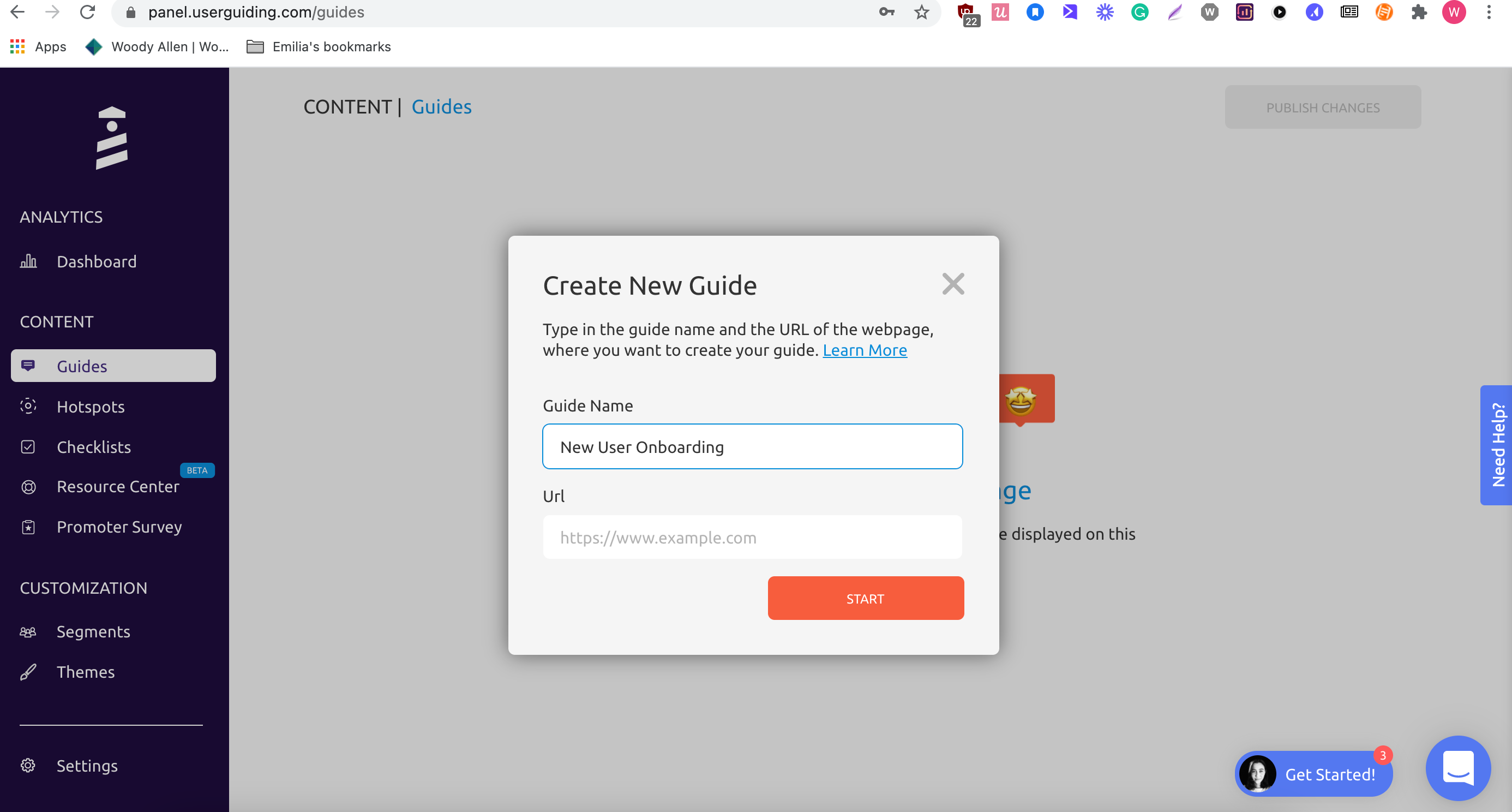 UserGuiding is a lower-cost, entry-level product adoption tool offering a range of features to help companies onboard new customers and boost product adoption.
UserGuiding excels at building simple onboarding experiences for users. It includes a no-code builder, segmentation options, and easily added UI patterns like hotspots, tooltips, and modals.
Although it also has some other goodies like a resource center and analytics, the meat of this product is its onboarding flow builder. If all you're looking for is a relatively easy way to build simple onboarding flows, this could be a great choice for you. However, people looking for more analytics, customization, or complex integrations should probably look elsewhere.
As a no-code onboarding tool, UserGuiding has numerous features that will help you create onboarding flows for your new customers and guide them throughout their journey.
Here's what you'll get when you start using UserGuiding:
Create interactive product walkthroughs without disturbing your developers as it's completely code-free.
Build onboarding checklists and drive customers to the activation point by eliminating the guesswork on what the next step should be.
Use a variety of UI patterns, like checklists tooltips, modals, and slideouts to prompt the right in-app experience, to the right persona, at the right time in their user journey.
Add emojis, gifs, images, or videos to customize your onboarding flows and have them match your brand.
Userguiding pricing
Though UserGuiding is a great tool for startups that don't have much money to invest in an onboarding tool, it has very strict limitations for the Basic plan.
You can only create a maximum of 20 guides, 2 onboarding checklists, and 1 resource center, just 1 Team Member, and UserGuiding branding on all UI patterns!
If you want to create unlimited guides with unlimited UI patterns without Userguiding's branding, you should go for the Professional plan that costs $299.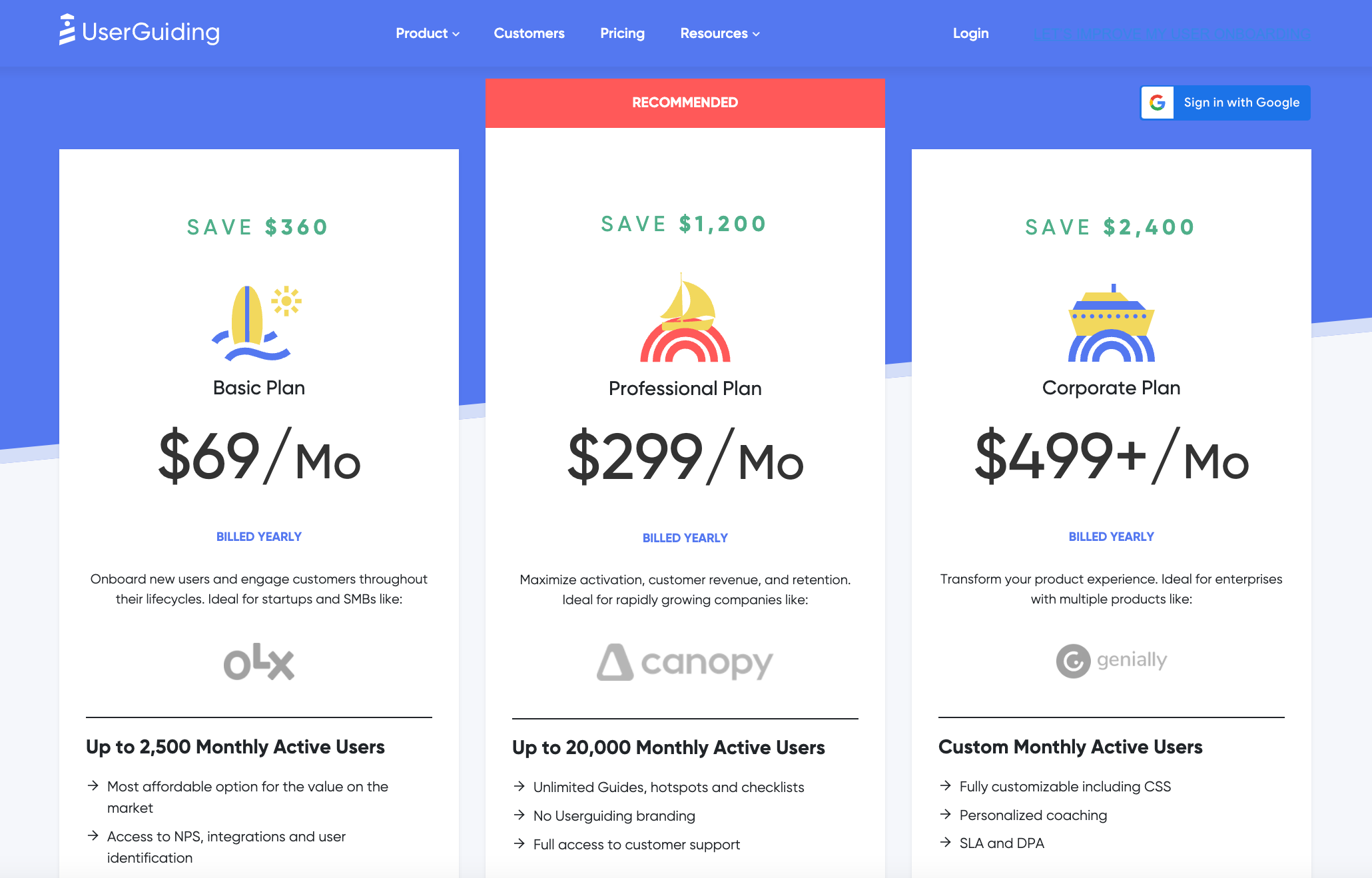 Professional adds unlimited guides, hotspots, and checklists, starting at $399/mo or $299 /mo if billed yearly.
The corporate plan gives you access to everything plus personalized coaching. Starting at $699/mo or $499 per month for a yearly plan.
INTERCOM PRODUCT TOURS
You're probably already familiar with Intercom, the conversational marketing and engagement platform, also known for its product tour software. Well, they also have an add-on called Intercom Product Tours
.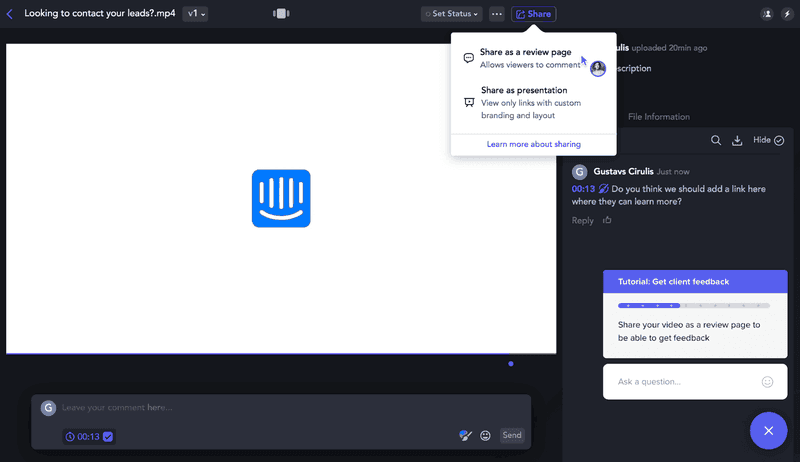 Source: intercom.com
Don't get me wrong. The Intercom product is great. But Intercom Product Tours is only really suitable for really basic product tours, as we've discussed in an earlier blog.
It only supports linear onboarding – that is, a series of non-interactive information panels like in the picture above, not interactive product tours:
The UX is quite basic, which limits how contextual the cues given can be. There are no modals, slideouts, checklists or hotspots, for example. If you are supporting multiple use cases and multiple audience segments, or if your product has a lot of different functionality, this one-size-fits-all approach is problematic.
Intercom Product Tours doesn't support A/B testing. So how will you work out whether your onboarding can be improved?
Although it claims to be no-code, in fact the styling you can employ without CSS coding is pretty limited. If you want complete control over the look and feel, you're doing to need a web developer on the case.
Finally, Intercom Product Tours is only available as an add-on to the main Intercom product.
That is, you can't buy it separately – you have to spend at least $149 per month extra on top of your Intercom subscription.
Pros of Intercom
If you're a diehard Intercom user and your onboarding needs are simple, it integrates seamlessly with the rest of their tools
The frameless videos look great!
Cons of Intercom
Linear tours only, no real interactivity
Restricted range of user experiences
Styling requires coding – you can always tell if someone's been using Intercom's product tour software, because the product tours always look kinda the same…
Entry-point pricing may seem attractive, but it increases sharply with the growing number of users you may have. There's no transparent pricing on Intercom's website.
Intercom product tour pricing
Intercom's product tours are an add-on so you can only get them if you already have a subscription with them. (Intercom's pricing plans are notoriously complicated and tricky to navigate). The basic Starter plan starts at $74 and you'll have to pay $199/mo for the product tours feature.
"DIY" user onboarding solutions (require coding)
We understand not every startup can afford to buy the convenient (but quite expensive) no-code user onboarding software, and may need to code up the guides for their user onboarding process themselves. Let's look at some js libraries that can help with that.
INTRO.js (Free)

Intro.js, a javascript guide, allows you to harness this principle by allowing you to insert a progress bar into your onboarding flow, and get users to actually cross the finish line.
Shepherd.js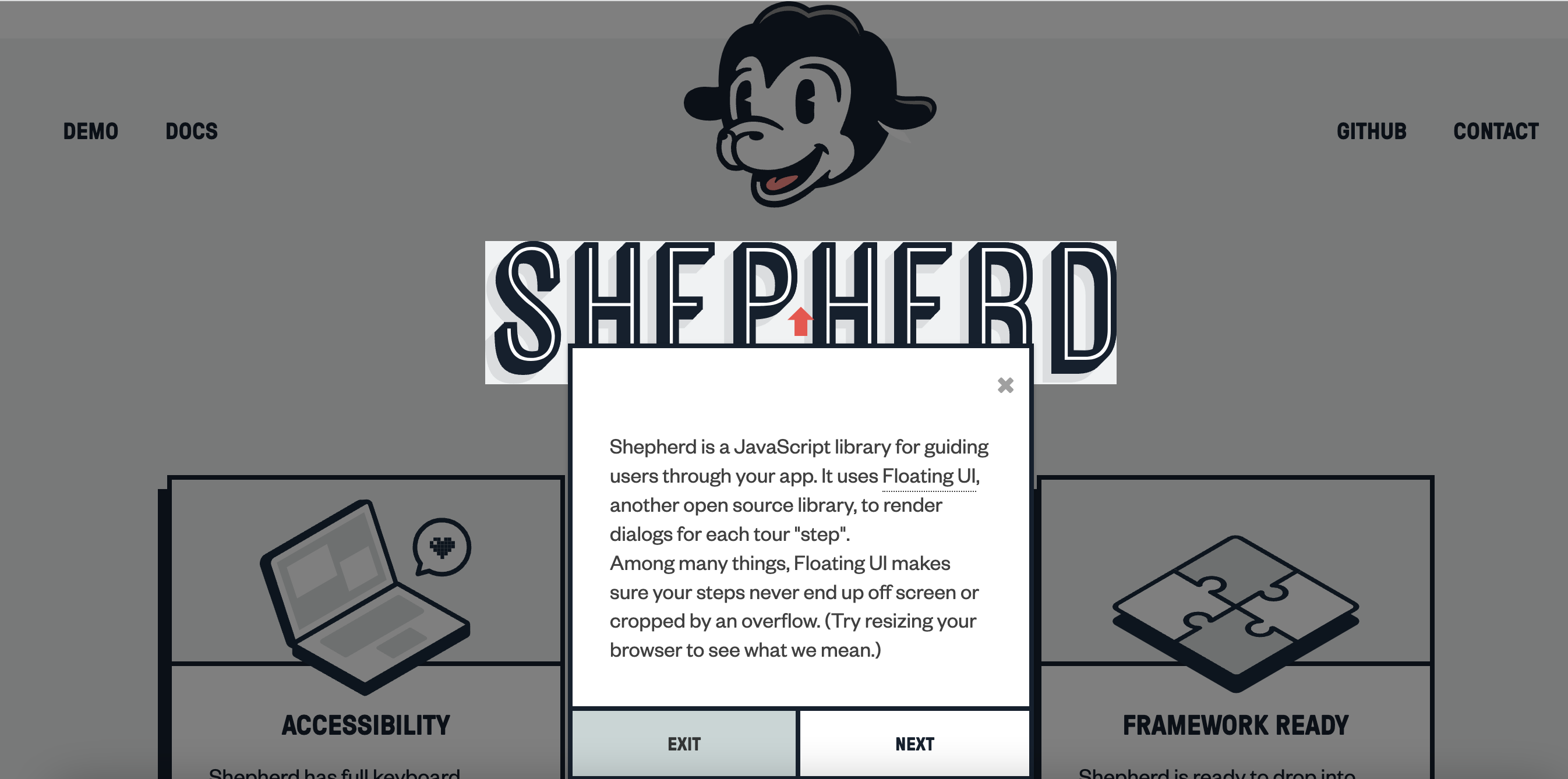 The Shepherd.js library is another javascript library for creating product tours that is highly customizable and help you with your user onboarding process.
It basically does everything that Intro.js does, but it's still being updated and worked on, ulinke Intro.js it seem (it has so many open issues on GitHub that nobody is responding to…).
You should choose an open-source solution for your user onboarding that can offer you support when you need it.
Signup flow tools – for removing friction from your user onboarding process
If you don't want to lose users before they have even signed up for your product, your signup flow should be as frictionless as possible. This can be achieved with Single-Sign On. Single sign-on (SSO) is a property of access control of multiple related, yet independent, software systems. With this property, a user logs in with a single ID and password to gain access to a connected system.
Filling long and detailed sign-up and registration forms have always been boring and time-consuming. No one likes that!
While building the in-app experience you could add SSO so your users will have fewer forms to fill.
You can get such kind of frictionless authorization tools to streamline your user onboarding flow with the following companies:
AuthO (Freemium)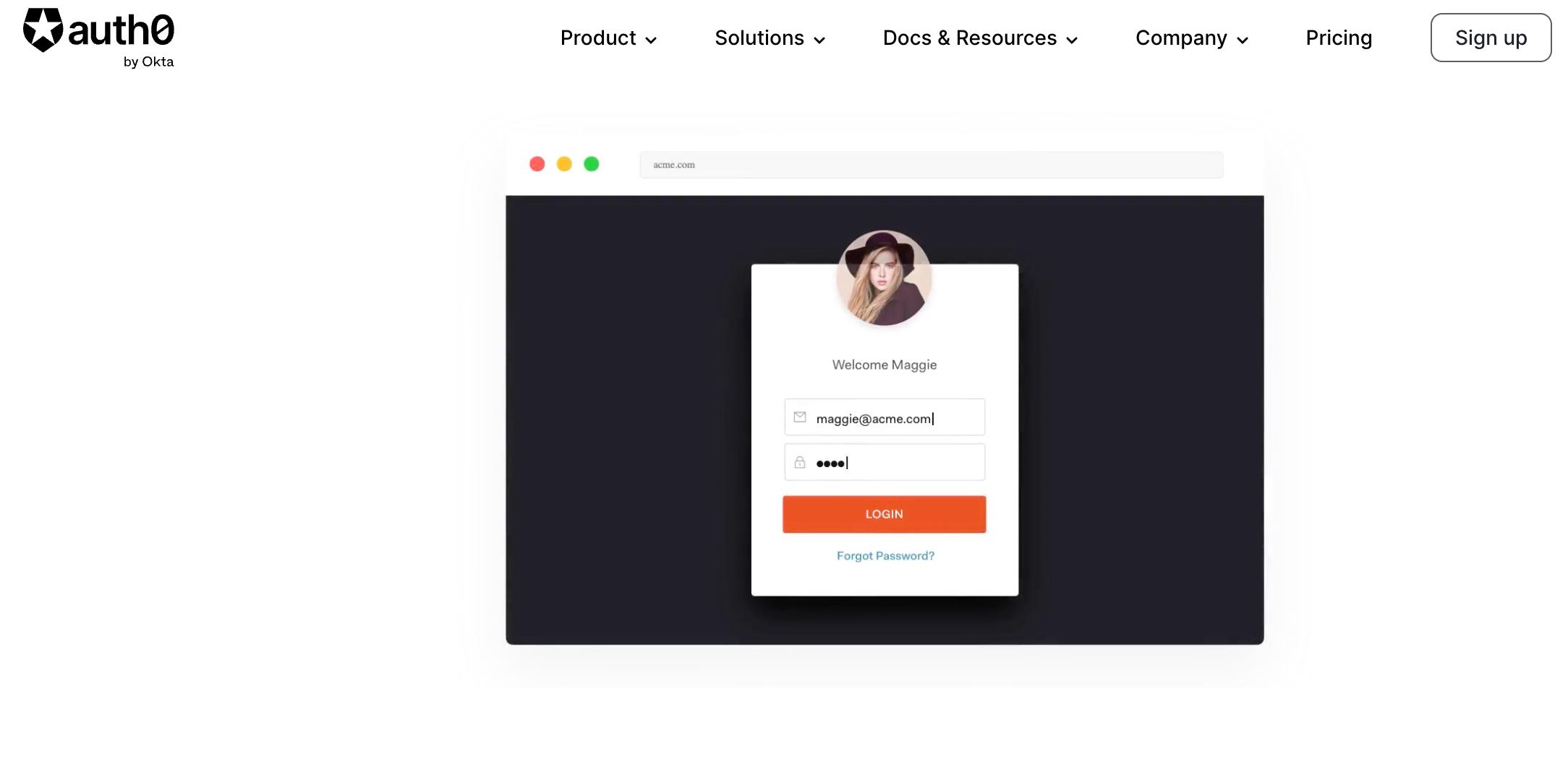 AuthO provides universal authentication and authorization platform both for web and mobile platforms and applications.
When we're talking about user onboarding, AuthO will not just help you to improve your sign-up conversions with simple Sign-on solutions, but it will also secure your APIs and prevent malicious logins.
With AuthO, you will reduce the time needed for users to complete the registration process and securely capture and hold their data.
AuthO supports all programming languages, so it doesn't matter if you built your application in C#, Java or Angular.
It's based on the freemium model and it starts with $0 per month to $850 per month for 50.000 regular active users.
Because of its flexibility and freemium model, AuthO is suitable both for small and medium businesses and large enterprises.
Email onboarding tools
Even when you have great in-app onboarding, email onboarding using email automation tools is still essential in user onboarding. Email verifications, sending transactional emails, invoicing, trying to re-engage users that haven't logged in for a couple of days, or sending a list of links to read – can be only done via email. Just like a lot of a-synch support. So let's see which email tools are best for improving user onboarding experience.
Drip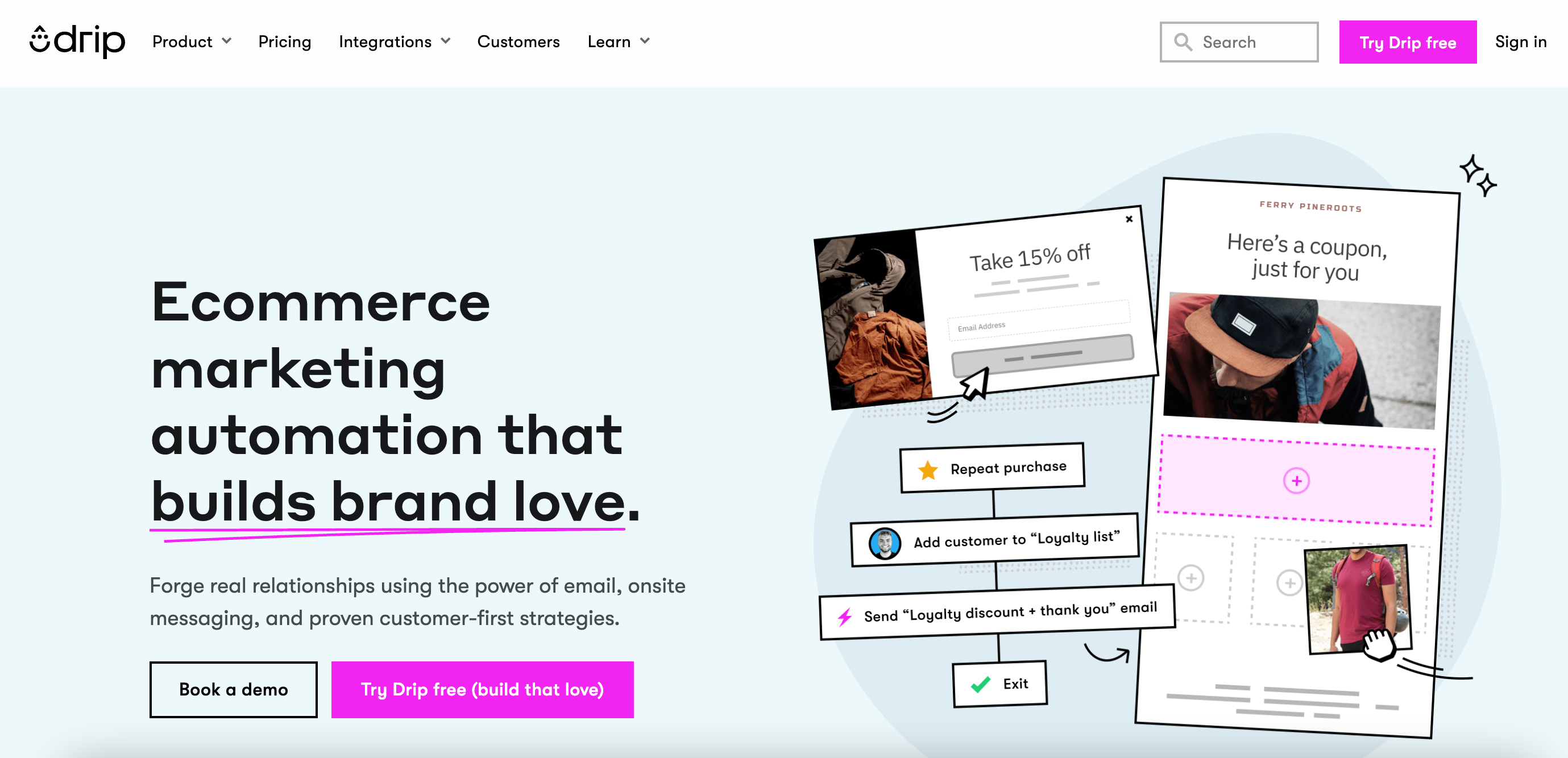 Drip is a popular tool in e-commerce, but it can be also used to create onboarding emails. It will send trigger-based emails that land directly in the inbox without going to promotion channel (if the user uses Gmail).
Drip allows you to go beyond basic emails and create different user onboarding email automation processes, multi-channel marketing and email campaigns.
It provides you with in-depth analytics and insights about every trial customer so you can take action on improving your conversions and retention.
The most important thing about building great user onboarding experiences is personalization, and that's exactly what Drip allows you to do. You can customize your every email sending sequence to suit your particular user interests, experiences, and needs.
Drip starts with $49 per month for having 2500 users in your list and then jumps to $122 for up to 5000 people.
Customer.io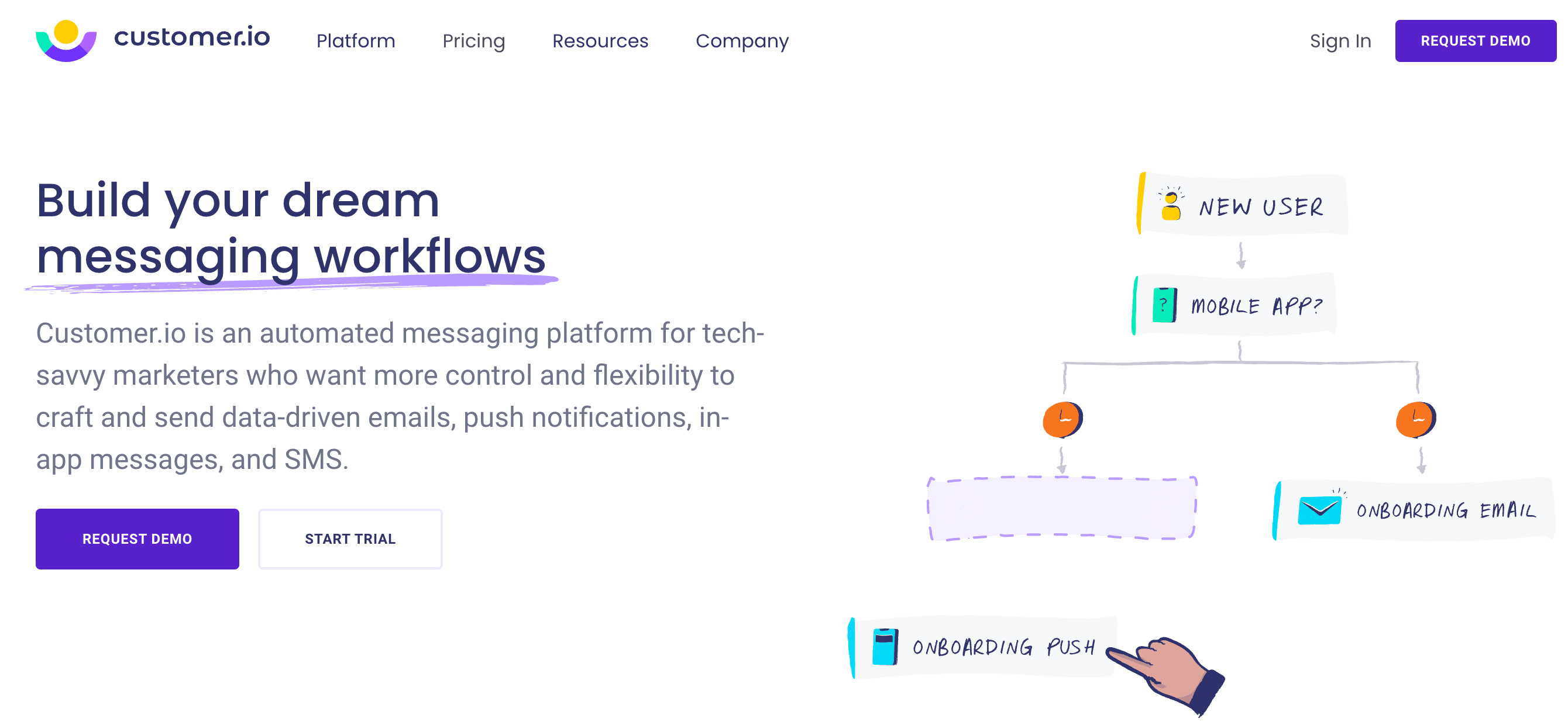 Emails triggered by user actions in your product are a better alternative to time-based campaigns. Depending on what customers do (or don't do) during onboarding, you can deliver the right email at the right time. Customer.io enables you to segment users based on real-time events and send personalized emails as part of an omnichannel user onboarding.
Customer.io is a bit more expensive tool to send drip campaigns. It's great for your need to start onboarding, converting, and retaining your audience.
What distinguishes Customer.io from Intercom and Drip, is its ability to send push notifications and SMS messages and real-time data for every customer.
With Customer.io, you can see whatever you want about your customers – from some more classic things like when and what page they have visited to your dedicated custom events.
It also allows you to send the right email to the right customer at the right time depending on what they do or don't do during their user onboarding experience.
Customer.io' basic package costs $150 per month, and you can have up to 12.000 customers in your list.
If you're an early stage company, Customer.io because of its pricing probably isn't the best choice for you – but as you grow, it can become more meaningful for your business than you think.
Intercom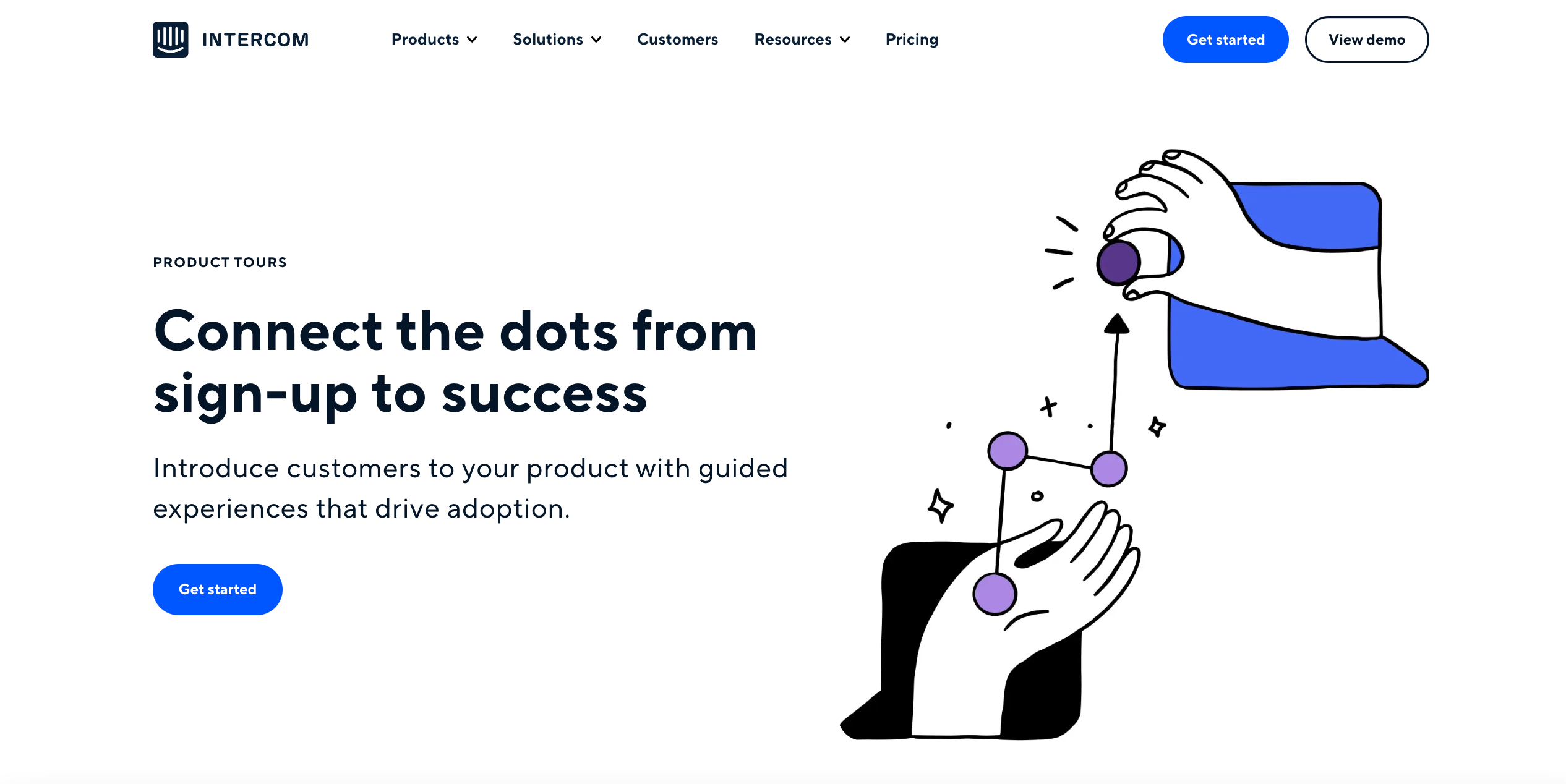 Intercom is well know all-in-one onboarding solution that provides both email onboarding, live chat, customer success tools and in-app onboarding. As with every "all-in-one" tool – it may not be top-of-the-class in any of these functions, but it connects all of the onboarding aspects smoothly in one tool. In this section, let's look at its email onboarding functionality.
Intercom allows you to see both the emails and the in-app messages in one inbox, as well as trigger the emails based on user segments and in-app events:
The plan that allows you to do it all (aside from the startup plan) starts at $199 per month.
User.com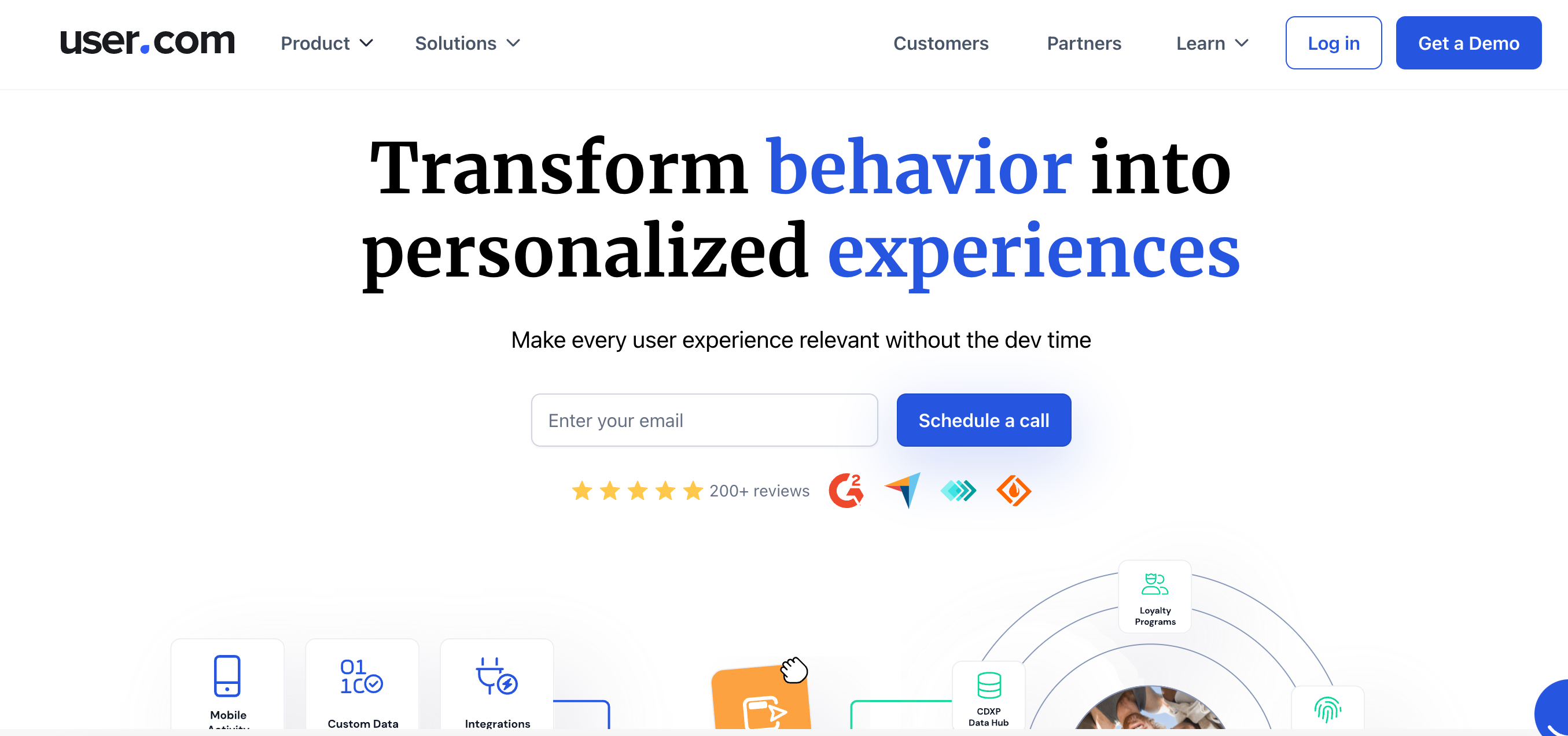 User.com is a full-stack marketing automation software for turning your visitors into happy customers.
User.com allows you to gather information about your prospects, communicate with them via live chat, chatbots, gather contact information by using popups, send automated emails and SMS and much more.
The tool makes it easy to create automated paths where you can pinpoint the moments your leads receive messages. It will save you time and make sure your communication is consistent. Right now available in Freemium Starter Pack – 100% free, includes modules like: Chat, CRM, Knowledge Base, and Calendar.
User.com has a Pay-as-You-Go pricing model, with price calculated based on several different criteria: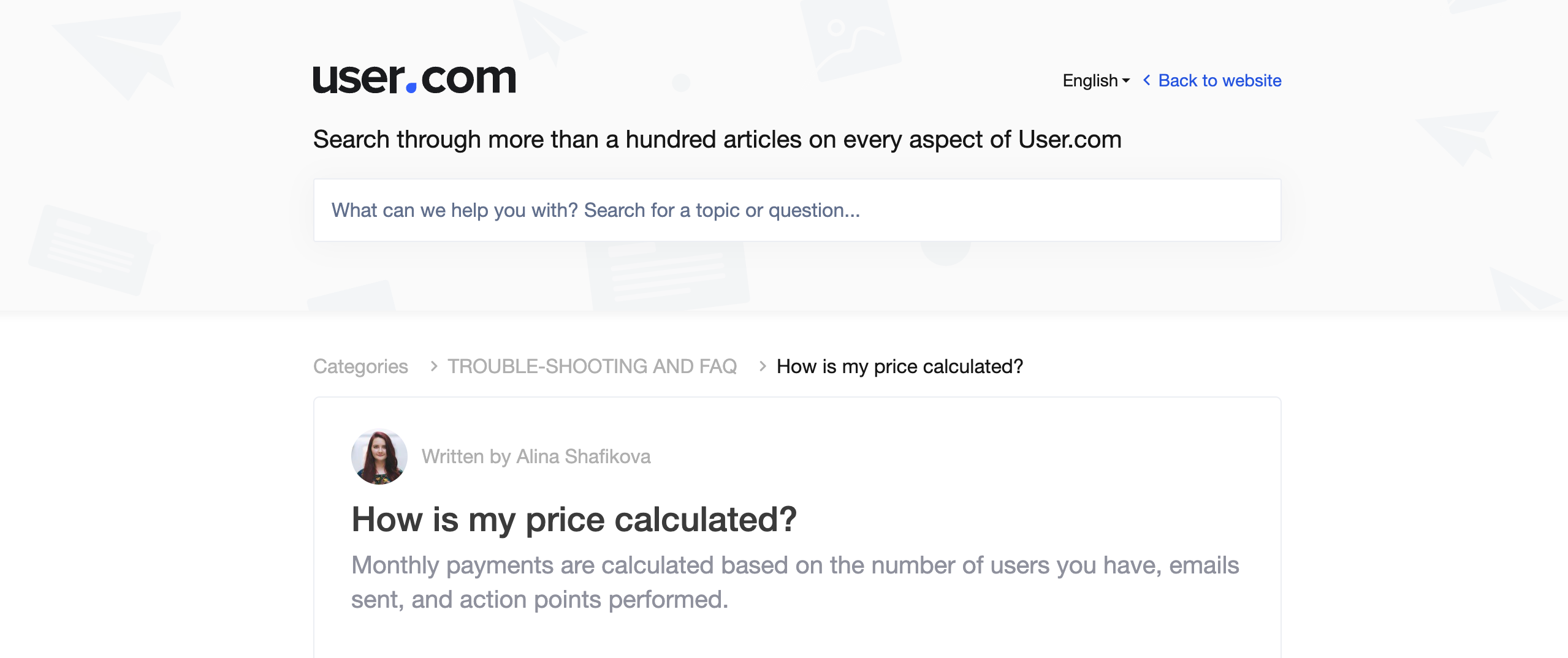 MailChimp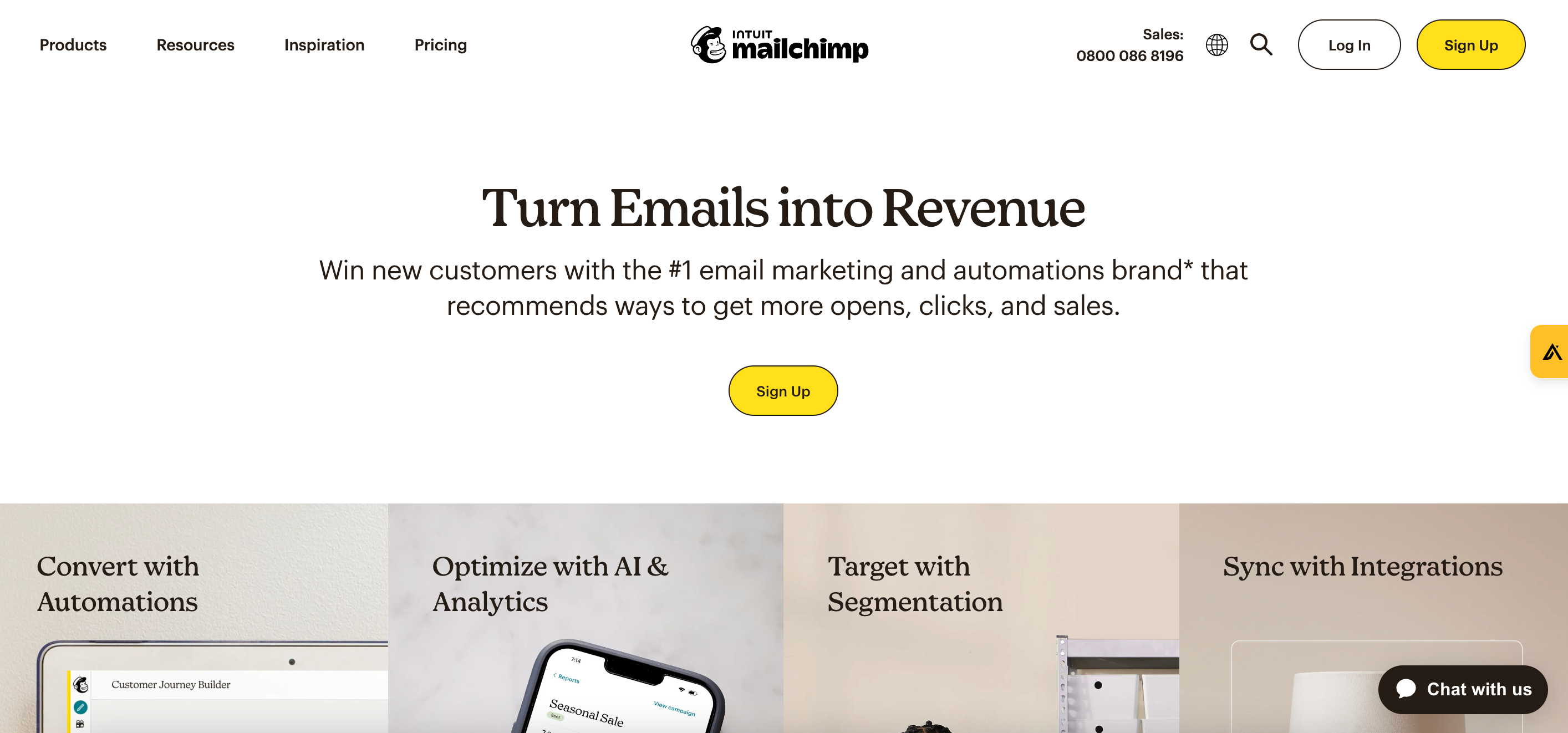 MailChimp is one of the most popular and oldest ESPs for SMBs. In the past few years, Mailchimp has evolved from an email platform to a hub for marketing small businesses. There are landing page builders, website builders, social scheduling tools, and creative assets tools.
Mailchimp lets you create not only regular email campaigns and send newsletter, but also "customer journeys" – trigger based emails that support user onboarding process. It also allows you to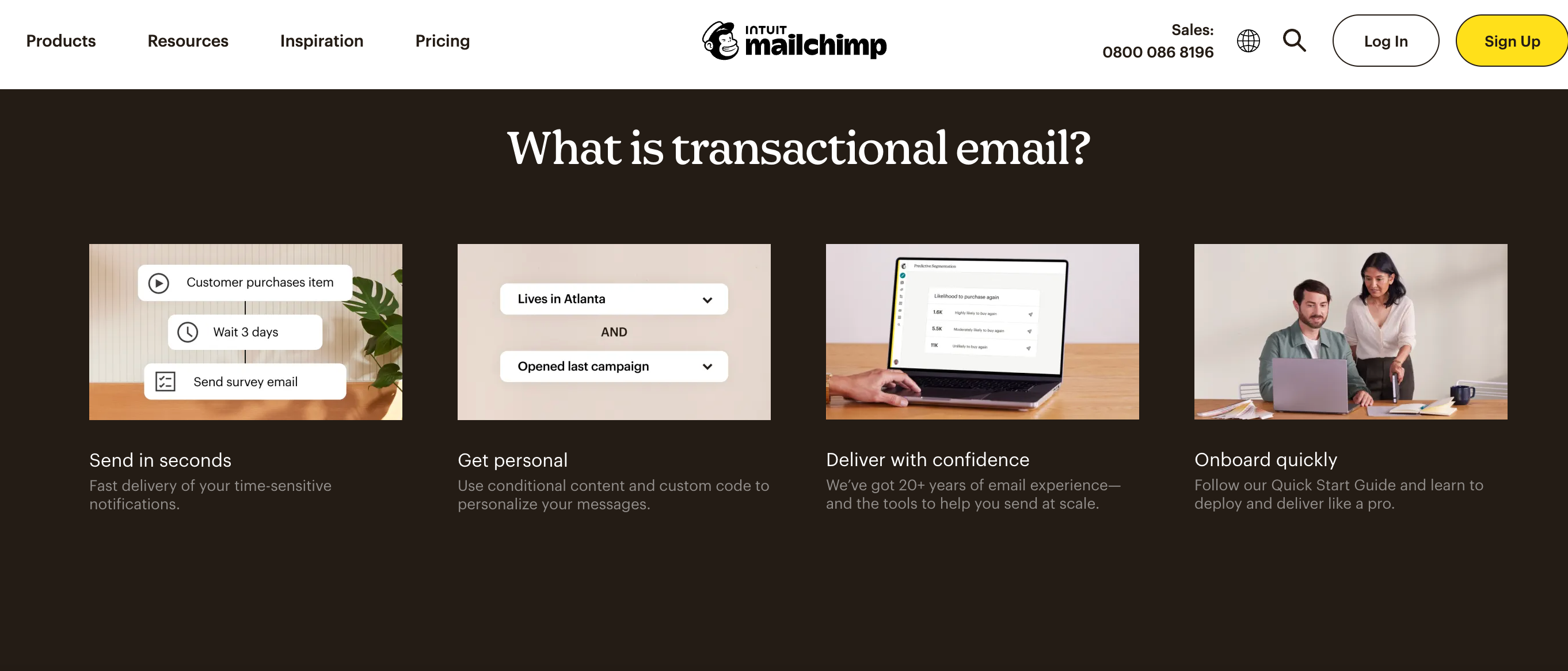 MailChimp's pricing: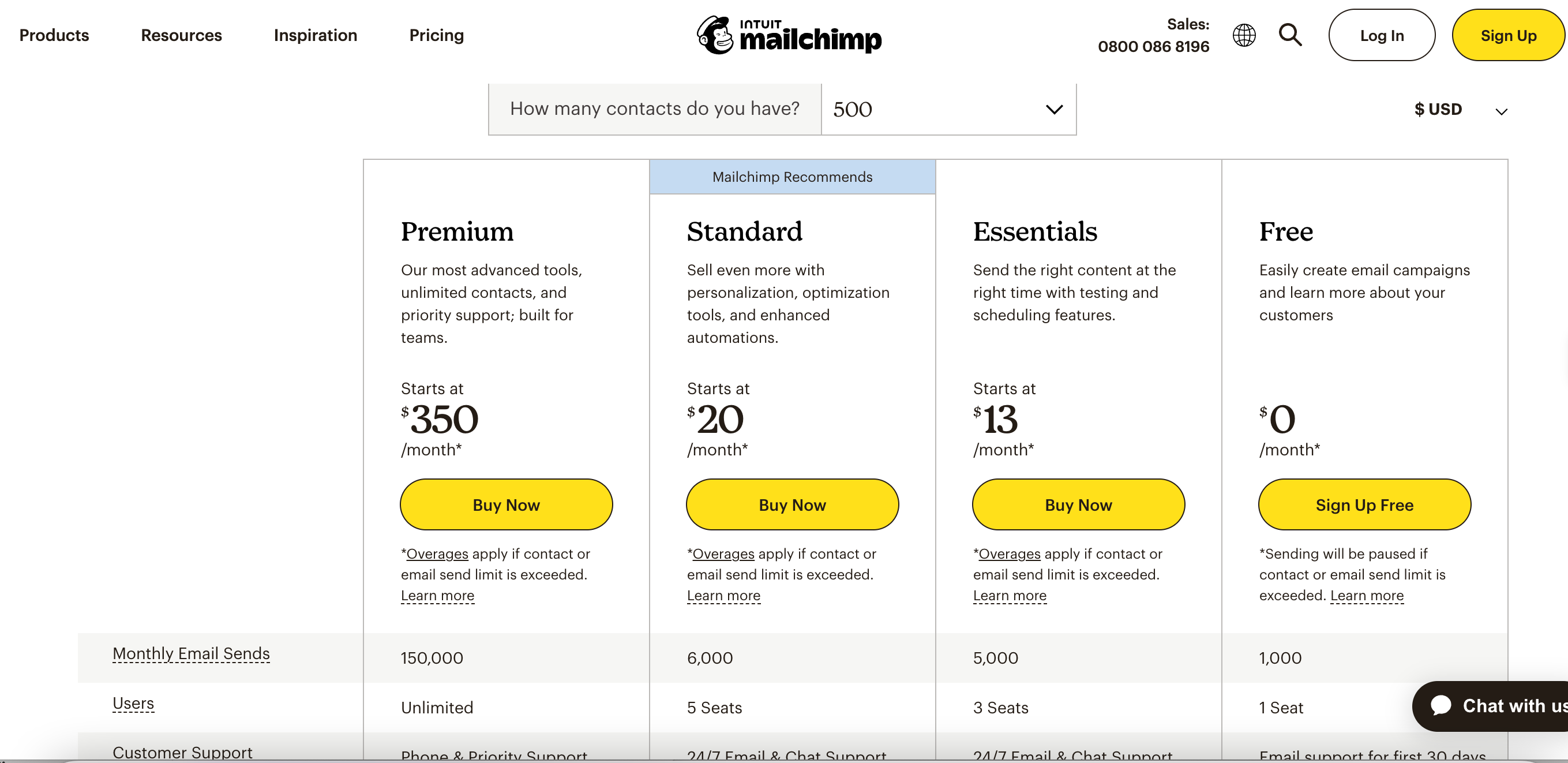 SendinBlue (Freemium)
SendinBlue empowers businesses to build and grow relationships through marketing campaigns, transactional messaging and marketing automation. Their platform combines a robust suite of email and SMS messaging services within a single, user-friendly solution.
SendinBlue allows you to send triggered transactional emails and SMS messages with optimized and reliable delivery and detailed analytics and reports. You can build different types of audiences based on contact details or your own custom events.
You can integrate your SendinBlue account with different tools like WordPress, Salesforce, Google Analytics, Zapier, Intercom, WooCommerce and many more.
With its free lifetime plan, you can send up to 300 emails per day, while on their cheapest pricing package, you can send up to 40.000 emails per month, with no daily limit, for $25 per month.
Sendinblue pricing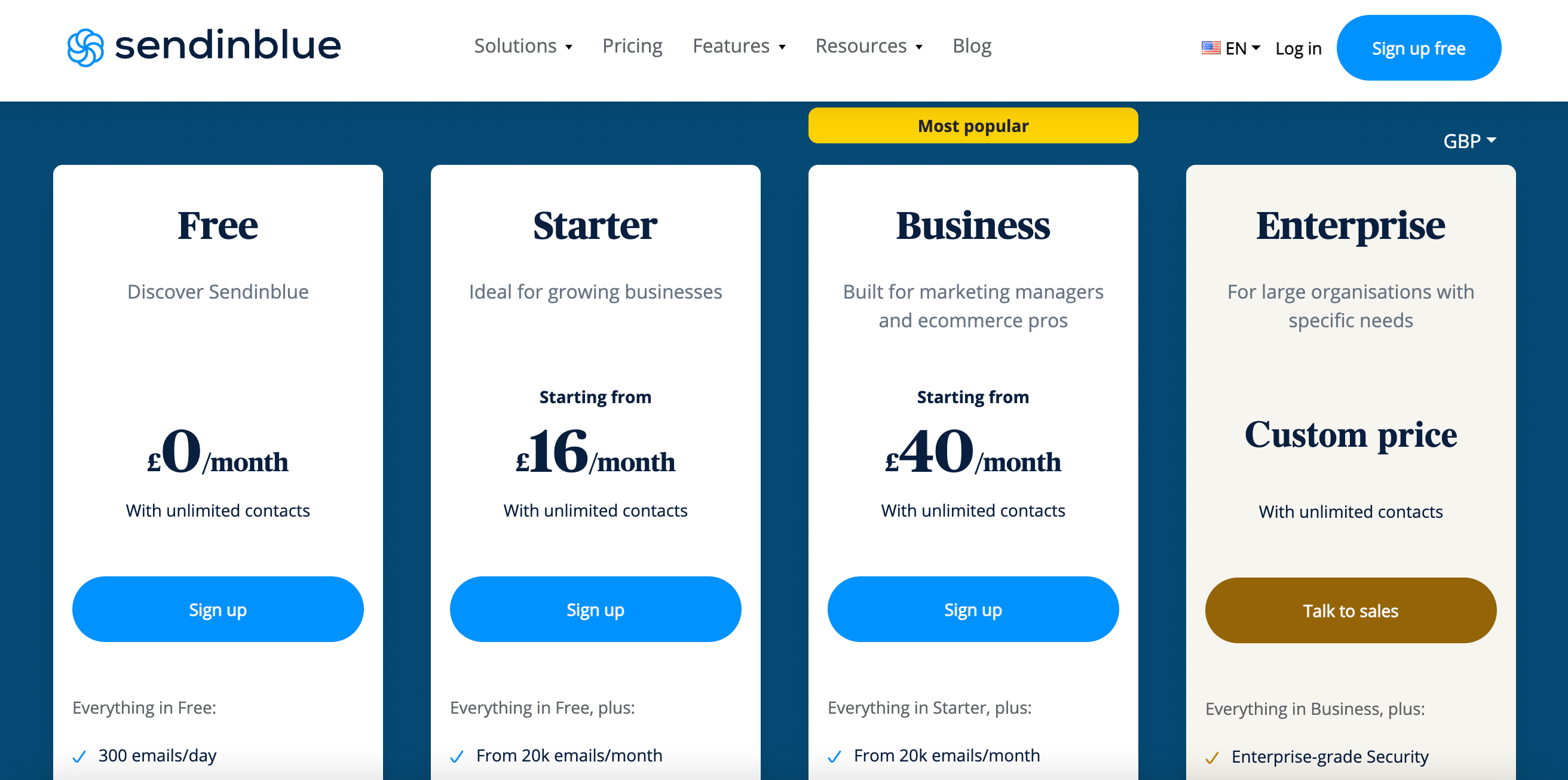 GetResponse has in the recent years become a household names in SaaS email onboarding. In addition to email marketing, autofunnels, landing pages, marketing automation, webinars, and autoresponders, it also provides enterprise marketing tools.
Getresponse pricing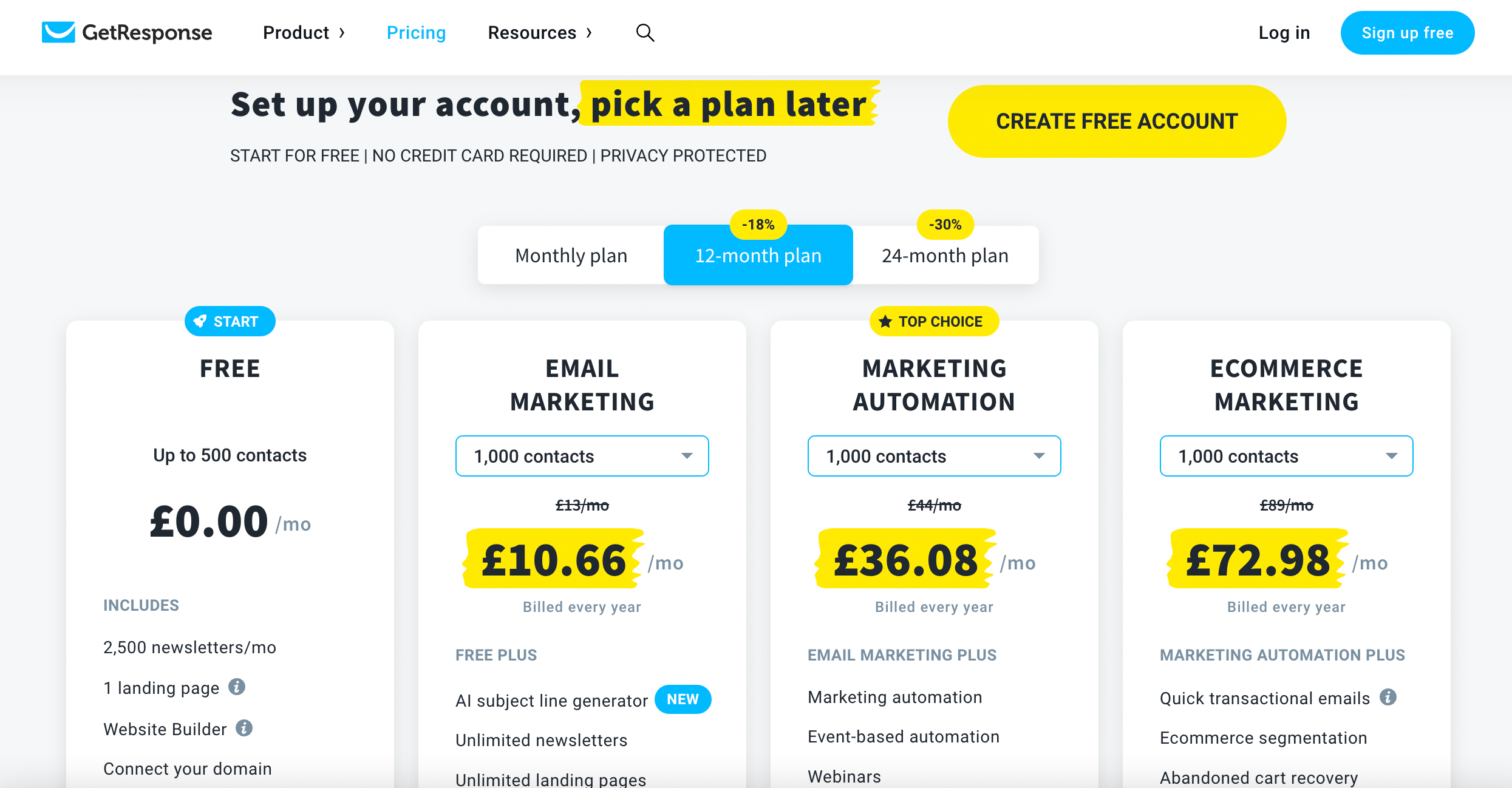 Video onboarding tools
Demo video + onboarding video tools
Video tutorials with an actual human behind them, make it easier for a user to engage. This could be included in your initial product tours (e.g. in the welcome screen – here built in Userpilot) or while showing certain features.
It not only lets you add that extra touch of personalization to your product, but you will also make learning more engaging by breaking down complex processes. Inserting a video in an introductory marketing email increases click-through rates by 96%.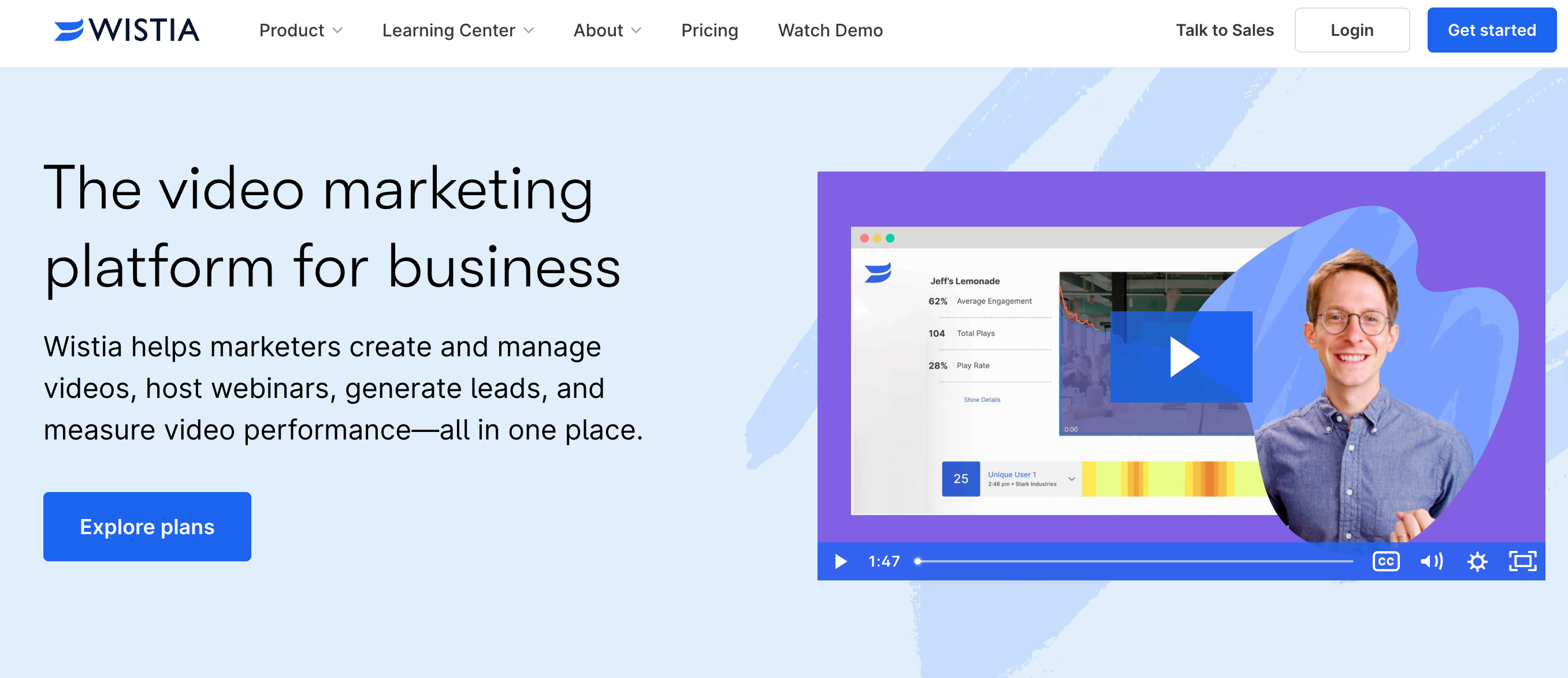 Wistia, a video-hosting for the business platform, lets you bring the power of video to any department of your business – and is especially helpful for user onboarding.
It allows you to create, record, edit and distribute professional videos in minutes. You can customize your video's style to fit your brand identities, add email subscriptions, different call-to-actions and many more. It helps you to tap into the power of personalization by including a video play-by-play of your app in action.
Their video analytics will help you to find out where your users' attention is falling down by getting insights into how they engage with your videos each second.
Wistia's pricing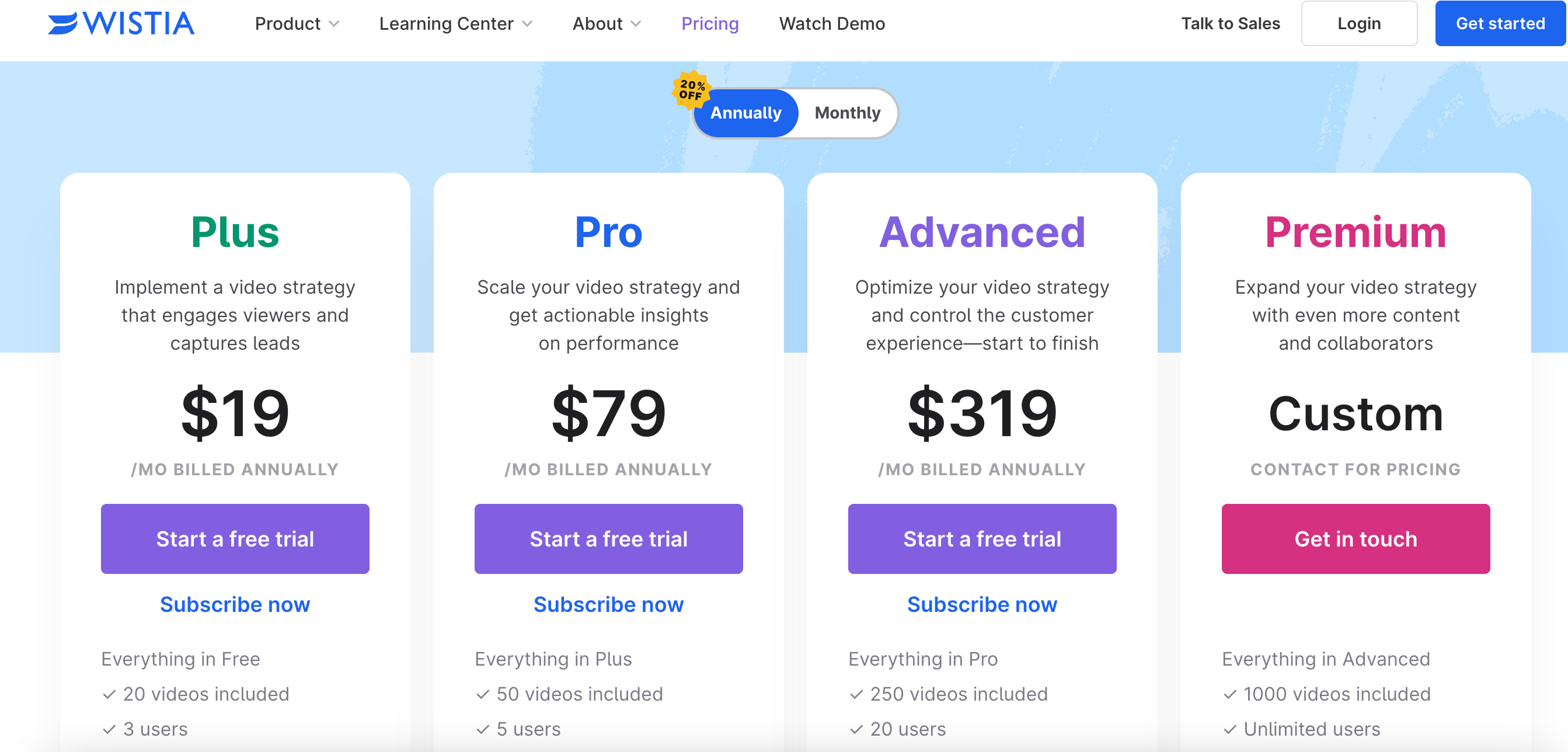 Wistia's pricing plan starts with $19 per month for creating and monitoring up to 20 videos per month and then jumps to $79 per month for 50 videos.
If you're in the early stage of your business, their free plan can certainly help you to create better videos for personalization and making your user onboarding process simple and enjoyable.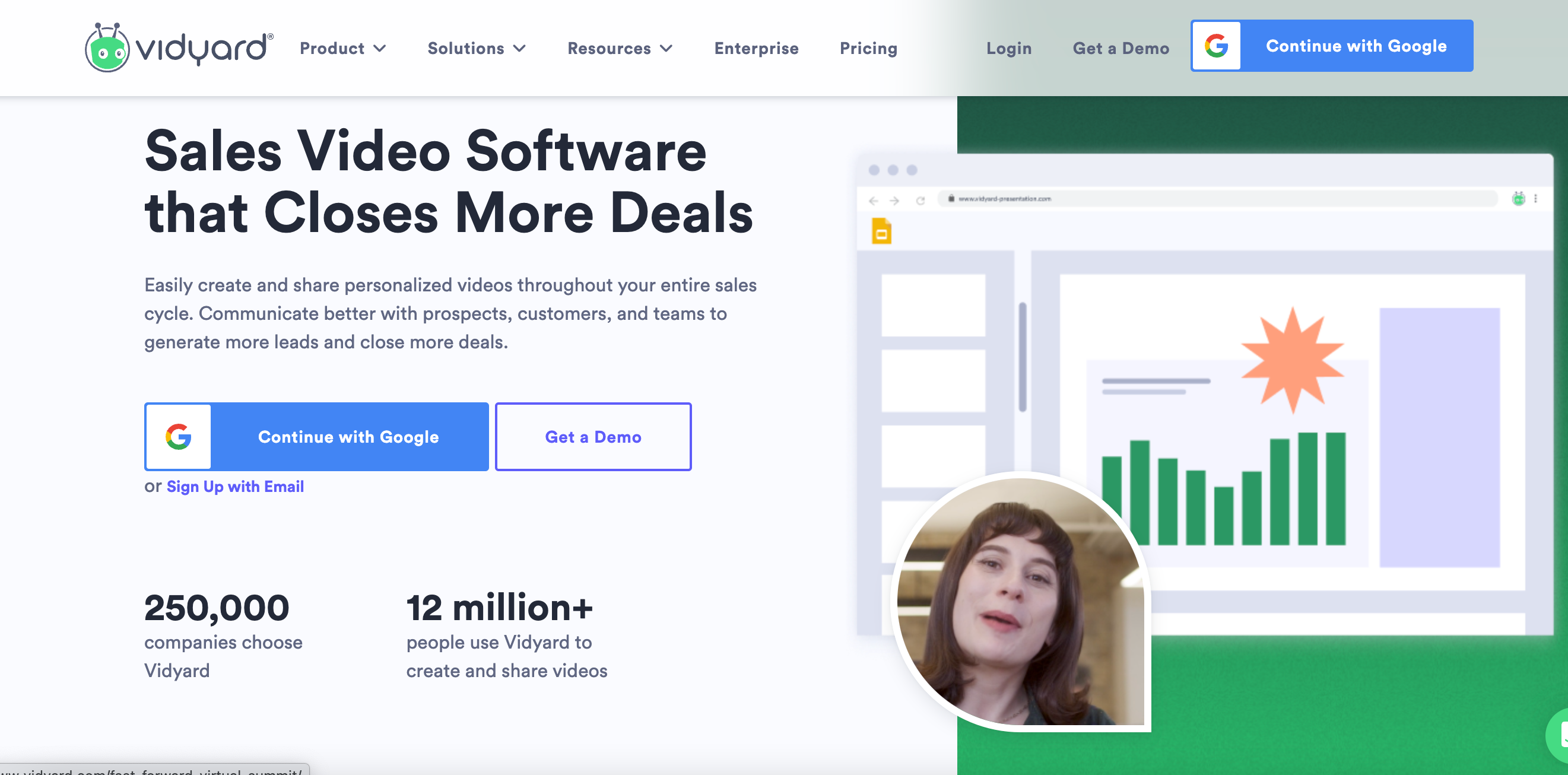 Vidyard is another video platform that helps businesses transform communications and drive more revenue through the strategic use of online video and video marketing.
Vidyard helps you to host and manage your videos while giving you the opportunity to connect with more viewers through customized and interactive video experiences and different Call-to-actions.
Like Wistia, VidYard also provides you with detailed analytics and powerful insights on your user's viewing audience:
Vidyard's pricing
Vidyard's pricing (apart from the FREE plan which includes up to 25 videos in total) starts with $150 per month for with twenty videos included, an jumps to $850 per month for their Plus and then $2000 per month for their premium package.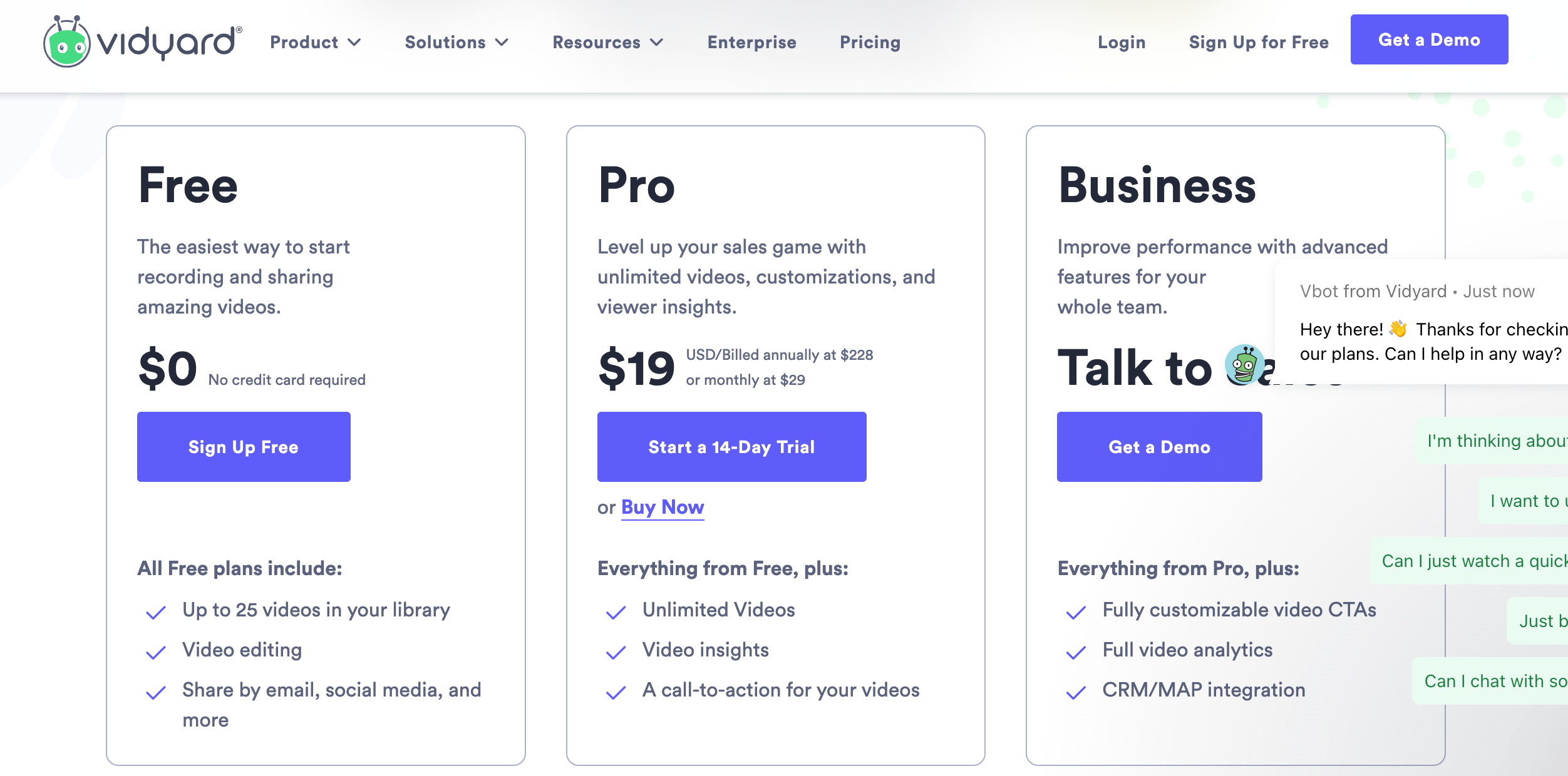 Loom (freemium)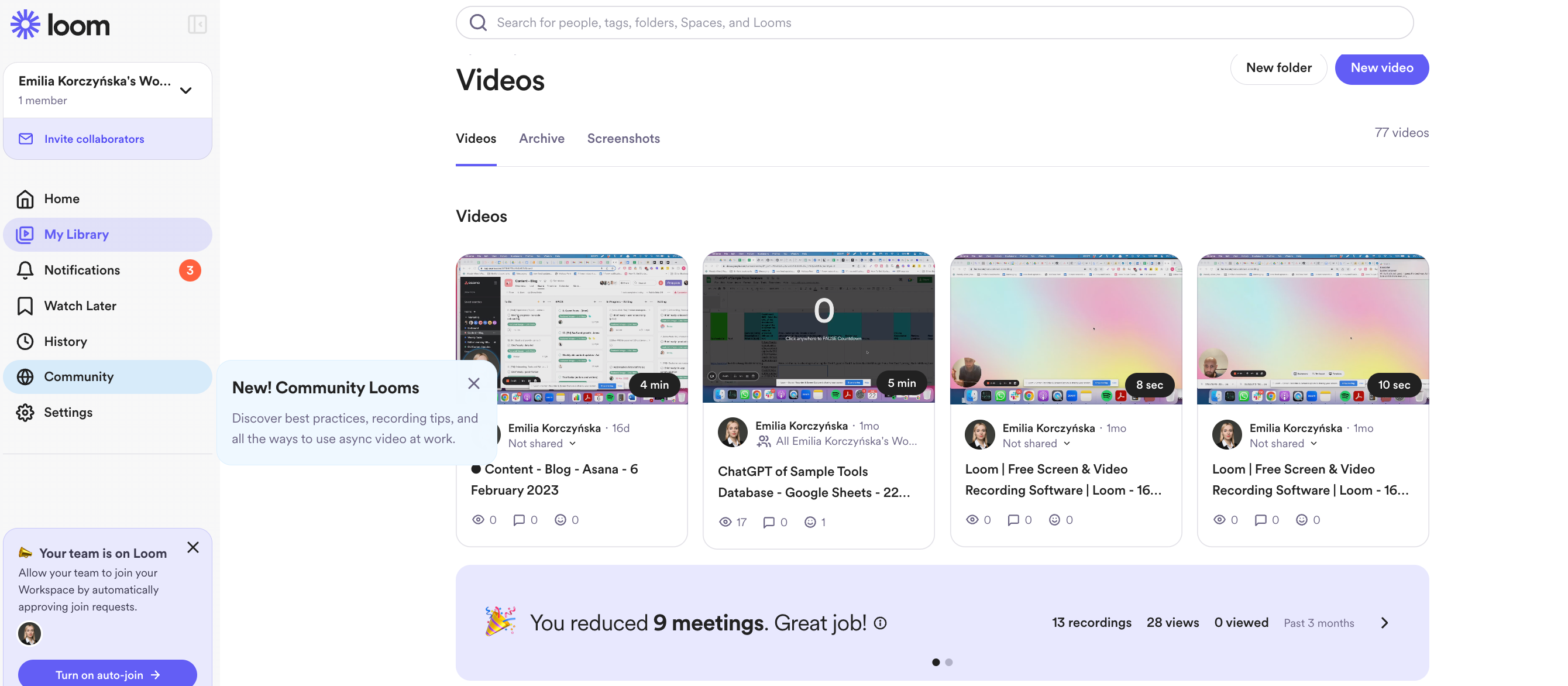 Loom is a very popular video recording tool that will help you record your screen, create step-by-step video tutorials and easily embed the video into your in-app modals or onboarding emails to enhance your user onboarding process.
It has a free plan and the paid plans start from just $8 – so it's a great alternative to the more pricey video onboarding tools.
Onboarding webinar tools
Apart from embedding video tutorials, live user webinars organized by CS to help the new users understand your product are an essential part of user onboarding. Here are some webinar user onboarding tools that will help you improve your user onboarding process:
Sequel is a fairly new webinar solution that allows you to embed the webinars directly on your website – thus allowing you to have more control over the look of your events page (and you can have different ones for your new users and marketing leads!) and leading to an increase in conversions (as you can totally control the CTAs you show to your users).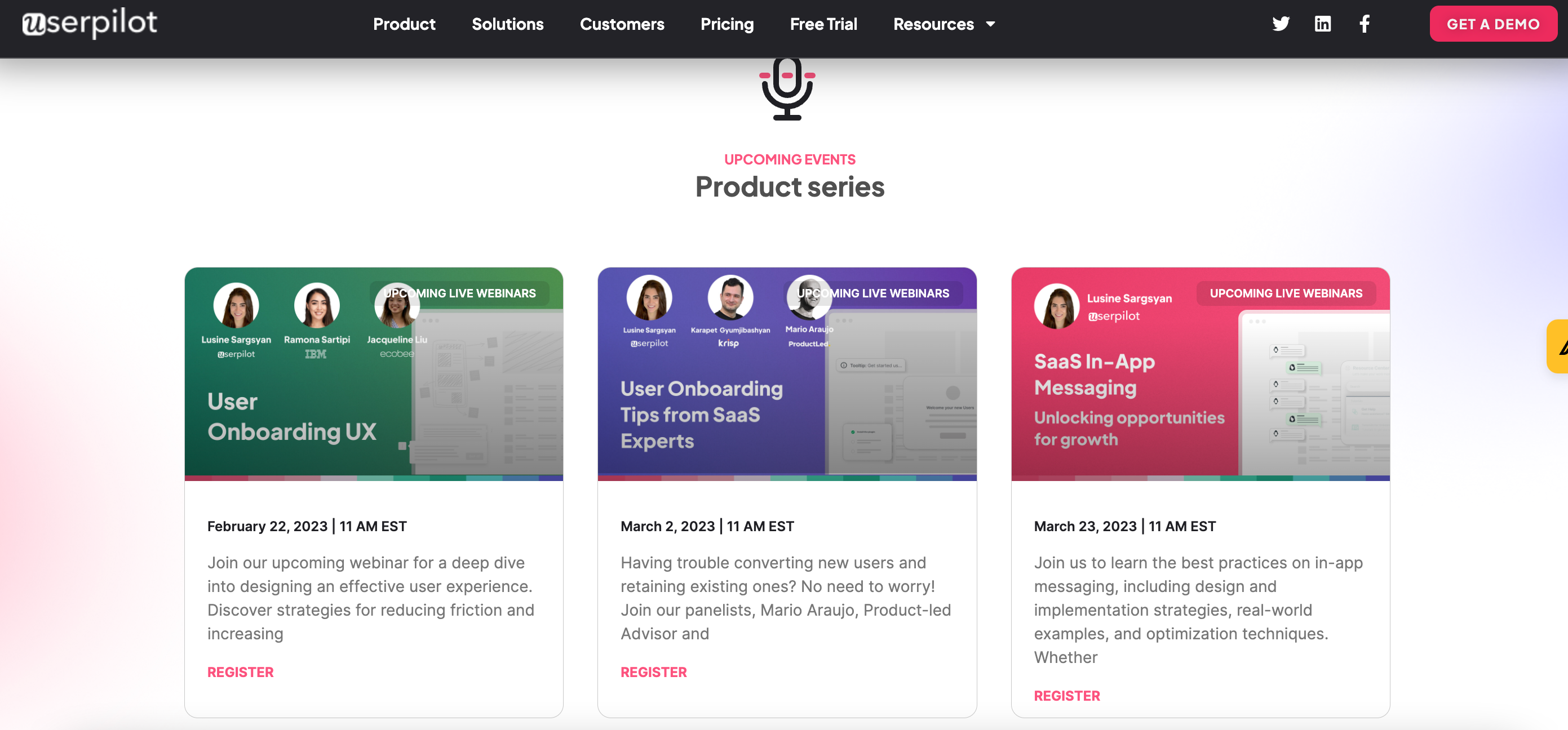 It's a cool product that will allow you to take your onboarding webinar game to the next level.
Once your LIVE webinar is finished, it can be automatically transformed into an evergreen, on demand one.
Sequel pricing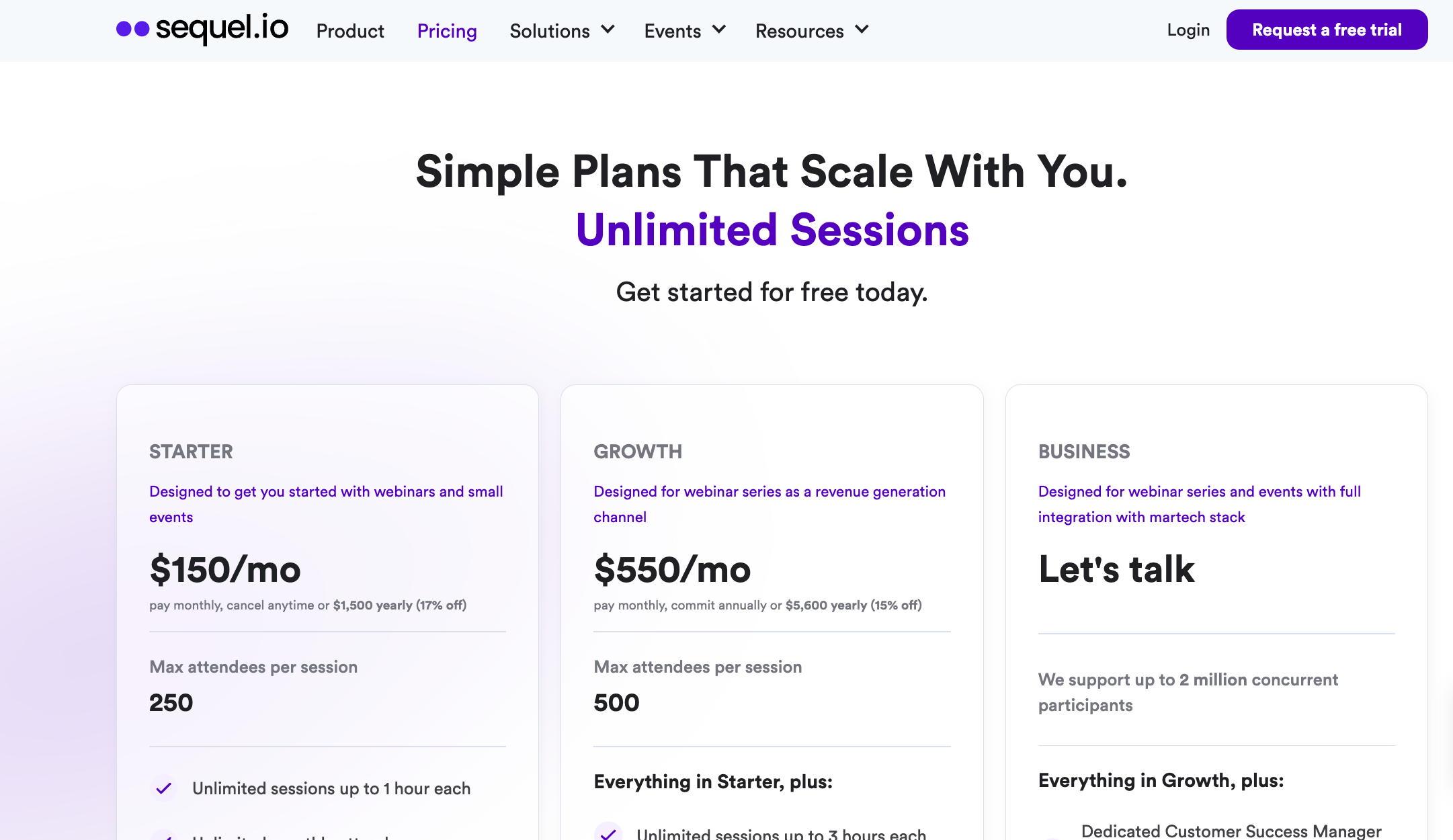 Sequel is not the cheapest of webinar tool – with plans starting from $150 per month for up to 250 webinar participants. If you're on a tight budget – you may want to check out some of the cheaper solutions below.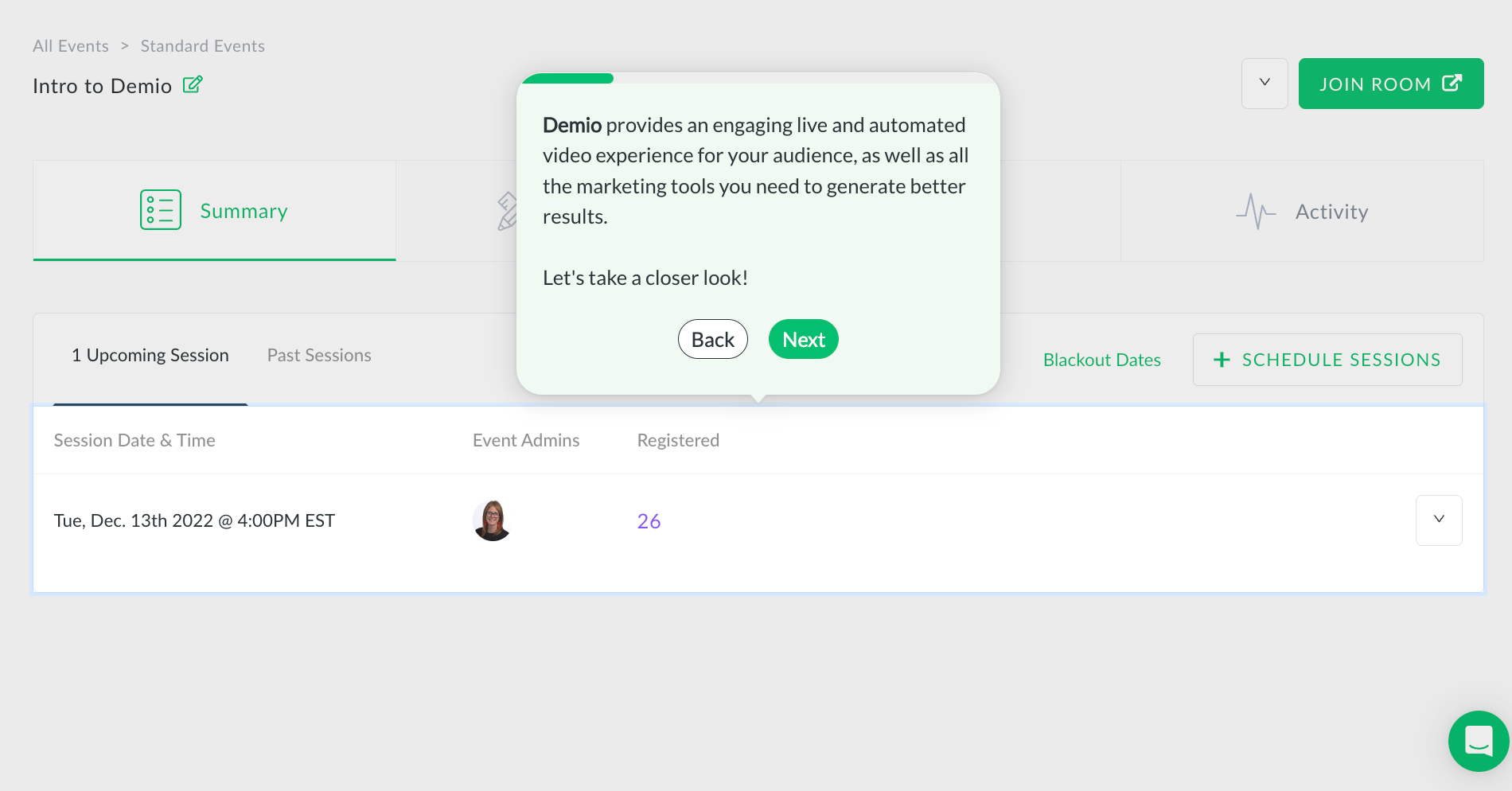 Demio is only just slightly less expensive than Sequel, but doesn't allow you to host your webinars on "your own website".
On the other hand, it has some more customization and hosting options. The Demio platform allows you to create live, scheduled webinars, scheduled sessions, or prerecorded webinars on-demand. In less than two minutes, you can create a live, scheduled webinar—just enter the title and select the date and time.
You can also customize your webinar if you want.
Besides updating the registration page with your branding, you can make a custom thank-you page, create polls, handouts, and call-to-actions, and set automated email reminders 24 hours, an hour, and 15 minutes before the webinar.
During the webinar, you'll find the hosting experience just as straightforward. Demio's webinar experience is clean and minimal, unlike some webinar apps that have cluttered presenter screens. On the bottom, you can control your microphone and camera, and on the right, you can manage chats, polls, and handouts.
Demio pricing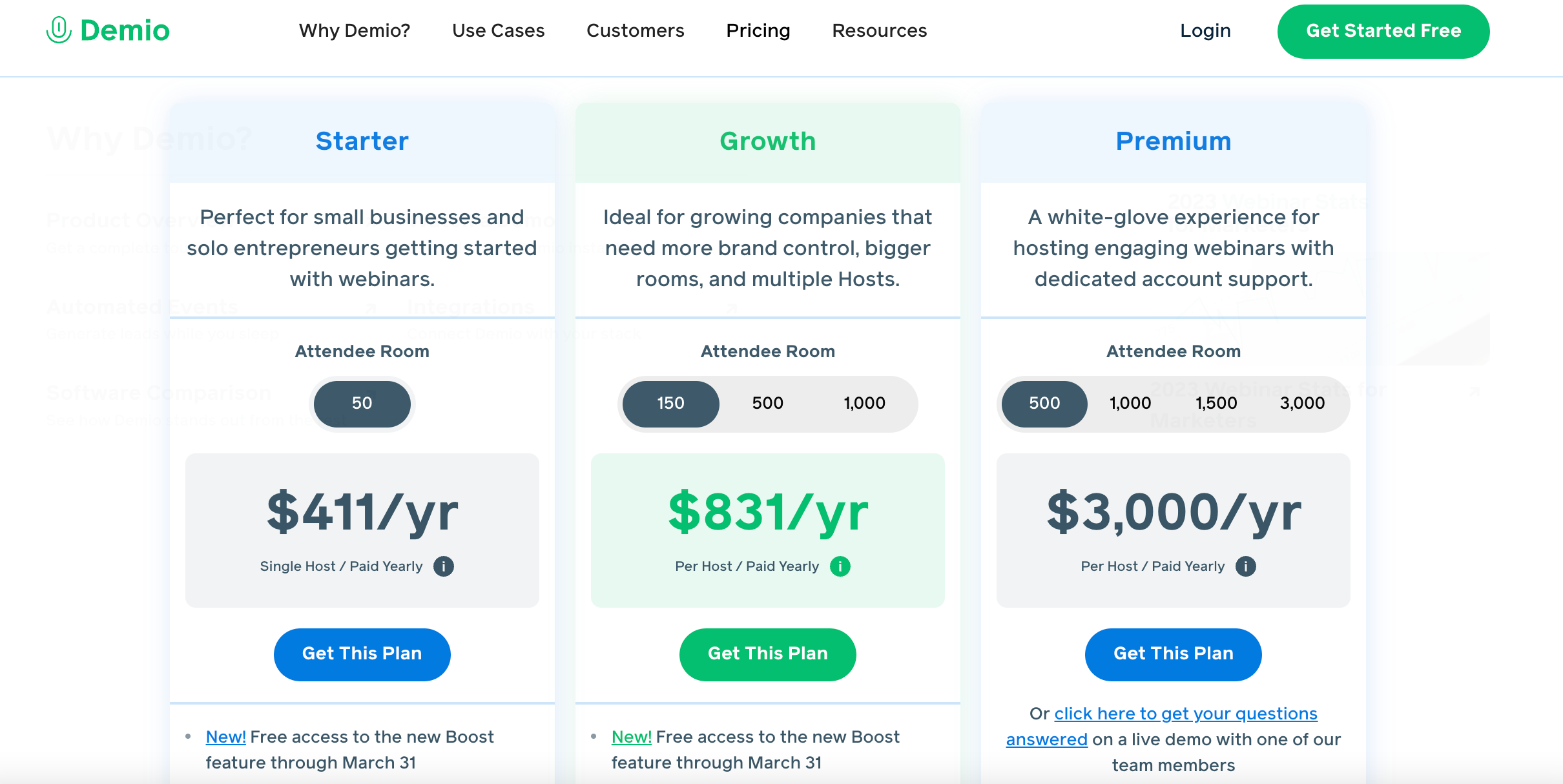 Demio starts at $411 per year, so just over $34 per month. But the lowest plan only allows up to 50 webinar participants so it may not be the cheapest or most scalable choice either.
Zoom
Zoom, on the other hand, is a universally familiar and reliable webinar solution. It's not particularly cheap either – you need to pay at least $690 for the annual subscription to get the webinars option.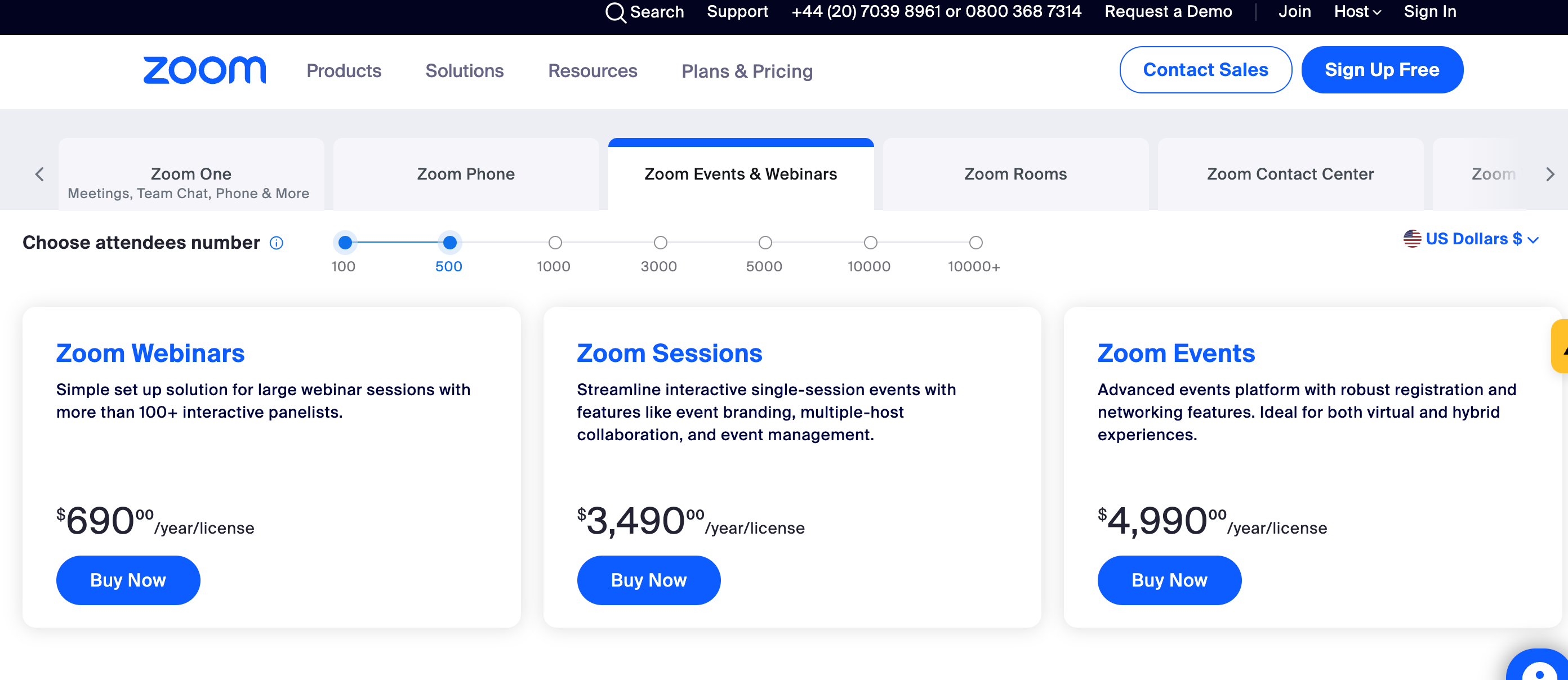 The reliability and familiarity is probably where Zoom Webinars' advantages end – it doesn't have
A good and affordable solution that allows you to turn your onboarding videos into on-demand webinars. eWebinar automates pre-recorded webinars on a schedule, complete with real-time interaction and live chat to make the experience engaging.
You can upload any video, webinar, presentation, or training, import from Zoom, or paste a link to your video hosted on YouTube, Vimeo, S3, or another supported service.
Once the schedule is set, you can begin the webinar. Specify the start and end dates, the days of the week and time of the webinar, as well as any blackout dates (such as national holidays). Attendees can also register and join a webinar in just five minutes with "just-in-time sessions."
Unlike pre-recorded or on-demand webinars, eWebinar allows you to engage attendees in real time-without committing to hosting the webinar.
Attendees will receive a personalized welcome message in the chat. Your notification will let you know when they respond, so you can continue the conversation live. You can respond via email if you're not around or busy. If you're not around or busy, they'll get a custom away message.
E-webinar pricing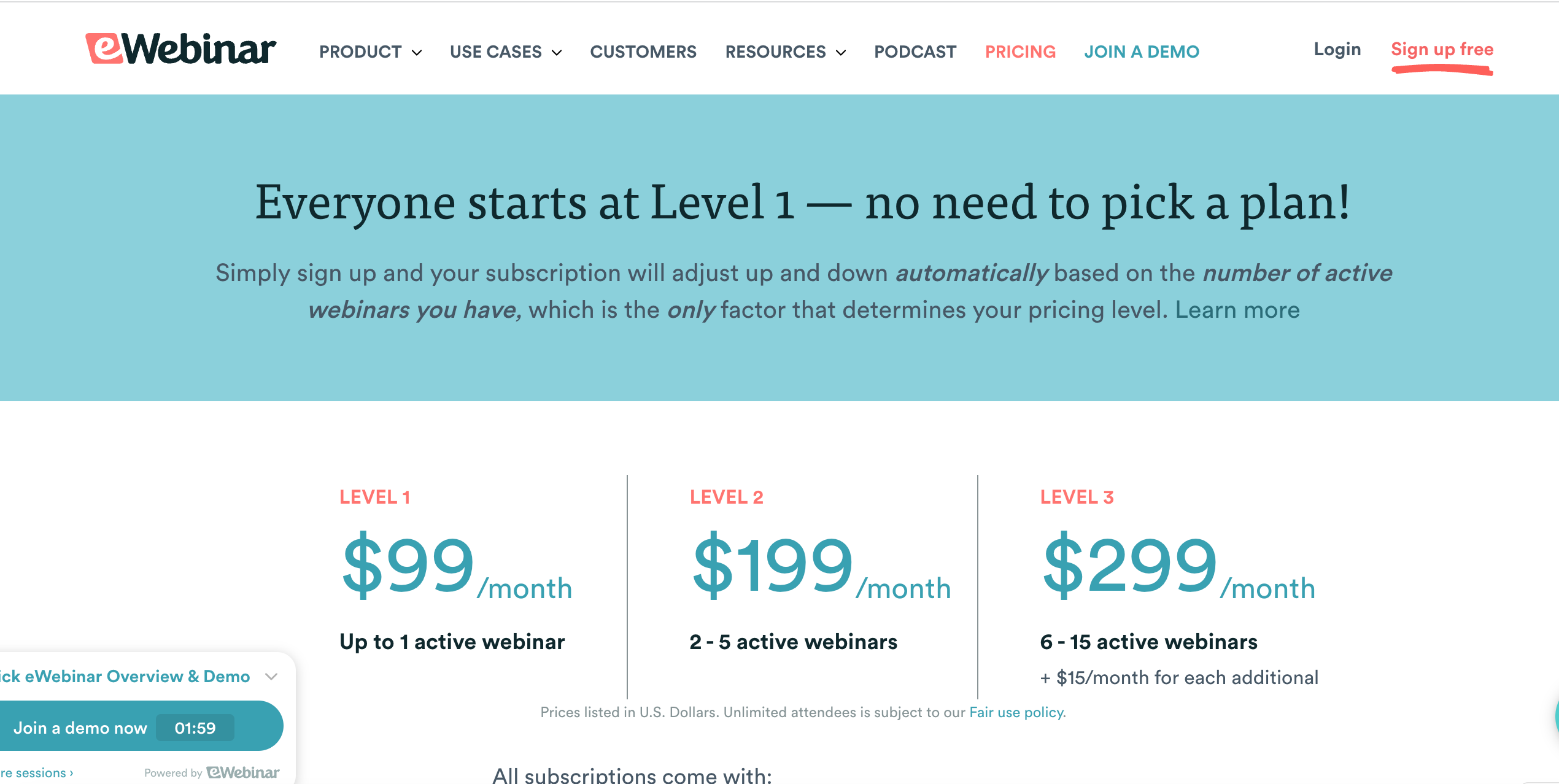 In-app chat tools
In order to provide a seamless user onboarding experience, you should also provide real-time customer support – especially if you have high-ticket customers. Self-serve knowledge base or a resource center may not always be enough to answer all your users' question – so in-app chat can be the thing to enhance your user onboarding process. Let's look at the best chat tools below.
Intercom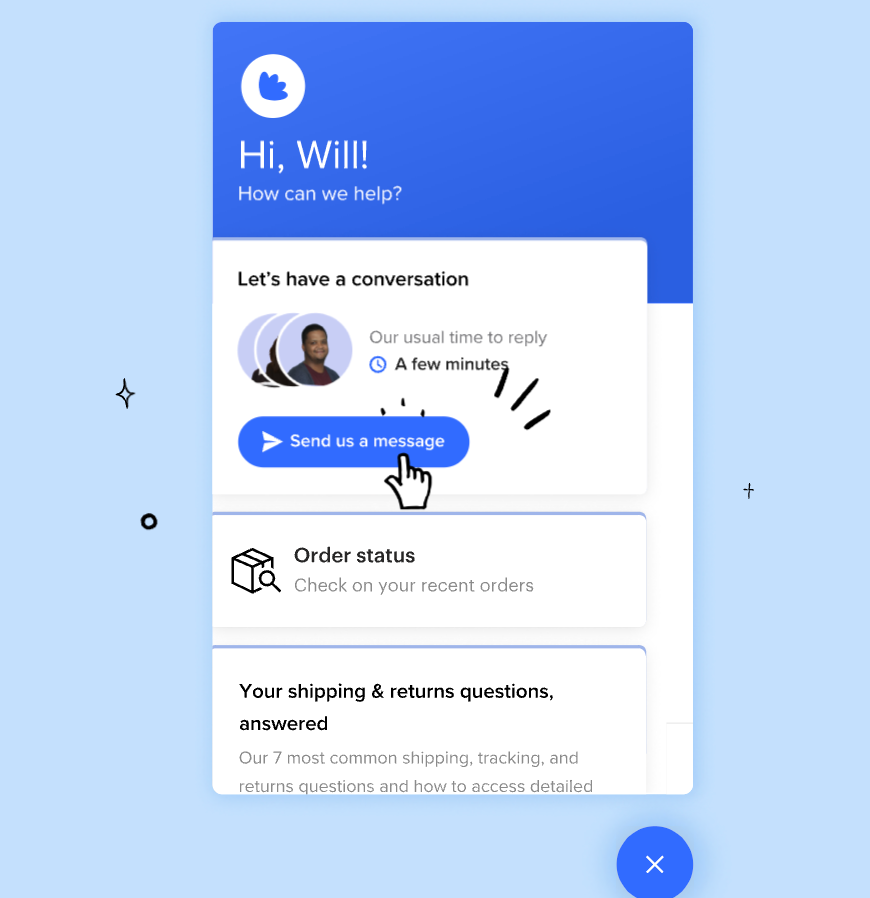 Yet another time – Intercom tops the chart thanks to its holistic approach and integration with its other solutions (email support, and in-app tours).
Intercom offers not just one, but three kinds of chatbots:
Task Bot – provides estimated response time when no agents are available, and assigns the task to the next available agent.
Custom Bot – allowing you to answer real questions live.
Resolution Bot – automatically replies to user questions (based on keywords and pre-defined answers).
After setting up Intercom, you can create two types of chatbots: Task Bots and Custom Bots.
When no live chat agents are available, the Task Bot will interact with you and often display automatic messages such as "We typically respond in two hours."
Because Intercom is such a large product (with chatbots, helpdesk, and more), it is a bit difficult at first to set up your chatbot. The interface also uses terms like "Outbound" and "Operator" that aren't explained (unless you search for them). The same is true for the chatbot names – they use Task Bot, Custom Bot and Resolution Bot – and you first need to find out which one you need to use.
Overall, the interface is very easy to use, but setting up your chatbot can be a bit tricky at first.
Olark
The Olark chat box matches your branding and enables you to chat with customers if they run into a problem.
Also, you can set up live chat automation rules to automatically ask users for feedback during the onboarding process.
It all happens within the app, so you get their honest reactions as they succeed or fail. In the future, if you uncover patterns or insights from searchable live chat transcripts, you will get bonus points.
Olark's pricing
Olark's monthly plans start at $29 per month.
LiveChat
LiveChat is another popular in-app chatbot tool for communicating with customers and solving their problems in real time.
With LiveChat's rich analytics, you can see where your users experience issues during onboarding (or anywhere else in their journey) and quickly respond to their problems and requests.
You can also combine the learnings with your in-app onboarding experiences (e.g. triggered tooltips you've built in Userpilot) – and respond to your users' chat requests with a link triggering the relevant product walkthrough to explain the feature they don't understand.
L‍ivechat Pricing
LiveChat pricing starts as low as $16/month.
Drift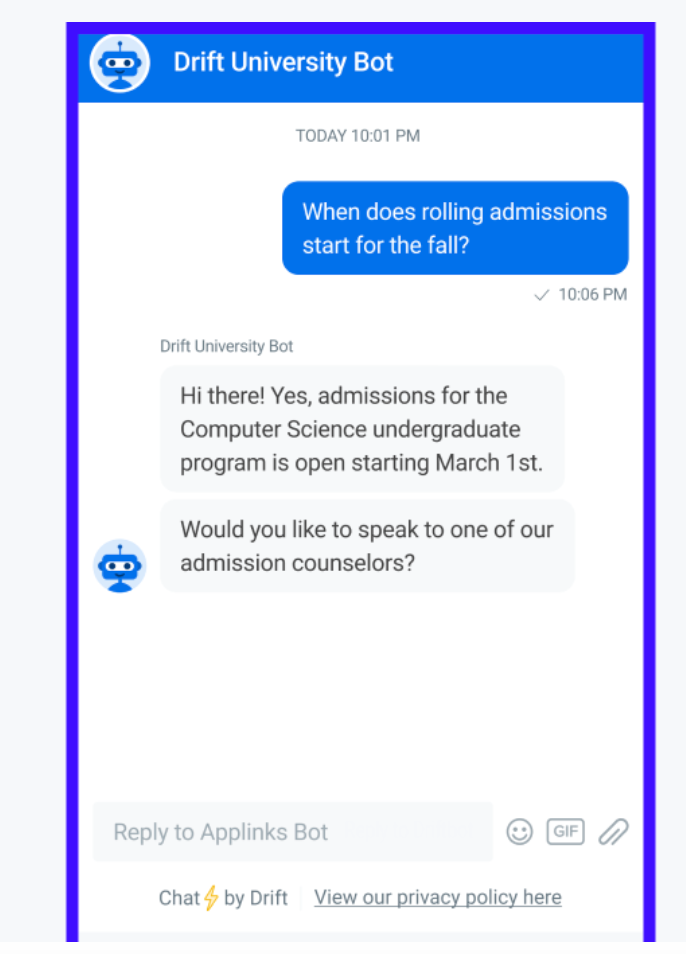 Another of our favorite tools (which we have used ourselves). With Drift, you can capture qualified leads, engage those leads in a personalised way, and close more sales. Drift is more than just live chat and chabots.
The software is powerful, yet complex to use, which makes the learning curve steep.
User behavior analytics software
In order to optimize your user onboarding process, you need to be able to analyze your user behavior to see where your users stumble and get stuck.
In-app behavior analytics tools
Full-on Product Analytics tools
The tools listed below record all your users' actions – proving a full-spectrum image of your users' actions and product analytics.
Mixpanel (Freemium)
Mixpanel is a product and behavioral user experience tracking tool for mobile and web applications.
With Mixpanel, you can collect accurate data about your product usage, identify different trends in your user's in-app experiences, set goals and take actions based on your product analytics.
With its easy to use user interface and dashboards, you can manage your data and users quickly, with no troubles. If you own a mobile application, Mixpanel allows you to run different A/B tests.
The biggest Mixpanels advantage over other user onboarding tools for product analysis is that with Mixpanel, you can visualize and segment your data, analytics, reports, and most importantly, you can manage and monitor your user onboarding KPIs.
The last thing is very important since it helps you to better understand your users' behaviors and compare them with your goals. When you have a clear picture of everything that's going on with your product – it is much easier to take action and make important decisions.
Mixpanel starts with $0 per month, but you will have very limited core reports to track and you can have only 60 days of data history. If you're in the very beginning, this can be very useful, but you must consider upgrading to the premium package in the near future (which is $999 per year), but it is worths any penny!
Heap
Heap tracks all sorts of in-app user interactions and offers a comprehensive user analytics suite.
Source: Heap.io
Unlike Mixpanel (which requires an extensive setup before tracking data), Heap starts tracking user activity from day one. You don't need to define or configure any events beforehand.
Moreover, you get user and account-level tracking and create custom events. You can use these custom events in funnels and cohorts. Besides, you can combine tracked data into your own custom "virtual events".
Heap also enables analysis along multiple axes and behavioral segments. You can use its mobile app to stay updated on the go.
Source: Heap.io
So, what's the catch?
Heap doesn't come cheap. Its free package is fairly restricted in usage terms, and the pricing of its paid plans starts from $1,000 per month.
Amplitude
Amplitude is another popular user analytics tool, which is more focused on actionable analysis. It also comes equipped with a wide range of two-way integrations with other platforms.
Source: amplitude.com
If you're looking for an analytics solution to track single-user tracking across different products, Amplitude can be a good option for you.
Amplitude's focus on data security is also worth mentioning. Its robust data governance and security features can be attractive to users given the increasing concern about data security in recent years.
However, similar to Mixpanel, Amplitude requires you to configure certain events before you start tracking them.
But one aspect where Amplitude stands out from the rest is its generous free plan, which allows you to track up to 10 million actions. This is a lot by any standards.
Apart from this, Amplitude's paid plans aren't quite affordable and can get increasingly expensive at an alarming rate.
User behavior and onboarding engagement analytics tools
These type of product analytics tools focus more on the onboarding process, and less so on the overall all clicks analytics. They also provide cut-and-dry dashboards and are easier to implement.
Pendo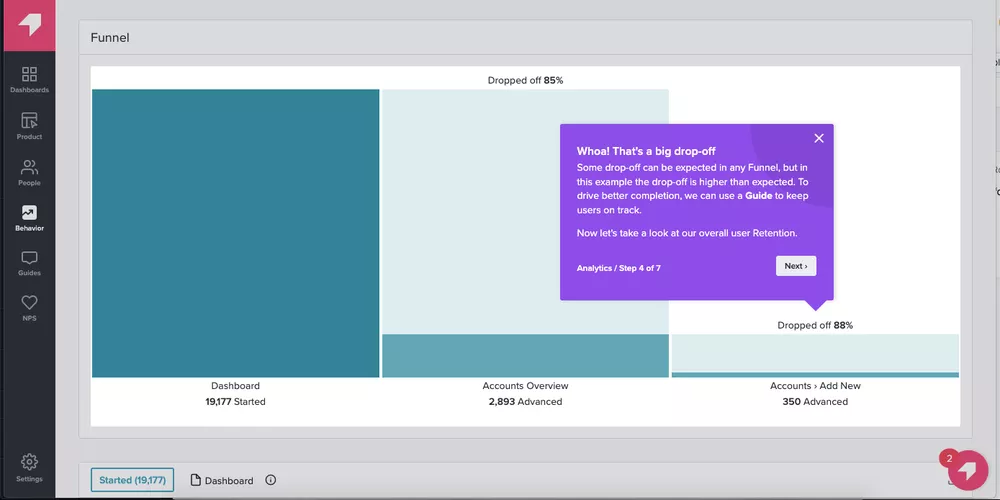 Many SaaS businesses rate Pendo analytics among the best in the industry. There's certainly a lot of buzz about their analytics in the onboarding world at the moment.
Why?
Pendo's analytics are coming "out of the box" – with very little setup required. They are supposed to be easier to set up than proper analytics tools like Mixpanel, Heap or Amplitude.
The question is: do the analytics features offered by Pendo live up to the hype? And are they really worth the $50,000 price tag most companies will be expected to pay for their yearly Pendo analytics subscription?
Here's what Pendo analytics will get you:
Pendo's analytics center around three main features: Paths, Funnels, and Cohorts.
Paths show you all the actions taken by users before or after a specific event. You can only compare 2 paths at a time in Pendo.
Funnels show you how many users completed each stage of a specific funnel that you predetermined. Userpilot's Goals feature is comparable, but shows a higher number of goals at once and requires fewer clicks to do so.
Reports allow you to track page views, clicks, events, or guide views related to whichever feature you want. Compared to Pendo's other analytics features, this feels like vanity data.
Retention shows you the percentage of customers who stick around relative to the first time they used your product. The graph is visually impressive but lacks a qualitative explanation about why users are retained.
Product engagement score (PES) is a single number calculated by Pendo that uses core events and account data to calculate percentile scores for feature adoption, user stickiness, and user growth and combines them into a single score (of 100). PES score can only be found in Pendo although other product analytics tools offer similar types of engagement data.
The downside? Pendo's analytics are not actionable – the in-app experience builder doesn't allow you to use in-app events as triggers for in-app experiences.
There is also a 1-hour delay in Pendo user analytics display on their dashboard. This makes Pendo's user analytics feature less actionable than those of tools that offer real-time user analytics (e.g. Userpilot).
Userpilot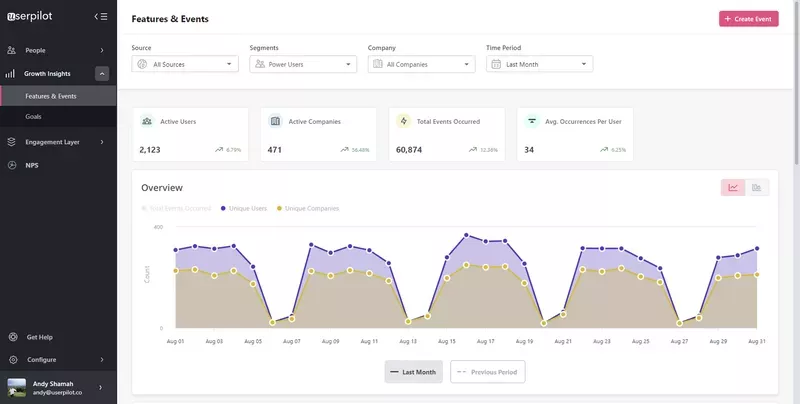 You can't drive success, no matter what your goals are, without proper user analytics.
How would you know what needs to be improved?
When it comes to proper user onboarding that drives long-term product adoption, Userpilot has the right analytics to help you succeed.
Let me explain.
I'm not talking about product usage only. Analytics is about collecting customer feedback, tracking in-app behavior but also tracking how users engage with your in-app experiences. Right?
You need all of these for a proper picture of how healthy your product is. And then you need to be able to act on those insights.
That's where proper user segmentation capabilities come in. And Userpilot has you covered here.
Userpilot has really improved in terms of its analytics functionality in recent years, and now offers the most robust functionality from all the product adoption platforms (including Pendo, which has always taken prime in user analytics.)
In short, Userpilot analytics allows you to:
Track all of your user interactions with your app – without coding- with the powerful feature tagging functionality, you can simply tag your users' actions (clicks, hovers, form fills) with a no-code, point-and-tag editor on top of your product.
See all your user clicks, activity trends, etc. in an easy-to-use dashboard – Userpilot also allows you to drill down into feature usage, down to individual user level, as well as company level.
Analyze your user paths from up to 4 pages at a time, at a glance.
Create 'user funnels' made up of feature tags and tracked events, and see where your users are dropping out of the funnel – and act on these drop-off points instantly with in-app experiences.
Track feature usage by user segments with heatmaps, directly on the different pages of your product.
Create and track combinations of in-app events like clicks, hovers and form fills, and then analyze all these interactions under your own custom events, which you can build without code or API calls.
Create custom events that consist of feature tags as well – or combinations of tracked events you've passed through the Userpilot track script with features you have tagged with the Chrome Extension.
The powerful trends overview allows you to filter your events and feature tags' usage by segments, time period, and even company. This allows you to track and analyze event usage trends and even drill down to the individual users (or companies) who engaged with specific custom events and show them the right in-app experience.
Apart from product usage data, Userpilot also has built-in analytics for in-app engagement with in-app flows and experiences.
Analyze how users engage with your checklists or resource center modules, identify trends and A/B test different approaches to improve engagement.
Last but not least, Userpilot allows you to use all that data to build highly granular user segments and reach users with the right engagement flows at the right time.
You can even create user segments based on survey responses or NPS scores.
Now, with so much power on your hands – what are you going to do with all this data?
Session Recording Tools
Sometimes, click-based analytics are not enough to understand your users fully…so to improve user onboarding, you may need a different product analytics tool – one that offers you session recordings. Fortunately, there is a bunch, and a lot of them have a free version!
Hotjar (freemium)
Hotjar is a powerful tool that reveals the online behavior and voice of your users. By combining both Analysis and Feedback tools, Hotjar gives you the 'big picture' of how to improve your site's user experience, performance and how to increase conversion rates.
Hotjar combines heatmaps and recordings to bring you visible and informative insights on your users in-app experiences.
Knowing what are your users actually doing on your website will help you to craft better in-app experiences and user onboarding processes, while unleashing the "aha moment" faster.
With its basic free forever plan, you can collect data for 2000 page views per day.
Logrocket has a generous free plan, but it's more of a developer session recording tool.
LogRocket empowers engineering and product teams to create the perfect web experience. With LogRocket's session replay and developer console, teams can reproduce and diagnose frontend issues quickly.
LogRocket's metrics give you an overview of application performance, product adoption, and conversion rate at a glance – helping you see where your users get stuck in the onboarding process, and how you can improve it.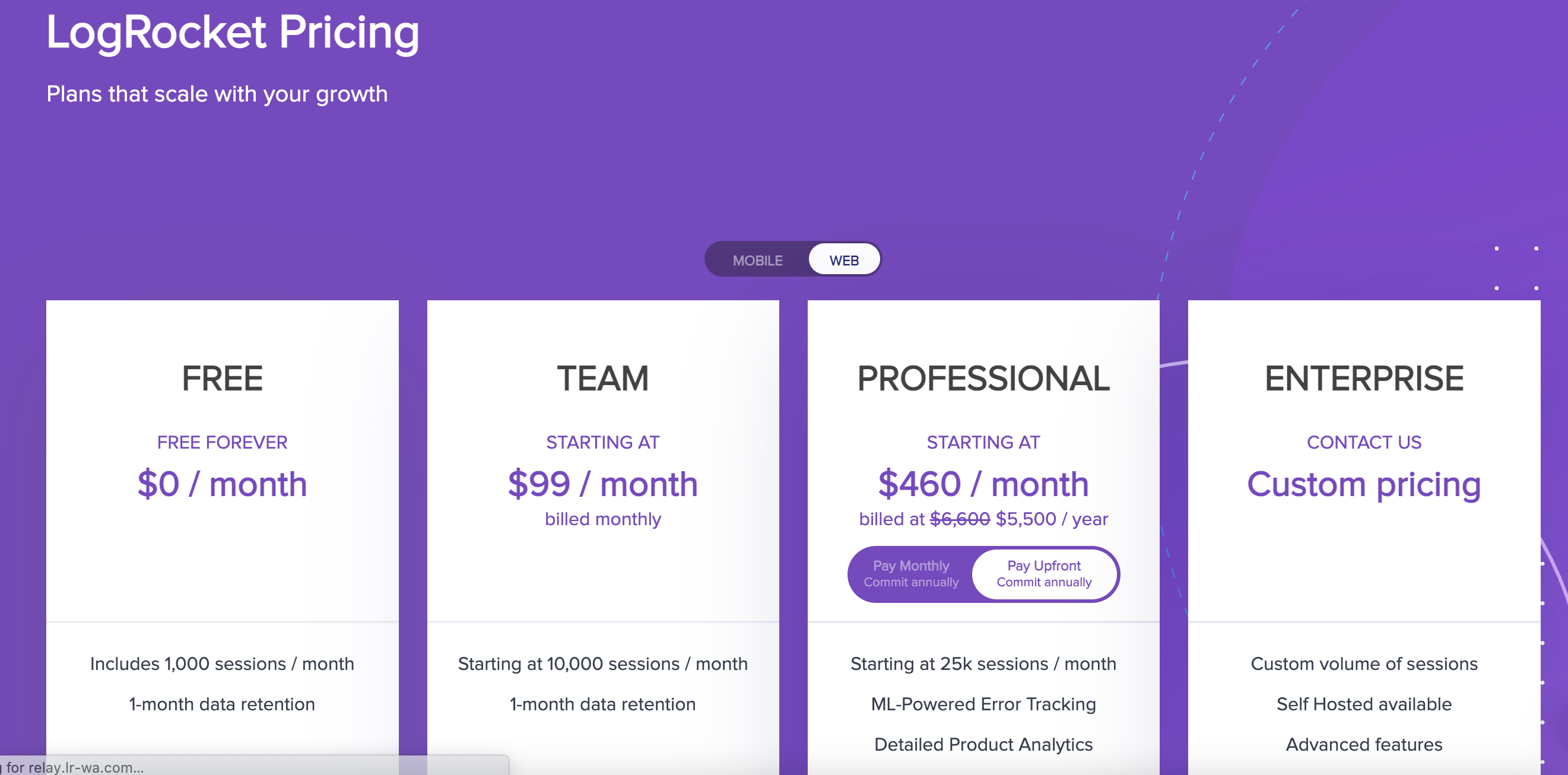 FullStory (freemium)
FullStory is a great UX user onboarding tool. It captures probably more data than any other similar software.
FullStory's unique value propositions are making it easy to solve different problems, capture more data, find answers and optimize user onboarding experiences.
You can look at almost any session made on your website or application. All sessions can be filtered and segmented by your needs and processes.
The most intrigue part here is especially the ability to replay your customer sessions. That means, that you can actually see (in video format) what, when and how your customer did something in real time.
The mission and purpose of FullStory are to help you to find out gaps in your customer journey, improve them and later convert more users with perfect user onboarding processes!
With their free plan, together with your two teammates, you can see up to 1000 monthly sessions.
User Feedback Tools
Collecting user feedback – both on your tools' usability issues and the onboarding process itself – is an essential part of user onboarding.
You can collect feedback through multiple different ways – from simple surveys sent via email to in-app NPS surveys provided by user onboarding tools. Let's see a few options that will help you improve your user onboarding:
NPS tools
Userpilot
Net Promoter Score is an essential part of every customer happiness measurement. NPS scores are reported with a number from 0 to 100 and measured by one question survey. The higher score you have – your customers are more satisfied.
Userpilot helps you measure and analyze the feedback on you your NPS survey, create a follow-up survey, and segment the NPS respondents based on score and qualitative feedback – so you can trigger the right experiences for them and customize their onboarding journey.
Survey software
For standalone in-app surveys, website surveys and other survey types – here are a few tools that will help you collect feedback during your user onboarding.
Userpilot
Userpilot again?! Yes, this robust product adoption tool has standalone in-app surveys that allow you to collect user feedback during the onboarding, analyze it, and immediately use to segment users based on their feedback, to personalize their experience further.
Typeform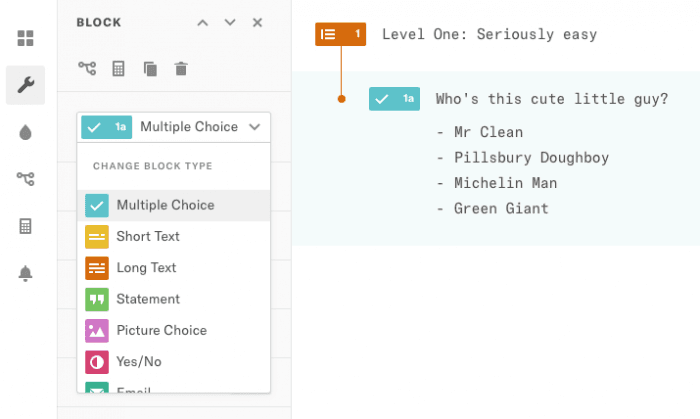 Use a simple form creation tool like Typeform if you only have a limited budget. Typeform has the advantage of being conversational and interactive. In addition, creating a survey is easy – it's like typing on a notepad, with no coding required.
‍Typeform has a generous free plan, and paid plans start at $25 per month.
Knowledge Base & Resource Center Tools
In today's world, all website visitors and later trial and premium customers immediately want access to any particular information. That's the reason why every company, whether it's a small startup or large enterprise, should have an in-depth knowledge base for its customers.
Particularly in user onboarding, the resourceful knowledge base will help us to create better resources for our customers, and later to retain more users by giving them answers, ideas and information about particular things – that can be everything from "How the tool works" to different use cases.
Not to mention that when your potential customer sees your tool in action or in some use case, you will easier and quicker unleash the "aha moment".
Hence, here are a few useful Knowledge Base products who can find its purpose in user onboarding.
Zendesk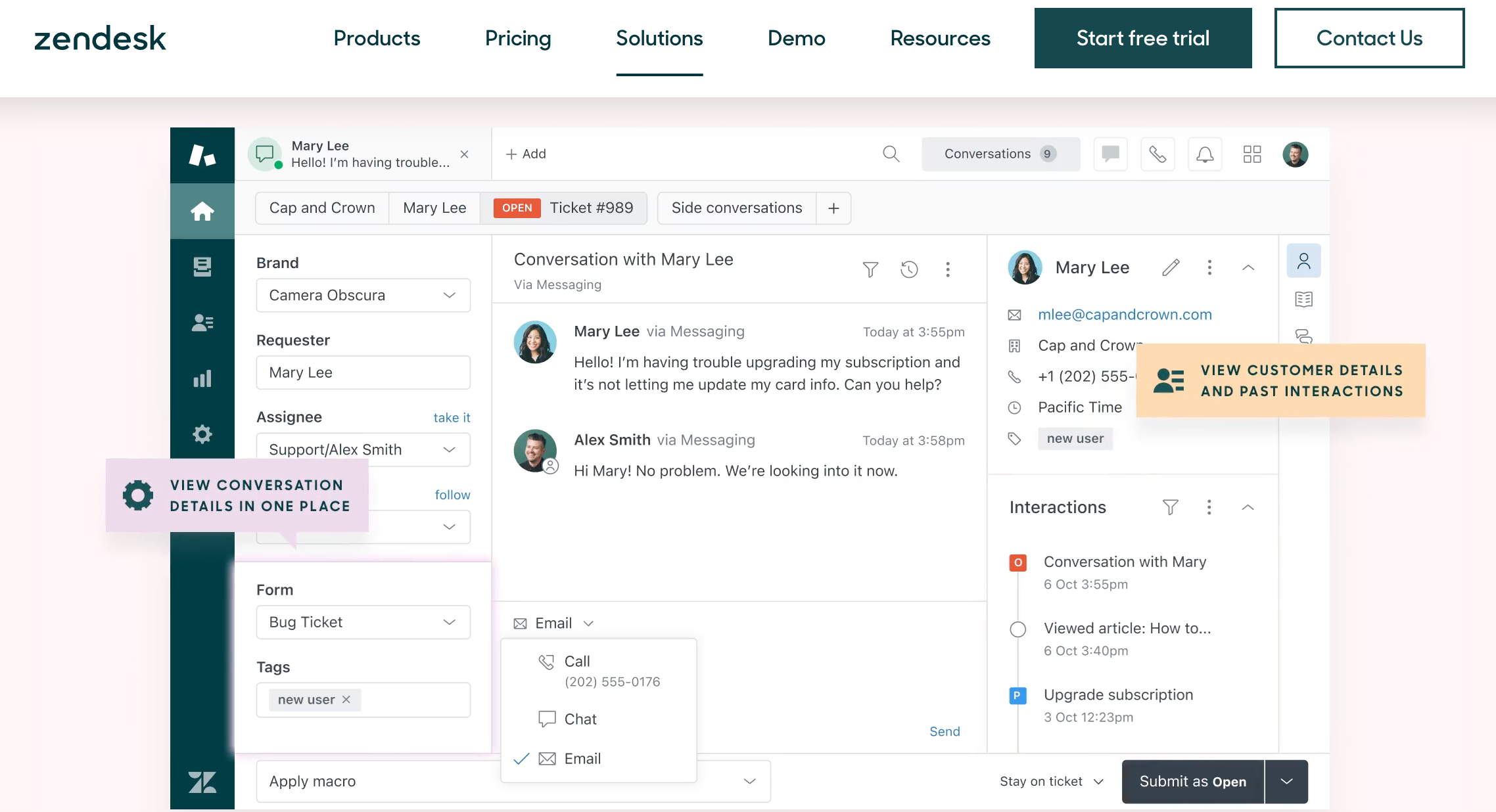 You may not think of Zendesk as a user onboarding tool. As part of the user onboarding process, customer support is essential. It is only natural for new customers to have a lot of questions about your service. That's where Zendesk comes in. Zendesk also offers all-in-one support across all your channels.
Live chat and chatbots, integrated help center, community forum, unified agent workspace, Ticketing system, Automated responses, SLA management, Email to case, reporting, and analytics are some of Zendesk's features.
Zendesk for Service is $49/month billed annually. In contrast, Zendesk for Sales starts at $19/month per user, billed annually.
Helpscout
Helpscout is another great customer success tool to implement live chat support in your user onboarding.
The mission of Helpscout is to empower human driving and customizable live chat and email support.
With Helpscout, you can make your ticket emails look more humanized, personal, and customized for every user. Together with your team, you will be able to quickly create help docs with articles that answer all your customer's questions.
You can create both chatbots or live chat support in your user onboarding process, and most important, Helpscout supports integrations with various tools like Slack, HubSpot, Salesforce, Jira, MailChimp and many others.
Humanizing your chat support in user onboarding will certainly help you to build better relationships with your customers and drive more engagement and interactions.
Helpscout is a paid tool, and it starts with $20 per month with one docs site, full reports, satisfaction ratings, 50+ APIs and integrations and many more.
Its "Plus" package supports 4 more docs sites, few more important integrations and custom fields and teams.
Freshdesk
With Freshdesk, businesses of all sizes can deliver smoother customer experiences across all channels. It converts email, chat, web, form, and social media tickets into a single ticket resolution system.
You can also use it to automate workflows, manage service level agreements (SLAs), and provide self-service with chatbots.
How to integrate your user onboarding toolstack together?
Connecting your user onboarding tools so they actually "talk" to each other (and don't cause embarrassing "bloopers" like e.g. sending the same message to the same person twice, or asking a user that has already completed a specific action to complete it) is essential for your user onboarding success.
So how can you integrate all your user onboarding tools to avoid such situations? Here are a few tips:
Kill two (or three…or four) birds with one stone
Find user onboarding tools that can do more than one thing at a time – it will significantly reduce your implementation costs, and overall subscription cost (even if the all-in-one tools might be a big more expensive!)
Look for tools holistically – choose tools that integrate natively with each other
While choosing your user onboarding tools for the different use cases, look for those that integrate natively with each other – will save you tons of time zapping things together, and save you from expensive/embarrassing mistakes in your user onboarding.
Here are a few of user onboarding tools that integrate natively with each other:
Userpilot (for in-app user onboarding), Intercom (for email onboarding and in-app chat) and Amplitude, Mixpanel or Heap (for in-depth product analytics) – all have native integration to make your email-in-app user onboarding seamless and more data driven.
Hotjar and Zendesk – have a native integration that will allow you to cut your response time to customer feedback.
Userpilot, Loom and Typeform – so you can easily embed your Loom video tutorials and Typeform surveys into your onboarding flow.
Examples of the complete SaaS user onboarding tool stack
The "complete" user onboarding tool stack for growth SaaS companies
OAuth (signup) + Userpilot (in-app onboarding, NPS) + Intercom (email onboarding, in-app chat) + Wistia (video onboarding) + Sequel (webinars) + Typeform (feedback) + Mixpanel/Amplitude/Heap (user behavior analytics) + Zendesk (Knowledge base) + Fullstory (session recording)
The "MVP" user onboarding tool stack for startups on a budget
OAuth (signup – freemium) + Intro.js (in-app, free) + MailChimp (email, freemium) + Loom (video, freemium) + Ewebinar (webinars) + Typeform (surveys, freemium) + Mixpanel (analytics, freemium) + Helpdesk (Knowledge Base) + LogRocket (session recording)
Conclusion
User onboarding tools are not limited just to in-app onboarding and email. To build complete user onboarding processes, you also need analytics and session recording tools to see how your users interact with your product, video recording, and webinar tools to provide education, knowledge base tools, and in-app chat tools. Ideally, the best user onboarding tools should combine a few of these key features at a time, so you can reduce the costs of onboarding your new users and save on implementation time. Hopefully, you found this post insightful and are now able to craft your own perfect user onboarding tech stack. Let us know what you decided on and if you have any questions.