33 Best User Onboarding Tools For Your SaaS in 2022 [Free & Paid]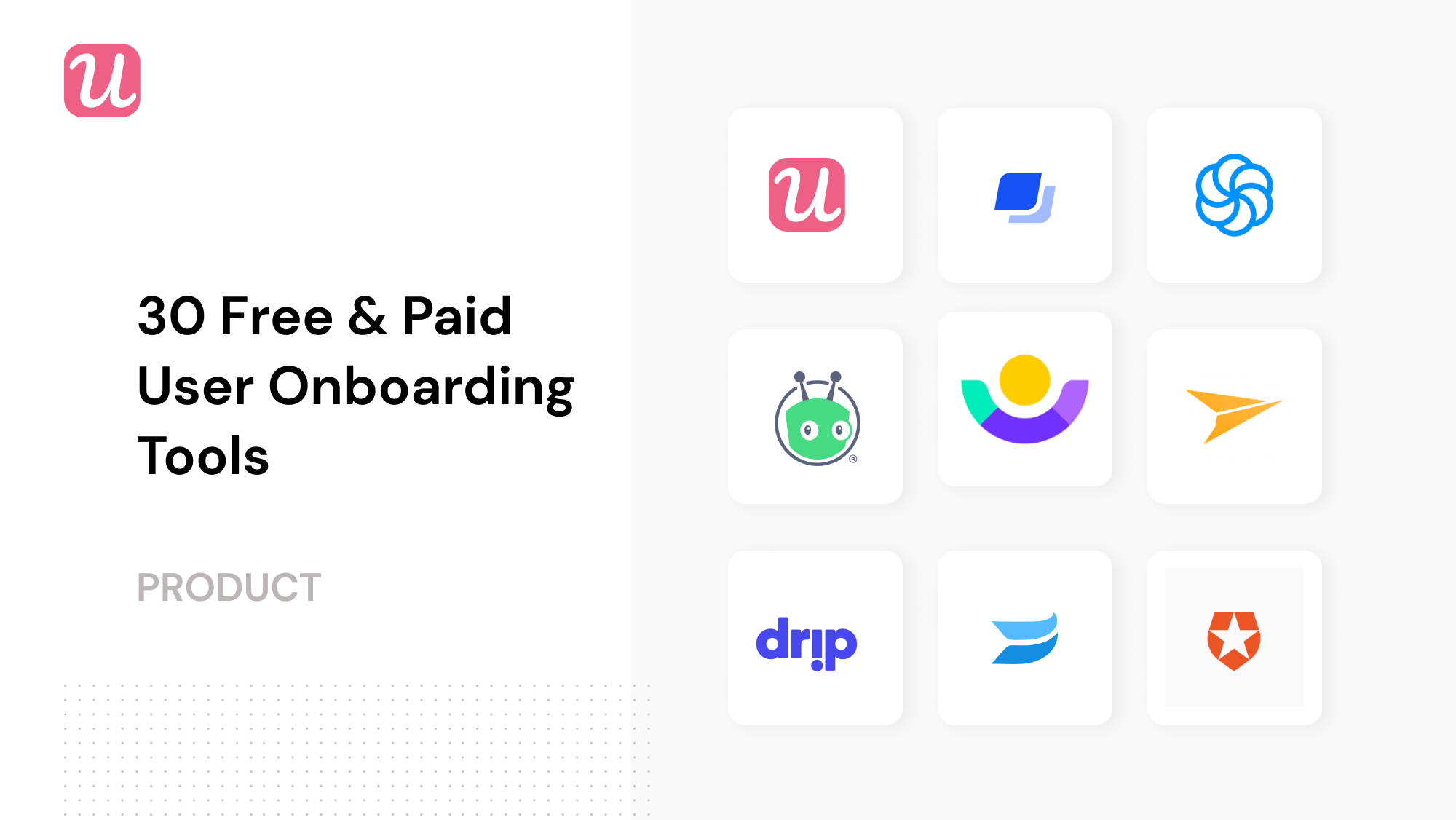 According to TechCrunch, if your users don't understand your software during the user onboarding process, 77% of them won't come back.That's why we've compiled the best 30 free and paid user onboarding tools to help you smash your growth and revenue goals.
For your convenience, we grouped the tools by the different goals you can achieve with them – so if you're interested in any particular category, simply jump to the relevant sections on the left of this page!
Let's start with our evaluation criteria.
What Great User Onboarding Tools Should Have:
A frictionless signup flow.  To create the perfect user onboarding experience, you need to start from your signup. Removing any unnecessary fields to improve the first-run user experience. That's why we've included a bunch of signup flow tools below.
Great in-app onboarding experience. The best user onboarding is contextual and it happens right where the users need it inside your app. The best in-app user onboarding experience tools allow you to build user onboarding flows without any coding.
Email onboarding. Some onboarding can and should happen outside of your app – via email. For instance, when the user has not logged into your app for a while or needs a reminder their trial is expiring. We've listed the best email onboarding tools below too!
User Onboarding Tools for Great In-App Experiences
1. Userpilot — The Contextual Onboarding Tool
Userpilot was built specifically for SaaS product teams. You can build a huge variety of user onboarding experiences without needing to code. Userpilot also has features to support growth for every stage of the user journey, equipped with user analytics and in-app feedback tools – including microsurveys and NPS. The best part? You build all the experiences using a no-code, visual WYSIWYG builder.
Userpilot Features
Userpilot allows you to build contextual onboarding experiences – interactive walkthroughs with tooltips triggered by user actions in-app: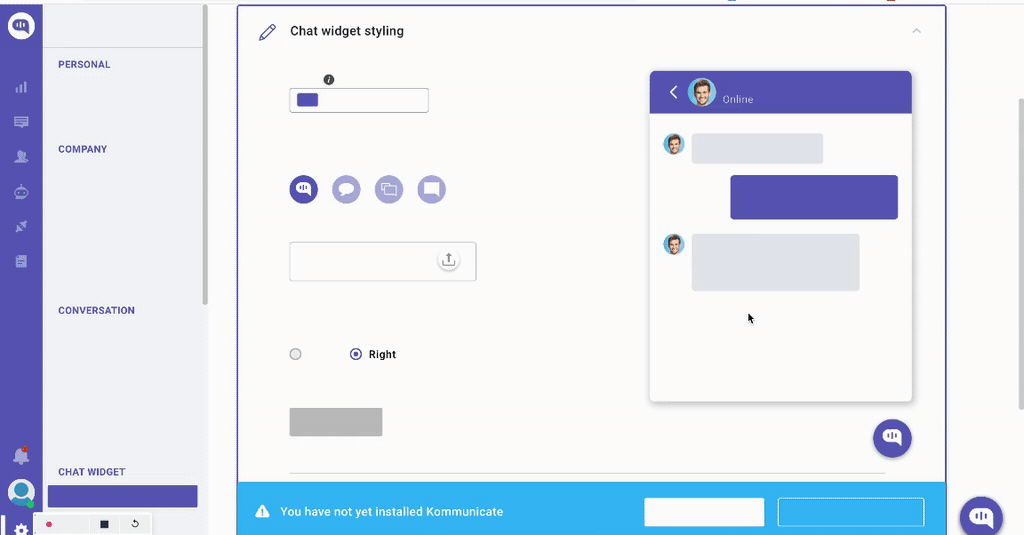 You can easily style your elements to match your native UI without needing to mess with CSS.
To get the most out of the tool, Userpilot's analytics allow you to set feature adoption goals and measure how many users in each segment adopt the features you want them to adopt. This allows you to build and improve your onboarding experiences with experimentation.
Userpilot also offers NPS surveys and microsurveys you can embed in your experiences to obtain valuable user feedback to improve your product.
If users still need additional support after completing the onboarding flow – you'll also be able to build a Resource Center – a self-serve help center where the user can search through experiences, onboarding videos (make sure you're using good video editing software to make them beautiful), help docs and knowledge base articles, on-demand: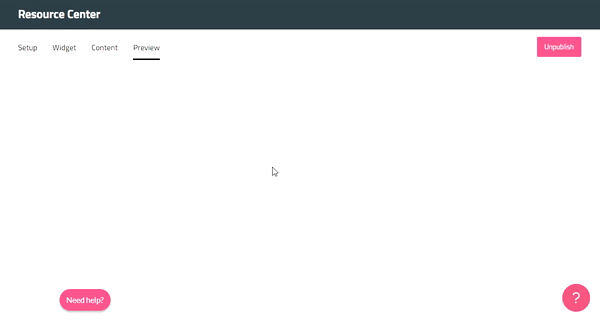 Do you like what you see so far? Jump on a free consultation with us!
Userpilot pricing
Userpilot starts at $249 per month for up to 2500 monthly active users.
All plans (even free trial!) includes:
all of our features without limits
free live chat support
3 onboarding calls with CS team
live educational webinars
Userpilot Installation 
Userpilot is a no-code solution and only requires your dev to install a line of javascript inside your app + for you to download a chrome extension that opens up our visual builder: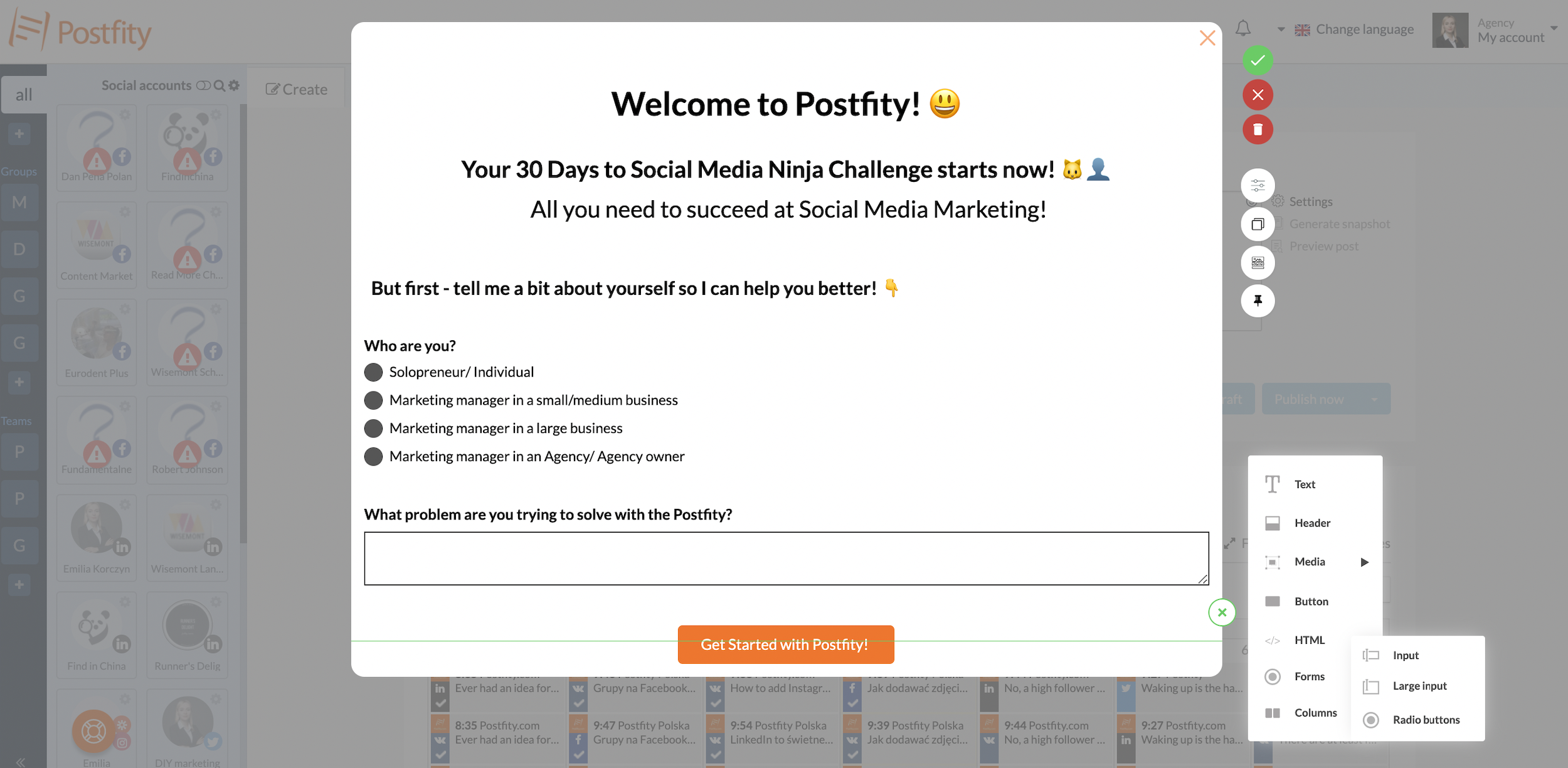 DIY User Onboarding Tools with JavaScript and JsQuery
Many developers love to code the in-app experiences themselves. These user onboarding tools are free and specially built for in-app experiences.
3 – Intro.js (Free)
Intro.js, a javascript guide, allows you to harness this principle by allowing you to insert a progress bar into your onboarding flow, and get users to actually cross the finish line.
4 – Hopscotch (Free)
Hopscotch is a framework that lets you build a simple welcome tour for new users in JSON and HTML5—it includes a core javascript and CSS file that you need to get started, along with a template for rendering basic tooltips.
User Onboarding Tools with Single Sign-On
Single sign-on (SSO) is a property of access control of multiple related, yet independent, software systems. With this property, a user logs in with a single ID and password to gain access to a connected system.
Filling long and detailed sign-up and registration forms have always been boring and time-consuming. No one likes that!
While building the in-app experience you could add SSO so your users will have fewer forms to fill.
You can get such kind of frictionless authorization tools with the following companies:
2 – AuthO (Freemium)

AuthO provides universal authentication and authorization platform both for web and mobile platforms and applications.
When we're talking about user onboarding, AuthO will not just help you to improve your sign-up conversions with simple Sign-on solutions, but it will also secure your APIs and prevent malicious logins.
With AuthO, you will reduce the time needed for users to complete the registration process and securely capture and hold their data.
AuthO supports all programming languages, so it doesn't matter if you built your application in C#, Java or Angular.
It's based on the freemium model and it starts with $0 per month to $850 per month for 50.000 regular active users.
Because of its flexibility and freemium model, AuthO is suitable both for small and medium businesses and large enterprises.
User Onboarding Tools for Video Onboarding
Video tutorials with an actual human behind them, make it easier for a user to engage. This could be included in your initial product tours or while showing certain features.
It not only lets you add that extra touch of personalization to your product, but you will also make learning more engaging by breaking down complex processes. Inserting a video in an introductory marketing email increases click-through rates by 96%.
5 – Wistia (Freemium):
The Wistia, a video-hosting for the business platform, lets you bring the power of video to any department of your business – and is especially helpful for user onboarding.
It allows you to create, record, edit and distribute professional videos in minutes. You can customize your video's style to fit your brand identities, add email subscriptions, different call-to-actions and many more. It helps you to tap into the power of personalization by including a video play-by-play of your app in action.
Their video analytics will help you to find out where your users' attention is falling down by getting insights into how they engage with your videos each second.
Wistia's pricing plan starts with $0 per month for creating and monitoring up to three videos per month and then jumps to $99 per month for ten videos.
If you're in the early stage of your business, their free plan can certainly help you to create better videos for personalization and making your user onboarding process simple and enjoyable.
6– Vidyard (Paid):
Vidyard is another video platform that helps businesses transform communications and drive more revenue through the strategic use of online video and video marketing.
VidYard helps you to host and manage your videos while giving you the opportunity to connect with more viewers through customized and interactive video experiences and different Call-to-actions.
Like Wistia, VidYard also provides you with detailed analytics and powerful insights on your user's viewing audience.
Although VidYard has more options from Wistia, it starts with $150 per month for with twenty videos included, an jumps to $850 per month for their Plus and then $2000 per month for their premium package.
User Onboarding Tools for Personalized Demonstration & Screen Recording
Giving a personalized demonstration after partial activation is becoming a SaaS trend now. Once the user signups and activates himself/herself, you can easily provide a personalized demo with a screen recording tool.
Sending personalized videos to your users in their app onboarding process, you will improve their user experience, make better relationships, increase conversions and reduce churn rates.
According to SundaySky, typical email open rates can vary between 10% – 20%, but when using personalized videos in them, open rates can jump up to 40% – 60% and churn rate can be reduced for more than 20%.
If you want to build unique app experiences, make great relationships with your trial users and later to easily convert them to the premium users – using personalized demonstrations and screen recording is a must.
Here are the best user onboarding tools for recording screen and personalized demonstrations.
7 – Vidgrid (Paid):
VidGrid is the interactive video platform, allowing you to record, edit and share screen videos while providing you with the power of video analytics.
Going beyond recording, hosting, and sharing – Vidgrid transforms video into a two-way conversation by empowering anyone to capture knowledge, converse with the audience, and control the flow of information.
By their statistics, when you're using demonstration videos and screen recording, you will see a 25% decrease in average time on the case. The less time the user spends learning about your product, the better. You will quickly unleash the "aha moment", and easier get their loyalty.
Vidgrid pricing packages start with $30 per month for personal use (or if you're still a few members team) and then jumps to $500 +$2 per user per month if you're a medium size business.
8 – Loom (Freemium):
Loom is a free video recording platform. It lets you to quickly record screen, whether you're a Mac or Windows user. Loom comes with Desktop App, Web App and Chrome Extension.
With its simplicity and functionality, Loom quickly got a world population.
Loom gives you two options when it comes to recording your videos – you can record both screen and yourself, or just a screen. The first option is very powerful since it helps you to build better relationships with your trial customers.
The Loom's pricing plan is quite simple – it starts with $0 per month, where you can host up to 100 videos, and then continues to $10 per month for unlimited video storage, HD video quality and premium editing suite.
User Onboarding Tools for Email Communication
We're in 2019 but email still remains the primary communication channel (Sorry Slack!). This is the reason why you should still focus on bringing the user back with user onboarding emails. Launch a drip campaign with the intent to educate user gradually. You can also focus on the launching a drip campaign where the user drop-outs in the journey, instead of sequencing 14/30 days trial.
According to Sleeknote, their user onboarding emails open rates were just above the average 20,95% of the SaaS industry, and their click-through rates were hovering around 1%. But when they started to focus more on launching drip campaigns, they saw significant results!
They open rates jumped from 26,6% to an average of 40,54%, and their click-through rates went from 1,2% to 15,76% with one email user onboarding sequence having an open rate of 87,5% and a click-through rate of 29,27%
The power of using email in user onboarding is shown here – their 52,41% increase in open rates and 1213,3% increase in click-through rates are the best example of how using emails in building in-app experiences and user onboarding can help you to convert and retain more users.
The following user onboarding tools are recommended to launch a drip campaign.
User Onboarding Tools for Trigger-based Campaigns
9 – Drip (Paid)
Drip is our favourite tool to create onboarding emails. It will send trigger-based emails that land directly in the inbox without going to promotion channel (if the user uses Gmail).
Drip allows you to go beyond basic emails and create different user onboarding email automation processes, multi-channel marketing and email campaigns.
It provides you with in-depth analytics and insights about every trial customer so you can take action on improving your conversions and retention.
The most important thing about building great user onboarding experiences is personalization, and that's exactly what Drip allows you to do. You can customize your every email sending sequence to suit your particular user interests, experiences, and needs.
Drip starts with $49 per month for having 2500 users in your list and then jumps to $122 for up to 5000 people.
10 – User.com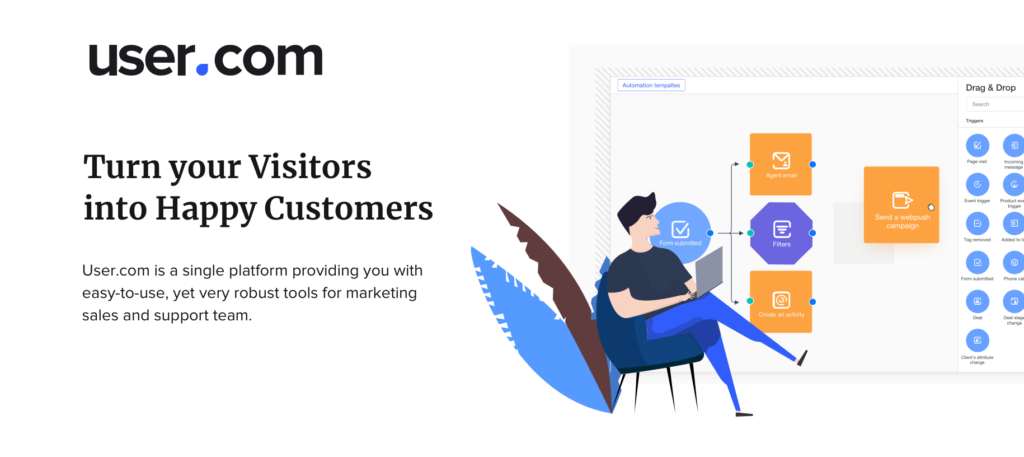 User.com is a full-stack marketing automation software for turning your visitors into happy customers.
User.com allows you to gather information about your prospects, communicate with them via live chat, chatbots, gather contact information by using popups, send automated emails and SMS and much more.
The tool makes it easy to create automated paths where you can pinpoint the moments your leads receive messages. It will save you time and make sure your communication is consistent. Right now available in Freemium Starter Pack – 100% free, includes modules like: Chat, CRM, Knowledge Base, and Calendar."
11 – Customer.io (Paid)
Customer.io is a bit more expensive tool to send drip campaigns. It's great for your need to start onboarding, converting, and retaining your audience.
What distinguishes Customer.io from Intercom and Drip, is its ability to send push notifications and SMS messages and real-time data for every customer.
With Customer.io, you can see whatever you want about your customers – from some more classic things like when and what page they have visited to your dedicated custom events.
It also allows you to send the right email to the right customer at the right time depending on what they do or don't do during their user onboarding experience.
Customer.io' basic package costs $150 per month, and you can have up to 12.000 customers in your list.
If you're an early stage company, Customer.io because of its pricing probably isn't the best choice for you – but as you grow, it can become more meaningful for your business than you think.
12 – Userlist.io (Paid)
Userlist.io is the simple behaviour-based email platform for SaaS companies. You can create email workflows based on what users do (or don't do). Set up your user onboarding email, promote specific features and re-engage inactive users.
If you can't figure out individual user journeys – what they did before they became premium customers and what are the "aha moment" triggers in your user onboarding, then Userlist.io can help you.
Its personalized and automated email workflows will help you to retain and convert more customers.
Userlists.io starts with $49 per month for 1000 users and up to 20.000 emails, then continue over $99 and $229 for up to 5000 and 20.000 users with unlimited emails in both packages.
User Onboarding Tools for Transactional Emails
It's recommended to use trigger-based email onboarding tools. However, many companies like to use transactional email user onboarding tools, hence here you go to complete your transaction email tech stack.
Transactional email is a kind of a triggered email. They are automated emails that are sent to your users, triggered by some of their activities in your software. For example, when they sign up for some particular plan, they will get a transactional email in their inbox.
There are a few main types of transactional email:
Welcome emails – the first email your customer receives upon creating an account
Confirmation emails – emails that notify your customers that some actions are completed, like exporting the customers' email database or upgrading to a bigger plan
Notification emails – emails that notify your users about some particular event, new features or important changes
Reminder emails -email that reminds your users on actions they have made in the past, but didn't finish them. For example, that can be abandoned carts, deadlines or even reminder for an upcoming webinar
Transactional emails are especially useful because you can use them to increase engagement with the system or as a lifecycle email.
13 – Mailjet (Freemium)
Mailjet is an easy-to-use and all-in-one platform for sending emails. It's great for A/B testing and collaboration.
It allows you to collaborate with your team, target specific users and to create personalized email campaigns. You can also monitor the performance of already sent emails with detailed and in-depth analytics and reports.
Mailjet's transactional email suit offers you an opportunity to easily create different triggers and templates for your transactional email user onboarding processes.
Its pricing plan starts with $0 per month for up to 6000 emails and then goes to $8.6 per month for up to 30.000 emails per month.
14 – SendinBlue (Freemium)
SendinBlue empowers businesses to build and grow relationships through marketing campaigns, transactional messaging and marketing automation. Their platform combines a robust suite of email and SMS messaging services within a single, user-friendly solution.
SendinBlue allows you to send triggered transactional emails and SMS messages with optimized and reliable delivery and detailed analytics and reports. You can build different types of audiences based on contact details or your own custom events.
You can integrate your SendinBlue account with different tools like WordPress, Salesforce, Google Analytics, Zapier, Intercom, WooCommerce and many more.
With its free lifetime plan, you can send up to 300 emails per day, while on their cheapest pricing package, you can send up to 40.000 emails per month, with no daily limit, for $25 per month.
User Onboarding Tools for User Experience Journey Software
User Experience Journey is one of the most important things you should keep your mind on while developing new user onboarding processes. It's not the most important part of app onboarding of course, but it's a huge part of the puzzle.
User experience journey software are extremely important to understand how users are interacting with your website or app. You need to understand user journey, drop-outs, frictions, frustrations and much more.
Hence, let's dive into some useful UX user onboarding tools!
15 – FullStory (Freemium)
FullStory is a great UX user onboarding tool. It captures probably more data than any other similar software. FullStory's unique value propositions are making it easy to solve different problems, capture more data, find answers and optimize user onboarding experiences.
You can look at almost any session made on your website or application. All sessions can be filtered and segmented by your needs and processes.
The most intrigue part here is especially the ability to replay your customer sessions. That means, that you can actually see (in video format) what, when and how your customer did something in real time.
The mission and purpose of FullStory are to help you to find out gaps in your customer journey, improve them and later convert more users with perfect user onboarding processes!
With their free plan, together with your two teammates, you can see up to 1000 monthly sessions.
16 – Hotjar
(Freemium)
Hotjar is a powerful tool that reveals the online behavior and voice of your users. By combining both Analysis and Feedback tools, Hotjar gives you the 'big picture' of how to improve your site's user experience, performance and how to increase conversion rates.
Hotjar combines heatmaps and recordings to bring you visible and informative insights on your users in-app experiences.
Knowing what are your users actually doing on your website will help you to craft better in-app experiences and user onboarding processes, while unleashing the "aha moment" faster.
With its basic free forever plan, you can collect data for 2000 page views per day.
User Onboarding Tools for A/B Testing
A/B Testing has always played a significant role in every online business. The golden rule of digital marketing (and everything you're doing on the Web generally) is to test everything. Test as much as you can!
You will know nothing without A/B testing. When we're talking about user onboarding, A/B testing plays a significant role. Testing different Call-to-actions, in-app experiences, tutorials or even progress bars are crucial if we want to improve our conversions and retain more users.
Here are the best free and paid products for A/B testing:
17- Optimizely (Paid)
Optimizely is one of the best known and most popular experimentation platforms for SaaS businesses.
It allows you to experiment both among product and marketing departments. You can control how many people will see each experiment, and then Optimizely will measure their actions and present it to you in a form of different statistics, graphs and analytics.
With Optimizely, you can make changes and different experiments without coding anything at all. When talking about using Optimizely in user onboarding, its A/B testing methods will help you to find out better "user onboarding hotspots", Call-to-actions and maybe even some new psychological concepts which can help you to onboard more users.
18- Google Optimize (Free)
If you're at the early stage of your company, Google Optimize can be a great way for you to A/B test different things. It's free and at the beginning, it will suit all your needs.
The biggest feature of Google Optimize is actually its in-depth integration with Google Analytics. This is a really important thing since it will allow you to do more advanced targeting, advanced reporting and even more advanced conversion tracking.
Its User Interface is very simple and effective. There are no complications at all.
Google Optimize certainly can't offer you all the features like Optimizely, but at least is worth a try. It's free after all!
Google Optimize has a sibling called Google Optimize 360. Of course, the other solution is paid, but if you're a small or medium business, the first one can suit your needs very effectively.
19- Convert.com (Paid)
Convert.com is another experimentation platform for A/B testing who can find its place among the best user onboarding tools.
With Convert, you can run unlimited tests, experiments and variations – everything in a cause of improving your user onboarding.
It also allows you to integrate any third party data and companies into your A/B testing workflow. You can integrate various tools like Zapier, HubSpot, Kissmetrics, WordPress, Google and many more.
With Convert, you can also personalize your landing pages and other elements and become more persuasive at the same time. Convert's advanced reporting and analytics methodologies will keep you up to date with everything, in order to make the best decisions on improving your customer journey and in-app experiences.
Convert is a little bit more expensive. Its essential package starts with $599 per month, but if you already have some stable income, it's worth trying.
User Onboarding Tools for Product Analytics
The key to successful user onboarding is data. Data shows us what our customers like about the products, what are their pain points, and what should be improved.
Every strategic product decision should be made by watching on data and analyzing it.
It's crucial to collect as much information as you can during your user's onboarding phase. That information will not just help you to improve your user onboarding and in-app experiences – but it will also help you later in your marketing, sales and targeting new potential customers.
Effective measuring of user onboarding experience is based on four main things:
Carefully map out your customer journey
Create and integrate your website customer journey into some product analytics tool for user onboarding
Identify where are the biggest dropouts
Find out what can you improve.
With no doubt, using data in building customer journey is essential, so here are a few user onboarding tools for product analytics:
20 – Amplitude (Freemium)
The Amplitude's mantra is: "We help teams build better products", and for sure, data and analytics will really help us to build better in-app experiences and improve our user onboarding.
Amplitude allows you to track your data and metrics with easy-to-use analytics interface and dashboard. Its real-time platform monitors your product usage and statistics from second to second, letting you know whenever your app crush down or checkout flow broke.
With Amplitude, you can get different growth ideas just from looking at your analytics and measures.
The team behind Amplitude recently released their new tool, called Amplitude Growth Engine, who helps you to experiment and rapidly learn and later amplify winning hypothesis and features.
In its lifetime free package, you will have access to core analytics, tracking up to 10 million actions per month and unlimited user seats.
21 – Mixpanel (Freemium)
Mixpanel is a product and behavioral user experience tracking tool for mobile and web applications.
With Mixpanel, you can collect accurate data about your product usage, identify different trends in your user's in-app experiences, set goals and take actions based on your product analytics.
With its easy to use user interface and dashboards, you can manage your data and users quickly, with no troubles. If you own a mobile application, Mixpanel allows you to run different A/B tests.
The biggest Mixpanels advantage over other user onboarding tools for product analysis is that with Mixpanel, you can visualize and segment your data, analytics, reports, and most importantly, you can manage and monitor your user onboarding KPIs.
The last thing is very important since it helps you to better understand your users' behaviors and compare them with your goals. When you have a clear picture of everything that's going on with your product – it is much easier to take action and make important decisions.
Mixpanel starts with $0 per month, but you will have very limited core reports to track and you can have only 60 days of data history. If you're in the very beginning, this can be very useful, but you must consider upgrading to the premium package in the near future (which is $999 per year), but it worths any penny!
22 – Mouseflow (Paid)
Like the team behind the Mouseflow likes to say: they reveal why your visitors aren't converting into customers.
Mouseflow lets you replay your visitor's website experience, identify their pain points and optimize your site.
Although Mouseflow is more like an analytics tool for website visitors, it can certainly help you to improve your user onboarding processes – at least for converting visitors into trial customers.
You can watch exactly how your visitors are navigating through your site by replaying their sessions. The best of all, you can filter your sessions to find out those with frustrations, bugs and compatibility issues.
With their heatmaps, you can spot the hottest and coldest places and segments of your website or landing page.
All of this will help you to eliminate guesswork and focus on improving the things that matter the most for your customer journey.
Although Mouseflow doesn't support the freemium model, their pricing starts with 29 euros per month. In their basic package, you monitor up to 10.000 pageviews per month.
User Onboarding Tools for Chat Support
With no doubt, chat support plays a significant role in user onboarding processes. Almost every customer has questions. Sometimes what distinguishes good from bad tools is actually customer support.
Live chat is a great medium for onboarding your new users and collecting feedback for your product.
Especially when we're talking about user onboarding, your trial customers want answers to their questions right now! So brace yourself for sitting hours and hours per day by your computer waiting for some new question to pop up.
Fortunately, there are a lot of user onboarding tools for chat support who can help us to easier answer our customer's questions.
23 – Freshdesk (freemium)
Freshdesk is a great tool to implement chat support in your user onboarding processes.
With Freshdesk, you can easily keep track of all conversations. With it's across – team collaboration, you can prioritize and segment all tickets, while assigning them to some of your team members.
It has a great dashboard for supporting all your tickets across different platforms. On a single platform, you can easily manage all your tickets, whether they came from email, chatbot, live chat support, website, social media or even a phone.
You can measure and improve the efficiency of your team, customize your ticket forms or even build and integrate custom apps to suit your workflow's needs.
Although Freshdesk has a lot of options and features, they still have a freemium plan, so it is both suitable for small and medium businesses, and large enterprises.
24 -Helpscout (Paid)
Helpscout is another great solution to implement live chat support in your user onboarding.
The mission of Helpscout is to empower human driving and customizable live chat and email support.
With Helpscout, you can make your ticket emails look more humanized, personal, and customized for every user. Together with your team, you will be able to quickly create help docs with articles that answer all your customer's questions.
You can create both chatbots or live chat support in your user onboarding process, and most important, Helpscout supports integrations with various tools like Slack, HubSpot, Salesforce, Jira, MailChimp and many others.
Humanizing your chat support in user onboarding will certainly help you to build better relationships with your customers and drive more engagement and interactions.
Helpscout is a paid tool, and it starts with $20 per month with one docs site, full reports, satisfaction ratings, 50+ APIs and integrations and many more. Its "Plus" package supports 4 more docs sites, few more important integrations and custom fields and teams.
25 – HelpCrunch (Freemium)
HelpCrunch is another great tool for implementing live chat and support in your user onboarding.
This all-in-one solution for efficient customer service has everything you need to successfully improve in-app experiences, reduce dropouts and improve conversions.
You can integrate their Live Chat 2.0, in-app messenger, auto messages, help desk or even to automate your emails.
This toolset helps you to educate your trial customers better and unleash the "aha moment" faster.
Helpcrunch is a freemium software. In their lifetime free plan, you have space for one team member, one chat auto message and up to 500 contacts in your list.
User Onboarding Tools for Knowledge Base
In today's world, all website visitors and later trial and premium customers immediately want access to any particular information. That's the reason why every company, whether it's a small startup or large enterprise, should have an in-depth knowledge base for its customers.
Particularly in user onboarding, the resourceful knowledge base will help us to create better resources for our customers, and later to retain more users by giving them answers, ideas and information about particular things – that can be everything from "How the tool works" to different use cases.
Not to mention that when your potential customer sees your tool in action or in some use case, you will easier and quicker unleash the "aha moment".
Hence, here are a few useful Knowledge Base products who can find its purpose in user onboarding.
26 – OpenKM (Free)
OpenKM is an Enterprise Content Management software, designed to help you control and manage your enterprise content, collect information from any internet source and collaborate with team members.
With OpenKM, you can create intricate workflows and automate your tasks like classifying the documents or metadata capturing.
With OpenKM, you will increase your and your team members productivity, reduce operational time and improve quality while preparing the content for your users and website visitors.
OpenKM is a free tool, and will definitely satisfy your beginning needs.
27 – Helpshelf (Paid)
Helpshelf is a great knowledge base tool for user onboarding.
With its functionality and easy-to-use knowledge base for customers, it will reduce your support requests and create customer happiness.
Helpshelf works with tools you're probably already using, like Intercom, Vimeo, Facebook Messenger and many more of them.
Surfacing the right content at the right time is essential for user onboarding. Helpshelf helps you to do this by showing your customers guides, articles and "how to's" when they need them and in different steps of your user onboarding.
Giving your customers the right information at the right time will help you to build better relationships, unleash the "aha moment" quicker, convert and later retain more users.
Helpshelf starts with $20 per month for tracking 1500 users per month on 1 site with up to 3 integrations. It's great for both small and medium businesses and enterprises.
Improve your user onboarding with valuable user feedback
There is anything more valuable to your business and user onboarding than the honest feedback from your customers.
Understanding what your customers are thinking about your product, what are their needs and pain points will either save or destroy your business.
Collecting feedback and creating customer surveys is a sword with two blades. If you badly compose your questions, you can get bad and inaccurate information about your product from your customers.
This will later result in making bad decisions. On another hand, if you craft great questions, you will learn a lot both about your customers and your user onboarding process.
Understanding what are your customer's needs is crucial in order to create great in-app experiences and unleash the "aha moment" quicker.
Let's dive into some useful user onboarding tools for collecting user's feedback.
28 -Google Forms (Free)
We guess that all of you at least once heard about Google Forms.
Google Forms is a great tool for quick researches, validating ideas and collecting customer's feedback.
You can easily create amazing and in-depth surveys with their drag-and-drop survey builder.
Although it's a free resource for creating surveys, Google Forms lack in some particular segments. For example, you are very restricted with the customization and the appearance of the form itself.
The user interface isn't very friendly. If you collect hundreds or even dozens of responses, navigating through the data can be really messy sometimes.
Although Google Forms has some cons, its usability is inevitable. If you're a small business and you're not looking for a huge amount of responses, Google Forms can perform a very great job for you.
29 – Feedier (Freemium)
Feedier is an all-in-one tool for collecting feedback about your application, product, in-app experiences or even a user onboarding processes.
It supports you with almost everything – from building in-depth and detailed surveys, over resourceful analytics and reports, to offering rewards to your recipients.
Feedier has built-in reward management making it funny and easy for your customers to fill the survey. At the end of the day, no one likes to waste his time answering your dumb questions. Right? 🙂
Creating interactive surveys is another advantage of Feedier over other Feedback tools like Google Form, Type Form or even Survey Monkey.
Interactive and engaging surveys are everything you need for your user onboarding – they are funny, fast and easy to complete.
Without wasting your customer's valuable time, you can collect resourceful feedback and improve your user onboarding.
In Feedier's lifetime free plan, you can receive up to 1000 responses per month for one survey – which makes it great to learn more about one particular stage of your user onboarding.
User Onboarding Tool for NPS
Net Promoter Score is an essential part of every customer happiness measurement. NPS scores are reported with a number from 0 to 100 and measured by one question survey. The higher score you have – your customers are more satisfied.
NPS score is now widely used by millions of companies worldwide. Every customer is asked to give a rating to your business between 0 to 10. Depending on their responses, your users can fall into one of three categories:
Promoters – customers who responded with a score 9 to 10. This group of people is likely to promote your business through their network.
Passives – customers who responded with a score of 7 to 8. They are satisfied with your product, but also they think that your product isn't "hot" enough to promote it.
Detractors – customers who responded with a score of 0 to 6. They are unhappy customers who will likely cancel their subscription, or maybe even discourage others to use your product.
As you can see, measuring your customer's satisfaction and happiness is crucial to creating great in-app experiences while onboarding your users. The higher score you have – there are more chances for you to convert more premium customers into referrals. More referrals – more customers.
Simple as that! Let's see one great tool for measuring your NPS score.
30 – Wootric (Freemium)
Wootric is one of the best user onboarding tools for monitoring customer's satisfaction and happiness.
With Wootric, you can create customized micro surveys, ask right questions on right spots (across different channels), and skyrocket your user onboarding with valuable customer feedback.
You can track your customer happiness in real time and even create automatic measures of customer's sentiments.
Understanding your customer's touchpoints, satisfaction and happiness will help you to improve user experience, convert more customers, increase retention and build new referrals.
With Wootric's free forever plan for startups, you can measure happiness for 25.000 customers across one channel.
Choosing The Right User Onboarding Tool
When you take a look at user onboarding's bigger picture – it isn't just an "in-app process" for teaching customers how to use the tool. It's much more. It's converting website visitors to trial customers, then converting trial customers into paid customers and finally, converting paid customers into referrals.
Using at least some of the user onboarding tools we have mentioned above is crucial if you want to improve your conversions, retain more users – and most important – have happy customers! Keeping in mind that building perfect user onboarding processes and in-app experiences may required more than one or two user onboarding tools.
Curious about Userpilot and how it can improve your user onboarding process? Book a demo today!
About the Author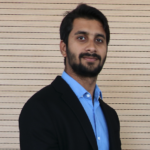 Aazar Ali Shad is the VP of Growth at Userpilot, and has more than 7 years of SaaS Experience. He is currently helping 700+ SaaS companies improve user onboarding and increase product adoption.