Freemium Strategy 101: Ultimate Guide for SaaS Companies [+ Examples]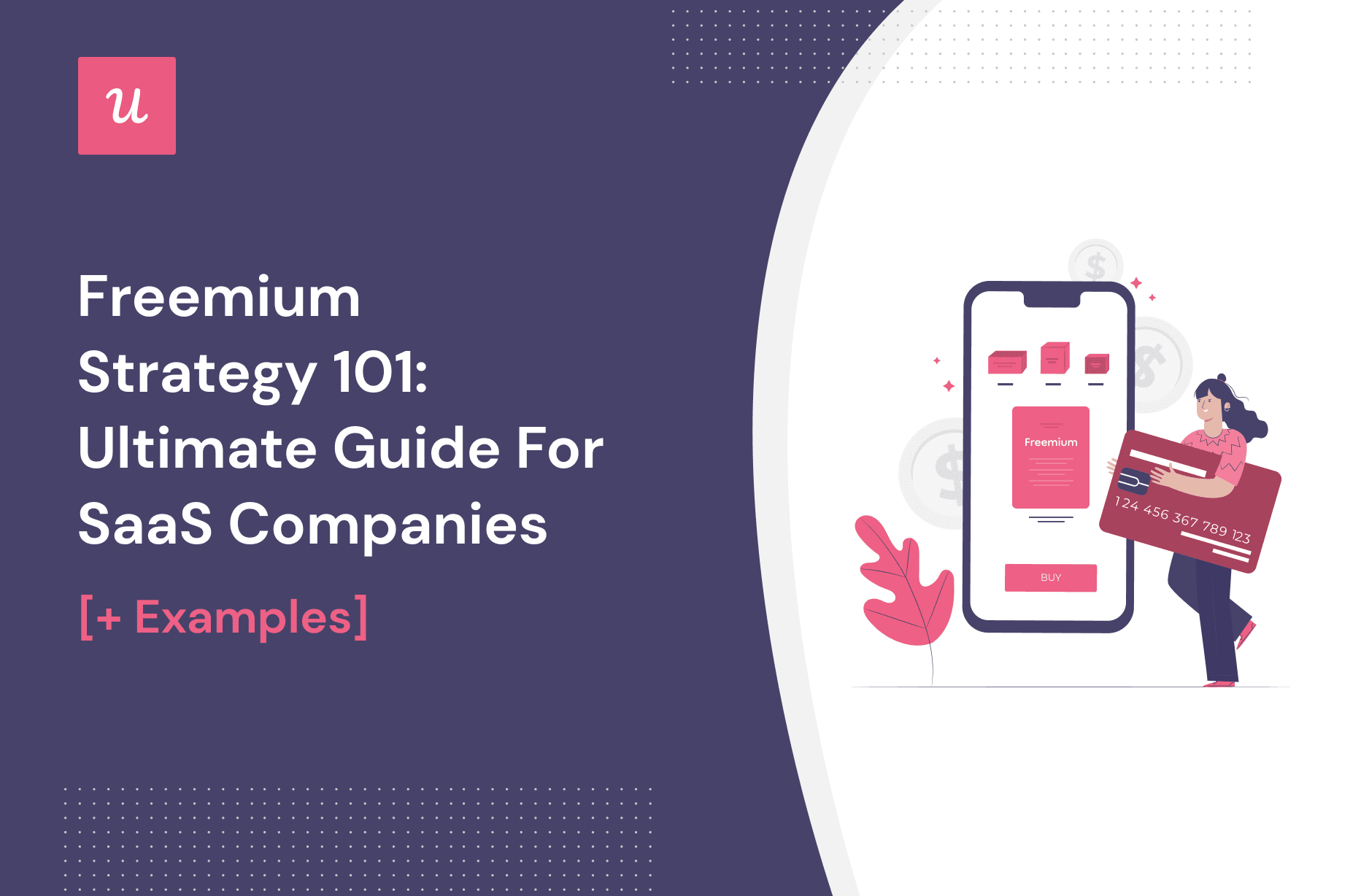 What do Slack, Spotify, Dropbox, Canva, Zoom, and Grammarly have in common? Apart from offering delightful products, these companies have managed to successfully leverage their freemium strategy to drive product growth.
Could freemium work for your SaaS business?
That's what we discuss in the article. And if you decide to go the freemium route, we look at some best practices and check out examples of their successful implementation.
TL;DR
A freemium strategy is based on a free plan that offers limited functionality or usage for unlimited time.
Instead of offering only basic features or limited usage, a free trial gives access to the full product for a limited period.
Both models allow users to experience the product value without satisfying all their needs.
The benefits of the freemium model include lower customer acquisition costs and access to vast amounts of customer data.
The main downsides are high support costs and a low average freemium-to-premium conversion rate of 5%.
Consequently, the freemium strategy is great for products that are easy to learn and don't require a lot of support but need large user numbers, like social networks.
To increase the conversion rate, use free or reverse trials to give users access to premium features within the free plan.
Use product usage to identify the features and usage limits that will give users enough value to retain them but not enough to stop them from upgrading.
Personalized onboarding experiences reduce the time to value by educating users on how to use your product effectively.
Contextual upgrade prompts are more likely to convert users because they appear when the user experiences the need.
By running in-app surveys, you can get a better understanding of how well your onboarding works, the most valuable features, and how satisfied users are with the free plan.
Dropbox, Slack, and Grammarly are great examples of companies that have successfully harnessed the power of the freemium model to drive growth.
Want to see how Userpilot can help you execute your freemium strategy? Book the demo!
What is a freemium strategy?
Freemium is a business model which gives users free access to the product. The free product is not fully functional though. It comes with limited features, usage limits, limited storage space, or limited support.
What if users want access to premium features and unlimited usage?
They have to upgrade to a paid plan.
Freemium strategy vs free trial strategy
Both freemium and free trial models are popular customer acquisition strategies in product-led companies. They both give users limited access to the product so that they can experience its value before they decide to purchase a paid plan.
However, each of them puts up different barriers to encourage users to upgrade to the paid version.
Freemium customers have access to limited functionality. They don't have to pay for the product as long as they're happy with the basics.
Free trials give users access to all features and sometimes unlimited usage, but for a limited time only. Once the trial period is over, they have to upgrade or lose access to the product.
Is the freemium strategy worth it for SaaS products?
Whether the freemium strategy is right for your SaaS, depends on your product and your resources.
Benefits of the freemium business model
The freemium model comes with a number of benefits:
Product virality: thanks to no barrier to entry and word-of-mouth, freemium products can quickly gain popularity.
Low customer acquisition costs: as your users promote your product for you, the costs of acquiring new customers are lower. This is a crucial ingredient of a successful PLG strategy.
Large user base: it allows you to increase user population quickly, which is essential for products that rely on the network effect, like social networks, messaging apps, or e-commerce marketplaces.
Product usage data: lots of users mean lots of usage data that can be used to iterate on your MVP.
Limitations of the freemium business model
Larger demand for customer success and support teams: whether your users pay for the product or not, you need to provide them with adequate support.
Greater stress on the product infrastructure: a bigger user population requires a more robust infrastructure to provide reliable service to both free and paid customers.
Low conversion rates: depending on your product, your freemium to premium conversion rate is not likely to exceed 5%. In contrast, the average free trial conversion rate in the B2B SaaS space is around 17%.
What makes a successful freemium product?
The kinds of products that benefit the most from the freemium model share some common characteristics:
Valuable features to attract and retain users
A clear value proposition of the premium plans
Low maintenance and support costs
A flat learning curve
Best practices to implement in freemium strategy for higher conversion rate
If you think that the freemium model could be the right fit for your product, here are a few tips on how to implement it.
Choose the right freemium pricing model
Freemium comes in different forms.
To give your users a taste of what they're missing out on, you could mix your freemium model with a free trial. This would give your users access to the premium functionality for a limited time before rolling over back to the free version.
Alternatively, you could go for the reverse trial.
In this strategy, you give your users access to all the premium features from when they first sign-up for a limited period. After the initial trial, the free customers go back to the basic plan unless they upgrade.
Offer a valuable free product that will turn freemium users into premium users
The success of your freemium strategy depends on what you offer to your users.
If you don't give them enough value in the free plan, you will struggle to acquire and retain users. However, if you give them too much and the free tier satisfies all their needs, they won't have a reason to convert into paid users.
How can you find the sweet spot?
Track product usage with an analytics tool.
For example, you can use the feature tracking functionality and heatmaps to identify which features get used the most. These are the ones to include in the free plan.
Next, look at how much usage they get, and impose limits accordingly. For example, if your users use it 5 times a week, offer 3 in the free plan.
Then test and tweak to get the right balance between free user retention and paid user conversion rates.
Create a personalized new user onboarding to shorten TTV
How well your freemium strategy works depends on how quickly your users can experience the product value.
To reduce the time to value, create personalized onboarding experiences. Focus on introducing the features that are most relevant to customers' use cases.
Use interactive walkthroughs and checklists to guide them to activation and help them become competent users.
At the same time, avoid overwhelming them with unnecessary information or excessively complex features.
How will you know which features users need?
Start by segmenting users based on their welcome survey responses. Ask about their roles and what they're planning to use the product for.
Next, use analytics software to track the user behavior of each segment to identify the most valuable features and the happy path for each of them.
Prompt upsell messages contextually to convert free users into paying customers
As your users are enjoying the free plan, make sure to give them regular nudges to upgrade.
Loom, the video-messaging app, is great at that. Whenever users get to the 5-minute limit, a modal with upgrade options pops out.
Loom is also great at anticipating user behavior. When they finish recording the video, another modal prompts them to upgrade to be able to touch up the recording. We've all experienced how unflattering our 'ums' and 'uhs' can sound, so its timing is perfect.
To be able to deliver such timely prompts, you need a tool that tracks product usage in real-time and allows you to trigger event-based in-app messages. Below is an example of an upsell modal created in Userpilot.
Collect feedback from free users and improve accordingly
Apart from tracking product usage, customer feedback can help you fine-tune your freemium offer and improve the conversion rates.
Some questions that could help you with that are:
How well does your current plan meet your needs?
What features could you not live without?
What features would you like to see in the free plan?
How easy was it to set up the product?
How easy was it to start using the product?
What's stopping you from upgrading (for long-term freemium users)?
Examples of SaaS companies with successful freemium strategies
Ready to see how market-leading computer software companies leverage freemium models to drive growth? Let's check them out!
Dropbox
Dropbox is a popular cloud-based storage platform that allows users to store, share, and access files and documents from anywhere. It syncs files across all devices, making it easy to collaborate and share files with others.
The free Dropbox plan allows users to store and share up to 2GB of data.
This is a fraction of the 2TB available in the lowest paid plan, Plus. The latter also gives users additional features that are not included in the free tier, like large file delivery with Dropbox Transfer.
Slack
Slack is a go-to instant messaging platform for SaaS businesses and teams. It allows you to send individual and group messages and share documents, images, and videos and it's easy to integrate with other apps in your tool stack.
What do you get in Slack's free plan?
All the one-to-one messaging features, including audio and video conversations
90-day message history
10 integrations
The usage limits don't apply to the paid plans. Apart from unlimited usage, you also get additional features like group audio and video calls, custom user groups, and 24/7 support.
Grammarly
Grammarly is a digital writing assistant that helps people to write more clearly and effectively. It checks for errors in spelling, grammar, and punctuation, and provides suggestions to improve the quality of the writing.
Grammarly's free plan is limited to accuracy checking and basic style features. To get access to the more advanced writing assistant features, like tone or word-choice suggestions, you need to upgrade.
How successful is the Grammarly freemium strategy?
After shifting to the freemium model in 2015, the company reached 1 million daily active users. In 2020, there were 30 million DAUs.
How can Userpilot help you execute a freemium strategy?
Userpilot is a digital adoption platform that allows you to track product usage, collect user feedback and drive user engagement with in-app messages.
The most relevant features that can help you implement your freemium strategy include:
Conclusion
A freemium strategy can help you increase your brand awareness and grow your user base. Its main challenges include low conversion rates and the strain on company resources.
To successfully execute your strategy, use product usage data and customer feedback to work out the best ratio of free to paid features and usage limits, provide personalized onboarding experiences to reduce time to value, and drive upgrades with contextual in-app prompts.
If you want to see how Userpilot can help you pull it all off, book the demo!