WoM in SaaS: Best Word-of-Mouth Marketing Strategies To Increase Brand Awareness [Examples Included]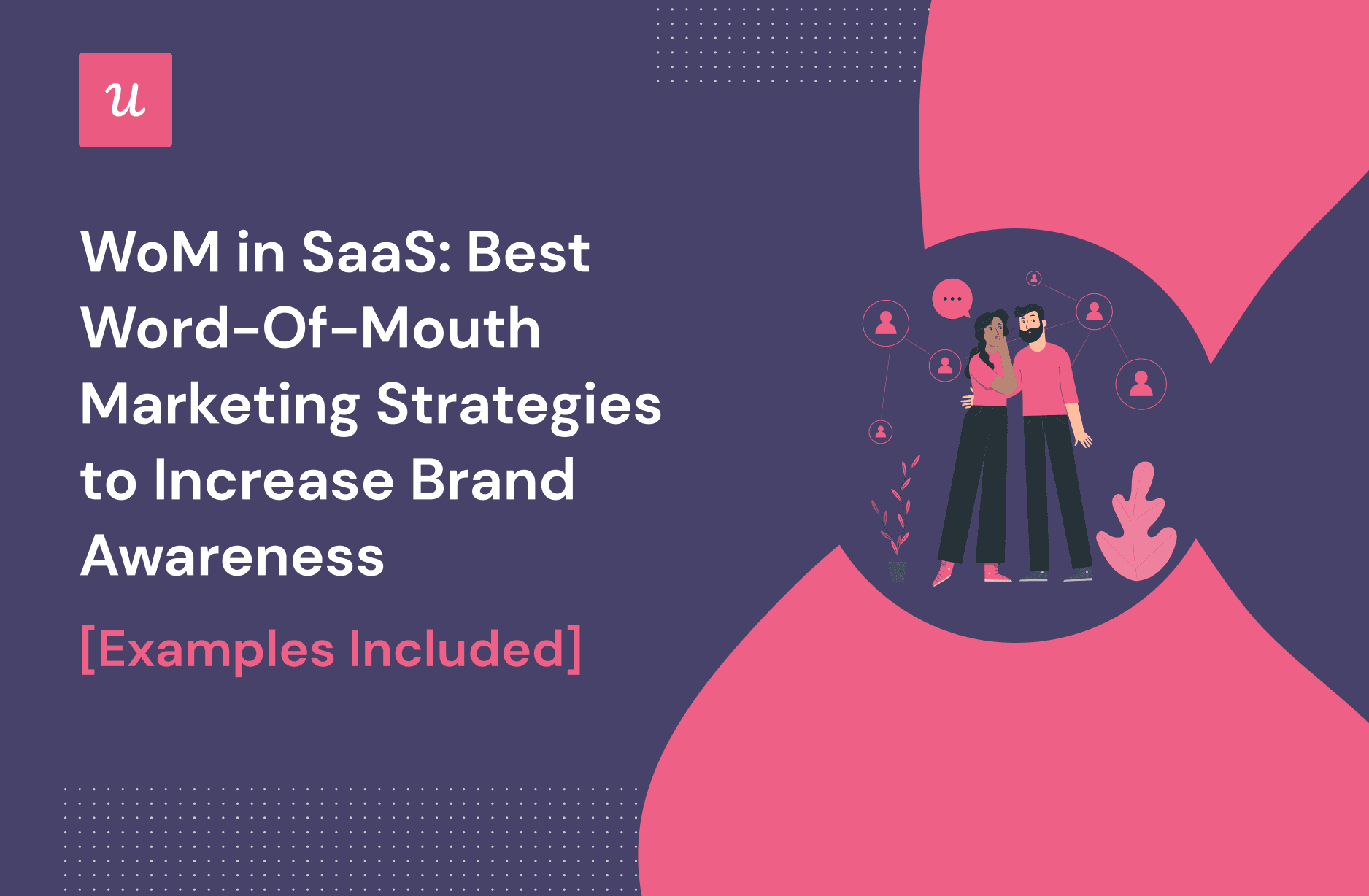 Word-of-mouth marketing is one of the most effective marketing strategies that product marketers can implement.
A defined word-of-mouth marketing strategy helps you encourage and accelerate conversations within your customer base that grow your brand.
In this guide, we'll discuss what the word-of-mouth marketing strategy is, why it is advantageous, and how you can drive it. We'll also consider some famous SaaS word-of-mouth marketing examples.
Let's get started!
TL;DR
Word-of-mouth marketing is a strategy that relies on customers sharing their experiences with products and services with their friends and family members.
Though there are some similarities between WoM, referral marketing is a form of incentivized advertising that rewards users for taking specific actions.
WoM marketing improves brand visibility by getting many people to talk about your brand.
It increases brand loyalty by turning customers into brand advocates who are passionate about the brand's success.
WoM marketing also builds trust in brands by providing proof of their usefulness.
Here are some strategies for you to drive word-of-mouth.
Stimulate discussions about your product on social media platforms using experience marketing or targeted social media marketing.
Curate your online reputation by encouraging satisfied customers to leave online reviews.
Encourage user-generated content that highlights the impact of your product.
Exploit the power of influencers to reach a larger audience faster and to influence purchase decisions.
What is word-of-mouth marketing?
The term "word-of-mouth marketing" refers to a strategy that relies on customers sharing their experiences with products and services with their friends and family members. Basically, it's free advertising that is triggered by the feelings, impressions, and thoughts of consumers.
Word-of-mouth vs. referral program
Much like word-of-mouth marketing, a referral program encourages existing customers to become brand advocates.
Where word-of-mouth marketing is organic, referral marketing is incentivized. Happy customers are encouraged to bring in new customers in exchange for incentives. These incentives (or rewards) could be in the form of a discount, gift, gift card, or even cash payment.
Tangible incentives make referral marketing more rewarding and repeatable by increasing the likelihood of word-of-mouth recommendations for your product.
Why is word-of-mouth marketing important?
Marketers may find word-of-mouth marketing less appealing because it relies on others' efforts. But that shouldn't be so. This highly effective form of advertising benefits most brands in three key ways:
Improves brand visibility
The goal of any marketing campaign is to increase your brand visibility. Word-of-mouth marketing achieves this goal by getting people talking about your brand or product.
The more people talk about your brand, the greater the audience it reaches. As more people talk about the product or brand, others are increasingly interested in learning what the hype is all about.
These new users will also be motivated by the ongoing conversation around the product to share their experiences (positive or negative) after using it.
Increases brand loyalty
Building customer loyalty is key to ensuring sustained revenue growth for your product. Not only are fans of your brand delighted to use your product, but they also seize every opportunity to discuss it with others.
As customers talk about your product, they build a strong emotional connection with the brand. This increases brand loyalty, which leads to more favorable purchasing behavior by your customers. It also turns these customers into worthy brand advocates.
Builds trust
Word-of-mouth marketing builds trust amongst potential customers who see others talking about your product.
Existing customers recommending your product to others is a lot more trustworthy than any ad campaign you may run. New customers are more likely to trust the words of those who have already used the product.
Word-of-mouth marketing statistics
Word-of-mouth marketing boasts some truly impressive stats.
Let's have a look at these findings from Semrush that highlight the impact of WoM marketing:
64% of marketers accept word-of-mouth marketing as the most effective form of marketing.
70% of marketers plan to spend more to boost online WoM marketing.
92% of B2B buyers are more likely to make a purchase based on a trusted review.
78% of customers rave about their favorite brands to others every week.
26% of customers avoid a brand if their friend or a family member has a negative experience.
83% of marketers believe word-of-mouth marketing increases brand awareness.
As you can see WoM is a great way to acquire new customers and increase your revenue. This is something that you can afford missing out on.
Create memories with experience marketing
The best way to get people talking about your brand is to create shareable experiences. The rise of social media platforms like Twitter, TikTok, Facebook, and Instagram makes it incredibly easy for users to share their experiences.
Experience marketing can be anything, small or big, that leaves users with a positive feeling towards your brand. It could be as simple as hosting a social event that brings the community together.
Creating good, shareable consumer experiences through events gives them something to show off on their social profiles. Such shared experiences become fertile ground for online conversations about your brand.
Share information with social media posts
You can also trigger WoM marketing by using social media to reach a larger audience. Everything from witty posts to carefully curated posts on trending issues helps increase your reach.
You can also intentionally create hashtags that give your audience a cohesive system of discussing your brand, event, or campaign. Or, you may activate your employees, using employee advocacy programs, to discuss the brand using their accounts.
Here is a post from Outreach that tells the stories of their customers by tagging their employees on social media. It also takes advantage of hashtags to amplify the message.
Make loyal customers leave online reviews
Online reviews are a great way for customers to share their feedback about — and ratings of — your product. The majority of your potential customers trust online reviews, making them an important marketing instrument for brands.
Be sure to encourage customers to leave reviews for your product on product review websites like G2, Capterra, Trustpilot, etc. These reviews provide social proof that you're doing something correctly.
Harness the power of influencer marketing
Take advantage of influencer marketing to generate interest in, and conversations around your product or brand. Influential individuals or niche bloggers who match your brand values and style can be activated to use their influence to boost your brand awareness.
Here is how Adobe collaborates with a famous graphic designer to drive word-of-marketing.
Encourage user-generated content
Encouraging your users to promote your product using user-generated content is another way to increase your reach. Giveaways, free products, and even an opportunity to feature on your blog can incentivize users to create content about your product.
You can repurpose the content users share and use it on your channels (with permission). Such features will likely get them even more interested in sharing more about your brand, getting your brand to even more people. How's that for a triple whammy?
Consider how WeTransfer repurposed Photographer Ci Demi's user-generated content for their blog and social media channels.
Offer freebies
We all love freebies. A gift is a great way to win the hearts of your potential customers or even existing ones. A freebie can be anything from free ebooks to webinars, checklists, etc., that's useful to your audience.
Because of their usefulness to your customers, such freebies can drive word-of-mouth marketing, which boosts your brand rankings.
How big SaaS companies use word-of-mouth marketing
When gotten correctly, the influence of your word-of-mouth marketing efforts is visible to all. Let's look at some SaaS brands that have successfully used WoM marketing and how they did it.
Dropbox free storage space
Dropbox provides one of the most brilliant examples of how a SaaS company can take advantage of word-of-mouth marketing to grow within its industry.
In its early days, Dropbox offered up to 16GB of free storage for all its users. Users were also encouraged to invite others for an extra 500MB of storage space.
So, in addition to getting free storage access (which is already share-worthy), you're incentivized to provide free marketing through the referral program. Ultimately, happy customers are happy to pay for access to more space on the platform.
Slack's freemium model
After launching what has become the world's foremost digital workspace in 2013, Slack harnessed the power of word-of-mouth marketing to grow its user base in no time. It soon became the fastest-growing business app of all time by leveraging WoM marketing and ditching traditional advertising channels.
Slack aims to first win users' trust by offering a robust free version that grants users access to its service. Users can then convert to paying customers to fully harness its extensive functionalities. The result has been beyond impressive!
Canva's cooperation with the evangelist Guy Kawasaki
Free-to-use graphic design software Canva successfully hacked the word-of-mouth advertising space by seizing a great opportunity for influencer marketing.
After noticing that Guy Kawasaki, the famous former Chief Evangelist of Apple, was using their tool for his social media graphics, they contacted him to reprise his role at Canva. Believing Canva could democratize design as Apple had democratized computers, Guy Kawasaki was happy to join the team.
Shortly after joining as the Chief Evangelist of Canva, the platform successfully doubled its user numbers.
SurveyMonkey's commercial with Serena Williams
Have you ever been asked by a friend to fill out a quick survey? Chances are one of those forms was generated by a platform called SurveyMonkey. SurveyMonkey relies on this kind of word-of-mouth marketing to attract more users. But it doesn't stop there.
Although the company barely does any advertising, it pursues creative advertising opportunities whenever they come along. One of those was this brilliant commercial featuring Serena Williams, a perfect blend of traditional advertising and word-of-mouth advertising.
How to drive word-of-mouth marketing (examples)
Finally, it's time to look a little more closely at some of the word-of-mouth marketing examples discussed earlier and how you can implement them to drive your word-of-mouth marketing campaign.
Ask for reviews from your loyal customers
Customer reviews are the purest form of word-of-mouth marketing. Little wonder, then, that other customers trust these reviews almost as much as they trust personal recommendations from acquaintances.
You can use in-app modals to encourage users to review your product on G2. For best results, trigger it right after a positive NPS score.
With Userpilot, you can create both modals and microsurveys code-free.
Provide exceptional customer service
Few things delight a customer as much as excellent customer service. This means that customer service is crucial to your brand's reputation.
By ensuring that the customer is fully satisfied at all times, this word-of-mouth strategy enhances the overall customer experience.
Your customer service strategy should involve promising what you can deliver, building strong personal relationships with customers, and giving personalized assistance to customers in need of help.
Take advantage of proactive support systems to ensure customers never get lost within your product. Be sure to also ask for feedback regularly, and to close the feedback loop by keeping customers updated.
Reward loyal customers and show your brand personality
Nothing aids your customer acquisition efforts as much as loyal customers. Customers who love your brand engage with your product, avoid your competition, and refer their network to your product.
A key part of your word-of-mouth marketing efforts, therefore, should involve stimulating customer love. Creating a great product is only a small factor behind customer love.
For customers to truly love your product, personalize their experience from the start, take advantage of emotional design methods, help customers identify essential features, and guide them to use them properly. Make sure you only upsell your customers when they clearly need it.
Additionally, always find opportunities to reward your loyal customers and surprise them. For example, you can send them branded t-shirts, mugs, or anything else that shows your brand personality.
Here is how we sent Userpilot's branded t-shirt to one of our loyal customers.
Conclusion
Word-of-mouth marketing is a powerful tool for any SaaS business, especially for those that are still relatively small and unknown.
Always find ways to trigger organic word-of-mouth marketing from your customers. Start with a great product and excellent service, and pick up the pace from there.
Need help with understanding your customers and improving the customer experience for them? Then book a Userpilot demo to learn how we can help you achieve that code-free.