Customer Success vs Customer Support: What's The Difference and How to Improve Both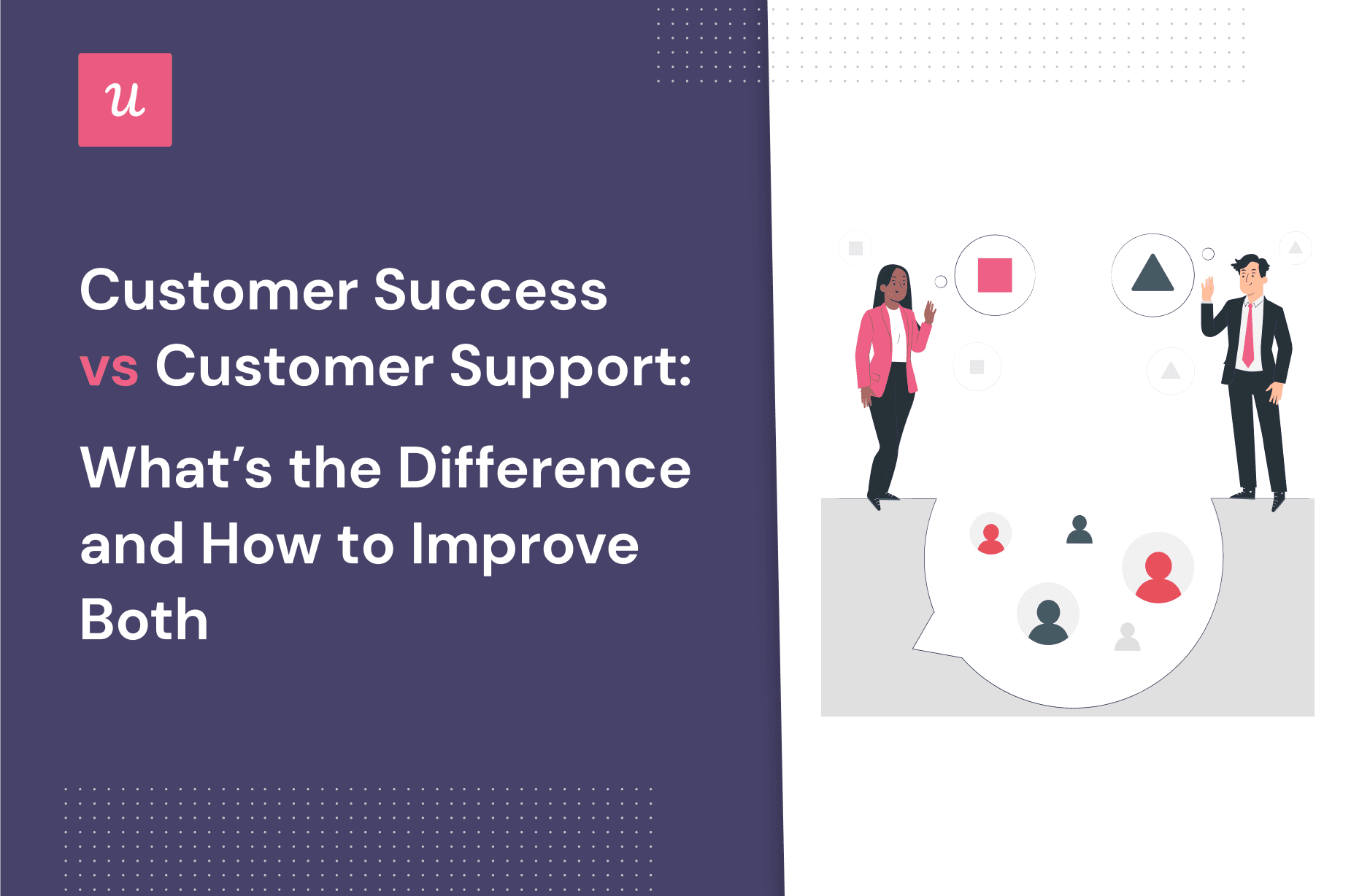 In today's B2B technology world, the terms "customer success" and "customer support" are often used interchangeably. In this battle of customer success vs customer support, there are stark differences but there is also a common thread that binds them together. The end goal of both these disciplines is all about delivering exceptional customer experiences and retaining customers.
In this article, we'll go over the differences between these two functions and how they work together to improve customer satisfaction and drive business growth. Finally, we'll give you actionable tactics to improve both customer support and customer success.
TL;DR
Customer success (CS) involves all the approaches to ensure customers are satisfied and can achieve their goals.
Customer support focuses on solving customer problems when they arise. It doesn't consider helping customers for the long-term like CS.
Customer success is proactive, while customer support is reactive
Support KPIs: First response time, resolution rate, effort score, user satisfaction.
Customer success KPIs: Lifetime value, customer retention, churn, upsell and cross-sell rate, NPS.
A CS team dedicated to helping customers succeed is relatively new, so few companies have it. But it's something to consider, especially in this competitive SaaS space.
The customer success team collaborates with different people in the company to holistically cover customer needs. But customer support often acts independently.
A robust resource center reduces the load on your customer support team and helps users solve problems on their own. Consider building one for your SaaS.
How to drive customer success for your SaaS? Collect customer data and personalize their experience, remove friction with in-app guidance, gather feedback and act on it.
Both customer success and support complement each other and should work in harmony for business success.
What is customer success?
Customer success is all about identifying what success means to your customers and helping them achieve it throughout their customer journey. Often it means:
Establishing and maintaining relationships with your customers;
Helping your customers achieve their goals;
Assisting in the successful implementation of your products or services.
What is customer support?
Customer support is the act of providing timely, empathetic help that keeps customers' needs at the forefront of every interaction. It's mostly about providing technical customer assistance by helping them resolve any issues they have with your products or services.
Common support channels include email, live chat, phone calls, social media, etc.
Customer success vs customer support: Key differences
Both customer support and success are complementary forms of customer care. While they both aim to make customers happy, there are several differences between them:
Customer success is proactive, while customer support is reactive
Customer support teams work to solve customer issues as they arise. Customer success anticipates user needs and offers solutions thus preventing problems.
Customer success and support prioritize different metrics and KPIs
Because the objectives vary, the metrics and key performance indexes for customer success vs customer support are also different.
Customer support metrics and KPIs
Customer support focuses on optimizing the quality and speed of support interactions. It doesn't pay much attention to what happens before and after interacting with customers.
Metrics that define success here include:
First response time (FRT): This is the time between when a customer submits a query and the first response from a support agent. Customers generally expect a less than 24hrs response to emails and an FRT in minutes to live chat or phone support.
Resolution rate: The ratio between the number of support tickets received and the number solved. Efficient support teams have high-resolution rates.
Customer effort score: Measures the time and effort it takes customers to contact you and get their issues resolved.
User satisfaction score (CSAT): This metric measures a customer's happiness with the support interaction and product in general.
Customer success metrics and KPIs
Customer success is more of a long-term approach, so the metrics measured go deeper into the customer journey.
KPIs commonly tracked by customer success managers are:
Lifetime value: The overall revenue a company can expect to get from each customer account over the course of the business relationship.
Retention and churn: Retention measures the total gain (in revenue or users) from existing accounts over specific periods. Churn is the opposite一the number of users lost or the amount of revenue loss over time.
Upsell and cross-sell rate: This metric measures the percentage of customers within a cohort that purchases additional software or services. A high upsell or cross-sell rate indicates the customer success team is doing something right.
Net promoter score (NPS): Measures customer loyalty and sentiment on a 10-point scale. NPS helps you dive deeper into your customer goals and optimize processes to deliver improved customer experiences, effectively supporting customers in the short and long run.
It's worth noting that CSAT and NPS are one of those few metrics that tie customer support and customer success together.
Customer success is heavily focused on long-term impact, customer support is based on short-lived interactions
Customer service reps don't think much about the customer before or after the interaction. Provided customer issues are solved, the case is closed.
On the other hand, customer success teams work to build lasting relationships with customers. There's no specific endpoint. The CS team sets goals and works toward them, adjusting based on performance.
Customer support is an integral business function, while CS is a value-added one
It's hard to find a business today without customer support. As a matter of fact, more and more support channels are popping up yearly, which goes to prove how integral this department has become.
Customer success is a comparatively young department, and not many businesses have room for it. CS is your extra effort to provide added value to customers and stay ahead of the competition.
For instance, struggling startups can afford to avoid CS if they don't have enough resources, but support is essential.
Customer success is a company-wide Initiative, customer support is functional
Customer service teams typically function independently, except in rare situations where leadership may step in. But CS collaborates with different departments within the organization such as marketing, sales, and engineering to holistically cover customer needs.
CS is a revenue-generating function, while customer support operates as a cost center
Customer success focuses not just on retaining the customers they have, but also on driving growth via up-selling, cross-selling, and referrals.
Customer service focuses strictly on driving customer satisfaction to avoid churn.
How to deliver exceptional customer support
Support teams face a lot of pressure, but this can be reduced if they don't have to answer every query.
How?
Offer self-support options with an in-app resource center
Providing exceptional customer support in SaaS means being proactive and timely. Users are more impatient than ever and they don't want to wait in line for hours to get answers to simple questions. Instead, most young users prefer self-service as it's always contextual and timely.
All you need to do is to build a resource center that's searchable and updated regularly as your product evolves. Offer a mixture of educational resources such as video tutorials, knowledge base articles, and case studies to make the center rich and engaging.
How to drive customer success for your SaaS
The best way to do this is to listen to your customers and always ensure they have smooth experiences within the app. Here are some practical steps:
Personalize in-app experiences and deliver the promised value to each segment
Your SaaS has different use cases, so it's natural to expect your users will have varying motivations for using the app. In a competitive market, customers expect you to treat them as individuals and address their specific needs.
The best way to help these customer groups reach their end goals is to segment them and provide personalized in-app experiences.
Segmentation and personalization don't end with the user's jobs to be done. You can go even further and segment users based on their survey responses.
For example, you can segment users who gave you a low NPS score and reach out to them to identify the reasons behind it and proactively prevent churn.
Remove friction with in-app guidance
Friction is anything that slows down or hinders your customers as they journey through the product. Identify friction points through analytics and customer feedback, then eliminate them by providing contextual in-app guidance.
You can use in-app guidance patterns like tooltips, walkthroughs, or modals to achieve this. For example, Miro uses a tooltip to remind users how to locate help guides and subtly tells them they can access this anytime, in the example below.
Walkthroughs are best when you need to guide users through engaging with a specific feature for the first time and show them how to use it step by step. If you're wondering how this might look, below is an example from Kommunicate as they walk new users through customizing their bot.
Gather user insights and keep them in the loop regarding the updates
A good way to build and strengthen customer relationships is by showing users their voice is heard.
Run voice of the customer programs and continuously collect customer feedback with individual interviews, focus groups, in-app surveys, etc. Then analyze the feedback and determine areas of improvement.
Note that the customer feedback loop isn't closed until you get back to the customer.
Keep in touch with them after you process the feedback. For instance, if they ask you to fix a bug, let them know when it's done. If they want a specific feature, announce it once it's ready or let them know it's on your roadmap.
Customer success vs customer support: Which one should you focus on?
Ultimately, your goal as a SaaS company is to make customers happy and have them keep renewing their subscriptions.
Both customer support and customer success teams are needed for this, so it's best they work in harmony. Some companies merge support and customer success as one department, but others separate them for accountability purposes. Nothing wrong if you choose to have separate departments, but ensure they keep each other in the loop of things.
Conclusion
Hopefully, this article has shed light on the differences between customer success vs customer support and what you can do to optimize both.
If you find the article insightful and would like to learn more tactics for driving customer success, don't hesitate to book a demo with Userpilot and we'll be happy to guide you through the process of:
building a self-serve resource center.
sending and tracking in-app surveys.
providing in-app guidance and contextual product experiences.