What is User Engagement? [+ 12 Strategies to Improve It]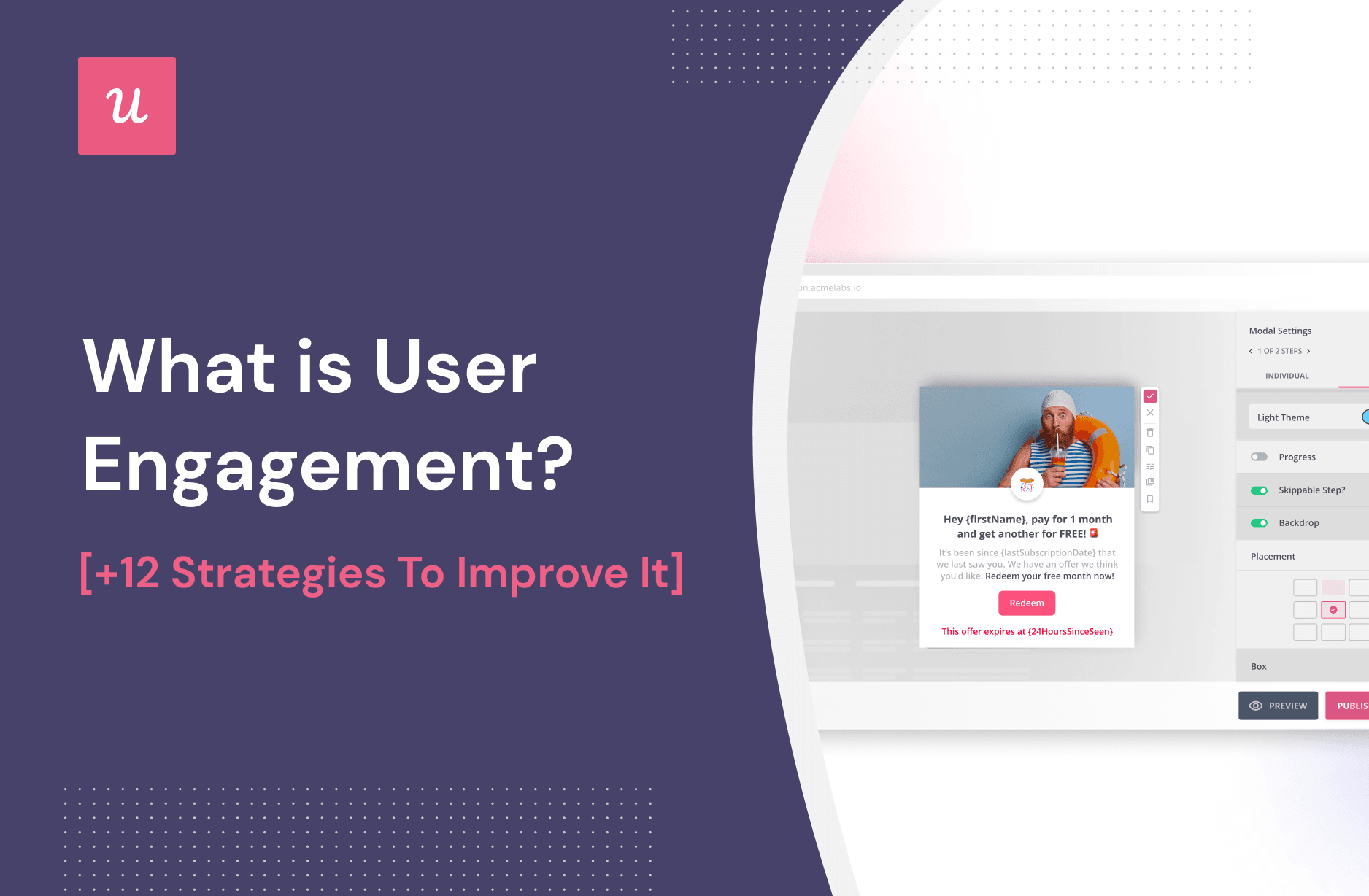 User engagement is one of those terms that everyone knows but only a few fully understand.
What does it mean to engage a user? How do you measure it? And most importantly, how do you improve it?
Let's explore 12 strategies to boost user engagement on your app and increase conversions, retention, loyalty, and ultimately, product growth.
TL;DR
User engagement is the level of "interactivity" that users have with your product, the value they get from it, and the desire to keep using it.
Measuring user engagement is extremely important for any SaaS that desires to grow because it improves customer retention, brings more data, makes product development easier, and feeds product growth.
In B2B, while user engagement refers to the one who's actively using your product, customer engagement refers to an account that has multiple users.
To measure user engagement in SaaS, you want to go beyond the sale and look for retention signals such as product usage, MAUs, feature discovery, and customer stickiness.
The 12 user engagement strategies include:
Instead of relying on the dev team to implement in-app experiences the way you want, why not try a Userpilot demo to see how you can optimize engagement?
What is user engagement?
In SaaS, User engagement is the level of "interactivity" that users have with your product, the value they get from it, and the desire to keep using it.
But, user engagement is not a single metric or a one-size-fits-all concept. It can vary depending on the type, category, and purpose of your service, as well as the user's goals, expectations, and preferences. Product and marketing teams, for instance, would have different ways to measure user engagement.
Why is measuring user engagement important?
Since SaaS businesses follow a subscription-based model, they rely on customer retention and loyalty to survive.
This makes measuring user engagement extremely important for any SaaS that desires to grow and for multiple reasons:
Improved customer retention. Engaged users are more likely to stay, and retained customers mean more recurring revenue, customer lifetime value, and profitability.
Brings more data to the table. It can provide insights to understand how your users interact with your product and find improvement opportunities.
Feeds product growth. Engaged users will refer your product or service to others, provide positive reviews, and become advocates for your brand.
Makes product development easier. Users will provide more constructive feedback, adopt new features faster, and participate in beta testing.
User engagement vs. customer engagement
Although user engagement and customer engagement sound similar, they mean different things.
In B2B SaaS, the person using the app is not necessarily making the purchase decision. So in this instance, "user engagement" would refer to the person who's actively using your product, and "customer engagement" would be targeted to the account itself (which can have multiple users).
Note: For the sake of simplicity, we'll be using "user" and "customer" interchangeably throughout this article.
How to measure user engagement?
As said earlier, user engagement is not a single number that you can easily measure.
Your customer engagement metrics will depend on your business model, your customer goals, and the specific journey they take to achieve success. For example:
Social media apps rely on getting users to interact constantly with their platforms. This means metrics like active users, session durations, content sharing, likes, subscribers, and other subtle behaviors are key to determining user engagement.
E-commerce companies would care more about getting buyers to shop at their websites. So, user engagement metrics like product views, add to cart, product reviews, favorites, catalog navigation, and internal searches are more valuable for them.
In SaaS, however, you want to go beyond the sale and look for retention signals such as product usage, MAUs, feature discovery, and customer stickiness. Since this business model requires customers to advance through their journey in order to grow.
12 User engagement strategies that build highly engaged users
It's not enough to know your goals to bring highly active and engaged users—there're best practices that can help too.
So let's go over 12 user engagement strategies that will work for any SaaS.
Personalize customer experience from the start
When users get into a product for the first time, they are usually disoriented as they stare at an empty screen—and your user engagement will be compromised.
So if you trigger a welcome survey, you'll be able to leave a positive first impression, collect essential data, and most importantly, personalize the onboarding process to make the experience more engaging for users.
With a customer success platform (like Userpilot), you can easily collect data through welcome surveys, and more:
Use interactive walkthroughs to drive actions
Unlike generic product tours, interactive walkthroughs elevate the onboarding experience (and in consequence, user engagement).
They introduce the product one feature at a time when the user takes initiative. It incentivizes the user to learn through an interactive experience. Plus, it's designed to adapt to the user's needs—just like in the example below.
So if you're worried that your users need to understand your product better, try interactive walkthroughs to ease the learning curve and help customers engage with your product quickly.
Implement tooltips to prompt feature engagement
If you don't show users the key features they need to enhance their productivity, they will never find them.
So, to improve feature adoption (and thus user engagement), trigger onboarding tooltips to handhold users as they explore your product.
The best way to use tooltips is within context. For instance, using them to introduce unused features, clarify the purpose of a specific button, or even tease premium features to push upsells (only when the user is at the limit of their current plan).
Drive activation for advanced or key features using checklists
During primary onboarding, engaging users with your product's core features is critical to retain them (and avoid churn).
For this, you can add an onboarding checklist to help users achieve the activation stage faster and keep them engaged.
A great example is how this Userpilot onboarding checklist is short and actionable, plus it instantly introduces you to a critical feature (in-app flows) that users can quickly engage with.
Use gamification to drive high user engagement
With gamification, you can provide a more entertaining experience and create positive reinforcement to incentivize users to repeat a task (i.e. generate user engagement).
You can add elements such as badges, daily quests, progress bars, and levels for a more exciting product experience—creating a positive loop in the user that makes their path to success more enjoyable.
For example, Asana's unicorn animation appears every time you complete a task, which encourages repeated engagement:
Refining in-app messages with AI to keep users engaged
Despite looking like a simple task, writing a microcopy that's clear and actionable can turn difficult—especially if you rely on in-app messaging to engage users.
But with an integrated AI writer (like the one below), you can refine and optimize the copy for your tooltips, modals, and notifications to improve the customer experience and engage users.
Note: Although AI can be quite good at brainstorming and rewriting your copy, make sure to always review and heavily edit anything before making it live.
Introduce new features with banners
SaaS users are usually feature-blind. They'll stick to the behavior patterns and workflows they've developed over time. Thus, they'll easily miss out when new tools are live even if you put them in front of them.
One way to overcome this problem is by communicating with new feature announcements. You can use a subtle tooltip for minor changes or a pop-up banner when announcing bigger launches (like the screenshot below).
With hard-to-ignore announcements, you can get your user base's attention, help them get started with new tools, and ultimately improve user engagement with new features.
Provide educational materials with in-app resource centers
User engagement requires as little friction as possible—thus you need to have answers ready for them when they get stuck.
And although you can't be there for your users 24/7, you can implement self-service support. This way, customers can troubleshoot their issues quickly without leaving your app.
For this, it's recommended to embed an in-app resource center where users can have instant access to continuous education in different content formats (such as articles, video guides, FAQs, and webinars).
The reason is simple: It helps users learn at a pace that suits their preferences and engage with your product in the process.
Identify and remove frictions using funnel analysis
In SaaS, the purpose of user engagement is to drive customers through the funnel more easily and effectively.
Simply put: If you don't track and optimize your funnel, you can't learn how to improve user engagement (and grow your business).
To track your funnel, Google Analytics can be used for free to check page-level activity (i.e. how users navigate your website). But it won't suffice, as you'd need to use a funnel analysis tool to track in-app events that represent user engagement (such as downloads, chat engagements, purchases, feature activation, and more).
This way, you can have a clearer view of your funnel, identify points with the most friction/churn, and optimize user engagement—like on this Userpilot screenshot:
Use session recordings and heatmaps to track user engagement
Another way to track user engagement is through session recordings and heatmaps.
Why? Because session recordings allow you to vividly watch how your users navigate your app and see where they tend to get stuck. While heatmaps tell you what parts of your UI get the most attention and interactions (which translates to user engagement).
With this combo, you can spot friction points and fix problems that could lead to more churn such as dead clicks, bugs, or web page freezing.
For example, you can see in the GIF below how Postify uses Userpilot to measure the total number of interactions on each UI element —both from different customer segments and time periods.
Improve user engagement with A/B testing
Different users react to different types of experiences—hence the importance of usability tests.
So, to optimize user engagement, start A/B testing different messages, formats, and even designs to see what gets better reactions—and keep iterating.
For this, set a single goal that represents user engagement. Is it to build the first email flow? To invite team members? To complete a set of tasks?
With a clear and trackable goal, you can—for example—show a checklist to 50% of a sample audience and see if it makes them complete their onboarding more often.
Collect feedback and act on it to enhance customer loyalty
The best way to improve user engagement is to ask your loyal customers directly. After all, they're the ones who experience it.
Thankfully, you can segment your users and target in-app surveys such as CES (customer effort score), CSAT, and NPS surveys to understand their points of view. This way, you can collect feedback that's relevant to their specific needs, improve their product experience, and close the feedback loop.
For example, if you were to ask users about what needs to be improved in your product, here's the type of survey you'd need to create:
However, you wouldn't ask this question to users who faced no problems at all. Thus, it's more insightful if you target it to users who are disengaged (low NPS, dismissed guidance, low activity, etc):
With this survey, you'll be able to understand what you need to work on and then communicate your improvements after implementing them.
As a result, you'll inevitably increase user engagement and set the stage for building customer loyalty.
Conclusion
User engagement is not only about how often users use a product or service but also about how well they use it and how much they enjoy it.
With this guide, you can hopefully follow a user engagement strategy that works and makes your business grow.
So, instead of relying on the dev team to implement in-app experiences the way you want, why not try a Userpilot demo to see how you can optimize engagement?