Are Pendo Surveys Worth It? (+ Better Alternatives)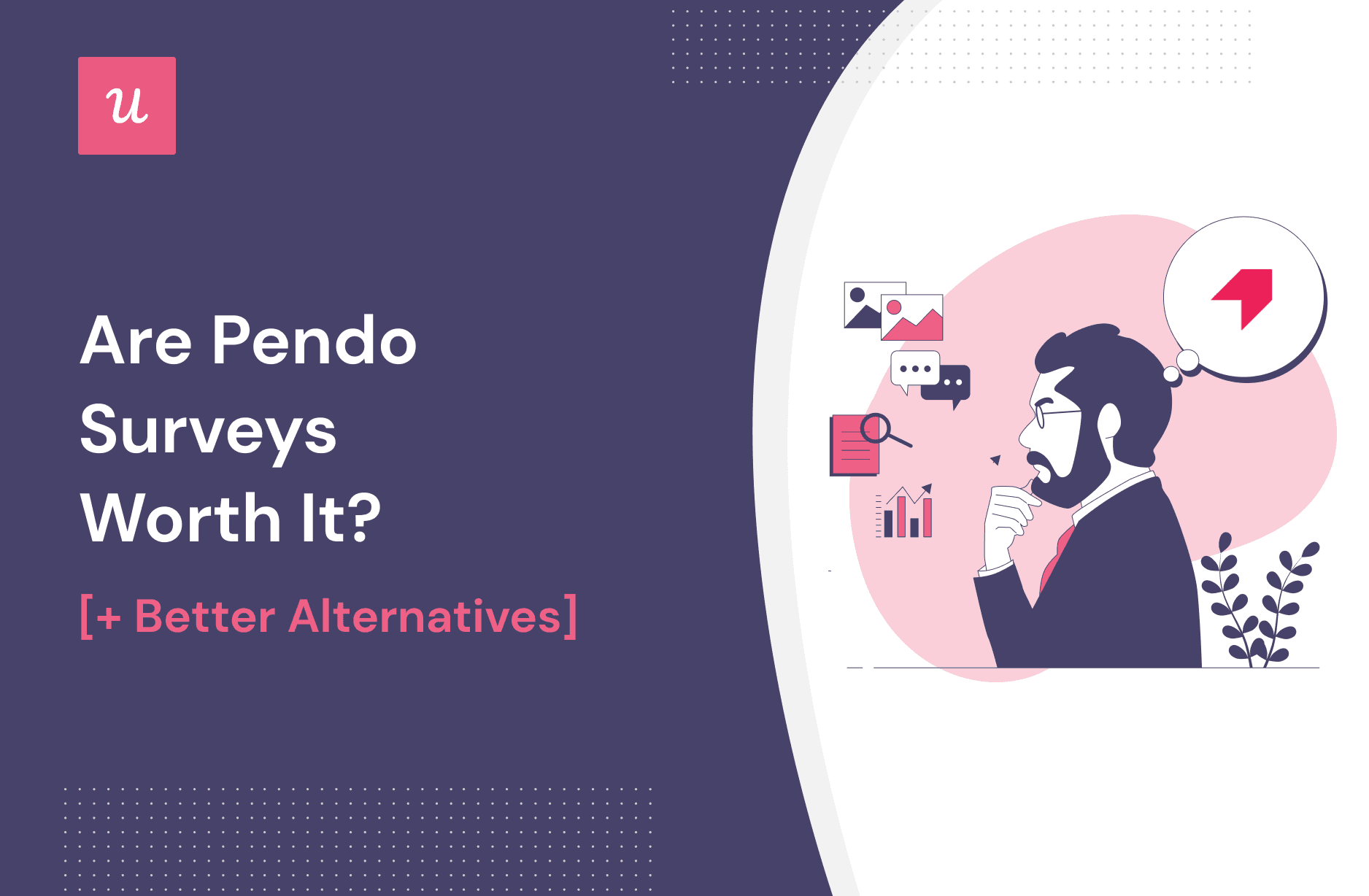 Pendo is best known for its state-of-the-art analytics features. As a product adoption platform, it also offers survey functionality to collect customer feedback. How good are Pendo surveys though?
That's the main question we discuss in the article. To be more specific, we analyze the survey functionality, look at its strengths and limitations, share Pendo's pricing, and explore alternative tools that might do a better job than Pendo surveys.
Let's get right to it!
TL;DR
Pendo surveys are forms that you can attach to Pendo Guides and use to collect customer feedback in mobile and web apps.
Pendo Feedback is a standalone feedback solution for capturing the voice of the customer while Pendo surveys come as part of the main suite. You use them to collect actionable feedback to drive customer success.
A product team can easily create surveys without coding but for full customization, you need to know CSS, JS, and HTML.
The possible question types are multiple-choice, Yes/No, open text, drop-down lists, and number scale.
You can also use Pendo for NPS surveys and the tool offers advanced analytics features. However, you can't tag and analyze qualitative answers in-app, so you have to export them to 3rd party apps, which some users find challenging.
You can deliver the surveys in-app or via email and target specific user segments.
Pendo updates the survey results in real time and you can use them to segment your users. This allows you to create personalized experiences that are relevant to users' unique needs.
Pendo offers a free plan but the NPS functionality is available only in the paid plans, which start from $7000/year.
Appcues is a cheaper and more intuitive alternative to Pendo surveys for mobile apps.
Userpilot is a better and more affordable solution for web apps. For example, it allows full customization without any coding whatsoever and you can use it to tag and analyze qualitative NPS responses.
If you want to see how, book the demo!
What are Pendo surveys?
Pendo surveys are called Polls and are available through Pendo Guides.
Basically, they're in-app messages that allow you to collect feedback from users as they're interacting with the product. You can then use the results for detailed analysis or to segment users.
Pendo Feedback vs. Pendo Surveys
In contrast to Pendo Polls (surveys), which are available as part of the main Pendo platform, Pendo Feedback is a standalone product that requires a separate subscription.
Its main purpose is to enable product teams to collect customer requests, capture the voice of the customer, and turn it into actionable insights.
Pendo surveys, on the other hand, are used to collect feedback to track user sentiment, better understand their customer motivations and behavior, increase user satisfaction, and boost customer loyalty.
What functionality do Pendo surveys offer?
Pendo supports both web and online apps, so you can create surveys for both of them. What's more, you can conduct them for your customers and employees alike because Pendo is not only for user onboarding but also an employee onboarding tool as well.
Create no-code surveys to collect user feedback
Creating surveys in Pendo requires no coding and the process is pretty quick thanks to Pendo's template library. However, to fully customize the appearance of your Polls, you need some CSS and JS knowledge.
What questions can you ask in Polls? There are 6 basic types:
Multiple choice
Open text field
Yes/No
Role drop-down
Number scale
As for the NPS surveys, they follow the standard format, which is a quantitative question with a 1-10 scale followed by a qualitative question. These could be delivered to users in-app or by email. You can schedule them to recur every 30, 60, 90, 180, or 365 days.
Once you create your Poll, you can then trigger it to specific user segments. For example, you could target your power users or those that failed to advance from one stage of the funnel to the next.
Analyze survey and poll responses in-app
Once the data starts coming in, Pendo updates the scores in real time.
For the NPS surveys, it provides you with the overall score and the breakdown into detractors, passives, and promoters.
You can also cross-reference the data with product usage analytics and visualize the results. For example, the graph below shows the relationships between the NPS score and usage frequency.
Unfortunately, Pendo doesn't allow you to tag qualitative answers, so you need to export the data into a third-party app, like a spreadsheet, and do the analysis over there.
Segment users based on survey responses to create targeted experiences
You can use the data collected through surveys to segment your users.
In this way, you can design personalized experiences that address the needs of various users.
For example, you could segment your users based on their NPS scores and analyze their product usage. Based on that, you could design in-app guides that address the pain points that each of them experiences.
How much does Pendo cost?
Pendo offers 4 plans, including a free one.
Pendo Free, however, offers limited survey functionality. You can create Polls but not NPS surveys. For that, you need to Starter plan that starts at $7000/year. This plan is capped at 2,000 MAUs, so it's not suitable for medium-sized or large businesses.
The higher plans, Growth, and Portfolio, the only two plans with advanced Sentiment Analytics, come with custom pricing. If you're interested in Pendo Feedback, it's sold per seat.
The pros and cons of creating surveys in Pendo
✅ The surveys are easy to create.
✅ Segmentation based on survey responses and for targeted feedback collection.
✅ Robust analytics to triangulate the survey results.
✅ The data is updated in real-time.
✅ Works on mobile and web apps.
❌ Customization requires CSS, JS, and HTML knowledge.
❌ Clumsy UX makes it difficult to analyze.
❌ Lack of qualitative feedback analytics.
❌ High price tag.
What do users say about Pendo surveys?
Pendo has a solid G2 rating of 4.4. Its survey features, at least some of them, are valued by the reviewers.
For example, its NPS functionality gets very positive reviews:
The NPS within Pendo has dramatically increased the number of respondents without negatively impacting our user experience due to the volume and frequency of interrupting pop-ups. Additionally, the integration with Zapier and the segment created within Pendo has allowed us to close the loop on our NPS respondents timely.
However, there are some negative voices as well. For instance, some users find it difficult to process and export data from guides:
I'd expect I could export all poll responses from a guide in a single click. Instead, I have to add individual columns to the Guide Activity report. Each poll response takes 7 mouse clicks to add. I did this recently with two polls that had 15 questions each. That's 105 clicks per poll, or 210 total. I spent 1.5 hours of time that should've gone into analyzing data simply getting columns set up.
Furthermore, one guide was a clone of another, which means changing the columns (poll responses) on one guide changes the columns on another. I'm not sure what the use case is where this would be desired behavior. We frequently make copies of guides with slight differences to show to different segments, and being unable to capture different responses in each guide is a major headache.
This UX makes Pendo untenable as a long-term solution for showing surveys to users.
Are there better alternatives to Pendo Surveys?
All things considered, you may be wondering if there are products offering more value for money and a better user experience. Well, there are!
Let's check out two alternatives and see how they stack up against Pendo: Userpilot and Appcues.
Userpilot – Best for collecting in-app customer feedback
Userpilot is a digital adoption platform just like Pendo. Overall, it offers similar functionality: product analytics, engagement layer, and feedback features.
When it comes to feedback collection, you can use it to:
Create in-app surveys code-free
Target specific user segments
Collect both quantitative and qualitative data
Run and analyze NPS surveys
Collect passive feedback via the feedback widget
Use the data to segment users
The kinds of questions you can ask are:
Small input (specific kind of answer, e.g. an email address)
Large input (open answer, great for qualitative feedback collection)
Radio buttons (for multiple-choice questions)
Pros and cons of Userpilot surveys
The main differences between Pendo and Userpilot are that:
✅ It allows you to analyze qualitative NPS responses by tagging them, and then use this data to segment users.
✅ Customization of the surveys is easier and requires no coding skills thanks to the WYSIWYG editor.
✅ It's much more affordable.
❌ You can collect feedback in web apps only. ❌ It doesn't support email NPS surveys.
Userpilot pricing
How much more affordable? Considerably.
You get all the feedback features (and a 2500 MAU limit) in the Traction plan, which starts from $249/month. Also, the custom Growth and Enterprise plans work out way cheaper than Pendo's higher plans.
Appcues – Best for mobile surveys
Appcues is another product growth platform on our list. While its analytics features are not as well developed as those of Pendo or Userpilot, it's in-app guidance and feedback functionality is pretty robust.
The feedback features allow you to:
Use templates to create and customize surveys without coding
Collect and analyze NPS data
Use survey data for segmentation
Target specific user segments
Track product usage to gain a deeper understanding of segments' behavior
The surveys can consist of:
Rating questions
Multiple choice questions
Free-form text input for qualitative answers
Appcues Pricing
How does Appcues pricing compare to others?
In short, it offers 3 plans, and each of them allows you to create and run surveys, including NPS surveys.
The lowest Essentials plan is priced similarly to Userpilot's Traction plan – $249/month. However, its main downside is its usage caps. For example, you can target only up to 5 user segments which limits your options.
Moreover, Essentials doesn't include event triggering, so you can't trigger surveys contextually. In fact, this feature is available only in the Enterprise plan.
Pros and cons of Appcues surveys
✅ Supports mobile apps.
✅ Good WYSIWYG editor for survey customization (still need CSS at times though).
✅ A collection of surveys created by its users for inspiration.
❌ No qualitative NPS tagging or analytics.
❌ No real-time data updates or event triggering for contextual surveys in the Essentials and Growth plans.
Conclusion
Pendo surveys are not bad. Creating the polls and attaching them to Guides takes little effort and you can collect different kinds of answers. It also allows you to track NPS scores, inside your web and mobile apps, as well as by email.
Combined with its powerful analytics, it offers you detailed insights into user behavior and sentiment.
However, it is let down by its cumbersome UX which makes data analysis a challenge. Also, customization is hard because it requires coding skills and then there's the price tag.
To see how Userpilot can help you collect actionable customer feedback, book the demo!