The 10 Best User Engagement Tools for SaaS in 2021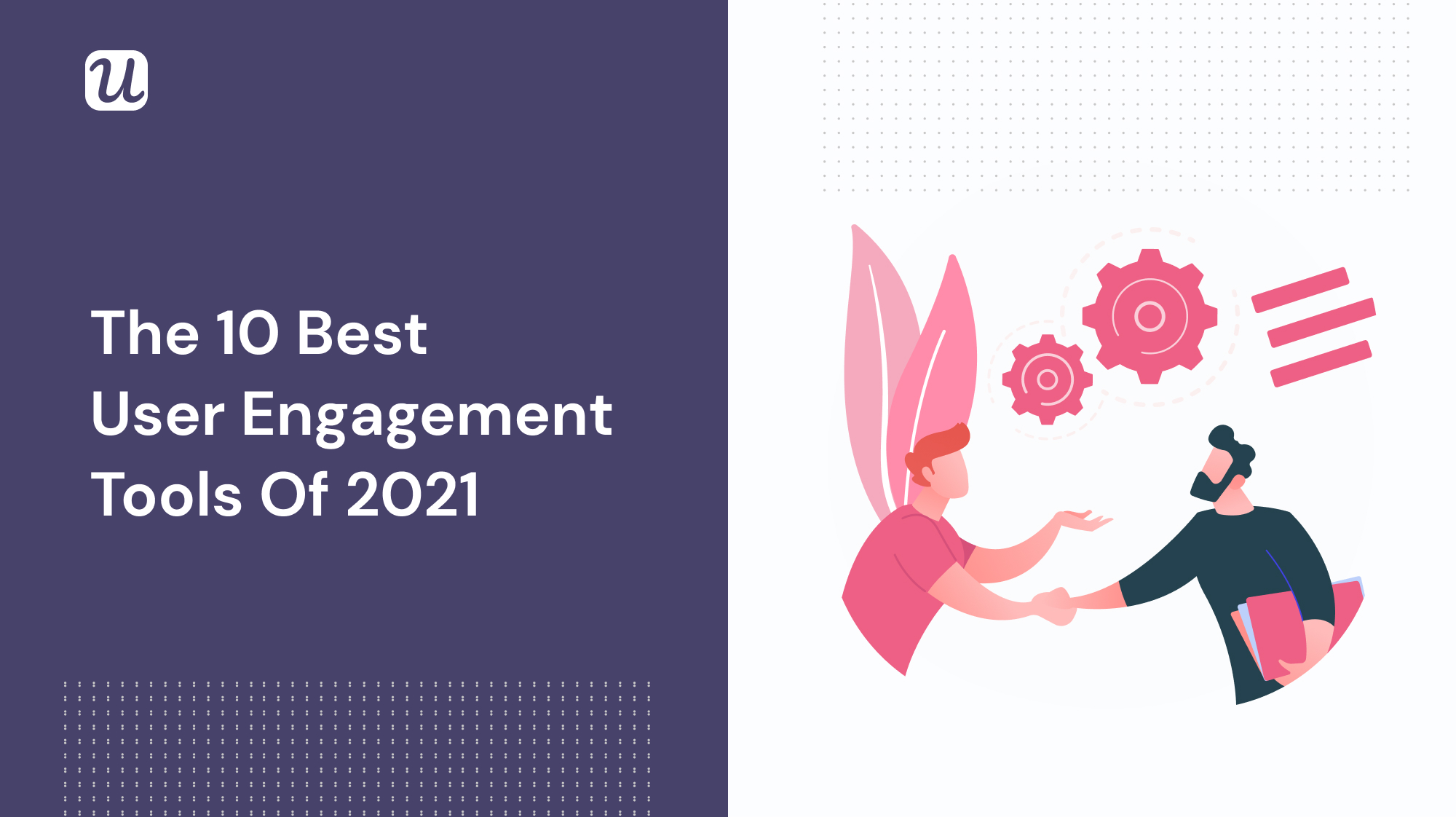 More and more SaaS companies are recognizing the amazing value that product-led growth provides. As a result, user engagement tools have become increasingly important.
We're going to run through the best engagement tools so that you can choose the right one for your organization.
Before we start, we should clarify what a user engagement tool is, and what makes a good one.
What do we mean when we say user engagement tool?
When we talk about user engagement, we're talking about listening to your users and then responding. It's all about the conversation you're having with them.
In essence, there are three main components when it comes to user or customer engagement:
Analyzing behavior

Communicating with users
Some of the customer engagement software we'll cover may fall into all of these components, while others may focus on one.
That's not to say that an all-in-one platform is the best approach. Sometimes you're better off having three specialized products.
So, what makes a good engagement tool?
Well, for starters, they need to be in-depth. There's no use having a product analytics tool if all you can see is page views. The more detail you can see, the more insights you can glean.
They also need to be quick and easy to implement. SaaS companies, especially early-stage startups, have limited resources. That means you need to be up and running as soon as possible.
Finally, they need to be usable. Engagement is a key part of your product strategy, and covers multiple teams such as Product and Customer Success. As a result, any user engagement tools need to be easy to use.
That's how we're going to assess the tools in this article. So, let's get started…
User Engagement Tool #1 – Userpilot: the best all in one tool for analyzing behavior, collecting feedback & communicating with users
Call us biased, but we think Userpilot deserves a mention on this list of the best customer engagement software.
Your in-app messaging is a key part of communicating with your customers, and engaging them with your product. Your onboarding flows are a major part of that.
Userpilot enables you to easily build engaging onboarding flows into your product, with no code required.
This helps you to drive retention and encourages your customers to engage with your product on a deeper level.
Userpilot also offers NPS surveys, so you can collect feedback directly within your product.
This helps you gather valuable feedback which you can use to adapt your onboarding and improve user engagement.
As well as onboarding and NPS, Userpilot offers product analytics. You're able to group your users into segments, based on how they use your product.
You can compare what these different segments do in your product, and send different messaging to different groups.
NOTE: Userpilot will be adding even more analytics functionality in the near future.
As an all-in-one solution, Userpilot is a clear choice. 
"Userpilot is really user friendly and has a low learning curve. I use Userpilot for our new user onboarding but you could it for plenty of other use-cases to drive user adoption and engagement with your product. It took me less than an hour to create my first experience and deploy it on our production site." — Nik K
User Engagement Tool #2 –
Heap: for analyzing user behavior
Mixpanel has been the market leader for a while but now there's a new kid on the block, and its name is Heap.
Big companies like Twilio and Cloudflare use Heap to better understand how their users engage with their product.
Heap prides itself on its usability. It claims that you can get set up in a matter of minutes. It will automatically start capturing all of your product data.
Not only that, but hardly any coding is required to track in-app behavior. Rather than having to manually add tracking code to new features or improvements, you can sit back and let Heap do the work.
It means you can start gathering insights quicker, without having to rely on your devs to install the tracking code each time.
As for the actual analytics, you're able to see an overview of product usage. You can also create segments based on user personas, and see how behavior differs. If you want to dig even deeper, you can analyze an individual user's behavior.
Heap is a fantastic product analytics tool. It's easy to set up, and even easier to start gaining valuable insights into your users' behavior. That's why it deserves a place on our list of the best customer engagement software.
"I like Heap because of its ability yo gather data from users interactions in your platform or website and generate useful infographics, heat maps, funnels and more. With this tool you can collect ton of relevant info to understand your customers and the way they interact with your site." — Mauricio G
User Engagement Tool #3 –
Mixpanel: Analyzing behavior, communicating with users
If Heap is the new up-and-comer, then Mixpanel is the wise old hermit, and we mean that in the best possible way.
Mixpanel has long been the leader when it comes to product analytics, and with good reason. You can use Mixpanel's in-depth analytics to drill down into different segments, and understand how they're using your product.
You can also compare segments to see which are more engaged or which use a certain feature more frequently.
Where Mixpanel truly shines is with its "data science models". These models can help you to predict users' actions and identify any correlations. This feature adds even more insight, and gives you a view of the future, not just the past.
Mixpanel also ventures into the communication side of user engagement. You're able to send notifications or other messages, targeted to specific users. You can also A/B test your messaging, all within Mixpanel.
Having said that, Mixpanel requires a little more coding to implement. You need to have the resources ready to make the most of Mixpanel. But once you're up and running, the insights are invaluable.
"Mixpanel will be ideal for you if you need a simple, yet powerful tool for your SaaS product. One of their features that I've found most useful (and I haven't really seen it in the competitors' apps) is Signal. Once you apply it to your events, it shows you which ones you should encourage your users to do, and predict behavioral trends within your product. A must-have for a modern product marketer!" — Matylda C
User Engagement Tool #4 –
Pendo: Analyzing behavior, collecting feedback, communicating with users
Pendo is one of the all-in-one user engagement tools/software.
Their main offering is their product analytics. Like Heap, you're able to get up and running quickly and with minimal coding required. You can then delve into how your users interact with your product. You can measure different segments and compare different types of users.
Pendo also enables you to collect feedback. The feedback module gives your users the ability to submit feature requests, as well as tell you what their highest priorities are. You can then use this information to determine what you work on next.
Another aspect of Pendo's feedback collection is sentiment analysis. You can add an NPS survey and other targeted polls to figure out your users think about your product.
Finally, you can also use Pendo to push in-app messaging. These messages can be used to guide users through a complex part of your product, or to market a new feature.
As an all-in-one platform, Pendo is one of the best customer engagement software to keep an eye on in 2021. However, it can be fairly expensive for early-stage startups, and perhaps more complex that you need.
"Pendo allows you to track customer visits and clicks on page elements, pages, or a set of pages. It's been very helpful to find out if customers are following the intended journey, and if not, where they are going astray. This has allowed my team to implement UX improvements quickly and easily." — Allie J
User Engagement Tool #5 –
Typeform: Collecting user feedback
One of the easiest ways to start collecting feedback is to send a survey out to your customers. There are plenty of survey tools out there, but one of the best is Typeform.
There's something about Typeform's surveys — maybe the clean and minimal styling, or the simple user experience they provide — that makes them stand out from the likes of SurveyMonkey and Google Forms.
While Typeform may be a bit more costly, you do get access to some useful features. You can, for example, create logic jumps to adapt the survey to a user's answers. You can also use "hidden fields" to greet users by name and personalize their experience.
Typeform's conversational approach can help you increase your response rates. It also tends to improve the quality of the feedback you gather.
If you're looking for a high-quality survey tool to collect feedback, then Typeform is one of the best.
"We've been using Typeform surveys to collect data continually from our customers all over the world, continually, 24×7. We transfer survey data to our systems via Typeform's API. In terms of design and usability, the surveys are way ahead of the competition. It's great value for money too." — Dave O
User Engagement Tool #6 –
Hotjar: Analyzing behavior, collecting feedback
Of course, the kind of qualitative feedback you can get from surveys is only one type. Hotjar offers a way to collect even more data.
Hotjar enables you to monitor what your users are doing when they use your product. You can access heatmaps that show where people click or scroll.
You can even see a full recording of someone's interaction with your product. It shows you where they move the cursor and which pages they navigate to. This is a great resource for product managers or UX designers. You can see where people get stuck and areas of your product that need improving.
Hotjar also offers a way to collect feedback. You can add a feedback portal to your app or product and collect ideas from your customers directly. If NPS is more your thing, then you can gain insights that way instead.
Collecting feedback within your app makes people more likely to respond.
Hotjar can help you see what your customers do, and understand why they do it. That's why it's on our list of the best user engagement tools/software.
"Hotjar adds a much-needed type of analytics to your arsenal. It allows you to see exactly what your page-viewers (potential buyers) are doing, seeing and spending time on your landing page or funnel. It allows you to test different design cues or features and see how your targets react." — Jeffrey H
User Engagement Tool #7 –
Productboard: Collecting feedback, communicating with users
One of the biggest problems with collecting feedback is that it often ends up spread out across different channels. Productboard helps you to consolidate it all in one place.
With Productboard, you can link all your channels together. Email, social media, Intercom, Zendesk — all your feedback will be fed into one place. This makes it far easier to gain valuable insights, and to identify any patterns or trends.
You can then link these feedback trends to relevant feature ideas. This enables your product managers and designers to understand what they should work on next.
You can also communicate any decisions back to your customers with the public roadmapping feature. This way your customers know what to expect from your product in the future.
"Productboard is an excellent tool to help you make sure your roadmap is driven by real user feedback and value to your customers." — Andrew H
User Engagement Tool #8 –
Drip: Communicating with users
Email is one of the most effective ways of communicating with your customers. One of our favorite tools is Drip.
Unlike other email tools, Drip focuses on segmentation and sending the right email flows to the right customers. This means you can automatically communicate with your customers based on their behavior.
Drip isn't fully focused on email. It also enables you to send targeted, personalized messages via social media, SMS, and even direct mail.
You can also split-test any messaging so you hone in on the right copy or imagery.
Drip is a great tool for when you want to keep customers in the loop, and automate some of your communication.
"Drip is hands down the easiest, most intuitive software for us for creating automated email sequences. The templates, along with ease of use, and integrations with all the other platforms and software we use makes it so valuable for us." — Cliff H
User Engagement Tool #9 –
Drift: Collecting feedback, communicating with your users
Chat widgets and chatbots are the future of communicating with your users. 2021 will see them become even more popular.
Drift is the leader when it comes to chatbots. While it's mostly focused on helping sales teams, you can also use it to help customers who are confused with your product.
You can integrate your chatbot with your knowledge base (Zendesk, Helpscout, etc.). You can then automatically nudge your customers in the right direction.
It also makes it easier for customers to contact you if they have any problems, or if they want to give you some feedback.
Not only that, but you can connect to tools like Salesforce or Hubspot. This way your customers' answers are added to their user profile, giving your CS and Sales teams more information.
"Drift has maximized our ability to interact with customers on a deeper level. Being able to customize and personalize our messages to cater to various pages on our site allows our users a unique & smooth experience throughout their visits, and in turn, allows us to engage the conversation!" — Haley S
User Engagement Tool #10 –
Slack: Communicating with customers
A new trend we've seen recently is creating a Slack community for your customers. We think more and more companies might start doing this in the next year or so.
Chances are a lot of you already have Slack set up for internal use. This method works in the same way, only you invite your customers into the workspace instead.
You can have different channels for different products, you can announce updates and new releases, and you can be on hand to help customers with any issues.
It also means your customers can form a community of their own, sharing best practices. This will increase engagement with your product.
Slack provides a great way for you to keep in touch with your customers, and to involve them with your product.
"Slack is very easy to pick up and use. Most people are used to some form of online chat or comms and Slack is familiar in short order and easy to work your way around" — Damien T

Selecting the best user engagement tool for your SaaS
There are plenty of useful engagement software out there. The ones we've covered in this list will all help you to improve your relationship with your customers. As a result, you'll see engagement increase, along with retention.
Remember, there are three key areas you need to consider: analyzing behavior, collecting feedback, and communicating with your users.
If you want to try out Userpilot, we'd love to help! You can get started today by clicking the banner below!