Chatbots vs Knowledge Bases: Which One Is Better for Customer Support?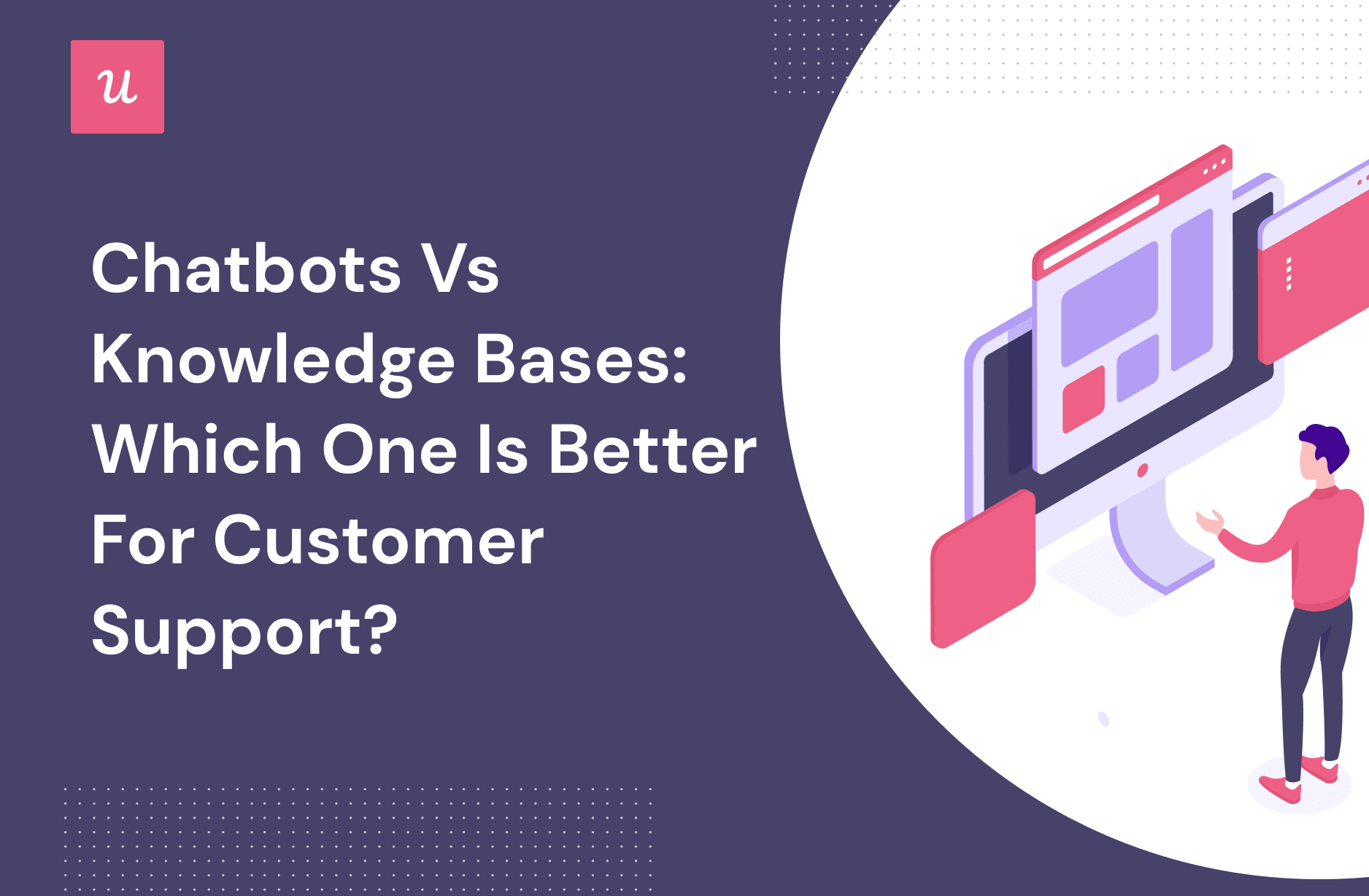 Which is best for self-service support: chatbots vs knowledge bases?
In today's competitive business landscape, outstanding customer support is what can help you not only retain existing customers but attract new ones and boost retention.
What's more, technology has made it possible to empower users with greater control over the process.
With the majority of users favoring self-service over contacting a support agent, it's vital to provide them with the opportunity to get the information and the solution they need at any time.
This is particularly important for onboarding a new user.
This is where chatbots and knowledge bases come into play as two of the most effective self-service solutions. But which will be the most effective for your SaaS?
To help you identify the self-service strategy that works best for your product, we'll walk you through the advantages that chatbots and knowledge bases can offer.
Let's get started.
TL;DR
A chatbot is a software app built to automate conversations, that uses AI and predefined answers meant to replace a live human support agent.
A knowledge base, also known as a help center or resource center, is a hub or useful resource meant to guide and help users in engaging with a product.
Customer support chat robots are designed to identify customer needs through conversation and then provide the necessary guidance and links to other resources.
Chatbots help provide omnichannel user support, personalized communications, and 24/7 availability while reducing costs.
The downside of using a chatbot is the complexity of updating it with new information.
Knowledge bases can be of two types: website documentation help center or in-app resource center.
An in-app resource center will include more types of resources meant to offer on-demand help to the user.
Resources to include: access to your chatbot, link to your documentation, in-app video tutorials, in-app guides, webinars, etc.
Using a digital adoption tool like Userpilot, you can build and update your in-app knowledge base without having to code or spend a lot of time.
When it comes to chatbots vs knowledgebase, the answer is that ideally, you need both as they offer different types of help. But starting with a chatbot and then expanding into a true self-service in-app hub using a knowledge base is the way to go.
Want to start offering in-app self-service support? Get a Userpilot Demo and see how we can help.
What are chatbots?
A chatbot is a software app built to automate conversations that use AI and predefined answers meant to replace a live human support agent. Chatbots are great at automating fast answers to repetitive short questions and can reduce your support costs.
These virtual agents can handle 80% of routine queries with an impressive success rate of 90%.
Businesses are increasingly using chatbots for a great variety of tasks – from capturing leads to automating the payment process.
Chatbots can help engage with users and significantly improve their experience.
Why are chatbots important for SaaS customer support?
Customer support chat robots are designed to identify customer needs through conversation and then provide the necessary guidance and links to other resources.
In doing so, they can do the following:
Chatbots offer omnichannel user support
Chatbots can be used in a variety of channels like websites, chat systems, or in-app.
In addition, they can provide an efficient way to interact with existing and potential users via text messages.
Chatbots provide natural, personalized communication
Virtual agents can be tailored to your users and trained to recognize the same question asked in multiple ways.
By knowing your customer's needs and predicting their potential pain points, you can make sure that your chatbot speaks their language and is prepared to answer their questions.
Chatbots can access stored customer data, process it fast, and use it to deliver highly personalized experiences. Moreover, they remember all interactions with individual users, which means that your customers won't have to repeat the same details every time they need your support.
Chatbots ensure instant around-the-clock customer support
Your SaaS users can rely on customer services of consistent quality 24/7.
Chatbots allow you to be there for your customers whenever they need support. This is a great opportunity for scaling your business globally and helping users adopt your solution irrespective of their location and time zone.
Chatbots offer a seamless hybrid SaaS user support option
Using a hybrid customer support approach allows a business to have the best of both worlds – live and virtual agents, which translates into increased customer satisfaction and enhanced brand image.
Chatbots easily integrate into your user service strategy and bridge the gap between self-service and live support. They will reduce the workload of your SaaS user support team, relieving them from basic repetitive queries.
If a customer doesn't know exactly what they need, a chatbot can help them troubleshoot the issue or describe their problem in more detail.
All the information collected is accessible to your human agents. So, in case live support is required, your support team will be able to start their interaction with the user, already equipped with some of the details necessary to solve the problem.
This allows your specialists to devote their time and efforts to the complex tasks that require a more specific and outside-the-box solution.
Chatbots can help handle high customer inquiry volumes, significantly reducing labor costs
While an experienced live support agent can process 3-4 simple queries at a time, chatbots can handle unlimited requests simultaneously. In addition, the number of customer inquiries processed doesn't impair the quality and rate of generating replies.
Whether you're running a large SaaS business or struggling to grow your SaaS startup, AI chatbots can help you manage your customer service workflows and streamline your product adoption.
Now that you have a clearer idea of how virtual agents can improve your user support, you may be wondering about the other side of the coin.
Potential drawbacks of chatbots
While chatbots can be a very useful tool, they are not the best solution in every situation.
Some users can have reservations about virtual agents
Less technically-minded users may prefer the direct human-agent interaction, particularly if they are not confident in their ability to analyze and diagnose the issue they're facing.
Updating a chatbot can be a complex issue
Providing a consistently helpful chatbot experience is not a minor task. Even the most intelligent chatbot software still needs significant maintenance and optimization.
For example, changing how a chatbot responds to different queries and adding new information can create a lot of new work in altering its conversational flow design, even with a code-free solution.
Considering all these pros and cons of using a customer support chatbot, let's look at the other self-service option you can use to help users make the most of your product.
What is a knowledge base?
A knowledge base, also known as a help center or resource center, is a hub or useful resource meant to guide and help users in engaging with a product.
Types of knowledge bases
In SaaS, you will most likely want to use one or both of these knowledge base types for support.
Website help centers
In SaaS, a knowledge base can be a structured set of resources on your website that provides users with in-depth information about your app's features.
In-app knowledge base
Also known as an in-app resource center, this is more than the simple help center that you host on your website for product documentation.
In-app knowledge bases are true self-service support hubs where users have on-demand access to multiple types of resources:
search your documentation
access chat support
submit feedback or a bug report
video tutorial
in-app guides and walkthroughs
…to name a few.
Benefits of using a knowledge base
Help centers in the SaaS industry typically contain onboarding tips, installation guides, troubleshooting tips, key features, best practices, training videos, and FAQs.
What advantages does a knowledge base offer to your SaaS company?
A knowledge base supports a wide range of approaches and content types
You can build your SaaS help center using text-only information pages, audio, video, or guided interaction with the app itself. It's easy for users to search for information about a specific feature or issue.
A knowledge base allows users to seek solutions themselves
Eighty-one percent of users will attempt to solve a problem themselves before contacting support.
A great knowledge base gives these users the ability to do that more effectively. On the other hand, a lack of information could frustrate those users before contacting you.
A knowledge base can be an invaluable tool in educating customers to use your product more effectively. New users can learn their way around the app at their own pace, and learn to make greater use of its more advanced features instead of only learning the basics.
A knowledge base is easy to edit
Unlike a chatbot, a knowledge base is easy for anyone in your business to edit as needed, without any coding ability or expertise (when using a digital adoption tool to build one-check Userpilot).
Just select the type of content you want to add.
This allows you to keep it in line with any changes in your product and when adding new features. It's a good rule of thumb to schedule knowledge base updates.
Potential drawbacks to a knowledge base
Call me biased but why wouldn't you want to offer in-app help on demand?
You might say it costs more than a chatbot.
Well, that might be the case if you are planning to custom code one.
Using a dedicated solution can help you scale your self-support by building an in-app resource center with full access to your knowledge base. This will provide users with access to all the support resources they need without leaving the app, including your chatbot.
And the cost will surprise you. For example, Userpilot offers this feature on all plans, starting from $249/mo. Not to mention all the other in-app guidance and onboarding functionalities you get with every plan.
Using Userpilot's in-app resource center, you can ensure on-demand support to your SaaS users and instant answers to their inquiries.
And the best news – by using Userpilot, your knowledge base can be set up and updated by anyone, with no coding needed.
Should you use a chatbot or knowledge base?
Short answer: both.
Self-service options enable SaaS users to search for answers and solve problems at any time without the potential delays and intricacies of going through live support.
Both chatbots and knowledge bases have their strengths. However, while a chatbot can be a helpful feature to some users, a knowledge base is a must-have.
Besides assisting users with specific issues they encounter, a knowledge base is an important educational tool that ensures contextual onboarding of your new users and helps them adopt your solution.
This is what can make you stand out because you only succeed when your customers succeed by using your SaaS product.
Want to start offering in-app self-service support? Get a Userpilot Demo and see how we can help.