Top CX Trends That Are Shaping the SaaS Industry in 2023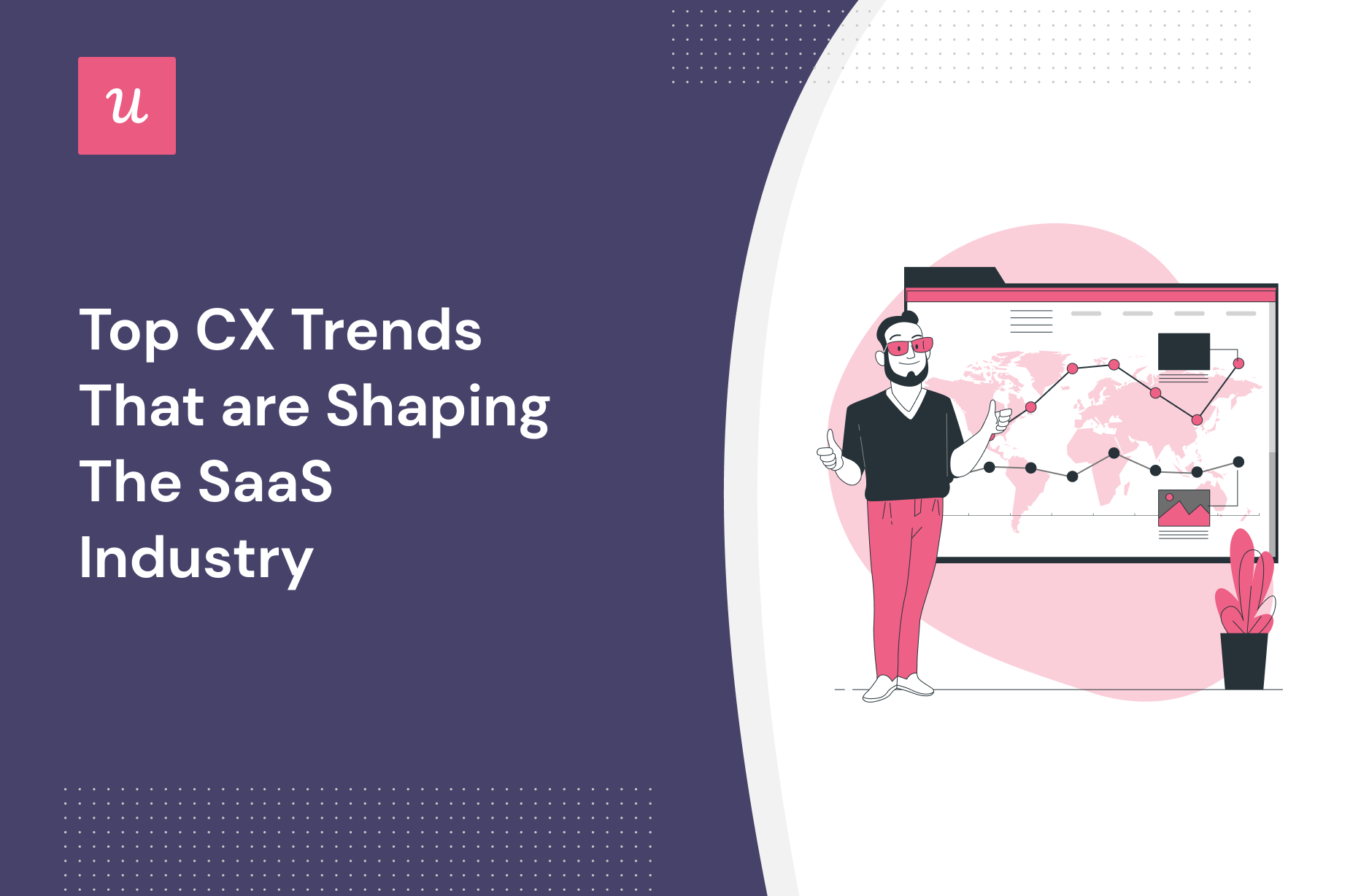 Customer experience has a major impact on customer behavior and product growth. In fact, studies predict that in the foreseeable future, customer experience will become more important than price and even the product itself.
So investing in superior customer experience and constantly optimizing it is one of the best ways to future-proof your business.
In this article, we cover the top CX trends in SaaS today, with real-life examples to inspire your customer-centric approach.
TLDR;
What is customer experience (CX)?
Customer experience is the impression or feeling that a customer has while interacting with your brand – from the moment they found out about you to their experience as a paying customer.
Customer experiences are influenced by every interaction they have with your company, including:
Ads they see
Support team interactions
In-app product experience
Overall product design
What are the current CX trends in SaaS?
Let's take a look at the current popular CX trends in SaaS and get inspired by examples of popular brands.
The shift towards frictionless signup flows
People don't want to jump through loops to sign up. A frictionless signup flow makes it fast and easy for users to jump straight into the product dashboard.
In our State of SaaS Onboarding report, we reviewed the onboarding flows of over 100 SaaS applications. We could definitely spot the difference and confirm frictionless signup flows are one of the customer experience trends in 2023.
Here are more strategies for reducing friction in your signup flow:
Don't ask for an email confirmation to get started. If you need to confirm their identity, save it for later.
Only ask essential questions in the sign-up form. You can always collect more info later with in-app surveys.
How Loom is expanding SSO
Replace forms with expanded SSO options to get users inside your product faster.
Signing in with Google is the go-to SSO option that many companies use. Loom takes it a step further by adding more SSO options that are relevant to their target audience, including Apple and Slack sign-in options.
Hyper-personalization of in-app experiences
Hyper-personalization is probably one of the most emerging customer experience trends, if not the most.
Everyone has different wants and needs. To retain users in a competitive market, you need to take that into account when designing your in-app experiences.
You can personalize the product experience in several ways. The key is to trigger relevant experiences to relevant users at the right time.
The first step to personalization is to group users with similar characteristics into segments. Then, you can start pushing personalized content that's the most relevant to your different customer profiles.
Notion's branched user onboarding flows
One of the first things that Notion asks in their onboarding flow is if you're using it by yourself or as a team.
By figuring out whether a user is part of a team or a solo user, Notion can better personalize the onboarding experience. They can make the call about whether to let them skip unnecessary steps.
Every experience will be tailored to what a specific user segment might need from the product.
Automatic localization of in-app customer experiences
Make your product accessible to non-English speakers around the world with product localization – the process of translating your product copy into other languages.
Using tools like Userpilot, you can easily localize in-app experiences, such as tooltips and checklists. They'll be automatically translated for the relevant users, improving their customer experience.
Proactive support and self-service experiences
Delivering proactive support sets you apart from competitors. Identifying and resolving customer issues before they're even aware of them reduces product friction and boosts customer experience.
A recent Gartner survey of more than 6,000 customers revealed that only 13% of consumers reported receiving any type of proactive customer service.
Speaking of frictionless support, provide self-service options too.
The last thing people want to do is wait around for your customer support team to resolve their issues. Customers expect instant fixes. If you can't give them that, they'll leave.
Create self-service support options, like a resource center filled with help articles and video tutorials where customers can find the answers to their questions instantly.
Immersive experiences with VR, AR, and XR
A whopping 171 million people worldwide use VR (virtual reality).
Extended reality (XR), like virtual reality and augmented reality (AR), is becoming more commonplace in the consumer world. It's becoming a go-to interactive customer experience tool.
For example, e-commerce brands lean on AR for virtual "try-on". Shopping for a new rug? You can see how it looks in your house before you buy it.
While VR and AR are still in their infancy in the SaaS world, it's worth keeping an eye on.
Customer loyalty programs as a way of boosting engagement
Loyalty programs are a great way to engage customers. Rewarding customers based on their buying habits or referrals will strengthen their relationship with your brand and improve the overall customer experience.
For example, Evernote has a loyalty program where they reward customers with points as thanks for referring their friends. Points translate to free Premium subscriptions.
More granular user feedback collection
Customer feedback has always been and is the #1 driver of successful customer experience strategies.
The customer experience trend we're seeing here is more businesses switching from active to passive customer feedback. It's more contextual and isn't as disruptive.
Active feedback collection happens when you trigger customer satisfaction surveys and directly ask for feedback.
Passive feedback collection happens when you let the user decide when they want to provide feedback. Then, you give them the means to do it without friction.
Feedback widgets are placed in a way that they blend into the entire product experience. Compare that to active feedback collection where a survey pops up on their screen.
You shouldn't stop using microsurveys entirely. They're incredibly helpful for collecting user feedback at specific milestones. That being said, try to integrate your surveys in a subtle way that doesn't interfere with the customer's experience.
Miro's microsurveys across the UI
Miro uses microsurveys to collect granular feedback across their UI. These are short customer satisfaction surveys placed in a way that doesn't interrupt the customer experiences.
Here's another passive feedback collection from Miro.
Notice how the feedback widget is placed in the UI of the "Process Overview" feature?
Userpilot passive feedback collection
Here's an example of Userpilot's passive feedback collection on our Integrations screen. In the bottom right-hand corner, we have a survey inviting users to suggest new integrations.
The survey is subtle and optional. It allows our team to hear our customer's feedback without interrupting their experience.
Let's not forget about integrating feedback surveys in your in-app help hub, or as we like to call it – the resource center. It's an optimal place to collect passive feedback since your customers aren't currently head-down in your product, working on building something. They're in an exploratory state, more available to deliver feedback.
Using emotional design and humanizing digital experiences
Emotional design involves building product experiences that spark positive emotions. This naturally improves customer relationships since you delight customers with feel-good emotions that go beyond the typical surface-level software experience.
Asana celebrates success and builds connections
Asana nails emotional design with in-app gamification elements that spark joy.
Whenever you complete a task, Asana celebrates your success and brings a smile to your face by displaying this flying unicorn.
And they don't stop there – even error messages have a human side with humor and empathy.
Instead of getting frustrated, the funny error message "5 evil cobras jog sadly" makes users smile and makes the interaction memorable.
Userpilot makes the wait enjoyable with inspirational messages
Make page loading less boring with inspirational messages. Display quotes or usage tips during page loading to:
Signal that your app didn't crash.
Make the wait time more enjoyable.
When Userpilot's Chrome extension builder is loading, we display on-brand inspirational quotes to inspire our users. Everything loads in the background while they're reading these inspirational messages.
Incorporating videos into marketing and in-app experiences
Videos are one of the CX trends that just keep growing in popularity. They're more engaging and educate users better. That's why many SaaS companies incorporate videos into their marketing campaigns, onboarding flows, and in-app product experiences.
Why use text when you can show how it's done with the video?
Tolstoy's interactive onboarding videos
What about combining two effective customer experience trends – personalized app experiences and video content?
Tolstoy makes that possible with interactive onboarding videos.
Users can choose their journey and only view video clips that are relevant to their wants and needs.
Mixpanel's micro-videos embedded in UI patterns
Here's another example of in-app videos done well.
Mixpanel embeds micro-videos into new feature announcement models and gives users a quick overview of the new feature.
Testing out new features can be overwhelming. If users can see what the experience will be like before they try it out themselves, it will motivate them to give it a test drive.
Userpilot facilitates in-app video tutorial embeds
Enrich your knowledge base with video content and play videos directly from within the resource center. Users can get help with their issues wherever they are instead of taking them away to a different page (such as YouTube).
Brand consistency across the customer journey
Excellent customer experiences are driven by easy customer experiences. Learning curves should be minimized, education should be maximized, and branding should be consistent across the customer journey.
By repeating similar design elements across your entire UI, you're making it easier for users to learn the ins and outs of your product.
When designing in-app modals, tooltips and checklists, keep the visual branding consistent so that it blends into your product. Customers interact with elements that look like they belong, and they're suspicious of in-app elements that don't look on-brand. They tend to feel like interruptions.
Look at Asana's in-app tooltips that walk users through essential features. They provide valuable insights, while still being subtle and on-brand with the purple color and sleek design.
Users grow accustomed to these tooltips, seeing them as a resource rather than an interruption.
Asana differentiates tooltips by color – purple tooltips are used for tips and education and the white ones are for notifications, like a task moving to a different project or a system notification.
They keep those colors consistent across the entire product experience, building familiarity with their users.
Conclusion
Customer experiences should always be a top priority for any business in the SaaS space. It can make or break your product's success.
If you want to build product experiences code-free and test out some of the customer experience trends covered in the article, book a demo call with our team at Userpilot and we will be happy to assist you.