How To Get Started With User Behaviour Analytics [+The Best Tools]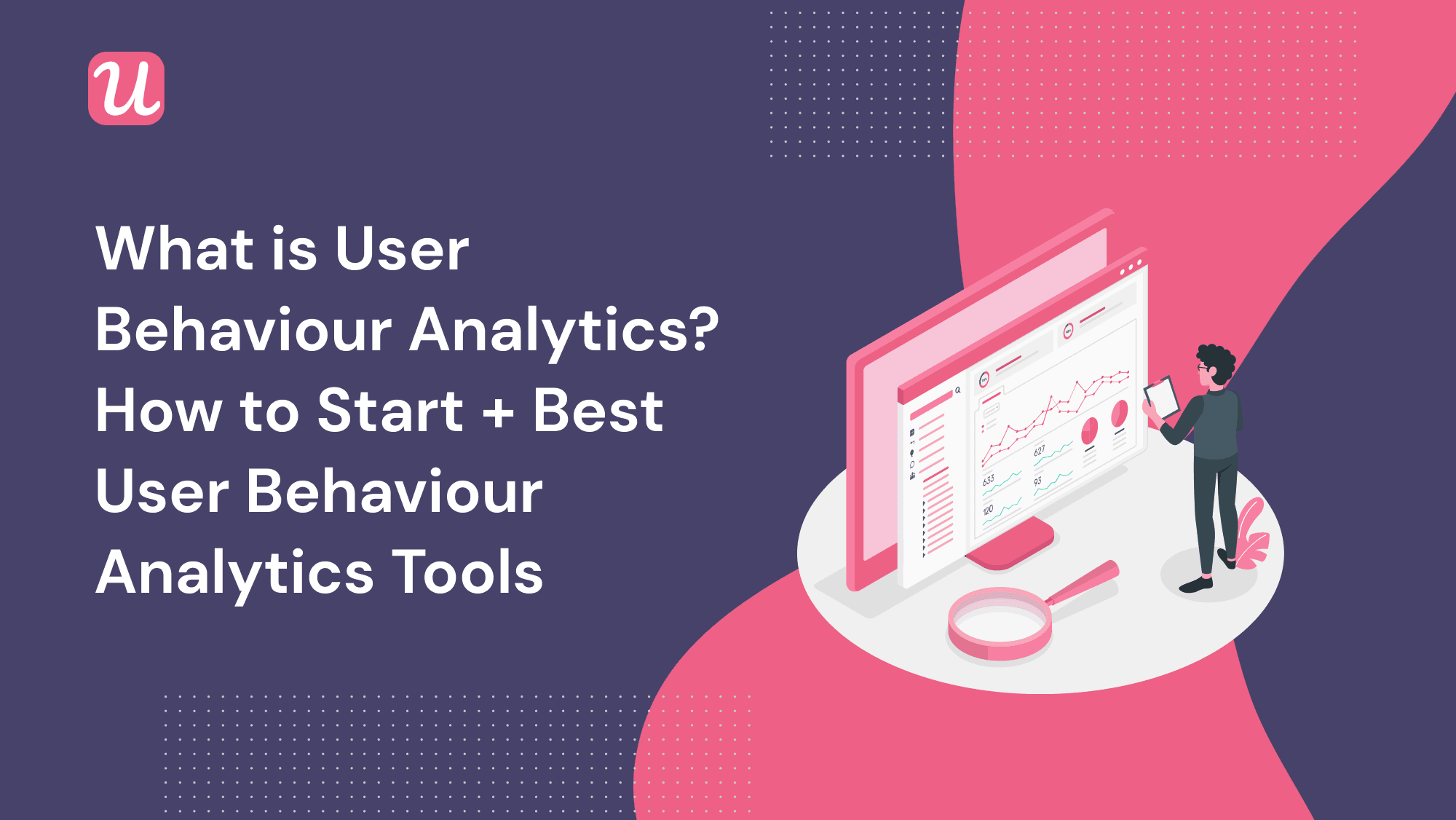 User behavior analytics show you the actions users take inside your SaaS product. By understanding user actions, you'll be able to see if users are getting value quickly or if they need help.
In this post, we'll go over how to get started with user behavior analytics and the different types of data and tools for you to consider implementing!
Let's get started!
What is user behavior analytics?
User behavior analytics is the process of recording user activity, grouping them into behavioral cohorts, and analyzing relevant metrics.
Why is user behavior analytics important?
User behavior analytics can help you make informed decisions about the product and make improvements. For example, if you've optimized the marketing funnel to drive lots of users onto the platform but notice low trial to paid conversions – behavioral analytics can help determine the required onboarding actions!
Leaving users to work out how to use your product on their own can be a bad idea. Users might not have the patience to explore the software or be able to find the important features quickly. This will impact the success of the product.
User behavior analytics can also show what part of the journey the customer is on. You can see if they haven't performed the basic onboarding actions (key activation points) and use tooltips or other in-app experiences to encourage them.
You can also persuade them to adopt advanced features to drive even more value – as shown here in the User Adoption Flywheel.
User analytics will also flag features that aren't working as they should be. Rather than waiting for a customer complaint, proactively learn about your user's needs by looking at their activities and patterns! For example, if a feature in the app is used more than others then this is should direct your product marketing and value proposition.
By understanding your user's needs, you'll be able to serve them better. In turn, you can expect higher retention rates and lower churn rates. This will ultimately lead to higher revenue and faster product growth.
How to get started with user behavior analytics?
Before you start with User Behaviour Analytics, you need to decide on what your goals are.
User Behaviour Analytics can help you with the following:
Get a better understanding of your users
See where your users are getting stuck on the customer journey
Eliminate bugs and UX issues
Collecting user feedback
It is best to choose one or two things to track first, rather than tracking multiple things at once.
Once you have your goals in mind it is time to think about what actionable steps you can take once you have your analytics.
The actionable steps could be a range of things from building in-app experiences, optimizing existing experiences, or even getting the customer service team to call the client and check in on them.
You can even make upselling one of your actions so that your user gets more value out of the product.
What user behavior metrics should you track
There is a wide range of user behavior metrics you can track. For example, you can track how many users click on the activation link in your welcome email. The analytics will show you how many users are completing the onboarding actions required. You will also be able to see how many users are not completing the onboarding actions.
The analytics will show what stage users are in the journey and identify the drop-off points so you can know where your users are getting stuck. If this is happening at a certain point you will be able to identify these drop-off points and take actionable steps to fix them. You can also see the user engagement level or even the disengagement level which will show areas that need fixing.
User behavior metrics can also help you determine which features are most and least engaging for your users. When you find out why this is happening, you can investigate whether the feature is prominent enough. Is there a need for a tooltip pointing to it? User behavior metrics will show you how you can improve the user experience.
As well as getting metrics for your users as a whole you will also be able to segment them into groups so you can track metrics for a particular group. For example, you could segment and track only new users or by job title. Jump on a free call with us to see how!
By segmenting your audience you can see how they engage with the product. These metrics will show you what features are of the most value to the different segments which will help you with your product marketing.
User behavior metrics are valuable in many ways and can help you determine your road map and product vision because you will be able to see what % of your product features get adopted by your users depending on the persona (role, company size etc.)
3 Types of user behaviour analytics to keep an eye on and what tools to use
1. Quantitative user behaviour analytics – Heap
Heap is a tool that shows high-level user behaviour analytics, this product is great for showing what is going on with users and every click they make.
It's easy to install and begins tracking the timeline data right away so you can see how your user's behaviour has changed over time as well as a bird's eye view of what is happening at a given moment.
Whilst Heap is a useful tool for software developers the data can be difficult to interpret. You'll need to be well versed in product data analytics. The other downside of Heap is that the packages are quite expensive which makes it inaccessible to smaller businesses.
The other issue with Heap is that you can see what your users are doing but you can't really do anything about it. This is where proactive behaviour analytics are of more benefit, you can set goals for your users then use the data to see whether these goals have been met.
If the goals haven't been met then you can respond with various measures. Userpilot, the next tool we're going to show you – has been designed exactly for that.
Whilst the Heap platform provides many user benefits, it is also fairly restrictive. It also isn't the cheapest with the package starts at $1000 per month.
2. Userpilot – for proactive user analytics & for taking action
Userpilot's tracking is linked to the goals that have been set up so that you can decide which aspect of the software you want to focus on. This is easier than getting analytics for the software as a whole. This makes the analytics much easier to read and the issues easy to identify and fix.
You can also add custom events or you can tag a feature as what the user clicks on and it will show on the front end of your web app.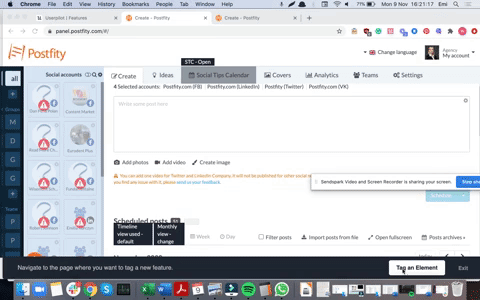 With Userpilot, you are able to see exactly who is doing what in the software and take action when required. For example, you could alter the in-app experience to help users who are struggling or quickly direct them to resources that might help them.
You can create segments and study their behaviour. For example, you could create a segment with people who signed up to the app 3 days ago, have used the app at least 3 times since then and speak German.
Then you can monitor how these people behave within the app. You might see patterns emerging and you can create secondary onboarding experiences to help these users get more value out of the product as they go through the customer journey.
One issue with apps is that sometimes users don't discover all the features they need on their own. And if they don't get the full benefit from what they paid for, they may churn. Kommunicate offers a customer service chatbot to deliver 24/7 service.
The team at Kommunicate noticed that customers were asking for features that were already in the app. After some investigation, they realised that their users were only using a couple of the major features and not discovering the full value that their product offered.
Using Userpilot, they set their goals and altered their onboarding experience and saw some great results.
Parth Shrivastava, Senior Product Marketing Manager at Kommunicate.io said of Userpilot "When we first launched our onboarding experiments in Userpilot – the percentage of signup-to-chatbot integration was lingering on 40-45%; after about 7 months it's at 55-60% now."
Komminicate also started using widget customisation to direct their users to take certain actions. Using this feature saw a 3% increase in the feature's usage.
Parth Shrivastava said of this move:"It's a substantial increase for us as well – even if it's just 5% increase – it then translates into a 2-3% increase in revenue, which has a substantial impact on our MRR"
By using a product growth tool like Userpilot you can act instantly act upon the analytics without needing any coding. These immediate actions will help struggling users or push languishing users further down the customer journey.
Kommunicate is a great example of a company that is driving product growth without hiring a sales team.
Click here to read the case study in full.
Wanna start creating similar experiences without a line of code – and boost your feature adoption? Sign up for Userpilot for FREE now!
Qualitative user behaviour analytics – Fullstory
By recording user sessions using Fullstory you can drill down to get qualitative data which will help you answer the question 'why do users behave like this?' or 'why are they not performing this action?'
With quantitative data you might find that patterns emerge in the user behaviour analytics but you might not understand why these patterns are occurring. This is when you can start watching your users sessions and try to figure out why they are behaving this way and then take action to fix it.
Fullstory records sessions of real user engagement within your app. You will be able to see all the clicks, taps, scrolls and you can review these to learn about your user's behaviour.
On top of watching session recordings, you can also create funnels and observe how each user behaves once they enter the funnel.
Similarly to Heap, Fullstory will capture all user engagement and does not require complex coding or installation. Fullstory also has AI and machine learning features.
One of the interesting features of Fullstory is that it can track 'rage clicks'. So when a user gets frustrated and starts clicking everything you will be able to see that. Who said analytics can't be interesting?
The quantitative data can be combined with the qualitative experience of what the users are doing within the app. Now if you combine this feature with the analytics in Fullstory then you get a very good idea of how your users are behaving in your product. This is incredibly effective as it will help you understand why certain actions are happening in a certain order. This gives a much clearer picture than basic analytics alone.
Conclusion
Behavioural analytics is designed to give SaaS companies an insight into how users behave by observing all their actions. This data will help you make informed product decisions as well as define your product marketing strategy.
Tools such as Heap, Userpilot or Fullstory will help you access both qualitative and quantitative data that will help you see where users are struggling. But just as it's important to collect the data, you'll also need to action on them to increase your product growth metrics!