Customer Experience Improvement: What It Means for SaaS and How to Do It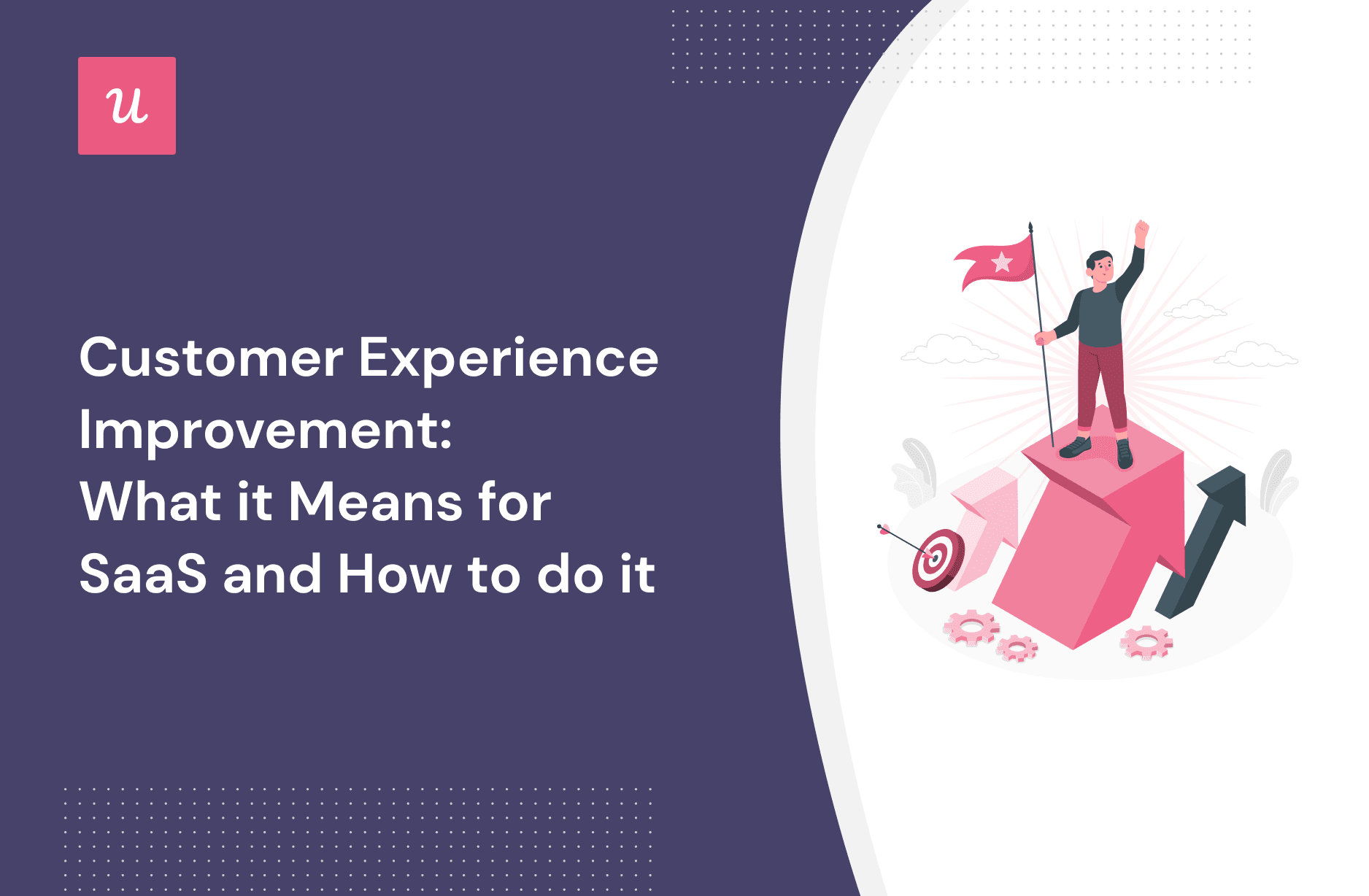 Curious about customer experience improvement and how to get started for your brand? Look no further. In this article, you'll discover:
Why the customer experience is key to customer retention and driving business growth, especially for SaaS companies.
The 3 main components of customer experience.
17 practical strategies for improving your user experience.
Let's roll.
TL;DR
Customer experience improvement is optimizing your product and customer interactions to ensure users are happy at every point in their customer journeys. It's a major part of customer experience management.
The 3 main components of customer experience:
Discovery: This is where you reach prospects through your marketing materials and show what they can get from using your product. Don't overpromise because the customer will notice and be disappointed.
Engagement: Ensure every interaction with your product or team solves user problems and leaves them happier.
Delivery: Prioritize speed and quality as you deliver on brand promises.
Take customer experience improvement seriously because it helps to: drive more conversion, increase customer satisfaction, and facilitate retention and loyalty.
17 practical ways to improve the customer experience:
Set goals that align with your desired business outcomes
Ensure to provide great customer service
Leverage technology
Give self-service options
Stay omnichannel
Gamify the product experience
Explore the customer experience lifecycle
Shape your user personas
Reduce friction on the customer journey
Make feedback collection a regular practice
Incentivize social proof
Surprise and delight
Create customer loyalty programs
Implement a tracking system
Involve your team
Invest in employee happiness
Don't overpromise
Userpilot can help you to automate and scale customer experience improvement. You can use our software to create better onboarding experiences, track user behavior, and survey existing customers to gather valuable insights.
What is customer experience improvement in SaaS?
Customer experience improvement is optimizing your product and customer interactions to ensure users are happy at every point in their journey. CX improvement is a major part of customer experience management. More importantly, it's an ongoing process as your product and customers grow.
What are the 3 main components of customer experience?
Irrespective of the product or audience, SaaS customers go through three CX stages in their lifecycle. Understanding each of the components will enable you to develop a more holistic customer experience strategy.
Discovery: This is where you reach prospects through marketing materials and show what they can get from using your product. Ensure the brand promise you put out is something your product delivers. Otherwise, customers will come with high expectations, experience a value gap, and leave unsatisfied.
Engagement: You've convinced prospects to take your software for a spin, and now they're in. But your job is just getting started. You have to ensure every engagement with the product and your customer-facing teams makes the customer happier. And it starts from the very first interaction.
Delivery: Your customers became users because of the problems you promised to help them solve. So, prompt them to engage with the right features and discover value from the get-go.
You can do this by segmenting them and recommending aspects of the product you know they need. Aside from feature recommendations, another way to facilitate smooth delivery is by having support resources and agents on standby.
Why is customer experience improvement crucial for SaaS?
The customer experience determines if users stick to your brand or not. And it all makes sense to invest in improving CX when you remember repeat customers are the backbone of your SaaS company.
Below are some of the biggest benefits you'll enjoy:
More conversions
Customers prioritize brand experience above anything else, even price.
Research by PWC shows one-third of customers are ready to leave a brand they love because of one bad experience. Similarly, American Express reports that 86% of customers are willing to pay more for a positive customer experience.
That tells you something: your competitors aren't the problem. And your conversion rate will increase when you're customer-focused and aim to provide the best possible experience for users.
Higher satisfaction
Customer experience improvement means you're periodically assessing and tending to client needs. That's precisely what creates better customer experiences. And great experiences make for happy customers.
Increased customer retention and loyalty
Increased customer satisfaction is the precursor to retention and loyalty. By providing positive experiences, you motivate users to stay with your brand long enough to experience value and find you indispensable.
Retention and loyalty become almost automatic once customers begin to feel they can't do without your brand. Your LTV also increases as a result.
You might argue that many factors contribute to driving loyalty. You're right. However, research has found that CX is responsible for over 60% of customer loyalty. In other words, the customer experience is a big deal.
17 ways to secure customer experience improvement
Now that you're convinced of the importance of boosting your customer experience, it's time to learn how. This section will show you 17 proven customer improvement strategies you can begin implementing right away.
1. Start with your goals
Proper goal setting will give you clarity on the actions you need to take and the proper framework for tracking the success of your campaigns.
Start by specifying what your customers need to do at each stage and how you can make their job easier. Your goals should focus on one action, touchpoint, or area of CX at a time.
Thinking big is good, but abstract goals can only take you so far. To guarantee success, ensure every goal you set is measurable and realistic.
The SMART goal-setting framework is worth imbibing:
2. Ensure top-notch service
This point is a no-brainer because customer service is one of the key components of CX. It's practically impossible to keep your users happy if you don't have a well-tuned customer service strategy.
You probably have an existing system, but here are two customer service golden rules to make it better:
Prioritize speed. Today's customers expect fast responses and quick resolutions to their issues. Examine your response times and first-time resolution rates, then use the data to determine how to improve.
Develop customer empathy. Every customer wants to feel understood; they don't want to keep explaining stuff to agents that don't seem to get them. You can build empathy by training your support agents and ensuring only subject matter experts attend to customers.
3. Leverage technology
Training your support team is just one part of solving the customer service problem.
Embrace automation to serve more users quickly and efficiently. AI-powered tools like chatbots are great for this. Not only do they help customers intelligently, but they also collect useful customer data that you can utilize when developing your customer experience strategy.
4. Give self-service options
There has been an explosion of self-service, and it's because people prefer to get things done on their own. Self-service is proactive, faster, and more convenient for customers.
There will always be issues that need the intervention of a human agent, but making self-service options available will boost the customer experience.
The chatbot we talked about earlier is an example of self-service. Other popular channels include in-app messages, knowledge bases, resource centers, forums, etc. Feel free to combine any of the self-service options you think your customers need the most.
5. Stay omnichannel
Different customers have different platform preferences. Asking them to stick to your preferred channels can add friction to the user experience. So, give customers options by using multiple channels for support, sales, and even marketing.
If you're not sure what channels customers will love, roll out a simple survey to ask them. After deciding on the channels, there's just one more step: stay omnichannel by providing consistent experiences regardless of the platform.
6. Gamify the product experience
Gamification makes the overall product experience of your SaaS much more enjoyable. It gives customers dopamine hits and something to look forward to than the mere fact of using your product to solve problems.
Gamification is about adding fun elements to propel users to complete actions inside your product. Some elements you can add are checklists, badges, points, etc.
Receiving rewards for their actions will make customers feel good about themselves, which translates to a good experience. Not to mention, gamification also leads to faster product adoption.
7. Explore the customer experience lifecycle
Your customer experience improvement efforts should be tailored to the different customer lifecycle stages. That's because user needs and the nature of engagement vary as customers continue using your product.
The lifecycle stages are Reach, Acquisition, Conversion, Retention, and Loyalty. Map out your product experiences according to each stage to give the user what they need and are ready for.
8. Shape your user personas
A user persona is a visual or written representation of your ideal users. It's a fact-based and well-researched piece of information that guides you in designing product experiences.
This is different from the traditional buyer persona. It goes deep into digging up information about actual product users (as against caring more about the buying behavior of prospects).
Your product likely has multiple use cases, so having a generic persona wouldn't work. It's always best to create one persona per audience segment.
9. Reduce friction on the customer journey
Study the entire customer journey and track user engagement for each stage to identify any friction or setbacks.
You can do this through goal tracking. Tools like Userpilot allow you to set product goals that customers should hit at specific periods in their journey (e.g., feature adoption during user onboarding). You can know there's friction if many customers don't hit the milestones you set.
Other ways to identify friction include click tracking (to detect bugs) and using heatmaps to study how users interact with your product and know if they get confused at some points.
10. Make feedback collection a regular practice
Statistics show users are willing to share info if it means getting an improved customer experience. Leverage this and ask customers about their experiences—preferably the moment they finish the activity you're surveying them about.
Conduct microsurveys like NPS, CSAT, CES, or any custom survey that seems best for your audience.
Three things to keep in mind about feedback surveys:
Making them short, to the point, and contextual increases engagement.
Don't treat it as a one-time practice; regularly ask for customer feedback.
Feedback analysis and post-feedback decisions are as important as the survey itself.
11. Incentivize social proof
Customers like hearing others' opinions and experiences with a product. This helps them make up their minds and gives them additional resources to learn about your product from peers and improve their own experience.
Common forms of social proof you can use include customer reviews, ratings, testimonials, case studies, etc.
While some customers will give reviews on their own, you'll gather more social proof when you take proactive steps to ask. You can use deals, discounts, or other gifts to incentivize customers when asking.
12. Surprise and delight
Customer delight is going out of your way to exceed customer expectations. Finding creative ways to do this will result in a superior customer experience that your users will love.
An excellent way to delight customers is by surprising them with gifts, thank-you letters, discounts, etc.
Try to make it something out of the blue—customers won't be surprised if they were expecting it anyway. Don't worry; you'll find many ideas when your customer-facing teams start being intentional about this.
For instance, the Userpilot customer below jokingly asked for a Dream User T-shirt, and our support agent took it as an opportunity to delight him. You can see from his LinkedIn post that he was beyond surprised.
13. Create customer loyalty programs
Loyalty programs are a form of customer experience improvement because they involve creating situations that motivate customers to do repeat business with you. These rewards can be anything from cash prices to discounts and free time on your app.
Aside from improved customer experiences, a loyalty program is also a good way to boost ROI through referrals.
14. Implement a tracking system
Without performance tracking, you can't know where you are with respect to your CX KPIs. Tracking also takes away the guesswork and shows you what strategies are working.
Important aspects of customer experience improvement you should measure:
Relevant CX metrics: e.g., CSAT, CES, NPS, CRR, etc.
Team performance: TTR, first response time, number of resolved tickets, etc.
15. Involve your team
Your customer-facing employees have hands-on experience with your audience. That's a valuable asset you can use to drive more user satisfaction.
Ask for input from your customer success team, support agents, sales and marketing specialists, etc. These people interact with customers daily, so they'll have rich insights to share.
Also, have your team test your product or new features to report any issues before rolling them out to customers.
16. Invest in employee happiness
Don't focus so much on customer satisfaction that you leave your employees out. They are just as important.
Consistently invest in training your employees and creating an environment that ensures they are happy. Satisfied employees perform better, leading to a better product, improved support, and marketing campaigns. They also contribute to your brand perception, not only in the eyes of potential hires but also customers.
17. Don't overpromise
Sounds intuitive, but it's one of the most common mistakes among SaaS companies.
Overpromising and misleading users can only take you so far. Your reputation suffers when your actual customer experience doesn't live up to the perceived value.
So, focus on creating genuine Aha! Moments across customer journeys to help users discover the real value of your product.
Customer experience improvement with Userpilot
Userpilot helps customer success and product teams to create fantastic user experiences and drive repeat business. It's a robust tool with many features to help you accomplish your goals.
Here are two principal ways Userpilot can help:
Better onboarding experience: Our software allows you to provide contextual onboarding, build in-app flows, and highlight features to ensure new users get value quickly.
Rich user insights: You no longer have to worry about generating the right insights for decision-making. Userpilot allows you to create and analyze feedback surveys to gather customer experience data with ease.
You'll have access to templates for the major types of customer surveys and can create custom surveys if you want. We also have features for tracking in-app engagement and segmenting users to provide personalized experiences.
Conclusion
And that's a wrap! Implementing the strategies above will completely revolutionize how customers interact with your tool.
The customer journey will be more fun and users will get their jobs done effectively. However, keep in mind that this is an ongoing process, so continue tracking your results and making better decisions.
Userpilot is here to help you with this process. Book a demo and let's discuss how to automate and scale your customer experience improvement efforts.