10 Customer Engagement Examples and Why They Work So Well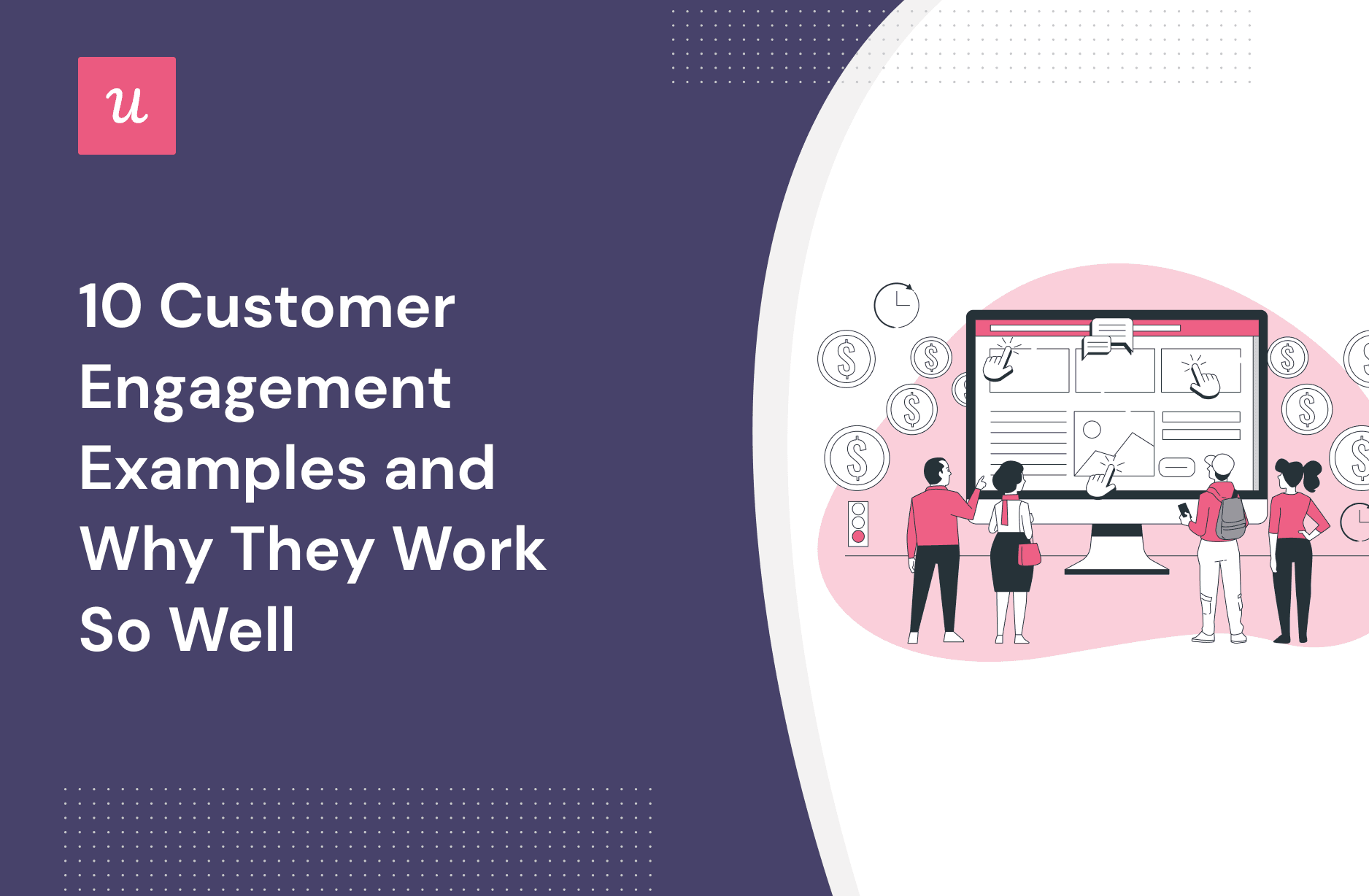 Whether you're trying to plan your next big SaaS marketing campaign or picking out customer engagement software, understanding what good customer engagement looks like (and its importance) is key. And the best way to do this is to look at customer engagement examples.
In this article, we're going to walk you through seven proven techniques that can drive customer engagement and 10 examples from brands that have mastered this art.
Let's get right into it!
TL;DR
An effective customer engagement strategy can increase retention, generate expansion revenue, and improve customer satisfaction.
Welcome screens, checklists, and banners can all be used to engage customers throughout various stages of the user journey.
Providing real-time support and a self-service portal will make every interaction between your brand and its customers more seamless.
Creating engagement loops and adding gamification elements are both effective methods for increasing the frequency of customers using your product.
Loyalty programs like the NikePlus Membership program or Evernote's referral incentives lead to word-of-mouth marketing for your SaaS solution.
Surprise gifts to customers and team members can increase the effectiveness of engagement campaigns and improve employee satisfaction in the process.
What is customer engagement?
Customer engagement is the practice of nurturing the relationship between a brand, company, or business and its consumers to maximize customer retention. Customer engagement goes beyond the sales transactions themselves and extends into marketing, support, and other after-sales efforts.
What is good customer engagement?
Good customer engagement requires a strategy that promotes a consistently positive experience for customers — with the goals of maximizing retention, expansion revenue, and improving customer satisfaction.
A customer engagement score (CES) in the range of 71 to 100 is considered good engagement which indicates high satisfaction rates. Collecting engagement data helps you measure customer engagement over time and spot upward/downward trends early on.
Here's how you can measure your engagement score:
The effects of a smart customer engagement strategy
Effective customer engagement strategies create loops that keep users returning to your product to gain more value each time. Customers who experience repeated value-driven interactions are more likely to commit to your brand long-term. This, of course, will increase customer retention rates and promote customer loyalty.
As you improve the overall customer experience, the reduced user churn rate will reflect positively on your revenue. Smart engagement tactics are known to boost revenue growth through upsells and repeat purchases.
7 techniques to drive engagement
A customer engagement strategy can span multiple channels. The techniques and UI elements covered below will help you engage your loyal customers across multiple platforms.
Welcome screens
Welcome screens are a popular UI element for customer engagement strategies because they help personalize the onboarding experience from the earliest stages. These modals make it possible to collect data about the user's goals, roles, and job-to-be-done so you can personalize future customer interactions through a tailored customer engagement campaign.
Here's how Postfity uses welcome screens to get to know their users from the start and gradually turn them into loyal customers:
Checklists
Checklists are an excellent customer engagement example because they engage users right from the start of the user journey. Onboarding checklists can improve the customer experience by providing guidance and prompting users to complete the next step in their onboarding process.
Onboarding checklists can also speed up user activation by encouraging feature adoption and highlighting core elements of your SaaS product.
Banners
Banners are a great way to relay information to already-engaged customers so they're always in the loop on updates, new features, or limited-time offers. They work well as a customer engagement tactic because they're less intrusive than full-screen modals that could interrupt the user's flow.
Here's how Miro uses banners in their in-app messaging to encourage engagement:
Surveys
Trying to improve customer engagement without first hearing out your current customers and giving them a voice, runs the risk of making the wrong changes. This could actually hurt the customer experience instead of improving it.
There are many ways to collect customer feedback, but surveys are undoubtedly the most common. Surveys can be sent out via email, social media, on your SaaS website, or through in-app messaging.
The insights you collect through these satisfaction surveys will help you measure user sentiment, get a deeper understanding of customer needs, and gather metrics (like NPS or CSAT) that will guide the direction of your customer engagement campaign.
Notifications
Notifications are a crucial but tenuous aspect of customer engagement. A constant stream of notifications could erode customer loyalty over time. On the other hand, getting notification frequency just right can keep customers engaged and re-engage inactive users.
There are two main types of notifications:
Push notifications (used to pull users back into your app)
In-app notifications (used to keep users on your app and alert them to important account activity)
In addition to re-engaging churned customers and keeping users on your app longer, notifications can also be used to make announcements or generate upsells.
Emails
If you're worried that using push notifications for your customer engagement campaign will negatively impact the customer experience, then consider using emails instead. Because email newsletters require users to opt-in, they're more likely to improve customer relationships rather than compromise them.
Newsletters can help you stay in touch with users, collect feedback on what customers expect from future updates, retain existing audiences, tease new features, win back previous customers, and promote upsell offers.
Pro tip: Use email automation to streamline your customer engagement efforts!
Here's how Asana uses email marketing (with creative GIFs) to encourage inactive users to re-engage with the app:
Communities
Community management is a crucial part of any marketing strategy. Its benefits are two-fold since it improves the customer experience by making it easier to find solutions to problems, while also benefiting your marketing strategy by keeping your brand at the top of customers' minds.
Communities used for customer engagement marketing can be hosted on various platforms. You might choose to create an online forum, Slack channel, Facebook group, or other forms of discussion boards to drive community-led growth.
In addition to strengthening your relationship with users, you'll also see customer retention increase as the community grows, since users will feel connected to one another.
Userpilot's Product Marketing & Growth Facebook group is a great example of how to execute successful customer engagement through communities:
10 customer engagement examples from brands that got it right
Improving the customer experience through customer engagement is a multi-faceted pursuit. To find the best customer engagement marketing strategies for you, it's useful to look at other brands and draw inspiration from a customer engagement example of another company.
Here are 10 examples of brands that were able to increase customer engagement through their strategic efforts!
1. Friendly greeting messages (Kontentino)
Customer engagement marketing doesn't always have to consist of a multi-stage funnel and complex software integrations. Sometimes a simple greeting message is both the easiest and most effective way to kick things off on the right foot.
Greeting messages can be sent through in-app notifications, a welcome screen modal, email sequences, or live chat messages from your customer success managers. Regardless of which channel you send greetings through, make sure they're both friendly and personalized.
You can also add some context that will tell users what to expect throughout the onboarding process or share a few instructions/tips that will be useful down the line.
Here's how Kontentino greets new users and reminds them that they only have 30 days to make the most of their trial:
2. Real-time engagement (IBM)
Real-time engagement is a great example of how going the extra mile for your target audience can increase customer loyalty and improve your brand messaging.
Chatbots, live chat software, and contextual in-app messages that are triggered by specific features can all serve as a form of real-time engagement.
Automated emails can also be used to provide contextual support — albeit, to a lesser extent since there's no guarantee that users will open the email while using your SaaS product.
In addition to being able to better serve customers, adding self-support options and on-demand service will make it possible for your customer base to resolve issues without the need for a human agent to assist them.
There are many examples of customer engagement through real-time channels and how user retention increased as a result. But perhaps, the best customer engagement examples in the real-time category come from IBM's AI chatbot:
3. Hyper-personalized content (Apple Music)
The next customer engagement example actually comes from a streaming service — Apple Music. Apple has mastered the art of retaining existing customers through personalization.
The first step of personalization is to accurately identify user segments. You can do this by looking at user demographics, behavior on your app, progress through different lifecycle stages, or other forms of analytics.
For example, Apple Music uses a machine-learning algorithm to suggest tracks for different segments. Someone who listens to a handful of specific artists on their Apple Music account will likely see any new releases from this cohort appear on their recommended page.
On the other hand, those who use their Apple Music account at the gym may get "successful workouts" customized playlists with high-octane tracks that motivate them to put their reps in when they feel like skipping leg day.
In any case, it's clear that customer engagement technology is becoming more targeted than ever thanks to the increase in user data collection and advances in the machine learning space.
4. Omnichannel customer engagement (Amazon)
Amazon is the second-largest company in the world by revenue (right behind Walmart), so it should come as no surprise that there are plenty of customer engagement examples to be found with the e-commerce giant.
Omnichannel consistency is one of the biggest takeaways that marketers can learn from the unprecedented success of Jeff Bezos' empire.
Whenever the brand is engaging customers (either through the website, mobile app, Alexa devices, or support chats), a consistent level of quality support is always offered. This ensures that customers never feel alienated, regardless of which channel they prefer.
Much like Apple Music's personalized promotions, the sizeable investment in omnichannel support has paid off for Amazon. In fact, studies show that omnichannel customers have a 30% higher lifetime value (LTV) than those who interact through only one channel. This is more than enough to offset the increased cost of engaging them through multiple platforms.
By making the support interactions seamless between the Amazon website, app, and other channels, the brand has been able to raise the bar for how an engaged customer perceives the business.
5. Clever engagement loops (Google)
Engagement loops are one of the most powerful examples of customer engagement done right.
In essence, an engagement loop is an experience that motivates users to continue to the next step, which provides additional reinforcement to keep the engagement cycle going. Outside of SaaS products, engagement loops are also used in video games and social media platforms.
There are a few ways to create an engagement loop. Adding rewards, implementing interactive elements, and making features more interconnected are all tactics that can increase product stickiness.
Google hits the nail right on the head with their Google Workspace ecosystem of tools. Gmail, Drive, GMeet, and Google Pay all integrate with one another so seamlessly that it keeps users coming back to Google whenever they have fresh needs (rather than searching for alternatives).
By creating this ecosystem engagement loop, Google has essentially captured lifetime customers who'll always start the buyer's journey by researching Google solutions rather than considering other competitors first.
6. Feedback collection (Wise)
The next customer engagement example is feedback collection. Giving customers a voice is mutually beneficial since it provides invaluable insights for your company while making users feel heard.
While you probably shouldn't spam the inboxes of new customers with surveys and polls right after their initial purchase, most users who have been around for a few months are more than happy to share their feedback and suggestions.
After all, even small tweaks based on customer feedback can make all the difference when it comes to improving the overall user experience. In-app microsurveys, emails, social media posts/polls, and feedback forms on your website are all viable ways to capture insights.
If you're struggling with low response rates and want to get customers interested in your various feedback collection efforts, consider creating an exclusive loyalty program for users who share their experience with the product.
Regardless of which medium you end up choosing, make sure to minimize friction, so you boost engagement. Wise's NPS survey is a customer engagement example worth looking at because it's short, simple, and low-effort for users.
7. More fun with gamification (Todoist)
The Todoist app is able to encourage progress without needing to resort to a complicated rewards program or daily newsletter. Instead, it relies on gamification and cross-platform syncing to nurture recurring engagement.
SaaS gamification uses UX game elements like progress bars, badges, checklists, and leaderboards to serve as a progress motivator that can turn an infrequent/inactive customer into an engaged user.
Gamification features like leveling up, achievements, badges, and rewards programs give users a sense of progression that keeps them coming back for more.
Todoist's "Karma points" system is one of the most notable customer engagement examples. It encourages new users to stick with the app and helps existing ones track their goal progress.
8. Loyalty programs and rewards (Evernote)
Loyalty programs are a tried-and-tested method of reducing churn and building customer loyalty. To make the most out of your loyalty program, make sure the rewards you offer are actually valuable to customers; otherwise, they'll eventually lose interest.
The Nike Membership program is certainly worth checking out (especially their Nike Training Club apps) but, if you're looking for SaaS-specific customer engagement examples, look no further than Evernote.
Evernote offers points to its customers whenever they invite friends to use the tool. These points can then be used for Premium subscriptions, which provide value to existing customers while also attracting new customers through word-of-mouth marketing.
9. Unexpected delights (Userpilot)
Loyalty programs are an effective way to keep customers interested in your app (and increase the odds that they'll repeat past purchases), but they lack an element of surprise. Remember that customers are most satisfied when their expectations are exceeded.
That's why surprises are inherently predisposed to making customers happier with the user experience. This sudden feeling of customer delight can create long-term advocates for your brand that will rave about the product at every opportunity.
Here's an example of how Userpilot sends out surprise gifts to our customers:
As a bonus, you can also use these surprises in engagement campaigns targeted toward increasing employee satisfaction since they're just as effective internally as they are with customers.
10. The virality of social media (Buffer)
The final customer engagement example revolves around viral marketing on social media channels. Creating branded hashtags, starting trends, building communities, and encouraging user-generated content are all effective ways of harnessing social media's wide reach.
Most platforms like Facebook and LinkedIn also give you helpful audience analytics that can be used to better tailor the content you post. These social media analytics can also help you refine your user personas and figure out which customers to target in the future.
The social media planning tool Buffer has seen great success with user-generated content campaigns from both CRM and engagement standpoints:
How to engage customers in-app with Userpilot
If one (or more) example of customer engagement has piqued your interest, it's time to find the right tools for the job. Userpilot offers product growth and user behavior insights through its rich analytics dashboard.
By having all the metrics readily available, you'll be able to make data-driven decisions that are based on the behavior of your actual customers. Userpilot also helps you automate the feedback collection process through in-app surveys that measure user sentiment.
You'll be able to create custom in-app flows with checklists, UI tooltips, banners, and modals that will provide contextual information to your users at the most relevant times — all without needing to write a single line of code.
Conclusion
As you can see from the customer engagement examples above, using customer data and personalized messages is the best way to ensure continuous growth. Customer satisfaction (not to mention long-term average order value) is dependent on how engaged your users are.
Often, your business success relies on how far you're willing to go to engage users. Every example of customer engagement in this article should serve as a reminder to gather feedback and give your users a reason to keep coming back for more.
Ready to start your next engagement campaign? Sign up for your free Userpilot demo today!