NPS Survey Template: Best Practices and Examples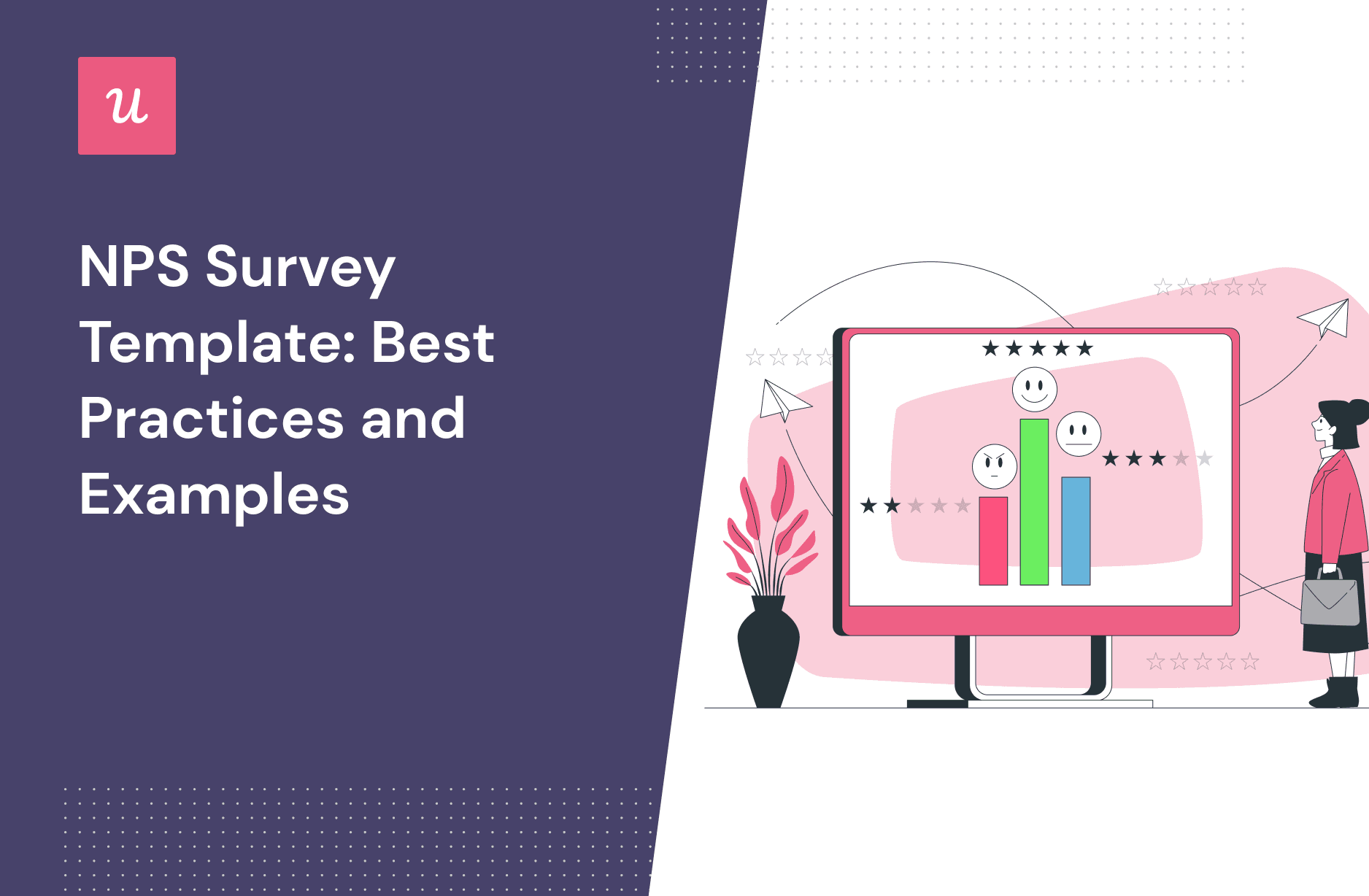 Looking for the best NPS survey template to personalize? Keep reading!
Creating an NPS survey can be hard sometimes, but using a template simplifies the entire survey process. It saves you time, ensures consistency, and enables easy customization to fit your unique needs and branding.
In this blog post, we'll discuss different NPS survey questions and best practices to collect valuable feedback from your customer base.
TL;DR
Product NPS (Net Promoter Score) surveys are used to collect feedback on customer loyalty and satisfaction.
NPS surveys often get higher responses due to their simplicity and are helpful when making product development decisions and providing customer support.
Product teams, growth marketers, and customer support teams use NPS surveys to collect quantitative and qualitative feedback on user sentiment.
Here are some best practices to follow when running NPS surveys:
Ensure you properly segment your users to send personalized surveys.
Run A/B tests of your surveys to see which ones get better responses.
Tag NPS responses and look for recurring patterns to find the most common issues.
Keep customers updated and follow up when the problem has been resolved to close the customer feedback loop.
With Userpilot, you can customize your NPS survey according to your needs and get it running in no time.
You can also trigger personalized follow-up questions based on previous answers and localize your survey to reach global audiences.
Want to see how it works in practice? Book the demo!
What is product NPS?
NPS (Net Promoter Score) is a loyalty metric that measures customer loyalty and satisfaction. It is a measure of how satisfied customers are with your specific product or service and how willing they are to promote it.
Based on the score of responses, customers are divided into three groups:
Detractors: These are unhappy customers who are dissatisfied with your product (1-6).
Passives: These are indecisive, unenthusiastic customers that leave a passive rating (7-8).
Promoters: Promoters are at the top of the scale (9 and 10). They are loyal customers and will recommend your product, given the opportunity.
You can calculate your NPS by subtracting the percentage of promoters from detractors.
What's in the NPS survey template?
Net Promoter Score (NPS) surveys typically contain three parts:
A close-ended question to collect ratings that determine your net promoter score. Response options are usually calibrated on a scale of 1 (not likely) to 10 (extremely likely). The question usually states "How likely are you to recommend our product to a friend?"
An open-ended follow-up question for customers to explain the reason behind their rating in their own words. This is useful for gathering practical suggestions to improve your product and customer journey.
A thank you note to acknowledge users and express gratitude for the feedback.
Benefits of NPS Surveys
Net Promoter Score (NPS) surveys don't just measure and analyze customer loyalty, they come with other benefits:
Who needs an NPS survey template?
A Net Promoter Score template is highly important for the following categories of people in your company:
Product teams: Product teams can use NPS survey questions to understand customers' sentiments regarding products and make data-driven decisions. They can also use NPS surveys to gather qualitative data on which features customers no longer use and how they perceive new releases, etc.
Growth marketers: Growth marketers can use survey results to identify customers who can publicly rate their offering or participate in case studies. This helps them know which customers to ask for reviews to attract more customers.
Customer success teams can help struggling customers achieve their goals with the product. The customer support team can also use this feedback to assist customers experiencing friction, thereby improving their overall experience.
Examples of quantitative NPS survey questions
Here are some great close-ended question examples to ask in your survey to collect quantitative data:
How likely are you to recommend (product name) to a friend or colleague?
You can ask this survey question to measure customer satisfaction and your customer's likelihood to recommend your product to a friend or colleague. You can also replace your product's name with a feature to collect feature-specific feedback.
Based on the responses, product managers can choose which existing features to fine-tune or sunset from the app.
How likely are you to recommend (company) to your friend based on your experience with our support team?
This is a transactional NPS survey question. It is sent immediately after a customer interacts with your product or service to gather feedback in real time.
By tweaking a few words, you can create templates asking customers to rate a specific experience and make the survey more relevant to the customer touchpoint.
The survey responses expose issues and customer concerns while they are still fresh in mind. You can also replace the support team experience with whatever experience you want to collect feedback on.
How likely are you to recommend (company/product name) to someone with similar business challenges?
Your customer's answer to this question indicates if your product truly met their needs. The higher the score they provide, the more likely they are to recommend your product to other people.
You can even highlight specific areas where customers feel your product excels. Here's an example: "How likely are you to recommend (product/company name) to someone who prioritizes customer service?"
Examples of qualitative NPS survey questions
Here are some great open-ended survey questions to ask in your survey.
What was missing or disappointing in your experience with us?
Asking customers this standard NPS question after a negative score is an effective way to discover friction points causing dissatisfaction regarding your product.
Naturally, many people shy away from leaving negative remarks, but this question gently prompts the respondents to provide constructive criticism without feedback anxiety.
What do you like most/least about (product name)?
Asking this standard question is a smart way to rectify why passives and detractors find your product unwholesome. It also helps you discover areas your promoters love, which you can showcase to detractors to enhance the overall customer experience.
How can we improve your experience?
This is a perfect open-ended question to ask after someone leaves a negative NPS score. Knowing what prompted this score helps you prioritize issues and improve features.
5 NPS survey examples from famous SaaS companies to inspire you
Here are some Net Promoter Score surveys from top SaaS companies that we think are brilliant.
Slack personalizes the NPS survey
Slack understands that people relate better to other people. So, they add a personal note from a marketing team member right before the numeric scale.
Adding a personal touch like this makes the survey more relevant and can dramatically increase the response rate. This is followed by a basic NPS question to capture the customer's satisfaction with their product.
Wise sends an NPS survey via email right after a transaction
Wise diversifies its survey channels between in-app and email for more implicit feedback. They always send this survey right after each user completes a transaction, so it feels personalized.
Collecting feedback in real-time helps Wise get more accurate insights since the recent interaction is still fresh in the user's mind.
Groove's two-part Net Promoter Score survey
Groove's two-part survey is simple, yet effective. First, they ask for a rating on a 1–10 scale. Afterward, they proceed to ask an open-ended question to uncover the primary reason behind that score.
Asana's non-intrusive NPS survey
Asana triggers a contextual in-app NPS survey right after specific user interaction. Notice how the placement is so mindful. Rather than displaying a modal, which interrupts the user's experience, they opt for a notification banner.
The small banner sits on top of the page and doesn't interfere with users' workflow, so they can submit on their own time.
NPS survey best practices for SaaS
In this section, we'll discuss some best practices to keep in mind when designing your net promoter score (NPS) survey to get the best results.
Reach specific audiences using segmentation
First, decide what kind of feedback you want to collect and whom you would like to target. For example, you can target free trial users or new users who have just reached activation.
Segment these users and create customized templates to send each user to collect accurate insights.
A/B test your NPS surveys
You can't decide right off the bat which surveys your users will like the most. This is why it's essential to A/B test your NPS surveys.
Test multiple design variations on headlines, questions, and styles until you get one that your users respond best to.
Tag NPS responses and look for patterns
When you receive survey responses, comb through the qualitative responses and tag recurring ones.
Identify patterns that correlate with low or high scores. This will help you find the most common problems among survey respondents so you can improve.
Follow up with customers and close the loop
It's not enough to collect and analyze feedback; you also need to keep customers updated on what's going on behind the scenes. This is called closing the feedback loop.
For instance, you can tell users when you've resolved a bug, added a requested feature, or need more details from them.
Remember to tailor responses for each customer segment. For detractors, you can send a personalized email acknowledging their frustrations and letting them know you are working on them.
For passives, ask more in-depth questions to understand what's stopping them from wholeheartedly recommending you.
And you can send in-app messages to thank promoters, gift them, and encourage them to leave a review.
How can Userpilot help you with running in-depth NPS programs?
Userpilot is a no-code product adoption platform with advanced features for running NPS surveys that get responses. Here's how to use it.
Customize NPS survey template according to your needs
With Userpilot, you can customize your Net Promoter Score survey templates to match your brand's look and feel with the following steps:
First, set the primary and background colors before nicely inserting your brand's logo in a convenient, noticeable spot.
Next, choose a font and text color.
You can also add a progress indicator for fun. You can choose either the bar or the ball UI element.
Trigger personalized follow-up questions based on previous answers
Next, follow up with open-ended survey questions customized specifically for each cohort.
With Userpilot's NPS feature, you can personalize different follow-up questions to trigger depending on the scores. Each respondent will have different follow-up questions depending on if they're promoters, passives, or detractors.
Localize your NPS surveys to reach global customers
Designing NPS surveys in one language can leave your non-English-speaking audience confused and unable to respond.
Luckily, Userpilot's localization feature helps you auto-translate your survey to multiple languages of choice to make it easier for global users to give feedback.
Conclusion
If used properly, an NPS survey template can cut down on prep time when running surveys and analyzing survey responses. We've shown you great NPS question templates and how to customize them; the next step is to get started.
Want to customize your own NPS survey template code-free? Get a Userpilot demo and see how you can collect actionable feedback today.